Social media marketing is a great tool when it comes to building a brand.
But making money from it by propelling sales is tough.
In fact, many marketers have trouble tying social media back to a return on investment (ROI).
That's probably because social media is often only seen as a way to build your brand and engage with customers.
Or as a way to solve customer problems with personalized customer service.
Or a place to share videos of cute cats and babies.
But social media is actually a great tool to generate sales too.
It's just not as cut-and-dry as platforms like Google AdWords or Facebook Ads.
While those platforms are directly tied to ROI and driving sales, social media isn't.
The main goal of social media isn't always seen as driving sales.
But it should be, and it can be. And that's because anything and everything you do to grow your business should be focused on the end goal of producing revenue.
And thankfully, there are a few tips I've picked up along my career that have allowed me to generate tons of sales.
They weren't all that hard to implement either!
Social media is a stellar platform to generate sales when you have defined goals and objectives.
In fact, I drove $332,640 in sales on just Instagram alone.
Here's how I used social media marketing to generate $632,481 in sales in a year.
Build a close community
The first step in generating sales from social media marketing is building a close community of engaged followers.
Engaging with users on social media should be seen as a positive thing.
A way to drive trust and build personal relationships with your customer base.
For example, look at how I interact with my fans on Facebook:
I'm not only sharing valuable content. I'm also directly connecting with commenters.
It's an excellent way to build an engaged following that likes to communicate with you.
And it only takes a few seconds to respond.
Think of it like you would if your favorite brand or actor responded to you:
You'd love them even more, right?
You'd be amazed that they took the time to respond, and you'd probably revisit their social media page after that.
That's the real goal of this step.
Big companies like Dairy Queen perfect this approach of customer engagement:
It took them just a few seconds to respond, and now they've established a loyal connection with a customer who likely will have a higher lifetime value.
Beyond just responding, consider sharing user-generated content.
This is one of my favorite strategies to building a community that loves to interact with you.
I love how Slack does this with their customers:
They share awesome user-generated content that Instagram users send them every day.
Why? Because user-generated content works:
85% of users think that UGC is more influential than brand-posted photos.
On top of that, UGC nets 29% higher online conversions than campaigns or websites without it.
If you want more interactive social engagement, followers, and ultimately sales, you need to be using UGC to build a closely-engaged community.
Develop relationships with influencers
If you're starting social media with less than 1,000 followers, it can be tough to generate sales.
You need to build an audience that is large enough to leverage for sales.
One of the best ways to do this is by connecting with influencers on social media.
Cross-promotions are extremely effective when it comes to growing your following.
And it makes sense:
When you get a shoutout or mention from a relevant brand, you can rightfully expect tons of relevant traffic too.
Let me give you an example.
Have you ever heard of the famous YouTube sensation Zoella?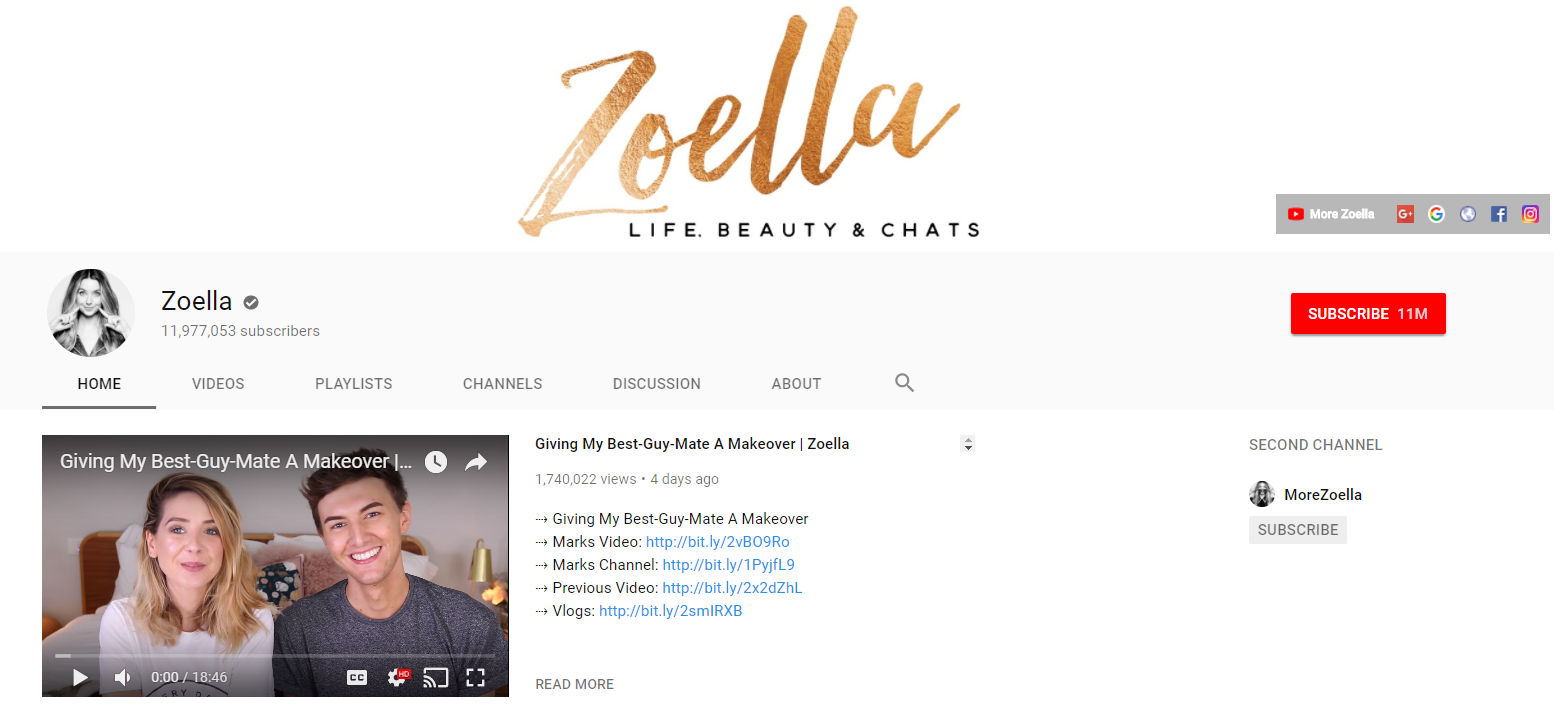 Well, she has over 11 million subscribers now.
And when she released her book Girl Online, she used social media connections to sell 78,109 copies.
That's more than J.K. Rowling's debut of the first Harry Potter book "Harry Potter and the Philosopher's Stone."
Convinced yet?
She essentially used social media influencers and her connections to spread hype and viral buzz about her product.
And the good news:
It's not something that only big brands can do. You just need to begin creating some real, organic relationships with top influencers in your niche.
Influencer marketing isn't simply a marketing buzzword.
The stats speak for themselves:
A 2016 Google study found that 60% of YouTube subscribers and watchers say they would make purchase decisions based on recommendations from their favorite content creators.
And it's no secret that people trust online reviews and recommendations more than they do blatant advertisements.
In fact, according to Experticity, 92% of consumers trust product recommendations from personal connections.
And only 33% trust ads.
Connecting with powerful, genuine influencers can quite literally explode your growth.
So, how do you do it? My favorite way is to be sincere. Be genuine and provide value.
If you contact HubSpot and say, "You guys are awesome, can you promote my new e-book," you might get blocked instantly.
Why? They get thousands of those messages daily.
Influencer marketing is about building connections to people in your niche or industry and giving mutual exchanges of support and promotion.
Head to Twitter (or any social network that you prefer) and start searching for popular individuals in your niche:
You can use simple searches like "marketing influencers" to get hundreds of results of popular individuals in the marketing industry.
Or head to Google and search for something like "top marketing influencers."
You should be able to find curated lists of the best influencers.
Simply clicking on any of these will give you an entire outreach list without any research on your end.
Like this Forbes list:
Whoa, who's that cool guy at #2?
The idea here is to find tons of people who are experts and industry leaders within your given niche.
You can then scout them on social media and conduct outreach to start building a real relationship.
But, please remember: this takes time. This isn't a cold email campaign where you blast out a generic message to 50,000 people in hopes that 100 of them convert.
This is about providing mutual value and being genuine.
Start by interacting with their content on social media. Comment on their blog posts.
Respond to their emails or sign up for their list.
Show that you are really interested in their content, instead of just another marketer fishing for free promotion. They (including me) get hundreds of emails a day for promotion.
Run contests to drive engagement on-site
Another amazing way to drive sales with social media marketing is by running contests.
It's simple: people love to win stuff.
Contests are a great way to drive traffic to your site and social pages.
For example, check out this Instagram contest I ran: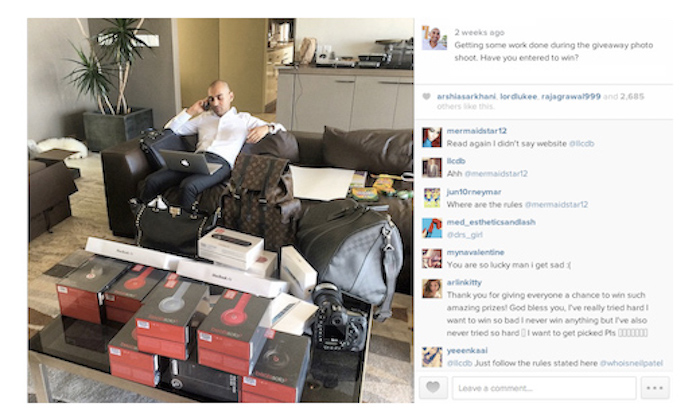 I gave away tons of products and drove thousands upon thousands of people to my site and social profiles, resulting in over $300,000 in sales.
And I'm not alone. Check out this huge giveaway that HubSpot did:
And look at those engagement numbers. More than 40,000 likes and more than 4,000 shares.
That's incredible for a marketing company that isn't as viral or well-known as a business like Apple.
They offered tons of value in terms of money and investment for a reason:
Giveaways convert visitors and drive incredible amounts of traffic.
I'd be willing to bet they closed hundreds of high-level CRM sales from this giveaway and made hundreds of thousands of dollars on that traffic and engagement.
So, how do you get started with a giveaway?
I recommend using a proven, tested, and reliable giveaway platform like Gleam.
Why? It will heavily increase your trustworthiness and credibility. It's been used by countless businesses.
And it's got a proven track record for being reliable and safe to use.
On top of that, the features that it provides are unparalleled.
It will track entries by confirmed actions, meaning that to enter your giveaway someone will have to follow your social account, visit your website, or fill out a form.
People can't cheat the system with Gleam.
It's really easy to set up, too. Create a new account and then create a new competition:
You can customize virtually anything here that you want a user to accomplish:
You can do everything from growing your social media accounts, to downloading apps, and collecting emails.
You can even have users share a blog post or share your giveaway to get it to go viral.
The tool is absolutely genius.
But, listen closely to this next tip.
Remember to always focus your giveaway on your niche.
If you run a SaaS company, don't give away shoes. If you give away products that don't relate to your business, you will drive traffic, but it will mostly be irrelevant and not likely to convert.
For example, look at HubSpot's giveaway again. See their prize?
Notice how they give away niche products like mentorship and a HubSpot account?
This is critical for driving traffic that will stick around after the giveaway.
Consider giving away a subscription to a popular CRM as your prize.
Remarket to those engagements
One of my favorite ways to capitalize on a big social media audience is by running remarketing ads.
If you spend the time and effort to build up a social audience, you need to leverage that audience for sales.
Otherwise, there's no point in building a social media marketing strategy.
With platforms like Facebook, Instagram, and LinkedIn you can easily remarket people based on how they've engaged with your content.
This is a great way to drive sales to interested, potential customers.
For example, let's say you just drove 400 likes on last month's content.
Now what? Where do you go from here? How do you turn that traffic into something concrete like sales?
Remarketing based on engagement.
To get started, you can run remarketing ads on Facebook based on page or post engagement.
Head to your Facebook Business Manager and click on the "Audiences" tab under "Assets:"

Next, you want to create a custom audience:
Here you want to select "Engagement" as your custom audience type.
This will allow you to target people who have engaged with your Facebook and Instagram pages or posts.
Now you have tons of different options here:
Pretty much any of these engagement factors will work for this step.
The key here is to focus on remarketing to people who have shown interest on your social profiles.
That way you can send them customized offers that will convert well.
You can target these engaged social users by creating an audience around video views. If your content is heavily video-based, this is an excellent way to drive sales from remarketing ads.
If you want something more basic, you can choose "Facebook Page" or "Instagram business profile" to target everyone who has interacted with your Facebook Page or Instagram profile.
This will be a more basic, general remarketing option, but will surely drive traffic and sales to your site and offers.
Remember: you can create unlimited custom audiences, so don't feel limited to picking just a single one from this list.
Here are the ones I've found the most success with:
These have been the most successful because they allow for incredible specificity when it comes to targeting.
For example, if you want to target video engagement, you already know that these users are very interested in your content.
You know they want to hear what you have to say and that a remarketing ad might just push them over the edge to convert.
I love this selection because of how diverse the options are:
You can target users who watched almost all of your video with high-intent offers like a coupon.
Or you can target a lower-threat offer like a free trial to people who only watched 25%.
See what I mean? The options are limitless for different offers based on how engaged people were!
If you decided to target people based on your Facebook Page interactions, you also have really great options:
Remember: you can create multiple audiences for each one of these engagement types!
Don't limit yourself to just page visits. Create multiple audiences based on multiple engagements.
I personally have found great success in driving sales by targeting, "People who engaged with any post or ad."
This is a great identifying metric that helps you sort out the interested prospects from less brand-aware visitors.
And you can do the same thing with the Instagram profile audience too:
Another one of my favorites is creating a custom audience around events:
For example, let's say you run a lot of webinars. This is a stellar way to really push sales on social media.
In fact, it's become one of my go-to strategies for driving sales.
You have a few options for customizing this type of audience:
I've been able to increase my webinar sales by 5x by simply using a custom audience based on, "People who have responded interested."
It helps me push them over the edge and drive that sale that I desperately need, and want.
Remarketing to social engagements has allowed me to generate $xx in sales in short periods of time.
I highly recommend creating multiple custom audiences on Facebook based on this type of engagement.
Just sit back, run your campaigns and wait for those sales to increase.
Conclusion
Social media marketing has been one of the biggest ways I've built my brand.
But when I first started, I had a difficult time making money on it.
I had trouble tying social media marketing back to ROI, and I know that many other entrepreneurs do too.
Social media is usually seen as an easy way to build a brand and provide instant social proof.
Or as a way to conduct great customer service in a fast way.
But as we've established here, social media marketing is actually an incredible tool to drive sales!
While its dedicated use isn't necessarily to drive sales like PPC platforms, you can do it with ease.
And it's become one of my favorite ways to do that.
It's a bit of a transition to get started, to go from simply engaging, to engaging with the intent of driving sales.
But, it can be done, and there are lots of tactics that will help you do it.
Start by building a close community with direct and personalized engagement.
Next, develop relationships with key influencers that can drive traffic and build your following.
Run contests to bring in even more traffic and sales.
Lastly, remarket those engaged social fans to really bring home the money.
Social media isn't just a way to kill time or build a loyal following. It's a great source of sales for any growing business.
What are the best ways you've driven sales through social media?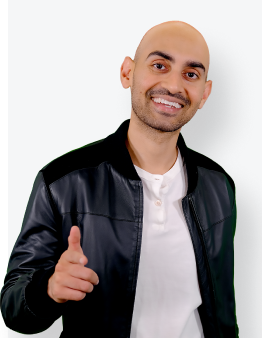 See How My Agency Can Drive More Traffic to Your Website
SEO - unlock more SEO traffic. See real results.
Content Marketing - our team creates epic content that will get shared, get links, and attract traffic.
Paid Media - effective paid strategies with clear ROI.