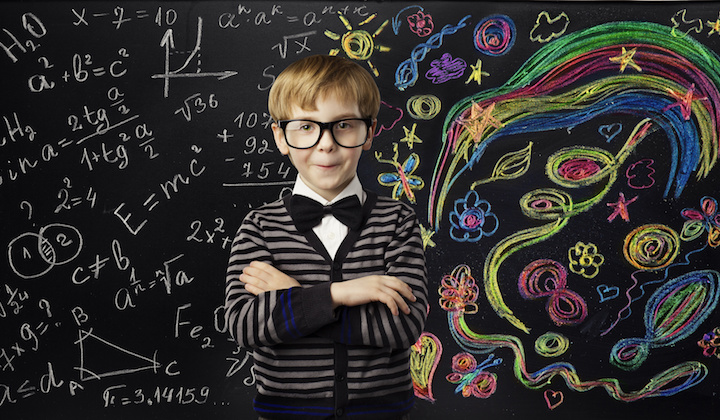 If you're new to the world of online marketing, you might have heard about and know a little bit about content marketing and the benefits that effective content can bring.
However, in spite of all of that, you might also feel a little bit intimidated by all the types of content out there. You may have no clue where to start.
After all, the whole process of creating a content marketing campaign  can seem somewhat overwhelming especially if you aren't a natural content creator to begin with.
You don't need to feel that way, however. Content marketing is your secret weapon as a small business and with the right marketing efforts and good content – you can reap the benefits.
In this post, we're going to take a look at how content marketing can work for beginners.
It's something worth exploring, especially since content marketing costs 62% less than traditional marketing and can offer 3x more when it comes to lead generation with potential customers.
We'll explore what matters most when developing a content marketing campaign and what needs to be done, so that you can get the best possible results across all kinds of media platforms.
By the end of this post, you'll understand how content marketing works -from the editorial calendar to the content type, and social media, and you'll feel confident enough to create a content marketing campaign of your own.
Let's begin!
Decide who you're going to serve
The first step to creating an effective content marketing campaign is deciding who you're going to serve with your valuable content.
You can't just create content about anything and everything – and trying to would be a lot of work anyway. To start a content strategy you need to know your target market.
Even if you think that you've niched down your target market, decide how you can get even more specific.
For example, you might think that you're going to create effective content for a B2B audience.
While that's perfectly fine, you need to figure out what kind of B2B audience that you want to create your relevant content for.
Let's suppose that you want to create a content strategy for people who are interested in online marketing campaigns.
If that's the case, then what type of online marketing campaign?
An online marketing campaign can refer to many things.
Content for those interested in PPC? Or, for those interested in SEO? How about social media marketing?
If PPC, then what kind of PPC – AdWords or Facebook or another social network?
It's important that you are specific to begin with, as having specificity about who you're creating your content marketing plan for makes it easier to hit a home run, when actually creating good content.
Furthermore, if you're creating effective content for a specific subset of people, it'll be easier to meet their needs (something we'll touch on next).
For a lot of small businesses, one of the best marketing strategies can be to create something known as a buyer persona.
A buyer persona is a detailed description of your ideal customer.
When creating a buyer persona, you list out the traits and characteristics of the person / target market that you're trying to reach with your content strategy.
You cover things, such as their age and job title.  You also want to include their fears and goals in life.
Having this information makes it easier to research what your target market wants to read about, increasing the odds that the content type you create will be compelling and enjoyable for them.
Keep in mind that you're free to branch out later, so don't feel stressed out while trying to decide what you should specialize in first.
Now, let's take a look at the next thing that you need to focus on, if you want to create an effective content marketing plan.
Understand what they really need
Now that you know who your target market is, you then need to decide the following –
What do they need – Content that they'd enjoy reading and, preferably, where there isn't a lot of at the moment. Think of news-related relevant content.
What do they like – Content that they've engaged with in the past via the social media platforms, indicated by shares and comments. Think 'how to' content and 'case studies.'
Content creation is the biggest challenge for 44% of content marketers. But, if you go about it the right way, it doesn't need to be that difficult.
Understanding what type of content your audience needs is quite easy.
All you have to do is to stay up-to-date with the current affairs in your industry.
So, if I'm looking to create effective content for the PPC crowd, I might head over to Google Alerts and create a bunch of alerts that let me know what is going on in the world of PPC.
Below is an example of an alert for PPC ads that I have created.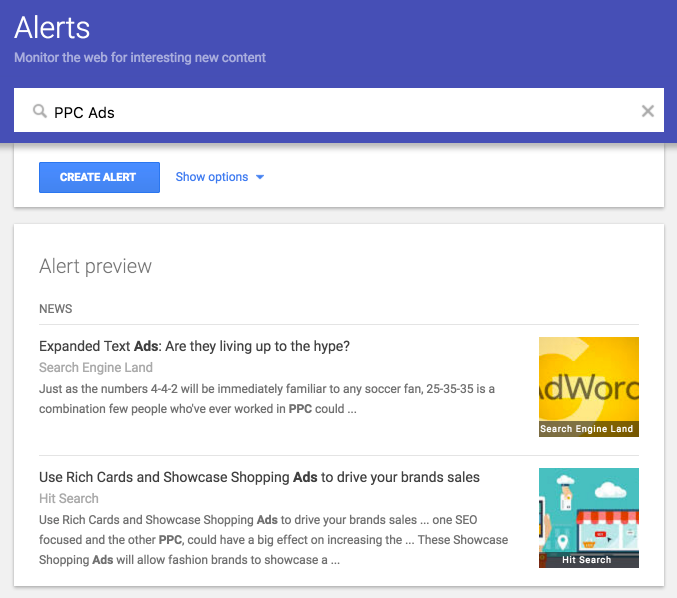 Here's an alert related to AdWords.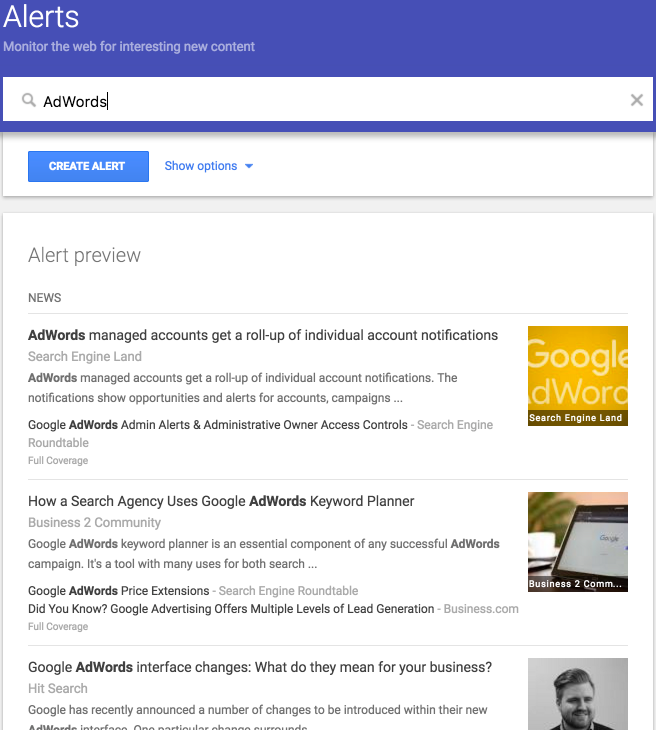 Thanks to these Google Alerts, I'll now be on the email marketing list and updated when there is news related to my niche and subjects. I can take this information and work it into my content strategy.
In some cases, I might not want to rely on a media platform like Google Alerts.  Instead, I may just want to find out what some of the latest industry publications within my niche are covering.
I can do that by performing a search within Google News.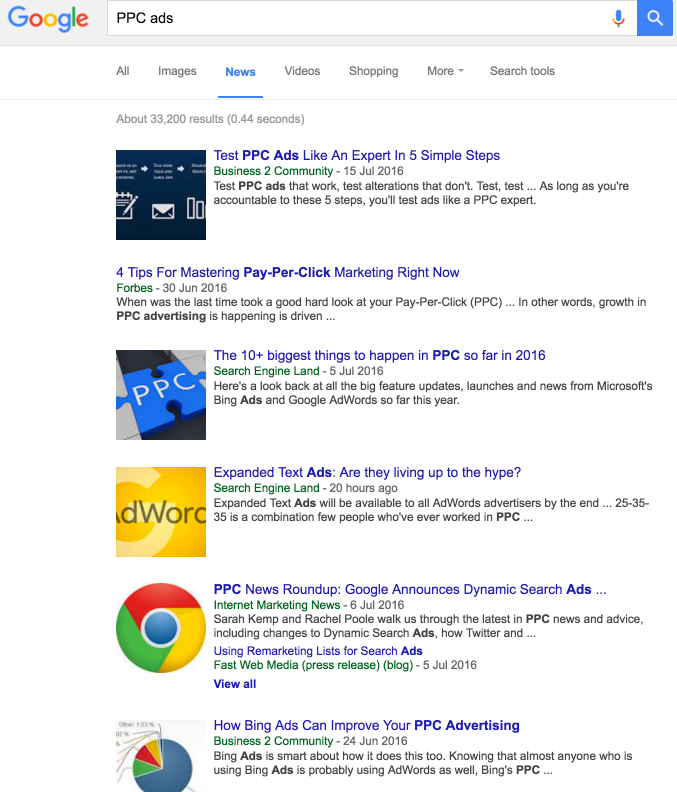 Though there are some results here that came up within Google Alerts, there are also some other useful pieces of great content that didn't and I can use them to inspire my own content creations.
In some cases, you might also find that there are specific blogs that consistently promote industry content, ahead of everyone else.
In the PPC niche, this might include the official AdWords blog or the official Facebook blog. If I want to keep up-to-date with PPC news, it would be a good idea for me to monitor these blogs on a daily basis.
One way that I can do this is by entering the URL of the blog into the Google Alerts tool.
Here's an example –
Next, let's take a look at how you can create types of content that your target market will like.
The goal here is to find effective content that has done well in the past and then go about creating something that is better. This is how you run a successful marketing campaign.
The best way to do this is by using a content marketing tool known as Buzzsumo.
This tool will let you know what content types your target audience is sharing the most on their social media platforms.
Below, you can see some of the most popular content  types from the past month, (in relation to shares on the social media platforms), based on the topic of AdWords.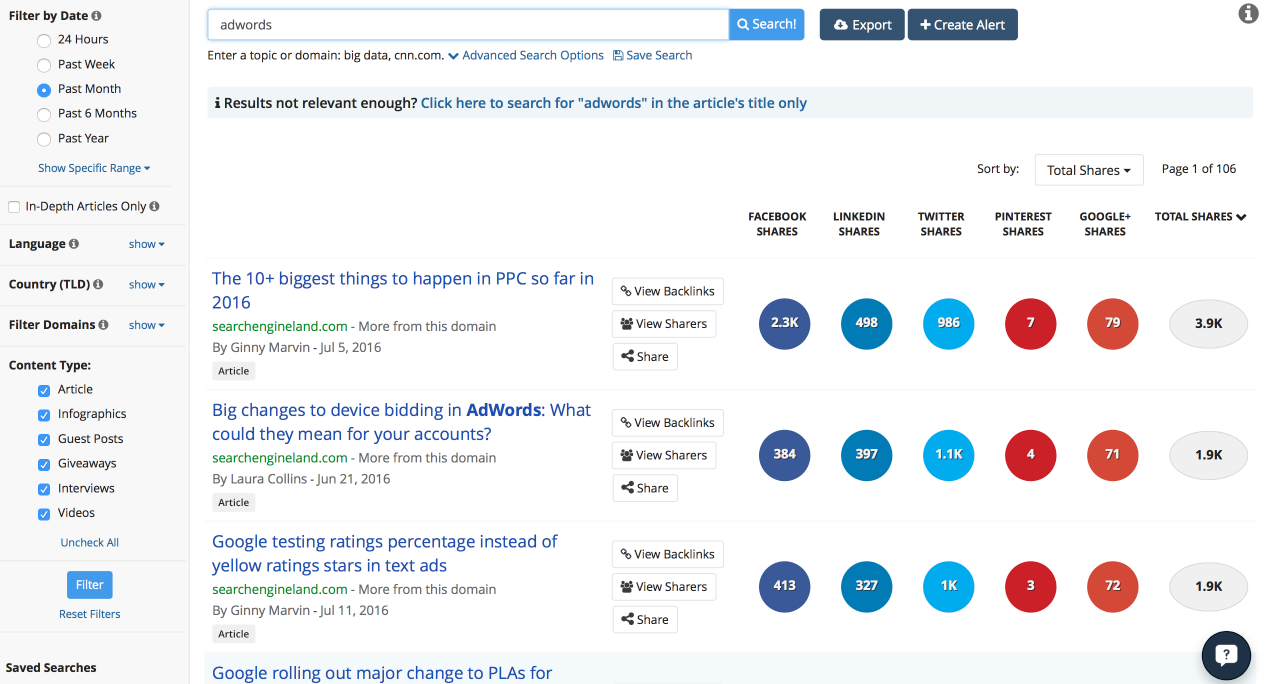 A lot of the type of content above is 'news related' content, meaning it's not that actionable and stops being relevant content.
Often, with content marketing, your goal is to create actionable content that will actually help out your target audience.
This kind of content also tends to receive more social media shares and evergreen SEO traffic.
Because of this, it helps to pair your niche keyword with another keyword that will help generate actionable content ideas.
For example, below, I've used the phrase 'adwords tips' – with 'tips' being the actionable keyword.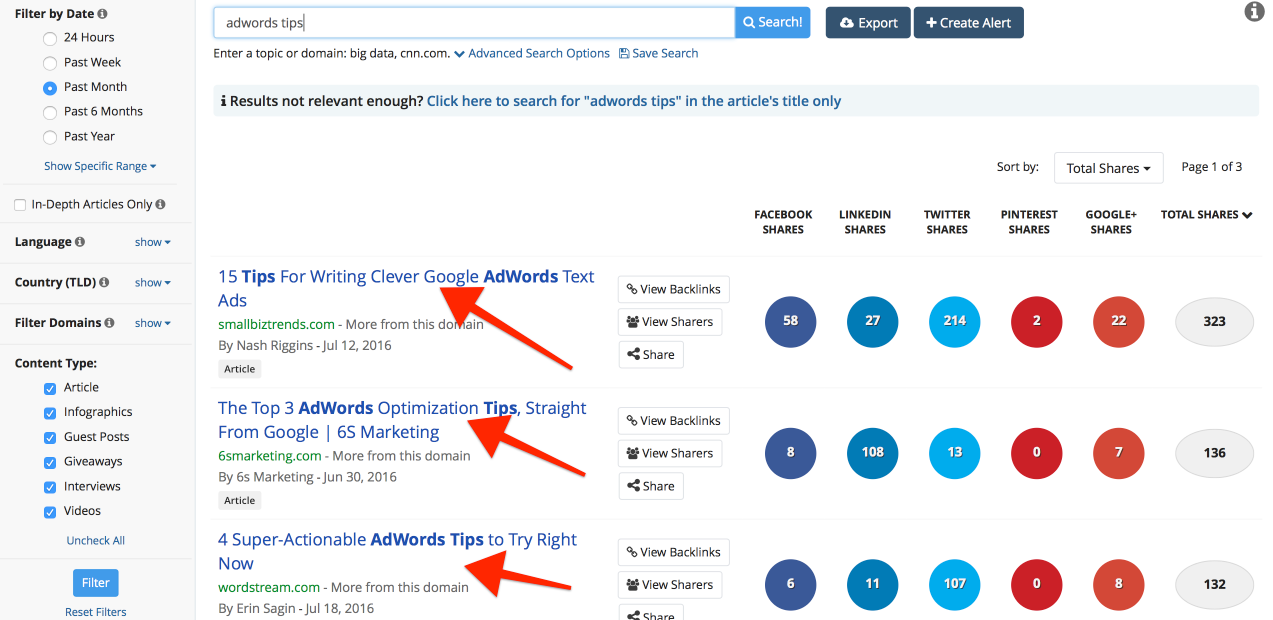 And, in another search, I entered in the term 'how to adwords.'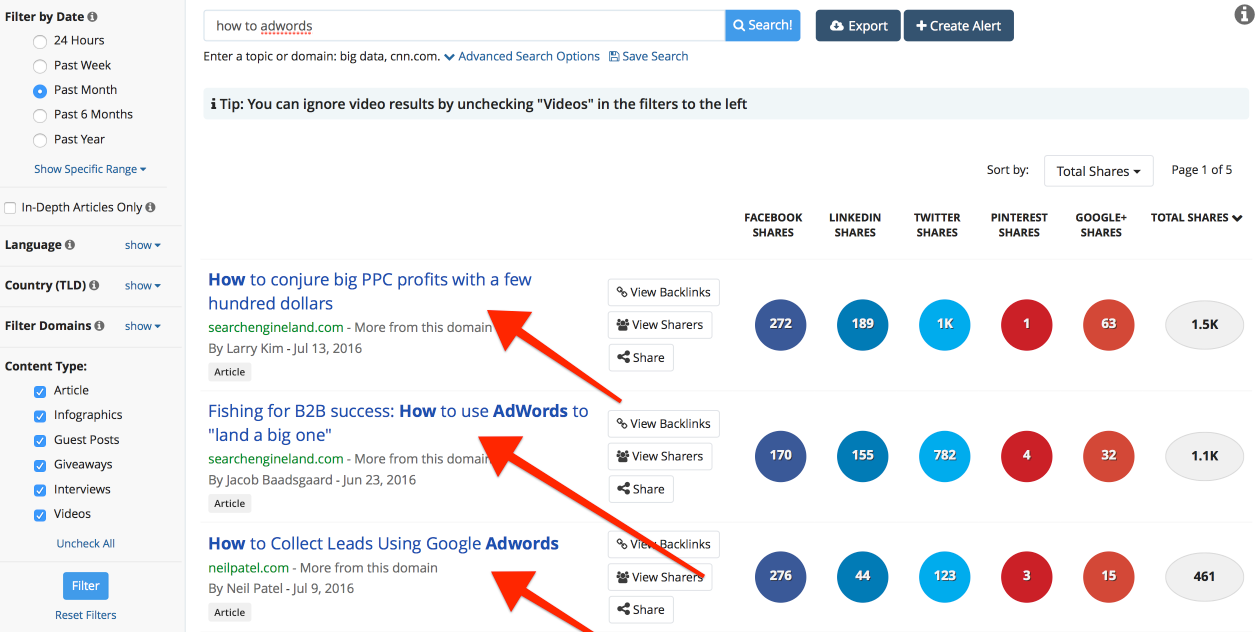 By making these changes, I'm now presented with some topics that could create the basis for my own 'actionable content ideas.'
Once I've decided on a marketing campaign topic that looks worthy, I then need to go about creating my own version that's better than the current choices already on the search engines and on the social media platforms.
Creating a better content marketing campaign generally involves one or more of the following –
Obtaining stats that are more current
Making types of content that is more 'fun' to read
Adding more images
Adding a video
Making the content more in-depth
Making effective content more fun sounds a little bit ambiguous, but it generally relates to making types of content that's easier to read and somewhat more entertaining.
The Paleo guide, over at Nerd fitness, is a good example of how a tough, 'dense' topic can be made more enjoyable to read.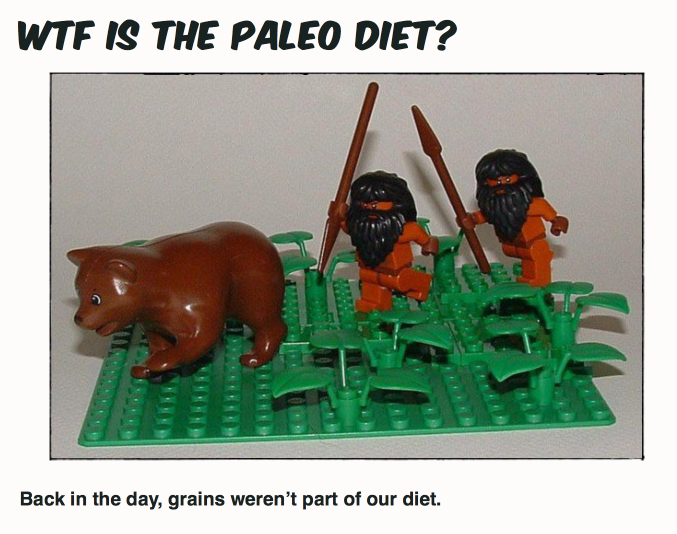 Your ability to do this well will depend on who you're writing for. Don't be afraid to let some of your personality shine through when you're creating content.
Know how to create what your audience needs
The next thing that you need to focus on is actually creating the content.
I touched on this earlier, when I mentioned how to make content 'better.'
It's important that you understand that there are several types of content marketing.  You don't need to stick to just one content type; you can create content for social media platforms, your blog, or your website.
You can, for instance, create content in the following forms-
Blog posts
Webinars
Podcasts
Short YouTube clips
Slideshare Slides
Whitepapers
In the beginning, it helps to pick a medium that you're comfortable with.
Once you begin to make some headway, you can then think about branching out to some of the other forms that I have listed.
It's worth remembering that you can always repurpose a piece of content which makes it fresh on the many media platforms.
For example, let's say that I want to use podcasting as my primary form of content marketing.
If that's the case, then I can eventually turn that podcast into a blog post.
That's what we've done with the CrazyEgg blog (though it's the other way around) and it's a good content marketing plan.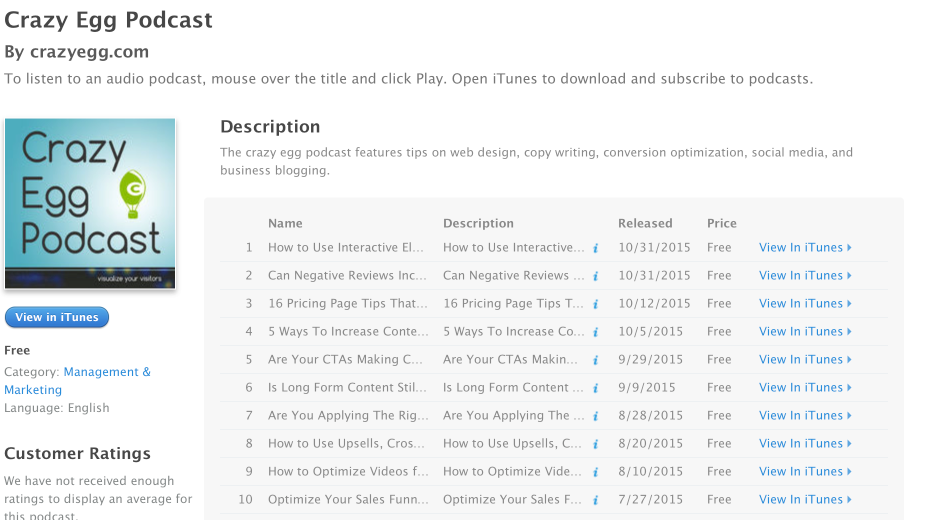 I can also turn that Podcast into a webinar, as there was likely a structure to the podcast that can be adapted to fit a webinar.
I can also take some of the key ideas within the podcast and turn them into a short series of videos that can be uploaded onto YouTube.
You don't have to do all of this work yourself.
If your key skill lies in podcasting, then you can hire a freelance writer to do the writing for you.
The same goes for the creation of videos, Slideshare slides and everything else that I've mentioned.
If you're looking to hire someone to help you get these tasks done, check out upwork.com. There are a ton of professionals out there who don't cost the earth and can help you with your content marketing campaign.
Know how to get your content in front of new people
So far, we've covered a lot, but none of that matters if you don't know how to get your effective content in front of people.
Knowing how to promote your content is essential, if you want people to know it even exists.
Thankfully, there are a couple of proven ways that you can get all your content types in the hands of people who will enjoy consuming it across social media sites.
The first is to contact people who've shared similar types of content to yours in the past.
If you click on the 'View Sharers' button, within Buzzsumo, you'll be able to find people who've shared content that is similar to yours on their social media platforms.
Once I see who has shared similar content on their social media platforms, I reach out to them with the following email.
A lot of the time, you can find the person's email address by checking out their Twitter Bio, which normally links to their website (and that will provide an email address).
You can also promote your content using PPC ads.
Thanks to the advanced targeting features of the social media platform Facebook, it's relatively easy to get your content and marketing efforts in front of people who are going to enjoy it.
Setting up the targeting for Facebook Ads is something that takes a lot of time to cover – though I have talked about it here and here.
The most important point to keep in mind is that you need to keep your audience highly targeted when it comes to your social media marketing and keep your reach under 2,000,000 people.
Don't be tempted to show your ads to a larger group of people on social media. Pick three or four interests only.
If there's a good match between your audience and the content, you'll experience high levels of engagement.
And, high levels of engagement generally mean that you'll also achieve greater levels of organic reach when it comes to social media.
Here's what I would do, if I were targeting people interested in PPC Ads.
That audience looks small, but, because it is so targeted, I'm more likely to reach people who will connect with what I'm promoting.
Getting a return from your content marketing

You don't want to just aimlessly create and promote content.
At some point, you'll want to generate a return on all of the marketing effort that you have expended to create your content.
And, you'll definitely want to generate a return, if you're promoting content using PPC Ads.
Because of this, it helps to have a means of collecting email addresses from the people who have engaged with your content.
One of the best ways to do this is by creating something known as a content upgrade.
Brian Dean managed to boost conversions by 785%, using content upgrades.
A content upgrade is something that the reader can take away with them, in the form of a download, that will help them to better achieve the goals that are covered in the content.
For example, for a post related to improving the reader's AdWords Quality Score, I might create a content upgrade in the form of a checklist that people can download.
Obviously, the better your content upgrade, the more people will download it, as the perceived value will be higher.
In fact, in some cases, you might even want to make the content upgrade an add-on to the content.
So, instead of promoting a checklist, I might promote a video case study that explores how I have previously improved the Quality Score of an AdWords ad.
Of course, collecting emails isn't all that you need to do.
You'll also need to have a funnel in place that gives people the chance to buy something from you.
The easiest way to do this is by creating an autoresponder sequence that continues to provide value for those who have signed up to your list.
After 4 or 5 emails, you can then offer a course/product that helps people achieve even better results.
That's just one way that you can do things.  There are many variations, in terms of how you can construct a funnel for your marketing efforts, though an email sequence is often a good start for newbie marketers.
I've discussed here how an autoresponder sequence can be used.
Conclusion
There's a lot of buzz, at the moment, related to content marketing.
You might find it difficult to know where you should begin with content marketing, as it can all seem complex at first.
Hopefully, after reading this post, you now have a solid framework that you can stick to, when formulating a content marketing campaign.
It doesn't matter if you're a beginner – so don't let that hold you hack.
As long as you're willing to get started and have some 'skin in the game,' you'll quickly learn what works and what doesn't work, in the world of content marketing.
Plus, if you do take action, it won't be long until you're an expert at content marketing!
Do you have any content marketing campaign tips you can share that will help our beginners? Please share and let me know below. Thanks!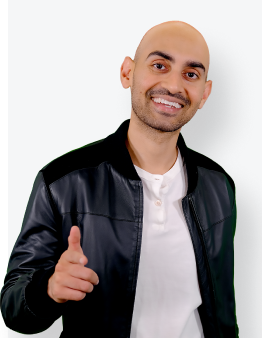 See How My Agency Can Drive More Traffic to Your Website
SEO - unlock more SEO traffic. See real results.
Content Marketing - our team creates epic content that will get shared, get links, and attract traffic.
Paid Media - effective paid strategies with clear ROI.
Are You Using Google Ads? Try Our FREE Ads Grader!
Stop wasting money and unlock the hidden potential of your advertising.
Discover the power of intentional advertising.
Reach your ideal target audience.
Maximize ad spend efficiency.