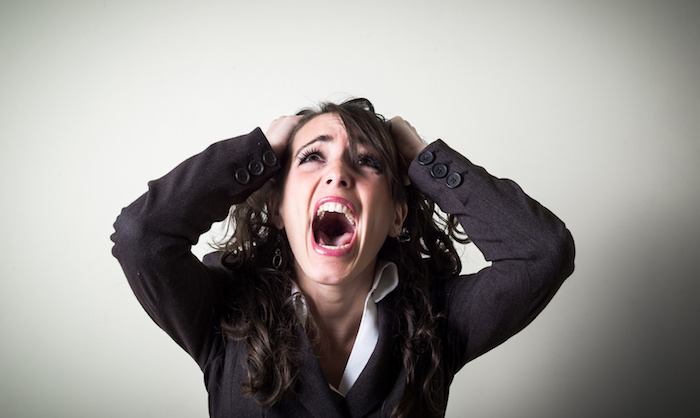 A lot of businesses are starting to take their content marketing campaigns seriously.
However, just because more people are turning to the world of content marketing strategy as a means of obtaining potential customers, doesn't mean that everyone knows what they're doing.  
In this post, we're going to take a look at some of the common struggles that people face when it comes to their content marketing campaigns.
We'll look at each aspect of the digital marketing and what matters most.
By the end of this post, you'll have a clear sense of what can be done in order to overcome the marketing campaign obstacles that your small business is facing.
Let's begin honing in on your marketing strategy.
Knowing what type of content to create
This is one of the main struggles that small businesses tend to face when they're embarking on a content marketing  campaign or project.
Many marketing institutes struggle to come up with great content ideas that will be engaging for their potential customers and target market.
In fact, 54% of B2B content marketers state that creating  valuable content that builds brand awareness and is a challenge that they're struggling with.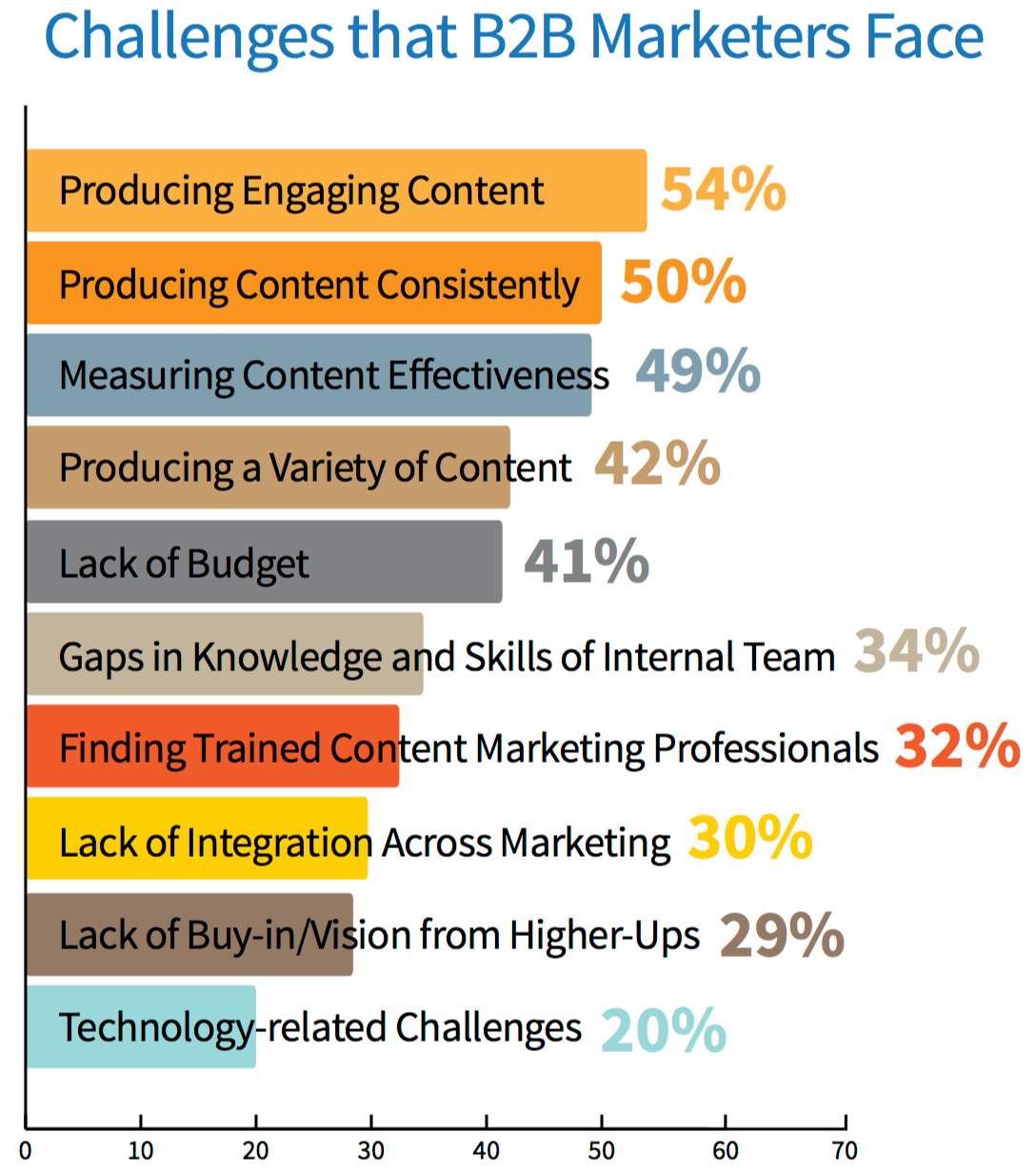 However, just because the production of engaging and valuable content is challenging, doesn't mean that it's impossible.
In order to create engaging content in your editorial calendar, the most important thing you need to acknowledge is who you're actually creating that content for.
Before you do anything, you really need to sit down and think about the people that interact with your small business.
What are their struggles and what kind of challenges do they deal with on a day-to-day basis?
When you know this information, you can create a content marketing campaign that speaks to the struggles faced by your target market.
This content can then provide in-depth advice on how such issues can be tackled –  thereby resonating with them and helping to build trust and brand awareness.
It is important that you create content that is tailored to only a few audience personas.
If you go into a content marketing plan thinking you can create something that will appeal to a large number of personas, there is a chance that your content will ultimately end up appealing to no one.
That's because it's hard to create in-depth, high value effective content for multiple demographics.  Your target market likely has specific challenges that only apply to them.
If you take a look at the chart below, you'll see that 47% B2C content marketers aim to produce a content marketing strategy for only 2-3 persona audiences, because of the fact mentioned above.
You might also want to think about the scenario that leads people to get in touch with your business in the first place.
For instance, what is it about their circumstances that makes them want to engage with your business?
When you know this, you can create effective content that helps people who are in an earlier stage of the buyer journey, but also positions you as the solution provider for the next stage.
I've explained how that works in this post, but let's quickly recap what the above statement means.
Imagine you're a company that helps people carpet their homes or  install wood flooring.
There are two options for you here when it comes to your marketing campaign.
One option is to create an editorial calendar that teaches people how to take care of their floors.
Your content might explain how to remove a stain from a carpet or repair damaged wooden flooring.
The other option is to help people who are just one stage behind, in terms of when they'll need to install wood flooring or new carpeting.
These individuals might include those who are moving home, or those who are tackling a refurbishment project.
For those individuals, you would create content that helps them deal with all the challenges of refurbishing a home, for example.
Then, when they're starting to look for flooring solutions, you would position your offering as the solution.
After all, you already have their attention and trust, because you've provided a full editorial calendar that helps them solve the other challenges related to refurbishing a home.
So that's the broad strokes of knowing what kind of content you should create if you want inbound marketing to work for your brand.
Let's take things one step further and see how you can come up with ideas for your successful content marketing campaign.
One of my favorite tools for completing a task like this is Buzzsumo.
Using Buzzsumo, we can quickly identify the most popular type of content for a specific topic.
This allows for us to easily work out what resonates with a particular audience and helps you reach your ideal customer.
Then, all we need to do is create something with greater depth, while also doing a better job at promoting it.
So, head over to Buzzsumo.com and sign up.
Then enter in a keyword related to your niche.
Let's stick with the topic of carpet and wood flooring that was mentioned above.
Actionable content tends to do well when it comes to digital marketing, so I might just try and input the phrase '"how to" carpet.'
The commas ensure that a lot of "how to" information is returned.
Below are some excerpts from the results returned by Buzzsumo and it shows some interesting results.


As you can see, there are plenty of ideas there to get started with and use as inspiration for your editorial calendar.
The content ideas from the results above are quite broad.
If you want to come up with more ideas, perhaps some that are more in-depth, simply take one of the above posts and input a related keyword into Buzzsumo.
So for 'carpet,' I might be looking for content that advises people on 'choosing carpet,' because above, there's valuable content related to choosing carpet.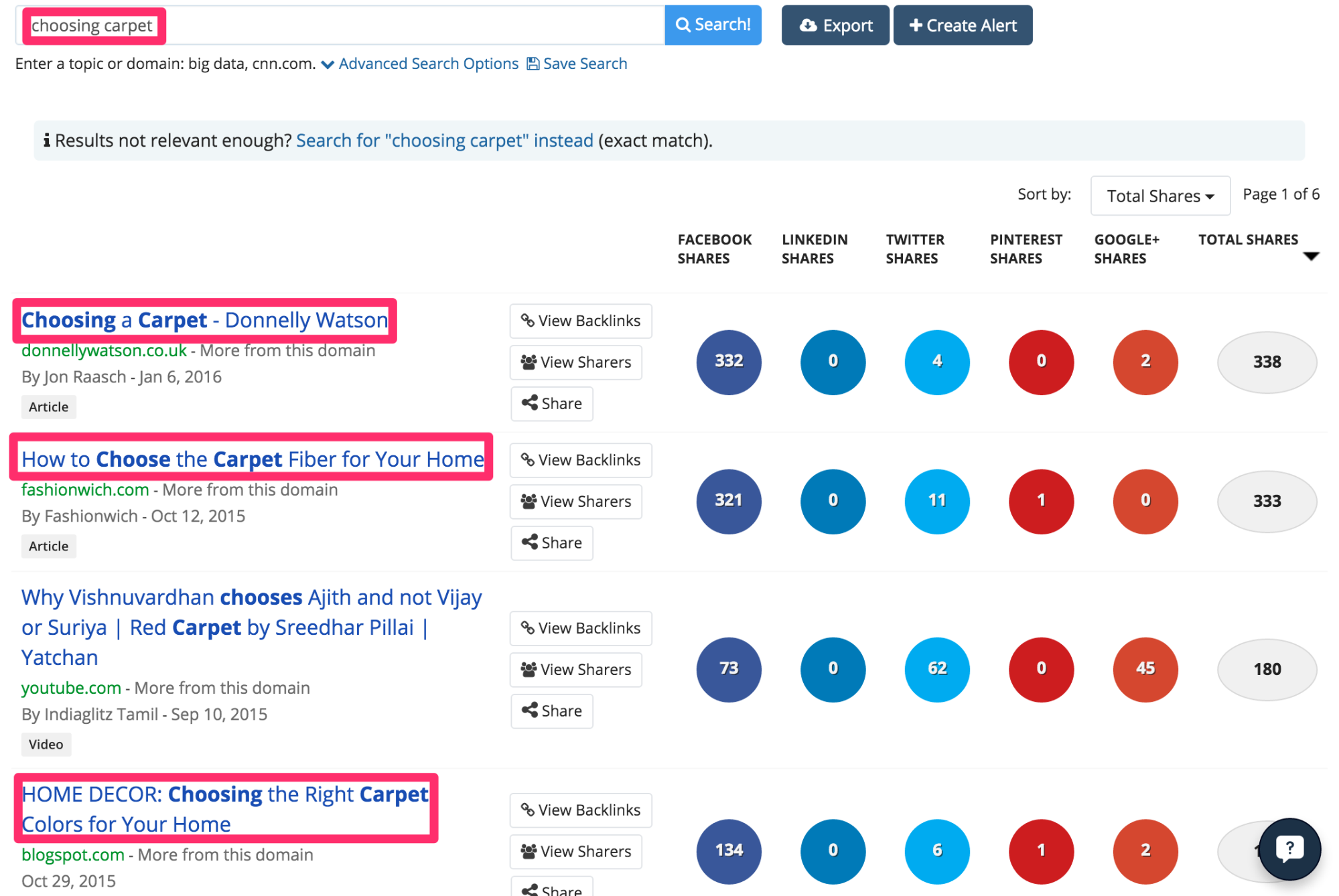 After doing so, I can see that there are a few articles related to the topic of choosing a carpet.
I can then use those types of content as inspiration when it comes to creating my own content marketing campaign, that is really niche and hopefully more high value for the target audience. .
Because we also mentioned wood flooring, let's examine how the process would work for that topic too, just to emphasize the point.
This time I enter 'how to wood flooring.' That sentence might not make grammatical sense, but it does return some good results.
Note: What I have found with Buzzsumo is that you will have to experiment with the use of quotation marks, as sometimes they can help you and sometimes they do the opposite.
The same concept of ignoring correct grammar applies to the structuring of your key phrases.
In any case, here are some excerpts from what came up.

As you can see, we have some good topics that we can start focusing on if we want to create content for this niche.
That's one angle you can use when it comes to creating content as part of your marketing campaign.
Now, let's look at creating content that focuses on an earlier stage of the buyer journey.
Let's stick to the topic of carpeting and wood flooring.
When it comes to producing content for an earlier stage of the buyer journey, such content might relate to individuals who don't realize that they need carpeting or wooden flooring just yet, but at some point will.
These individuals might include those interested in information related to 'home renovation.'
Go through the same process where you search a relevant keyword in Buzzsumo, in order to come up with content ideas.
I decided to go with the keyword 'how to home renovation'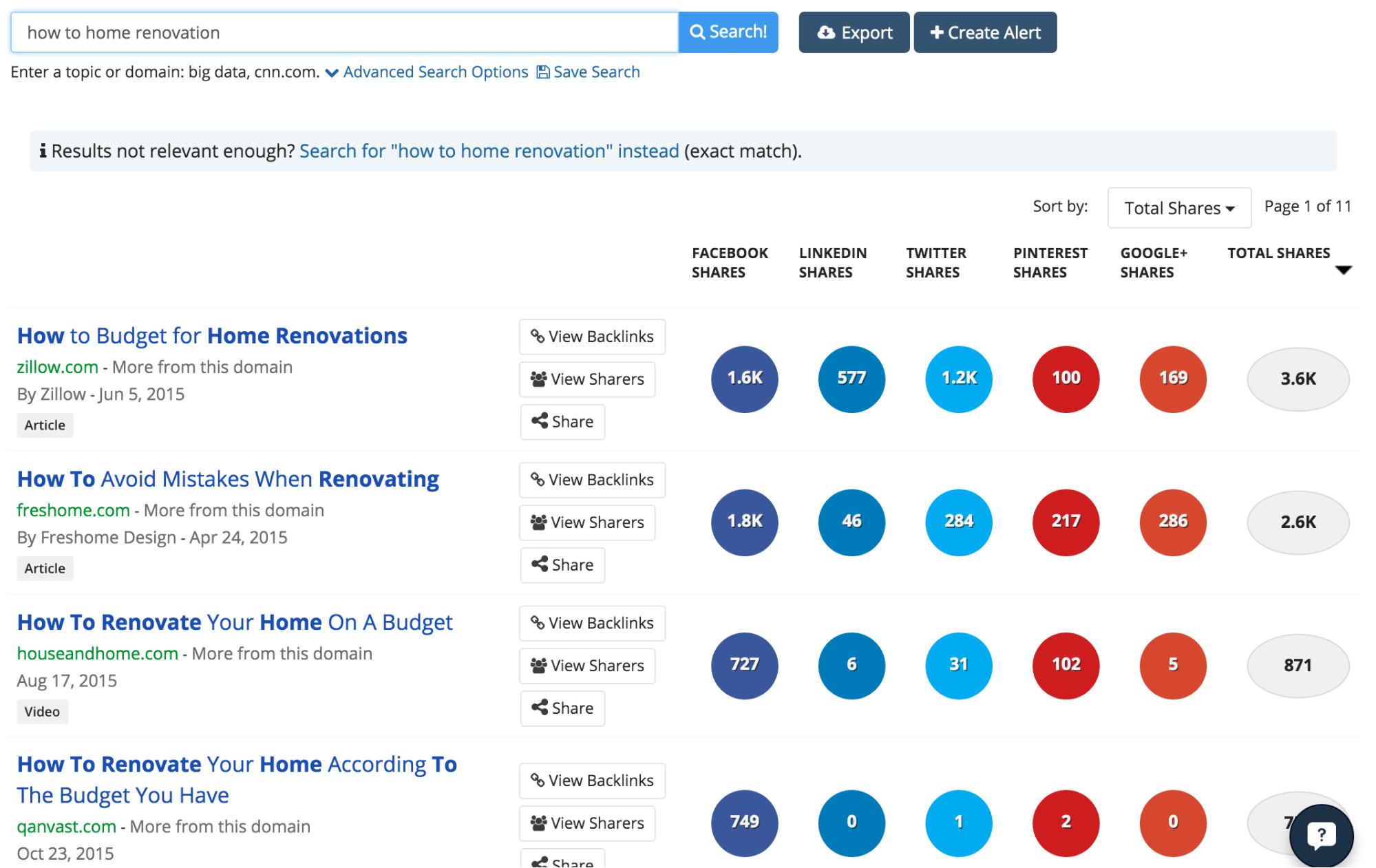 Once again, you can see that there are some relevant content ideas here.
You don't have to use Buzzsumo when it comes to finding ideas for your editorial calendar.
You can also take a look at what your competitors are doing,and then create something better than what they have.
A quick way to do this is to search Google, using keywords similar to those above, then see what results come up on the search engines.
You could then take some of the top forms of content and assess how you can make them better.
This is similar to the Brian Dean approach known as the 'Skyscraper method.'  
It's also worth following the social media channels of your competitors, as any updates related new content will often be posted there.
Let's next look at what needs to be done once you have a good sense of what needs to be created.
Creating the right kinds of content
Once you've settled on a topic for your content, you then need to think about creating the content in question.
Content creation can come in many forms.
The option you pick is going to depend on what you think your skills are most suited to combined with what you think is most likely to resonate with your audience personas. This is how you build a good solid content marketing campaign.
We're going to quickly have a look at all the forms of content that you can create and how you can get the best out of each type of content.
The most common form of online content creation is generally a blog post.
Blog posts can be a good starting point when it comes to content creation, growing brand awareness, and launching your marketing campaign. You'll see below that 60% of B2B content marketers list it as their most effective form of content.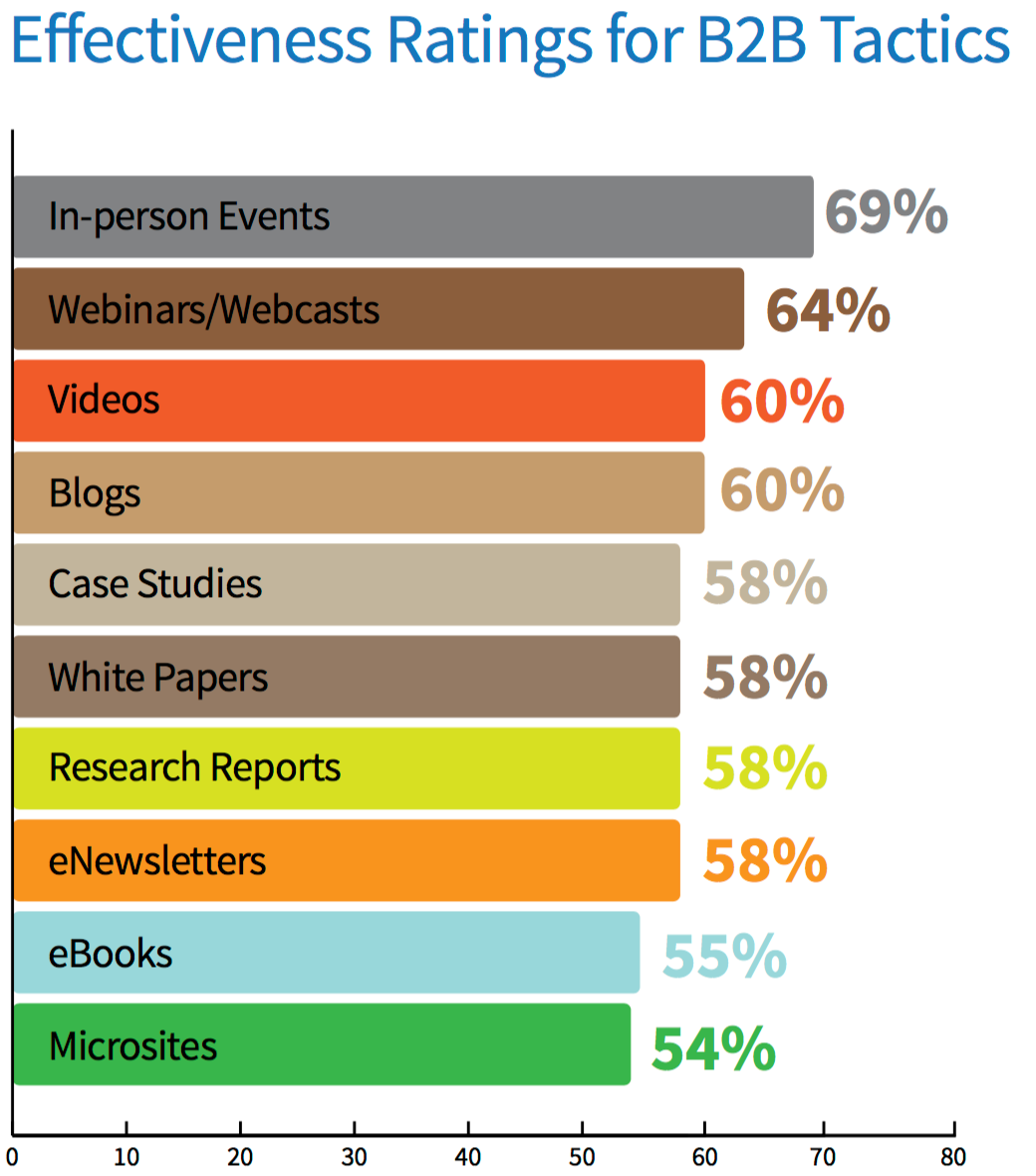 Writing is suited to those who do not like to be in front of a camera or are better at communicating using the written word. Written content can also easier when it comes to weaving in search engine optimization and other such marketing goals.
However, it can also appeal to people who find themselves on a budget and can't afford to pay for the costs associated with other forms of content creation.
If you're not a great writer, you can still knock out a decent blog post.
There are two things that you need to pay attention to when it comes to writing a great blog post.
The first is to write in a clear and concise manner.
The other is to make the post visually appealing.
That essentially means that you use the right kind of formatting and you're also generous with your use of images.
Let's quickly talk about how you can write in a concise manner.
There are many tools designed for marketing campaigns that you can use to help you write with more precision.   
One such tool is Hemingway Editor.
Using this digital marketing app, you can quickly see if your writing is unnecessarily 'wordy.'
Here's a critique of some text from earlier in the post.
And this is what the amended text looks like.
As you can see, the latter version of the text flows better and does away with any unnecessary words.  
You just need to follow the guidelines provided by the  app to create writing that is precise and easy to follow.
If you're worried about your writing being unclear, consider using that app.
Often the best way to approach things is to write in a conversational manner.
You don't want to write anything that is going to make you look 'smart.'
Just create content for your marketing campaign that is helpful and will add value to the lives of your readers.
When it comes to making your writing visually appealing, the first thing you must focus on is the proper use of headers.
Headers are important because they break up the text.  They let people quickly scan a post and see if there's anything covered that they're interested in. They also work well when your content gets shared on the social media platforms.
Creating headers is easy.
If you're using a blogging platform like WordPress, you just need to choose 'Heading 2,' from the drop down menu within the toolbar.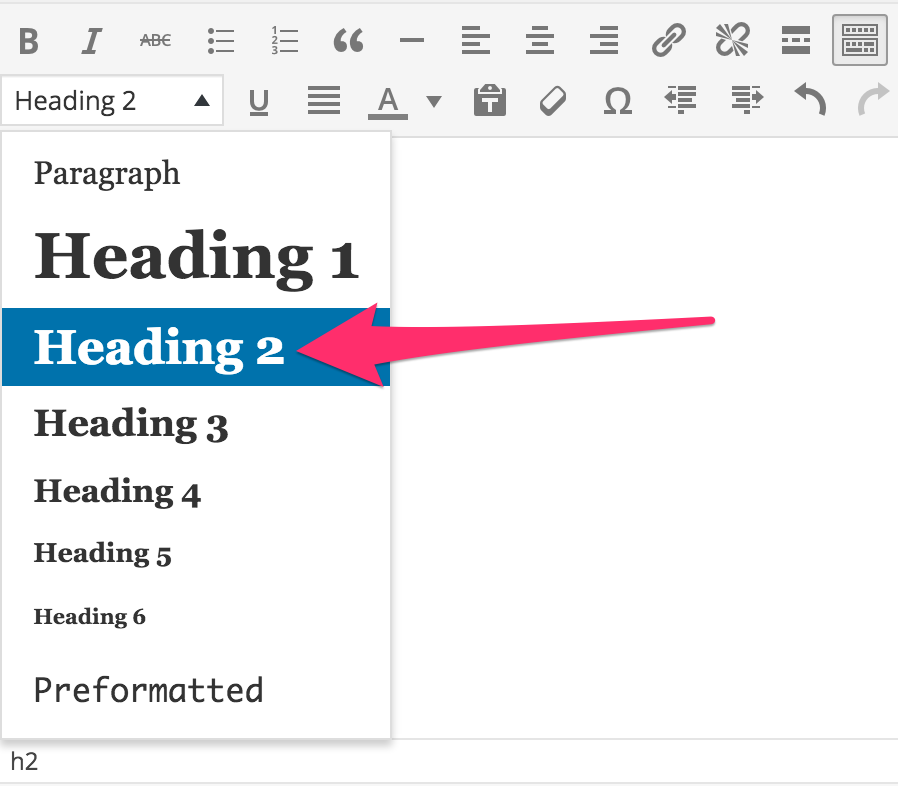 You'll also want to focus on using a generous number of images within your post.
Refrain from using images that don't contribute to the overall message of the post.
If you're taking screenshots of things you see online, you can use a tool like Skitch.
This tool will let you quickly take a screenshot and then 'mark it up.'
Even if you don't think your blog posts needs images, you might want to reconsider.
Blog posts with images receive 94% more views than content that doesn't have relevant images.
If you need images for your blog post, you can use sites that provide royalty free images.
One such site is Shutterstock.

iStock can also provide you with some images for your blog posts and they are also royalty free.
Though you may have to pay to use some of the images from these sites, you will find that the cost is worth it.
You'll quickly be able to source high quality images that are ready to work with.
This can often beat using sites like Flickr, because when using such sites, a lot of the time spent is on actually finding an image.
On top of that, you'll also probably end up compromising, because an image is cost and royalty free.
If you need more advice, I've covered here and here what can be done in order to be a better writer.
Let's look at another form of content you can create – Webinars.
I've used webinars in my business with great success.
If you look at the chart from earlier, you'll see that webinars are the second most effective form of B2B content, with 64% of marketers rating it highly.
So how can you go about running a webinar of your own to grow your brand awareness?
When it comes to hosting a webinar for your digital marketing plan, you can use a tool like GoToMeeting.
This is one of the most commonly used tools when it comes to running webinars.
The platform can be a little bit pricey, however.
If you're really on a budget with your marketing strategy, you might want to read this guide, where I cover how you can create a webinar at a very low cost.
Creating a webinar doesn't need to be complicated.
There are generally a few key stages in a webinar
Explain who this webinar is for

Explain what is going to be covered in the webinar

Provide a little bit of backstory in terms of who you are, and why you're an authority

Provide a 3 core pieces of content – around 15 mins each.

Make an offer

Open up for Q&A
That's a very basic outline, though it's definitely something you can use and start working with right away.
In some cases, you may not even provide an offer, as it may be a purely educational webinar.
One thing to keep in mind is that when you're creating the slides for your webinar, don't put a lot of text on the page.
Otherwise, people won't be focused on your voice.
Instead, they'll be reading a bunch of text that can be found on the screen.
If you need some inspiration, consider visiting Slideshare and having a look at some of the presentations available there.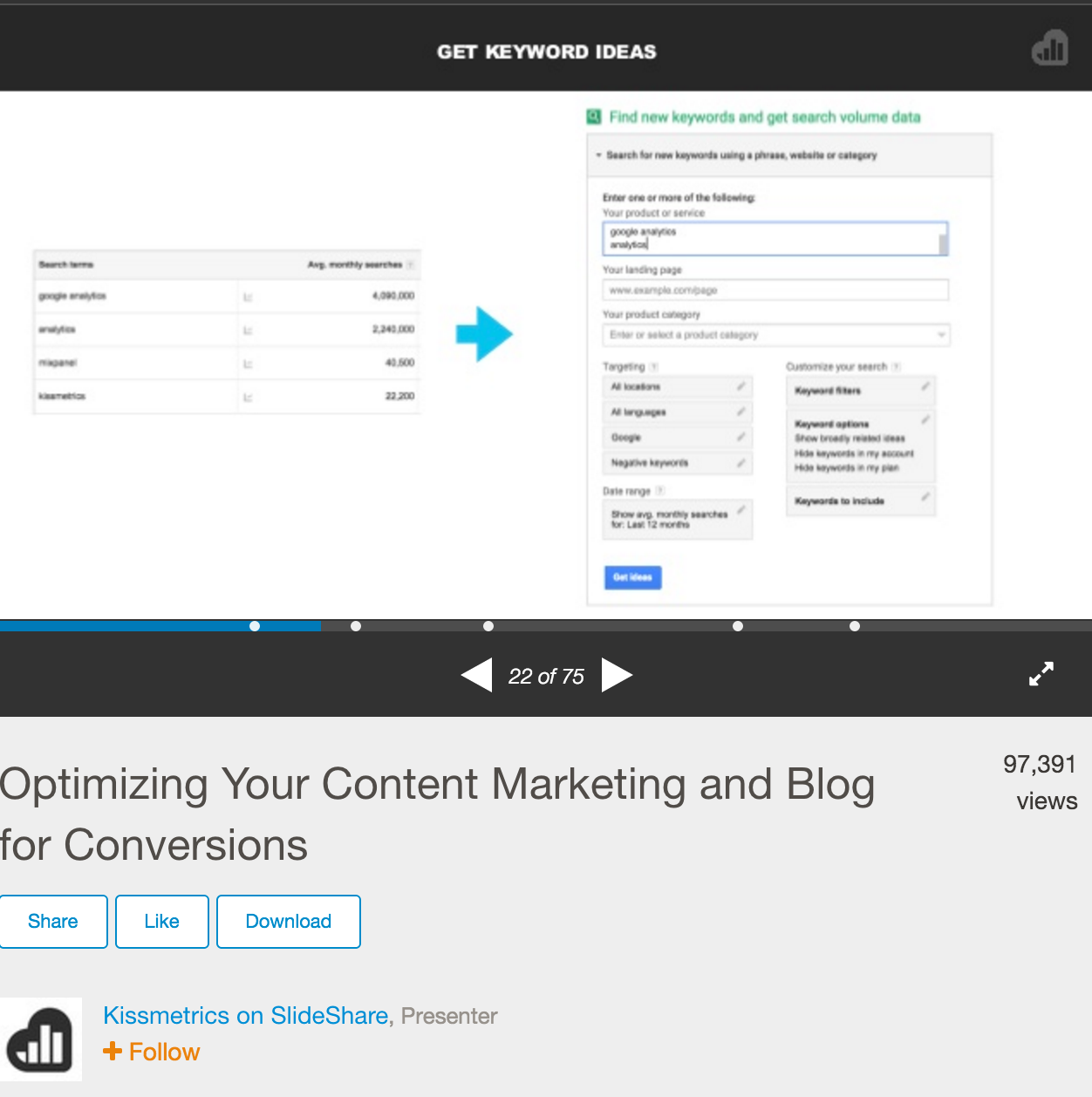 You'll then begin to develop a good sense of what works when it comes to effective presentations.
You may eventually want to use Slideshare as a way to distribute content, especially considering that it has over 70 million users.
You can also announce that you are offering a bonus at the end of the webinar, to keep people engaged.
The bonus can be something relatively simple, such as an infographic that relates to the content you are covering in the webinar.
It can even be a simple checklist.
Another type of content you can create is a Podcast.
33% of Americans, aged 12 or older, have listened to a podcast.
As of January 2015, 17% of Americans had listened to a Podcast in the past month.
With Podcasts becoming ever more popular, you can be sure that listener numbers are going to rise beyond the numbers I just mentioned.
Podcasts are a good content form to create for those who are good at talking about their subject choice, but don't like to be in front of the camera and don't like writing. Podcasts are good for working into your marketing campaign, especially if your goal is to grow brand awareness by connecting with your target market.
I've talked here about how you can create a Podcast.
When it comes to making your own Podcast, you don't need to be overly concerned about editing.
Sure, you might want to remove some major mistakes, if there are any present.
But, in most cases, you'll get away with the audio you recorded in the first place.
At most, you might want to include some intro and closing music.
You don't have to do that yourself.  You can just head over to Fiverr and find someone who can create that music for you.
Though the prices show $5, what you will find is that if you ask for something more than the basic offering, it will of course cost you more than $5.
For example, here are the extras provided by one Fiverr seller who is offering to create an audio intro for your Podcast.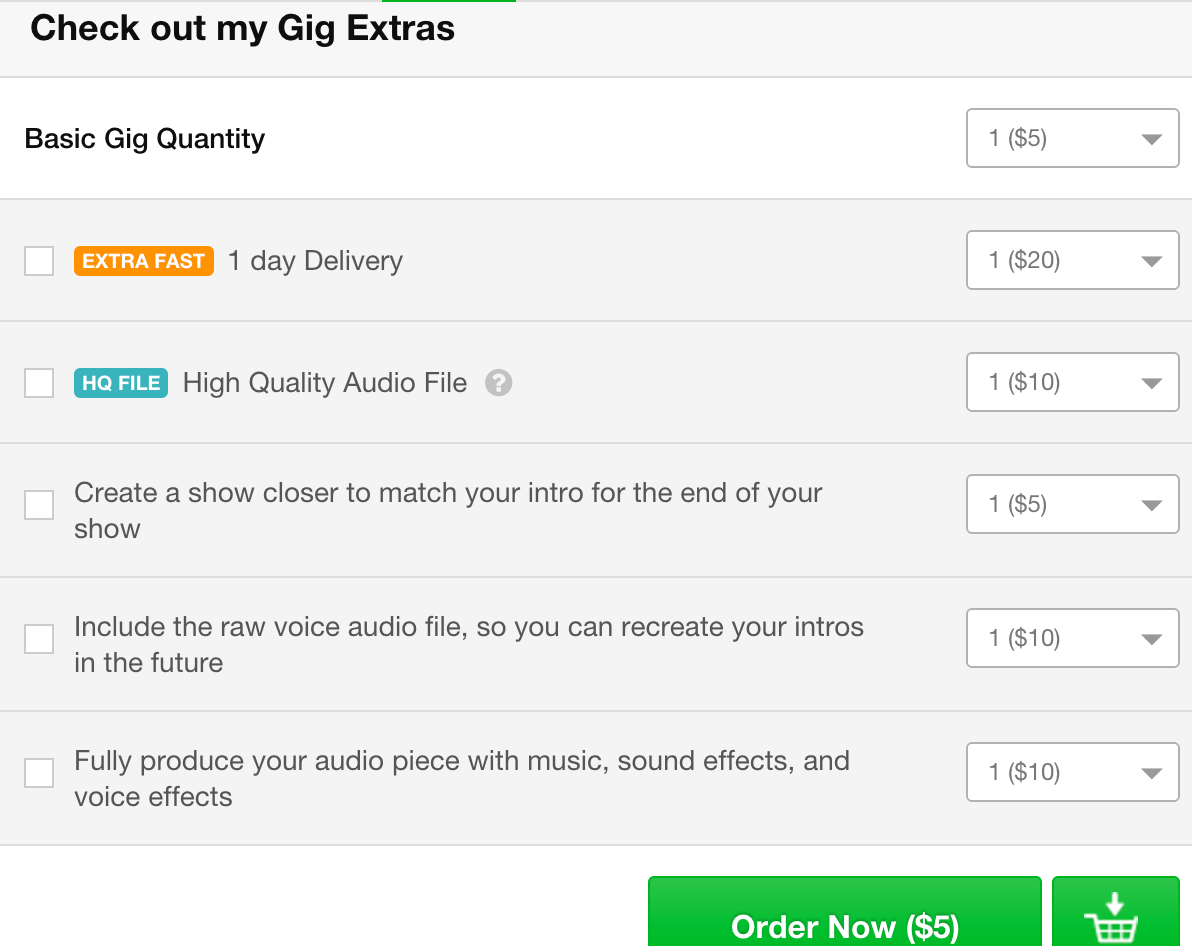 If you're worried about potential wasted spend, pick a seller that has a high rating.
Here's an example of such a seller.
Note, however, that some of the more popular providers on Fiverr will have a longer turnaround time, because they're in high demand.
However, as you can see above, some will provide an option where they will turnaround your purchase quicker – if you're willing to pay extra for speed.
These 'upsells' don't really cost that much and they're often worth the money spent.
In some cases, you might even want to invite a guest onto your podcast.
Guests might include people who are well known within your niche, or those who have produced results that can be emulated in your niche.
If I was running a podcast on flooring, including carpets and wood flooring, I might invite interior designers onto my Podcast.
They could explain how to pick the best kinds of carpet or wood flooring to achieve a certain 'look.'
I might even consider inviting people who deal with cleaning carpets or repairing wood flooring.
Such individuals could then provide insight into what can be done to tackle common problems.
This can be a good idea if you're struggling to come up with content ideas.
By inviting other people onto your show, you'll be able to provide incredible amounts of value, while also ensuring that you're not pressured to create the content all on your own.
You'll want to make sure that you have a good set of questions ahead of time, or you won't be able to extract the best information out of your guests.
Once you have one piece of content, you can always repurpose it so that it is turned into another form.
For instance, I mentioned above how the slides of a webinar might be used as a Slideshare presentation.
You can also take the audio of that webinar and turn it into a Podcast.
Or you can take the blog posts you have and turn them into podcasts as part of your editorial calendar. Re-purposing content is an essential part of a good marketing campaign.
I have done this for a few of the posts on CrazyEgg.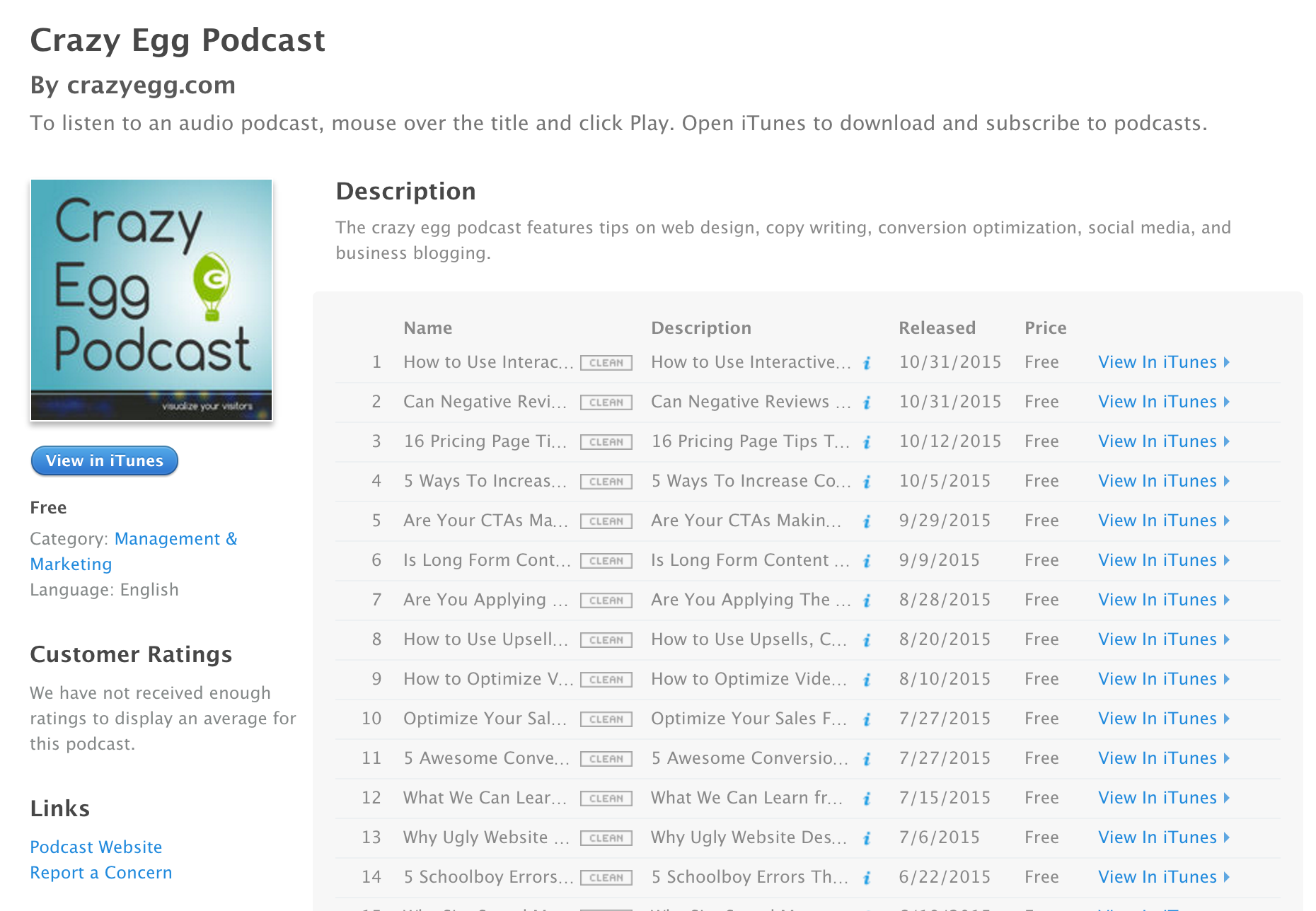 Your ability to repurpose content is going to depend on how creative you can be. If you get it right then it will work across lots of different media platforms.
As a framework, just think about how you can take a type of content and adapt it into the following formats –
Audio – Podcasts

Video – Webinars /YouTube videos

Graphical – Infographics/Tools

Text – Blog posts
You don't always have to create your own content to boost your brand awareness.
That's because there's always the option to hire people to create the content for you.
In fact, more and more companies are looking to outsource their content creation to a content marketing institute, as shown by the chart below.
As you can see, when compared to 2014, 2% more companies were using an 'agency partner,' to help write their content in 2015.
It's also evident that companies who were using staff to write their content fell by 5%, in 2015, as compared to 2014.
You can find writers and marketing institutes using sites like Upwork, or the ProBlogger jobs board.
On top of that, if you see a great piece of content on the web, you can always message the writer and ask them if they'd be willing to do a little bit of work for you.
If you're looking for someone to host a Podcast or webinar for you, then it might be a good idea to stick with Upwork.
Content creators will need clear instructions on how they should structure their content, and what needs to be done to ensure that is going to have high value.
More often than not, you'll have to develop these instructions, even if the person you're working with is an expert on the topic of choice, or is just a good writer/presenter in general.
For instance, if you can provide a clear outline of how a webinar should be created and what key points need to be hit within the webinar, your presenter should be able to get the job done to your standard.
When you're picking someone who is going to be involved in content creation and your digital marketing plan, make sure you pick someone who is well versed on the topic of your choice.
That way, they'll be able to create content with authority.  They'll also be able to deal with any questions that consumers of the content might have.
If you can, create a document ahead of time that details the creative process and the rules that need to be followed, so that everything that's created is consistent with your brand.
For the first 3-4 projects, you'll need to work closely with the person creating the content.
After that, the content creator should be well versed in what you're trying to achieve and the sort of content you want created.
Eventually, you'll be able to settle into a workflow where they can propose ideas for content and you approve them.
Of course, you'll want to keep a close eye on any content that is created, so that you can confirm that everything is going as you want it to.
We've covered how content can be created and how you can find people to create content for you.
Now, let's look at how you can tackle the next struggle that people have when it comes to their content marketing campaigns.
Promoting your content
Content promotion is the thing that trips many marketers up when it comes to their digital marketing strategy
Because so much content is being created nowadays, you can't just throw something up on your site, or on your social networks and expect it to get traction.
Rather, you'll have to actively figure out how you can get it into the hands of those who will enjoy it – and perhaps even share it on their own social network for you.
As you might've guessed, there are many marketing strategies when it comes to content promotion and boosting brand awareness.
For instance, one thing you can do, is to email people who have shared content similar to yours in the past.
All you have to do is find popular content within your niche, take a look at who's shared that content and then message them letting them know that you have something similar.
When reaching out, you ask that if they like your content, they share it.
Not everyone is going to bite, but those that do will ensure that your content gets in front of the right people and that it gains some traction.
And you can do all of that using tools like Buzzsumo (again!).
I'm not going to go into a lot of detail when it comes to content promotion, because I've just recently covered the concept of promoting a blog post in a lot of detail here.
As mentioned in that article, when you're looking to promote anything, be it a blog post or a product, having relationships with people can make the whole process easier.
If you know what niche you're going to be dealing with, make a point to start building relationships with people in that niche as soon as possible.
Share their content and leave meaningful comments whenever possible. A good content marketing campaign works on give and take with other writers. 
Don't do this just for the sake of doing it – you need to be sincere in your actions.
However, if they're within the same niche as you, then there's no reason to assume that they don't have content that you'd mind engaging with.
If you have a new, up and coming blog, you might not have that many visitors at the present moment.
Because of this, it might be a better idea to take a great piece of content and use it as a guest post on a high traffic blog instead of posting it on your own blog.
This will ensure that your content gets in front of a lot of people, giving it a higher chance of being shared across the social networks.
Jon Morrow used this tactic to grow his blog.
When you employ this marketing tactic, make sure that your blog is setup for lead generation.
You want to do this before the guest post goes live on the chosen site.
That's because as soon as the post goes live, there is going to be a surge of traffic.
You'll receive traffic for months to come.
But it won't be anything like the first day a post goes live.
As a result, create a giveaway and set up a lead capture form so that people can join your email list when they click through to your site.
Here's a screenshot shared by Peep Laja, that shows how his blog, conversionXL.com, is still receiving traffic from sites he submitted guest posts to many months ago.  
This screenshot shows that Smashing Magazine is still sending hundreds of visitors, even though the guest post in question was submitted over 1.5 years ago at the time!  
That's content promotion and that's a great marketing campaign!
Now let's look at another struggle that content marketing campaigns face.
Measuring the R.O.I of content marketing
Whether you know it or not, working out the R.O.I of a content marketing campaign is a challenge.
There are many reasons for this.
Defining R.O.I. is important, because it will make it easier for a digital marketing expert to decide how many resources to dedicate to creating content.
Those resources could be time or money or both.
The other reason, however, is that if you can work out the R.O.I of a content marketing campaign, it's often easier to convince other people in your company that content marketing is something worth investing in.
Which is almost the same point that was being made in the first reason – though in this instance, we're talking about larger companies, where other people need convincing.
67% of those who prove greater R.O.I from content marketing, when compared to the previous year, receive bigger budgets for content marketing campaigns.
In fact, marketers who at the very minimum just track R.O.I, are 20% more likely to receive increased marketing campaign budgets.
If you remember from an earlier chart, 29% of marketers faced a challenge with their content marketing campaigns, because there was a lack of 'Vision/Buy-in from higher ups.'
It's because of stats like this, that 37% of B2C content marketers are looking for ways to measure content marketing R.O.I.
At the end of the day, R.O.I provides reassurance that content marketing is something worth doing.
There are a few key ways to work out if your content is working and delivering results that will benefit the bottom line of your business.
Ultimately, it all depends on what you want your content marketing to do for you,whether its ROI, brand awareness or something else – its important to establish your marketing goals.
If you look at the chart below, you'll see that there are many goals companies have when it comes to content marketing campaigns.
For example, 84% of content marketers use marketing campaigns to increase brand awareness.  
Everyone's goals are different, however.
If your goals are different, then your content and digital marketing plan is going to be different.
That's because different forms of content are suited to different goals.
Brand awareness is easy to achieve with blog posts, but it's harder to achieve with webinars.
Because of this, you need to define what your goals are, before you think about creating content.
For instance, if you're looking to generate sales, it might be better to use webinars, as opposed to infographics.
If you're looking to improve traffic to your site, then infographics might be better.
Assuming you understand the above, let's look at the key content marketing metrics that you'll want to influence and monitor.
The first is how many email subscribers your content is generating.
Tracking such information is easier if you're using a platform like Leadpages.
For many small businesses, especially those that are solely online, email subscribers can be the the lifeblood of the business.
It can also be the most lucrative, as email marketing can generate $40 per $1 spent.
So, even though we're going to look at some other metrics further down in this post, invariably a lot of them are designed to influence the metric of email signups.
Therefore, closely monitoring your email signup rate is important.
In very simple terms, here's how content marketing can influence your email subscriber levels.
People will see content on your site or another site (as a result of social sharing or guest posting) and they'll eventually sign up to receive updates for future content by using an opt in form on your site.
When they've signed up to your email list, you can start actively promoting offers to them.
By promoting offers to email list subscribers, you'll be able to make money, because some will buy your offers.
Over time, your editorial calendar and marketing campaigns will become more and more profitable.
Therefore, when it comes to making content marketing work, pay close attention to how your content is impacting your email sign up rates.
If you're new to content marketing, monitoring content vs. email signups might be enough.
But soon enough you'll want to take things to a higher level.
For instance, you might want to monitor exactly which posts are contributing the most to your email sign ups.
You may even want to monitor which blog posts actually drive the most revenue.  You do this by following the journey of those who subscribe as a result of viewing certain posts and then monitoring how they react to offers.
You can apply that very same tactic to people who sign up to your email list as a result of reading a guest post.
You'll then know which sites provide the highest quality visitors (for you) when it comes to guest posting and which guest posts are driving the highest email sign ups.
In terms of implementing such tactics, it'll often depend on the autoresponder service you're using.
What you will find, however, is that most services are very user friendly, and implementing such strategies is a lot easier than you think it is going to be.
Another way you can measure the R.O.I of content marketing, is by taking a look at the visitor numbers for your site.
You can easily do this using Google Analytics.
As I mentioned, some forms of content are going to do a better job at generating site traffic than others.
For instance, blog posts might be better at driving visitors than webinars.
Nevertheless, not all visitors are equal and you'll want to see if the content you are producing is bringing the kind of visitors that you're after.
Visitors tend to behave differently, depending on the situation at hand.
There are some 'sub-metrics,' within the major metric of 'visitors,' that you'll want to watch, so that you're not mislead by high visitor numbers.
There are a few ways you can measure this.
The first is by taking a look at the bounce rate on your content.
If your content is experiencing a lot of visits, but also high bounce rates, that means people are finding your content, but they aren't connecting with it.
It's possible that they might not connect with it because they found it by accident.
But, odds are this isn't the case, especially if your content is experiencing high levels of traffic.
Therefore, the other reason might be that your content is low in quality.
Here are some reasons you might encounter a high bounce rate.

Another traffic metric you'll want to analyze is new visitors vs. returning visitors.
Both of those metrics are very important.
If you are consistently experiencing a rise in new visitors, it means that your 'audience,' is growing and more people are engaging with your brand.
If your returning visitors is constant, or rising in parallel with your new visitors, it means that your content made enough of an impression that people return, possibly just to see if there have been any updates.
It may even be the case that they visit again to check out past content, because the content that they initially experienced left a very positive impression on them.
Okay, so that's traffic and email subscribers.
But there's another content marketing metric that you'll likely want to watch closely.
That metric is social sharing.
If people are sharing your content on the social networks, it means that they're happy to put their name behind your content and let other people know about it.
If your content is being shared, it means that more and more people are going to experience your content and that is going to influence the two main metrics mentioned above.
More content shares means more traffic, which means more email subscribers, which means more revenue.
That's a very simple correlation, but it's how the whole process ultimately maps out.
Tracking how your content is performing on social media is relatively easy if you use tools like Buffer or Buzzsumo.
Though there are free options out there, it's worth investing in such solutions as the data is going to be more detailed and accurate.
On top of that, the visual representation of such data is going to make it easier to analyze trends.
You'll also be able to more easily work out if influencers are engaging with your content.
By paying attention to the kind of content that generates the most shares, you'll be better able to judge what kinds of content to create in the future.
Using analytics to judge your content's performance, be it Google Analytics or social media tools like Buffer, can really help you in the long term.
In fact, 51% of marketers who check analytics at least three times per week, experience a greater R.O.I than those who check their analytics less frequently.
In any case, those metrics are the ones you'll want to focus on for now.
There are, of course, other metrics you might want to monitor when it comes to content marketing, such as comments on your content.
But the metrics above will affect the bottom line of your business the most.
Because of this, if you're new to content marketing, they're also the ones that you'll want to focus on improving
After all, they're the numbers that'll let you know if your content marketing efforts are working.  
Conclusion
There's no doubt about it.
Content marketing isn't hard.
If you're new to marketing campaigns that focus on content, it can be challenging to give it the proper attention, as it often feels like a shot in a dark.
But it doesn't need to be.
Hopefully, after reading this post, you should now have a good sense of what makes content marketing work.
That includes knowing how to create the right kinds of content, as well as knowing how to promote your content.
You've also learned how to judge if your content marketing efforts are working and to what level of success.
We analyzed some of the key metrics that you ought to pay attention to when you're trying to assess the effectiveness of your content and digital marketing.
Such metrics include email signups, visitor numbers and social shares.
Sure, content marketing can be challenging, but you're now in a position where you know more than enough to get started without having to feel as though you're staring into a dark abyss.
Put some of these tips into action and see how well they work for you – I'm sure you're going to experience some awesome results.
What struggles have you faced with content marketing, and how have you overcome them?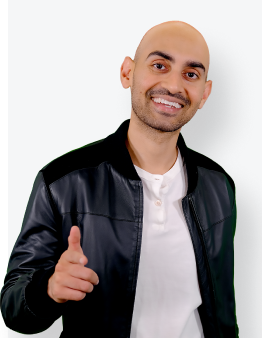 See How My Agency Can Drive More Traffic to Your Website
SEO - unlock more SEO traffic. See real results.
Content Marketing - our team creates epic content that will get shared, get links, and attract traffic.
Paid Media - effective paid strategies with clear ROI.
Are You Using Google Ads? Try Our FREE Ads Grader!
Stop wasting money and unlock the hidden potential of your advertising.
Discover the power of intentional advertising.
Reach your ideal target audience.
Maximize ad spend efficiency.