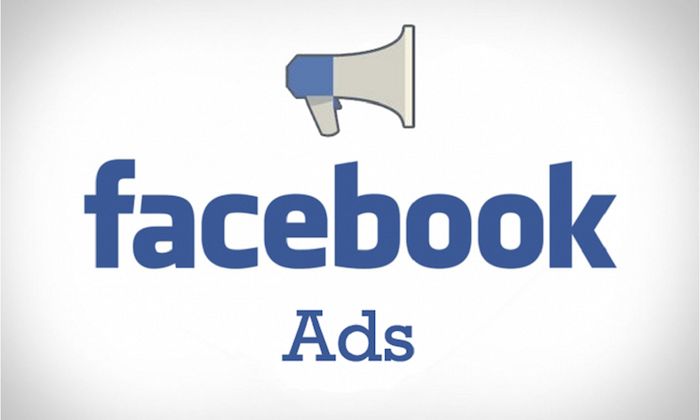 Facebook Ads can be an incredible way to generate leads for your business.
But, if you don't know what you're doing, then it can be somewhat difficult to turn a profit from Facebook Ads.
In this article, we're going to take a look at how you can finally get the ball rolling and use Facebook Ads to generate leads that subsequently turn into profit.
We'll study the steps that you need to take, ahead of time, and what sorts of conversion tracking need to monitor, if you want your social media marketing campaigns to generate returns.
Let's begin!
Deciding who your target audience is
The power of Facebook Ads lies in its ability to allow advertisers to target their ads on the social media platform like never before.
It's why 92% of marketers advertise on Facebook.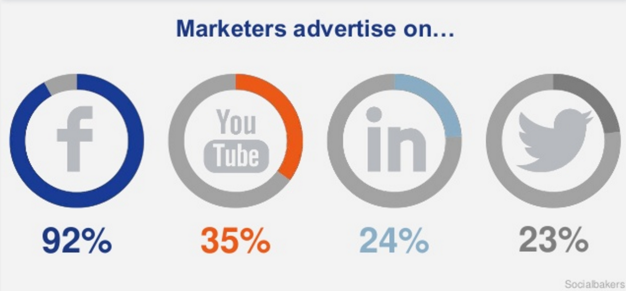 As od December, 2019, there are over 1.6 billion people that use Facebook everyday, so there's a good chance that your target audience can be found on the social media platform.
However, you can only target your ads effectively, if you know who your target audience is.
If you have no idea who you're trying to reach, you're going to end up showing your ads to anyone and everyone – and that kind of social media marketing campaign won't generate any leads or profits.
Therefore, create something known as a Buyer Persona, before you begin running ads.
A Buyer Persona is essentially where you document the key traits of your target market.
I've mentioned here and here how you can create a Buyer Persona.
If you want to shortcut the process (just for the short-term), then consider working backwards with Facebook's targeting options.
If you take a look at the image below, you'll see that I've highlighted some of the key targeting options provided by the social media platform .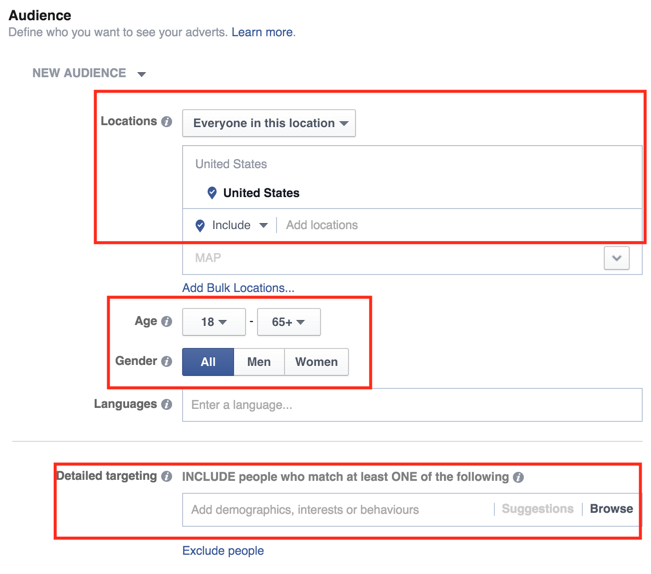 Your Buyer Persona should contain enough information so that you can confidently fill out the fields that I have highlighted.  
One of the key fields you'll need to fill out is the section known as 'Detailed targeting.'
Make sure that you have around 3-5 interests that accurately represent the audience that you want to show your ads to.
Remember that 'interests,' can include Pages that your target audience are likely to be fans of. It can also include any public figures that they may be following, too.
Once you have nailed down your targeting, you'll be able to ensure that your ads are shown to the right people on the social media platform. By doing so, you'll ensure that your marketing strategy is going to work out.
Setting up your ads
Setting up ads in Facebook is quite easy.  There's not much technical explanation needed.
However, creating effective ads is something that needs a fair bit of explanation.
Being an image heavy platform, you need to make sure that you're using eye catching images in the ads of your marketing strategy.
Plus, you're competing with 7 million other advertisers, so you need to figure out how you're going to make your ads stand out.
Knowing, ahead of time, what makes an image 'eye catching,' can be difficult.
This can be frustrating, when you realize that having the right image can make all the difference for a Facebook Ad.
Therefore, you're better off creating 5-10 ads and then running those for a couple of days.
Make sure that they have identical targeting and copy, then adopt perform conversion tracking to closely monitor the numbers.
After a couple of days, put all of your budget into the ad that performed the best.
You'll want to repeat this process for each of the elements in your ad, until your ad is fully optimized and ready for a bigger spend.
If you want to be very clinical with your split testing approach, consider using the plan suggested below.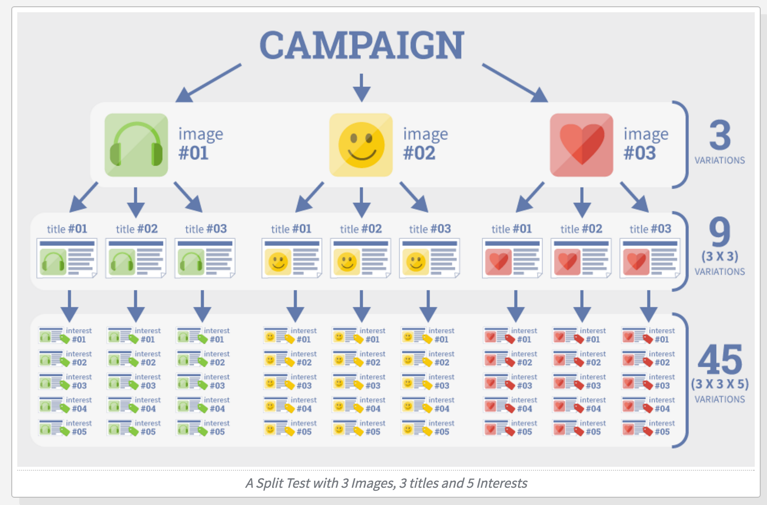 Make sure that you remain within the Facebook Terms of Service, when writing the marketing strategy copy and choosing the images for your ads.
Note: You might also want to use this process when optimizing the targeting for your Facebook Ads too.
Optimizing your landing page
Once you've set up the targeting for your ads, you'll then need to optimize your landing page.
The landing page is where you are going to be collecting your leads.
In order to collect leads for your landing page, you'll need to have something that you can giveaway.
Actually creating a landing page is not too difficult and there are many solutions available, such as Leadpages and Unbounce.
What matters most, however, is how you present the landing page, what you write on it and what you're giving away.
There are four main components to most landing pages. They are as follows:
Headline

Image

Bullet Points

Opt in Box
I've discussed in detail, here, how you can go about optimizing each of these landing page elements as part of an effective social media marketing strategy.
What's worth mentioning, however, is that you need to test each of these landing page elements, as well as the free giveaway you have to offer.
This will ensure that your landing page is always converting as well as it should be.
Having a high converting landing page is important, because it will allow you to collect more email addresses, even though you're spending the same amount on ads.
This can amount to a lot more profit being generated over an extended period of time.
Setting up an autoresponder sequence
Once people opt into your email newsletter list, you'll then want to send them an autoresponder sequence using email marketing software.
Within this autoresponder sequence, you'll have the chance to send people offers, which they can engage with and buy.
Remember: If you're not sending people offers, they can't buy anything from you. And, if they can't buy anything from you, you won't be making any money.
It's advisable to not send out an offer in your initial email.
You first need to establish some trust, credibility and goodwill.
As you might have guessed, you can accomplish that by providing some value.
The value you provide should help your target market solve a specific problem.
So, let's say that I am in the dog training market.
First, I would send four educational emails that build goodwill and trust. Then, I would send a promotional email newsletter that contains an offer.
I would repeat this same cycle once more.
When creating an autoresponder sequence, you want to send a total of eight emails.
You can always experiment with fewer emails, to see what happens. Here's an oldie but goodie from Pat Flynn that shows how that could be done.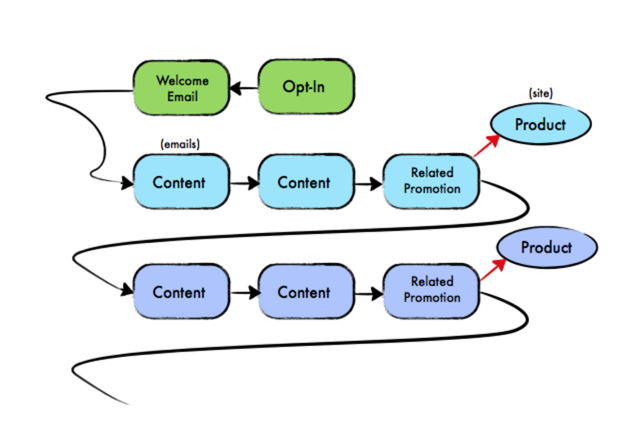 In any case, my giveaway item on the landing page might relate to something that teaches dog owners 'how to stop a dog from barking.'
Once people opt in for that, they'll then receive an autoresponder sequence that teaches them how to train their dog to do other things.
One email could teach the dog owner (the person who opted into my list) how to toilet train their dog and another how to stop their dog from pulling on their leash.
Each email newsletter would be sent with the intent of teaching the recipient how to solve one specific problem, but also to move them along the broader goal of having a calm and obedient dog.
In most cases, what you promote in your autoresponder sequence is going to help people achieve this broader goal.
So, in this case, I could promote a complete dog training course that helps people train their dog to do a number of useful things.
This method doesn't just apply to information marketing.
You can also use it for physical products.
If you were in the 'running,' market, for example, you could teach people the importance of having the right running technique, or how to find the right running shoes.
Then, when sending a promotional email, you could promote a pair of running shoes.
You can use a platform like GetResponse to help you send out emails.
As with all things, you'll want to split test your offer, so that your autoresponder sequence is producing optimal revenue.
In a lot of cases, it's a very good idea to sign up for the autoresponder sequences of your competitors, just to get a sense of what is being promoted and how it is being promoted.
If you have a competitor that has been around for a long time, there's a good chance that you'll learn a lot from their autoresponder sequence, because they'll have done a lot of testing by the time you sign up.
Of course, you don't have to rely on the email addresses of your target audience as a means of converting subscribers into customers.
You can also use webinars.
Webinars are known to convert well within a social media marketing strategy, and, in the past, I have generated 518,399 Visitors and 16,394 Leads from 77 Webinars.
Driving traffic to webinars doesn't need to be complicated. Simply use the same process that you'd use to sign people up to your autoresponder sequence.
So, for a webinar, it would be: Ad > Landing Page > Webinar.
If you're not sure what you should be talking about on the webinar, revert to what was mentioned when we were going through how to create a great giveaway.
Work out what your target audience really wants to learn about, and then teach them how they can achieve that result – maybe with the help of a paid solution that you have to offer.
Webinars can be a powerful way of giving value and building a list, because you can offer live Q&A sessions, which adds to the thrill of attending a webinar.
Troubleshooting & long term strategy
If enough people aren't signing up to watch your webinars or receive your giveaways, there could be one of four things wrong.
Your ad might not be targeted properly

Your ad might not be 'click-worthy'

Your webinar or giveaway is not enticing

Your landing page copy is not good enough
Generally, you'll know if your ad is poorly targeted, because your ads will have a low click-through-rate (CTR) (below 5%), even if they have a great deal of 'Reach.'
Additionally, if your ad is not targeted properly, the conversion tracking rates on your landing page will be very low, too.
If your ad is not 'click-worthy,' you'll also experience a low CTR. However, in this case, there is a chance that your conversions will be higher on your landing page.
If your webinar or giveaway is not enticing, people will not have any interest in what is being offered.
So, if you think that you've nailed down the other two aspects that I mentioned above, then consider taking another look at your target audience to figure out what it is that they really want.
As you do some more research, you'll be able to better decipher what it is that keeps your target market awake at night.
You might also want to use your market research to inform your copywriting skills. Remember that your landing page needs to convince people why it's worth entering in their email addresses.
You can't do that with weak copy that doesn't promote benefits and freedom from troubling issues.
While you could continually make your money from new customers as they go through your funnel – it's typically much easier to make money from people who have already purchased from you.
Therefore, you'll also want to figure out what you can do in order to provide more value to existing customers.
How you do this will depend on the business in question.
If you're selling an information product or some sort of training program, then you could offer existing customers live, in-person training events that are 'invite only,' or 'higher ticket.'
If you're in the software world, then it can be worthwhile to talk to your customers and ask how you can make their lives better.
They may give you suggestions that you can use to create new software that there will already be a demand for.
Or, you can use their tips to make better versions of your software that you can charge a higher price for.
You could even run live training events for your software customers.
When it comes to running Facebook Ads, you'll also want to be aware of the phenomenon known as 'Ad Fatigue.'
The chart below shows, in part, what happens over time and how ads can be affected by Ad Fatigue.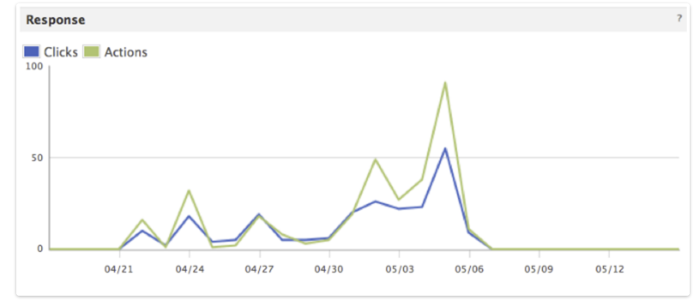 Because Facebook Ads are like showing a billboard to the same people over and over again, eventually people get used to seeing your ad and begin to ignore it.
So, if you used to have a high converting ad, and you find that its power is dwindling, there's a good chance that you're experiencing ad fatigue.
When this happens, simply go through the ad creation process again and come up with a new set of ads that have difference aesthetics.
Conclusion
In this post, we've taken a look at how you can use Facebook Ads to build a list and consequently make money using the social media platform.
As you've seen, there are many elements to this process.
For example, you need a 'click-worthy,' ad, as well as a landing page that is set up to convert.
On top of that, you must also have a giveaway or a webinar that encourages people to enter their email in order to gain access.
We also touched on troubleshooting your social media marketing strategy and how you can make them more profitable.
Take what you have learned in this post and see how well these tips work for you.
Do you have any tips that you'd like to share, when it comes to building a list with Facebook Ads?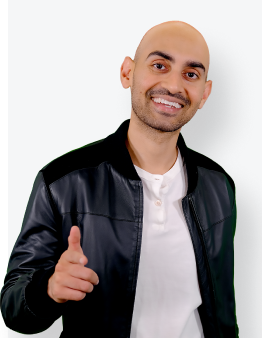 See How My Agency Can Drive More Traffic to Your Website
SEO - unlock more SEO traffic. See real results.
Content Marketing - our team creates epic content that will get shared, get links, and attract traffic.
Paid Media - effective paid strategies with clear ROI.
Are You Using Google Ads? Try Our FREE Ads Grader!
Stop wasting money and unlock the hidden potential of your advertising.
Discover the power of intentional advertising.
Reach your ideal target audience.
Maximize ad spend efficiency.