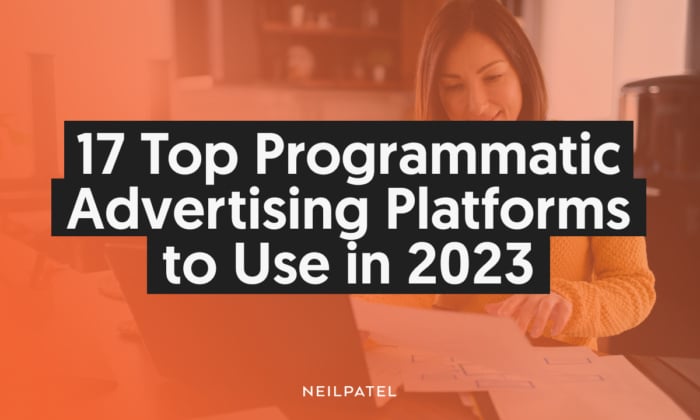 Do you use programmatic advertising platforms? If the answer's "Yes," you're part of a growing crowd. ROI Revolution's latest State of Digital Market Survey found that 30.5 percent of marketers hope to increase or maintain their programmatic advertising spend.
Stats also show that programmatic advertising is on the up, with ad spending forecast to reach $271 billion by 2025. That's $100 billion more than in 2021.
It's not difficult to understand why.
Programmatic advertising platforms solve a problem for both publishers and advertisers. For publishers, they help maximize advertising revenues by auctioning ad space to millions of advertisers worldwide. For advertisers, they expand reach and leverage data for precise targeting of audiences.
When done well, it means more profit for both groups, and who doesn't like that?
If you're looking for fresh ways to promote your business, then programmatic advertising could be an excellent option.
There are plenty to choose from, so I've compiled a list of the top programmatic advertising companies to make it easier.
Ready to learn more? Let's get going with an explanation.
What Are Programmatic Advertising Platforms?
Programmatic advertising platforms provide a real-time marketplace for buying and selling ad space. They link the millions of publishers to the marketers looking to place strategic ads across the internet.
All of this happens in the blink of an eye:
1. A visitor arrives on a website.
2. The website communicates with an ad exchange or supply-side platform (SSP) to offer the ad space.
3. The SSP provides information about the user (e.g. location, device type, browsing habits) to demand-side platforms (DSPs) on behalf of the advertisers.
4. Advertisers place bids on the available ad space through the DSP. The bidding process uses user data and targeting parameters to determine the most relevant and valuable placement.
5. The ad exchange or SSP selects the highest bidder and displays the winning ad to the user.
You need some powerful software working in the background to make all this work. This is where programmatic advertising platforms come in. The process is typically divided into four categories: demand-side platforms, supply-side platforms, ad exchanges, and data management platforms.
The following infographic from Epom Market illustrates the various technologies mentioned above and their roles within the process well: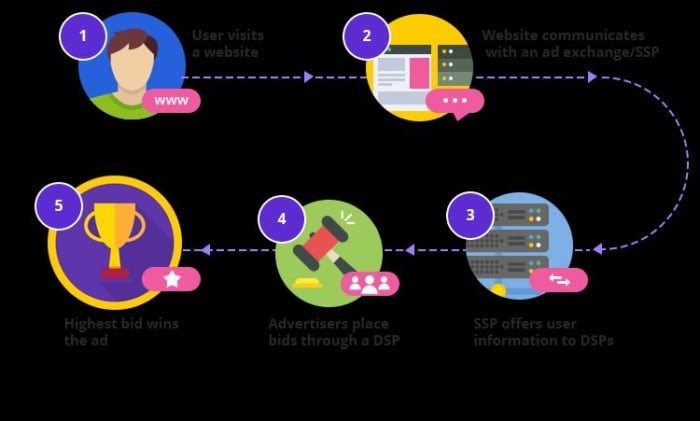 The supply-side platforms work for the publishers, collecting and serving data to the ad exchanges. The ad exchanges then pass this information to demand-side platforms that work on behalf of advertisers, creating an auction for each ad impression.
Collecting data on each ad impression allows publishers to sell ad space to the highest bidder, allowing advertisers to be extremely targeted with their advertising.
This has been an extremely successful formula, as spending on programmatic advertising is expected to reach 725 million by 2026.
Challenges in Programmatic Advertising
As you can see from the above stats, the use of programmatic advertising platforms is growing strong. However, that doesn't mean using these technologies is problem free.
Let's cover some of those challenges below:
Ad fraud: This happens when bots or other fraudulent activities create false impressions or clicks, wasting advertisers' budgets. Digital ad fraud cost $81 billion in 2022.
Ad viewability: Meaning visitors may not see ads. Reasons for this include the growing use of ad blockers. In fact, over a quarter of all internet users use ad blockers in the US. To limit the possibility of your ads getting blocked, ensure your ads aren't intrusive and follow guidelines for acceptable ads. Additionally, MindK.com suggests you use native ads.
The quality of ad placement can also contribute to poor viewability. Ad verification companies like DoubleVerify can help assess and verify the quality of ad placements while Clearcode provides guidelines to reduce fraud and improve ad visibility.
A lack of transparency and control: These can sometimes be a challenge, making it difficult for advertisers to see their ad placement, manage where their ads are being placed, who sees them, and accurately keep tabs on ad spend.
To achieve more transparency in programmatic advertising, you should only work with partners, platforms, and metrics that you can trust. Also, be sure to negotiate for clear-cut and reasonable contracts and fees.
Data privacy issues: With Google phasing out third-party cookies to track users in 2024, concerns over privacy changes, laws, regulations, and how data is accessed, used, and stored is a serious challenge affecting programmatic advertising.
You'll need to carefully navigate these issues in order to safeguard data privacy by following best practices to ensure you're collecting, storing, and using consumer data in a responsible way that complies with the relevant laws and regulations.
While it is important to take these challenges into consideration when evaluating programmatic advertising companies, with the right approach, there are many positives too. Let's explore them next.
Benefits of Using Programmatic Advertising Platforms
Why do marketers love programmatic advertising platforms? Because there are so many benefits, like:
1. Targeting specific audiences: One of the main benefits of programmatic advertising is the ability to target particular audiences. This can be done by targeting age, gender, location, behavior, or interest.
3. Improved efficiency: Programmatic advertising can help improve the efficiency of your media buying by automating the process. This can save you time and money by reducing the need for manual optimization.
4. Better ROI: Programmatic advertising platforms can help you achieve a better return on investment (ROI) by allowing you to focus your budget on the most effective placements.
5. Greater reach: Programmatic advertising helps you reach a large audience with your ad campaigns because programmatic advertising is not limited to one specific site or network.
However, to benefit from programmatic advertising companies, you need the right ad strategy. Let's take a look at some options:
Types of Programmatic Ads
There are three main types of programmatic advertising. These are:
1. Real-Time Bidding (RTB)
2. Private Marketplace (PMP)
3. Programmatic Direct
In programmatic RTB, media buyers place bids on advertising space in real-time, similar to how an auction works. The ad space is then sold to the highest bidder. This process happens in milliseconds, and all of it is automated using programmatic software.
According to Business Wire, the global RTB market is expected to grow at a compound annual growth rate (CAGR) of 22 percent between 2021-2026.
In programmatic PMPs, media buyers and sellers agree on a price for ad space ahead of time. This is done through programmatic direct deals or programmatic guaranteed deals.
Programmatic direct deals are one-to-one agreements between a buyer and seller, while programmatic guaranteed deals are one-to-many agreements (also called programmatic reserved deals).
Both RTB and PMP deals can be bought programmatically. However, programmatic direct deals are more expensive because they offer guaranteed ad space.
17 Best Programmatic Advertising Platforms
Programmatic advertising is everywhere, and nearly every advertiser uses it, even if we don't realize it. While your mind might be drawn to a few well-known big players, there are lots of programmatic advertising platforms out there, each with its specialties.
Here's a look at the 17 best programmatic advertising platforms.
1. PubMatic
PubMatic offers comprehensive solutions for publishers and marketers, making it a complete programmatic ad platform.
Features include a private marketplace of high-quality ad inventory, a wide range of ad formats and channels, powerful real-time analytics, and fraud-free program refunds to protect against fraudulent activity.
Publisher solutions include:
ID management tool
Bidding solution OpenWrap, which provides customer management tools and performance optimization insights.
With over 1.4 trillion ad bids daily, PubMatic is popular, and its excellent supply of high-quality ad spots is frequently cited.
2. MediaMath
MediaMath is a demand-side service well-known for its end-to-end campaign management and omnichannel ad campaigns.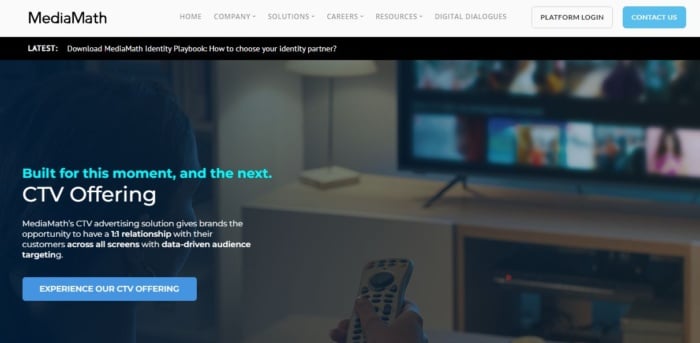 Over 3,500 advertisers trust it. Here's why:
It's particularly good at data integration, allowing advertisers to reach their most valuable customers through the MediaMath audience feature. With ad options for display, native, video, audio, and Digital Out of Home ads, MediaMath covers every base.
Known for excellent service and support, the MediaMath team is there to help marketers get the most out of their campaigns.
Features include:
Dynamic budget allocation
Modular and customizable tech stack
Consumer segmentation
Targeting according to KPIs, audience, context, etc.
3. Google Ad Manager
Google Ad Manager is a massive programmatic advertising platform working on the supply side to monetize publishers' content.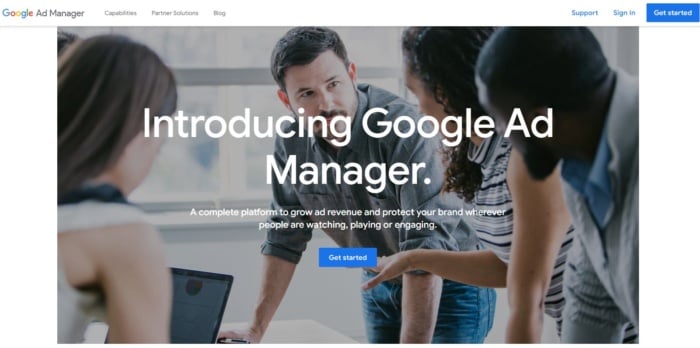 The platform serves almost 6 billion ad impressions daily, making it a powerful partner for reaching your audience, no matter where they hang out online.
The great thing about Google Ad Manager is that it's effortless for publishers to set up and serve ads. It offers good tools and analytics but is not always known for providing the best value (RPM).
Google's Ad Manager offers:
A range of ad formats, including native ads
Programmatic and data-driven advertising
Machine learning to optimize ads
Instream, Outstream, vertical, and reward video ads
Access to signals and viewability metrics from streaming devices to measure ads' impact
Data tools for actionable insights
4. Adobe Advertising Cloud
Adobe is a huge name in software and provides one of the best programmatic advertising platorms in Adobe Advertising Cloud.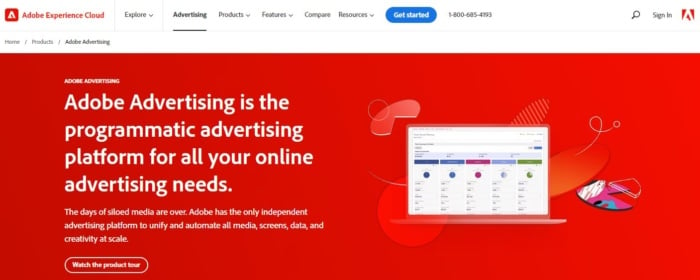 It specializes in connected TV, video, display, native, audio, and search campaign ads to offer advertisers a complete solution. With a focus on people-based marketing and inventory management, it's a great tool to maximize return on your budget.
The user interface does take some learning, but once you get the hang of it, it's a great platform to help you maximize your return on ad spend.
With Adobe's programmatic advertising platform, you can:
Optimize campaigns for business success
Integrate with other Adobe products, like Analytics and Target
Get actionable insights
Integrate with Adobe Experience Cloud products for consistency
Use AI optimization for spending forecasts and real-time optimization opportunities.
5. War Room
War Room combines advanced programmatic technology and human insights to deliver search, display, social, video, native, audio, shopping, and even Metaverse advertising.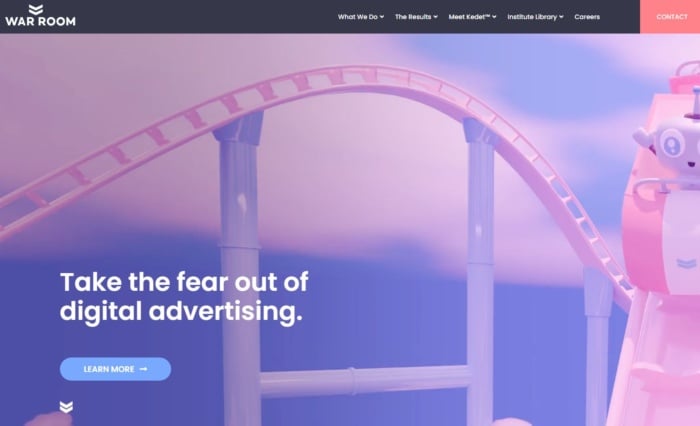 With access to over 90,000 premium ad networks, it has something to offer advertisers of all sizes, including the following benefits:
Customized strategy and precision targeting to help you reach your audience and attract leads.
Implementation of the SCORE method (Strategize, Compete, Optimize, Report, and Explore) to optimize your campaign's success.
Post campaign report analysis to discover different avenues and opportunities to maximize your budget.
6. AdRoll
AdRoll is powered by 15-plus years of data collected from working with over 120,000 brands. It's quick to set up and easy to use, offering high-quality ad templates to help you get started immediately.

One of the key benefits of AdRoll is its solid audience targeting, with options for contextual, lookalike, demographic, and interest-based campaigns.
It prides itself on maximizing returns for businesses of all sizes, from global corporations to one-person marketing teams. According to the website, customers get $3-$10 back for each dollar spent.
Features include:
Bidding AI for audience targeting
Cross-channel reporting
Retargeting, lookalike, demographic, and contextual ads
Expert ad management
You can choose pay-as-you-go ads, or the marketing and ads plus subscription starts at $36 a month.
7. Amobee
Amobee offers end-to-end solutions and works with brands and agencies. With ad options for TV, connected TV, digital, and social ad options, advertisers can engage their target audiences in a truly omnichannel strategy.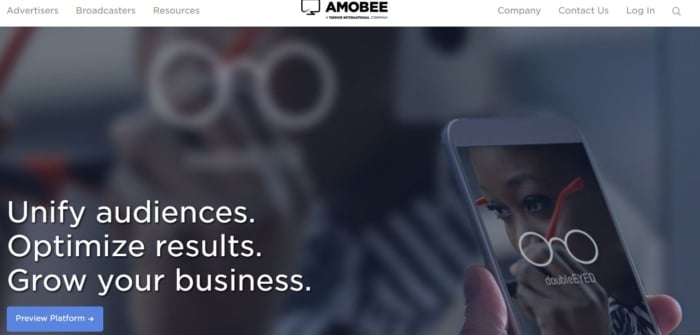 With a great understanding of how people consume content across different platforms, Amobee can help advertisers to coordinate their campaigns to achieve maximum results.
It allows you to:
Use audience intelligence for segmentation creation
Monitor digital trends
Analyze campaigns faster using Amoebee's advanced suite of reporting tools
Optimize your KPIs through AI-driven technologies.
8. SmartyAds
SmartyAds' programmatic ads platform offers a full stack of services for advertisers and publishers.
Like other programmatic advertising platforms, SmartyAds aims to simplify advertising, allowing businesses to prioritize who they trade with.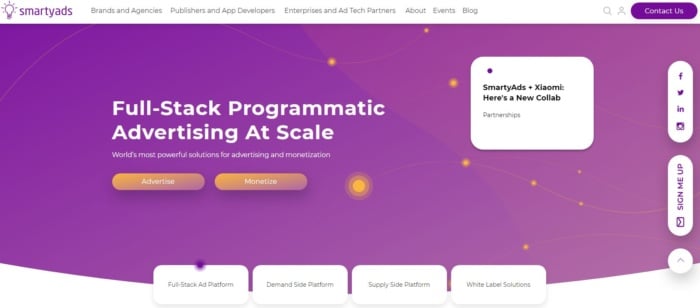 For advertisers, it's an excellent tool to improve CTRs and boost conversions, while it also helps publishers achieve higher yields and fill rates and improve engagement.
SmartyAds DSP partners with 25K+ top global desktop, mobile web, and in-app companies so it's a popular option for both advertisers and publishers.
It offers:
A three-step campaign launch
An adaptive CPM to keep bids at the most optimal and competitive level
A click booster increases the likelihood of clicks for your ad campaign
Support for various ad formats including display, native, video, CTV, in-app, audio, and DOOH
Advertisers need a minimum $1000 prepayment for the first campaign; subsequent campaigns require a $500 prepayment.
9. Criteo
Criteo works largely on the supply side, helping publishers to create more revenue from their content.
It works with social media, video, display, web, and mobile ads to help small publishers monetize their content. Using large-scale purchase and intent data and the power of AI, it improves ad returns for over 750 million daily active users.
Criteo provides a range of products to meet the varied needs of different business owners.
Solutions include:
Dynamic retargeting and contextual advertising
Access to the largest commerce dataset
Start and scale retail media
The site also has an ad gallery to give you an idea of what published ads look like.
10. Xandr
Xandr is responsible for 6.7 billion ad impressions daily and works with over 193,000 brands. It offers both demand and supply services and functions as an ad exchange for various ad types.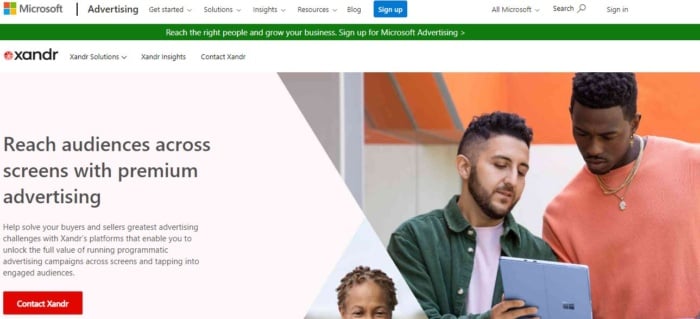 One of the most impressive features of Xandr is its incredible data, which allows advertisers to enhance their buying strategies. It offers an easy-to-use interface with all the tools advertisers need to optimize campaigns.
Additionally, Xandra gives advertisers:
80+ DSP integrations
Enhanced buying strategies
Netflix and Microsoft advertising
New users can schedule a free consultation.
11. Lotame
Lotame offers "smarter, faster, easier ways to drive growth and derive value from customer data." One of its main selling points is providing next-generation data solutions.
It is primarily an ad exchange, helping advertisers connect with consumers across browsers and mobile CTV.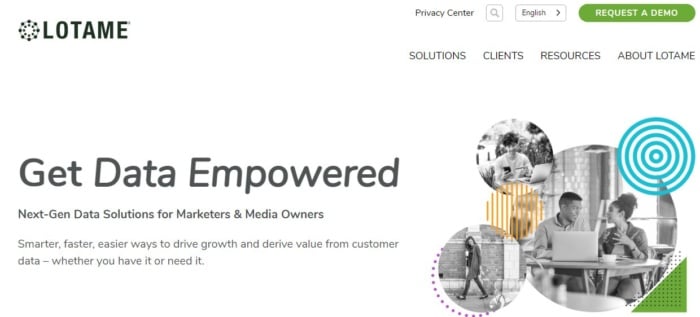 It offers excellent audience management tools, using data to onboard, analyze, and model customer segments. The platform enriches audience segments using publishers' data, allowing advertisers to buy off-the-shelf segments to optimize their digital marketing reach.
Lotame prides itself on being future-proof in a cookieless world, a great selling point for today's businesses.
Other features include:
The Spherical platform for actionable customer intelligence
First/second/third party data for developing unique audiences
Data marketplaces for buyers and sellers
If you want to learn more about successful programmatic advertising campaigns, Lotame has an extensive selection of resources.
12. The Trade Desk
The Trade Desk is a media buying platform designed for the open internet. It allows publishers to sell targeted ad space to advertisers around the world. It's an ideal platform to collect, manage, and activate data all in one place.

A key feature of The Trade Desk is its ability to use lookalike modeling to help advertisers reach new, targeted audiences to expand their market share.
The company can access 225 high-quality audiences from vast data providers, including Nielson and Hulu. It's a highly-rated programmatic advertising platform that gives advertisers "a premium selection of data, inventory, and brand safety providers."
The Trade Desk allows advertisers to:
Develop smarter campaigns
Customize with APIs
Access expert advice
Free certifications are also available via the Edge Academy.
13. Magnite

Magnite is a sell-side advertising company, which means that it works with publishers and ad networks to monetize their websites and apps. It does this by connecting them with advertisers who want to reach their audiences.
It's a leader in the digital advertising industry and works with some of the world's biggest publishers and ad networks.
Magnite offers a range of services, including programmatic advertising, header bidding, and data management.
Features include:
Real-time customized reporting
Ad pod control for inventory management and optimizing performance
Omnichannel support
The agency recently announced the launch of Clearline for video advertisers, providing premium video inventory for ad agencies.
14. Simpli.fi
Simpli.fi is an award-winning programmatic advertising platform that partners with over 30,000 monthly advertisers.

For years, it traded as a DSP+ solution provider. However, more recently, it's positioned itself as an advertising success platform.
Simpli.fi has a range of programmatic advertising services, including mobile, video, display, and native ads.
The user-friendly platform provides detailed reporting so clients can see their campaigns' real-time performance.
Features include:
DTTC, retail media, and political campaigns
Omnichannel marketing (social media, Google Ads, and YouTube)
Custom precision targeting
Storytelling attribution and insights
Simpli.fi launches over 140,000 campaigns monthly, and it recently announced the purchase of Bidselect, one of the top programmatic advertising platforms.
15. Salesforce Audience Studio
Salesforce Audience Studio is a data management platform (DMP) that allows marketers to create and manage audience data across multiple channels.

Key features of Audience Studio include:
Using Journey Builder to include ad campaigns in your customer journeys.
Coordinating campaigns by creating custom segments to activate across multiple channels, including email, mobile, social, web, and CRM.
Personalizing customer interactions with relevant messaging and recommended content using Audience Studio.
Engaging social media users across different platforms, including Facebook, Snapchat and Instagram.
16. StackAdapt
G2 rated StackAdapt as the best demand-side platform (DSP) for mid-size and large agencies. It helps businesses create, manage, and optimize online ad campaigns across various channels.

With its advanced targeting capabilities, powerful optimization tools, and real-time reporting features, StackAdapt makes it easier than ever to get your message in front of the right people online.
Some of the main features of StackAdapt include:
Audience targeting: You can target your ads to specific audiences based on various criteria such as demographics, interests, and behaviors.
Creative optimization: StackAdapt can automatically optimize your ad creative to improve performance and engagement.
Real-time reporting: You can track your ad campaign performance in real-time and adjust your strategy as needed.
Cross-channel support: You can run ads across multiple channels such as display, video, games, and social media.
Additionally, the platform offers a wealth of educational resources through the free StackAdapt Academy to help businesses learn more about programmatic advertising and how to make the most of their campaigns.
17. BidTheatre
Bid Theatre is a DSP specializing in programmatic advertising. It enables companies to manage their digital advertising campaigns on various platforms by providing a self-service digital advertising software platform.
It has three subscriptions available: Marketer, Enterprise, and Integrator. The "Marketer" package is $250 monthly and includes banner and video ads, contextual targeting, and public and custom site lists. Prices for other subscriptions are available on request.
Features include:
Multiple targeting methods (KPIs, for example)
Integrated editor to build your designs (or bring your own creatives)
Machine learning to optimize spend and campaign KPIs
Also, its analytics reports let you measure your campaign's success across audiences and demographics, etc.
5 Ways to Implement Programmatic Advertising
If you're ready to take the programmatic plunge, doing it right the first time is important.
Here are five ways to make sure your programmatic advertising campaign is set up for success.
1. Divide Your Audience Into Microsegments.
Break your audience into small groups based on shared traits, like demographics, interests, and previous customer actions to create more relevant ads.
Use tools like Google Ads Customer Match, Google Ads Audience Targeting, or Facebook lookalike audiences for easier targeting.
2. Let Users "Design" Their Own Ads.
Imagine you sell custom-made shoes. A customer comes to your website and chooses the style, color, and material of the shoes they want. You can then programmatically target that customer with ads for the shoes they designed—and you can be sure those ads are relevant to that customer.
3. Run a Retargeting Campaign
Retarget the demand-side to people who already have an interest in your product. Do this by showing ads programmatically to previous visitors to your website. People who see these types of ads are 70 percent more likely to convert than those who aren't.
To introduce retargeting, you just need a pixel on your website to capture customer data. Then you can create a custom audience in your programmatic advertising platform to target them.
4. Run Ads According to Your Customer Journey
Map out the customer journey to identify key ad touchpoints. Let's say you're selling a new car, from your customer's perspective, their journey might look something like this:
I need a new car.
I research what type of car I want.
I compare different models and brands.
I decide which car to buy.
I buy the car.
By understanding the customer journey you can identify relevant touchpoints, making it easier to determine where programmatic advertising will be the most effective.
5. Use Video in Your Programmatic Ads
Combine the power of video with programmatic advertising to create highly targeted and effective ads that also optimize your budget. For example, you could insert video ads in real-time based on factors like the viewer's location, demographics, and browsing history.
You could then use programmatic advertising and buy ad space to increase your reach across multiple platforms, such as through YouTube in-stream videos or mid-roll videos on Facebook. You can also purchase video banner ads programmatically. These get displayed on websites and apps your target audience visits.
Programmatic Advertising Success Stories
Now you've got some ideas for using programmatic advertising, here's a look at some success stories.
Pubmatic
Agency Pubmatic worked with a Chinese mobile app games developer with an audience of 40 million. The developers sought a suitable in-app monetization solution to improve customer experience and scale demand.
Pubmatic's solution was an Openwrap SDK, which allows advertisers to optimize their in-app earnings. The result was:
10.6 percent daily average fill rate lift
16.4 percent daily ARPU lif
14 percent eCPM lift
World of Warcraft
For another example, World of Warcraft is one of the most popular online video games, with a turnover of $6.9 billion. However, that doesn't mean its makers, Blizzard, didn't want to reach new audiences. It wanted an advertising campaign that would:
Improve brand awareness and drive qualified traffic.
Enhance awareness for upgrades and game launches.
Develop a healthy return on ad spend.
Increase traffic away from usual sources like Google, YouTube, and Facebook.
To achieve this, Advent Technology used in-app advertising as rewarded video advertising and created a full-funnel retargeting strategy.
The campaign led to an 8.6 percent click-through rate, compared to YouTube's average of 0.33 percent for audible and viewable on complete (AVOC).
Grand Hyatt
Another case study shows how a campaign for Grand-Hyatt achieved revenues of $1, 647,787 during the nine months it worked with the agency. In addition, by using display advertising, Facebook, and Google, the agency gained:
A 1,017 percent ROAS
Over 3,000 Facebook page likes
A $275 average daily rate, which is $12 higher than the overall average
Along with 2.5 times more room nights from the Hyatt.com website
The campaign strategy targeted audiences in the trip planning phase of the customer journey. They focused on users depending on their travel patterns to New York (based on data from Hertz and American Airlines, among others).
Programmatic Ad Platforms Frequently Asked Questions
Is Google Ads a programmatic ads platform?
Google Ads is a programmatic advertising platform working on the demand side. It provides a platform for advertisers to bid on advertising space in real time, creating an auction and awarding the impression to the best bid.
Does Facebook have a programmatic ads platform?
Facebook offers a demand-side programmatic advertising platform, much like Google Ads. It sells advertising space in real time, creating an auction for each impression.
How do programmatic advertising platforms work?
Programmatic advertising platforms bring together the publisher selling advertising space and the advertiser who wants to buy that ad space. They facilitate real-time auctions where advertisers bid on each impression, taking a cut of the winning bid and paying out the remainder to the publisher.
How much do programmatic advertising platforms cost?
Programmatic advertising platforms take a commission on the sale of each impression. This is usually between 10 and 20 percent.
Conclusion
Programmatic advertising platforms are an essential tool in modern advertising. They create a bridge between publishers and sellers, allowing both parties to negotiate a price for ads in real time.
By collecting data from thousands of websites, these platforms allow advertisers to target detailed audiences and ensure they spend ad budgets on the right ads.
Online advertising is constantly changing, so working with a good programmatic ads platform is a great way of future-proofing your marketing and staying a step ahead.
What's your experience with programmatic advertising platforms? Are there other platforms you love that didn't make the list?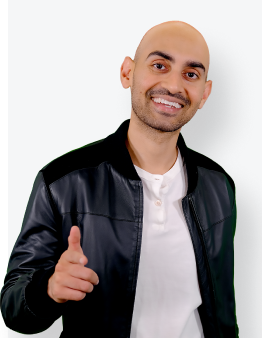 See How My Agency Can Drive More Traffic to Your Website
SEO - unlock more SEO traffic. See real results.
Content Marketing - our team creates epic content that will get shared, get links, and attract traffic.
Paid Media - effective paid strategies with clear ROI.
Are You Using Google Ads? Try Our FREE Ads Grader!
Stop wasting money and unlock the hidden potential of your advertising.
Discover the power of intentional advertising.
Reach your ideal target audience.
Maximize ad spend efficiency.