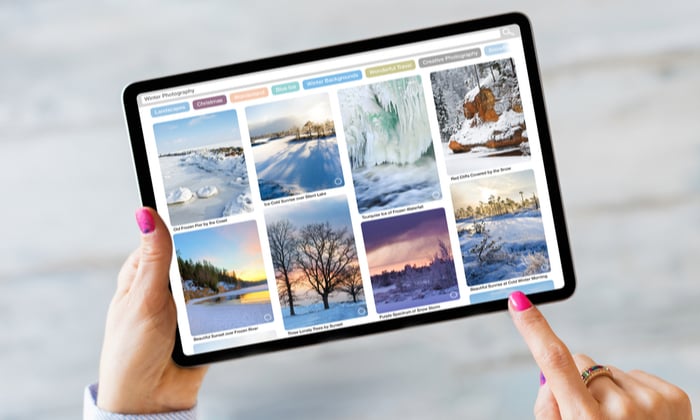 Pinterest is a great way to get your brand noticed online.
After all, the world's 14th largest social network boasts around 454 million active monthly users.
Brands looking to boost performance on Pinterest should be keeping Pinterest image sizes in mind.
Certain image sizes are more likely to catch the eyes of Pinterest users, and it's important to understand how size can impact Pinterest success.
The more attention you attract, the more potential web visitors you can convert.
To help you out, we've compiled a list of the best Pinterest image sizes for driving website traffic.
We'll explore how different pins and sizing can impact traffic and how to use this information to boost your own Pinterest marketing.
What Are the Best Sizes for Pinterest Images for Your Business?
You can leverage many different kinds of pins on Pinterest, from static pins to video ads. Each type of pin has a recommended aspect ratio from Pinterest itself.
Generally, vertical pins should be 1000 x 1500 pixels, or a 2:3 aspect ratio. Pinterest does not recommend images smaller than 600 x 900 pixels.
Pinterest also has specific recommended sizes from their ads manager, so be sure to check those before running any Pinterest ads.
You'll want to use the correct image sizing so your images fit well without getting cut off.
The image below represents pins that meet the 2:3 aspect ratio Pinterest recommends.

The best Pinterest image size for your business depends on several factors, including the type and messaging in your pin images.
That means you should always test and measure pin traffic and conversions to figure out what works best.
There are plenty of tools to help with this, including the Pinterest Business Analytics Dashboard, which has a custom pin size tool within it.
There are currently eight sizes to choose from when creating pins: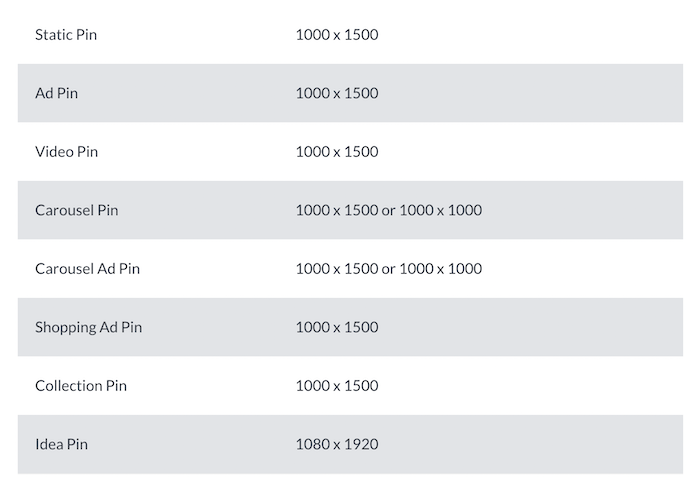 Let's explore how and why these Pinterest image sizes are used and how they work to drive traffic to your site.
Pinterest Images: Static Pins
Static pins are the most basic type of Pinterest image. They feature only one image and a few sentences that link your pin to your website.
While they may be simple, static pins are very SEO-friendly because they offer concise, relevant keywords that search engines pick up on.
They also provide clear calls to action and direct users to your website with a clickable link in the pin description.
While you might think using multiple images in one pin would be more engaging for users, if the pinner doesn't have time to read all of your content, they might keep scrolling.
For this reason, static pins can be a great way to get instant traffic from Pinterest directly to your site.
The best Pinterest image size for static pins is 2:3 or 1000 x 1500 pixels. Anything larger than this risks being cut off in user feeds. Static pins work best with PNG or JPEG files at a maximum of 10 MB.
To create a high-performing static pin, be sure to keep your image and text short.
Pinterest users are often scrolling through their feeds quickly, so it's important to have a clear image with relevant text.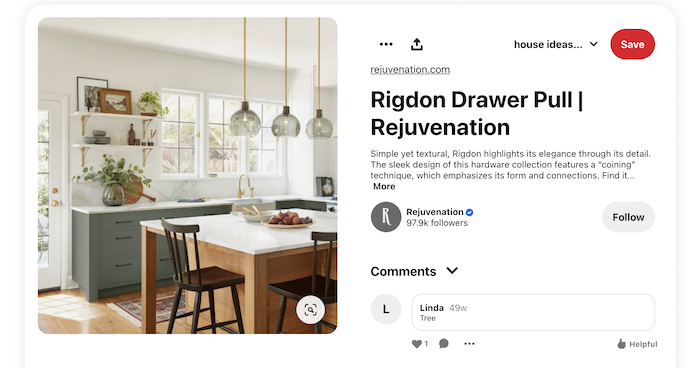 Pinterest Images: Infographic Pins
Infographic pins are vertical Pinterest images that are uniquely visual and encourage users to click through on your content.
Vertical pins perform best on Pinterest, which makes infographics a strong contender for driving traffic.
Infographic pins are also easy to share across social media platforms, bringing in new audiences for your business.
That said, some users argue infographic pins can negatively impact your search rankings, as they become truncated in search.
How they perform for you will depend on individual factors, so there's no harm in testing them to see how they perform for you.
The best size for a Pinterest image infographic is 1000 x 3000 with a Pinterest Pin ratio of 1:3. Infographic pins should be no larger than 600 x 2400 pixels.
Let's look at the different types of infographic pins, and how to use them effectively.
First up are standard infographics which often feature text overlaid on top of a graphic or image. Although they may seem like an obvious choice, not all businesses have strong visual content that works well in this format. Business coaches, influencers, and wellness brands tend to see the most traffic with these pins.
Another option is to use a more complex and detailed image, such as one that features different colors or shapes alongside the text. For example, a retail store could create a gift guide as a long form infographic.
Finally, if you want the most pin-worthy content possible for infographics, try making them interactive. Interactive content is more eye-catching and can encourage users to share your pin, driving more traffic to your site.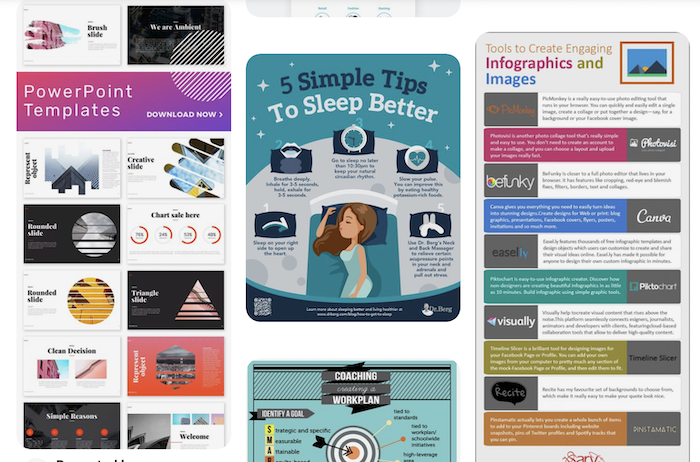 Pinterest Images: Square Pins
Square pins are great for sharing images from your Instagram feed.
The best Pinterest image size for square pins is a 1:1 aspect ratio or 1000 x 1000 pixels. The maximum image file size of a square pin should be 20 MB.
Square pins allow you to share compact images that are relevant to your brand aesthetic and easy to share.
Although some people claim square pins get less engagement, other users say their likes, impressions, and clicks have improved with square pins.
Studies have shown the average user spends less than five seconds on a Pinterest page, so it's critical your images and pin descriptions are concise and effective.
A clear title makes it easier for users to understand what they're clicking into or scrolling past.
Square pins are easy to view on most devices, which is why they're a great fit for social media platforms like Pinterest.
Plus, square Pinterest images work well when you need users to click through or check out your website or blog content.
To see if square pins work for you, run some tests and judge the results for yourself!
Pinterest Images: Long Pins
Long pins are typically used for blog content or articles, where users can scroll to read the entire text.
Long pins are great when you need people to click through and engage with your website content.
Long pins should use a Pinterest Pin ratio of 1:2.1 or 1000 x 2100 pixels.
If your long pin exceeds this recommended size limit, it may be cut off in user feeds.
If your long pin cannot meet this length, don't worry! You can help users stay engaged by centering any text before the truncated portion. Once they click the image, they'll be able to see the rest of your content.
Long pins work best for businesses that have articles or blog posts to share. For example, if you own a hairdressing or beauty salon, you could pin an article about how to take care of your hair type.
Another great use for long pins is if you're selling products online. You could share a link with several different images that sends users through to the product page.
This allows users to see different views or angles of the product, so they can make an informed decision about what to purchase.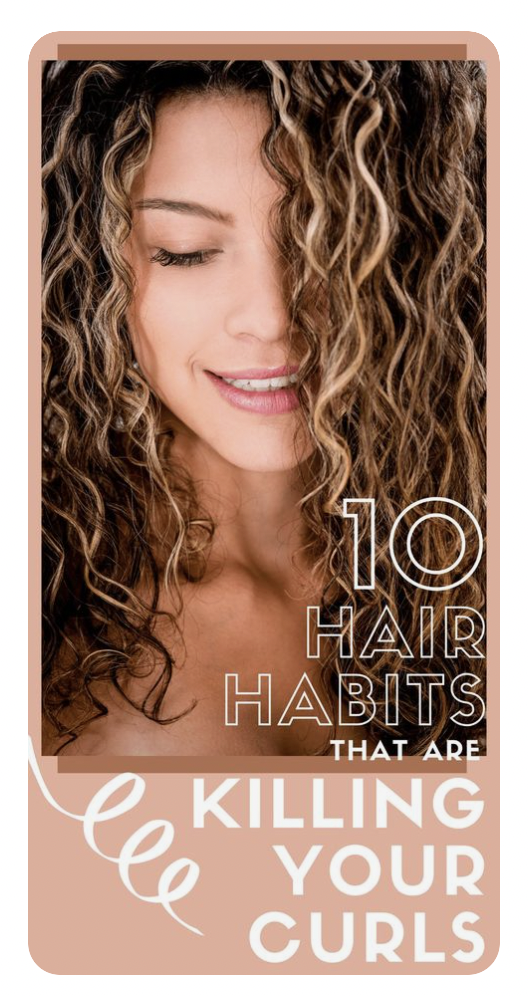 Pinterest Images: Carousel Pins
Carousel pins are a great way to show a lot of information in one pin.
For example, if you're selling jewellery online and have several rings for sale from the same collection, carousel pins allow you to include up to five images per pin/item that users can scroll through.
The best Pinterest image size for carousel pins is 1000 x 2000 pixels and should be no more than three images in length. As well, carousel pins can be shown in either standard Pin Size (2:3) or Square Pins (1:1).
Carousel pins allow you to showcase multiple images with a short text description below each image. These are perfect for businesses that showcase events, recipes, tutorials or other content people want to scroll through.
These Pinterest image pins can help drive people directly to your online store, as they can see exactly what you're selling and buying right from the pin. This is a great way to generate sales!
Outerwear brand REI found that carousel ads using Pinterest carousel pins increased their click-through-rate by 32 percent.

5 Best Practices for Pinterest Images
There are a few things to keep in mind when creating your Pinterest images so you can drive as much traffic back to your site as possible.
1. Be Descriptive
Include descriptive text on the image itself, including hashtags and relevant keywords. This is one of the most powerful ways you can increase website traffic from each pin's click-through rate, as it helps your Pinterest page connect to search results across the internet.
This will also ensure your pins are easy to find when people search on Pinterest.
2. Include the Right Links
Next, include a link in the pin's image description so when someone clicks it they can be taken back to your site with ease. You can also use copy to encourage them to click through again by including more text about what they will see if they do.
3. Use High-Quality Images
If you're linking to your store, be sure to use product pins with clear, high quality images. Link the pin to a specific product with an easy-to-understand description that encourages viewers to purchase there or visit your website for more information.
Ensure your logo is displayed on every pin you create, but make sure it's visible. Pinterest recommends avoiding the lower right corner as that area gets covered up by product icons.
4. Include Alt Text on Pins
Be sure to add alt text to all your images. This will help improve the SEO of your website and let Pinterest know what each image is about.
You can also pin images directly from your website or blog by adding a "Pin it" button on the page. By doing this, you won't have to upload and crop each image as they will be sized automatically for Pinterest image requirements. (This also allows users to pin your images, which expands your reach.)
5. Monitor Pin Performance
Lastly, monitor all of your pin impressions to see how you can improve your content. Different pins may bring in different results, so pay attention to what you pin to track how Pinterest impacts site traffic and conversions.
Frequently Asked Questions About Pinterest Images
What are the Pinterest post dimensions?
Different kinds of Pinterest images use different sizing, but Pinterest generally recommends a ​​2:3 aspect ratio, or 1000 x 1500 pixels limit.
What are the most popular pins on Pinterest?
The most popular pinned content on Pinterest is DIY and craft pins, entertainment, weddings, and holidays and events.
How do I drive traffic to my website on Pinterest?
There are many ways to drive traffic to your website from Pinterest which can include keyword targeting, proper Pinterest image sizing, applying for Rich Pins, and creating strong visual content.
Is Pinterest a good source of traffic?
Pinterest Image Size Conclusion
When well optimized, Pinterest images can grow your audience and increase web traffic to your site.
By using the right Pinterest image sizes, optimizing your content, and tracking performance with Pinterest Analytics, you can transform your Pinterest page into a high-performing marketing tool.
Don't forget to strengthen your Pinterest image strategy with strong SEO and impressive web design, to encourage new visitors to convert.
What Pinterest images work best for your brand?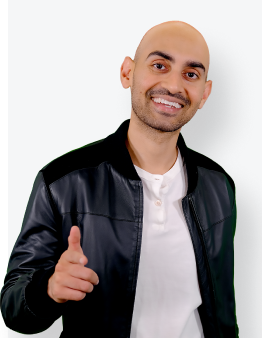 See How My Agency Can Drive More Traffic to Your Website
SEO - unlock more SEO traffic. See real results.
Content Marketing - our team creates epic content that will get shared, get links, and attract traffic.
Paid Media - effective paid strategies with clear ROI.
Are You Using Google Ads? Try Our FREE Ads Grader!
Stop wasting money and unlock the hidden potential of your advertising.
Discover the power of intentional advertising.
Reach your ideal target audience.
Maximize ad spend efficiency.