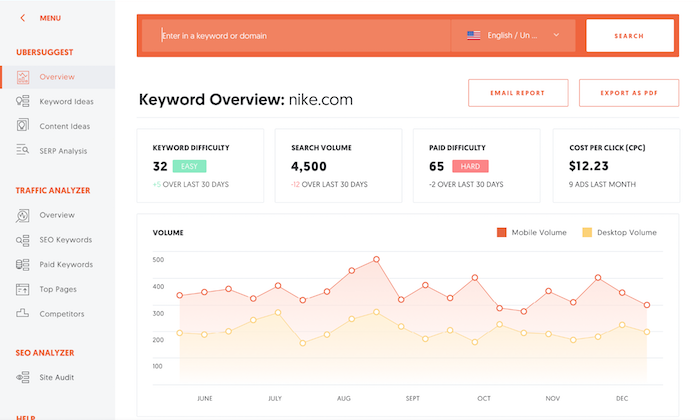 On February 13, 2017, I acquired a keyword tool called Ubersuggest for $120,000.
It was generating 117,425 unique visitors per month at the time I purchased it and had 38,700 backlinks from 8,490 referring domains.
For those of you who aren't familiar with the tool, the concept is really simple:
You put in a keyword you want to target via SEO or PPC, and it gives you more keyword ideas. That way you can grow your traffic by going after more keywords.
Most people thought I bought the tool to just redirect the traffic to NeilPatel.com so I could get more backlinks and rank higher for all of my search terms.
If you do the math it would come out to roughly 14 dollars a link.
But NeilPatel.com already had 3 times more links than Ubersuggest.
And let's face it, I already rank for most things marketing related… so the links don't really help that much.
And others thought I was buying it because I wanted to redirect the traffic and net another 117,425 visitors a month.
But very little of Ubersuggest's traffic was from countries that I generate revenue from.
For example, out of the 117,425 monthly visitors, Indonesia was the most popular region at 28,491 visitors a month and the United States only made up 13,492, visitors.
Full transparency: I didn't buy it for either reason.
NeilPatel.com already had enough backlinks, and I already generated well over a million unique visitors every month.
Instead, I bought it as part of a huge experiment.
I wanted to see if I could grow my traffic without content marketing.
Why am I trying to get away from content marketing?
I rank for everything under the sun when it comes to marketing. Seriously…
Here's my search traffic in the last 30 days (and I bet I will get a 40 plus percent lift in the next 30 days, but that's for another blog post so stay tuned).
If I want to grow my traffic to the level of Hubspot's blog and get over 6 million visitors a month I would have to write content on things like "how to edit videos."
There are two problems with content like that. First, I wouldn't be able to monetize it.
Second, and most importantly, I am not an expert when it comes to video editing so I shouldn't blog about it.
I've also thought about writing about entrepreneurship, but I don't really enjoy it as much.
And because of that, my lack of passion will show in the content when I publish it.
In general, if you aren't passionate about what you are writing about, don't waste your time. Your content will suck, and people will be able to tell.
So, my team and I made a decision last week that I should only write one blog post per week, share my personal experiences, and get away from writing generic marketing content that I've been blogging about for years.
Plus, it's more fun to share stories than it is to write a blog post showing you how to use Twitter.
But there was one big issue.
I couldn't move away from writing one blog post a week because the blog is what generates all of the leads for Neil Patel Digital (my ad agency).
I had to find something that could continually help generate more visits without me requiring to blog 7 days a week.
And although it took me over a year of experimenting… I found it.
So how are you going to grow your traffic now, Neil?
Remember how I mentioned Ubersuggest at the beginning of this blog post?
Well it was one of 7 experiments that worked out.
I took the old Ubersuggest that looked like this: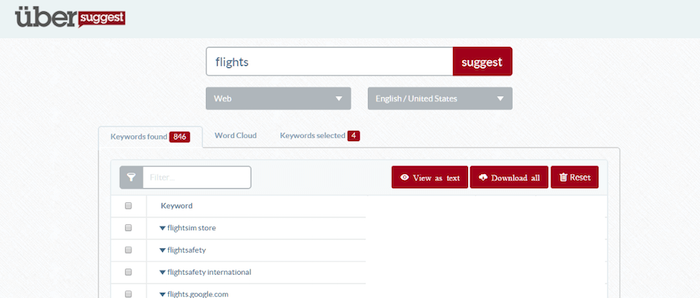 And I paid a developer to add a new skin and include CPC data. The product now looks something like this: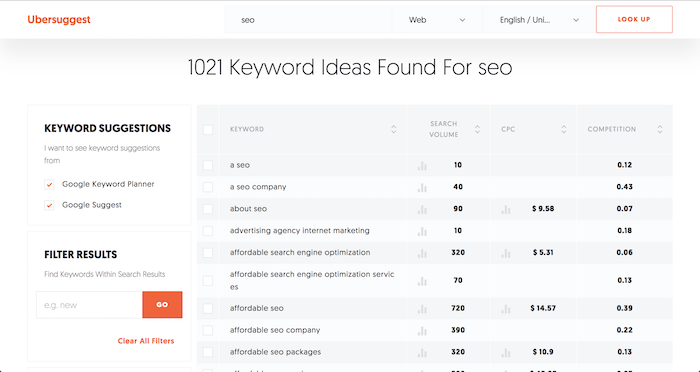 But here is what's interesting: The moment I released the new Ubersuggest, the usage on the tool stayed the same.
But within a few days, people learned that they could get CPC data for free using Ubersuggest and traffic started to spike.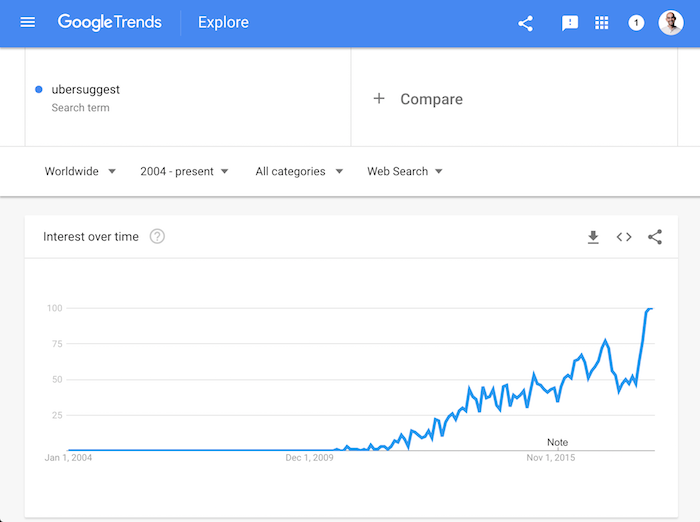 If you look at the graph above from Google Trends, you'll notice that the usage died shortly after people found out I acquired it because they felt I was going to destroy the free tool…
…or they thought I was going to add a paywall (plus a lot of people in the marketing space hate me)…
…but once I released a version with more free information people starting to love the tool even more.
Literally, that one little change, which was providing cost per click data for free to Ubersuggest caused the usage to double.
At first, I thought this happened because everyone loved the new feature.
But from surveying my users I quickly learned people started using Ubersuggest because they were paying Keywordtool.io $49 a month for this one simple feature.
In other words, my popularity grew because I took something people were used to paying for and made it available for free.
And fast forward to today the tool has maintained its popularity just because I'm giving away a feature most marketers are used to paying for away for free.
But I didn't stop there…
Once I learned the power of free, I realized that I can probably grow the NeilPatel.com website to 3 or 4 million unique visitors a month by just giving more away for free.
Here's how I came to that conclusion.
A paid tool called KWfinder has been growing in popularity. You can see that growth from the chart below: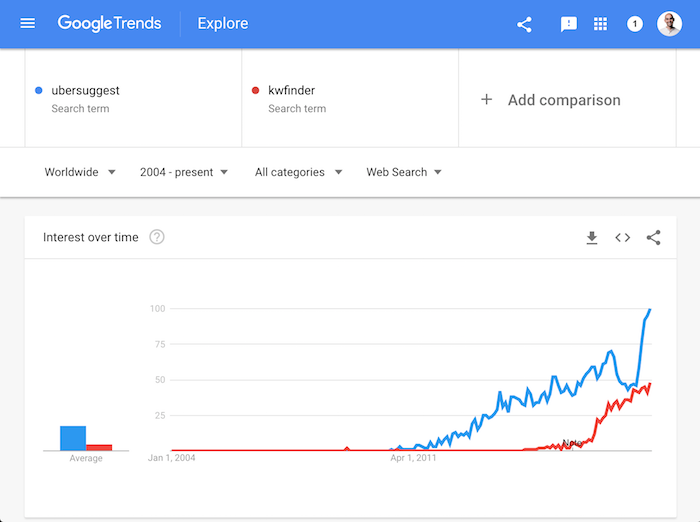 So now I am going to release a new version of Ubersuggest to include their feature set for free, so I can gobble up their traffic.
Here's what that feature will look like once my developers finish making it…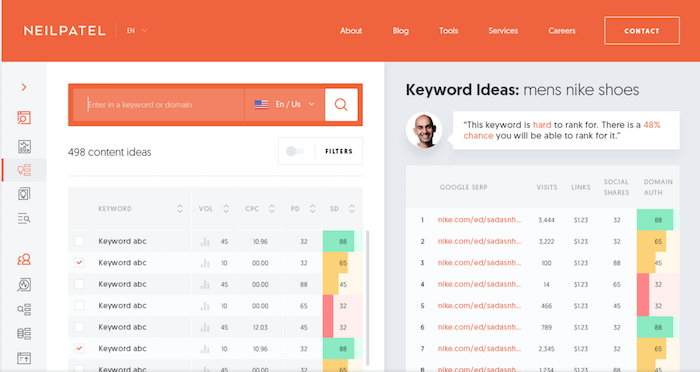 But why stop there?
SEMrush and Ahrefs are amazing tools that provide tons of traffic estimation data and they are much more popular than Ubersuggest.
The main problem?
They both cost at least $100 a month.
And Buzzsumo is popular as well, as you can see below.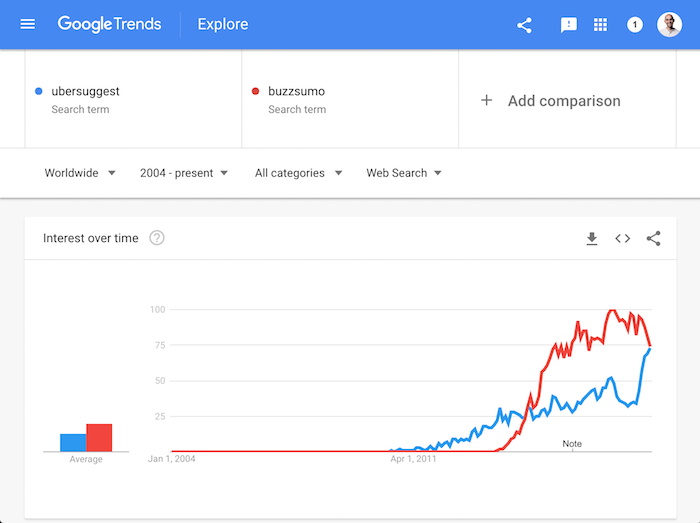 So, I decided that it would be a fun experiment to make Ubersuggest into a much larger tool and just give away everything for free that you are used to paying for 🙂.
Unlimited usage, no login required, for free.
Here are some previews of what the tool will look like: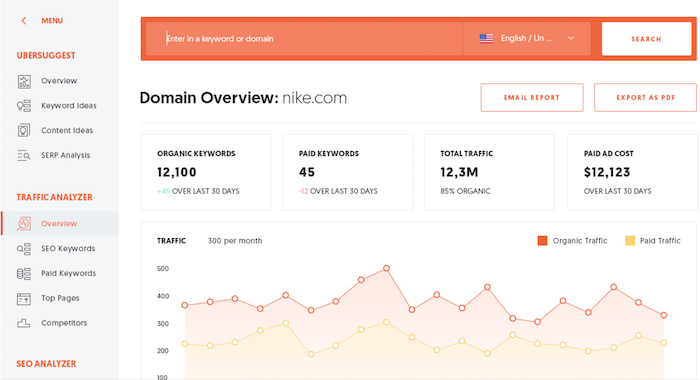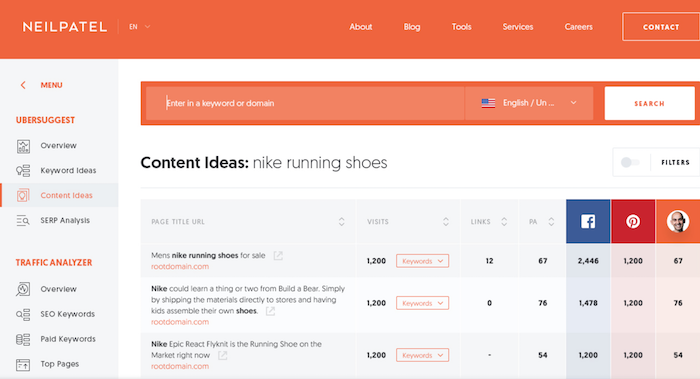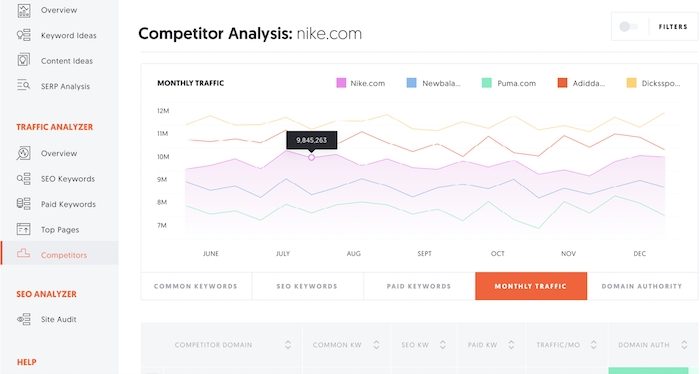 The best part of all…
By making something for free I won't have to do much marketing at all to generate the visitors.
It's easier than writing 7 blog posts a week and all I have to do is take what people love and pay for and give it all away for free.
Conclusion
I have no idea how many visitors I'll generate by doing this, but if something as silly as giving away CPC data for free can double my traffic/usage, I don't see why I won't be able to generate 5 or 6 times more traffic by giving away top-notch features for free.
If you want to take a page out of my playbook, feel free to copy this strategy, but there are a few things you need to keep in mind:
First, it's really expensive.
I thought I could do this for under $100,000 in development expenses and $15,000 a month in server expenses. Boy was I wrong.
I'm already spending around $122,312 a month on this tool and I don't see the cost going down anytime soon.
My server bills alone have gotten up to roughly $20,000 a month and it's expected to grow to $80,000 a month within 4 months.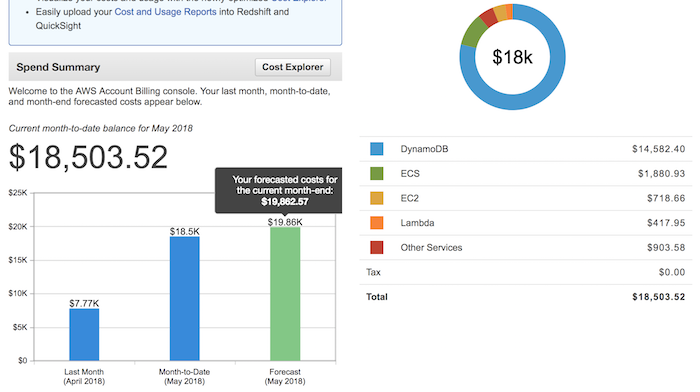 Second, check out a concept called last mover advantage.
The largest social network, Facebook, wasn't the first in the market. The largest operating system, Microsoft, wasn't the first in the space either. And Google wasn't the first search engine, but they are the largest.
You don't have to be first to market to do well.
When you are the last player you can see what others have done, learn from it, and then act. This works when a market is fragmented and there are no clear winners.
For example, if you were to build a search engine today, it would be hard to beat Google.
Even if your search results are more relevant than Google, it's hard to beat them because people are satisfied with Google's search results. And it is obvious that Google is the clear winner as their current market cap is over $700 billion.
With the SEO space, there are tons of tools and there is no clear winner.
SEMrush has publicly stated that they generate $50 to $100 million a year.
Moz generates around $50 million a year.
Ahrefs is somewhere around $50 million if I had to guess.
The market is fragmented, which means there is room for someone to come in and potentially still win (it won't be easy though).
Check out the last mover advantage concept to see if it helps give you any ideas.
Third, don't try to copy my strategies unless you are willing to lose money.
Not everything I do works out, and I'm willing to run experiments even if I lose money.
If you don't have money to lose, taking a more conservative approach to marketing like focusing on traditional content marketing or SEO.
Lastly look at the current business models in your space to see if they are flawed as that will guide you to where the opportunity is.
For example, Google generates over $100 billion dollars a year and most of that comes from revenue from ads.
The tools I mentioned above don't even generate $100 million a year, yet the majority of the people click on the free organic listings in Google.
It just shows that there is something wrong with their business model.
In my opinion, a better model would be collecting leads from a free tool, pitching those leads on consulting services, and then taking a percentage of the client's Google ad spend.
My model isn't as scalable and it requires more headcount, but it can generate much more money. Just look at ad agencies like WPP and Dentsu. They generate billions in revenue!
So, what do you think? Do you like my new SEO strategy? I personally love it, but then again, I'm kind of crazy.
PS: You shouldn't stop your content marketing efforts. Content marketing is still very effective which is why I am still doing it, but if you have extra money to spend on marketing, consider investing in technology as a fun experiment.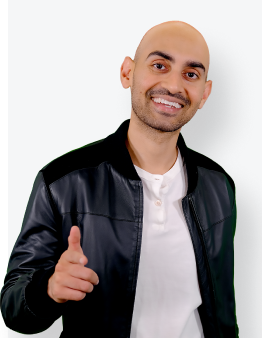 See How My Agency Can Drive More Traffic to Your Website
SEO - unlock more SEO traffic. See real results.
Content Marketing - our team creates epic content that will get shared, get links, and attract traffic.
Paid Media - effective paid strategies with clear ROI.
Are You Using Google Ads? Try Our FREE Ads Grader!
Stop wasting money and unlock the hidden potential of your advertising.
Discover the power of intentional advertising.
Reach your ideal target audience.
Maximize ad spend efficiency.