When Snapchat was founded in 2011, it was primarily used by younger audiences to share everyday images about their lives. Over the years, however, the platform has become a powerhouse for online marketers with more than 306 million daily active users and annual revenue of $2.5 billion.
Influencers looking to create a following—and a business—for themselves have flocked to the platform. How do they make money? Can your business also leverage Snapchat to drive sales and increase your bottom line?
Yes, it can.
Here are seven ways that influencers and businesses can drive real revenue using Snapchat and a few tips to help increase the impact of your efforts.
7 Ways to Make Money on Snapchat
Unlike Facebook, Snapchat doesn't allow you to post images, videos, or links that stay up forever. Rather, Snapchat focuses on short, time-limited "snaps" and "stories." These posts (or series of posts) stay live for up to 24 hours, though you can delete them before the 24-hour period is up.
While it might seem counterintuitive to delete posts after just a day, this allows brands and people to share more personal content and build stronger relationships. It also creates a feeling of exclusivity that followers seem to enjoy.

How do you turn Snaps into cash? Here are seven ways to make money using Snapchat.
1. Get Paid to Advertise on Your Story
The most straightforward way to earn income on Snapchat is to allow other businesses to sponsor your stories. This is most often used by influencers and is similar to allowing brands to sponsor stories on Instagram.
Essentially, an influencer (or brand) agrees to post a message to their audience with a link or ad for another brand. For example, Shaun McBride, a well-known artist on Snapchat, worked with Disney to promote the film Frozen through his Snapchat stories.
To use this strategy, you (or the influencer you want to work with) will need a large following. At the end of this post, I'll share a few tips to increase your followers.
2. Promote Your Own Products or Services to Increase Sales
Another simple way to drive revenue on Snapchat is to promote your own products or services. Rather than using Snapchat ads, which require you to pay to reach an audience, you can leverage the audience you already have by sharing links to products, services, or downloadable assets you sell.
For example, an e-commerce company might share links and images to their newest product line or a digital marketer might post about the services they offer.
The one drawback to this strategy is you'll need to already have a decent number of Snapchat friends to drive income using this strategy. Also, it's important not to share just promotional content. Use Snapchat to share funny or engaging content at least 70 percent of the time, then use the remaining posts to share your products or services.
3. Create Your Own Geofilter for Your Business
Geofilters are location-based stickers that Snapchat users can use to indicate their current location. While they are popular with sightseeing destinations like Times Square in New York, they can also help local businesses drive in-person traffic.
For example, Starbucks used a fall-themed sponsored geofilter that only appeared to users near a Starbucks.
If you decide to use sponsored geofilters, make sure they are interesting for users. Just adding your brand name to a filter isn't going to get much use! Instead, add fun images, funky layovers, or fun holiday-themed filters, like Starbucks. The more fun your geofilters are, the more likely users are to use the filter and share the Snap with their followers.
4. Get Featured on the Snapchat Spotlight
Snapchat Spotlight is a collection of some of the most engaging Snaps from users from all over the world. Similar to the "Discover" section of Instagram, it allows users to explore content from users they don't follow who post on topics they are interested in.
This can help expand your reach on Snapchat, and drive sales. To get featured on Spotlight, you'll need to create a Snap, then select 'Spotlight" from the "Send to" screen. Keep in mind that any content on Spotlights is public, so anyone can see it.
5. Use Sponsored Lenses
Snapchat lenses are augmented reality filters that users can interact with. Unlike filters, which are static, lenses allow users to virtually "touch" or play with items in augmented reality. The video below shows how users can move their hands through augmented landmarks, hold AR rainbows, and much more.
Besides just being cool, sponsored lenses can be shared with a carefully targeted audience. Businesses can build campaigns that target specific demographics (such as age and gender) or what topics users interact with regularly. Snapchat will even guarantee a certain number of users will use a lens, making them a solid investment.
Sponsored lenses are used by plenty of big brands, like Red Bull, MTV, and Warner Brothers, however, smaller brands may find them useful too. For example, you might use a fun sponsored filter to promote a grand opening or a new product launch. When users post stories using your lenses, it can drastically increase your reach in a natural, organic way.
6. Refer Other Products (Affiliate Marketing)
If you use affiliate links on your blog, you might already have the relationships and affiliate program experience needed to promote affiliate content on your Snapchat. If so, then just add your affiliate links to your Snaps, and you'll reach a wider audience.
If you aren't already using affiliate marketing, you'll need to find an affiliate partner and begin creating content.
How does it work? Essentially, you promote other businesses' products using a special link and receive a portion of the profits when friends use your link. While it can take a while to build a following, it can also generate quite a bit of profit.
Just remember, to be effective, your content needs to be interesting and engaging. Users don't come to Snapchat to watch ads; they want to be informed, educated, and amused. If your content is entertaining, your affiliate links are more likely to get traction.
If you are new to affiliate marketing, check out this guide. Most of the same practices will apply when using Snapchat.
7. Use Story Ads
Story Ads allow users to place ads in the Discovery feed. The Discovery feed is similar to Facebook's newsfeed and allows users to explore content from users they follow—and other content sponsored by brands and influencers.
Snapchat recommends using Story ads as a way to expand your reach with users who aren't as familiar with your brand. For example, you could use it to share a collection of items you sell, educate them on topics related to your industry, or share content you've published.
While it might not result in a lot of sales right away, increasing brand awareness is crucial to driving sales.
5 Tips for Growing Your Snapchat Following
If you want to make money on Snapchat, you need followers.
How do you entice more people to follow your account so they see your brilliant (and hopefully revenue-generating) Snaps? Here are a few tips to increase your following on Snapchat.
Share your Snapchat profile on other platforms: Use other social media apps, like Facebook or Twitter, to share your profile and encourage users to follow you. Your email list can also be leveraged to drive follow numbers.
Share engaging content: It's easier said than done, but sharing interesting, engaging, or funny content is the most effective way to increase your followers. That means using a great hook, using music that appeals to your followers, and adding captions to make your Snaps accessible to more users.
Run contests: Competitions are an ideal way to increase followers. A free or small prize can provide the push users need to engage with your account. For example, you could ask users to draw an item related to your industry, share a selfie, or post a fun lip-syncing video. Try to relate it to your industry as much as possible.
Tap trending topics: Snapchat trends are topics users are talking about all over the world. Each week, Snapchat shares what topics are most popular on the app. Pay attention to what's popular and jump on the trend… but only if it makes sense for your brand. Holidays, popular songs, and events are good bets.
Use Snapchat ads: These ads allow you to pay to increase your reach. Since they are targeted, you can build a following of your target audience (which increases the chances of your Snaps driving real revenue.)
Also, make sure to pay attention to Audience Insights, the platform's internal analytics dashboard.
There, you'll find information about follower demographics, location, what they're interested in, and what types of devices they use. Use that information to create content your users are more likely to interact with.
Frequently Asked Questions About Making Money on Snapchat
How much do influencers make on Snapchat? 
The average income from Snapchat can vary drastically by industry and number of followers. Influencers can expect to make between $10 and $100 per 1,000 followers.
How many followers do you need to make money on Snapchat? 
To have a Creator account, you'll need at least 100 subscribers on Snapchat. Also, most influencers are paid based on followers. Therefore, you'll need at least a few thousand Snapchat followers to earn a substantial income.
Do you get paid for views on Snapchat? 
No. Currently, users are not paid for views on Snapchat. To earn income, you will need to sell products, promote affiliate links, or allow other organizations to sponsor your stories, where they pay to reach your audience.
How can I get more friends on Snapchat? 
The best way to get more friends or followers on Snapchat is to post engaging content. Other strategies include using ads, running contests, and promoting your Snapchat account on other social media accounts or to your email list.
What are Snapchat subscribers? 
Most Snapchat uses are familiar with friends. Subscribers, however, are a bit different. Usually, subscribers are followers who find you on the Discover tab. They can see posts you share publicly, but not Snaps you share with your friends. This is similar to "following" but not "friending" an account on Facebook.
How to Make Money on Snapchat: Conclusion
Like most social media platforms, there are multiple ways to make an income on Snapchat. Unlike YouTube, you won't be paid for views. Rather, earning an income on Snapchat requires working as an influencer to promote other brands or promoting your own products.
If you already use affiliate marketing to earn income, Snapchat can serve as another platform to reach your audience. Just remember that Snapchat tends to target a younger audience and plan your campaigns appropriately.
Are you considering adding Snapchat to your marketing strategy? What is holding you back?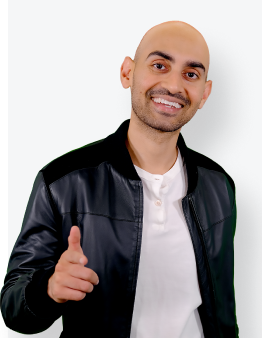 See How My Agency Can Drive Massive Amounts of Traffic to Your Website
SEO - unlock massive amounts of SEO traffic. See real results.
Content Marketing - our team creates epic content that will get shared, get links, and attract traffic.
Paid Media - effective paid strategies with clear ROI.