So, you've been publishing on Facebook, Twitter and maybe a few other social media platforms, and you've built up a decent following in each channel. Your audience is starting to engage more and more with your content.
Maybe you're wondering, "Okay, what's next? How can I take this to the next level? How can I use social media to drive leads for my business?"
Done right, social media can be an extremely powerful tool for lead generation, but getting there takes time, patience, a lot of testing and the dedication to post highly-valuable content for your audience.
This guide focuses on how to generate leads with non-paid content in social media. Social ads are also excellent for leads, and maybe it's something I'll talk about in a future post. For now, we'll learn how to create content for Facebook and Twitter that inspires clicks and conversions, and how to measure the results of your social lead gen efforts so that you can show your boss just how valuable social media can be for your business.
Here we go.
Optimize how you link to your external content
In order to be effective at generating leads with social media, you need to treat it as a key part of your overall content marketing machine. This means that social media becomes a place where you distribute high-value content to your audience––content found on your blog, the resources section of your site or on landing pages.
But it's not just about the value of the content you're linking to; what really counts is how you format the posts in each channel.
Before diving into how to optimize your posts for lead generation, let's take a look at three possible lead generation paths for social media:
Social channel > Blog post with a link to a relevant landing page (gated content) > lead
Social channel > Gated content > lead
Social channel > Blog post > Visitor signs up for mailing list via signup forms strategically placed on your blog (lead)
You can experiment with each of these paths, or even others that you drum up, but when you post with the goal of generating leads make sure you always link to a page that is relevant (e.g., an article on a topic that is important to your audience or a landing page linking to a PDF guide that your visitors would want to download). Don't just link to your homepage and hope people will convert.
I've divided my explanation of how to optimize your content for leads and clicks into two parts. Let's get started with the first.
1. Promote your content in a way that is entertaining and native to each platform.
If you publish a link to your website home page, a blog article or a landing page and expect the clicks and leads to start flowing automatically, you'll probably be disappointed. If you want people to take action, you need to put time and care into crafting content that is interesting and native to each platform.
In Jab Jab Jab, Right Hook: How to Tell Your Story in a Noisy Social World, Gary Vaynerchuck defines native content as that which adapts to the unique language, culture, sensibility and style of the platform in which you are publishing. In other words, a compelling copy and image combination that works on Facebook won't necessarily work on LinkedIn, while an image you post to Google+ won't necessarily go over well on Tumblr, and so on.
Why? Because people go to these platforms for different reasons, and the way in which they communicate within each one is unique.
So, how do you create native content that guides people to your site/landing page/blog?
Maersk, the Danish shipping company, has amassed an immense social media following (over 3.1 million Facebook likes for Maersk Group and Maersk Line Limited and nearly 76k Twitter followers between their two main accounts), and they do a great job of linking to content on their site via Facebook and Twitter.
Case in point: In 2012 Maersk generated 150 unique leads from a Facebook campaign that told the story of how its shipping containers navigate the frozen Baltic Sea during the winter months. As the former head of social for Maersk Line points out, that is a lot of leads for the shipping industry (especially online leads!).
Image credit: Jonathan Wichmann
The link in the post directed visitors to an article elaborating on the challenges companies face during the winter in the Baltic Sea, and the article contained a link to a form that allowed people to download a brochure about their anti-freeze services.
But what if you don't have amazing images like Maersk? What if you are a SaaS company, for example? If that's the case, then you need to find a go-to tool for creating images and get a little creative.
Refinery29 does a great job of linking to articles on their site using the default Facebook link format.
How? First, they always pick an interesting image, and second, they write exceptional copy that makes you want to click to read more. For example:
What about Twitter? Lucky you, with the addition of inline images to tweets, publishing content on Twitter just got even more interesting. After all, marketers have been buzzing about how these images increase clicks and overall engagement.
Both Maersk and the marketing analytics software company Moz do a great job of blending enticing copy and eye-catching images on Twitter in order to guide visitors to their blogs.
Check out a great status example from Maersk here.
Another good example, this time from Moz, is here.
My analysis was not at all scientific, but a quick scan through the Moz Twitter profile indicates that their tweets with images get a lot more engagement than those without.
Remember, you can easily adapt these techniques to link to landing pages, webinar registration forms, or another type of page that is relevant to generating leads for your business. Whatever that may be, when linking to your pages your goal is to create social content that is as native and engaging as possible. That's what will generate leads and conversions.
2. Don't only post links to your content
We just looked at how to optimize posts that link to your content in order to generate clicks and leads. But I see a lot of companies, especially those who are known for their blogs, use their social media channels as RSS feeds and not much else. Yes, linking to your content will be an important part of your social media strategy, but it shouldn't be the only thing you do.
On Facebook, intersperse links to your content with entertaining posts that relate to your audience's interests. For example, let's say you are a social media marketing company and the majority of your target audience consists of marketers. Create a post with a corny marketing joke in the copy section and an image that relates to the joke, create a meme that would make your audience laugh or put a short, powerful quote by a famous social media marketer in bold type against a colorful background and share that as an image.
On Twitter, intersperse links to your content with inspiring quotes, links to awesome articles from other industry influencers or questions relevant to your audience, like: "#CommunityManagers, what free social media tool do you swear by?"
When possible, create tweets that engage creatively with news and pop culture that is of-the-moment; Twitter is, after all, a platform that users look to for the latest news and information.
This is important for two main reasons. First, if you are simply using social media channels as RSS feeds for your content, then you're missing out on the benefits that each platform can bring to your business because of its uniqueness. For example, Twitter is a powerful tool for connecting with influencers, and you can do so by sharing their content and engaging in conversation with them.
Second, when it comes to Facebook, you've probably noticed that those nuggets of highly-sharable, entertaining content––the ones that ask nothing from your audience and simply make them laugh, incite feelings of nostalgia or inspire them––often get the highest number of shares, likes and comments.
Like this: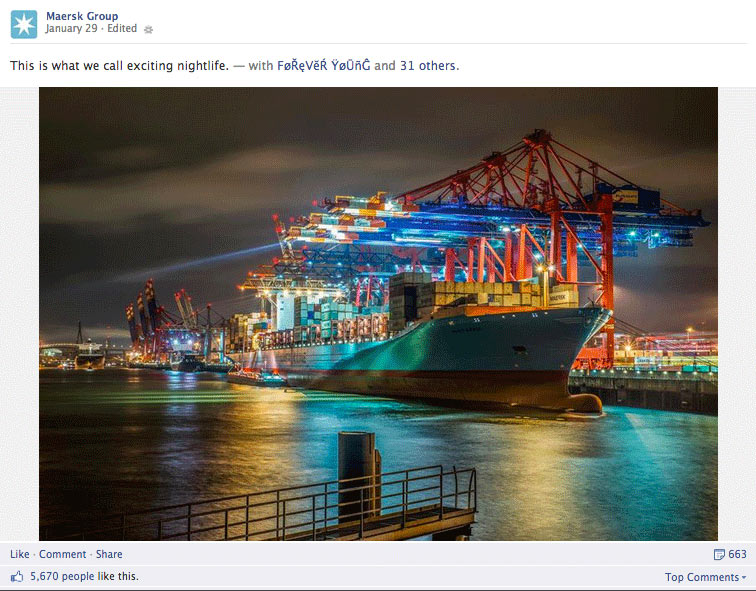 In his book that I mentioned earlier, Vaynerchuck points out that when Facebook EdgeRank, the algorithm that determines what appears in people's News Feed, notices that lots of people are interacting with your content, it thinks that your brand is important to them, so it will start to show more of your content in their News Feed.
In other words, fun, engaging and native content––the kind that gets you the most likes, shares, and comments––helps all of your brand's posts show up more in people's news feeds, including those with links to your content.
That's why you'll try to make your links to content as engaging as possible, and it's also why you need to mix links with posts that are just plain entertaining.
(Note: technically, the name EdgeRank has been declared a thing of the past, but since there's still no new name for the more complex algorithm used by Facebook today, we'll call it EdgeRank for simplicity's sake.)
Plan your analytics
Now you have a guide for creating non-paid content that generates clicks and leads via social, but how do track the results?
First, you'll create a goal in Google Analytics that will keep track of how many leads you're converting via social media. Start with a URL destination goal associated with content downloads; the URL destination should be a thank you page that people land on after filling out a form in order to download your content.
Keep in mind that Google Analytics only allows you to create twenty goals. Ever. So, I recommend using one thank you page for all of your downloadable content and then delivering whichever guide, e-book or checklist the person requested via email. Don't worry; you'll still be able to see how many leads came from a specific campaign, social network, and post or ad using the techniques below.
The best way to track and organize traffic from social media is by using UTM parameters within the links you include in your social media posts. UTM parameters are personalized tags that you add to your URLs in order to help Google Analytics categorize your referral traffic.
Use the Google URL builder to add the custom parameters to your URLs. I suggest the following setup when tagging links for social media:
Source: "facebook", "twitter", or whichever social channel the link is being used on.
Medium: "post" for non-paid content and "ad" or "sponsored" for all ads (we want to differentiate between organic and paid social traffic).
Campaign Term: Ignore this when you are creating UTM parameters for social media content.
Campaign Content: This field can be used to differentiate between variations of ads and for A/B testing your content. You can also use it to tag content within a series of posts that belong to the same campaign. For example, let's say you are running a marketing campaign in social media that consists of five different posts. You can use this field to indicate which post each link pertains to, such as "post-2".
Campaign: this is where you want to get specific. Avoid overly-general campaign names like "february-email" or "facebook-posts". Instead, create campaign names that give you a clear idea of which marketing campaigns your traffic and leads are coming from, such as "social-workshop-2014-sept" or "facebook-contest-analytics-workshop".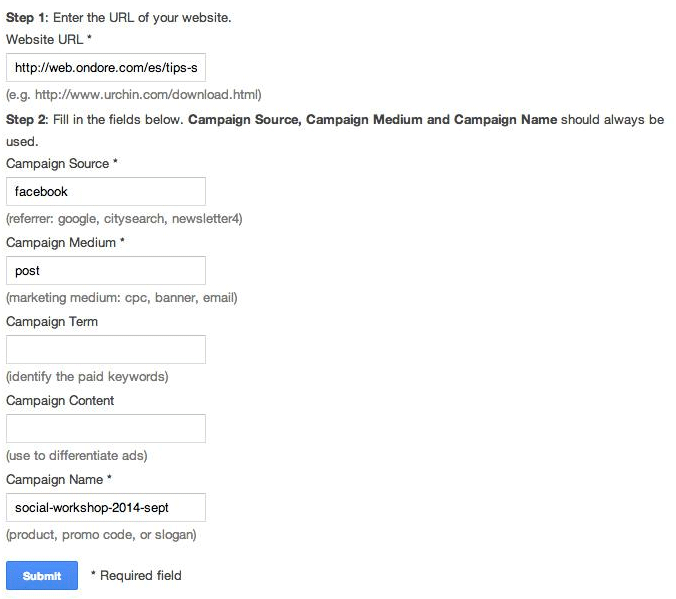 Next, within Google Analytics you can navigate to Acquisition > Campaigns in order to see a detailed report on how each campaign is performing, including traffic, visitor behavior and goal conversions. Click on the campaign titles to drill down into data on the performance of each channel. Remember to A/B test so that you know exactly which variables impact clicks and conversions.
A few bonus hacks that can help you generate even more leads
There are many other things you can do to boost lead conversion via social media, but the content optimization techniques we talked about in this guide are a great place to start. I'll end with a few quick, bonus lead gen hacks which have given me great results:
Tweeting links to your content directly to influencers (but only if it's relevant to them!)
Asking influencers (with whom you already have a relationship) to tweet your content to their followers
When you post a link to content on your Facebook page, tag relevant influencers (or anyone mentioned in the article)
Post your content in relevant groups and communities in LinkedIn, Facebook & Google Groups
Answer questions relevant to your industry/product in Quora
There you have it: your beginner's guide to lead generation with social media.
The next time someone tells you social media is all fluff with no measurable conversions, here's what I want you to do: scowl at them for a moment, then smile knowingly and tell them you're going to send them an article.
About the Author: Chloe Mason Gray specializes in digital marketing strategies for startups and medium-sized tech companies. Be sure to say hi to her on Twitter.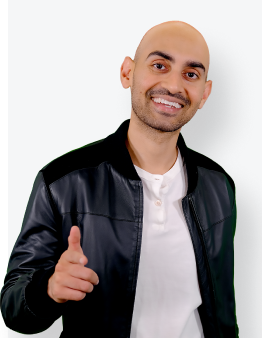 See How My Agency Can Drive More Traffic to Your Website
SEO - unlock more SEO traffic. See real results.
Content Marketing - our team creates epic content that will get shared, get links, and attract traffic.
Paid Media - effective paid strategies with clear ROI.
Are You Using Google Ads? Try Our FREE Ads Grader!
Stop wasting money and unlock the hidden potential of your advertising.
Discover the power of intentional advertising.
Reach your ideal target audience.
Maximize ad spend efficiency.