Not all case studies are created equal.
A perfectly crafted case study method can find prospects for you, convince them that you're the perfect high-quality match who can meet their need, and give them a reason to stay with your brand as a preferred course of action.
Case studies have been my number one content strategy for attracting high paying clients.
I'm talking about Fortune 500 companies and other successful digital marketing companies.
Case study methods and custom papers are among the 15 types of content that'll drive traffic and skyrocket your revenue.
But, do you know how to write these custom papers? How to start? What to include?
If you're a regular reader of my blogs, you know that I once documented how I built a $100,000 business in the food and nutrition niche. Every other month, I shared a case study analysis and noticed that the hundreds of thousands of people who visited my blog enjoyed that high-quality content.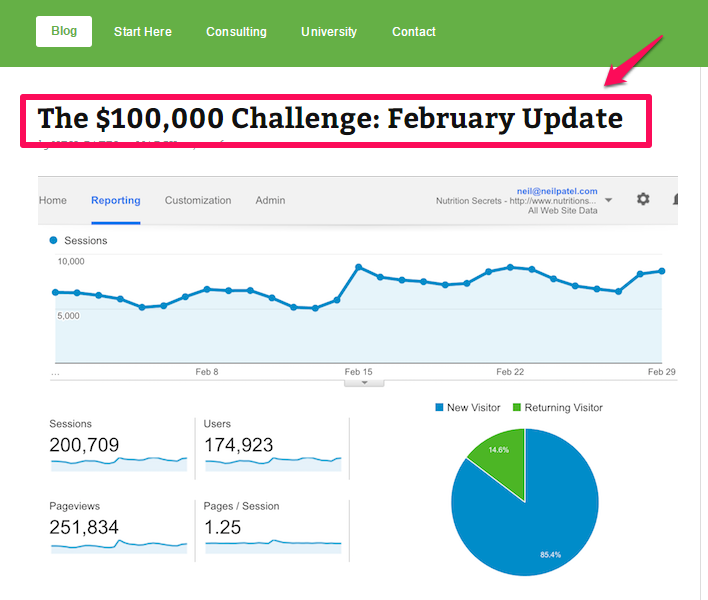 Judging from the huge traction the content received, you can see that case study analysis and content writing works.
I can't build anyone a successful authority site, but I can provide guidelines, tools, and content writing tips that I personally use.
I won't hesitate to share my mistakes and failures as well when it comes to content writing and creating these custom papers. That's how to make your case study content to convert.
In this in-depth article, I want to show you how to write a perfect high-quality case study that will attract high paying clients to your business.
I'm particularly excited about this post because I know where I have been in my businesses and where I am right now. What got me here?
I started documenting my experiences, good and bad, and showcasing them to my audience as the main body of my content.
1. Tell a compelling story that shows how your product works.
So, you want to attract high paying clients with your case study?
Then tell more stories that captivate the audience.
In today's fast-paced and competitive world, storytelling matters. Telling a memorable story as a content writer sets you apart and positions you as the go-to expert in your industry.
Your case study might be useful, but if it's similar to what's already out there, no one will care.
The average consumer processes 100,500 digital words per day and about trillions of display ads impressions were delivered. That figure continues to go up over the years.
More importantly, if you tell a story that shows how your product or service provider works and that helps customers visualize the results that they'll get, you'll most assuredly attract more sales.
First, let's be clear about what storytelling means when it comes to content writing.
In the context of marketing, storytelling is the most powerful way to breathe life into your content and brand. It's the art of communicating an event, project or experience in an interesting and relatable manner.
In a nutshell, storytelling is all about connecting the dots and walking your readers carefully from Point A to Point B.
It's about time that you tap into the power of storytelling when you write your content,  if you want your case study to be epic.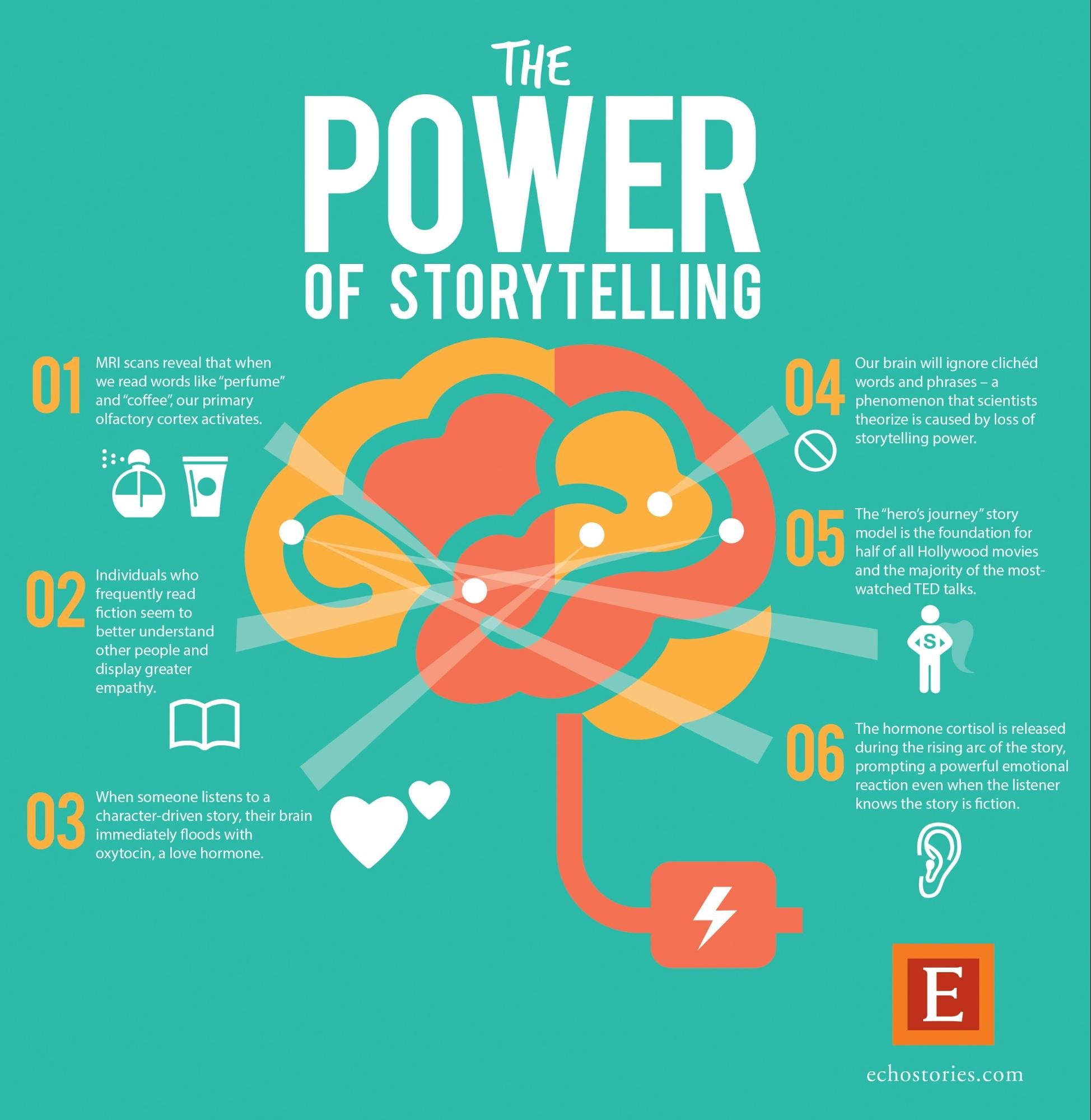 The endpoint of telling a story is to persuade your audience. If your story doesn't motivate people to take action, then you know that you didn't tell a good story in the main body.
Here's how Bronwyn Fryer of Harvard Business Review describes it:
A big part of a CEO's job is to motivate people to reach certain goals. To do that, he or she must engage their emotions and the key to their hearts is story.
There are 3 parts of a story that you should remember when writing your case study:
i).   Interesting beginning: Start out strong. From your headline through your introduction, make it irresistible so people will want to keep reading down the main body. Give hints about your story but don't reveal it yet.
In the image below, see how Nick Francis from HelpScout started out his story with a strong line. You have to keep reading after such a captivating beginning.
ii).   Expository middle: Go straight to the point. Avoid needless words and be a professional writer. Remember that this is the meat of your story – the main body.  It must resonate with people. Use a persuasive course of action words:
Discover

Learned

Powerful

Get started

Unveil

Results
…etc.
When writing the middle (main body) of your case study, lay out your thoughts and advice, using bulleted points.
Ideally, this is the place where you should use interactive videos to make your story truly engaging. It can produce staggering results and make your essay writing more interesting.
Better yet, you could share a case study outlining the results that your existing clients and students got. Brian Dean does this all of the time.
But, instead of writing boring articles in a dry, professional tone, he uses storytelling to introduce the student to his audience and to demonstrate the dramatic results that they generated by simply implementing his SEO techniques, he makes his custom papers exciting.
Here's a typical example:
iii).   Action-oriented conclusion: When using storytelling in your case study, you need a conclusion to follow on from the main body.
But, don't bore readers and potential clients after you've persuaded them with a high-quality expository middle.
Remember that in every phase of your client acquisition process, you need to call for a course of action. Otherwise, you'll lose out on motivated clients.
Make your conclusion action-oriented. In other words, tell them what to do next and how to do it.
To avoid being sales-y or pushy when concluding your story-based case study, you can ask simple interview questions. Gregory Ciotti usually conducts these interview questions with his guest articles:
2. Leverage Steve Slaunwhite's "Case Study Style" to captivate your audience.
A case study analysis will only build your credibility quickly if you know how to structure it. Don't forget that there are a gazillion case studies out there that no one cares about.
To avoid that, you must organize your case study properly.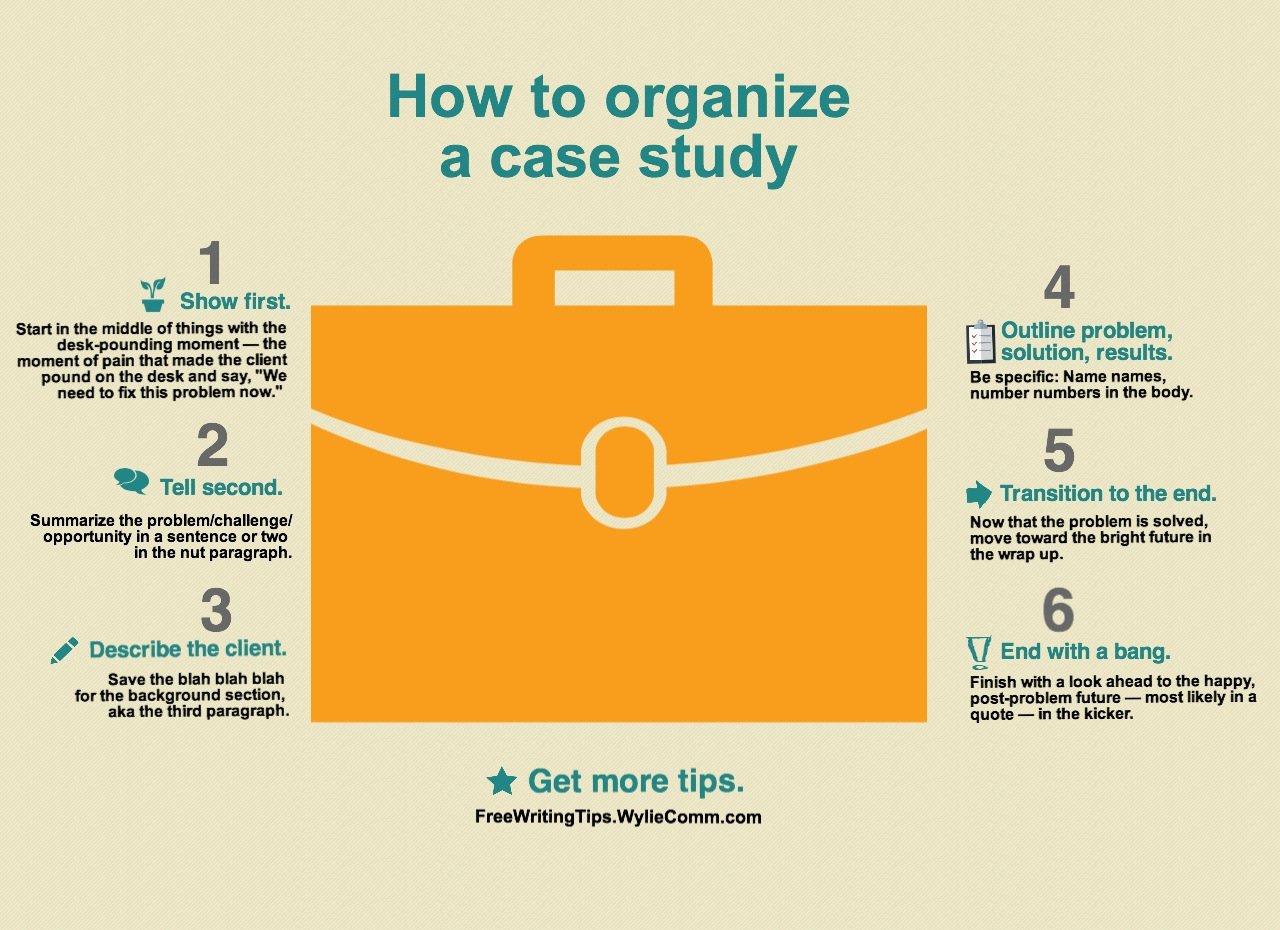 When sharing a case study with the goal of attracting prospective clients to your business, make it more professional and less of an academic level. Ideally, it will be more conversational.
How?
Tell the story from the perspective of a happy customer.
According to Steve Slaunwhite,
These kinds of stories are hard to resist.
That's basically what his sequence is all about.
As the prolific author of several books and case studies, such as The Everything Guide to Writing Copy, Slaunwhite knows how to structure a case study, using storytelling to persuade an audience and get the high-quality results that you want.
Here's his proven sequence:
i).   Focus on the Customer: There's no better rule or strategy for creating irresistible case studies than to focus on the customer. Everything else revolves around them and this is why interview questions and open-ended questions can work.
ii).  The Challenge: Identify the specific problems that your clients are trying to solve or improve. No matter what kind of case study you're creating, your responsibility is to help users solve their problems and deliver customer support.
iii).  Show the Journey:
This is the place in the story where the reader begins to identify and empathize.
Steve says that smart people usually like to participate in the process. One way to accomplish this is by using a step-by-step method.
iv).  The Discovery: How has your product or service solved clients' problems? This is the stage where you show it. These are your success stories or testimonials. Cite your client's site, or show the result that they got, as a result of working with you.
v).   The Solution: It's time to be bold! If you've successfully followed the case study sequence, now you can pitch your product. You may want to include a call-to-action button at this point as Derek Halpern does.
vi).  The Implementation: Be transparent here. Share the challenges you or your clients encountered while using your product.
Be honest about any problems that arose and how they were resolved, Steve says.
vii).  The Result: In your case study or content writing, don't forget to detail exactly how and in what ways your product or service helped your existing clients.
According to Steve,
To show results, you can use data, customer quotes, revenue gains and the like to end your story.
3. Find the right competitor to profile in your case study.
Who are your competitors and what results did they achieve?
Profiling your competitor in your case study analysis is a great way to show that your product works.
First, let's find your competitors, in case you don't know yet who they are.
i).   First step: Go to SEMrush.com. Enter your blog URL (e.g., neilpatel.com) into the search box. Then, click on the "search" button.
ii).   Second step: Analyze your competitors. Scroll down through the results and you'll see your "Main Organic Competitors":
iii).  Third step: Research your competitors. From the list of your main organic competitors, you can pick one of them to research.
Visit their website and read a couple of posts. Look for experiments, split tests, case studies, client's testimonials, interview questions, etc.
Then, leverage that data in your case study.
In the client's mind, since a brand offers the same service or sells the same product and it worked, your own offer may also work – all things being equal.
For example, if you're a software marketer who just started out, you probably don't have much data or any compelling success stories yet.
But, you can profile other SaaS marketers. You could share the results that Pat Flynn's clients got, or profile Derek Halpern and his students.
Here's a recent case study where I profiled some of my competitors. I shared how these competitors increased their email open rates.
You don't even have to showcase data from your core competitors as part of your custom paper.
If you see a brand that's doing great and making a real impact, you can share its journey and revenue (assuming you have access to it).
Way back in February 2016, Pat Flynn generated over $65,000. You could share a case study on your blog to inspire clients on what's obtainable.
Your titles could be similar to these:
Case Study: How Pat Flynn Generated Over $65,000 in February [3-Step Process]

7 Steps to Making Over $100,000 From Blogging [Must Read for B2B Marketers]
Not too long ago, I profiled Shopify and shared how the online shopping cart company grew 10x in 3 years.
So, what's the benefit of this case study, seeing that it's not directly related to my blog or the results from my clients?
Well, take a look at the title again. See the underlined section? That's what matters to any client.
When you're showcasing the results from competitors or other brands, find a way to provide value.
Help the reader see the possibility of getting similar or even better results.
4. Provide clear "before and after" examples.
Fitness experts tend to use this strategy most effectively.
When people want to lose weight or build muscle, the decision to purchase any product or program will depend on the "before and after" examples.
But even if you're an internet marketer, you can use the "before and after" approach to create the perfect case study.
You've got to understand that when prospective clients are seriously looking for the best solution or service provider to hire, they don't want to hear or see anything except the results.
It's not enough to highlight product features and benefits. That can help, but the real motivation usually comes from measurable results.
In the words of The Draw Shop, "make it feel like there were two distinctive periods: before your business got involved… and after."
In your case study, you could simply show the pathetic state your clients were in before they started using your product.
Showing the transition from before to after that product, strategy, or approach can persuade clients to hire you more than any other tactic.
I do this all of the time when I host a live webinar or write a post.
Conclusion
Recently I was talking with a couple of my friends who are enjoying a lot of success with case studies and custom papers.
They're literally crushing it — and attracting high paying clients keen to fill in their order forms.
Most of them are in niches that don't seem terribly exciting, but they've learned how to create interesting content in a boring niche. The truth is that there are no boring niches, per se, only boring or unimaginative content creators.
When you write case studies, you eliminate every objection that's in the mind of your prospects.
To further boost your credibility, make sure that you back up every point and opinion in your content with accurate data – either your own or from credible sources.
Get fired up for success. Above all, stay consistent. Because, depending on your industry or niche, a few case studies may not be all that you need to reach the right audience. You need to fill your blog with high-converting case studies.
Have you ever attracted high paying clients using case studies?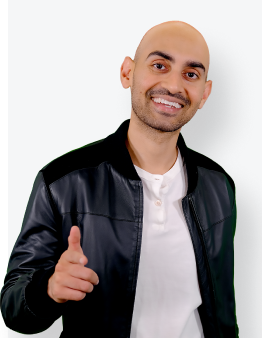 See How My Agency Can Drive More Traffic to Your Website
SEO - unlock more SEO traffic. See real results.
Content Marketing - our team creates epic content that will get shared, get links, and attract traffic.
Paid Media - effective paid strategies with clear ROI.