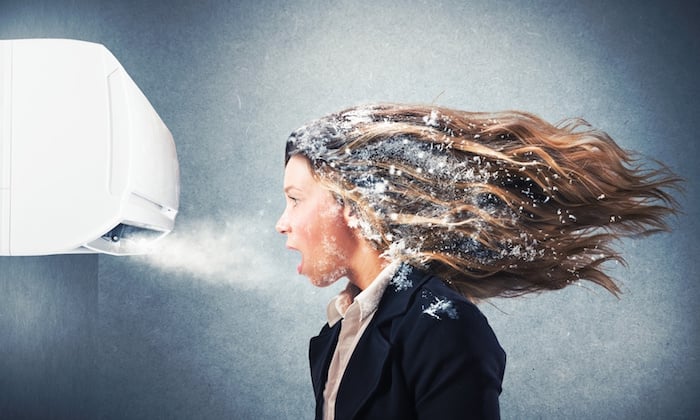 I've written a lot about PPC on this blog, including the mistakes that you should avoid and recipes to convert more leads.
What I still haven't covered is seasonality.
At the outset, seasonality can feel weird. You're not a farmer…how does the season fluctuation affect your sales?
For a majority of businesses, though, such seasonal factors are pivotal to understand and monitor.
If you want to create a sustainable and thriving business, you'll need to adapt to these seasonal trends, by planning your marketing campaign ahead of time. PPC management improves holiday season sale conversion rate while preventing overspending in a saturated market.
In this post, I want to help you adjust your PPC campaign ads for seasonality.
Note that seasonality goes beyond the usual demarcation of winter, spring, summer, fall and also beyond holidays (especially in the context of PPC ads). They are only starting points for collecting insights in social media and search engine marketing.
See, you can't just bid on ads based on your conversion data from the past 30 days. Digging into your sales history can help you find out the changes that occur monthly, weekly or even daily. And, you might need to microsegment your PPC data to find such insights to develop a PPC management strategy.
Are you ready to generate more traffic and get better conversion rate from your PPC ads?
Great!  Let's start with uncovering your PPC seasonality.
How to find out PPC Seasonality?
If you're confused about whether or not the changes in your sales are a result of seasonality, then conduct a seasonality performance test. Here are the 3 reports that can point you in the right direction.
1. The Adwords 'view by month' report
If you want to get a general overview of your budget and volume, then this is a good resource. For example, in the report below, Nov-Jan seem to have a bounce. So, you should adjust your budgets and bids accordingly, increasing PPC campaign spend during those months – the holiday season from Thanksgiving through the New Year.
Note that you'll find this info inside the Campaigns tab in your account.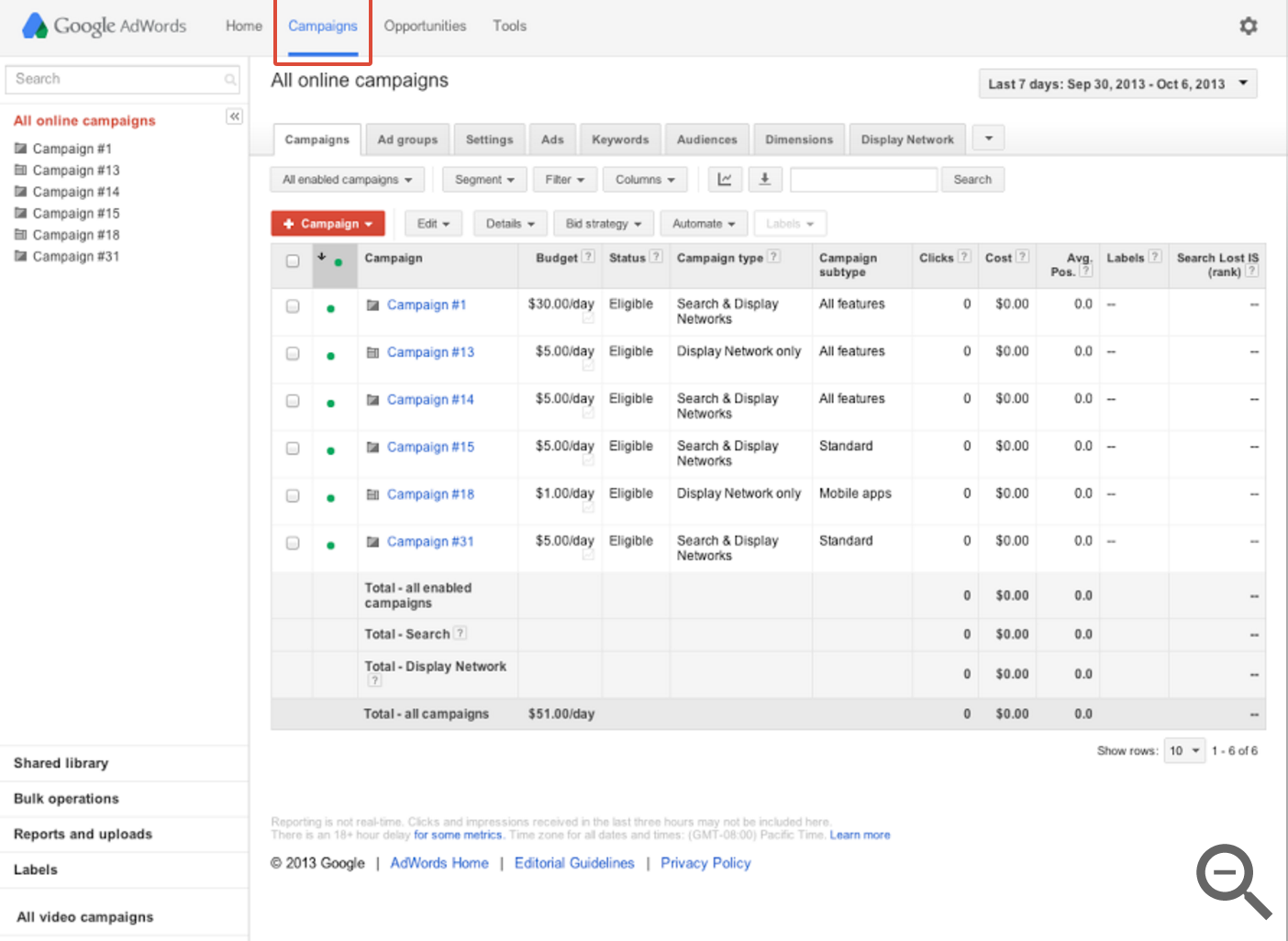 2. Create this GA custom report
If you're an eCommerce company and your marketing campaign budget is mostly spent on AdWords, then here's a handy custom report you can download to your GA account.
What does it do?
It plots your AdWord spend against your total revenue.
The report assumes that you've linked your AdWords account to GA and are tracking revenue inside of GA.
If PPC boosted other channels and correlated with higher net revenue, you'll see this inside the report.
If you want a more reliable test of seasonality, then I recommend you to conduct a 3-month, year-over-year analysis.
Once you know your MoM (month-over-month) CPA change, you can then calculate the YoY difference. The closer the YoY is to zero – the more likely that it can be attributed to seasonality. "Because the performance has suffered similarly."

Now that you've forecasted your seasonal increases in traffic, it's time to plan ahead and to beat your competition.
Make your ads fresh, relevant and current to stand out from your competitors
How do you craft your PPC ads?
I'm hoping that you don't see them as an item on your to-do list that you need to tick off once. You just can't "set it and forget it," with a PPC campaign.
The consumer is bombarded with thousands of irrelevant and spammy ads, every day on every search engine page. If you contribute to the irrelevancy, by repeatedly serving the same search ad, then your ad will be ignored by the customer, lowering conversion rate.
And, how do you prevent this customer desensitization?
By adapting to their changing mindsets (as indicated by fluctuating seasonal sales).
For example, eHarmony used to explain what their product does in their ads, back in 2009.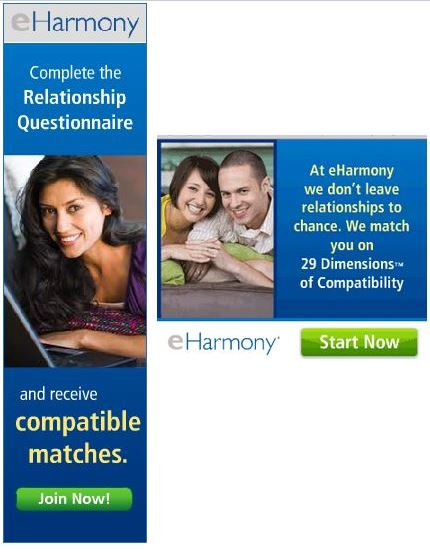 Fast forward to 2014 and they have shifted their strategy to show that they understand their customers and can change their lives.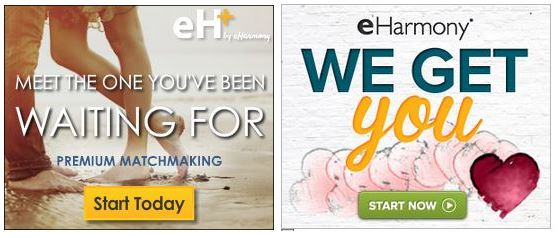 Now, let me show you 3 specific ways of leveraging seasonality to stay competitive.
1. Personalize your ad copy and refine your keyword list
Your brand's message shouldn't be just another one in the sea of similar looking search engine ads. For example, look at the ads for the keyword "led tv" below.
Similar headline formats, same ad extension and nothing that really grabs your attention.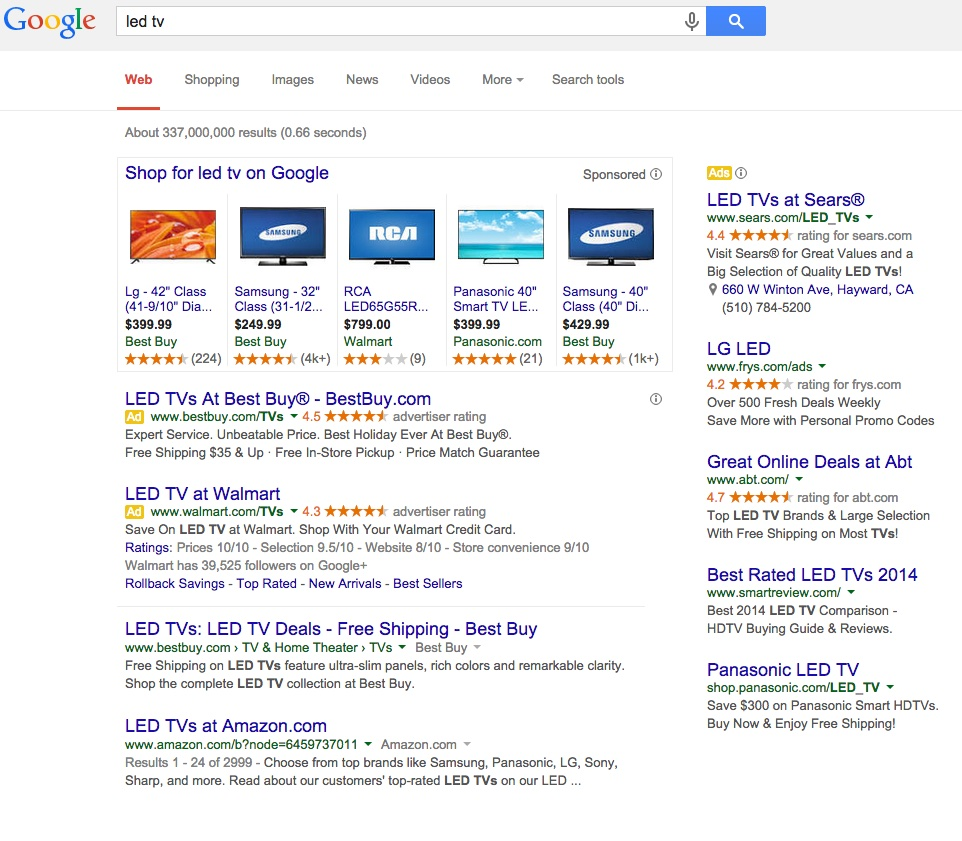 An excellent way to stay relevant and fresh, in your ads, is by adapting your ad text, keywords and landing pages (I'll tell you more about landing pages later).
John Lee tested a "Have big goals in 2014? Power your resolutions with…" theme and landing page for his lead gen client around New Years Day.
The result was a higher CTR, higher conversions and a lower cost per acquisition.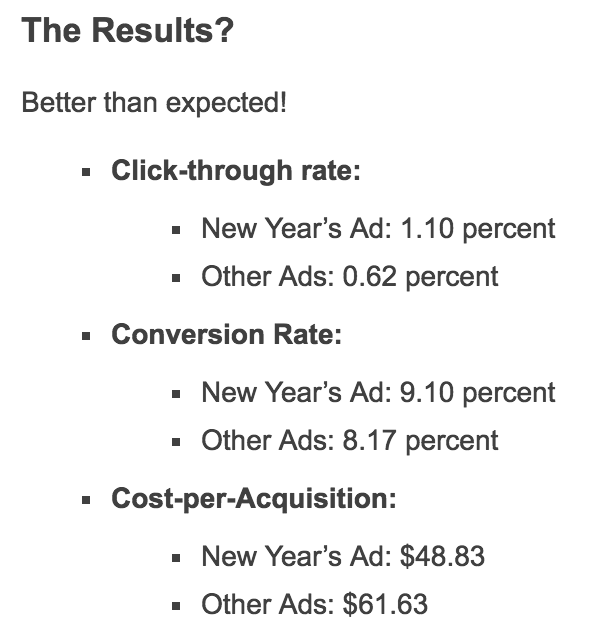 You should also consider changing your bidding to solely commercial keywords around seasonal peaks. If you target informational keywords, then you might receive more traffic without conversion rate success.
You must include keywords that are searched more during the holidays. In 2013, Google found a 27% increase in Black Friday-related queries, leading up to Black Friday. So, including such keywords makes your CPCs more efficient, improves your quality score and increases the reach of your ads.
Here are some common deal-modifiers that you can add.
Further, your ad copy should contain any deep discounts and delivery cutoffs that you're offering specifically during your seasonal peak.
2. Remember to catch those early shoppers (and don't forget the role of images)
Michelle Brammer recommends that you think a season ahead. If you plan about 3 months ahead, then you get the chance to tweak your campaign and maximize your budget at the right time.
You need to remind the customer of their need, even before it has arrived. Even if it's a one-day event (like Father's Day/Mother's Day), you can consider promoting special offers.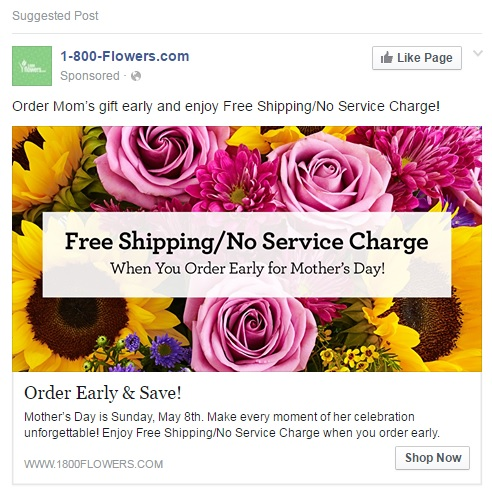 Remember that images send a strong subconscious signal to the consumer about your offer. So, match your visuals with your copy to indicate seasonality.
Look at the Delawareonline ad below. It has a lush green background and a flower in the girl's hair to match the "spring" copy.
The current season at the geographic location that you target in your ad should be reflected in your imagery.
Don't lose your ad extension in glittery images either. People need to find a way to click-through to you or call.
3. Adjust your daily budget
During the holiday time, impressions can increase by as much as 350%.
As a marketer, you must be ready to catch up with the increased demand.
You'll need to increase your budget to get a berth in more keyword auctions. The max CPCs also tend to increase, because most businesses have specially designated higher seasonal budgets.  So, the landscape gets more competitive.
The conversion rate and sales also increase during holidays. So, you should embrace the rise in CPCs, to stay on the first-page and at higher ad ranking positions. But, don't increase your daily budget and CPCs to the extent that you face losses.
I'll show you how to set up automated rules for controlling your budget, later in this article.
For now, I recommend that you check out your first page bid estimate and tracking impression share reports.
Execute automated shopping campaigns and adjust your spend for low as well as high performing ads/keywords
Remember that I told you that you shouldn't 'set and forget' PPC ads?
Still, automation has its place during holidays – so that you only need to optimize your campaigns and not to create news ads from scratch.
AdWords allows you to start/pause campaigns on specific days and during pre-defined hours.
Let me quickly show you how you can create rules to automate your ads.
Go to the Campaign view, inside AdWords. And, choose the campaign that you want to automate.
Then, navigate to Automate >> Pause campaigns when…
Here's what the automation tab looks like:
From here, you can create rules to pause campaigns. For example, I can choose to pause a campaign by going to the 'Frequency' form field, then selecting "One time" from the drop-down menu. Then, I can choose a day, as well as time for pausing.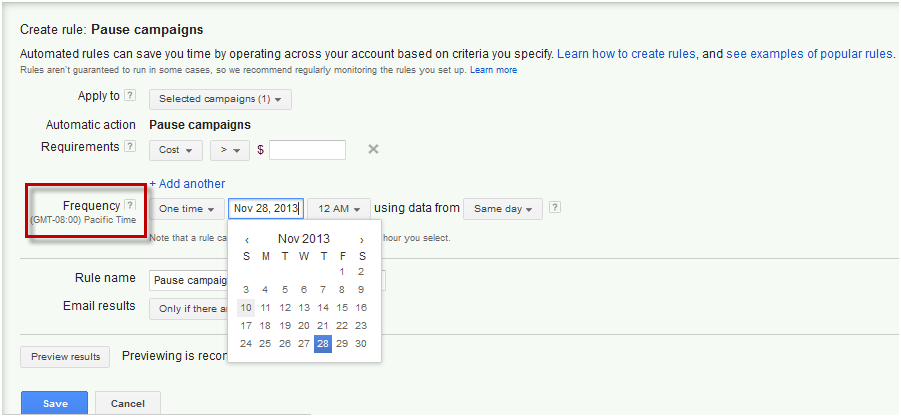 If you're experimenting with various keywords, then you can also choose to stop the low-performing keywords, based on these requirements: cost/conversion and conversions.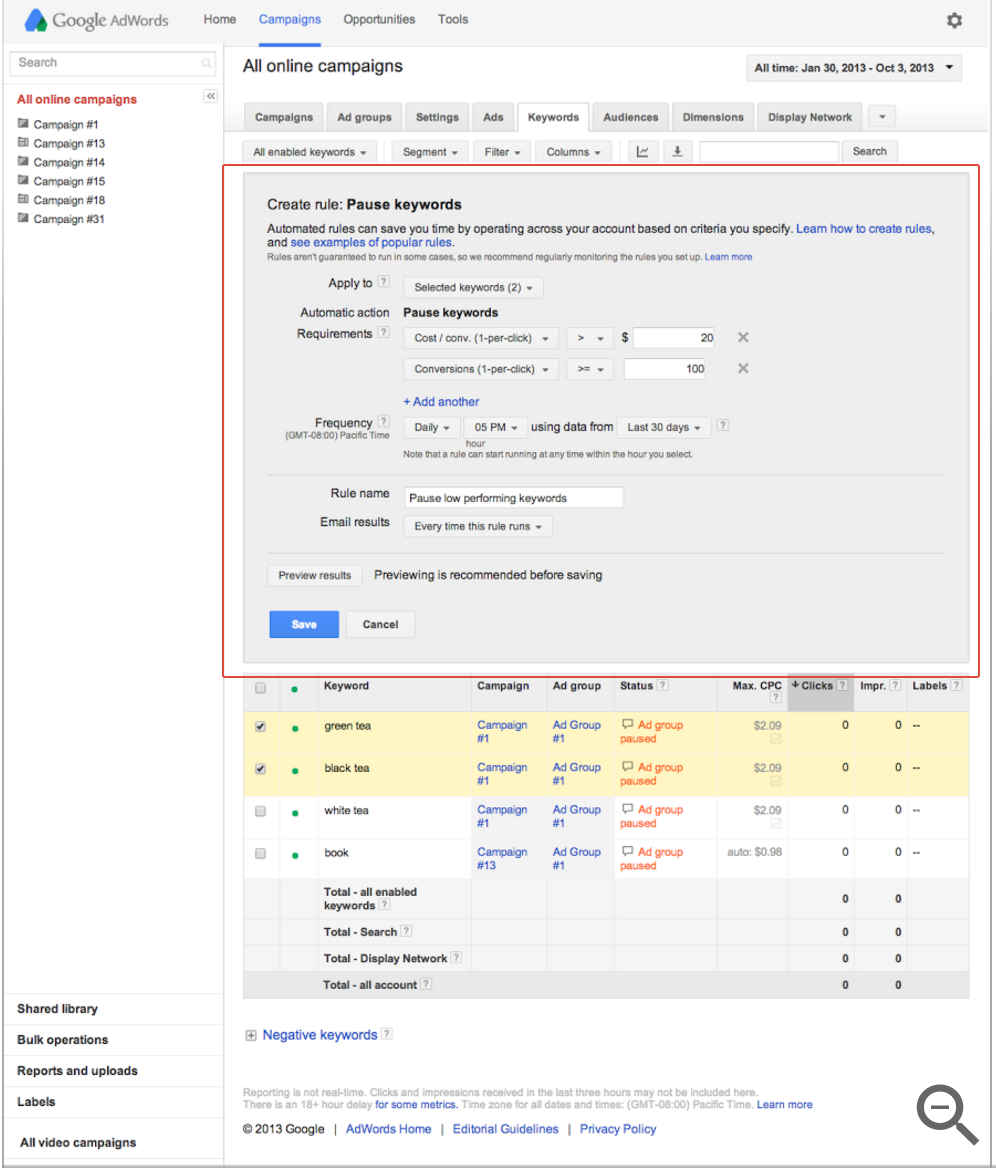 Alternatively, you can also choose to stop the low performing ads by choosing CTR and Impressions, from the requirements field.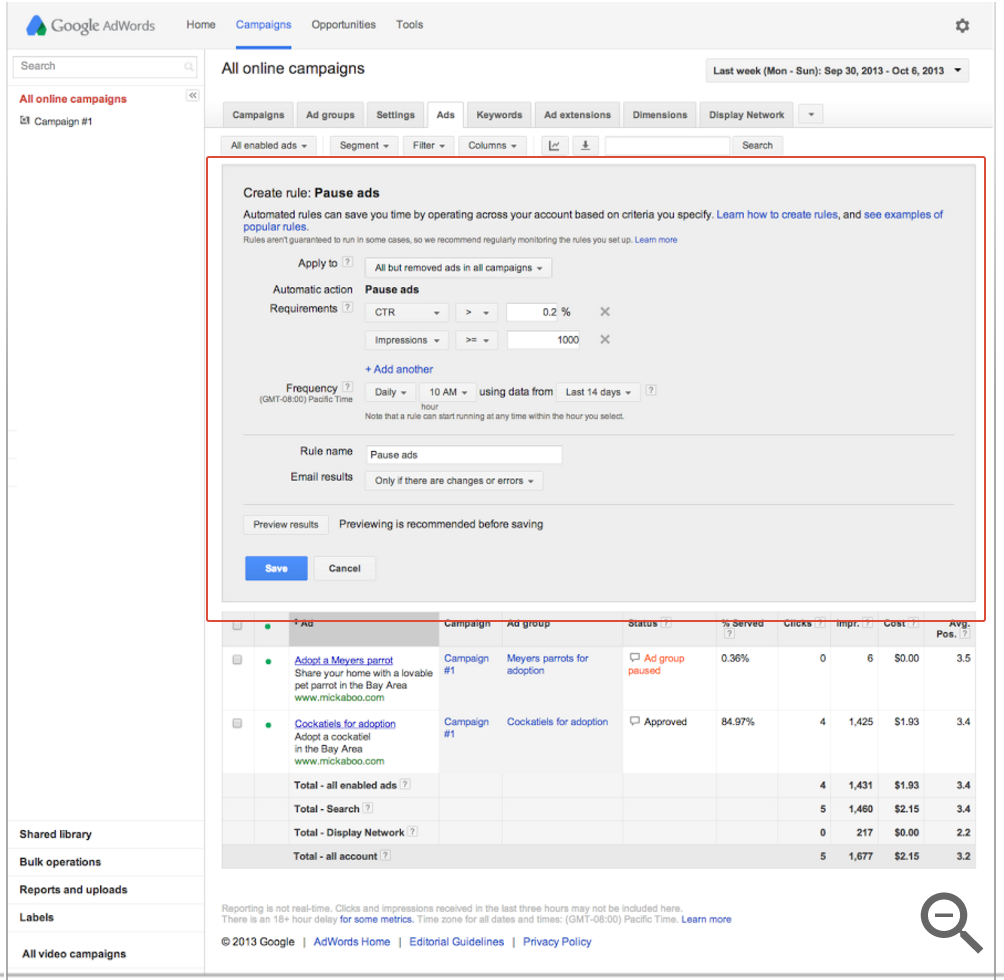 Similarly, you can also set rules to increase your bidding for keywords that convert well and have a low cost/conversion.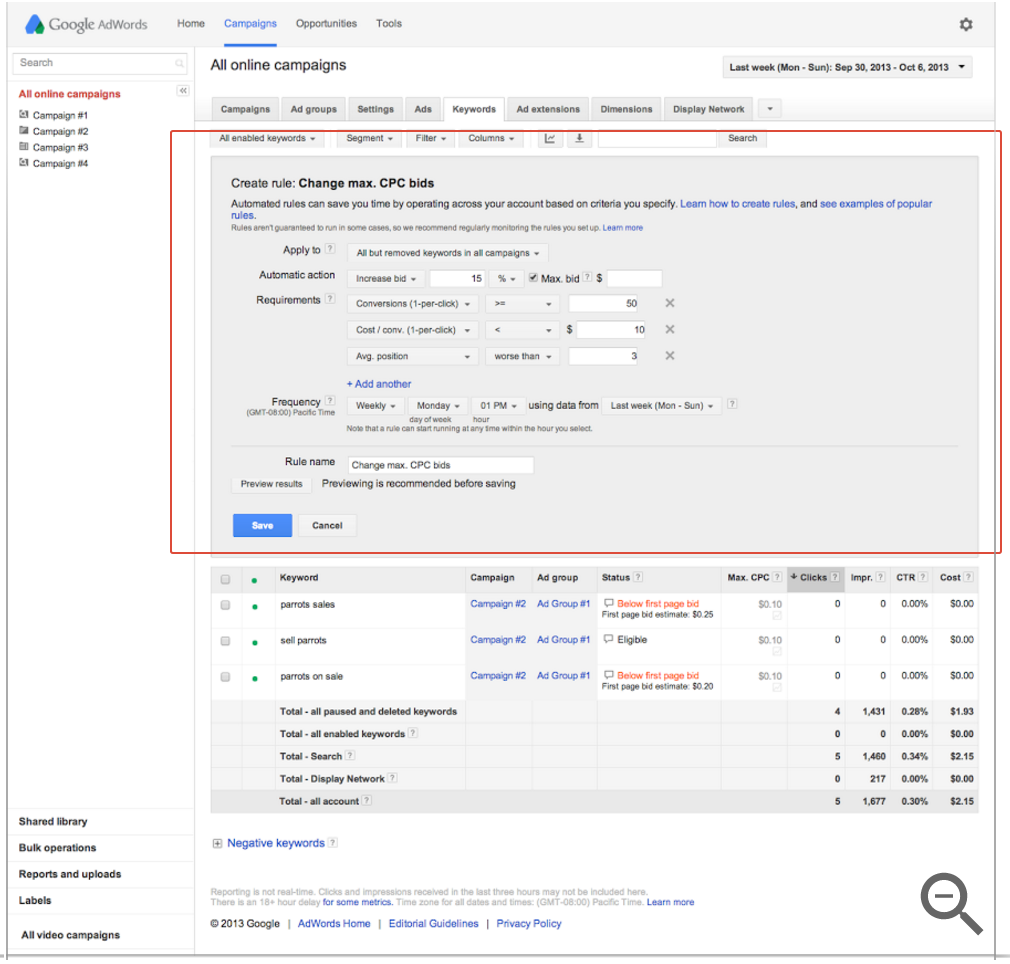 Next, I recommend that you set an appropriate name for the rule that helps you to remember it. And, further opt in to receive emails when there are errors/the rule runs, etc.
You can also set rules for sending an email alert when your campaign spent increases by a given amount in a day.
You might want to re-enable the paused campaign automatically, once your desired period has ended. You can do so by creating a rule, navigating to "Enable campaigns when…"
The rule creation for re-enabling is similar to pausing. If you don't set an automation rule, you'll have to turn regular settings back on manually.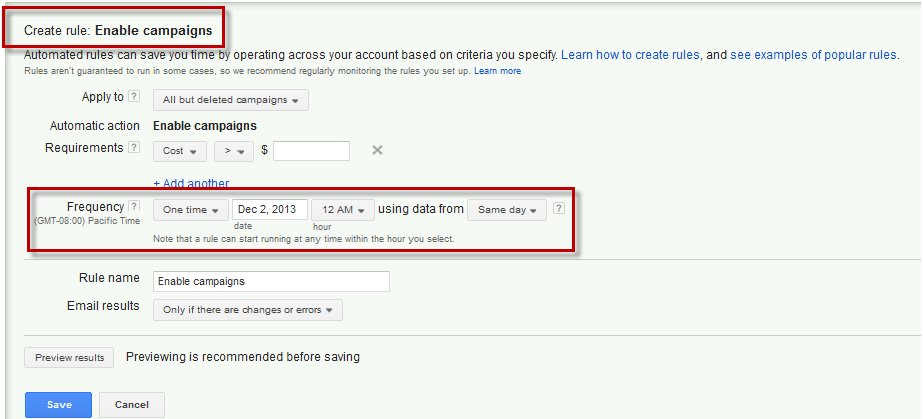 If you want an overview of all of the automation rules that you've set thus far, then simply navigate to "Manage Rules."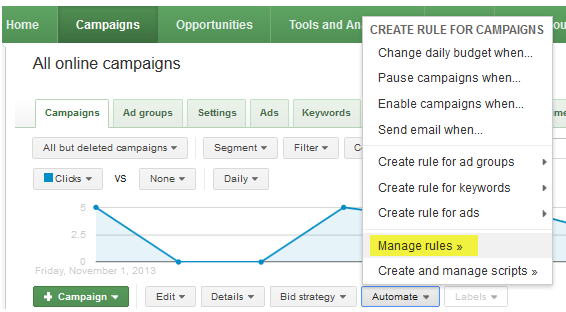 If you want more control and  to spend more holiday time with your loved ones, then check out the other possible automation rules that you can set.
Create urgency with countdown timers…Specifically, target this type of prospect
Do you know one of the most lethal weapons in the marketing armory?
It's creating urgency in your marketing campaign.
When you present a time-bound offer to your prospect, they'll feel compelled to ACT, right away. For example, if you're offering free shipping, for a limited time, then I might just complete the transaction on that pair of sports shoes I've been waiting to buy for a couple of months.
During the holidays, consumers are already in a shopping mindset and expect special offers and discounts.
With the help of ad customizers, you can capitalize on this holiday rush.
For example, you can add an automated countdown timer to your ads to create a sense of urgency.
Won't a sale that's lasting for only 4 hours push many of those on-the-fence prospects to take out their wallets?  Probably.
Wordstream has seen an increase in conversions in their client accounts, by up to 3x, by the time sales come to a close.
You can further increase the chances of getting conversions, by targeting, specifically, those abandoned website visitors. A person that has shown prior interest in a product on your website is more likely to get persuaded with time-bound discounts.
So, consider adding remarketing to the mix.
Besides the ad copy, I recommend that you add a countdown timer to your seasonal landing pages, as well. Reinforcing your discounts, by maintaining scent between your ad and landing page is incredibly important.
Here's an example ad, by LL Bean.
And, here's their landing page, prominently showing the same offer and coupon code. The visitor will feel delighted, when they see the same promotion they saw on the search engine above-the-fold.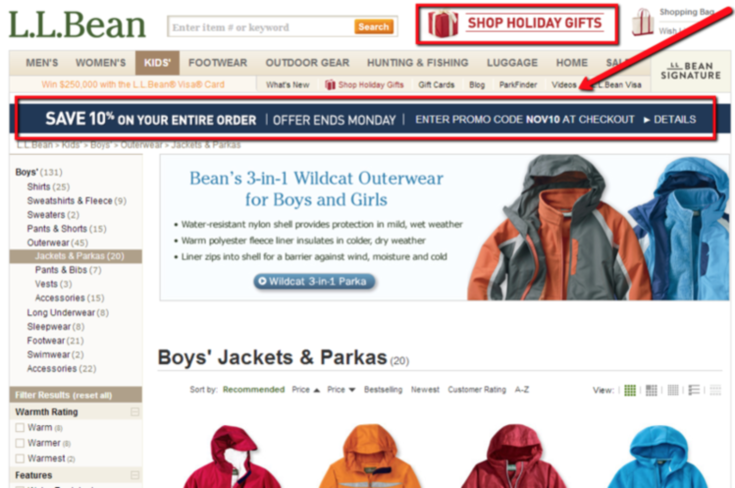 On the poorly calibrated side, here's an example of a Facebook ad for a sterling silver necklace..

That does not maintain scent on the landing page….
Do you expect the consumer to hunt down the silver charm that you initially showed in the ad?
Here's another example of Amazon.com leveraging a countdown timer, during their Black Friday deals week.

If possible, try to customize your landing pages with holiday specific themes. Here's an example of Oriental Trading capturing the holiday spirit.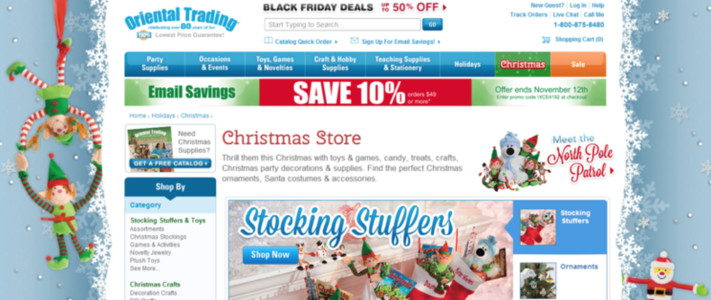 Do you want to see more examples of stellar landing pages that are crafted especially for holidays?
Then, check out these 7 Black Friday and Cyber Monday landing pages, with critiques.
Ensure seasonal ads are contained in unique ad groups
Overall campaign management is really important for ensuring a high-quality score for your AdWords account. So, ensure that your seasonal ads are tightly contained within their own unique ad groups.
With proper organization, you'll also find it more convenient to optimize and adjust your ads for search engine success.
Here's a diagram that illustrates how an ideal PPC account structure looks.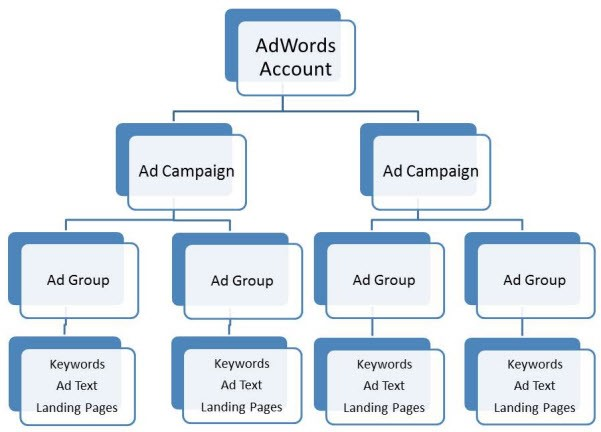 Conclusion
You've got sufficient time to start preparing for the holiday season. And, remember that your peak business season might be completely different, but the concepts I've shared are still the same.
Either way, I would recommend that you leverage the PPC strategies that I mentioned in this article. They will help you capture the holiday rush and increase your conversions.
Are there any other PPC campaign adjusting strategies that you've leveraged for increasing your sales? Let me know in the comments.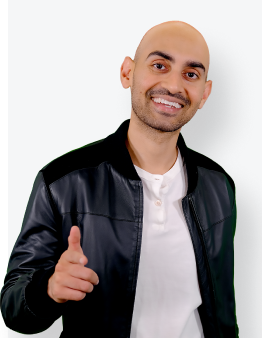 See How My Agency Can Drive More Traffic to Your Website
SEO - unlock more SEO traffic. See real results.
Content Marketing - our team creates epic content that will get shared, get links, and attract traffic.
Paid Media - effective paid strategies with clear ROI.
Are You Using Google Ads? Try Our FREE Ads Grader!
Stop wasting money and unlock the hidden potential of your advertising.
Discover the power of intentional advertising.
Reach your ideal target audience.
Maximize ad spend efficiency.