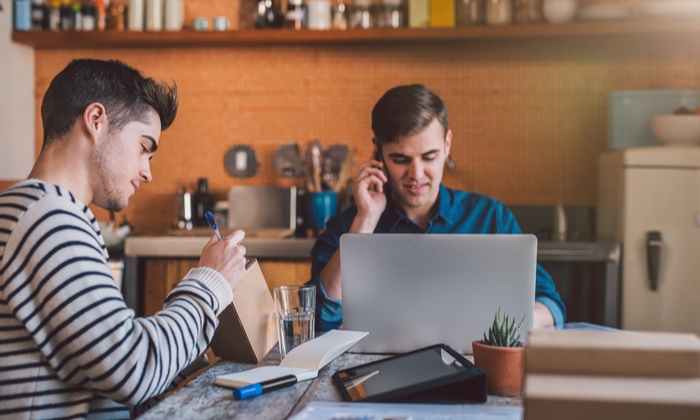 Are you searching for home business ideas so you can finally quit your nine-to-five? Or maybe you want some extra income to afford your dream trip to Mexico?
Starting a profitable home business begins by looking at your life, your needs, the type of work you want to do, and, perhaps most importantly, your skills.
Here are some of the best work from home business ideas with tips on how to get started, start-up costs, and how much you can expect to make. Read on for some inspiration for possible home business ideas.
25 Home Business Ideas
Here are some of the best home business ideas you can start to earn a bit of extra money on the side or turn into a full-time gig. Check them out, see if any of them fit your skills and needs, and get starting on your journey.
1. Teach Online Courses
Got a teachable skill? Turn it into a profitable home business! You can create an online class on just about anything, whether it's how to do the splits in 30 days, content marketing, or getting out of debt.
The top advantages of creating an online course are the lures of passive income and time freedom. You only need to record a class once and post it, and you can earn money in your sleep.
How to Get Started: Identify profitable skills you have that you're excited to teach. Before diving in, do some market research to ensure there's an audience for your product. Additionally, learn about best practices for online teaching.
Start-up Costs: The highest upfront cost you'll need is a hosting platform like Teachable or Kajabi for your course. Prices run between $39 to $119, depending on the provider.
Profitability: You can sell an online course for as little as $37 to as much as $4,000 (if you have the audience and social proof).
2. Consultant
You don't need an MBA to start a home business as a consultant.
You do need subject-area expertise to market yourself as an advisor in that area. Tap into what you're good at and leverage the results you've achieved in your career so far.
How to Get Started: You need a niche to become a successful consultant. By honing your knowledge to a particular area, it's easier to stand out from everyone else and establish yourself as an expert.
Start-up Costs: You don't have any upfront costs besides a computer and access to the internet. However, it's worthwhile to invest in yourself and continuously study your topic.
Profitability: ZipRecruiter states the average pay for work-from-home consultants is nearly $30 per hour, with a typical range of $29,000 to $118,000 per year.
3. Freelance Writing
Want low start-up costs for your home-based business? Start freelance writing.
With no overheads (if you have a laptop), you can put your wordsmith skills to work right away. All you need is a stable Wi-Fi connection, a steady stream of clients, and you can work from home or anywhere in the world.
How to Get Started: Decide on your freelance writing niche. Do you want to spend an afternoon typing away about digital marketing? Are you a whiz when it comes to writing sales pages for business coaches? Chances are, there's a website needing freelancers on just about any topic. Once you know what type of writing you want to do, create a portfolio site and start pitching your services to ideal clients or responding to ads on sites like Problogger.
Start-up Costs: All you need to start are a computer and internet connection. You can create a free portfolio website with a website builder like Wix. Alternatively, you can purchase a domain and get a hosting plan with Bluehost.
Profitability: Freelance writers can earn as little as $20 per blog post to as much as $400. Some freelance writers, like Jorden Roper, pull in $5000+ per month from their freelance writing business—though the high rollers typically do this full-time and not as a side hustle.
4. Start a Blog
Blogging isn't the fastest way to make money online, but it can be an excellent source of passive income when done right.
Once you've built up a loyal and engaged readership, leverage your audience to sell various products and services.
It's the strategy I used to become one of the leading voices in digital marketing and grow my online agency.
How to Get Started: The first three things you'll need are a domain name, hosting plan, and WordPress theme. Next, decide on your blog's niche—Google prefers niche content, and it's often the best way to become a go-to expert. From there, it's all about writing great content frequently, choosing the right keywords, and using social media to grow your readership.
Start-up Costs: You'll need a computer, stable internet, a domain name, and hosting.
Profitability: Pay varies widely from blogger to blogger and depends on how you've set up your site to make money. Ads, affiliate marketing, and sponsored posts are some ways to monetize your website. Once they really get going, many bloggers make between $500 to $2,000 per month within their first year.
5. Virtual Assistant
Almost every online business can benefit from a virtual assistant (VA), making it a potentially lucrative at-home business.
Bloggers, life coaches, copywriters, even Etsy owners need help with tasks. Become a VA and help people manage their overflowing email accounts, schedule out social media posts, and help with mundane digital duties.
How to Get Started: You need a specialty and a website to advertise your services. Do you help creatives? Does your expertise lie in managing marketing campaigns? Once you know who you help, the next step is to network and build up your client roster.
Start-up Costs: It depends on your niche, but for the most part, you only need a laptop and a stable internet connection.
Profitability: Pay varies by skill set and experience but can range from about $15 per hour for entry-level work to $75 per hour for highly-specialized work.
6. Freelance Graphic Designer
Tired of working on graphic design projects which bore you to tears? Take your skills to the freelance market.
While graphic design is a competitive industry, it's possible to make a full-time salary if you have raving referrals, a forte making you stand out from the crowd, and a strong portfolio.
How to Get Started: If you don't already have graphic design skills, you can sign up for online courses. Once you're qualified, you can help create designs for flyers, newsletters, infographics, advertisements, icons, logos, and more.
Start-up Costs: You typically need to have taken courses in graphic design, and certifications are desirable.
Profitability: A graphic designer with medium experience can earn between $45,000 and $55,000 in the US. Skill set, experience, and level of responsibility will affect how much you can charge your clients.
7. Audio or Video Editor
Brands and influencers need help creating audio and video work but don't always have the time to perfect a high-quality episode or clip.
If you know your way around editing software, you could make a decent amount of money by starting an editing business.
How to Get Started: Create a portfolio, pitch your services to brands you want to work with, and keep an eye out for job postings on sites like Upwork.
Start-up Costs: You need a subscription to editing software like Adobe Premiere or Adobe Audition, a computer, and access to the internet.
Profitability: Podcast and video editors make around $26 per hour or more depending on experience levels.
8. Podcasting
Podcasting isn't the easiest way to make money from home, but it's possible if you're in it for the long haul.
You can monetize your podcast in various ways, such as:
selling ad reads
affiliate links
using your podcast to punt your services/products
premium gated content
It takes a lot of time and attention to get a podcast to profitability.
How to Get Started: Figure out your podcast's topic and position yourself as the go-to expert. Create a content calendar to stay consistent with your uploads and use social media to grow your audience.
Start-up Costs: You can use your computer's microphone or invest in one for crisper sound quality. Some podcast software options are free, while others have a once-off or monthly cost.
Profitability: New podcasters should expect to make little to nothing while building listeners. However, some popular podcasts earn as much as $100,000 per episode if they play their cards right.
9. Voiceover Artist
Voice acting is one of the only gigs you can do from the comfort of your closet.
Use your voice to record podcast intros, online courses, or narration for audiobooks. The only catch is the investment you'll need to make to create high-quality work.
How to Get Started: It's a good idea to get training, as it helps hone your craft and can result in valuable networking opportunities. You also need to create a demo showing your skills.
Start-up Costs: Invest in a good pair of headphones to hear any unwanted sounds, an excellent microphone, recording software, and a small studio space. You can use a closet and insulated it with heavy blankets to soundproof the room if you can't find—or afford to build—a studio.
10. Airbnb Hosting
Airbnb is one of the best ways to make money at home. You can rent out the guest room in your house or even an entire property.
The key to a successful Airbnb listing lies in the experience. You should upload high-quality images and add in amenities like free Wi-Fi to give guests an incentive to book. The more five-star reviews you have, the higher your chances of landing on the first page of search results.
How to Get Started: Create an Airbnb Host profile and upload your listing. Once it's approved, you can start getting bookings for your listing.
Start-up Costs: All you need is a computer or a smartphone and a place you can list.
Profitability: Frequent Airbnb hosts, on average, make more than $924 per month. This is three times more than many other gig economy workers.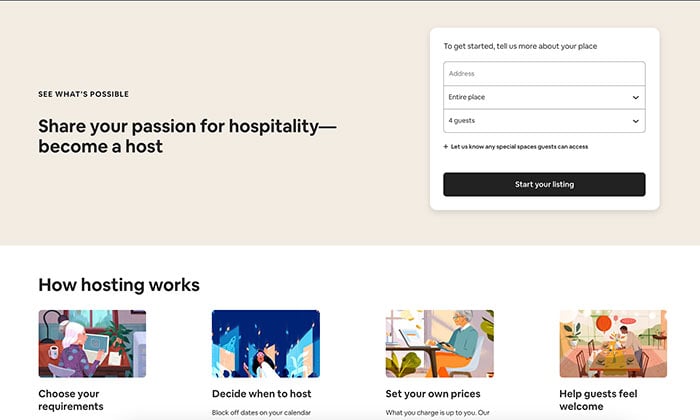 11. Home Staging
Start a creative home business like home staging. You can help homeowners and real estate agents sell their properties by creating beautiful spaces.
The main advantages of home staging are:
low start-up costs
no specialized training required (but a background in interior design is useful)
your service is needed whether the market is strong or weak
While there are no costs to use a client's existing furniture, many home stagers also use a repository of furniture and decor to stage homes.
How to Get Started: Learn about the local real estate market and what buyers are looking for in a home. Take the time to network with real estate agents to grow your client list and prepare a portfolio of houses you have staged.
Start-up Costs: There are no upfront costs besides putting together a portfolio to start booking gigs.
Profitability: Home stagers earn an average of $933 per month. Pay varies based on the home's size, the number of rooms staged, and hours of work required.
12. Jewelry Making
With the rise of sites like Etsy, it's easy to find clients and start selling your handmade jewelry. This is often a low investment work-from-home business idea, and you don't necessarily need crafting skills.
It's possible to outsource jewelry production or create handmade jewelry that doesn't require special training or equipment.
How to Get Started: The first step is to decide if you want to create fine or fashion jewelry. Each option has its own price point, skill level, and audience. Next, research trends to validate your business idea and ensure you're creating pieces people want to buy. Lastly, create a website or a profile on a site like Etsy for your creations.
Start-up Costs: Your main costs are the materials to create the pieces. It's a good idea to invest in learning product photography as photos can make or break your online store.
Profitability: The price point of your jewelry business depends on your market, your skill level, and the materials you're using. You can charge $25 to $100+ per piece.
13. Ride-Sharing Driver
Got some time to kill? Sign up as a driver with ride-share services like Uber or Lyft.
It won't replace a full-time income, but it's a great way to create an extra revenue stream.
How to Get Started: Choose a ride-sharing service and check you meet all the driver requirements. For example, Uber only hires drivers older than 23 with more than a year's driving experience, a valid license, a clean driving record, and no criminal history.
Start-up Costs: You need a car, insurance covering ride-share drivers, and enough free time to meet the minimum of rides each week.
Profitability: Ride-share drivers make an average of $8.55 to $11.77 per hour.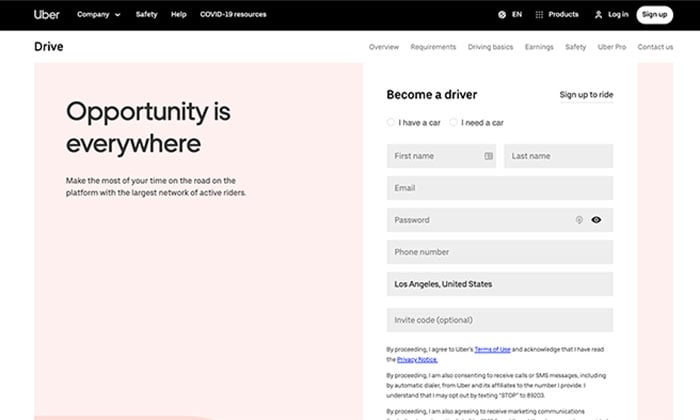 14. Food Delivery
Another way to make money in your spare time is through food delivery. Sign up with apps like UberEats, Grubhub, or Postmates and help out with orders.
On some of the apps, you don't even need a vehicle. You can complete delivery jobs by walking.
Plus, you can make tips on top of your standard rate!
How to Get Started: All you need to do is sign up on your preferred food delivery app, complete your profile, and start accepting orders.
Start-up Costs: You will need a car or bike to complete deliveries and a smartphone to receive orders.
Profitability: Delivery drivers earn an average of $14 to $17 per hour, varying by location.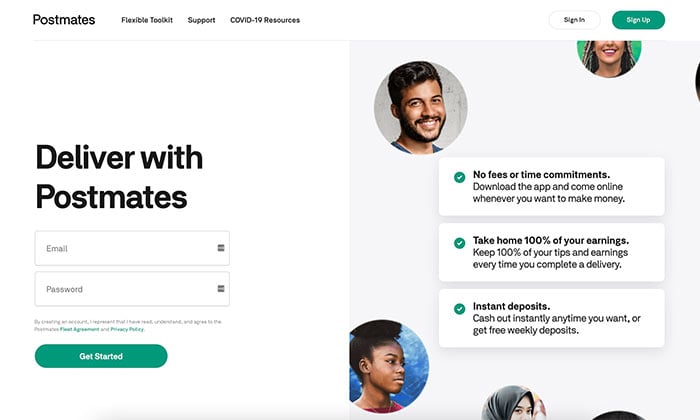 15. Personal Chef
A personal chef is an excellent part-time home business idea for someone who loves all things culinary. A personal chef usually prepares meals for busy families, catering for parties, lunches, and special events.
If you market yourself correctly, you can turn it into a full-time hustle and scale your business by hiring other chefs. It's also a way to test out the waters before launching a full-service catering business.
How to Get Started: Decide if you want to focus on a particular type of food or service. For example, are you a vegan chef? Do you only cater to corporate lunches? Next, create a website with your menus and other offerings. Ask your friends for referrals, approach potential clients, or use paid advertising to generate leads.
Start-up Costs: You have low start-up costs as a personal chef. The client may provide your cooking supplies, and they reimburse you for the food you need to buy. You only need to factor in transportation and marketing costs.
Profitability: You can expect to bring in $40 to $100 per hour. As your client roster grows, so could your income, and you can hire help to expand your reach.
16. Personal Trainer
A personal trainer is a good option if you love fitness and want the flexibility to work at home or from a local gym.
You can set up online classes from your living room, train clients in their homes, or work from a local fitness center. If you get bored of being a fitness instructor, you can use your knowledge to springboard into other things like a health writer.
How to Get Started: Before you can start working as a personal trainer, you need a credentialed fitness organization's qualification. From there, you can approach gyms and advertise your services online.
Start-up Costs: Your highest costs are a training qualification, transport to and from your clients, or recording equipment for online classes.
Profitability: There is a wide range of pay for personal training. The amount you make each month is dependent on how many clients you have on your roster and what fees you have to pay the gym.
17. Tax Preparer
Tax season is a headache for freelancers, entrepreneurs, and businesses. Most would rather pay someone else to deal with their tax returns and all that comes with them.
The downside? You'll mostly have work during the three-month tax season and may need to find other options if you want to run a home business year-round.
How to Get Started: The first step is applying for a preparer tax identification number (PTIN). Other requirements include a state license or an electronic filing identification number (EFIN).
Start-up Costs: You'll need to have a working knowledge of how to file tax returns in your state or country. Other costs include accounting software and marketing your business.
Profitability: The amount of money you can make is dependent on the type of clients you have and how many you can handle. A first-year tax preparer can expect to make between $30,000 and $50,000.
18. Accountant
While you need to have an accounting background, this can be a lucrative home business. You can help freelancers or businesses with income statements and other financial reports on a monthly, quarterly, or annual basis.
How to Get Started: After you have training and qualifications in accounting, look for work through remote job board sites or use online marketing tactics to attract clients.
Start-up Costs: You need a qualification in accounting, a computer, internet access, and accounting software.
Profitability: You can earn $20 to $50 per hour, with rates potentially increasing as your experience grows.
19. Dog Walker
The "ultimutt" home business idea for animal lovers is dog walking.
While you do leave your house to do your work, you still run everything out of your home for this business.
Besides, hanging around with adorable pups, it's a low barrier to entry business. Once you have clients, all you need are your legs to hit the pavements and start making money.
How to Get Started: Licensing and insurance are the two most important things you'll need to figure out. You can sign up with companies like Rover to find clients or use word of mouth marketing to grow your business.
Start-up Costs: Marketing your business and insurance.
Profitability: According to Glassdoor, dog walkers make between $15 to $24 per hour.
20. Pet Sitting
Are you looking for home business ideas with hardly any start-up costs? Try pet sitting.
You get all the benefits of having a pet without the commitment.
Pet sitters babysit animals for owners who are away for long or short periods. You're responsible for feedings, grooming, cleaning out litter boxes, and spending time with the animals.
How to Get Started: Join sites like Rover to create a profile and start applying for jobs right away, which are a good fit for your schedule.
Start-up Costs: There aren't any formal qualifications, but you'll need an insurance plan and to get bonded. This protects your clients by giving them money if you make off with their belongings.
Profitability: According to Rover, their pet sitters can make up to $1000 per month.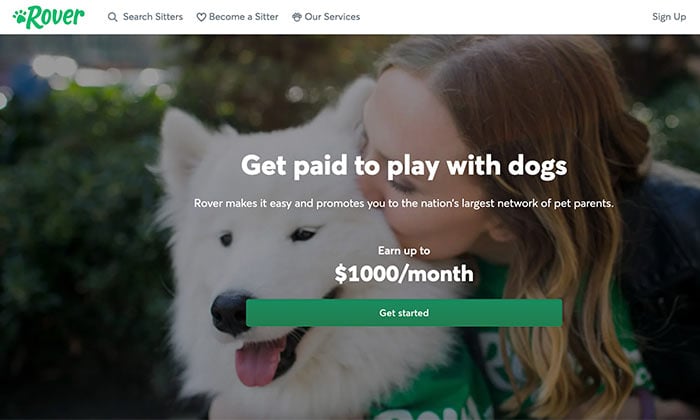 21. Photographer
You can make money as a photographer in several ways. It's also possible to scale your business by hiring assistants if you have enough work.
Most photographers specialize in one area like weddings or product photography. By choosing a focus, it could be easier for clients to find you and for you to demonstrate your skills.
How to Get Started: Take photography courses to learn everything you can about the art. Ask friends and family to let you take photos for free to build up your portfolio. Once you're confident with your skills, you can create a portfolio site and start marketing your skills.
Start-up Costs: You will need to invest in photography courses, a professional camera, high-quality lenses, and editing software like Adobe Lightroom.
Profitability: How much you make depends on your niche and how much time you have for client work. For example, wedding photographers can charge $1000 to $10,000 in the U.S.
22. Gift Basket Service
Are you the creative type with a knack for curating items to a theme? Then a gift basket service is the perfect home business idea for you.
If you already create products like soaps or hand lotion, you can create a gift basket around it to boost your revenue. If you don't currently have skills like those, you can learn or find other unique items made by others to package together.
How to Get Started: Think about what you would like in a gift basket and use that to guide your choice of items. Are you a fan of clean beauty products, or do you love the Marvel cinematic universe? The next step is to source your products and start promoting your gift basket online.
Start-up Costs: Sign up for a site like Shopify to manage your online sales. Shopify plans start at $29 per month and simplify the e-commerce process. You'll need to buy supplies for gift baskets as well as packaging and shipping supplies.
Profitability: The price of your gift basket depends on the total costs of the goods, your mark-up and tax. You can sell your basket for as little as $50 to as much as $150+.
23. Translation Services
If you're fluent in two or more languages, you can turn your linguistic skills into a translation home business.
All you need to get started is a computer. You can start building your client list part-time and transition to a full-time gig as your experience and workload increases.
How to Get Started: Although it's not required, you can become a certified translator with the American Translators Association. Find remote work gigs on sites like Upwork and TranslatorsCafe.
Start-up Costs: You need to have a computer and access to the internet.
Profitability: With the world becoming a more connected place, translation services are in demand. You can earn around $60,000 per year with an $18 per hour rate if working full-time.
24. Private Tutor
If you're a college student, stay-at-home mom, or retiree, private tutoring can be a great home business idea. You can offer your services remotely or in-person and set your hours.
Some private tutors focus on a particular subject, while others do general homework help. Teaching English as a second language online is also becoming increasingly popular.
How to Get Started: You don't need a teaching qualification, but you need extensive knowledge in an area if you choose to focus on a specific set of topics. Other options include signing up to online platforms like VIPKid, Tutors.com, Chegg, and advertising at schools and universities.
Start-up Costs: If you're teaching in person, you need to factor in transportation costs. You might also need to buy teaching materials and create worksheets for your students.
Profitability: You can earn anywhere from $12 to $30 per hour depending on what you teach, if you work for a company, and your level of experience.
25. Private Music Teacher
If you know your way around an instrument or the ins and outs of singing, becoming a private music teacher is a way to make money from home or turn it into a full-time gig.
Then there are the benefits: You get to set your hours, work as little as three to four hours a day, and could turn it into an online business with virtual lessons.
How to Get Started: While you don't need a degree or qualifications—though they help—you need an above-average knowledge of music and the instrument or vocal techniques you teach and an understanding of how to communicate effectively with learners. You can find clients through word-of-mouth, using sites like Craigslist, or advertising at local music stores.
Start-up Costs: Depending on what you're teaching, you might need extra instruments and transport to your clients. If you're teaching online, a subscription to a service like Zoom and a stable internet connection are required.
Profitability: Private music teachers can earn as much as $50 to $75 per hour. You can scale your business by creating pre-taped online courses and teaching more students without sacrificing your time.
Conclusion
Once you know what home business you want to start, it's time to put in the work! Keep honing your skills and mastering self-marketing on sites like Facebook and Instagram, and you could find yourself making some good money through your own home business.
Have you successfully started your own home business? Tell us all about it!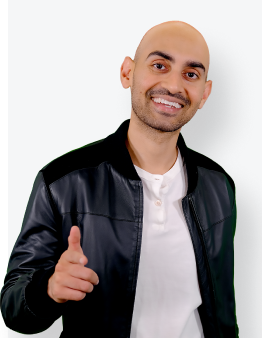 See How My Agency Can Drive More Traffic to Your Website
SEO - unlock more SEO traffic. See real results.
Content Marketing - our team creates epic content that will get shared, get links, and attract traffic.
Paid Media - effective paid strategies with clear ROI.
Are You Using Google Ads? Try Our FREE Ads Grader!
Stop wasting money and unlock the hidden potential of your advertising.
Discover the power of intentional advertising.
Reach your ideal target audience.
Maximize ad spend efficiency.