If you're looking to grow your brand, you need to start using Facebook Live.
It's one of the biggest new trends on social media, and it's going to define the success of your brand awareness in 2018 and beyond.
One of the best parts of Facebook Live is that you're able to reach existing fans much faster. You'll also get a healthy dose of brand awareness with the increasing popularity of live video.
According to Social Media Today, people spend more time watching Facebook Live videos than videos that aren't live. Three times more. That's crazy!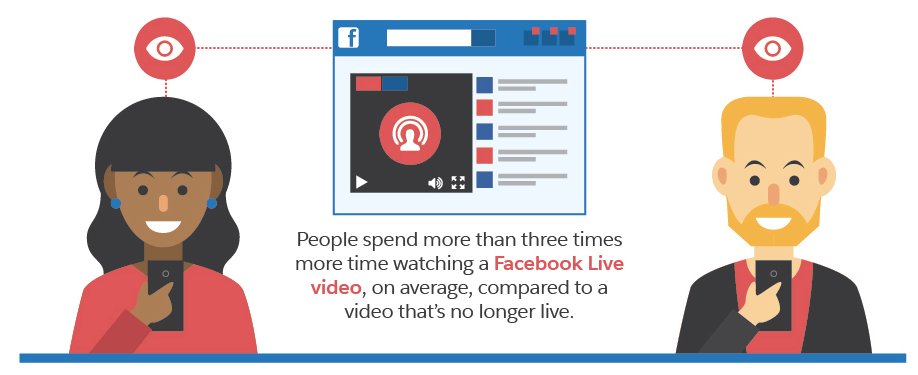 You need to taking advantage of the platform while it still has the novelty factor going for it.
If you're wondering how Facebook Live compares to other platforms out there, you'll be happy to know it's one of the best.
While you can also use YouTube Live to drive traffic, Facebook Live is more prevalent, since more people are on Facebook on a daily basis.
Besides, Facebook Live is almost as well-liked as YouTube Live. According to research by Livestream and New York Magazine, 66% of respondents said they liked Facebook Live.

In short, you need to be using Facebook Live to grow your brand.
How can you go about doing that? There's an overwhelming number of ideas out there about how to create a viral Facebook Live video, but little practical advice.
In this article, I'll explain the best techniques for making a live video that boosts your brand and makes something others will want to talk about.
Remember, a live video stays on Facebook long after you finish streaming, so you need to create an enjoyable experience that people will want to watch over and over again.
These 19 techniques will show you how to do just that.
1. Host a Q&A
The first and easiest way to get started with Facebook Live is to host a Q&A.
This is a great way to start because it allows you to easily get feedback on your performance and generate content quickly, based on what viewers want to know.
If you're looking to increase engagement with your audience, provide an in-depth look at your brand, and gain more exposure and awareness. This is your ticket.
It doesn't have to be a simple process, though. You can extend the basic Q&A to something even more elaborate and exciting.
When Vogue released a live video on the making of the Met Gala, it was a raving success. The video has gotten over 200,000 views.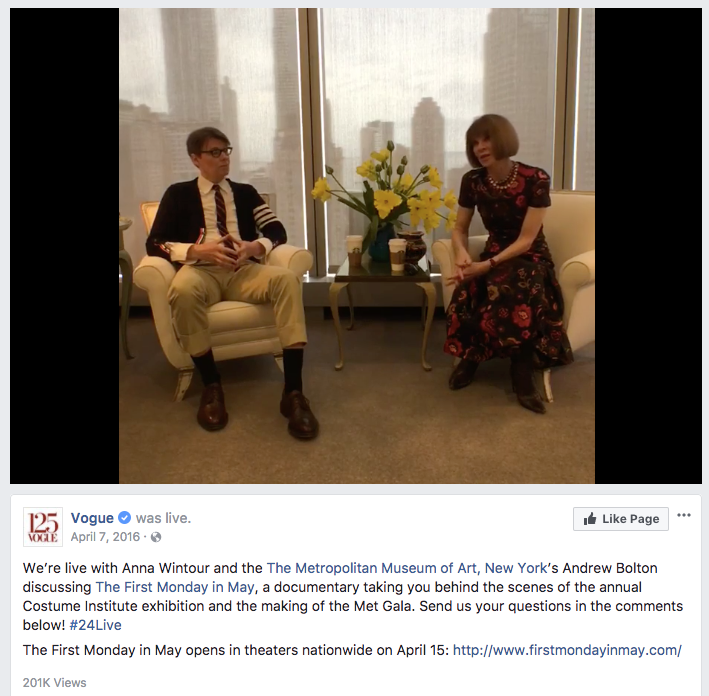 What makes it interesting is the authoritative figures answering questions in the video.
But it isn't only for B2C industries and brands. According to MGIC, this can work for B2B as well. You'll be able to strengthen your business relationships through a live Q&A.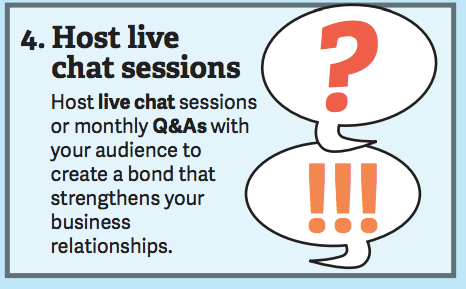 However you decide to run Facebook Live, be sure to answer questions from your viewers for massive engagement.
2. Teach viewers how to do something
The first rule in creating content for your audience is to provide value in everything you do.
One of the easiest ways to do this is to teach your audience how to do something. This can be easy if the instruction is on a task you already know very well.
Dunkin' Donuts explained how to create easy Valentine's Day treats through live video. The helpful resource was a great way to connect with fans and build an even larger audience.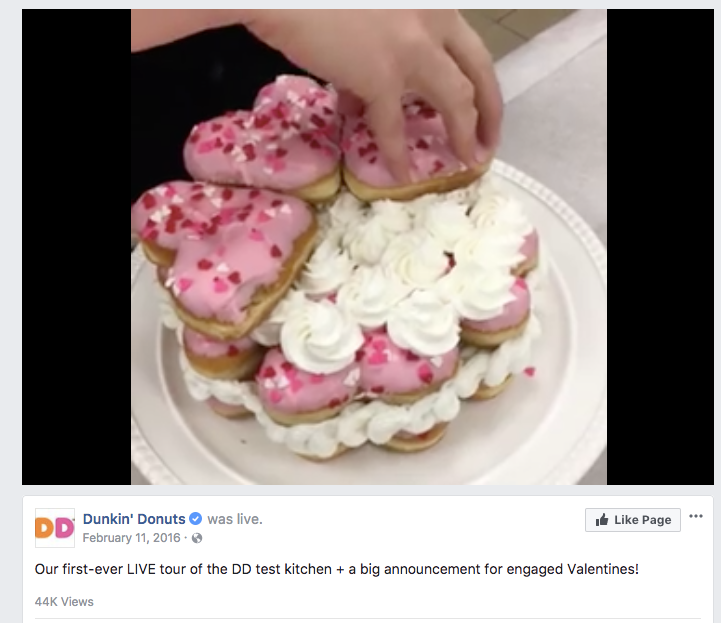 When Benefit Cosmetics wanted to launch a Facebook Live strategy to increase brand awareness, they chose to host a series of how-to videos teaching makeup techniques.

These videos are extremely helpful for loyal viewers, and they also make for share-worthy content fans will want to watch again and again.
3. Stream an exclusive interview
Even if you don't think you have the stuff for a live video, you can easily shine the spotlight on someone else.
When Airbnb created a Facebook Live video, they interviewed the cast of The Jungle Book at the Airbnb Treehouse.
It was a brilliant form of cross-promotion that allowed them to reach a huge audience of Disney fans and skyrocket their brand awareness.
By interviewing celebrities, they provided an opportunity to engage with fans and promote the Airbnb brand like few other methods would've done.
4. Announce a new product
Just as Apple transformed their product announcements into media and brand awareness events, you can create a social media firestorm at your upcoming product release.
The secret is to build anticipation and have a prepared performance that engages viewers throughout the video.
When releasing their new EV Bolt, Chevrolet announced the product and its features via a Facebook Live video.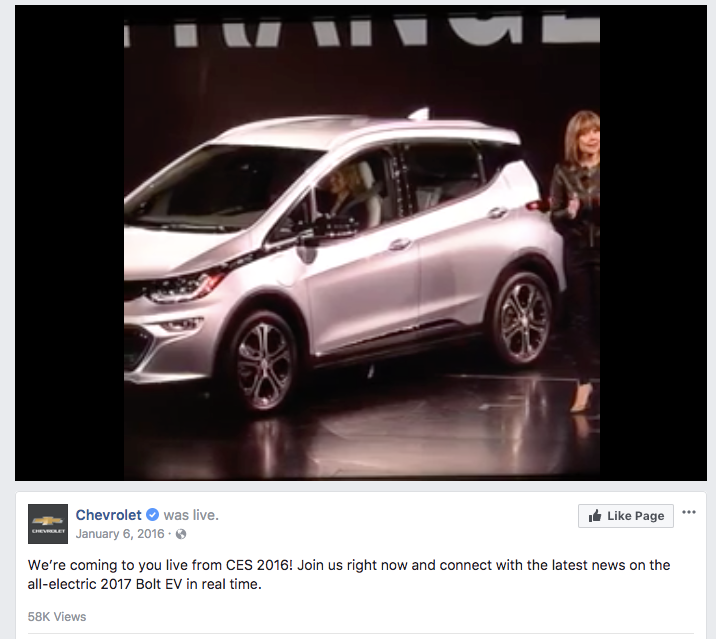 It built anticipation for what they were going to do with the release of the car, and it provided a new platform to turn the product launch into a media event.
Even if your product is in a "boring" industry, a new release can be big news for your most devoted fans, who will expand your reach to those unfamiliar with it.
5. Explain and display a product
If you're struggling to conceptualize a Facebook Live video that would work for your audience and brand, consider showing a product you've already created.
Don't worry about announcing something new or teaching how to do something with the product. Simply show the product you have to offer in real time.
This is a great way to allow yourself to be more relaxed since you're talking about something you already know.
It's also a great way to pull off a live video even if you hate being filmed.
Martha Stewart used this technique to show different Christmas decorating ideas.
Instead of teaching how to use the decor, she simply explained the pieces that were already set up in the studio.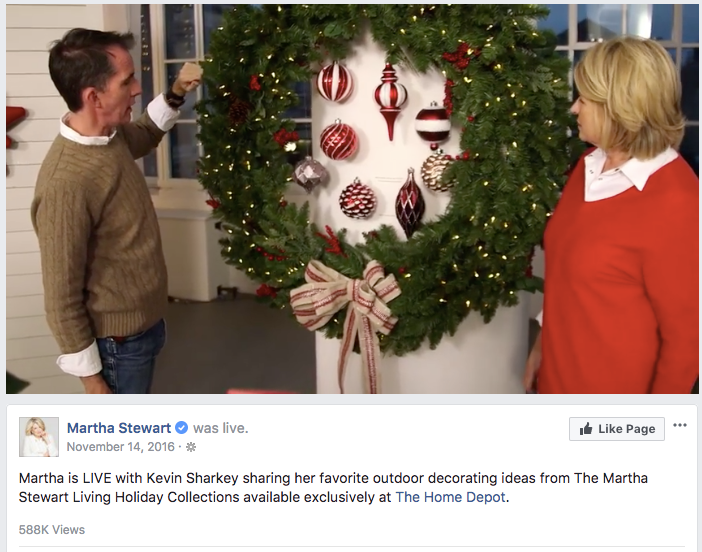 This is a great way to get started with Facebook Live if you're not comfortable thinking on your feet quite yet.
6. Give a live tour
Your Facebook Live video doesn't need to focus on a person or product to make it interesting.
If you have a unique location, providing a tour in real time can be a huge opportunity for you to reach out to loyal fans.
Callaway gave a tour of Arnold Palmer's office when they wanted to show golf lovers exclusive content.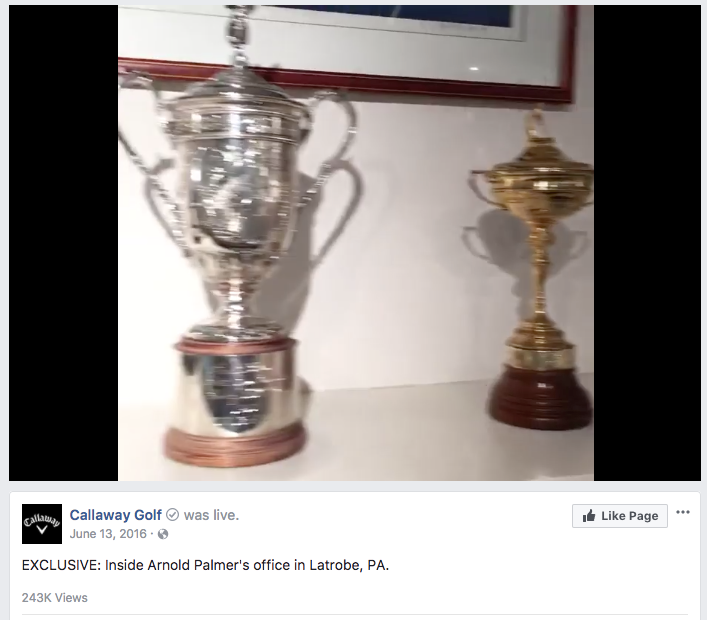 The simple video shows the archived surroundings of the legendary golfer and accumulated almost a quarter-million views to date. That's impressive.
Showing a unique location, or even your company office, can be a great way to promote your brand and teach others about the values and interests that drive your company.
7. Create a recurring show
If you want to provide massive value to your most loyal fans on a regular basis, consider creating a daily show. This is a great way to engage with fans personally.
To make this work, you'll need to find a specific time each day where you can answer questions your fans have for you.
It can be a fun way to explore the newest trends and show what's happening in your industry, especially if it changes often.
A great example of a daily show done right is Guy Kawasaki's Daily Ask Me Anything.
Because the social media and digital environments change quickly, he can provide expert analysis to his loyal fans and answer their questions about the most recent breakthroughs.
8. Announce breaking news
When an event happens that affects your brand, you should live stream it.
This is a great way to provide a sense of information through new channels in much the same way that traditional media channels like TV and radio offer.
To make this work, you'll need to decide on the event you'd like to broadcast. Oftentimes, this is something recent that you won't have time to prepare.
For other events, like holidays, special festivities, or even environmental events, you can and should plan in advance.
Now This did a beautiful Facebook Live video for International Women's Day, showing news about the event as well as prepared footage.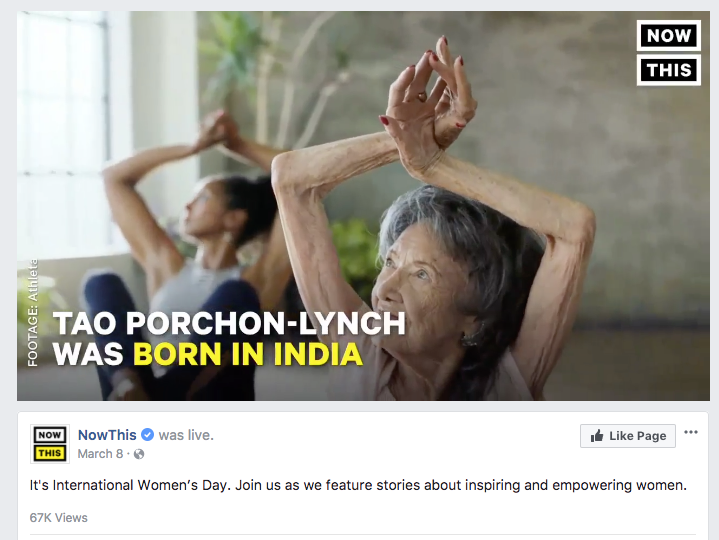 If you're the main source of live information during a breaking news event, you'll acquire a huge amount of brand awareness without the expense or effort such a reach usually entails.
9. Film an unedited version of your videos
If you already have a large following for prerecorded and edited videos, you have a massive potential for a viral Facebook Live video showing the process in real time.
While most of your viewers are used to seeing the edited footage, the appeal of a live and unedited cut is enticing.
You can show the video, bloopers and all, for fans to watch now and share later.
As a follow-up to its highly successful Tiny Kitchen series, Tastemade achieved massive brand awareness with their Tiny Kitchen: LIVE video.
It was a hit, with well over four-million views.
If you already have a popular video style, this is a great way to expand to Facebook Live without additional preparation or planning.
10. Show off your brand personality
When it comes to what fans would like to watch in your Facebook Live videos, the truth is that people are more likely to engage with you via live video than another blog post.
In fact, 80% would rather see a live video from a brand than a blog post, and 82% prefer live video to a social post. You need to take advantage of this medium.
One of the best parts of live video is that it provides you with a unique opportunity to show your brand personality.
In order to make this work, you'll need to have a particular kind of event or focus for your video to provide a casual and transparent glimpse into your company.
For BuzzFeed, that was in the form of a live dance party, complete with voting from audience members and different styles suggested by the viewers.
If you're a personal brand, this is a particularly potent way for you to show your personality.
11. Broadcast live events
If you have a live event to display, it can be a great way to show off your brand and develop huge awareness by broadcasting the events that are taking place.
When the American Music Awards broadcast their ceremony live, they used a large team of reporters and different stages for their massively popular video.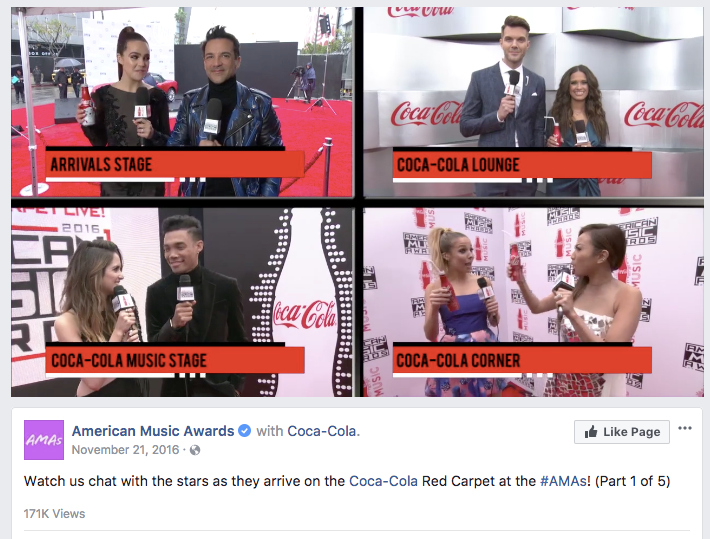 Of course, most smaller brands and startups don't have this kind of budget. But that isn't a problem.
If you have a regular event, you can promote it without a special, dedicated team.
When Tough Mudder promoted their training event, they just filmed the session, as it happened, with one camera.
Along the same vein, Starbucks filmed their participation on voter registration day, using a simple live feed of the events as they unfolded.
No matter the size of your brand and budget, you can make live video work for an event just by broadcasting it as it takes place.
12. Answer blog comments
If you're struggling to reply to lots of blog comments, you can do it in a more engaging way that will save you time and boost your brand awareness, too.
Instead of replying to each comment individually, host a Facebook Live event where you respond to the comments as a whole.
Darren Rowse did this on a recent ProBlogger post where he explained his income streams.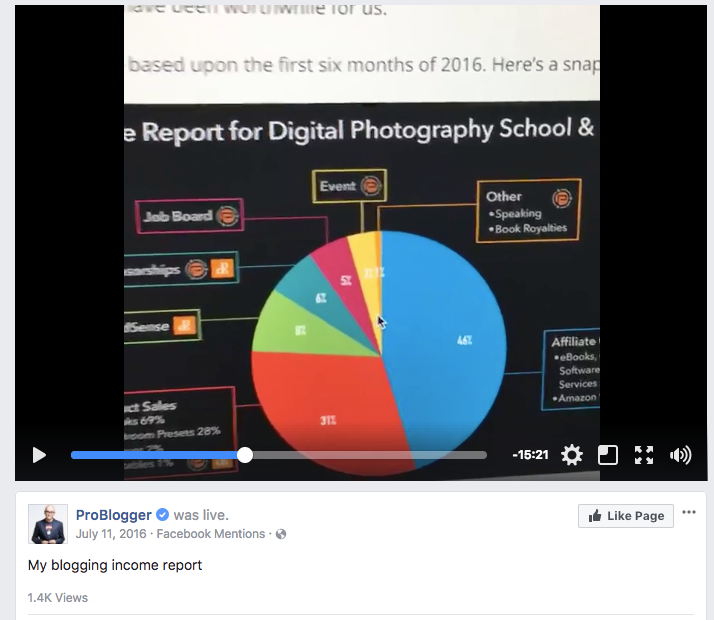 The audience response to the post was massive, and the viewership on the live video reflected the engagement of the audience with the content he wrote.
13. Offer content to a private group
If you have a private Facebook Group for your fans, you can create exclusive content only for them through a live video.
This is a great way to show others the value you're offering a group and build awareness for the high-quality content you produce on a regular basis.
Social Media Examiner recommends using this to engage your Facebook Groups.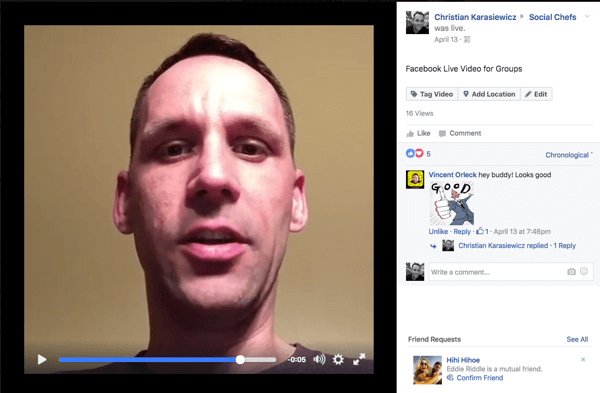 By providing live content, you can build awareness for your brand, while at the same time growing your Facebook Group.
14. Record an experiment in real time
If you want to create a viral hit that's a guaranteed success, look no further than an experiment in real time.
When you host an experiment with an unknown conclusion, you create a sense of anticipation that's addicting.
It's no wonder these kinds of videos, even when they're very simple, can generate a massive following and expand your brand awareness faster than anything else.
One of the biggest successes of this technique was the live video BuzzFeed posted as they exploded a watermelon using rubber bands.
The extended video grabbed viewers not because of the content, but because of the payoff everyone knew would come in the end.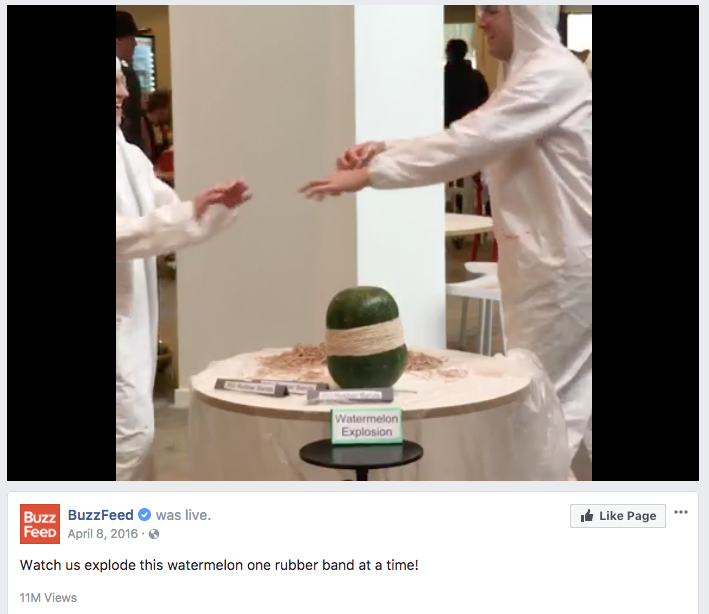 LADBible melted popsicles in a viral Facebook Live video that got over six-million views.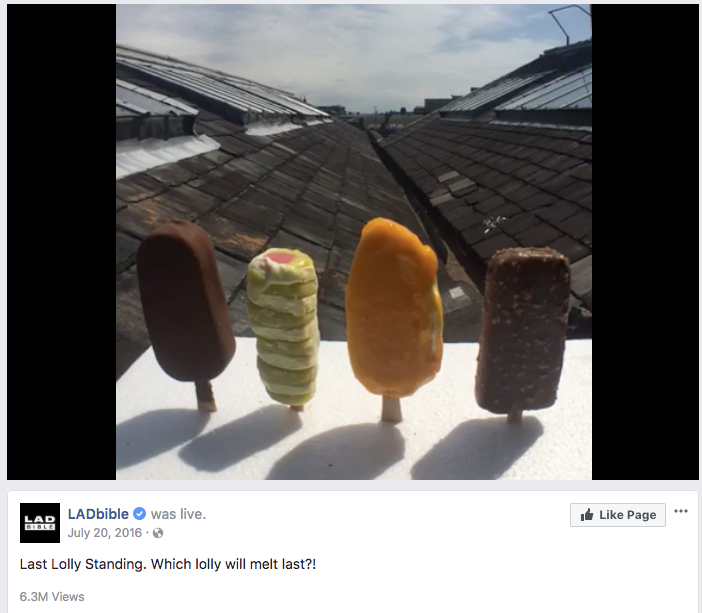 Even though the majority of the video content of these experiments is monotonous, they create excitement by building up to the unknown conclusion of the experiment.
This is a great way to increase your Facebook engagement by providing content people can't get anywhere else.
15. Give behind-the-scenes details
If you have something happening at your company headquarters, it's a great time to show viewers the behind-the-scenes details they'd miss out on otherwise.
You can create huge audience excitement with these type of videos, especially if you provide exclusive content with someone well-known or an event that will release soon.
Target streamed behind-the-scenes footage of a Gwen Stefani music video and garnered over 75,000 views.
Even if you don't have a celebrity connection that will help skyrocket your brand awareness, you can still create content that's engaging and exciting for your most loyal fans.
Just look to find exclusive content that shows the perspective behind what the viewer is used to seeing.
16. Run a contest
If you want to explode your brand engagement and awareness in a way that's so simple it feels like cheating, you need to run a contest.
By creating a contest, you start off with massive brand awareness through what you have to offer the winner.
But by using a Facebook Live video, you can create an even more engaging experience. Just announce the winner of the contest via live video.
Not only will the video attract the views of everyone who entered the contest, you'll get views from the friends of those waiting to see if someone close to them wins the grand prize.
It's a great way to expand the viewing audience of your brand.
17. Host a special guest
A lot of small business owners worry that their Facebook Live videos won't be popular because they don't have a large following.
Don't worry about it.
You can build your brand awareness and drive massive traffic to your videos by working with someone else that has a bigger following.
Sephora hosted Jen Atkin of Ouai Haircare and Christophe Robin Paris in a video about holiday hairstyles, and it resulted in off-the-charts engagement and awareness.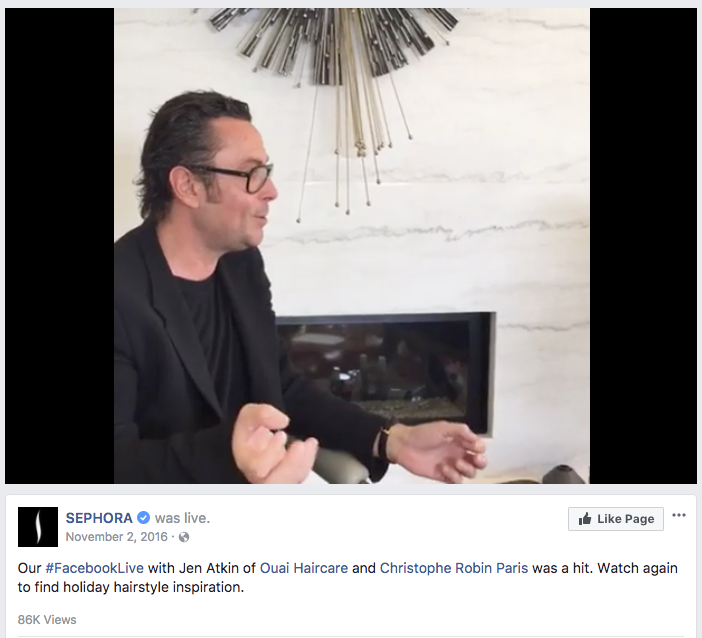 The secret to making this work for you is to find someone you can approach and work with for the video.
Even an authority figure a few rungs above you on the social ladder will work perfectly to make this technique a success.
18. Deliver your own strategies and motivation
If you're looking to build a personal brand, you need look no further than explaining your philosophies on camera.
To make sure this is a success, look to create a video about something unique in your life. What do you do differently? What can you offer that others are interested in?
A great place to start is by looking at the insider techniques you use — techniques the less advanced in your field might not be familiar with.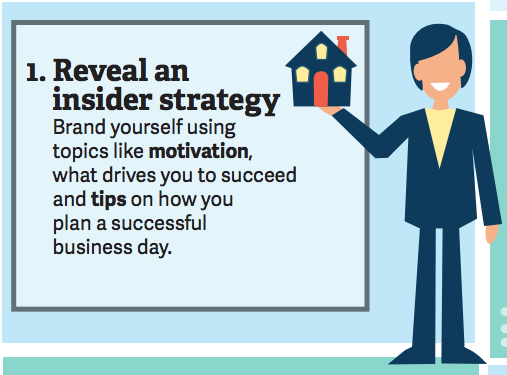 These "insider techniques" and "secret hacks" can develop into a solid content strategy that will give you a brand voice and distinctive style.
This technique is a great way to drive a massive following and attract an audience that's magnetized by your unique approach.
19. Offer live critiques and teardowns
No matter what you believe, you have expertise that people would love to learn from.
You can create a mesmerizing Facebook Live stream by offering to review people's work with free suggestions, feedback, and recommendations.
The easiest way to do this is with a live critique or teardown. Before you start, encourage your audience to submit pieces for you to review.
Once you go live, encourage other viewers to submit their pieces as well, if there's time. During the video, break down the good and the bad in the pieces submitted.
This works well if you're in a visually heavy field, like photography or website design. But if you're not, you can get creative with other kinds of critique.
If you're in the gardening space, for instance, you could diagnose problems from viewer's photographs of specimens. A job expert could critique submitted videos from sample job interviews.
When photography expert Trey Ratcliff offered free photography critique through Facebook Live, he got a massive response.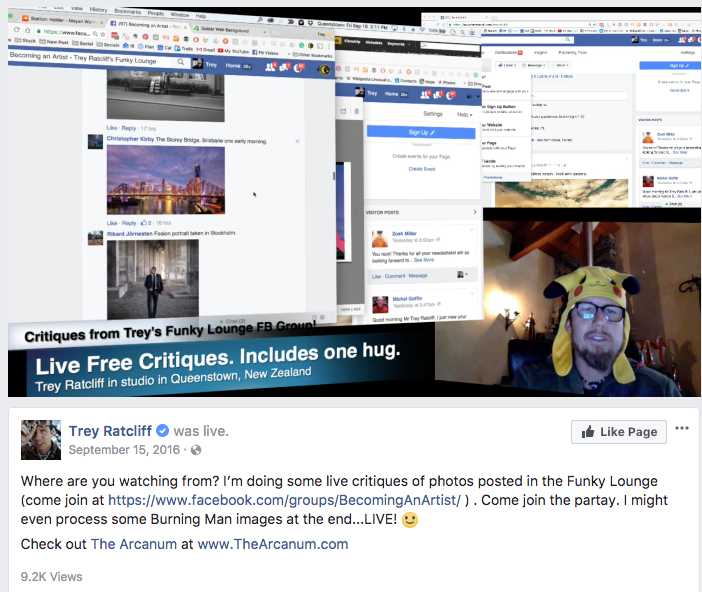 This is a great way to show your knowledge while providing tremendous value to your truest fans.
Conclusion
If you're looking to boost your brand awareness, you need to seriously consider Facebook Live.
It's a platform with a ton of potential, and you're going to make a huge splash if you start using it early.
I think the best way to use live video is to make it really interesting and compelling — so much so that viewers will share it with their friends after you finish streaming.
Isn't that what viral content is all about?
There are a lot of different types of videos you can stream to boost your brand awareness.
Look to create a sense of exclusivity in the content you create to make your viewers feel special. This could be in the form of behind-the-scenes information or a unique interviewee.
You should also look to help viewers in the videos you create. You can give feedback and critique, respond to comments, teach a class, or even create a daily show.
Finally, you need to build suspense.
Launching a new product, hosting a live event, showing an experiment as you do it, and running a contest are all great ways to keep people excited about what's coming next.
What type of Facebook Live video will you use to boost brand awareness?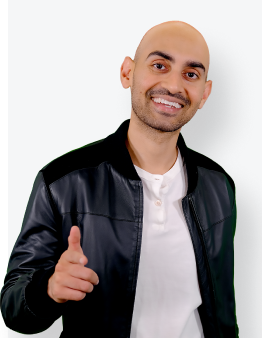 See How My Agency Can Drive More Traffic to Your Website
SEO - unlock more SEO traffic. See real results.
Content Marketing - our team creates epic content that will get shared, get links, and attract traffic.
Paid Media - effective paid strategies with clear ROI.
Are You Using Google Ads? Try Our FREE Ads Grader!
Stop wasting money and unlock the hidden potential of your advertising.
Discover the power of intentional advertising.
Reach your ideal target audience.
Maximize ad spend efficiency.