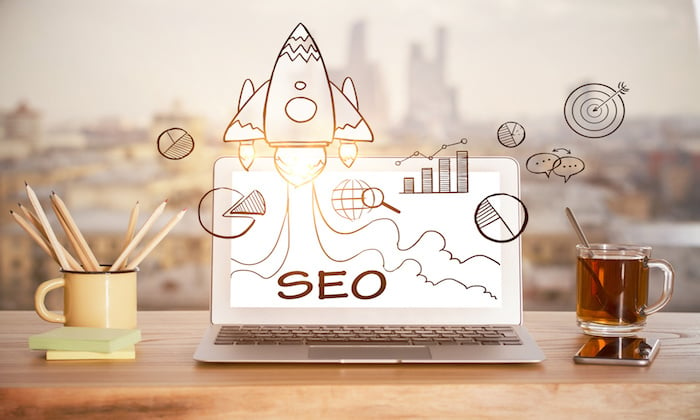 We all know that SEO is important for online marketing and organic traffic.
After all, people conduct more than 3.5 billion searches every day just on Google.
Not only that, but over 70% of clicks go to organic searches that rank on the first page of Google.
Ranking on the first page of Google can be the deciding factor to making your business thrive online.
You probably already know that, right?
According to estimates, businesses will spend over $72 billion this year on SEO services.
If you're one of them, you're definitely already aware of the importance of SEO.
The problem is that we sometimes learn SEO tactics that work and then we rely on them to always work.
You find something that's making a difference, so you keep doing it. It makes sense.
But in reality, algorithms are always evolving. Google makes thousands of changes to its algorithm every year.
We need to adapt as the algorithms adapt if we want to keep up.
To help you do this, I'm going to show you six daily SEO tactics that you should be doing to keep up with Google's algorithm changes.
But first, let's talk a little more about why you need to adapt.
Change is vital for survival
People often fear change. Trust me — I get it.
It's hard for us to move outside of our comfort zones.
The good news is that we usually don't fear the actual change. We fear the loss of something.
Maybe you're afraid to leave behind something that you know is working to try something that might work better.
Unfortunately, the worst thing you can do is refuse to change out of fear.
Change is a requirement for sustainable business no matter what industry, field, or market you're operating in.
For the fast-moving digital marketplace, change is even more important.
Marketers are spending more on SEO every year.
Projections show that they'll spend a total of $79 billion on SEO in two years — seven billion more than the enormous amount they're already spending!
This means that the competition is constantly increasing. More companies are joining the race, and they're investing more money on digital marketing.
If you fear change, your first reaction might be to throw more money at SEO to solve the problem.
But it won't yield the results you want.
Plus, who has bottomless pockets to continually fork out money?
If we were to just increase our SEO budgets every year without changing anything else, we'd all go out of business.
Paying for more of the same won't account for changes in the marketplace. People change and adapt, and your business needs to change with them.
You need to be aware of search engine algorithm changes and adapt to them.
Like I said earlier, Google makes thousands of algorithm changes every year.
In 2017 alone, they made ten significant updates, including Fred (which some SEOs later called Maccabees).
Internet use, and particularly mobile use, are also continuing to grow each year. In comparison to last year, mobile phone usage is up by 4% this year.
4% might seem like a small number, but it's not when we're talking about billions of people.
4% of five billion is 200 million. That's 200 million extra people using mobile devices in just the last year.
This creates more changes we need to adjust for like mobile-first indexing.
Let's look at the six new SEO tactics you should be adding to your toolkit so you can keep seeing growth in your traffic.
1. Optimize content for voice search
Voice search is a significant trend right now, and it's a rapidly-growing market.
Google released this infographic way back in 2014.
Not surprisingly, voice search has only grown since then. At the start of this year, there were approximately one billion voice searches every month.
If you don't adapt your SEO for voice optimization, you could miss out on a whole lot of traffic and sales. It's time to jump on this bandwagon if you haven't already.
Voice search calls for a whole new keyword research strategy.
Voice searchers use natural, long-form, conversational queries. If you've been focusing on short queries, this is going to be a shift.
What can you do about it?
Google Analytics doesn't yet separate voice search in their search console, but they may do so soon.
In the meantime, use tools like Answer the Public to build an editorial content strategy for voice search.
Answer the Public provides you with a list of questions directly from the minds of your customers.
Within minutes, it can give you hundreds of questions that people are searching for.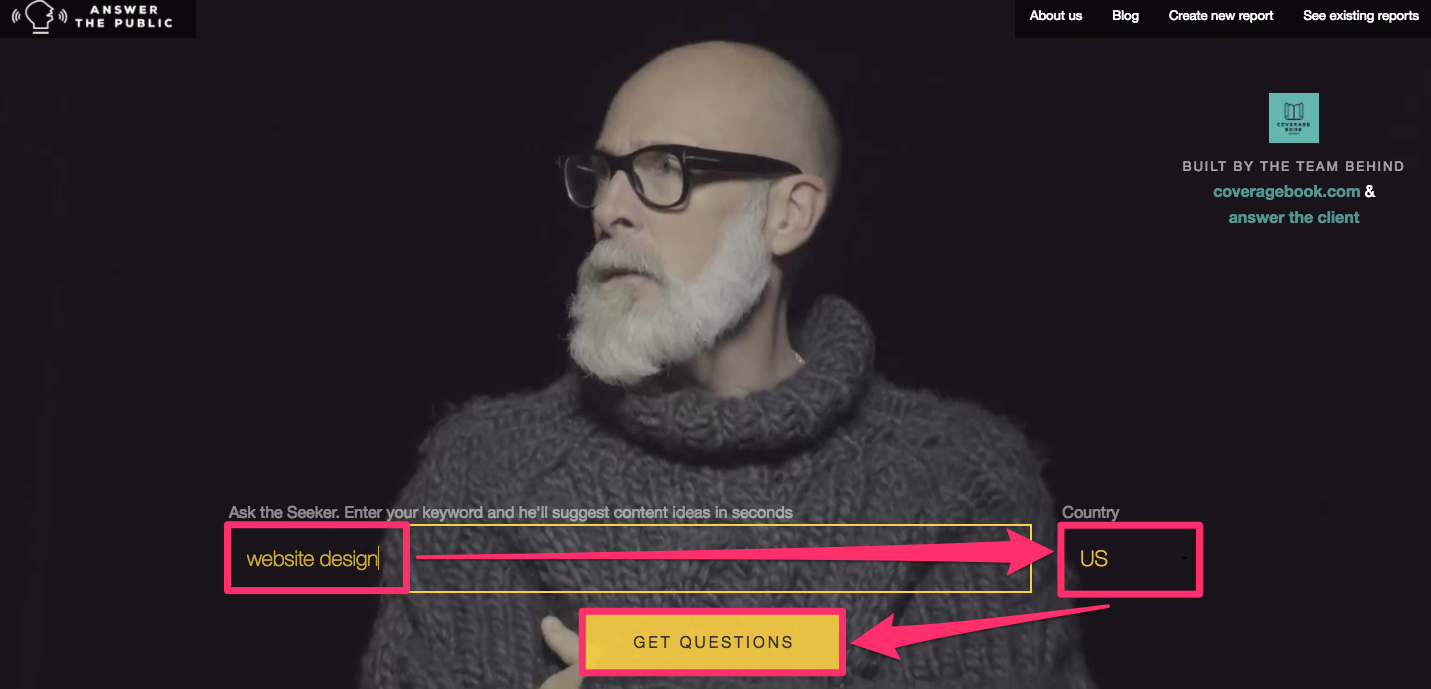 You need to choose the country that you want to target. Then, click the "Get Questions" button.
At first, your results will look something like this:
This organization isn't the easiest to navigate, but you can fix that.
Select "Questions" then "Data" to convert your results into grouped lists.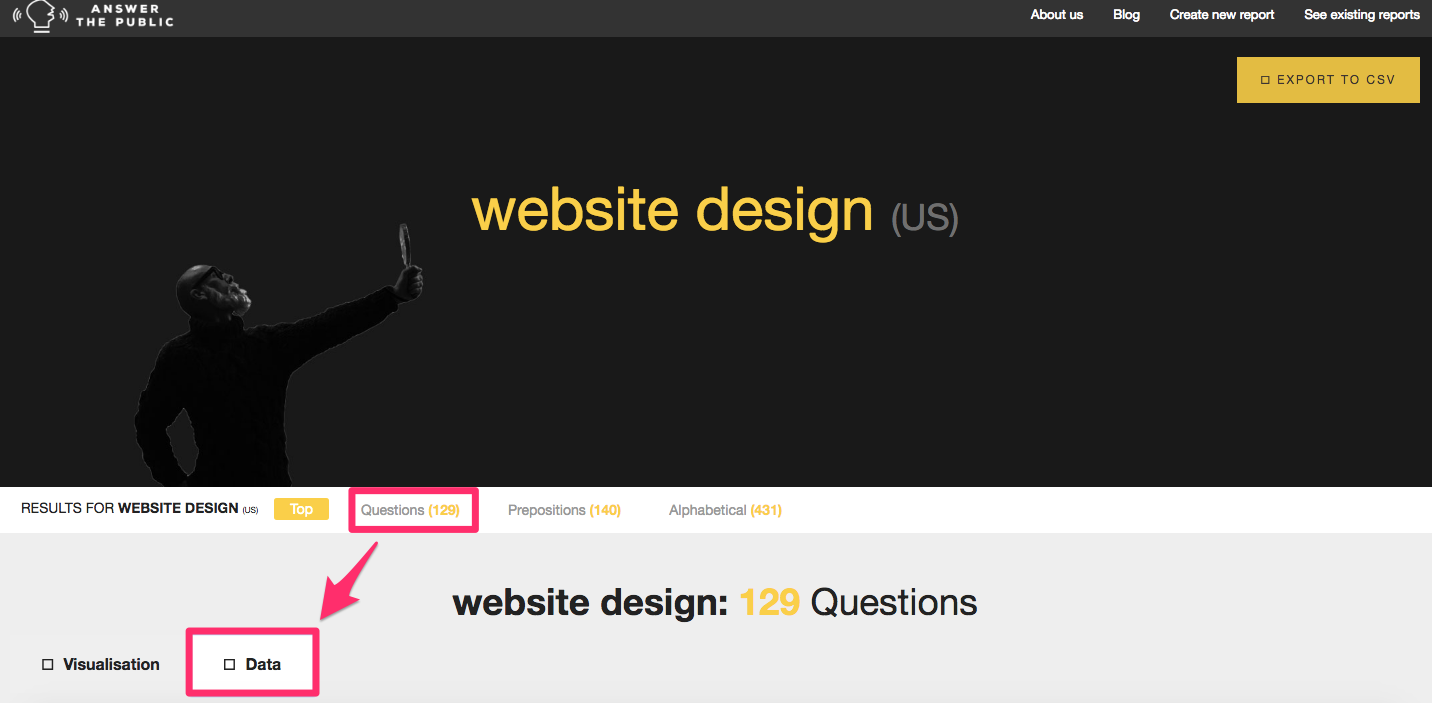 The first lists are all of the question-based results.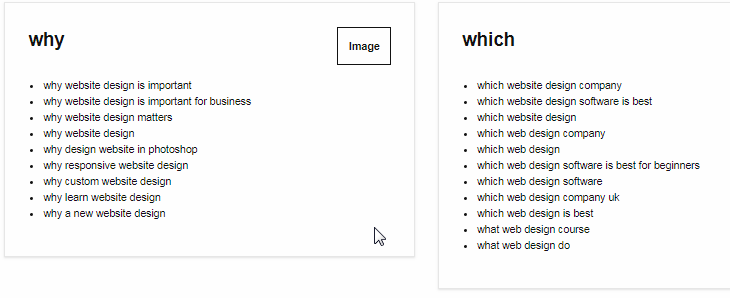 This a great way to find questions that users are asking.
Now, how do you take this knowledge and build it into your daily routine?
Make it a daily practice to write and plan content based on your keyword research for voice search. To start, you could aim for search results that appear as featured snippets.
After all, when you conduct a voice search, the featured snippet is the result that your device will read back to you out loud.
Featured snippets are search results that Google features before their organic results.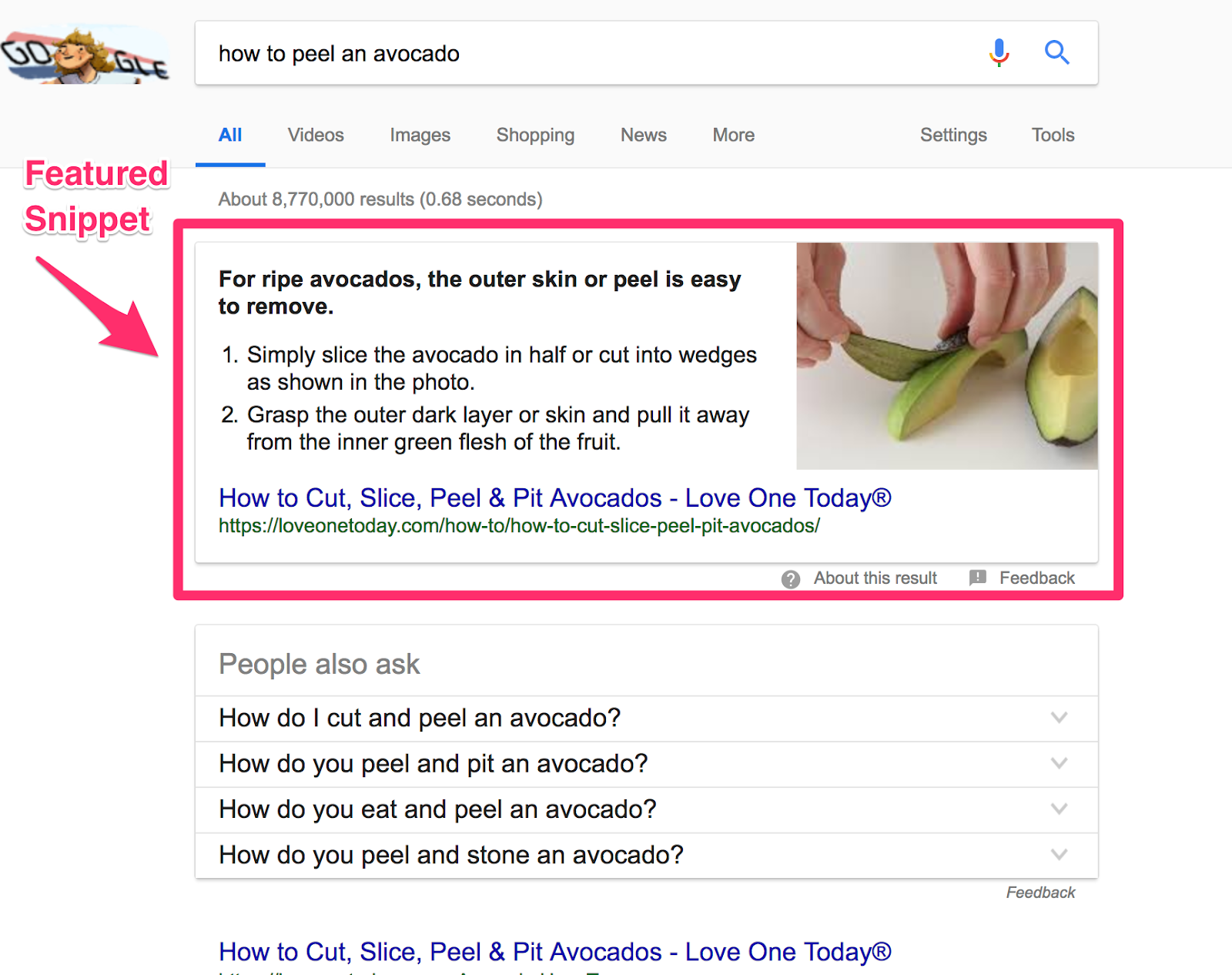 Featured snippets most commonly appear for questions since they aim to provide quick and simple answers.
For this reason, some also refer to them as answer boxes.
Google created them so that searchers can find the information they want without ever having to leave Google.
How do you target a featured snippet?
A great way to start is by focusing on content that is already on page one or page two of search results. Then, optimize those pieces of content for length and structure.
Here's the optimal word count of different featured snippets:
Your whole article obviously won't be that short. So how do you build in the snippet?
Make sure you ask the right long-tail question query. Use it in your article title and headers and reference it throughout the content.
Also, determine whether you can best answer the question by formatting your answer as a paragraph, table, or a list of bullet points. Be sure to answer the question in that format so that Google can easily display it as a featured snippet.
After you answer the question concisely in the ideal format, you can go into further explanation and deepen your answer in your article.
2. Understand what users are doing on mobile
Over half of all Google searches are coming from mobile devices.
Not only that, but Google announced that they have begun rolling out mobile-first indexing this year.
If you haven't yet optimized your site for mobile, you need to make the change right now.
Start by making sure that all of your web pages are mobile-friendly.
Google has made this easy for you.
First, in Google Search Console, scroll down under "Search Traffic" and click on "Mobile Usability."
This will show your site-wide results:
Google has also provided a free mobile-friendly test that you can use if you want to check single pages, such as your landing pages.

Enter the URL of the page you want to test and click "Run Test."
It will immediately let you know if your page has any issues and offer you some additional resources.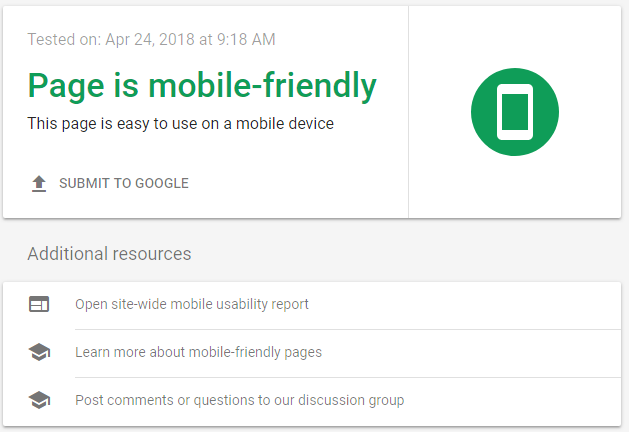 One thing you can do daily for mobile optimization is heat test your mobile site.
This can help you quickly identify where people are clicking on your mobile site.
You may notice that the pattern is different than your desktop heat maps.
Crazy Egg offers a heat map tool with mobile snapshots to see how users are scanning your pages. This can help you pinpoint areas that need work.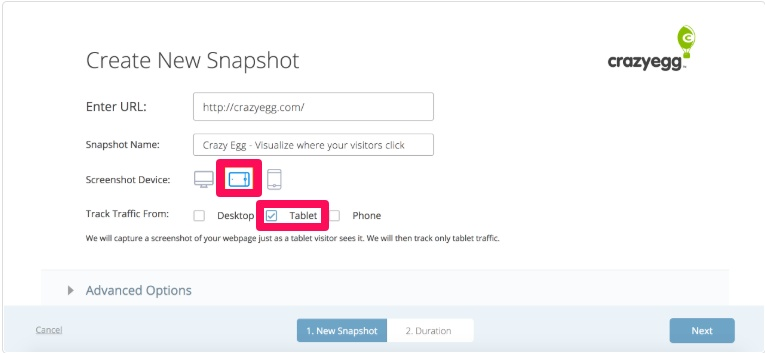 3. Engage your local community
Local SEO has proven to be a huge opportunity for local businesses to grow.
Ryan Stewart helped Dr. Smood increase local keyword rankings and organic traffic by over 320% in only nine months.
And, Eric Enge got kimkim to rank in the top five results for "Nepal travel expert" and "Manaslu trek" with help from local experts.
However, local SEO is not a one-trick pony. There are multiple ranking factors that play a role in how well your site ranks for local SEO.
If you want to compete in the local SERPs, you have to focus on local engagement tactics.
First, ensure that your business name, address, and phone number (NAP) are consistent across the top-ranked directories.
Then, claim your business on Google My Business.
Make sure that you build credibility for your business by using link building and getting reviews on local review sites.
Google introduced the Local Guide program to help local businesses improve the quality of their listings.
With reviews and local link building, you can help demonstrate the quality of your business.
If you've already set up your Google My Business page, then perform a daily health check of your local SEO. Here's how:
First, audit your Knowledge Panel to make sure all of the information is accurate.
Next, check to see if there are any Q&A questions on your Google My Business timeline.
Google released this Q&A feature in 2017, but many business owners are not using it to their advantage.
Finally, use a review management tool to ask for reviews like BirdEye or Yotpo.
As Dana DiTomaso, President and Partner at Kick Point Inc., said during PeepCon 3.0, "The strongest signal is when someone picks you."
It's crucial that local businesses begin engaging with their local community if they want to survive in this competitive landscape.
4. Boost your website speed by compressing images
Site speed is incredibly important for the health of your business.
It's not only a ranking factor of the Google algorithm, but it's also a measure of user experience.
In addition to that, Google announced in January of 2018 that page speed will become a ranking factor for mobile searches as of July.
And as we already saw, mobile optimization is critical.
So how fast is fast enough?
The average page speed varies by location and industry, but it's floating around nine seconds right now.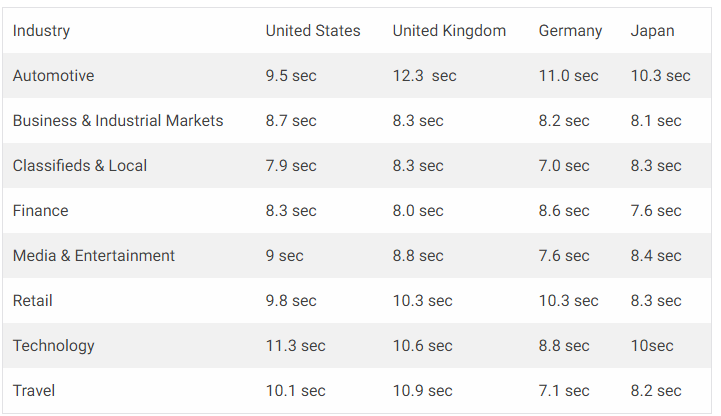 However, that doesn't mean that nine seconds is fast enough. Actually, Google considers that to be poor.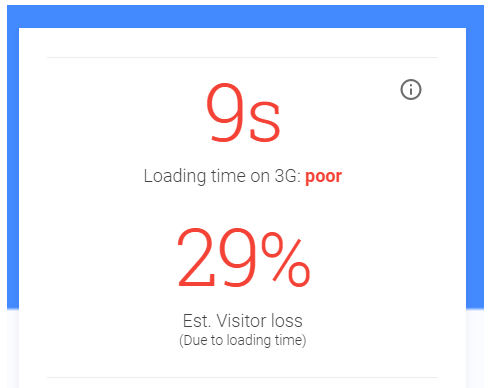 Google recommends that you aim for a page load time of three seconds.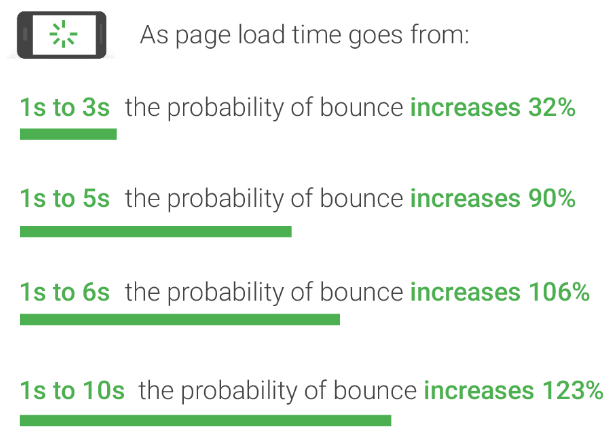 If your pages are taking nine seconds to load, your bounce rate is nearly 123% higher than if it were loading in under three seconds.
So, how can you speed up your pages and reduce your load time?
A way to start is by using Google's PageSpeed Insights to identify your problems.
You should also try Google's Test Your Site for mobile speed checks.
Both of these tools will score your web pages from 0 to 100%.
They will also provide you with recommendations for improvements.
To boost your page speeds, you should compress all of your images.
Large images can have a huge impact on site speed.
The good news is that you can easily fix this with a simple compression tool.
If you have a WordPress site, you can choose a plugin like WP Smush Image Compression and Optimization.
This is a free tool that will allow you to "smush" images automatically.
If you're not a WordPress user, there are plenty of other options for other site types.
Crush.pics is a great choice for Shopify websites.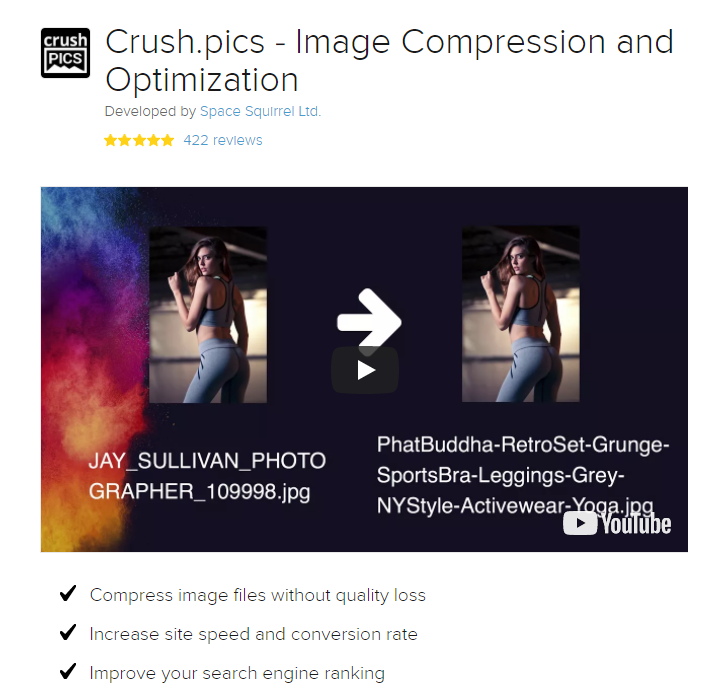 5. Focus your content on topics and intent, not keywords
Google's algorithm is constantly becoming more sophisticated.
With advancements like RankBrain, you no longer have to rely on simple keywords to signal what your content is about.
If you want to rank high on SERPs in 2018, you're going to need to start targeting your customers rather than just keywords.
After all, keywords are not even in the top-ten ranking factors for SEO.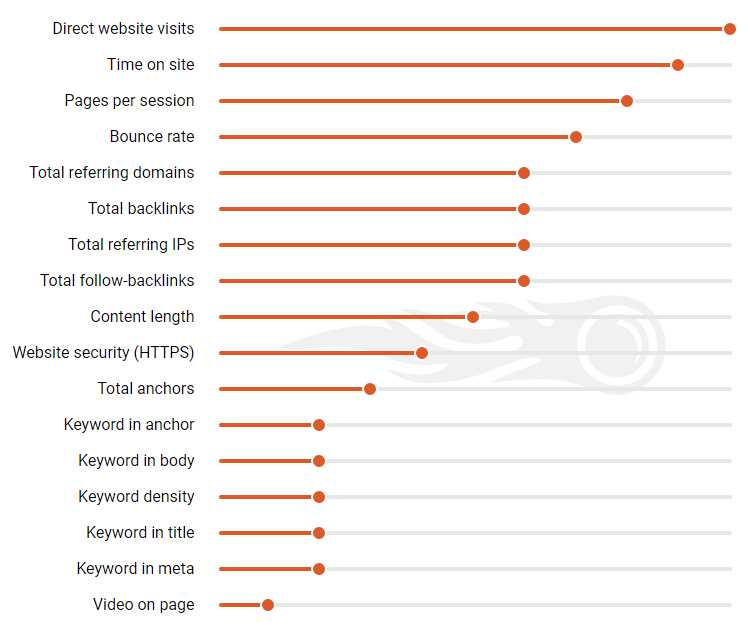 Of course, keywords are still important for telling searchers what your content is about and getting them to click.
But your emphasis needs to be more on engagement and quality content and less on picking the perfect keyword.
One way to do this is by focusing on broad topics rather than specific keywords when crafting your content.
You want to build content that provides value to your target audience and engages them.
First, you need to understand and target the intent of searchers.
You need to understand the difference and the overlap between what keywords people are using and what they're actually meaning to search for.
Then, you have to take this knowledge and line it up with your content marketing strategy.
For example, you can classify many keywords as navigation, research, or conversion keywords. Then, you can align these classifications with each stage of the conversion funnel.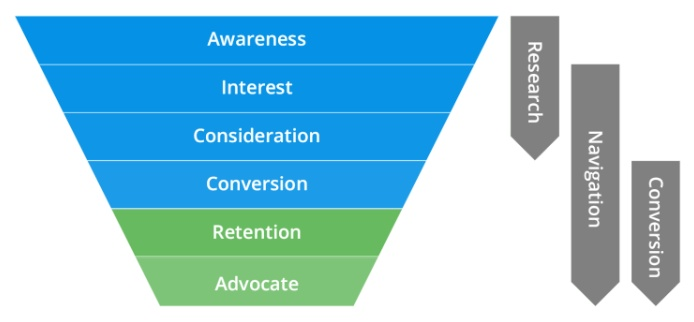 This will provide you with a better picture of the intent that searchers have, helping you to craft your content for improved target marketing.
Here are some tools that can help you better understand the intent of your current customers.
Google Analytics behavior flow
The behavior flow report shows you how your current and past customers have been interacting with your website.
For example, people who are spending more time on your landing pages or sales pages are probably near the bottom of the conversion funnel and ready to buy.
On the other hand, people who are primarily hanging around your blog content may still be in the beginning stages of your funnel.
Site search
The Site Search function on Google Analytics can also help you understand exactly what people have been looking for on your website.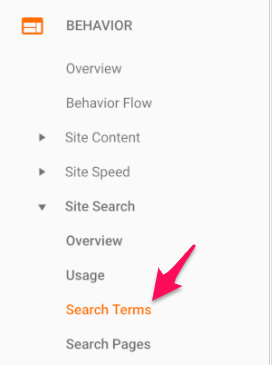 You can see what keywords your audience has been searching, which internal results they clicked on for them, and if there was a high engagement or high bounce rate.
This can help you determine if your content is matching the intent of your searchers or if there are gaps.
LSIGraph
One great way to find relevant keywords is by using an LSI generator like LSIGraph.

LSI Graph is a free tool that will provide you with related keywords for whatever term you search.
Google search
Simple Google searches also offer help for building out keyword and content plans.
After all, Google wants to provide searchers with the best results.
Therefore, it's to their benefit to help you create the best content for people.
There are three different ways to find relevant topic clusters using Google.
First, you can use auto-suggest. As you've surely seen, Google starts automatically populating suggestions as soon as you start typing something in the search bar.
For example, this is what I see when I start typing "search engine" into Google.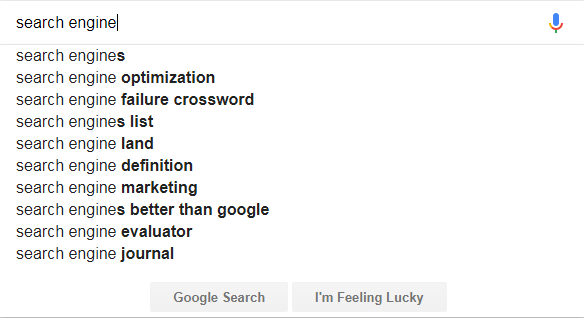 Second, you can take advantage of Google's related searches.
After you put your keywords in the search bar and hit enter, you can scroll down to the bottom of the search results page to see related searches.
Third, you can use the "People also ask" feature. For some searches, Google will offer additional queries that users are likely to search for.
If you utilize some of these tools, you'll have tons of keywords that target the intent of your customers. You can use these keywords to build a content outline.
6. Personalize your PPC  
Personalization is another hot topic right now in digital marketing.
When it comes to online marketing, personalization means dynamically changing your marketing message, advertisement, or landing page based on your customers' information.
The idea is that it will help increase your probability of connecting with each individual customer.
For example, you could build your landing page so that the words you use on your call-to-action buttons change based on the assumed persona of the individual who lands there.
For example, you can change your PPC offer based on the device someone is using.
You can choose to personalize for plenty of factors such as demographics, device usage, returning customers, and even cart abandonment.
Using dynamic text replacement is a great way to personalize ads, landing pages, and call-to-action buttons on your website.
It allows you to change certain words using "IF" functions and tools like Unbounce's Dynamic Text Replacement to match your wording with someone's original search query.
For example, someone who searches for "Luxury Beach Estate" may see this:
However, if someone else searches for "Caribbean Beach Estate," you can design the same landing page to automatically display the words "Caribbean Beach Estate."
This increases relevancy, which makes it more likely that visitors will click and convert.
Conclusion
We've now covered why you need to keep your SEO strategy fresh and current, and I've shown you some of the key tactics you should be using this year.
When creating new content, be sure to optimize it for voice search.
Use tools like Answer the Public to understand what questions your customers might be using voice search to ask.
You also need to make sure that you've optimized your content for mobile.
Follow the best practices I shared above to help your content rank with Google's mobile-first indexing.
Don't forget to adapt your website and content for Google's latest SERP features.
To compete for featured snippets, be sure to format your content in a way that helps Google find the information that's relevant to searchers' questions.
If you have a physical business, focus on local optimization to rank in on the first page of Google.
Speed is increasingly important, and we all need to continually work on making our pages faster. Checking your page speed for every new post and use the tips I shared to speed up your pages.
You should be crafting your content around searcher topics and intent instead of just keywords. Use tools such as Google Analytics, Site Search, and heat maps to better understand your searcher intent.
Then, improve your content targeting with LSIGraph or keyword groupings that Google suggests.
Finally, personalize your content for different customers.
You can use dynamic text replacement to better align all of your ads, landing pages, and calls-to-action for each individual searcher.
What other SEO strategies are you adding to your toolkit for 2018?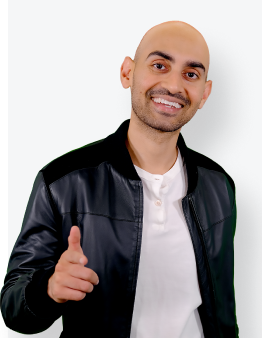 See How My Agency Can Drive More Traffic to Your Website
SEO - unlock more SEO traffic. See real results.
Content Marketing - our team creates epic content that will get shared, get links, and attract traffic.
Paid Media - effective paid strategies with clear ROI.