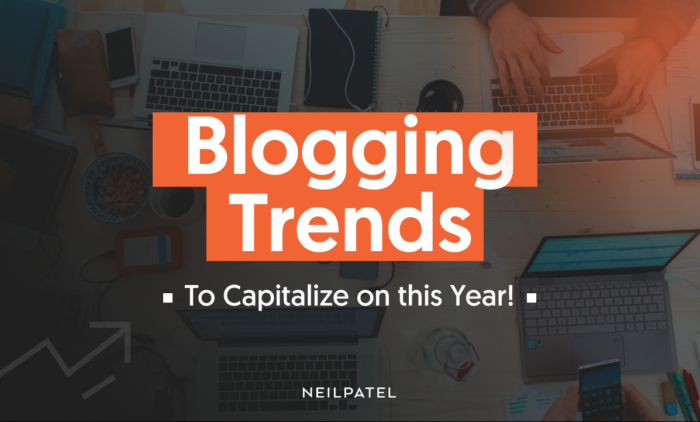 It's no secret that blogs can be very profitable in the world of content marketing.
Over 409 million people view blogs each month, bringing brand awareness, consumer trust, and a higher likelihood of positive returns. What's more, blogging results in a 434 percent increase in indexed pages and a 93 percent increase in indexed links.
This means more inbound traffic and more repeat customers for your company. What's not to like?
That said, there are 8.2 million blog posts being uploaded worldwide each month, and that talent pool is only growing. To stay competitive, you need to be on top of the latest blogging trends and keep up to date with content marketing strategies.
Here are some of the biggest blogging trends to look out for this year, along with quick and easy ways to implement them into your blogging strategy.
Blogging Trend #1: Visual Content
No blogging trends list would be complete without reminding you of the importance of visual content.
There's no doubt about it; visual content is on the rise. Studies have shown that readers can recall 65 percent of the visual content they've seen, even three days later.
That's a big boost for your brand's visibility and retention.
As blogs become longer and more detailed, design and interactivity grow in importance. Visual content can offer readers a way to scan content without reading it all the way through.
Only 16 percent of online readers take in content word-by-word. The rest are scanning, looking for quick and efficient information.
If you want readers to stay on your page, be engaged, and promote your content on other platforms. This will make your information easy to scan and remember – simply by using visuals.
Using Visual Content in Your Blog Posts
Adding images and videos to your content breaks up heavy chunks of text and offers a new, responsive way for your audience to engage with your content.
It's always preferable to use original content in your blogs, but stock imagery can still be useful when designing an engaging blog. For example, an infographic offers readers a way to easily consume your information without wading through the entirety of your post.
Here is a great infographic example from Oberlo.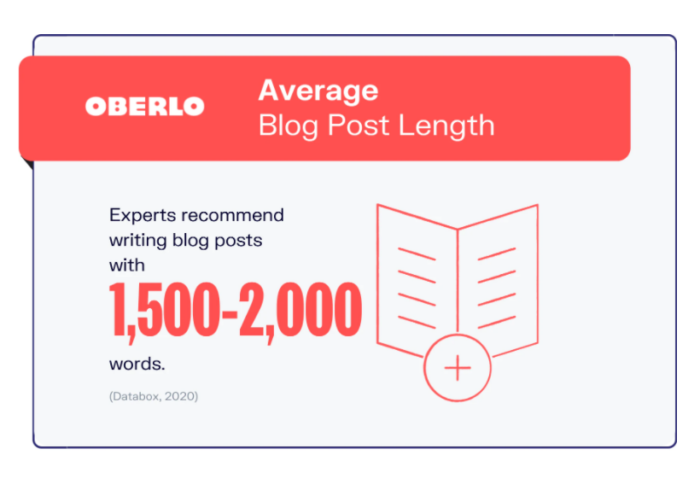 Likewise, video content is another one of this year's hottest blogging trends that offers readers a more engaging way of interacting with your posts.
Surveys from Wyzowl have found that people watch an average of 2.5 hours of video content per day, so integrating video content into your blog is a great way to optimize user time spent on your pages.
Blogging Trend #2: Affiliate Marketing
Another important factor in today's blogging trends is the implementation of affiliate marketing links in your blog content.
Affiliate marketing allows you to create an ongoing sales funnel outside your website.
For example, if you're running a B2C business, you might hire a blogger to write a review post about your product. From there, you could offer their followers a discount if they buy it from that post.
Not only does this improve your sales reach, but it also introduces you to new audiences.
Blogs make up more than 40 percent of all affiliate commissions in the U.S. – making affiliate marketers an average of $65,800 per year.
It's no wonder affiliate marketing is one of the hottest blogging trends of the year. So how can you take advantage of this technique?
Using Affiliate Marketing on Your Blog
When creating a blog, think about affiliate marketing techniques you could employ.
If you're mentioning a product or service, reach out to that company and see if they have any affiliate programs you could join. You can do this with a simple Google search for: product + "affiliate program."
It's always best to choose a product you know and love, as your results depend on how well you sell it.
That said, no one wants to read a sales pitch. A successful affiliate blog should be educational and informative and should employ other blogging techniques such as SEO and visual content.
It's also important to note that the FTC requires you to disclose any affiliate programs, which you can do with a simple byline in your post.
Blogging Trend #3: Critical Readers
One of the more relevant blogging trends today is the inclusion of critical readers in your audience pool because public perception of online content is changing.
With terms like "fake news" and increased competition for content, readers are less willing to trust content that isn't reputable.
Today's reader needs reassurance that your content is accurate and fair. They expect citations, sources, and statistics to back up your claims. Likewise, you need to keep in mind the scope of content that's readily available online.
Every year, more people and more brands enter the blogging scene.
To stay competitive and harness your SEO, you need to write content that is verified and well-sourced.
Writing for Critical Readers
It's important to write logical, truthful, and high-quality content that uses authoritative sources and consistent citations.
Making baseless, unverified claims is a good way to lose your readers. Not only that, but bad sources can actually negatively affect your SEO and overall page authority.
Here are a few easy tips to follow when writing for critical readers:
Write honest content that is backed by reputable sources.
Use backlinks to cite sources or include them as footnotes.
Do not make any claims you cannot prove.
Do not promise anything you can't deliver.
The biggest takeaway here is to avoid writing anything that isn't true or that can't be verified with accurate sources.
Losing credibility can be a big hit to your business. Stay informed and improve your brand integrity.
Blogging Trend #4: Mobile-First Format
Blogging trends often come and go, but mobile-first formatting is here to stay. These days, everyone uses their phone to read online.
From news articles in your Facebook feed to swipe-up blogs on Instagram, your consumers are constantly surfing the web from their phones.
It's crucial that your website, blog, and any other digital content you create is optimized for mobile. No one wants to click on an article only to have it pixelated or cut off on their screen.
If you don't have mobile optimization set up, you risk readers logging off before they have a chance to read your content. A study from Small Biz Genius shows that 88% of consumers won't return to a website if they've had a bad experience.
Writing in a Mobile-First Format
When creating mobile-friendly content, it's important to consider how your content will look on a mobile screen.
One sentence on a desktop screen can look like a paragraph on mobile.
Therefore, breaking up your paragraphs, using short sentences, and ensuring your website is optimized for mobile are very important.
Here are a few other points to consider:
make navigation as easy as possible
make your content easy to scan
ensure the on-page loading time is fast
use a mobile responsive web theme
don't use text wrapping for images
As always, writing content that is simple, accurate, and concise can improve your overall mobile accessibility.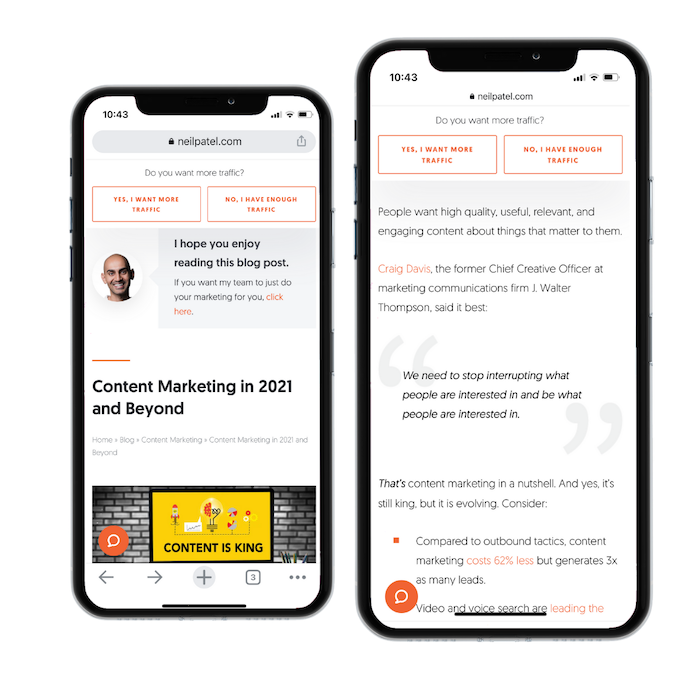 Blogging Trend #5: Estimated Reading Time
Another recurring theme in modern blogging trends is estimated reading times.
Estimated reading time can improve reader engagement by setting up their expectations from the start.
If you know a blog takes 15 minutes to read, but you only have 10 minutes before your next meeting, you might save that blog for another day. Likewise, if a blog takes two minutes to read, you may get excited about the convenient length of the article and open it right away.
Tempesta found that readers were 40 percent more engaged with blogs that included an estimated reading time. What's more, search engines factor in estimated reading times when determining your rank. The longer your users dwell on your page, the better your chances are of looking authoritative to search engines.
Using Estimated Reading Times in Your Blog
The average reading speed of most adults is 200-250 words per minute.
To estimate your blog's reading time, divide the number of words in your article by 200 or 250.
Always round up your number when estimating reading times. For example, if your blog takes 1.7 minutes to read, estimate 2 minutes. This ensures your reader's expectations are met and increases the likelihood that they read your entire blog.
You can also use online calculators, such as Read-O-Meter or Decimal to Time Calculator, to help you. Some web hosting services, such as WordPress, have plugins available to estimate the reading time for you.
Blogging Trend #6: TL;DR Summary
One of the latest blogging trends you shouldn't miss is the "too long; didn't read" summary.
Commonly referred to as TL;DR, these summaries act as an abstract of your blog, giving readers the most important information without making them skim, scan, or read through the entire piece.
This point is important in blogging trends as we continue to see global attention spans drop.
A study by Microsoft found that global attention spans have been declining since 2000, with the average person's attention span now resting at a mere eight seconds.
By including a TL;DR summary at the start of your blog, you can appeal to the new generation of online readers.
TL;DR summaries can also have a positive impact on your SEO, as they answer questions for readers clearly and distinctly. For example, if a customer is looking for consulting services, they don't want to read an entire post just to get to the recommendations at the bottom.
If you include your TL;DR at the top of your post, search engines can use that as the summary in search results as well (but there's no guarantee that they will).
Answering user questions right off the bat can improve your ranking and get you more clicks.
Adding TL;DR to Your Blog Posts
Your TL;DR should be the first thing your users see.
You can include this as a bulleted list or a paragraphed summary at the top of your blog post. Always have a catchy headline in your TL;DR to engage your reader and draw attention to your piece.
Similarly, your points should be succinct, clear, and short. Don't write an entire essay in this space.
If you find a TL;DR formula that works for you, keep using it. Having a standardized format throughout your blogs will make your content consistent and reliable.
There are also online tools now offering TL;DR services. For example, TLDR claims to help you summarize an article in one click. You can also use TL;DR-ify for similar services.
Frequently Asked Questions on Blogging Trends
Is blogging a dying trend?
Although consumer preferences are definitely leaning towards visual content, blogging is still a perfectly valid content marketing strategy. Using images, videos, graphics, and infographics in your blog post will help you engage your audience, increase retention times, and meet all audience tastes.
Are blogs popular in 2022?
Blogs are incredibly popular and are a great tool for many writers and marketers who want to position themselves as industry experts. Right now, there are around 600 million blogs live on the internet.
How is blogging used in marketing?
Blogging when combined with SEO optimization can help websites increase their traffic. This leads to more brand exposure and allows content marketers to control brand perceptions.
To this end, blogging has become a key part of many sales funnels – and efficient CTAs can engage and motivate audiences to sign up to mailing lists or even buy products.
Conclusion: Blogging Trends
Now that you know some of the latest and greatest blogging trends, how will you implement them?

If your goal is to create a better content marketing strategy, you should be including most, if not all, of these blogging trends.
If your goal is to improve your SEO, you may want to focus on mobile-first formats or visual content.
Ultimately, tapping into each of these blogging trends can open up opportunities for new success.
What blogging trend are you most excited to use for your business?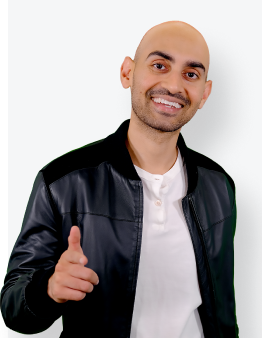 See How My Agency Can Drive More Traffic to Your Website
SEO - unlock more SEO traffic. See real results.
Content Marketing - our team creates epic content that will get shared, get links, and attract traffic.
Paid Media - effective paid strategies with clear ROI.
Are You Using Google Ads? Try Our FREE Ads Grader!
Stop wasting money and unlock the hidden potential of your advertising.
Discover the power of intentional advertising.
Reach your ideal target audience.
Maximize ad spend efficiency.