Writing a great blog post is only half the battle. There's also the need to make sure your post looks and reads well, as well as figuring out how the post fits into your overall "blogging game plan". Print out this easy, one-stop checklist to make sure you've got all the bases covered for a flawless post from start to finish.
Before You Post, Have You…
Saved Ideas as Drafts – Oftentimes, when writing a post, I'll get a great idea for another post. Don't put it off thinking you'll remember it. Start a new post in a new window and jot down your idea, then save it as a draft. This gives you great content ideas to come back to when you're feeling the bite of "Blogger's Block".
Hushed Up Your Inner Critic – Many people believe you have to have a certain number of posts in the virtual hopper before you can really start promoting. But there will never be a "best time to start" because your perfectionistic side will want to "just wait for that one perfect post" to hit (which never happens). As the motivational saying goes, "You don't have to be great to start, but you have to start to be great."
Created a Schedule – This Editorial Calendar WordPress plugin is a free and easy way to schedule posts and see the whole month's worth of titles at-a-glance.
The WordPress Editorial Calendar Plugin makes it easy to see scheduled posts and drafts
Do Your SEO Research – Don't write a post by the seat of your pants – have a purpose for it that ties into the overall goals for your blog. Do keyword research and craft a title that includes your best keywords but keep it to no more than 70 characters so that it will fit in the search engine results pages. Give people useful, actionable material that they can read and learn from. Scribe from Copyblogger can help give you some suggestions on ways to optimize your content.
Decluttered Your Uploads – By default, WordPress tries to be helpful by separating your uploads into month and year-based folders. You don't want to have to comb through several months worth of folders to find one photo, do you? So uncheck that box to give yourself one folder to search rather than potentially hundreds.
Optimized Your Permalinks – This is a very common "gotcha" for veteran bloggers and beginners alike. Be sure your permalinks (found under Settings >Permalinks) are SEO-friendly, meaning they'll either be set as /%category%/%postname% if you're using categories on your blog or just /%postname% if you're not using categories. This helps ensure your post uses the keywords you want in the slug name, and not p=123 or other defaults.
Click "Custom Structure" to set up your Permalinks for optimum search engine optimization
When Writing Your Post, Don't Forget to…
Get it all down first – Don't focus on making your blog post perfect from the start. Just get a rough draft down, then go back and edit later. Likewise with bold, italics and other formatting. You can pretty it up once you get it on paper (err…screen). More on how to do that below.
Read Your Post Backwards – It will help you spot any mistakes you may have missed because your brain only scans the words instead of actually reading them – especially if you've been reading and re-reading it for quite some time.
Check for Common Grammar Mistakes – This is an instant credibility crumbler. Eagle-eyed web readers tend to spot grammar mistakes rather easily, so make sure your post is polished by avoiding common errors such as:
Your/You're – Your signifies something that belongs to you, "Your shoe is untied". You're is short for "You are" – "You are responsible for your belongings."
There/Their/They're – There implies location, such as "Waiter, there is a fly in my soup." Their refers to something belonging to others, such as "Their tent was pitched at the campground." "They're" is short for "They are" such as "They're going to the movies this weekend."
To/Too/Two – "To" can either come before a noun or a verb, such as "I'm going to the store" or "I need to sleep." Too means "also", such as "I think Spiderman is the best superhero too." It can also mean an excess of something, like "I ate too many hot dogs." And two refers to the number 2.
This/These – "This" is used for only one item, like "This red car looks like the one I used to drive", whereas "These" applies to more than one, "These rolls smell delicious!"For more common grammar mistakes to avoid – see 20 Grammar Mistakes That Almost Everyone Gets Wrong.
Add a Single Call to Action – Ask yourself, what do you want visitors to do as a result of reading your post? Call you? Subscribe to your newsletter? Fill out a form? Don't make them hunt for your "contact page" to do so. Put that form right on your page at the bottom of the article, giving them one-click access to get in touch.
Add Related Posts – In addition to the Call to Action, have some related posts below your contact/subscribe form (or your phone number if you want them to call) that are closely tied in with your original post. You can add related posts as simple text snippets, like with the popular "Yet Another Related Posts Plugin" or you can add related posts with thumbnails using WP-Thumbie or the Related Posts Thumbnails plugin.
Display thumbnails with related posts plugins
Make All Links Open in a New Window – Each time you add a link in WordPress, you have the option of ticking the "Open in a New Window" box. Do it. There's nothing more aggravating to a reader than clicking a link and missing (or forgetting) the rest of the article they were originally on. Help make it easy and convenient for them to read your posts by ticking that box.
The "Open in New Window/Tab" check box in the Insert/Edit Link dialog box
Fill Out Your SEO Section – You're likely using one of two of the more popular WordPress SEO plugins, All-in-One SEO or Platinum SEO Pack. Both of these plugins allow you to fine-tune your search engine information for each post and page. This is where you'll add your title, description and keywords. Some SEO plugins fill out the keywords section automatically, but it's a good idea to review it anyway to make sure it includes only the keywords you want to focus on.
Fill Out Your Excerpt Section – Your excerpt is a summary of your post and is sometimes used by search engines in place of the meta description, and in some social networking plugins each time you make a post. If you've never used the Excerpt section in WordPress, it may be hidden. You can get it back again by clicking the Screen Options tab under the "Howdy, YOURNAME" section in the WordPress Admin dashboard.
Set Up Images and Media – There's no point in uploading a 1,000×1,000 pixel image when you only want to make it 250×250 pixels. It's best to resize your images before uploading. Not only will this help make them the size you want, but it will also decrease loading time considerably. NOTE: WordPress' image resizer doesn't actually resize images for you – it reads the whole 1,000 pixel image first, then resizes it to fit the screen. What you want to do, to save disk space and bandwidth, is to upload that image at 250×250 pixels to decrease the amount of work WordPress has to do. Faster site loading time – happier visitors – everybody wins.
Add Tags if You Use Them – Tags are a great way to organize the content of your posts In such a way that visitors can easily read more on the topics that interest them. Keep in mind, tags are not the same as keywords, so putting in something like "dog, dogs, puppy, puppies, training" on your dog training site won't really help. Instead, you'll want to create broad set of tags that, like categories, can be used for several articles, like "dog training", "puppy training", "training tools" and so forth.
Add Your Post to Categories – If you have categories set up on your blog, WordPress will add your post to the default one unless you select where you'd like it to go. The default category is almost always "Uncategorized" which doesn't help your search engine optimization at all. So create and click a couple of categories where your post would make the best fit.
Rework That Title! – Your best friend in the world of blog post writing is the almighty title, or headline. There are lots of great posts already out there on the web that tell you how to craft your headlines, but one of my personal favorites is the How to Write Magnetic Headlines series from Copyblogger. This 11-part series walks you through how to write attention-getting titles – not just on blog posts, but also on social sites like Twitter, that get your links clicked and your articles read.
Before You Hit Publish, Preview – Always preview your post before hitting the publish button, to make sure that images are aligned, captions are correct and everything about the post is on the mark. Nothing causes visitors to bail out faster than a poorly-formatted post.
My Post is Live, Now What?
The work isn't quite done yet, but you're on the home stretch. Now's the time to spread the word.
Respond to Comments in a Timely Fashion – "Thanks for the post!" doesn't cut it anymore. Let people know you appreciate the time they took to respond. Discuss a few of their points or share your own. That's what gets the conversation going – and keeps people coming back.
Share on Social Networks – Make it easy for visitors to share your article using a WordPress plugin like Digg Digg, which lets you create a Mashable-style social sidebar with easy one-click sharing buttons to all of the most popular sharing sites (you can pick and choose which ones you want to show).
Automate Your Posts – There are plenty of WordPress plugins out there that will automatically post to Facebook and/or Twitter. If you're using a self-hosted variety of WordPress, try Wordbooker. If you have a WordPress.com home for your blog, you get it even easier with their Publicize plugin. While there's a plan to make a self-hosted blog version available, there is no launch date as of this writing.
Got all these points covered? Congratulations, you're ready to launch your new post – hopefully to a fanfare of comments, likes and trackbacks! Got a step I've missed? Tell me about it in the comments below:
About the Author: Sherice Jacob helps bloggers improve website design and increase conversions. Download your free conversion checklist and web copy tune-up at iElectrify.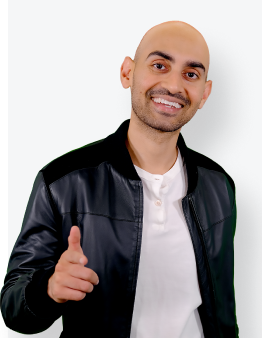 See How My Agency Can Drive More Traffic to Your Website
SEO - unlock more SEO traffic. See real results.
Content Marketing - our team creates epic content that will get shared, get links, and attract traffic.
Paid Media - effective paid strategies with clear ROI.
Are You Using Google Ads? Try Our FREE Ads Grader!
Stop wasting money and unlock the hidden potential of your advertising.
Discover the power of intentional advertising.
Reach your ideal target audience.
Maximize ad spend efficiency.