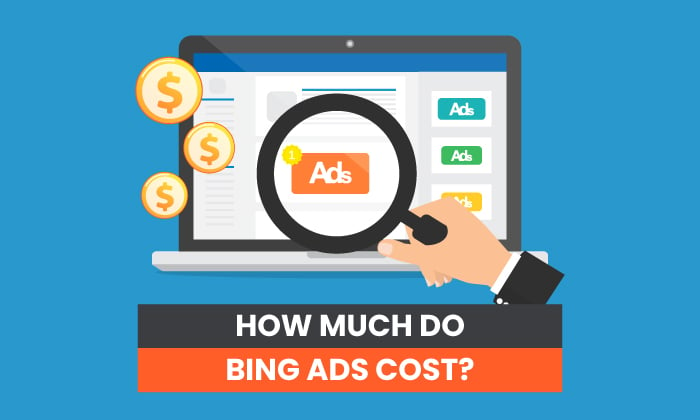 If you're here, you must be wondering "how much do Bing ads cost?"
You're smart to focus on Bing and other search engines instead of just Google ads.
According to Statista, Bing has 1.03 billion unique global visitors per month. In addition, 38 percent of Bing users had an annual income of $100,000 or more.
Not only is the search engine installed in billions of devices, but the platform is also appealing to a significant number of high-income earners.
In this article, we'll share everything you need to know about Bing ads.
Factors Affecting the Cost of Bing Ads
Microsoft Advertising provides pay-per-click (PPC) ads for Bing–but how much do Bing ads cost?
Well, it depends. Advertisers only pay when a potential lead clicks on their ad.
Because of this, you need to assess your budget in terms of cost-per-click (CPC) and the number of clicks.
Let's say you want a PPC ad to get 100 clicks per day. Every click has a maximum CPC of $0.50. To determine your possible daily cost, multiply $0.50 by 100—$50 per day.
If you want to change your budget, make the necessary adjustments on the Microsoft Advertising platform.
There are two budget types in the Bing ad platform:
Daily: Targeted daily limit for PPC ad spend (actual amount could be a bit higher or lower).
Shared: Lets you set up multiple campaigns with a shared budget.
Microsoft's daily budget types let you estimate the amount you may spend on advertising per month using the following formula:
If you change your daily ad spend, use this formula to figure out the monthly cost:
Although PPC spend could surpass the estimated monthly limit, Microsoft Advertising will refund the excess cost at the end of the month.
Types of Bing Ads
Now that we've looked at Bing ad costs, let's take a look at the different types of Bing Ads you can create.
Expanded Text Ads
This type of ad is usually found in search results. The title allows three headlines of up to 30 characters each, and text including up to two descriptions of up to 90 characters each.
Here's how it looks:

Dynamic Search Ads
These appear on relevant search queries related to your website. There's no need to manage bids, maintain keyword lists, and customize ad titles.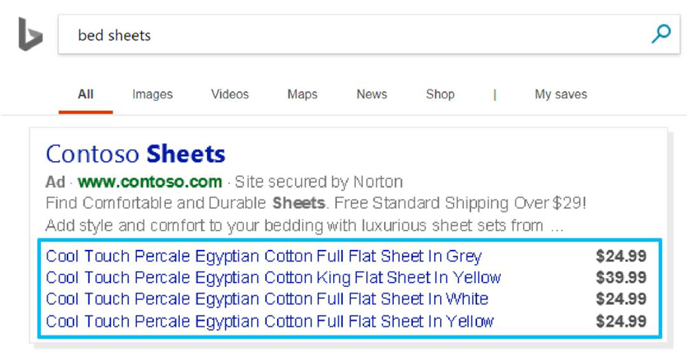 Product Ads
Product ads include product images, prices, promotional text, and seller information.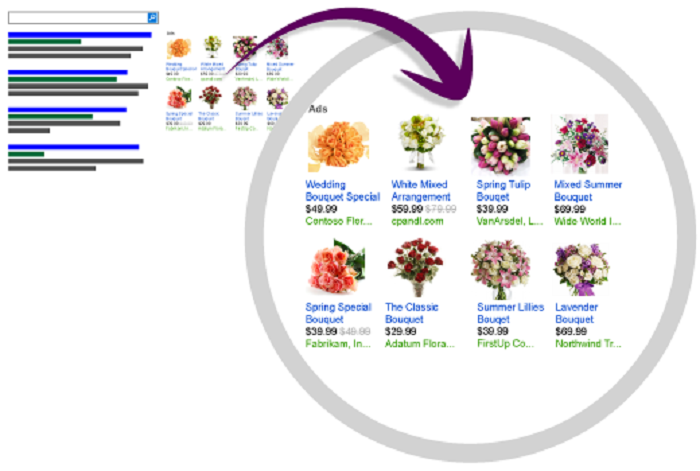 Microsoft Audience Ads
These ads enable businesses to collect non-search traffic through contextual and strategic placements. They can be placed in an article or page content to provide additional avenues for brands to communicate with visitors.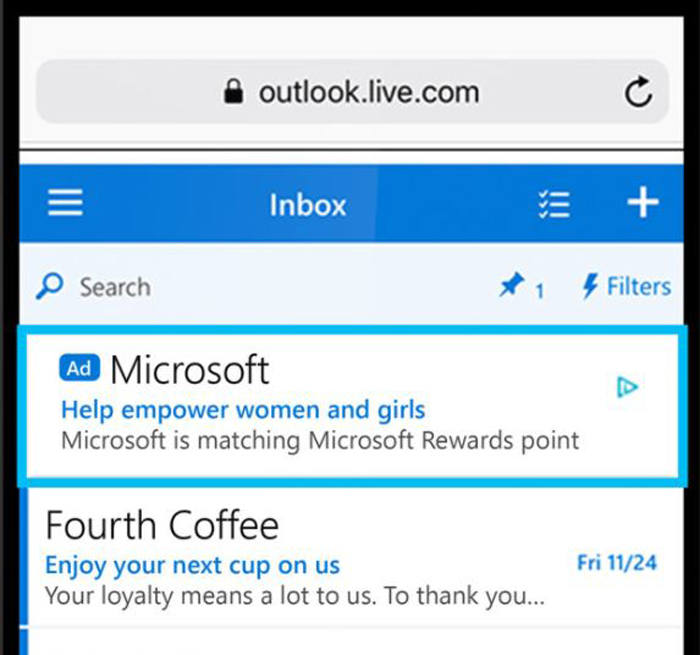 Microsoft Advertising in Bing Smart Search
Smart Search results showcase a preview of your landing page.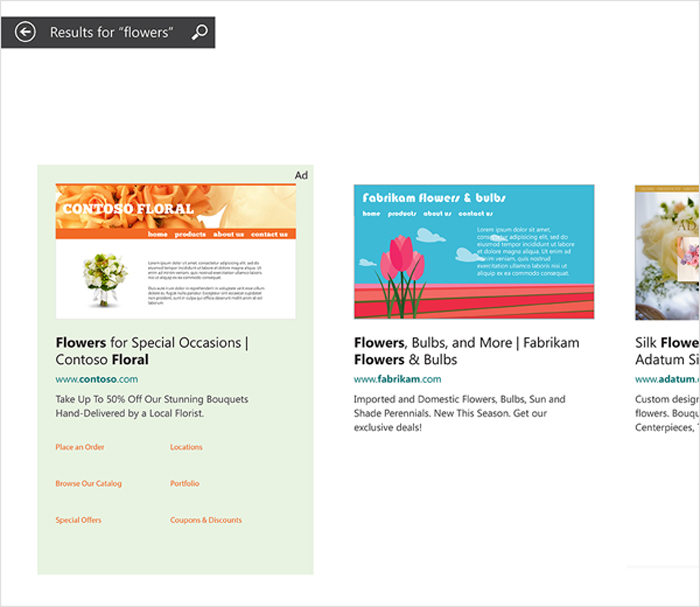 App Install Ads
These look like regular text ads but have direct links to your app store, leading you to a post from which you can download the advertised app.
Responsive Search Ads
These ads eliminate the need to identify ideal headlines and ad descriptions. All you need to do is list 15 headlines and four descriptions; then, Microsoft Advertising determines the best combinations.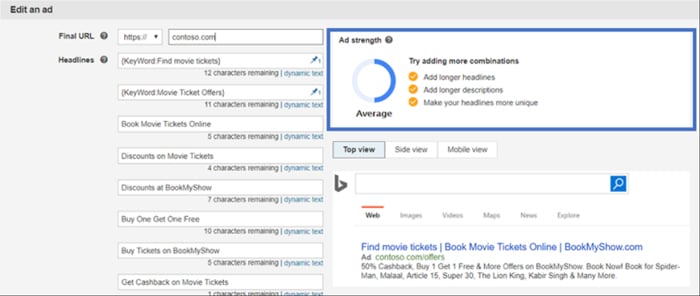 Bidding Strategy
Microsoft Advertising has several bidding strategies to help ensure your money is well-spent based on clicks, conversions, and searches.
Consider the following ways this platform can manage your bids:
Enhanced CPC: This is the default way to manage bids in your campaigns. To get started, select your ad group and keyword bids. Then, Microsoft Advertising modifies bids in real-time to potentially boost conversions.
Maximize Clicks: This lets you achieve the most clicks possible based on your specified budget.
Maximize Conversions: True to its name, this enables Bing to set bids and gain as many conversions as possible based on your budget. You can set a maximum CPC, so you don't have to pay more than a specific amount for a click.
Target Cost Per Acquisition (CPA): You can set a 30-day target CPA, and Microsoft Advertising will automate bids. In this strategy, keyword bids are optimized based on ad schedule, device, and location.
Target Return on Ad Spend (ROAS): This metric allows you to set a budget with a target 30-day average ROAS. Once it's specified, Microsoft Advertising enables users to bid in real-time to attain this average.
Manual CPC: Manual CPC lets you manage your keyword bids and ad groups.
Bing Ad Metrics
Once you set up a campaign, you'll find several performance metrics based on your keywords.
Here are the key performance metrics in Microsoft Advertising:
Estimated Monthly Clicks: number of times people are expected to click your ads per month based on your budget, targeting, and keywords
Estimated Monthly Impressions: number of times people should see your ads in a month based on your budget, targeting, and keywords
Estimated Monthly Spend: estimated cost of the ad group per month
Estimated Average Position: placement of the ad in the search results, such as top, side, or bottom
There are also other common metrics that you can use to measure an ad's performance and your ROI.
Impressions: the number of times your PPC ads were featured on the Bing SERPs
Conversions: number of clicks on PPC campaign ads
Conversion Rate: percentage of visitors who clicked your website upon viewing the ad
Cost Per Action (CPA): average cost of conversion from your PPC campaign ad
Average CPC: total paid for all clicks divided by the total number of clicks
Total Ad Spend: total spent on all clicks
Return on Ad Spend: total revenue generated from PPC ads divided by the total amount spent on this channel
Average Position: the average position of the PPC ad on the Bing SERPs
CTR: average rate of clicks on your PPC ads
Revenue total revenue generated from conversions
Bing Ads Cost Per Industry
Bing may not be as popular as Google, but it often has great results anyway.
Users may experience higher CTRs and conversion rates at lower CPCs and CPAs.
A WordStream study suggests the average CTR for Bing across all industries is around 2.83 percent. B2B services have an even higher CTR at 3.01 percent, making this worth investigating if that's your type of business.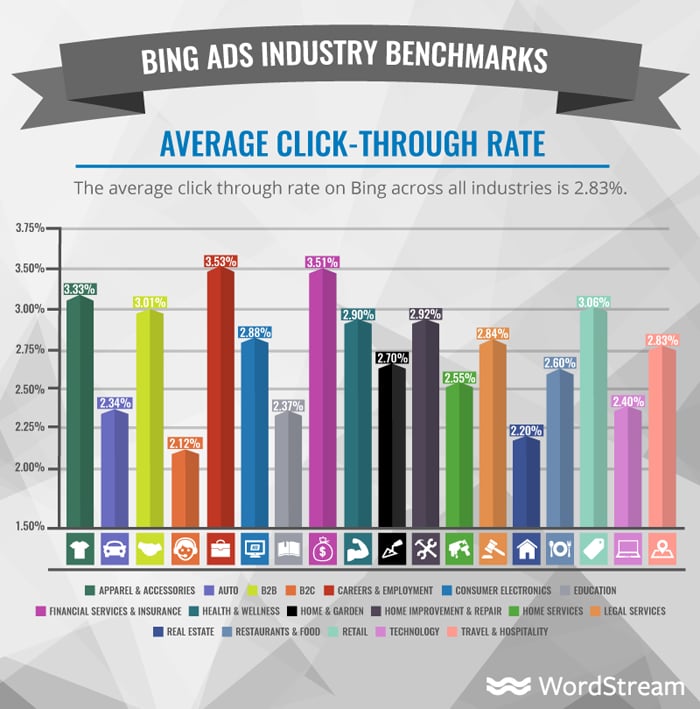 Then, there's CPC. Bing's average cost per click is $1.54—33 percent lower than Google Ads.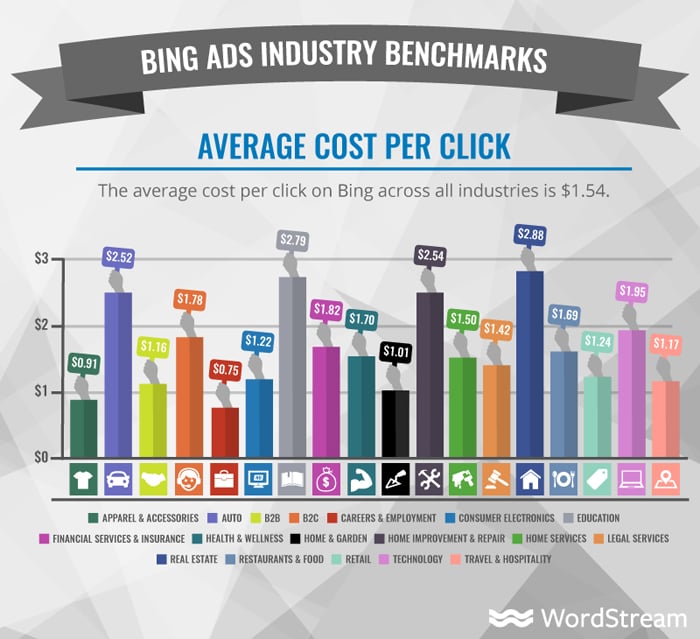 Of course, you want to get people to convert. Bing's conversion rate is an average of 2.94 percent, with varying industries experiencing conversion rates between about 1.58 and 6.81 percent.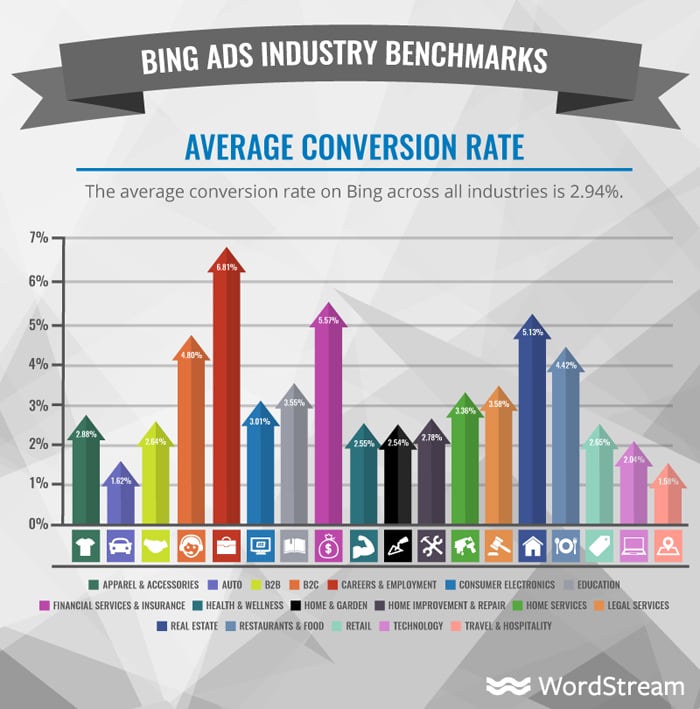 Bing's average CPA across industries is $41.44.
Small businesses on a tight budget may be delighted to learn the average CPA is 30 percent lower than the AdWords customers' average. Industries that enjoy a low CPA include home services ($21.68), careers and employment ($23.71), and apparel and accessories ($25.16).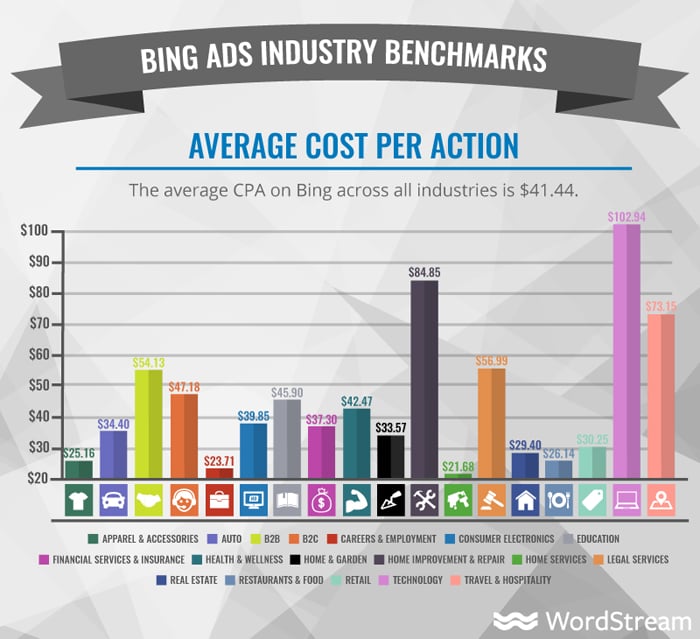 These numbers prove Bing is an ideal platform for launching PPC ads. Marketers can expect stronger performance and better results by leveraging Bing for their paid search campaigns.
What Affects Bing Ad Spend?
How much do Bing ads cost? How much money should you allot for PPC campaigns? There are a few variables that could impact your budget.
Here are some of the factors to consider.
Account Size
Account size is determined by the number of ad groups, keywords, and campaigns in your account. Big companies with multiple PPC campaigns need larger budgets to keep multiple ads running.
Geographical Area
Location is another crucial factor impacting your PPC budget. Places with bigger populations may require higher CPCs, meaning larger budgets.
Industry
As we've mentioned previously, niche or industry could impact your cost per click.
According to a WordStream study, the lowest CPCs for Bing include careers and employment ($0.75), as well as apparel and accessories ($0.91). Costs are higher for other industries such as real estate ($2.88), education ($2.79), and automotive ($2.52). Moreover, you may have to pay more to target competitive keywords.
On average, CPC is slightly lower on Bing than on Google AdWords. However, it's better to understand the average CPCs in your industry so you can plan accordingly.
Duration and Holidays
Since Bing advertising has a daily budget, a longer campaign duration means higher costs. Fortunately, you can modify the maximum amount you can spend each day so you don't overspend.
When planning your campaign's duration, take note of holidays, as these may impact the campaign's cost. For instance, the fourth quarter of the year has a ton of holidays, so it may not be an ideal time for B2Bs to spend extra money on ads.
To maximize your ad spend, consider the ideal time for clicks and conversions of your past PPC campaigns. Scheduling your campaigns at the best times may ensure your money will be well-spent.
Audience Size
Your audience size impacts your campaign budget. A large audience could result in hundreds of clicks, but if the people clicking aren't your ideal buyers, that's money going to waste. Use data from your clicks to determine if you need to change your tactics.
Conclusion
So how much do Bing Ads cost? As you now know, it depends on which ad types you use, how long you run your campaign, and how well your CPC performs on your PPC ads.
While Bing is a lesser-known search engine, it can also help you improve your PPC campaigns.
If you plan ahead and keep an eye on your data, you could enjoy clicks and conversions at lower prices than other search engines.
If setting up your ad campaigns on Bing sounds daunting, we can assist you!
What successes have you had when advertising on Bing?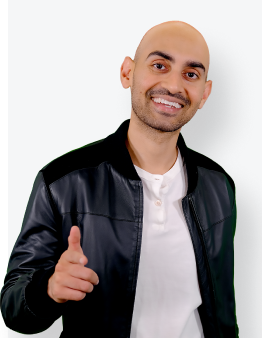 See How My Agency Can Drive More Traffic to Your Website
SEO - unlock more SEO traffic. See real results.
Content Marketing - our team creates epic content that will get shared, get links, and attract traffic.
Paid Media - effective paid strategies with clear ROI.
Are You Using Google Ads? Try Our FREE Ads Grader!
Stop wasting money and unlock the hidden potential of your advertising.
Discover the power of intentional advertising.
Reach your ideal target audience.
Maximize ad spend efficiency.