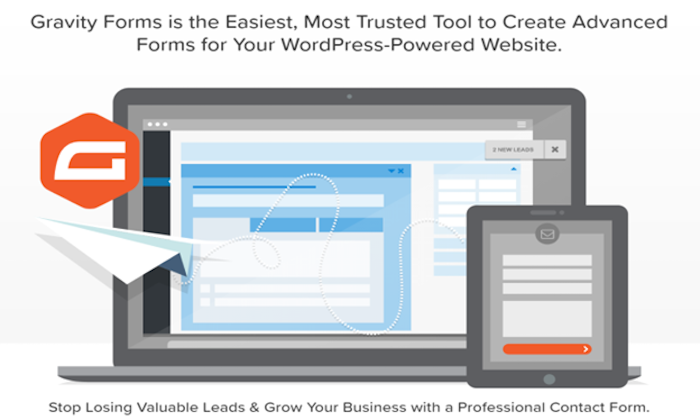 Disclosure: This content is reader-supported, which means if you click on some of our links that we may earn a commission.
What do you want people to do when they visit your site? Contact you? Sign up for your newsletter? Fill out a survey?
Make it easy for them with an eye-catching, intuitive form. To do that, you need a WordPress form plugin that lets you build one.
Make a lasting connection with online visitors. Get them on an email list and give them a reason to come back.
If you have been on my site before, you'll know that I use WordPress form plugins. They are a big part of how I've grown this blog to millions of readers each month.
Here are my reviews of the top seven form plugins you can start using today. After my recommendations, you'll find a short guide that will help you find the best one for you.
#1 – Elementor Review — The Best for Full Customization & Integration
You might have heard of Elementor before. That's probably because it's one of the most powerful, versatile, and effective WordPress plugins in existence.
With Elementor Pro, you get its flagship tool (a page editor that is a massive improvement on WordPress' native editor), and hundreds of site kits, templates, and widgets.
That's not just a plugin, that's the WordPress tool equivalent of a Swiss Army knife.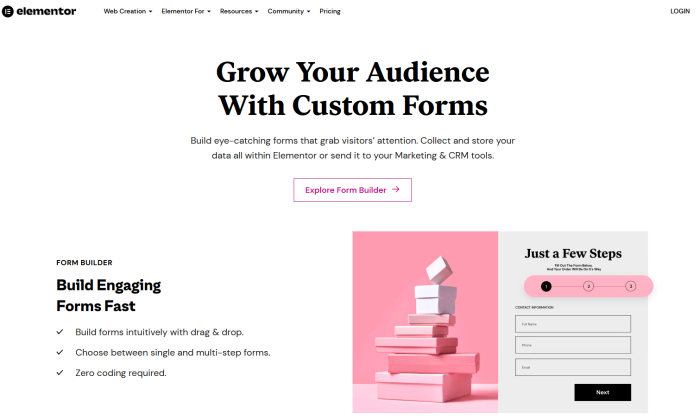 Among the widgets you can add to your site with Elementor are custom forms. You get full control of what information you want them to capture and how they look, with no need for coding whatsoever.
From a contact form or straightforward lead gathering device to customer satisfaction surveys, account registrations, and event RSVPs, you're unlimited in what you can create in Elementor.
With Elementor's gorgeous and user-friendly editor, it'll only take you minutes to set the fields you want, match the form to your branding, and set actions for what happens after form submission.
Make a multi-step form to capture and prequalify a lead that sends them an email after submission and enters their information automatically into your CRM in minutes. And that's just one example.
Elementor's forms sync easily with leading CRMs and email marketing platforms, as well as other WordPress plugins like Yoast and platforms like Slack, Discord, and YouTube.
Plus, anti-spam protection and reCAPTCHA are built-in to prevent your forms from getting overrun by bots and fake sign-ups.
And, really, that's just scraping the surface of what you can do with forms in Elementor.
Now, for a powerful tool like this, you may think you'll have to pay a king's ransom. After all, you can't get Elementor's forms without signing up for the whole Elementor Pro suite.
But, wouldn't you believe it, Elementor Pro for a single website is only $49 per year. That's cheaper than a few options on this list that only do forms.
Need Elementor for more than one website? You can get it licensed for three sites for $99 per year or get up to 25 sites covered for $199 per year.
Elementor is one of the most potent and valuable WordPress tools you can have on your website. Take advantage of all Elementor has to offer by getting started today.
#2 – Gravity Forms Review — The Best for Advanced Users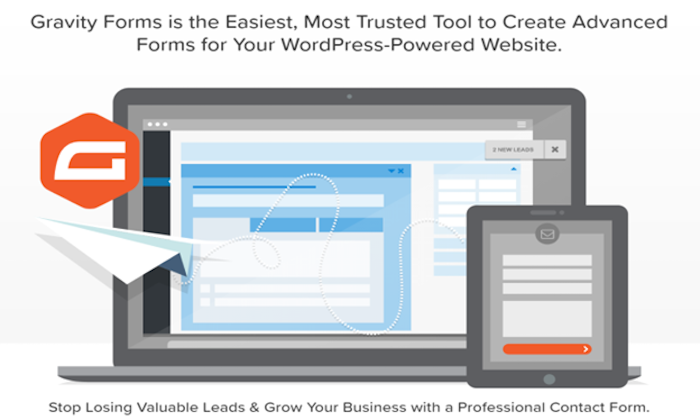 Gravity Forms goes beyond your typical contact form. It has tons of integrations and add-ons for a smart, multipurpose form.
It doesn't have a free version, but the add-ons you get make for such a comprehensive and customizable form plugin that it's worth it. If you're a developer who wants to make your form unique, Gravity Forms can help. The plugin is scalable for your business, and it offers excellent security for your site.
You can choose from three packages:
Basic—$59 per year
Pro—$159 per year
Elite—$259 per year
Basic gives you unlimited forms and entries for one site. With multipage forms, conditional logic, and file uploads, visitors have more options than your typical single-page form. Automatic updates and standard support give you the resources you need to keep your forms running.
The real star of Gravity Forms is its add-on options. Even with the Basic package, you get plenty, including Mailchimp, ActiveCampaign, AWeber, HubSpot, and many more.
Pro upgrades you to three sites and gives you all the features of Basic. When you go Pro, you're basically paying for the add-ons. But with several payment, CRM, and other management add-ons, you might find they make your life easier.
The top tier, Elite, gives you unlimited sites and all Pro features. With Elite, you can make other types of forms, like surveys, polls, and quizzes. You can also make filling out your forms more convenient with signatures, user registration, and partial entries. Plus, with priority support, you get issues resolved fast. Learn more at Gravity Forms.
#3 – Jetpack Forms Review — The Best for Form Security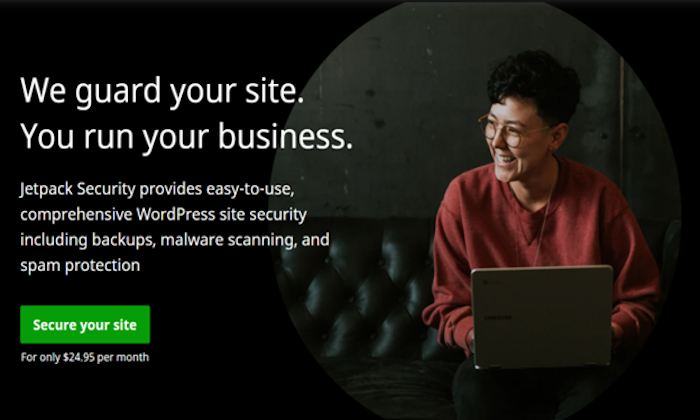 Jetpack is more of a suite than a form-specific plugin, but it still has plenty of form features. You might not find all the same ones as you would in, say, Formidable Forms, but it has enough if you don't need anything fancy.
What Jetpack lacks in frills, it makes up for in protection. It blocks spam, offers extra security, and even comes with marketing tools.
To use forms, you must enable Jetpack Contact Form in the suite settings. There, you'll have access to features like contact, newsletter, registration, feedback, RSVP, and sign-up forms. You can also build your own form from scratch.
You can specify who receives messages from the forms. With customization features and fields, you can create a unique form with a date picker, checkboxes, radio, and select fields. The block editor also lets you drag and drop or add non-form blocks within the form block.
Jetpack has limited integrations, but you can get newsletters and CRM. There's a free version of the plugin, along with three paid packages:
Backup Daily—$7.95 per month
Security Daily—$19.95 per month
Complete—$79.95 per month
The form plugin comes with all packages, but if you want more security, consider upgrading. Backup Daily offers automated daily backups, one-click restores, and unlimited site storage so that you won't lose anything.
Security Daily includes automated daily scans, anti-spam, and unlimited video hosting on your site. The Complete package comes with real-time automated scans and off-site backup. To make things easier to maintain, you also get a CRM, site search, and more marketing and design tools.
#4 – WPForms Review — The Best for Flexibility and Power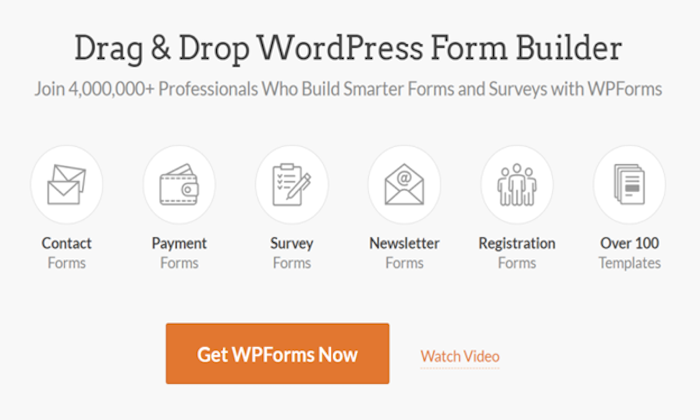 WPForms is one of the best WordPress form plugins you can get. Its intuitive interface makes it ideal for both beginners and more experienced users. You don't have to worry about code or complexities.
It's one of the most powerful form builders thanks to its functionality, multi-page forms, customizability, and the sheer number of forms you can create. Its comprehensive features include everything from file upload capability to conditional logic.
You can make form submission simple with signatures, form abandonment, and user registration. With survey and poll add-ons, you can create tons of different forms beyond your basic contact form. Plus, Conversational Forms help you connect with visitors.
When it comes to communication, Constant Contact integration and instant notifications mean you and your team never miss a beat. Not to mention, the anti-spam honeypots make sure you only get responses from real people who are interested in what you have to offer.
You can choose from five packages:
Lite—Free
Basic—$39.50 per year
Plus—$99.50 per year
Pro—$199.50 per year
Elite—$299.50 per year
WPForms Lite has three templates and 10 form fields. Beyond that, the drag-and-drop design, button customization, and Gutenberg compatibility give you all the design tools you need.
The Basic package gives you unlimited forms and entries, plus advanced fields, form templates, and multi-page forms. It comes with one year of support, downloads, and updates for one site.
Plus upgrades the Basic features with more marketing features. You get newsletter forms, Mailchimp, AWeber, GetResponse, Campaign Monitor, Sendinblue, and Drip for three sites. With this package, you'll have no problem keeping track of your forms.
With Pro, you get everything Plus has to offer, along with even more marketing integrations. With form abandonment, conversational forms, offline forms, and a form locker, visitors won't have to worry about losing their place. That means more customers for you.
Pro also allows PayPal and Stripe integrations for easy payments. You get priority support and use of these features across five sites.
Elite includes all Pro features but with even more marketing capability. With ActiveCampaign, Salesforce, Authorize.net, and Webhooks across unlimited sites, you have the tools you need to manage your forms. Elite also gives you client management features and premium support in case anything goes wrong.
#5 – Formidable Forms Review — The Best for Complex Form Creation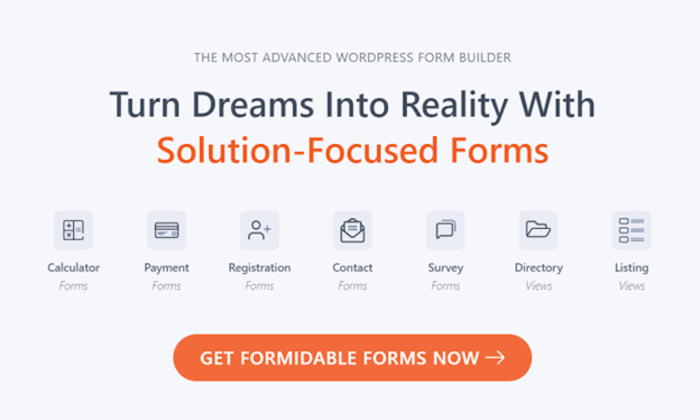 Formidable Forms lets you create forms as complex or as simple as you want. It has more advanced features than any other WordPress form plugin on this list.
Formidable Forms works best if you're an advanced developer. You'll get more out of it if you know how to use all of its features, and it's not as beginner-friendly as other form plugins.
With tons of integrations, including WooCommerce, you'll find plenty of use for it, whether you need an easy contact form or a complex survey.
You can get Formidable Forms in four packages:
Basic—$74 per year
Plus—$149 per year
Business—$299 per year
Elite—$599 per year
Basic comes with unlimited forms and entries, along with advanced and multipage forms. File upload and review before submit features give visitors what they need for efficient form completion. Automatic updates keep your forms current for you, and you get a year of support for one site.
Plus upgrades you to three sites with add-ons like Mailchimp, AWeber, MailPoet newsletters, and Bootstrap form styling and modals. Formidable Views, reviews, and comments also make it easy for you to see what people think of your site and who uses your forms. You can even create surveys and polls beyond your basic forms.
The Business package adds calculators, user registration, and signatures. You get payment add-ons, Formidable Forms API, date picker options, and quiz maker. With marketing add-ons like Campaign Monitor and GetResponse, you have even more ways to improve how you use form responses. You can also use Polylang to make your site accessible in multiple languages across up to 15 sites.
Elite is where the WooCommerce integration comes in. You can also take advantage of marketing tools like ActiveCampaign, Salesforce, and Hubspot.
With Elite's access to all form templates, unlimited sites, and all Business package features, you'll have no shortage of ways to customize your forms and how they work for you. And priority support means you can keep things up and running without the wait.
#6 Ninja Forms Review — The Best for Quick Solutions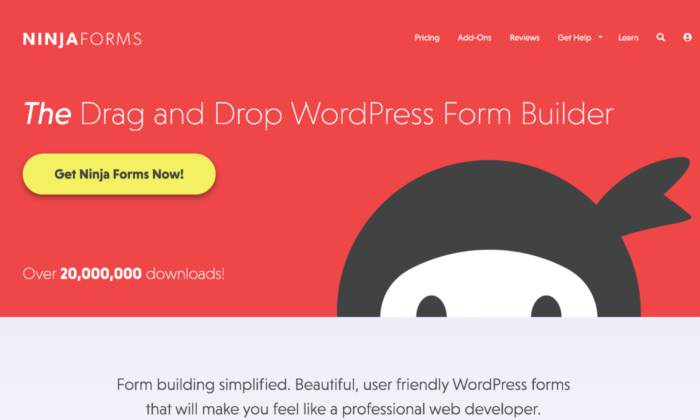 Ninja Forms has your solution for quality forms with minimal effort. Its drag and drop setup means you don't have to be tech-savvy to upgrade your forms.
The plugin's beginner-friendly interface includes pre-built templates, dedicated fields, customization options, and spam management. These features make it easy for you to add a form fast when you need one.
You have three paid package options:
Personal—$99.50 per year
Professional—$199.50 per year
Agency—$249.50 per year
Personal allows you one site with priority support. You can use form building features like layout and styles, conditional logic, file uploads, and multipage forms. Marketing add-ons like Mailchimp, Constant Contact, Campaign Monitor, and ConvertKit help you keep track of your marketing campaign and its success rate. You also get 20% off all future add-ons you buy.
When you upgrade to Professional, you can use the plugin on 20 sites. You get more payment integrations, like PayPal Express and Stripe to make customer purchases convenient.
When it comes to forms, it makes for low effort completion with user management login, as well as registration, update profile, and post creation forms. Users can even save their form progress. The add-on discount also doubles to 40% for any you buy after purchasing this package.
Agency comes with unlimited sites and all form add-ons, including those they release in the future. You have access to all CRM integrations, including Salesforce, Zoho, Insightly, HubSpot, and more, plus SMS and Slack notifications. Connect your forms to workflow management software like Trello and Help Scout, and use advanced analytics and email marketing tools.
If you only want some of these features, Ninja Forms offers an a la carte option. You can choose the features you need, and the cost is from $29 to $129 a year for up to 20 sites.
#7 Caldera Forms Review — The Best for Free Features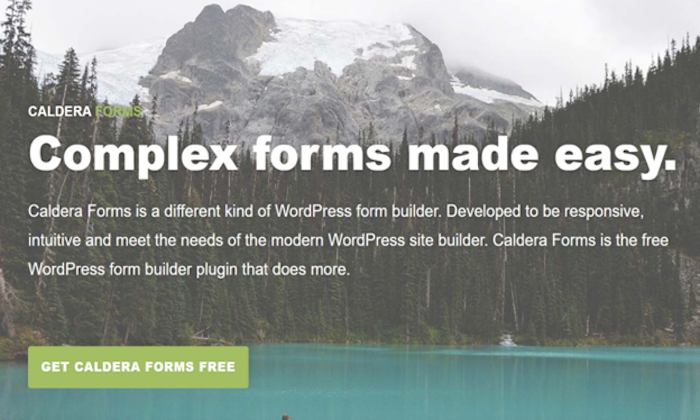 Like most form plugins for WordPress, Caldera Forms has plenty of paid options. The difference here is that it gives you access to more free features than most others.
You get templates and compatibility with almost every WordPress theme available. It has a drag-and-drop builder, as well as a freeform builder for better customization.
You can get free and premium add-ons for payments, sales, and email marketing. It also has spam prevention and notifications, so you always know what's going on with your forms.
Unfortunately, even the paid version doesn't have many advanced features. If you're a developer, you might want something you can play with more.
If Caldera's simplicity appeals to you, you can choose from three packages:
Toolbelt—$49.50 per year
Toolbox—$99.50 per year
Toolchest—$249.50 per year
Toolbelt comes with plenty of marketing and payment integrations, including PayPal, ConvertKit, ActiveCampaign, Mailchimp, and AWeber. You also have options like entry limiter, geolocation, conditional fail, and Slack to help you get all the information you need from your forms. Best of all, Toolbelt gives you unlimited sites, a rare feature for the cheapest payment options.
Toolbox enhances your forms with easy queries, YouTube signup forms, custom fields, and email verification. You can also learn more about your forms' success with Google Analytics, and send responses where they need to go with Connected Forms.
Toolchest allows you to add members and use premium EDD integration. With Divi Styler, you can take form design to the next level. Braintree, Dwolla, and Nexmo integrations help you collect payments easily, interact with data, and connect your forms where you need them.
#8 HappyForms Review —The Best for Lightweight Forms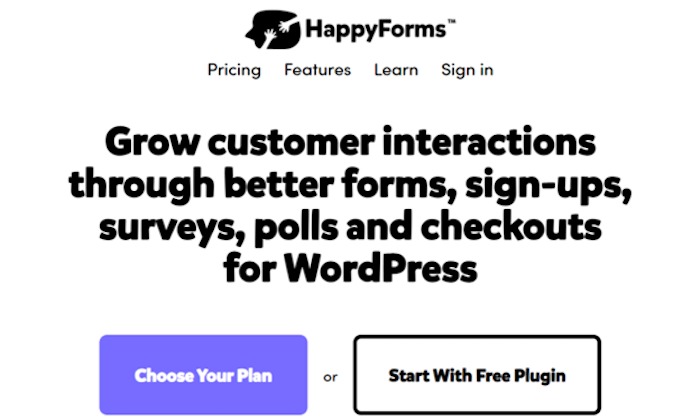 HappyForms is a no-frills form plugin built into the WordPress Customizer. Its lightweight code keeps up performance on your site, and everything about it is made to be user-friendly.
With a drag and drop form builder, it's easy to include in your site design. It also comes with a Google reCaptcha spam prevention feature. As a Gutenberg-ready plugin, you don't have to modify anything to start building your forms.
HappyForms doesn't have many advanced features. Still, if you know anything about tech, you know that you need a high-quality foundation. That's what HappyForms offers.
You can choose from three packages:
Starter—$49 per year
Business—$99 per year
Professional—$249 per year
Starter lets you customize your forms on one site with conditional logic, multipage forms, time and date scheduling, and live polls. You can even tailor submission details with a preview before submission, redirect after submission, and a submission block list.
With import and export tools along with file upload, you have everything you need for a solid starter form. Plus, this tier gives you 20% off future renewals.
Business gives you a year of updates for five sites and all Starter features. The main difference between the two levels is that Business gives you a ton of integrations. You get Google Analytics, Mailchimp, SendFox, PayPal, Constant Contact, Zapier, ActiveCampaign, and more.
With Professional, you get a year of updates for unlimited sites but no extra features beyond what Business offers. Essentially, you're just paying to use those features on more sites.
What I Looked at to Find the Best WordPress Form Plugin
Before you buy, you want to know that your WordPress form plugin will serve your business well.
Some plugins offer advanced features but focus instead on what your company actually needs. Look for these features and criteria in your plugins to help you decide which one is right for you.
Customizability
Whether you need multiple tools or branding customizability, it helps to know how much you can change your forms. Fully customizable forms give you more options and better ways to make them your own.
Look for options like how many fields you can add, dropdowns, and design features. The level of customizability determines how the form works for your site.
Visual Builder
A visual drag-and-drop builder works well for beginners. It also makes adding a form to your site more efficient.
That said, if you have experience with creating websites and incorporating different elements, a freeform builder gives you more freedom.
Spam Protection
You want spam protection for you and your visitors. It makes people feel safe and keeps both their and your information secure. Spam protection also shows that the plugin you get offers more than the bare minimum.
Responsiveness
Your form should work on all types of devices. If it doesn't work on mobile, that will deter people. According to Sweor, 57% of people won't recommend a website that doesn't work on mobile devices. Test your form and make sure visitors can fill it out just as easily on their phones as on desktop.
Conditional Logic
Conditional logic gives your form an "if this, then that" logic system. These systems streamline the submission process and help sort responses where they need to go within your company.
Conditional logic allows customers to skip parts of the form that don't apply to them. The form recognizes their answers to certain questions and then hides or shows applicable questions.
Communication System
A communication system within your plugin keeps your system organized. It tells the right people in your company when they receive a new submission. With a streamlined system, it becomes easier for the appropriate people to handle specific tasks.
Conclusion
Your WordPress form plugin should make it easy for customers to fill out forms and for you to get the responses you need. Choose something that has all the right features from the start.
A good form plugin for WordPress should offer more than a simple contact form. Look for spam protection, a high-quality builder, customizability, and make sure it works on all devices. When you have a form that reaches more visitors, you have a higher chance of turning them into buyers.
To recap, here are the top WordPress form plugins: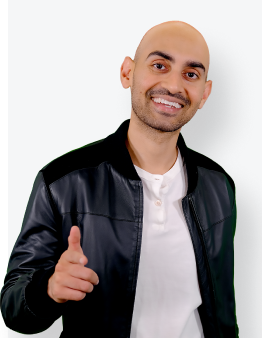 See How My Agency Can Drive More Traffic to Your Website
SEO - unlock more SEO traffic. See real results.
Content Marketing - our team creates epic content that will get shared, get links, and attract traffic.
Paid Media - effective paid strategies with clear ROI.
Are You Using Google Ads? Try Our FREE Ads Grader!
Stop wasting money and unlock the hidden potential of your advertising.
Discover the power of intentional advertising.
Reach your ideal target audience.
Maximize ad spend efficiency.