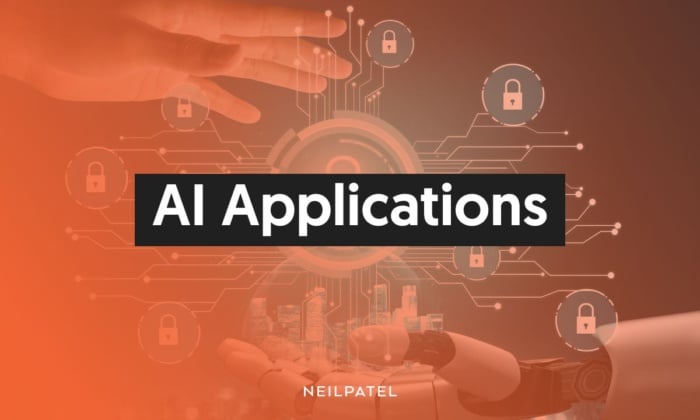 From the smart speakers that play our favorite playlists to the fitness trackers that monitor our workouts at the gym, AI plays a major role in our everyday lives.
You might already use some AI applications in marketing and want to see what other options are out there. Alternatively, you might not use AI apps and want to know how to use them to become more efficient.
I've put together this guide to AI applications for digital marketers so you can see what types of apps are out there and how to make them work for you.
What is an AI Application?
An AI application is a tool or platform that completely or partially uses artificial intelligence (AI) to carry out tasks.
Artificial intelligence is when machines (like computers) perform tasks by thinking like humans would. These machines learn by reading and processing large datasets, using this information to make decisions.

Take ChatGPT, a tool that uses AI technology to respond to users' prompts and questions.
ChatGPT read and digested a wide range of data, including books, newspapers, and content scraped from the world wide web.
Next, human trainers showed ChatGPT how text works alongside other different types of text. This meant ChatGPT could quickly determine patterns and relationships, including which words and sentences would follow each other in a response.
As AI apps gather and learn from more data, they become smarter. This means AI tools can perform more complicated tasks with more accuracy over time.
How Are AI Applications Changing Digital Marketing?
Did you know 51 percent of marketers use AI, with 22 percent planning to use it soon?
AI and digital marketing go together like hot dogs and mustard. AI applications can help you:
Make decisions faster
Brainstorm ideas
Improve your content
Identify patterns and trends
Provide better customer service
AI applications can also free up your time so you can focus on more strategic work. According to Salesforce, digital marketers estimate that AI helps them save over five hours a week.
Finding the Right AI Application for Your Needs
AI technology has evolved at a rapid pace over the last few years. For example, ChatGPT was only launched in November 2022; by January 2023, it had already reached over 100 million monthly users!
As a result, there are now thousands of AI applications for digital marketing teams to take advantage of.
While it can be tempting to sign up for them all, I recommend focusing on a handful of applications that best suit your needs. Here's what to consider:
Budget. Some applications are low-cost and no-cost, while others are more expensive.
Purpose. Not all AI apps have the same functionality. We'll look at the different ways you can use AI in a moment.
Location. Some countries disallow specific AI tools. For example, ChatGPT is currently unavailable in Russia, China, Italy, Syria, Iran, Cuba, and North Korea.
Scalability. Will your AI application grow and change as your business does?
Integration. Some AI tools seamlessly integrate with your other applications. Take Zapier, for example, which uses AI to connect apps and services together, automating repetitive tasks.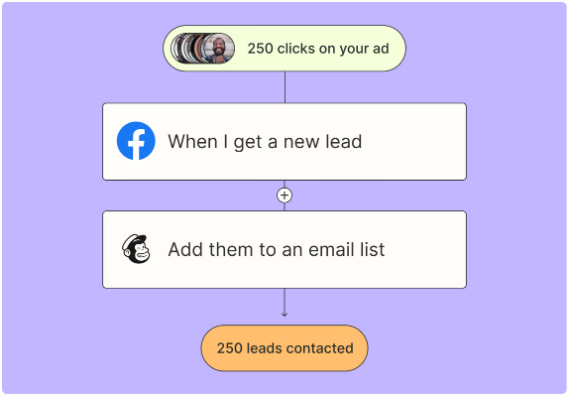 The Latest in AI Applications for Digital Marketing
ChatGPT is one of the most well-known and used AI applications currently on the market. However, there are lots of other apps out there too.
Here are some of my favorites and how you can use them to drive your digital marketing forward.
SEO Optimization
SEO can be tough, especially if you work in a highly competitive industry like insurance or real estate. AI can help by automating repetitive tasks like optimizing meta titles and descriptions, as well as providing valuable insight as to how to improve your search engine rankings.
You can use ChatGPT for SEO, but here are some other tools that will help you: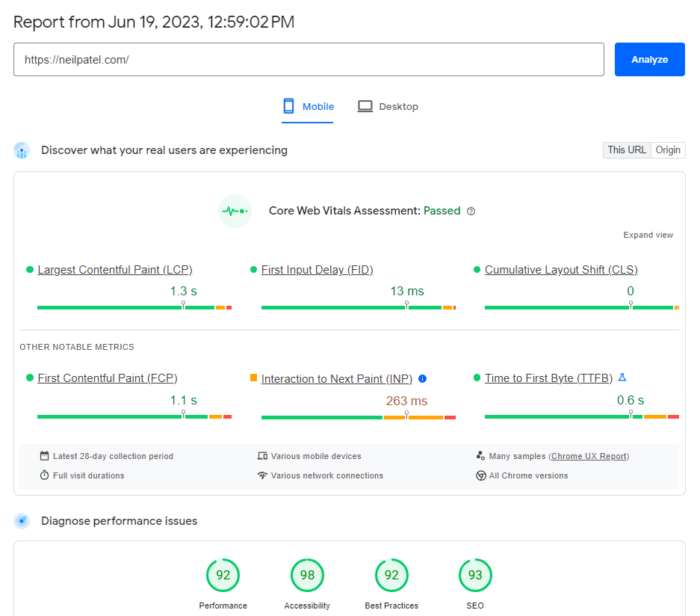 Digital Assistants
As digital marketers, we often dream of having our own personal assistant who can do all our paperwork, manage our time, and help us be more productive. The great thing is, with artificial intelligence, you have your very own digital assistant at your fingertips!
There are AI applications you can use to carry out the dull tasks you do every day. For example, Otter.ai automatically transcribes your meetings for you, sending an email summary to participants so they can jump to a specific point.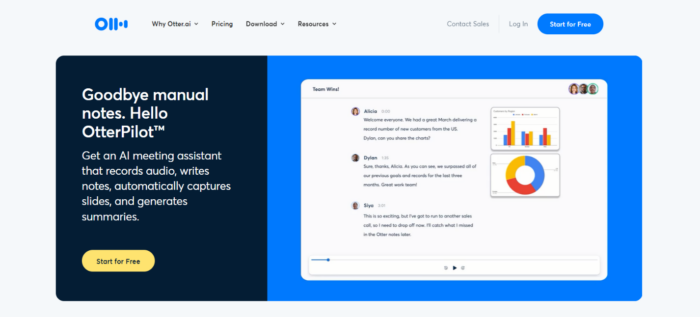 A solid CRM is indispensable to the modern digital marketer, and HubSpot uses a suite of AI tools to make the day run more smoothly. It can draft emails, create new contacts, and automatically enrich company information in your database.
If you want to enhance your cold outreach emails, Drift uses AI to develop high-quality, personalized emails to make prospective customers want to know more. 78 percent of customers are more likely to make repeat purchases from brands that personalize their marketing efforts.
And, of course, honorable mentions go to AI assistants like Alexa, Siri, Google Assistant, and Cortana, which create to-do lists, set alarms, and manage our calendars.
Content Creation and Copywriting
AI for content creation has been around longer than you might think. The spellcheck tools in Google Docs and Microsoft Word have long used AI to identify how words are used in a specific context and suggest alternatives.
Modern AI applications are great for writing web copy and blogs, as well as creating other media like images, videos, and even audio—this content is often referred to as generative AI.
Sir Paul McCartney recently used AI technology to create a new Beatles song using John Lennon's voice—how cool is that?
As well as ChatGPT, there are lots of other awesome AI tools for copywriting:
Bard is Google's equivalent of ChatGPT, which has the benefit of being integrated with tools like Google Workspace and Gmail.
Perplexity.ai can search the web, unlike ChatGPT, and can provide more up-to-date responses to prompts. ChatGPT-3 has a knowledge cutoff of September 2021, meaning it can't process data created past this date.
Paragraph Rewriter can give your existing copy a tune-up. Copy and paste your text into the box, and you'll get an alternatively worded paragraph in just a few seconds. It's great if you want to revive and refresh existing content or carry out A/B testing to see which wording customers engage with more.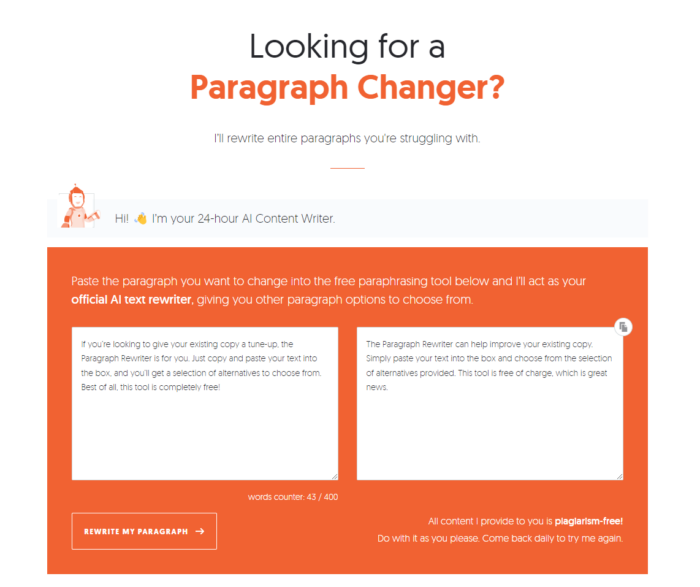 Live Chat and Chatbots
If you operate a website, live chat opens an entirely new channel for customers to contact you. With chatbot functionality, you can make managing customer queries even easier.
Chatbots use AI to hold a conversation with website users by identifying specific words and phrases. For example, let's say a customer wants to know the status of their order. By providing a tracking number, the chatbot can let them know if their order has been dispatched or not.
If a customer needs a little extra help, the chatbot can pass them through to a human agent.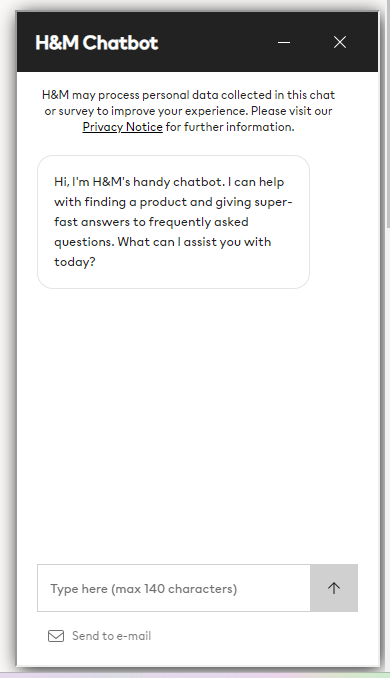 The main benefit of chatbots are that you can offer a 24/7 service, reply to customers quickly, and save time answering simple or repetitive customer queries.
Over half of people say that one of the most frustrating things about talking to customer service is waiting too long for a response. This makes chatbots a great way to keep your web users happy.
Several AI apps offer chatbot functionality, including Tidio, Chatfuel, and ChatBot. You can even use Facebook Messenger to handle chat, integrating it with plugins to provide the precise functionality you need.
Data Gathering and Predictive Analytics
AI applications can also analyze data and predict trends for your business. They do this by reviewing your data and identifying patterns from existing data sets.
The new iteration of Google Analytics, GA4, uses AI to identify how website users will behave in the future. This means you can learn more about your customers and which ones you should target through digital marketing to achieve your goals.
Other tools you might be interested in include:
Brandwatch uses AI to summarize the themes competitors post about on their social media accounts, as well as the overall tone of the content.
Monkeylearn is a no-code platform that monitors the sentiment and intent of content. Users can choose from pre-trained models or build and train their own model.
Browse AI extracts data from websites and also uses AI to monitor changes on any website, meaning you save time on repetitive tasks.
Best Practices for Managing AI Applications
AI has many benefits for marketers. However, it also comes with risks.
We surveyed 1,000 digital marketers to ask them their biggest concerns about AI applications. The three most significant issues are content not optimized for SEO (14.9 percent), legal and ethical concerns (14.8 percent), and an over-reliance on AI tools (14.5 percent).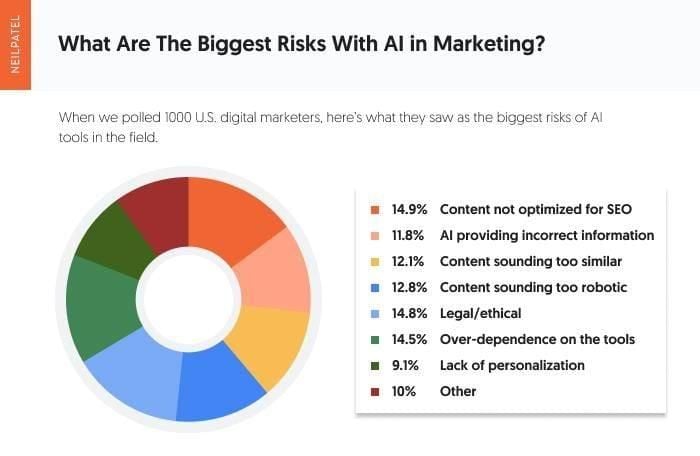 With AI applications in marketing, you get out what you put in. While these applications learn and improve over time, it's critical to take steps to ensure you get accurate and relevant results that provide value to your customers.
Here are some top tips for making the most out of AI.
Provide a Clear and Detailed Brief
While AI applications can do amazing things, getting started requires a human touch. To maximize the chances of success and reduce the risk of incorrect information, you need to provide a thorough brief.
Let's go back to ChatGPT. You can provide as much or as little information as you want to generate a response. However, the more you give the app to go on, the more likely it is to give you content you can utilize.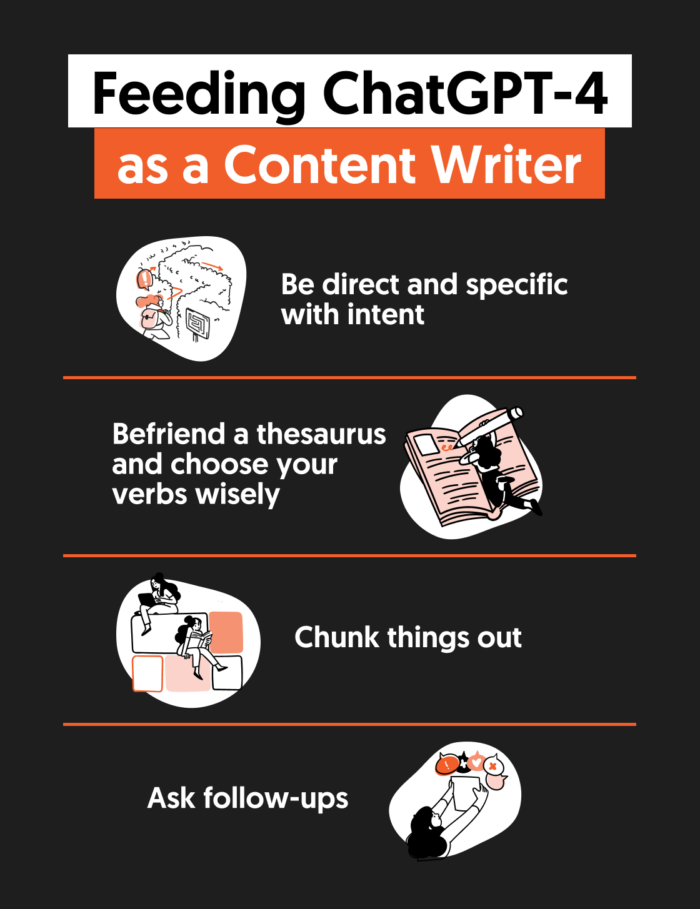 Consider the following when writing a prompt for ChatGPT or similar applications:
Be direct and specific. A vague prompt will lead to a vague response.
Split your content into pieces. Rather than asking ChatGPT to write a whole blog, ask it to write sections at a time.
Specify the voice and tone you want it to use. Here's a handy hint—specify a temperature from 1.0 to 0 to set the randomness of the content. The higher the temperature, the more unpredictable ChatGPT will be!
Ask follow-ups. Don't be afraid to ask a follow-up query if the response isn't right, or to reword your original prompt.
Fact-check and Review
When writing content like this article, it's essential to thoroughly check what you say and cite any claims you make. If you rely on AI applications to create content for you, it's imperative to make sure the end result is truthful.
Poynter recently analyzed ChatGPT's fact-checking capabilities, and the results weren't good. While the app got some questions correct, half of the time, it was inaccurate or provided an unreliable response.
So why is AI prone to errors?
Artificial intelligence learns from the data that is readily available to it. If this data is incomplete, biased, or contradictory, it will show in the results.
Publishing inaccurate and potentially harmful content can have severe consequences for your business, as well as your SEO rankings. Falling foul of Google's strict E-E-A-T guidelines can mean your page is demoted, or even removed, from the search engine results.
If you use AI to generate content for your business, it's crucial to thoroughly check it for accuracy. Look at the claims made and cross-reference them to see if they are backed up by credible sources.
Understand the Potential Limitations
AI applications can do a lot of heavy lifting for your business, but they're not perfect. It's important to understand what they can and can't do.
At the moment, AI applications typically cannot:
Think creatively
Show empathy
Offer critical thinking
Operate without human intervention
As an example, AI applications rely on data and algorithms to work; they can't create new ideas in the same way a human can. If you use an app like Midjourney to create an image, you need to provide a detailed prompt—it can't imagine something that doesn't exist.
Likewise, ChatGPT provides an answer to your response, but it doesn't understand the knowledge behind the words.
By knowing where your application excels and where it needs extra help, you're better equipped to work more efficiently.
However, there are new AI applications that buck this trend. For example, Auto-GPT uses the GPT API model to generate text. Unlike ChatGPT though, it can function autonomously without human intervention and is well-suited for more complicated and detailed tasks, like coding and debugging.
Keep Up to Date with the Latest Technology
The AI landscape is ever-changing, and it's essential to keep up to date with all the latest developments. This ensures you can choose the right AI applications for your needs and utilize all the latest features on offer.
Here are some handy, frequently updated resources that will keep you up to speed:
FAQs About AI Applications
What is an AI application?
An AI application uses artificial intelligence to perform tasks that a human might otherwise do.
These applications are trained by processing large amounts of data and understanding the relationship between each specific element.
What are some examples of AI applications?
There are a wide range of AI applications with several different functions and uses. One of the most well-known is ChatGPT, which people can use to answer questions and get help with tasks.
Other popular AI applications in marketing include Bard, Surfer SEO, Midjourney, and Otter.ai.
Conclusion
Some digital marketers worry that AI applications will take their jobs and leave them behind in the next few years. However, this isn't the case at all.
AI apps can help you save time and generate ideas. This means you can free up your schedule to focus on strategic, high-level ways to help drive your digital marketing forward.
Think of AI as a tool like a laptop or a notebook—something you can use to do your job more efficiently.
How do you use AI applications in marketing, and which tools are your favorite?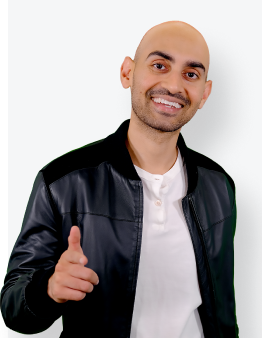 See How My Agency Can Drive More Traffic to Your Website
SEO - unlock more SEO traffic. See real results.
Content Marketing - our team creates epic content that will get shared, get links, and attract traffic.
Paid Media - effective paid strategies with clear ROI.
Are You Using Google Ads? Try Our FREE Ads Grader!
Stop wasting money and unlock the hidden potential of your advertising.
Discover the power of intentional advertising.
Reach your ideal target audience.
Maximize ad spend efficiency.