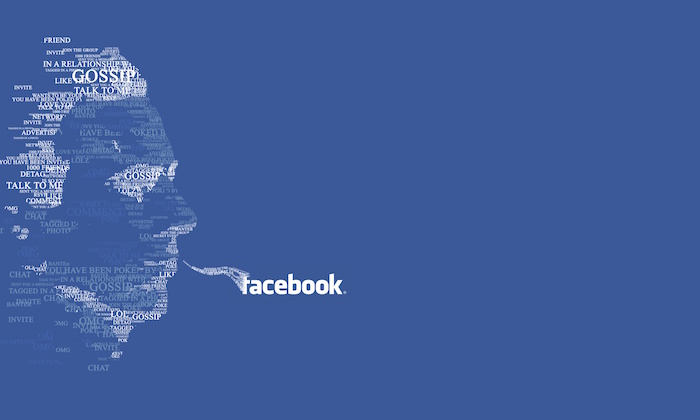 Is Facebook a primary source of traffic for your website?
In a perfect world, you'd be able to drive thousands of daily visitors to your website, via the popular social network Facebook, without spending a dime on fancy marketing tools.
While you may have had some success with organic Facebook traffic, thanks to a strong content marketing strategy, there could come a time when you want to do more.
With billions of daily active users, on average, you can't afford to ignore this traffic source when it comes to your marketing mix.
But, here's the problem: advertising on Facebook as a business owner or marketing team, even if you have unlimited funds, is easier said than done. There is more to this than spending money and waiting for qualified traffic and lead generation success to arrive. If you don't know what you are doing, you could easily blow through thousands of dollars, with nothing to show for it. This is not possible for many small business owners.
Facebook wants you to spend money on advertising and media campaigns. The social media network giant wants you to achieve success. This is why it provides so many marketing tools, as well as the ability to get started for as little as $5.
The Advertising on Facebook webpage includes a variety of information, such as advertiser flexibility and targeting:
With Facebook Ads, you choose the type of people you want to reach and we deliver your ads to them via their news feed. This makes your ads more relevant for the people who see them and brings you real results.
For those times when you need help as a business owner, for advertisers who truly care about saving time and money, there are several Facebook advertising tools to consider utilizing for your small business.
Let's take a closer look at nine of these marketing tools.
What better place to turn for advice, information, and guidance than Facebook itself?
Through Facebook Ads Manager, you have access to all of the marketing tools necessary to create targeted ads meant to reach your audience.
This is the most basic Facebook marketing tool, but that doesn't mean it has nothing to offer. If you plan on advertising your small business on Facebook, you must understand how to use it as part of your media strategy.
There is a five-step approach to getting started with Facebook Ads:
Create a Facebook page or use one that is already existing.

Provide information on what you want to promote.

Choose the appropriate audience for your ad.

Set your budget.

Track your results.
There are no two ways about it: this is the one advertising tool that you need to fully understand, if you plan on reaching your goals. Fortunately, Facebook makes it extremely simple to get started.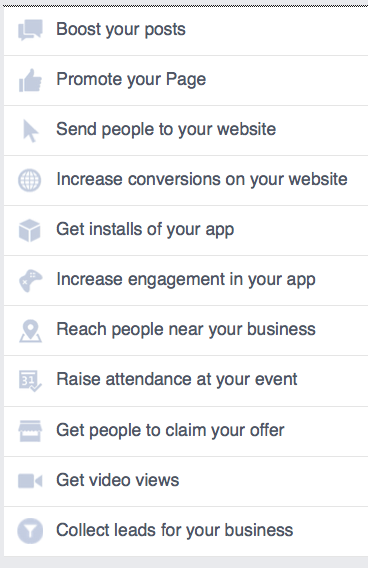 Are you the type of person who is spending less time on your desktop and more time on your smartphone or tablet?
There are billions of smartphone users worldwide and this number is expected to grow even larger. Facebook is aware of this.  That's why the company has dedicated so many resources to providing a strong mobile experience.
But, there is more to the mobile experience than updating your profile and communicating with others. You can also use its Ads Manager App to control all of your marketing campaigns without the need for a desktop computer.
By using the app, marketing professionals have the opportunity to:
Track ad performance.

Edit existing ads.

Edit schedules and budgets.

Create ads.

Receive push notifications.
Imagine this: you are traveling and you discover that your Facebook ad budget has run out. As a business owner or social media manager you don't have to return to the office or pull out your laptop to make changes. You can adjust your budget from your mobile device, immediately putting your small business "back in the game."
Watch this video for a brief overview of the app. If you haven't used it before, now's the time to get started.
One of the top platforms for creating Facebook advertising campaigns, Qwaya is the perfect solution for media marketing experts.
There are many features worth mentioning, but I want to focus on two of my favorites:
Ads A/B Testing
If you aren't A/B testing your ads, you'll never know where to spend your money in the future. With Qwaya, this is never an issue, as you can test every variable imaginable, ensuring that you know what's performing best at all times.
From ad type to news feed placement, use this feature to get more out of every dollar you spend on your social media strategy.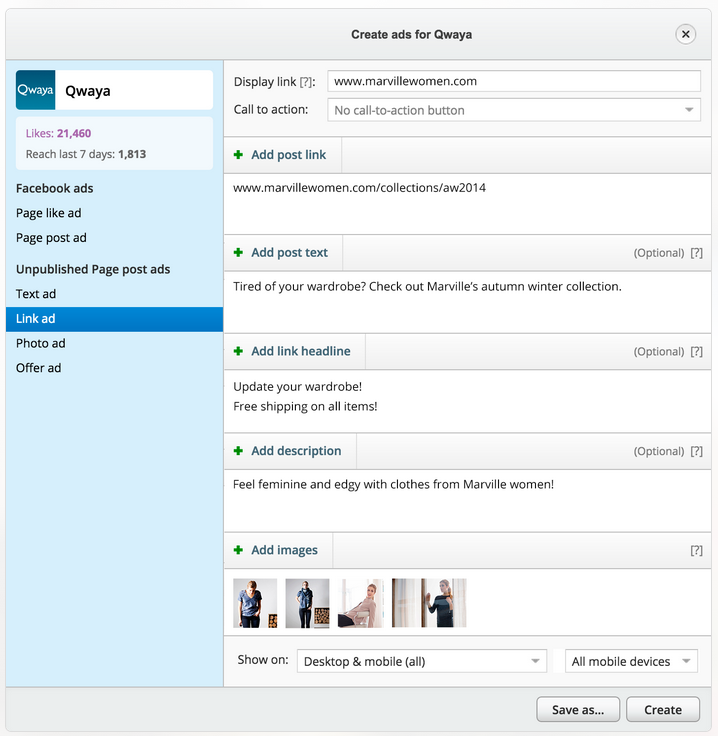 Scheduling
The more online marketing campaigns you run, regardless of the platform, the more difficult it is to track what's active and what's not when it comes to boosting your lead generation.
This isn't an issue when you use the Qwaya scheduling tool. This allows you to schedule campaigns at times when your ROI is highest. Why run ads when your target audience isn't online and ready to buy? It's a waste of a good marketing effort. You need to schedule your campaigns based on targeted days and times.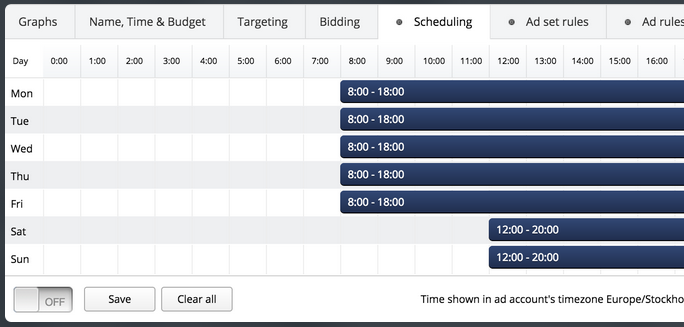 I'll be the first to admit that Qwaya is not as easy to use as some Facebook marketing tools. I am also comfortable saying that its features list is among the best for business owners.
If you have Facebook advertising experience or are willing to go through the learning curve, Qwaya deserves your attention.
Have you ever used a marketing tool on your media account that is too complicated? You know it could work for your small business, but you don't have the time, experience or knowledge to put it to good use.
Well, AdEspresso is the exact opposite. When it comes to Facebook advertising and marketing tools, this one is, by far, among the simplest and most straightforward. It only takes a few minutes to get started, the learning curve is minimal and the results can be astounding for your digital marketing success.
If you stay current with my blog, you know that I'm a big numbers guy. The more data the better and the more chance of quality lead generation. While AdEspresso has a lot going for it, it's the powerful analytics tools that really gets my blood flowing. Some of the features include:
Clean, easy to understand visual analytics.

Customizable dashboards, allowing you to pinpoint top-performing ads and focus on the numbers that mean the most to you.

Detailed metrics for those who want to dig deeper.
Here is how AdEspresso describes its approach to analytics:
Information is displayed in a clear, actionable way, making it simple to understand how your campaign is being optimized. If you want to go in-depth, you can still access every metric available on Facebook and many more available only in AdEspresso.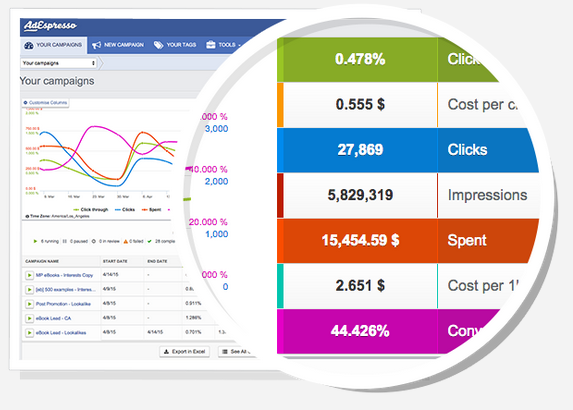 Are you still unsure of how AdEspresso works with social media marketing? Are you concerned that you won't know how to use the tool? Another great feature is "AdEspresso Academy."
With a variety of training tools, all of which are free of cost, you'll never find yourself lost and searching for answers.
If you were to ask me which Facebook marketing tool best suits everyone from beginners to seasoned professionals, I would answer AdEspresso, every time.
You can't argue with the fact that Hootsuite is one of the biggest names across the social networks, with millions of brands and individuals using the service to schedule updates.
Hootsuite Ads allows you to take your Facebook advertising campaigns to the next level.
The perfect solution for anybody seeking a simplified tool, there are several things you need to know about Hootsuite Ads:
Ability to create ads quickly, with as few as two clicks.

The application automatically scans your Facebook Page and news feed, seeking the best posts to promote to your target audience.

Assistance defining goals for each ad, allowing you to tailor your marketing campaign to achieve maximum results.

Advanced ad management features, allowing you to spend less time on ads and more time building your small business.  So, you have access to a central location for managing both paid and organic content.
It's worth noting again that Hootsuite Ads doesn't do anything to complicate the process of creating and implementing Facebook ads. Here is how the tool describes its ease of use:
Take the guesswork out of social media marketing. Our automated targeting and bidding algorithms will turn you into an ad expert.
You can't argue with that. With no guesswork, your confidence will soar.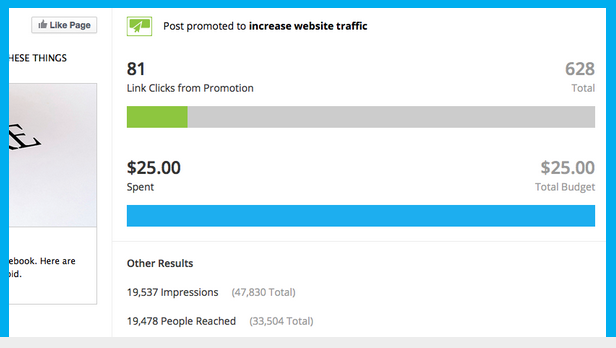 It may not be a "Facebook only" marketing tool, but AdStage still has plenty to offer advertisers.
If you are the type of business owner who advertises on multiple social media sites and not just Facebook, AdStage can make your life easier. Here's the company's tagline:
Create, Optimize and Report across your search and social ads in one place.
With this tool, there is no longer a need to manage all of your ads separately. Instead, you can bring them all together in one convenient dashboard.
Staying on topic, let's see what AdStage offers Facebook advertisers. The thing I like best about this tool is its "Automated Rules" feature. It's explained on the website, as follows:
Monitor and drive better performance for your ad campaigns with Automated Rules in AdStage. Save time optimizing campaigns with rules that schedule your marketing campaigns, alert you based on performance, pause campaigns, increase budgets and more.
If it has anything to do with driving better results to your marketing efforts, while still being able to save time, I'm all for it.
With the help of AdStage, your Facebook advertising campaigns are always in good hands.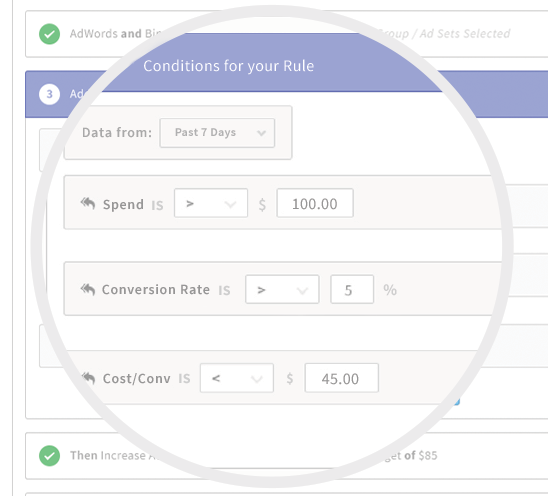 With many top brands relying on Driftrock, including Coca-Cola and BMW, this tool must be something special. And, once you learn more about the features, you will see that this is the case.
Driftrock implements a unique, four-step approach to Facebook advertising:
Create

Automate

Trigger

Lead Response
For example, you can trigger ads based on weather, TV schedules and other signals. Here is an example: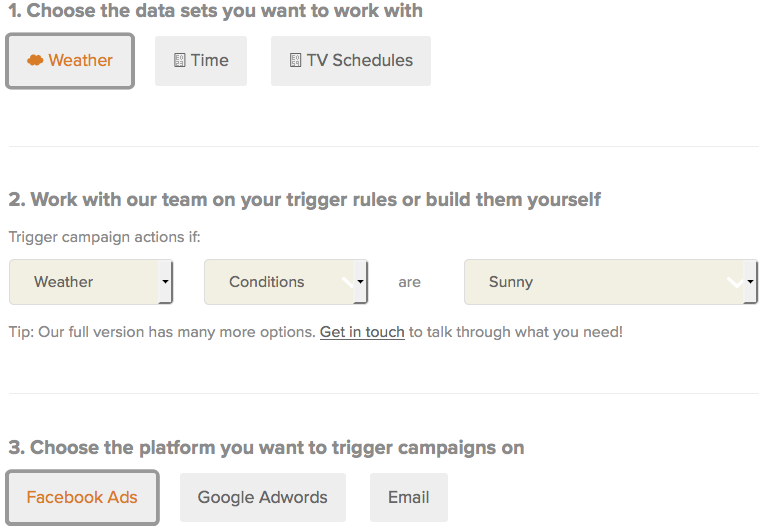 Forget about turning on and off your campaigns based solely on time of day. You can now use a variety of other signals to ensure that your news feed ads and other ads are only running at the optimum time. This improves your chance of a positive ROI.
Still not sure if Driftrock is right for you? Check out this excerpt from a recent blog post:
On the Ad Tech side, we help brands engage with audiences on Facebook at scale, while delivering messages at the perfect time through triggers such as what's on TV or the latest sports results. For example, BMW used Driftrock Triggers to build awareness for BMW xDrive 4X4 technology when it rained or snowed, resulting in a 30% increase in ad engagement.
You tell me, how cool is that?
Retargeting on Facebook is all the rage for savvy lead generation, as it allows you to reach customers when they're most interested in what you have to offer.
AdRoll explains the process in simple terms:
Someone visits your website.

They leave your website without completing the desired action for lead generation, such as making a purchase.

While using Facebook, they are presented with your retargeted ads on their news feed.

They click on the ad, returning to your website to complete the desired action.
I like everything about AdRoll, especially its cross-device reach. This allows you to reach potential customers regardless of the device they are using, including smartphones and tablets.
As you may know, I am a big fan of remarketing. If you need help, in regards to Facebook retargeting, AdRoll can act as your crutch in boosting brand awareness and improving your marketing efforts across the social network.
Facebook retargeting isn't the same as traditional advertising, so don't rely on just any marketing tool as you get started. Find one, such as AdRoll, that focuses on this form of advertising by providing access to the high level features that you need to succeed in your digital marketing.
For a better idea of how AdRoll has helped other companies, here is some data associated with a client campaign: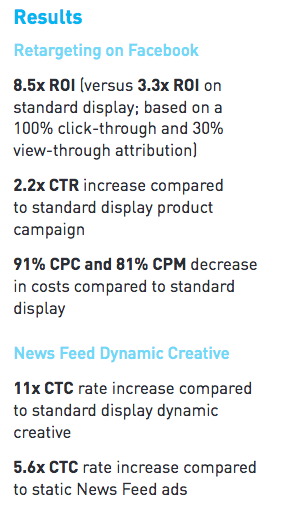 Similar to AdRoll in many ways, Perfect Audience is a Facebook retargeting tool.
There is no gray area as to what this marketing tool can do for your small business:
When customers leave your web site without converting we serve your ads to them on Facebook.
On the surface, it really is that simple. But, as you dig deeper, you'll learn that there is more to retargeting than meets the eye. This is where Perfect Audience comes into play, as the service is meant to be your guide.
Once you set up your account (a free trial is available), your dashboard is home to a variety of high-level data:
Impressions served

Clicks back to your site

Conversions

Cost
Setting up your first campaign only takes a few minutes, thanks to a simple five-step process:

Perfect Audience isn't the most sophisticated Facebook retargeting tool, but it gets the job done.
Conclusion
More than 1 billion people visit Facebook every day. You can either ignore this audience or do whatever it takes to turn some of these people into paying customers.
Once you create a profitable Facebook advertising campaign, you can scale it accordingly. Maybe you want to spend more money on this strategy. Or, maybe you need to step back because you can't handle all of the business and lead generations that you are getting. It's up to you.
Facebook is one of the most popular social media sites in the world. Through advertising, you can quickly reach this audience.
Like with any advertising campaign, you can lose money if you misstep. But, if you rely on one or more of the tools laid out in this post, you'll be in a better position to succeed.
Would you add any other tools for your social media accounts to this list? Share your thoughts in the comment section below.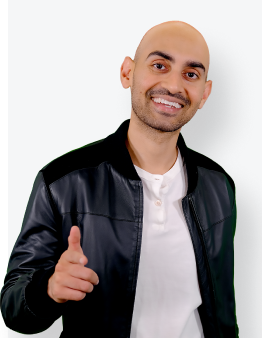 See How My Agency Can Drive More Traffic to Your Website
SEO - unlock more SEO traffic. See real results.
Content Marketing - our team creates epic content that will get shared, get links, and attract traffic.
Paid Media - effective paid strategies with clear ROI.
Are You Using Google Ads? Try Our FREE Ads Grader!
Stop wasting money and unlock the hidden potential of your advertising.
Discover the power of intentional advertising.
Reach your ideal target audience.
Maximize ad spend efficiency.