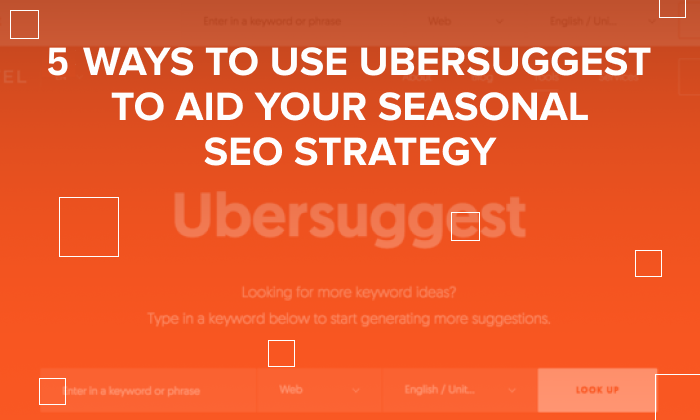 Quick: What time of the year is it?
Is the World Cup on? Is it Christmas? Is it summertime?
I ask this because, depending on the time of year, you can beef up your strategy using seasonal SEO. Some things are trendy year-round. Then we see the popularity of some things change with the seasons. Think costumes close to Halloween or swimwear in the summer.
Seasonal SEO is an important part of any marketing strategy, but it's often overlooked.
It's time to change that!
Let's talk about seasonal SEO's impact and how to leverage it to improve marketing performance.
I'm going to make sure you're reaching the people looking for your products or services with some seasonal SEO tips and tricks to use alongside my SEO tool, Ubersuggest.
Seasonal SEO and Its Impact on Your Overall SEO Strategy
You know SEO strategy is an important part of your online marketing efforts.
You may not know that there's an SEO strategy that can help you during specific times of the year: seasonal SEO.
Seasonal SEO is the practice of optimizing content and keywords to take advantage of seasonal trends in search results.
Say you run a ski resort. Because demand is high in colder months, you want take the steps necessary to ensure your site will rank in the top search results for "ski resorts" once winter arrives.
A seasonal SEO strategy helps you stay relevant throughout the year by making sure that people searching for terms related to your business' season-specific content or products will find you first. (You may recall some of the events shown in Google Trends above.)
As marketers, it's up to us to understand who searches our target organic keywords and phrases—and when they might search them. Then we'll have an idea of which keywords to prioritize at different times of the year.
We see paid search pros doing this by analyzing when to advertise. Bloggers and content marketers do this, too, using copywriting strategically with post timing and frequency.
Now it's time for the organic crowd to learn more about their target audience.
Why?
Because seasonal SEO impacts your entire strategy.
Google sees about 8.5 billion searches every day. Its archive of keyword searches offers somewhat of a theme of what to expect each year. It shows us the key events that always capture the world's attention.
For example, the World Cup and the Olympics are trending topics every four years. The same can goes for election periods. Different holidays are also always top of mind for people depending on the season.
Knowing what people are searching for each season helps you determine which keywords work best in your blog and product pages.
For example, let's say you own a clothing shop. The World Cup is happening in a few months, so how can you leverage seasonal SEO to capitalize on the increase in demand for World Cup-related content and products?
For starters, you could create blogs that discuss the history of professional soccer team uniforms. You could also optimize your existing product pages to include soccer- and World Cup-related keywords so that they rank for terms like "World Cup gear".
Sounds straightforward, but here's the golden question: how can you find the seasonal SEO keywords you should use?
I'll show you, but first let's look at a couple of ways SEO impacts seasonal businesses.
How Seasonal SEO Can Benefit B2Cs and B2Bs
When you think of the word "seasonal" what comes to mind?
For most people, it's the holidays—the time of year when families gather and spend time with each other.
But for businesses and marketers, "seasonal" is about something else: the opportunity to capitalize on the changes in your target audience's behavior throughout the year.
Seasonal SEO can help both B2C and B2B businesses.
As a business owner, you might think your customers are all the same—but they're not.
They have different needs at different times of the year, meaning your marketing strategy needs to change with them.
B2C and B2B marketing tactics for seasonal SEO require:
Focusing a specific time of the year (yes, even the "offseason").
Building content around seasonal themes or events.
Keeping your website up to date with fresh content.
Seasonal SEO is all about understanding how your audience's behavior changes throughout the year.
If you're a B2C company or brand, you know that your consumers' buying habits change. They're looking to buy things specifically for a certain time.
If you're a bridal shop, you know the popular wedding seasons—and even prom—will demand adjusting your SEO for seasonal products.
More long-sleeved wedding dresses on your site's landing page in the spring or summer won't help drive sales. You'll need to adjust your site and content on various platforms to reflect what's in season.
If you're a B2B company or brand, you might notice that your conversion rate tends to fluctuate depending on the season. For example, if you supply containers and packaging, your buyers will need more of your products during the holiday season.
As a B2C or B2B company, seasonal SEO marketing is a gold mine. You can use seasonal keywords to boost your visibility and reach out to new customers who might not have heard of your company.
Still don't believe me?
Let's learn how to find seasonal SEO keywords using Ubersuggest.
Use Ubersuggest in These 5 Ways to Help Your Seasonal SEO
One of the most common mistakes businesses make when trying to improve their online presence is focusing only on keyword research.
They'll spend hours and hours scouring Google and other search engines for keywords that people are using to search for their products or services, and then they'll optimize their website so that it uses those words as much as possible.
But this approach is flawed.
The real key to SEO isn't just finding the right keyword—it's also about making sure you're using those keywords in ways that make sense for your audience and content creation process.
Seasonal SEO can help with this process by giving businesses insight into what kinds of questions their audience asks at certain times of the year.
So, how do we find seasonal SEO keywords? Here are five seasonal SEO tips and tricks using Ubersuggest.
1. Keyword Research
Keyword research gives you more than just content ideas.
You can also find out how much interest is behind a keyword and pinpoint when it's most often searched.
For example, let's say we're approaching the warmer months and you're a shoe retailer like DSW. I'd suggest you start with performing keyword research for which style of shoes will be the most popular in the summer.
Sandals are usually a summer must-have, so let's search the keywords: sandals, flip-flops, and summer. In the results, you can see two very popular brands (Birkenstock and Tory Burch) and that women are the ones most likely to search for these items in the summer.
Armed with this information, you can create or optimize pages on your website targeted toward women's sandals with a focus on the brands and styles that have the most summer search interest.
This strategy doesn't apply only to content. You can also increase inventory for these sandals as you anticipate more online and in-store sales.
Having a pulse on content from competitors that's performing well helps you make something even better for your target audience.
Check out how some of the top-ranking sites have optimized and designed their pages. You will find ways to make your content and layout even better – and increase your chances of snatching the top search result positions from them.
2. SEO Opportunities
I can't help but get excited about this feature—SEO Opportunities.
When SEO planning, this feature feels like a cheat code.
It lists out opportunities to make your site even better. Like where you can make improvements or how you could rank higher with a little extra touch of SEO.
I like that it prioritizes the opportunities that will likely be the most important to fix as soon as possible. It also tells you exactly what is needed to fix them—almost like a map for where and how to optimize your pages.
You should make visiting the SEO Opportunities tab a part of your seasonal SEO strategy. That way, you'll be able to stay abreast of opportunities throughout the year and reduce the risk of something falling through the cracks.
3. My Workspace
I like to think of the My Workspace tab as a placeholder.
If you're reviewing and revamping your seasonal SEO strategy, you can look at what you did the previous time. Then you can run reports to see what worked and what you could do better.
Taking these search queries over to the Content Outlines tab is also beneficial. You can get keyword clusters started and use the AI Writer to build out your content ideas.
4. AI Writer
Given the seasonality of events and holidays, you need the impact of SEO for seasonal products to hit as quickly as possible.
You may not have time to brainstorm for hours on end for your blog or even social media copy.
Use Ubersuggest's AI Writer to cut your content creation time in half.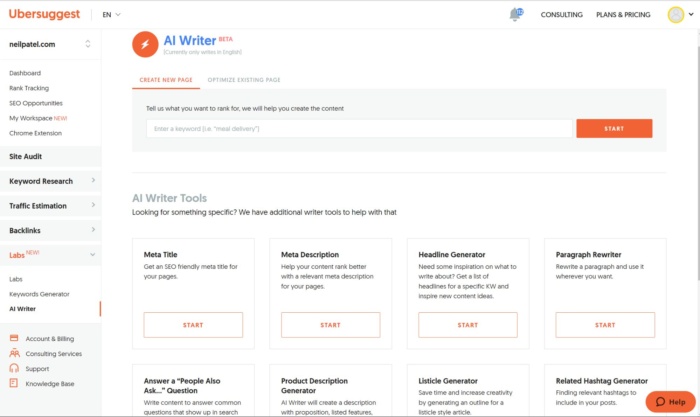 You can create a new page or optimize a previous page for your seasonal content or cut time on creating meta titles and descriptions.
Within the AI Writer lab, you can also see what questions people ask about certain keywords.
Knowing what your audience is saying about a topic helps you tap into their needs.
Pairing an impactful seasonal SEO strategy with high-value content is your brand's winning duo.
The cool part is that it won't take up nearly as much time as you'd usually spend since you used AI.
5. Traffic Estimation
Traffic Estimation gives you a detailed look at a site or page URL.
Say it's the wintertime and you know people will be traveling to destinations with winter activities like skiing.
A brand like Canada Goose can anticipate more sales at this time of year and dedicate a page to outerwear they recommend for travel.
Clearly, they're doing a great job with their seasonal SEO strategy.
Now, they can go into Ubersuggest and type in their URL to see what pages bring in the most traffic.
Other than the landing page, a lot of pages with "lightweight jackets" are performing well.
They can match travel content for the winter season and lightweight jackets to show shoppers how they don't have to sacrifice warmth—even when they're traveling.
Emphasizing how customers can have a quality winter coat without weighing down their luggage will go over well as a great selling point to convert them.
To get some creative ideas flowing, test some of these features with your business and see what kind of results you get.
A couple of more seasonal SEO tips and tricks won't hurt…
Pro Tips: Consider These 3 Things for Your Seasonal SEO Strategy
Seasonal SEO is a unique beast.
It can be both simple and complicated, depending on how you approach it.
If you want to make the most out of your seasonal SEO strategy, then you need to know what to consider when planning for those special events or seasons.
If you haven't started planning your strategy yet, here are a few seasonal SEO tips and tricks to help you get started.
Optimize Your Images Per Season
It's no secret that Google is constantly improving its search algorithm and changing how it ranks sites.
One of the most important things you can do when it comes to SEO is to optimize your images per season. If you optimize your images for certain seasons, you can get your listing higher on the page when users search for something seasonal.
Say you're a sporting goods store, and it's getting close to Christmas time. Most likely, people will be looking for gifts and gift guides.
The right visuals can help you stand out from the competition and drive more traffic to your site.
But the wrong ones can confuse users, spoiling your chance to convert them.
Dick's Sporting Goods is doing seasonal SEO right by featuring gift guides and gift options that correspond with the current sports seasons (in this case, soccer and hockey).
During the winter months, it also makes sense to include winter sports like hockey. Removing this image when it's no longer in season will sustain the page's seasonal SEO efforts and keep it ranking high in the SERPs.
Create Unique Content for Each of Your Top-Performing Seasons
When creating new content, ensure it's relevant and engaging by using the right keywords and making it useful for customers looking for products related to that time.
You'll want to create content specific to each season or holiday and maybe share or refresh older content that fits those themes.
So, how do you keep your content fresh and exciting (even when you're dealing with the same topic season after season)? Let's look at an example for the answer.
After Thanksgiving is the biggest shopping weekend of the year. We go from Black Friday and Small Business Saturday to Cyber Monday and Travel Tuesday. Deal busters are happening left and right. Outdoing your competitors is especially important to win shoppers' hearts.
The Krazy Coupon Lady stands out by creating a piece of content that is both helpful, shareable, and eye catching:
No more camping out in the parking lot when they've got you covered with information about when Black Friday deals start and where you can win big with sales.
If someone is looking for the best deals, they'll find their site because they've adjusted their content with seasonal SEO to get more traffic during Black Friday and other big sales weekends.
This is what I mean when I say fresh and exciting content.
By creating a calendar with predicted dates and confirmed dates, they also further establish their credibility on the topic of sales and discounts during this season.
As a user, I'd go back to their site next Black Friday and for other big sales during the year simply for this standout content.
Find Out How and When Your Products Are Popular
Now it's time to nail your seasonal SEO strategy.
You know SEO for seasonal products is time- or event-based—sometimes it's both.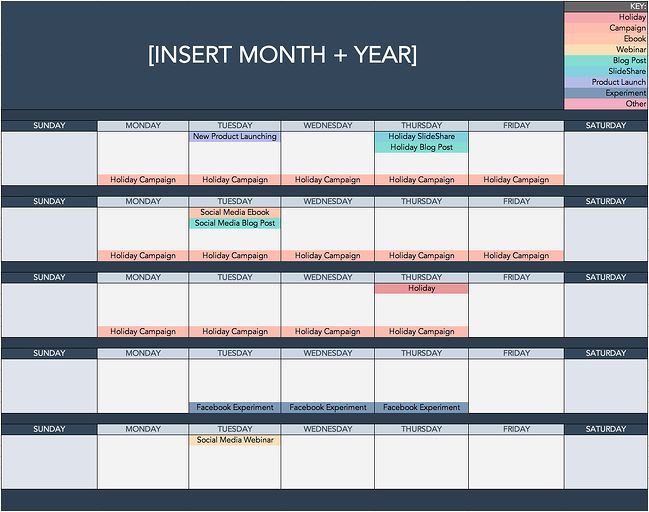 This downloadable content calendar from HubSpot is a good example of how to keep track of your seasonal keywords.
A calendar is great for tracking what's coming up and when you need to begin your campaigns.
But how do you find the best seasonal SEO keywords? I like following up with Google Trends to see which of my well-performing keyword topics are trending.
Follow top search trends and product categories that you fall under. This way, you can see the most up-to-date search interest data that is relevant to your business.
Layer together the trends you're seeing with your keyword research, Ubersuggest findings, and content calendar and you'll have the winning recipe for a seasonal SEO strategy.
Frequently Asked Questions
What is seasonal SEO?
Seasonal SEO is optimizing content and keywords for seasonal trends to land you at the top of search results. Trending events and seasons like Christmas, spring break, the Oscars, the Super Bowl, and summer are times to have your seasonal SEO strategy ready. It'll help you get more sales and make key marketing decisions. 
What are seasonal keywords?
Seasonal keywords are in relation to seasonal searches. These keywords have a high search volume during specific times of the year. For example, consider the search term "summer clothes": From late May to August, many individuals want to prepare their looks for vacation season. However, there is very little demand for summer clothing in the winter.
Where do I find seasonal keywords?
You can use tools like Google's Keyword Planner and Ubersuggest. You can get an SEO pages report to discover your competitors' page rankings for popular seasonal keywords or generate keyword suggestions and content ideas. This is all you'll need to develop solid action plan for your seasonal SEO strategy.
Conclusion
Google Keyword Planner and Google Trends aid with forecasting the seasonality of traffic and keywords.
But there's one more tool you're missing: Ubersuggest.
Ubersuggest will help you:
Cut time with content creation using the AI Writer
Generate keyword ideas
Conduct keyword research
Give an overview of estimated traffic for your top pages
Provide more detailed SEO opportunities on your site
Understand what content your audience needs to influence their purchase
Keep an eye on your competitors
If you're struggling to figure out how to find seasonal SEO keywords, Ubersuggest can help.
Looking to build your seasonal SEO strategy? Head over to Ubersuggest for a deeper dive.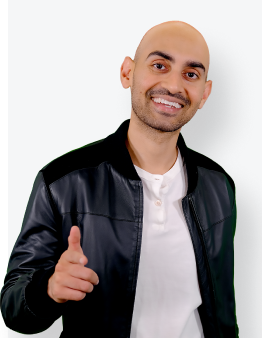 See How My Agency Can Drive More Traffic to Your Website
SEO - unlock more SEO traffic. See real results.
Content Marketing - our team creates epic content that will get shared, get links, and attract traffic.
Paid Media - effective paid strategies with clear ROI.
Are You Using Google Ads? Try Our FREE Ads Grader!
Stop wasting money and unlock the hidden potential of your advertising.
Discover the power of intentional advertising.
Reach your ideal target audience.
Maximize ad spend efficiency.