Good landing pages are the lifeblood of any digital marketing campaign.
Without them, visitors don't know what to do next.
Where can they buy? Where do they find the product from the ad they just clicked?
Simply driving traffic to your homepage from search engine optimization, paid search, or lead magnets won't work.
That makes landing pages key for conversions.
But they can also take hours to build — especially when you want to create multiple landing pages for a specific keyword or for different campaigns.
This can take serious time to coordinate and perfect.
And building them by HTML or on WordPress is a pretty big pain.
Trust me. I've done it before.
So what do you do?
You need landing pages, but you can't afford to spend your precious time creating them for campaigns that are about to go live.
Thankfully, there are lots of useful tools out there to help you create beautiful landing pages in a fraction of the time.
Instead of spending weeks creating pages, use a tool to simplify the process.
You can even A/B test within these tools.
The features are nearly limitless and they can have a positive impact on your efficiency.
Here are four of my favorite landing-page creation tools that can save you hours and drive conversions through the roof.
1. Leadpages
Leadpages makes a bold statement with their homepage headline.
Is it really the top landing-page builder out there?
Only you can be the judge of that.
But here's one thing I can tell you: The features of Leadpages are almost unparalleled when it comes to landing-page software.
If we were going off numbers alone, Leadpages would take the cake in terms of features offered.
They have built-in payment systems to efficiently run your store.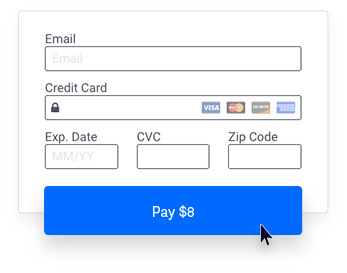 They have entirely mobile and tablet-optimized themes that always look great.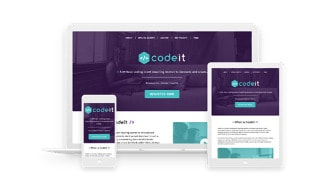 They have A/B testing, drag-and-drop functionality, nearly unlimited integrations, and more.
On top of that, they have lead-capture popups and exit intent.
They even have SMS marketing capabilities that allow you to capture more leads.
And all of that just barely scratches the surface of what they offer.
It's safe to say if features are one of your biggest concerns, Leadpages is probably your best bet.
To get started building and experimenting with it, simply click "Try it Now For Free."

Here you can start to examine and compare the different pricing plans they offer for different levels of company or business size and needs.

It's actually one of the cheaper landing-page creation tools out there when you compare the annual costs.
The one downside of Leadpages is that you can't use a free trial without inserting your credit card information.
So it's not totally risk-free when it comes to having a free trial.
Once you create an account, you can start to pick from a massive library of templates and categories.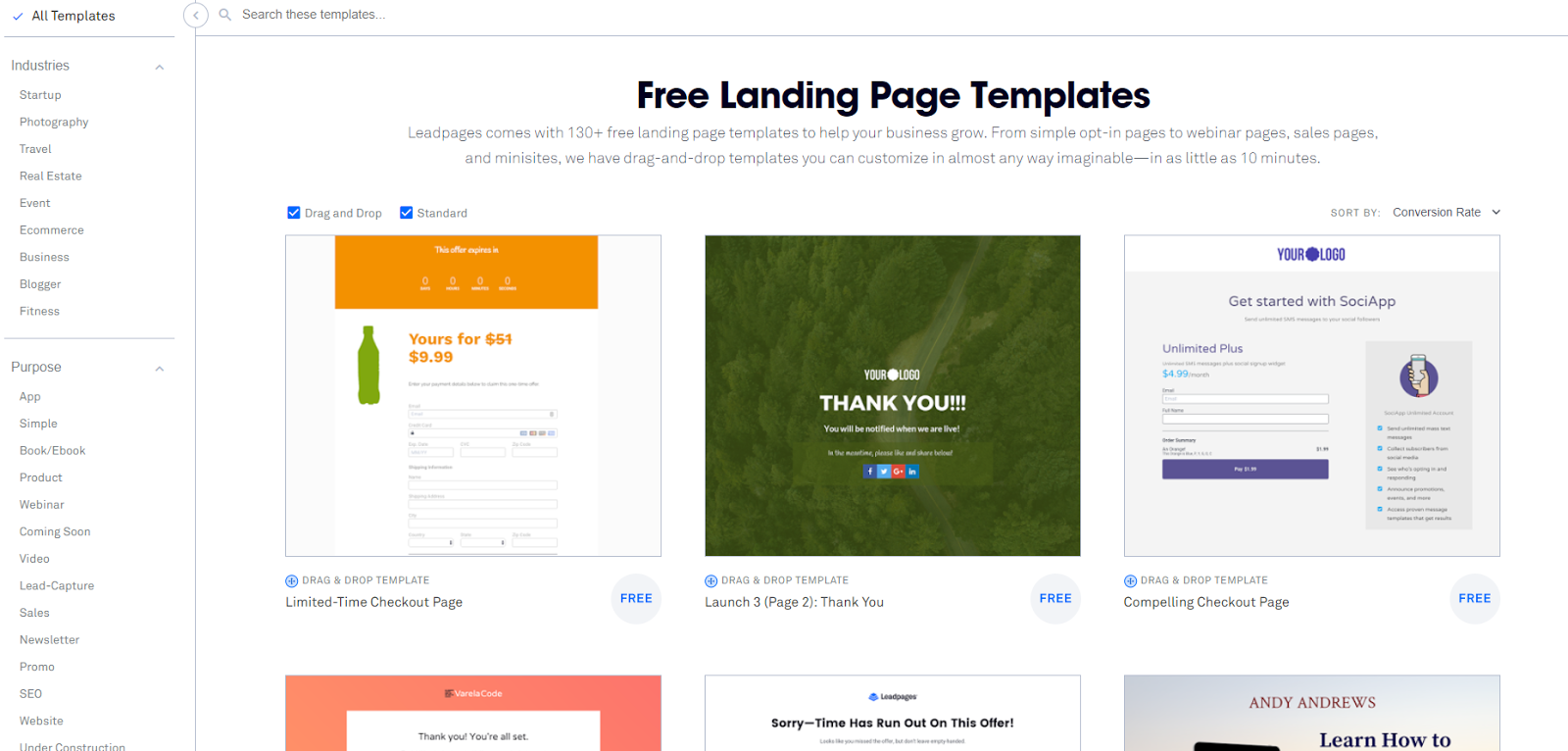 To preview one, simply hover your mouse cursor over the specific landing page.
If you like the landing-page preview, hit "Use this template" to get started building.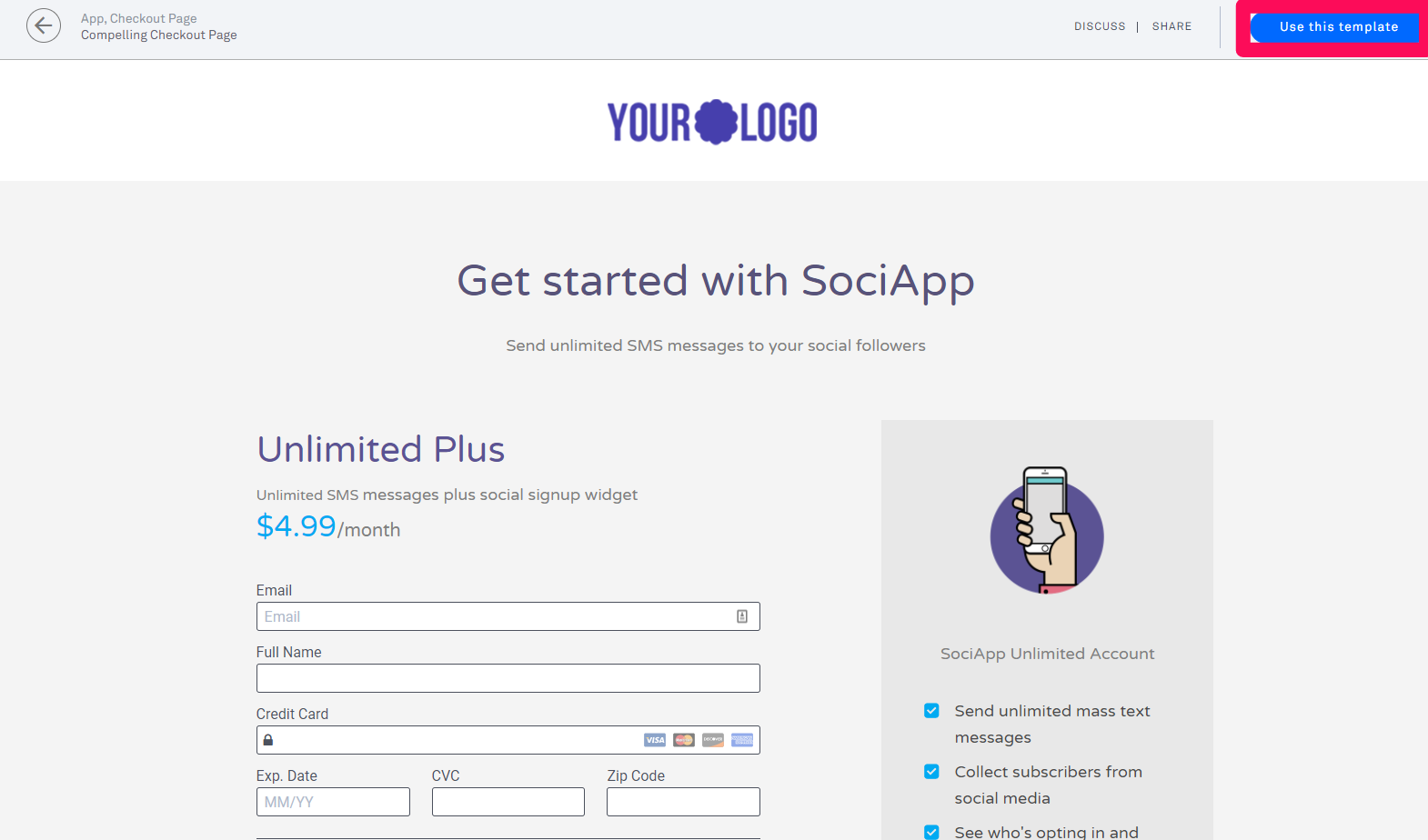 On the left-hand sidebar of your landing page editing tool, drag and drop any of the widgets onto your page.

Like most other landing-page tools, you can easily edit basic SEO content in the optimization settings.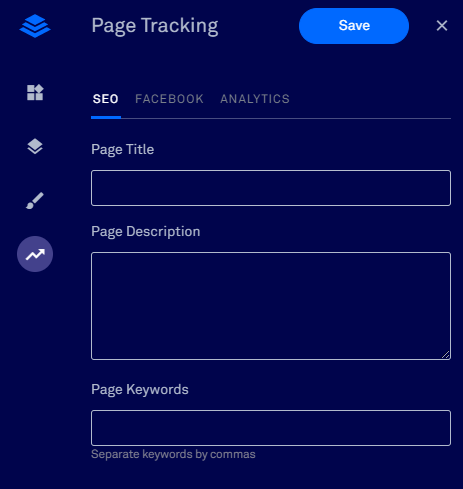 The features on Leadpages are incredibly diverse.
I think one of the best ones is their A/B split-testing feature.
To access it, head to your dashboard under the "Split Tests" section.

From here, you can start to build your split test based on a control page and other variations.

On top of powerful analytics and split-testing capabilities, Leadpages has a great feature that allows you to capture leads in various formats.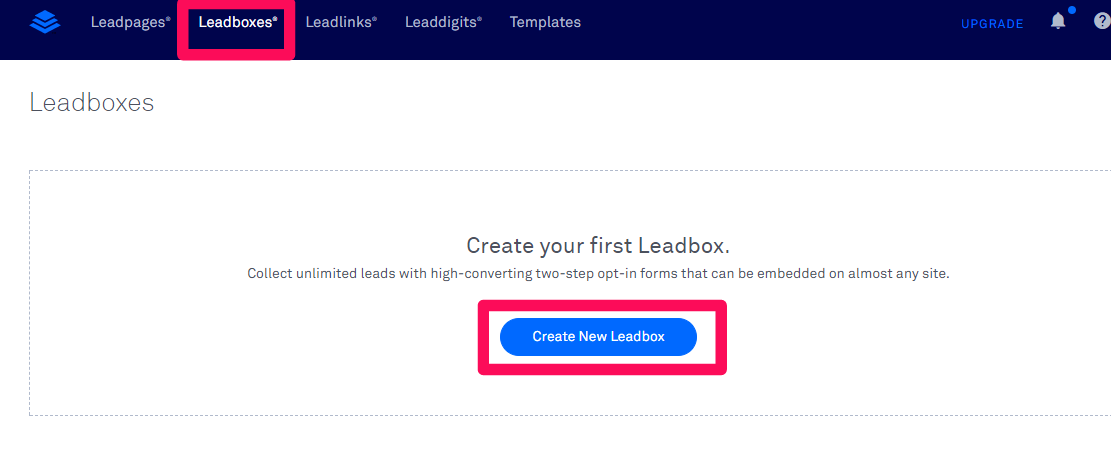 The leadbox tool helps you to collect more leads and drive better conversion rates with a two-step landing page.
You can edit these leadboxes in the landing-page tool itself.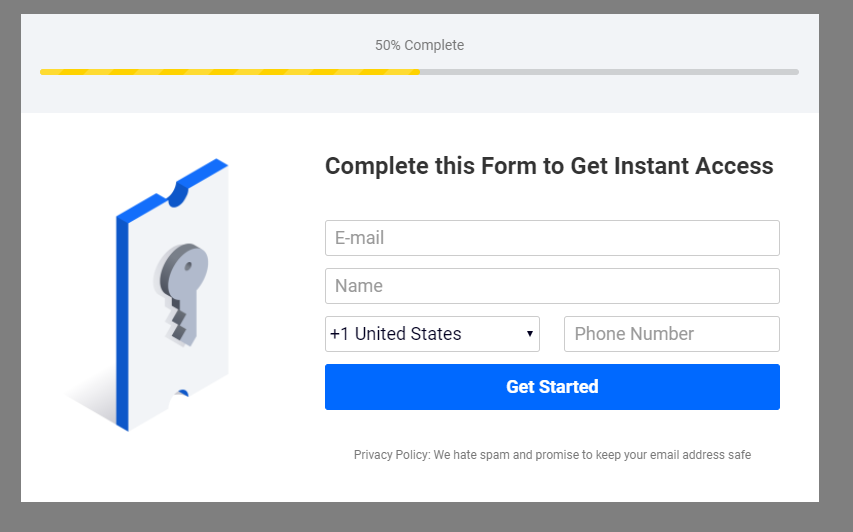 Of course, you can add tons of diverse widgets to the leadbox, too.
For example, you can use this as a coupon lead magnet and add a countdown timer to quickly drive sales.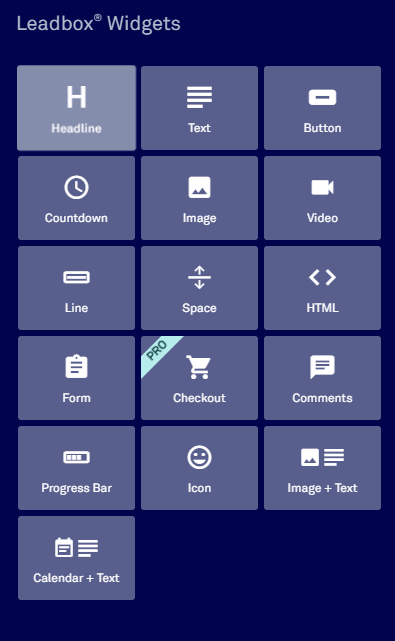 The options are nearly limitless.
Leadpages is one of the most creative, feature-rich tools to use.
And the price point is very affordable for small businesses.
The templates are designed with conversions at the forefront, just as they should be.
2. Unbounce
I'm a big fan of Unbounce when it comes to landing-page tools to use for one simple reason: its features.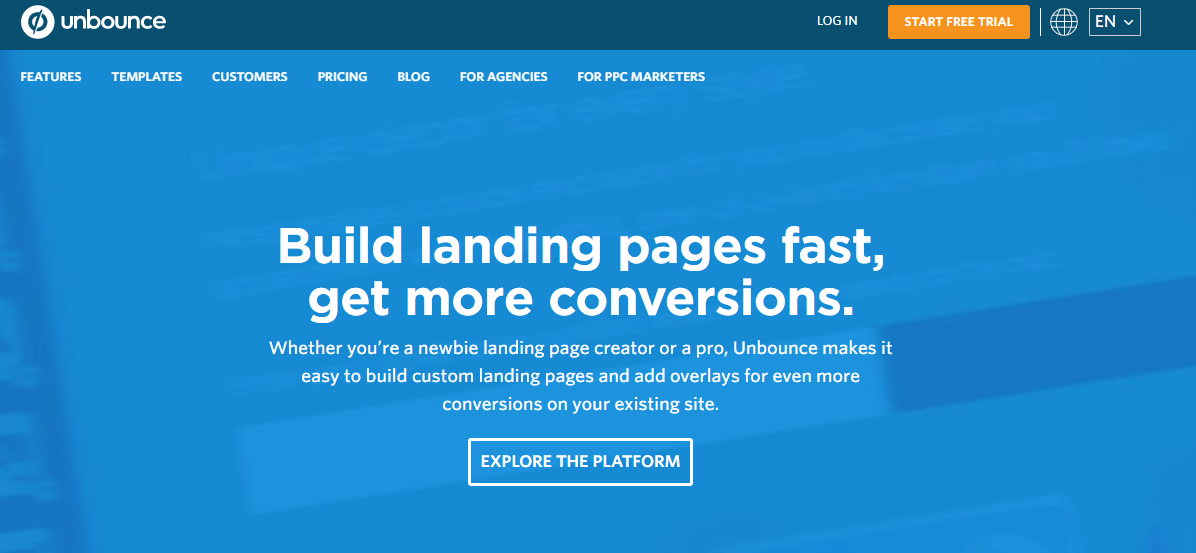 Unbounce's landing-page software is one of the best in existence right now.
It's perfect for building custom landing pages with diverse page elements.
You have beginner-level customization options and even highly advanced options.
For example, you can add basic elements, or you can run high-quality A/B tests.
On top of that, you can even use dynamic text replacement. That's huge.
If you're not familiar with DTR, it's essentially a time-saving feature that allows you to replace landing-page keywords depending on the user's search query.
Here's an example from Unbounce: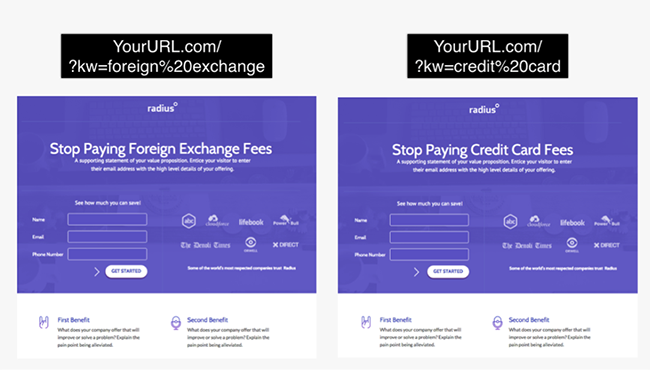 On the left, a searcher used "foreign exchange" as their keyword, and on the right, a searcher used "credit card."
The landing page was automatically able to adjust the keywords based on each search.
So instead of making 100 landing pages for all your keywords, you can just dynamically replace them on a single page, saving you tons of time.
On top of dynamic text replacement, Unbounce has features like overlay CTAs and exit intent to increase your chances of converting visitors.
They also have nearly unlimited integrations to the top email programs and CRM platforms on the market.
So all those leads or conversions you collect will go straight into your favorite tool to automate the next step.
To get started, head to the Unbounce homepage and start your free trial.

Create an account and log in to the landing-page dashboard.
Once you navigate to the dashboard, click "Create New Page" to get started in the landing-page builder.

From here, you can choose between tons of different templates in multiple categories.
For example, you can pick from SaaS, event, e-book, and more.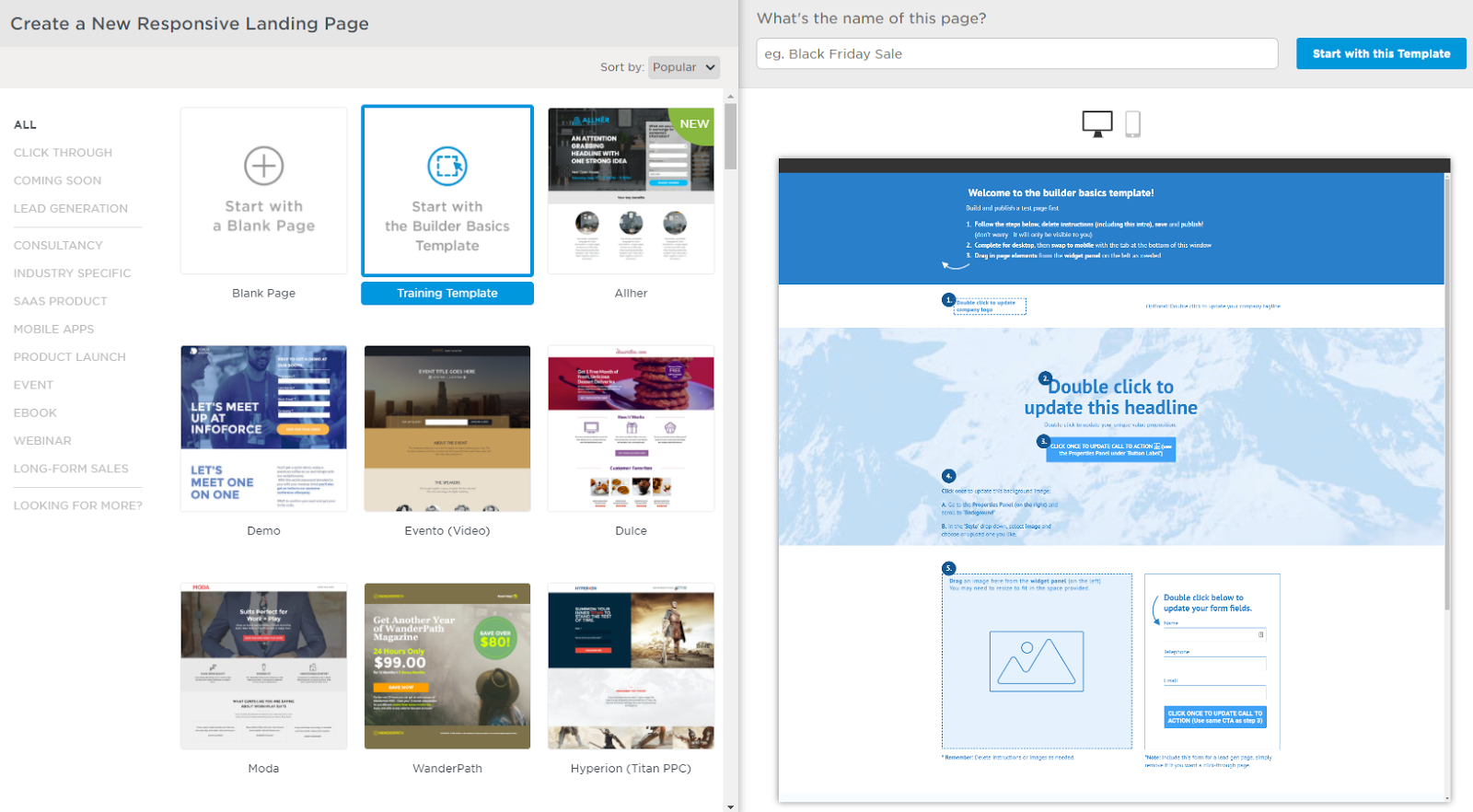 On the right-hand side, you get a preview of the landing page and you can even see how it will look when it's optimized for mobile.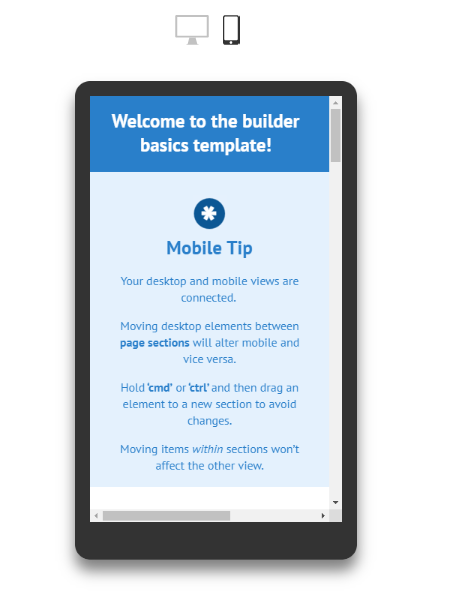 Once you find a template you want to use, simply click on it to select, then click "Start with this Template."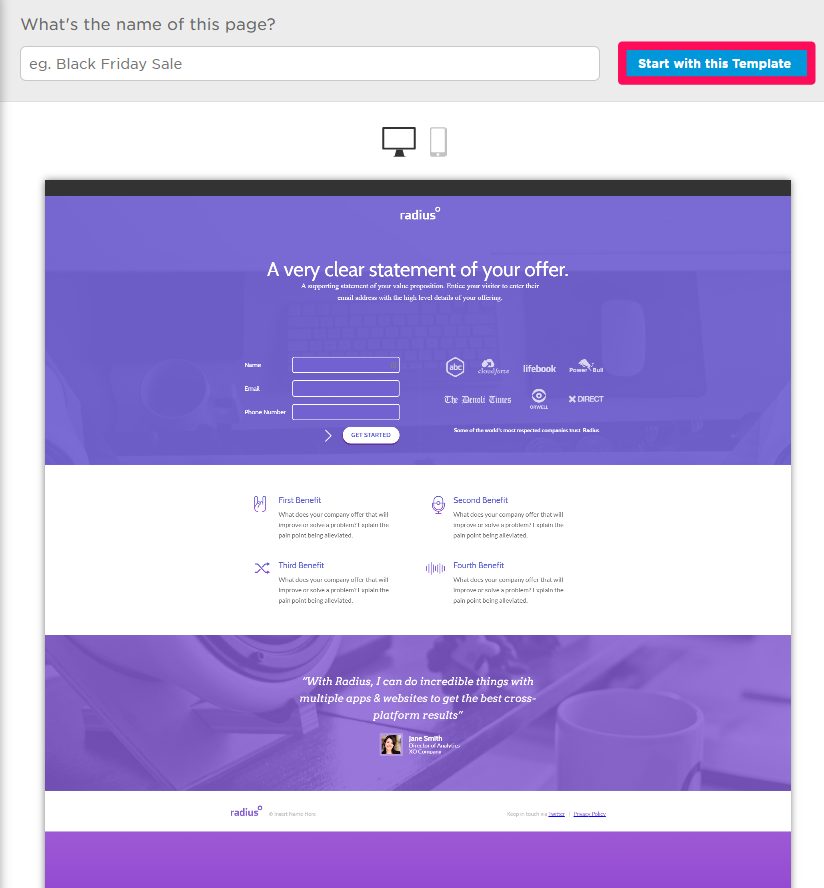 You can immediately start editing everything from the on-page text to page elements and pictures.
To edit text, simply double-click on the existing text boxes.

On the right-hand sidebar, you can edit SEO settings under the "Page Properties" section.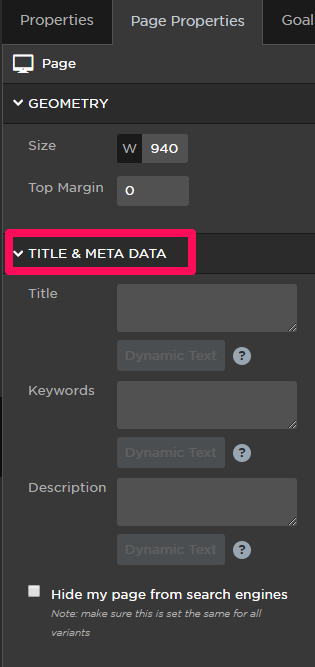 If your landing page template is lacking a few page elements, head to the left-hand sidebar to add any of the following elements:
If you want to set up dynamic text replacement, that's easy, too.
Simply type your landing page headline with your desired keyword like this:

Then, highlight the portion of your headline that contains your keyword. In this case, that would be "Local SEO."
Next, head over to the right-hand menu and click "Action" and "Dynamic Text."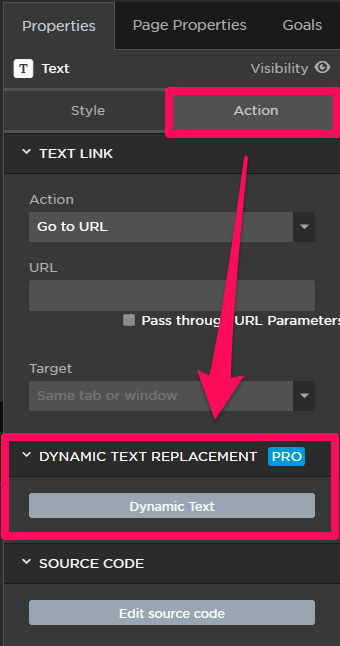 From here, you can edit the dynamic text and skip the process of making dozens of landing pages for each campaign.
It's one of the best ways to save time on landing-page creation.
Dynamic text means you don't need to spend weeks to start a campaign.
Just enable the feature and start filtering new visits that remain relevant due to keyword insertion.
Unbounce is one of the best landing-page creation tools you can use.
It's got a free trial, but the full version isn't free.
And that's for a good reason.
It comes packed with features that are diverse and focused on conversion.
They have DTR, exit intent, and more.
Use it to boost your conversions fast and funnel some of that extra time you saved into other projects.
3. Landingi
Landingi is another top landing-page creation tool on the market today.
It's very similar to Unbounce with its diverse features while still remaining one of the easiest-to-use tools available, even for a novice.
Landingi also has integrations that allow you to streamline the landing-page process.
For example, when someone converts on your landing page, you can automatically send that data to your CRM or email campaign.
It allows you to automate the steps that are tedious and time-consuming.
One of the best features is the 100+ templates and the huge icon library that allow you to customize landing pages to almost any business or niche.
On top of that, the drag-and-drop builder is easier to use than most website builders.
Plus, you can directly A/B/x test everything.
To get started, head to the Landingi homepage and click "Start Customizing Your Landing Page."

You can start a risk-free trial account without the use of a credit card.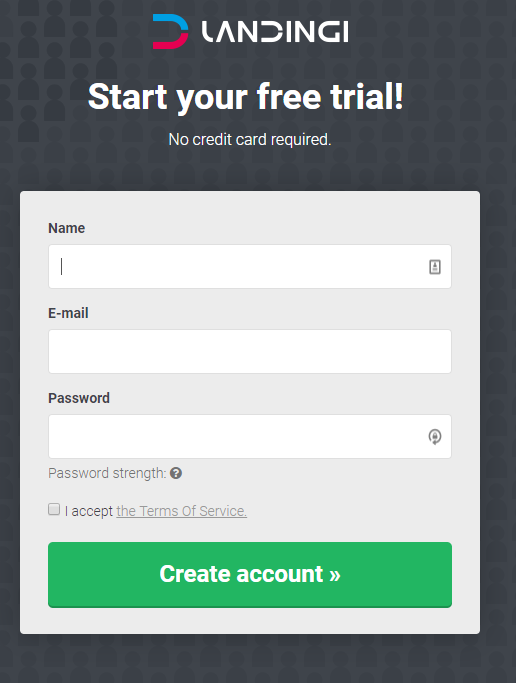 During the set-up process, you can also add team members to your account for no charge.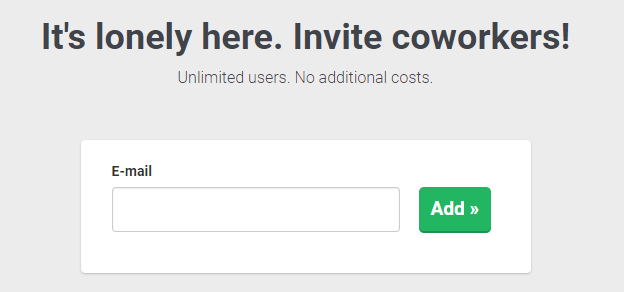 So if you have multiple people working on your team, they can all collaborate on the landing-page tool without any additional costs.
The next step is to select any integrations you wish to use.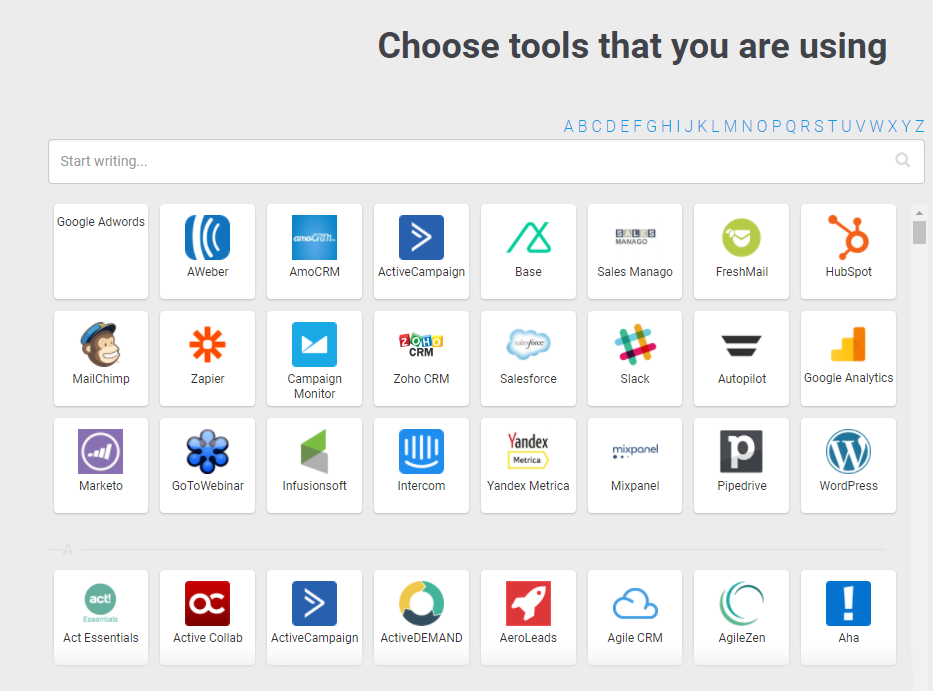 This is one of my favorite features of Landingi.
There's almost every SaaS tool integration you can think of.
And that means better marketing automation.
Once you get to your dashboard, click "Create a landing page" to get started.
Next, select your landing-page goal.
This is a huge benefit since this software fits almost any business type or marketing goal.
For this example, I chose "e-book download."
Depending on which landing-page goal you pick, you'll get specifically curated templates that are designed for that particular marketing goal.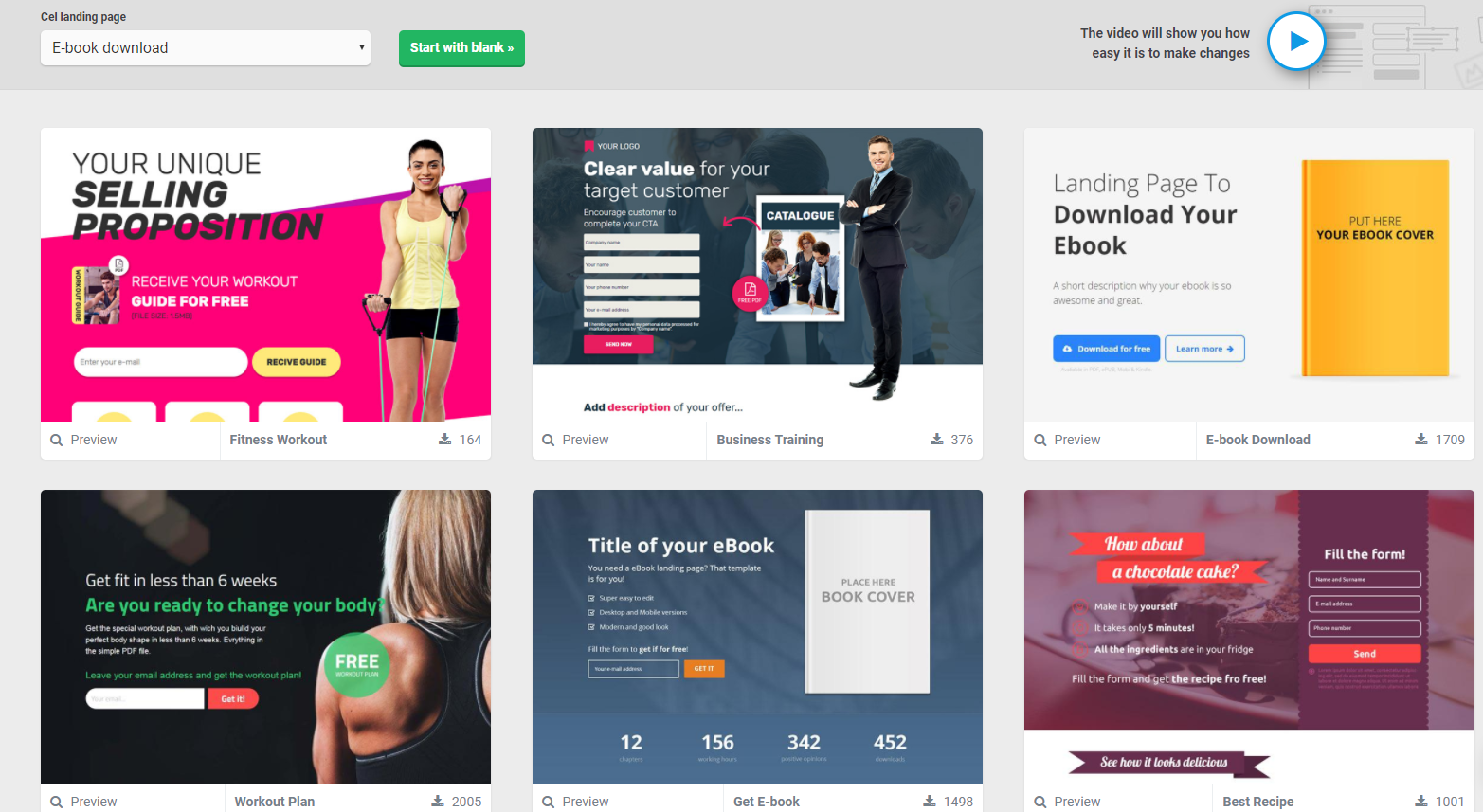 Once you find a good template, simply click on it to start building. You can edit anything on the template.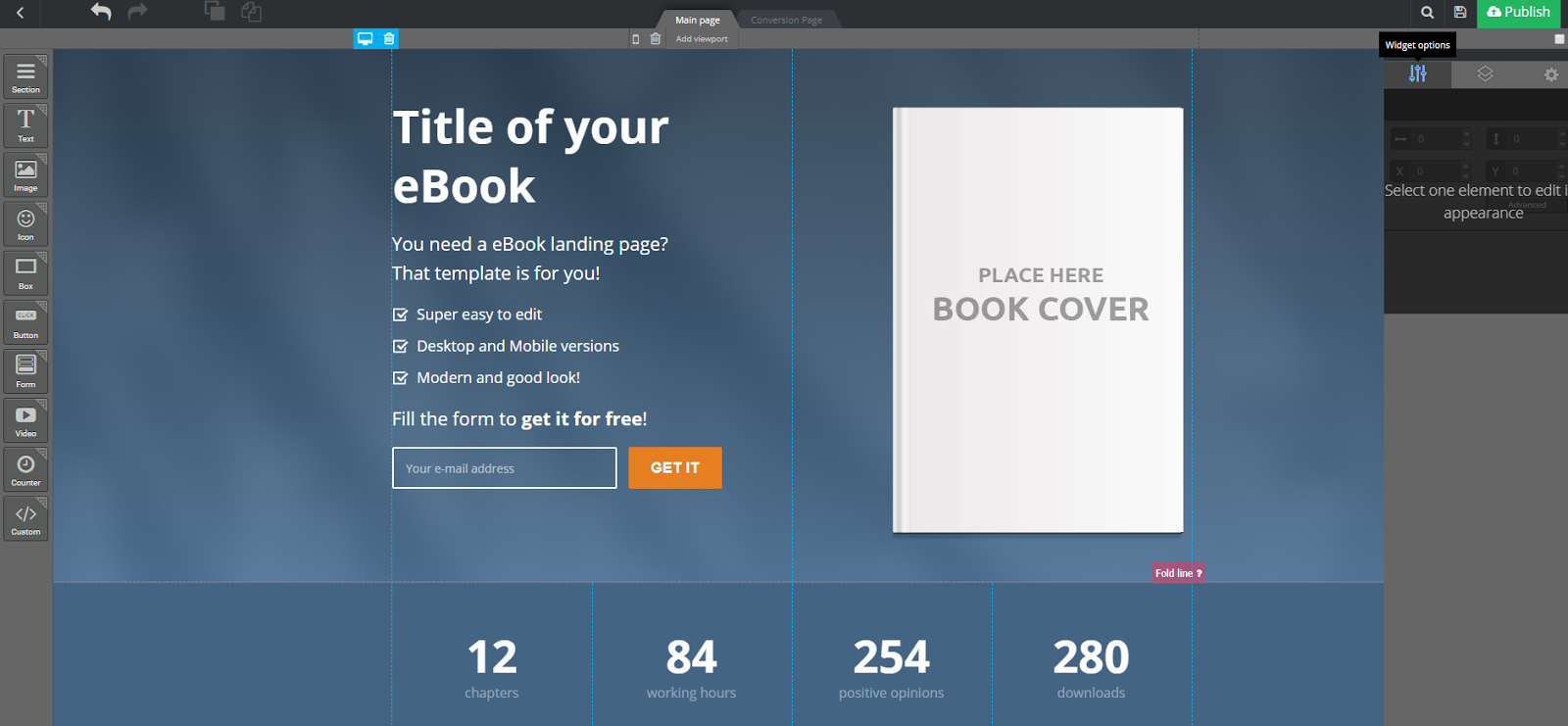 If you want to add more page elements, you can easily do that by dragging and dropping them using the left-hand sidebar.

If you click on "Icon," you'll get a drop-down menu of hundreds of icons to use for free.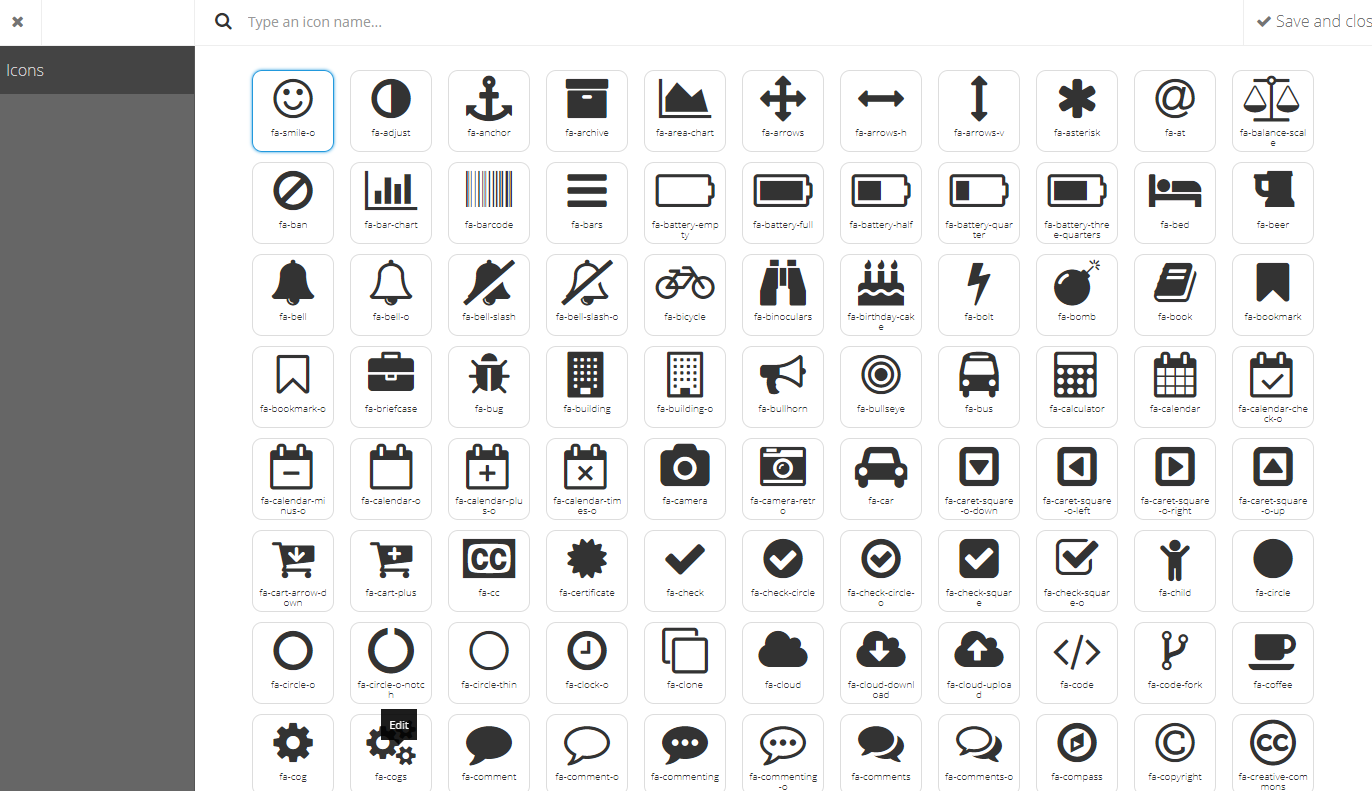 In the settings section, you can also edit your SEO data and even directly share the link to Facebook.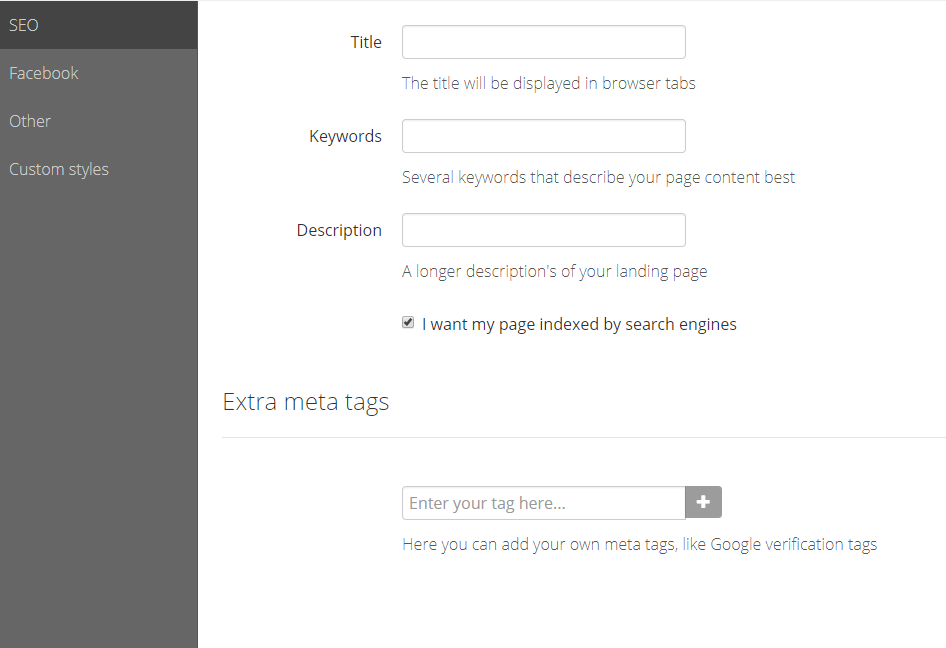 Once you've published a landing page, you can get detailed analytics directly within the tool itself.
You can see leads and traffic over time and you can run great tests.

For example, click the "Test" button to run an A/B test.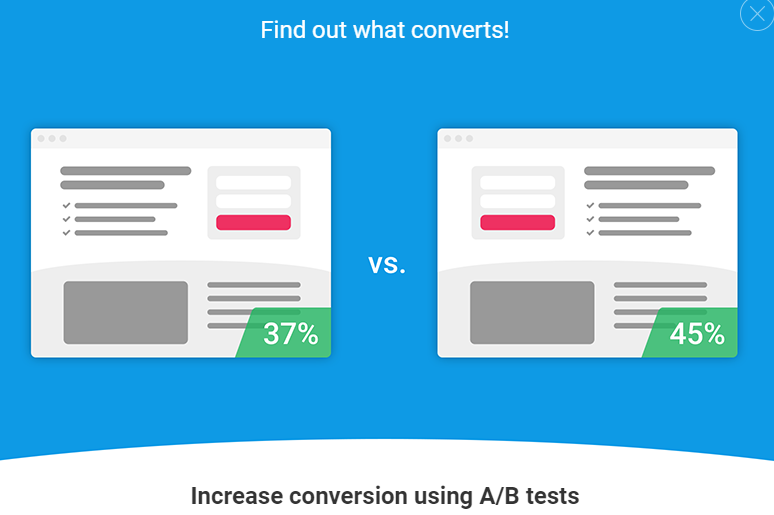 On top of using automated lead capture, you can also export leads if you prefer having direct lists.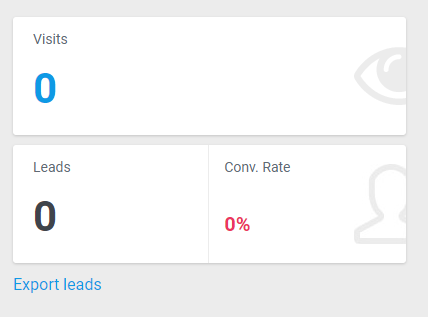 The tools and features that Landingi offer are great for anyone looking to create higher-converting landing pages.
You don't need any technical skills to create them, either.
The features are diverse enough for top-level marketers, and the user interface is simple enough for a beginner.
4. Lander
If affordability is your main concern, Lander might be the landing-page creation tool for you.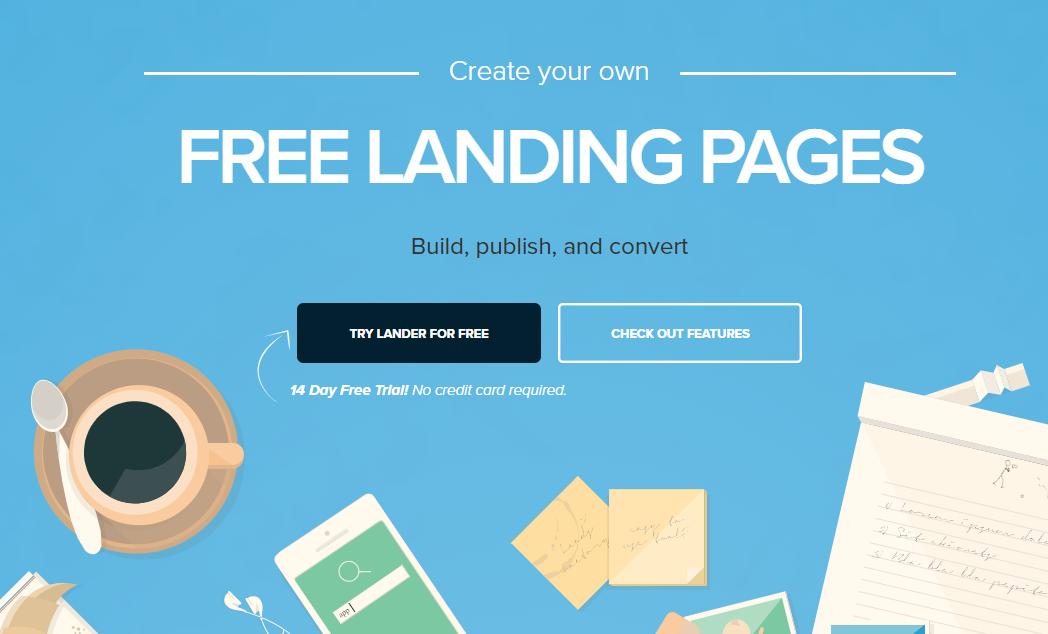 But don't let the cheap price tag fool you. It's loaded with features.
For a low price point, you still get some of the best tools to increase your conversions and save hours on creation.
They have an efficient drag-and-drop builder that's perfect for the inexperienced user.
On top of that, they have a variety of elements like dynamic text replacement, A/B testing, analytics, CRM or email integration, and more.
To get started, you can create a free account for 14 days without any credit card required.

From your dashboard, click the giant "+" button to create your first landing page.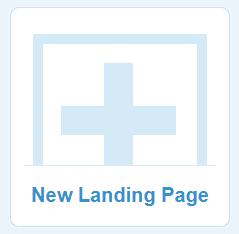 Then you can pick your template.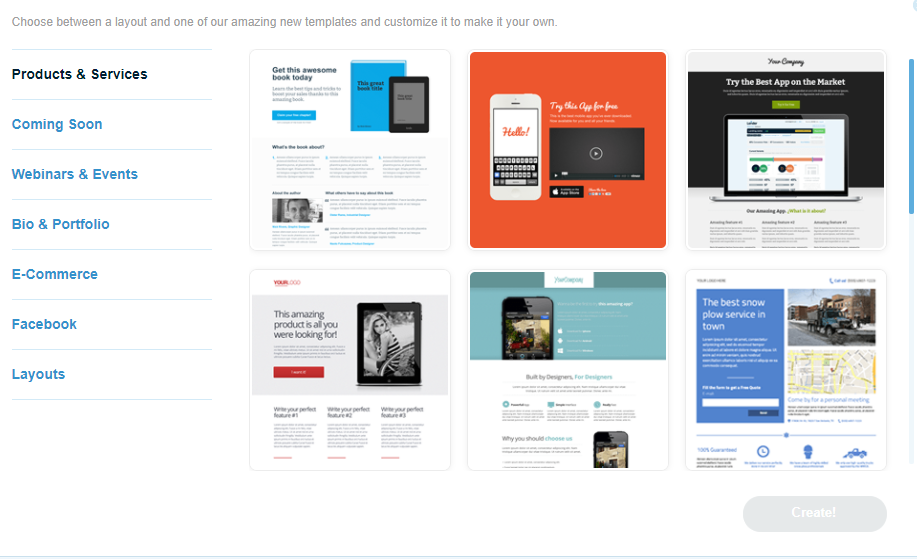 Some of these templates are wonderful, but others are a bit more complex.
So if you aren't sure what works best for your company, I suggest using this Landing Page Example tool to filter landing-page examples by your goals and business type.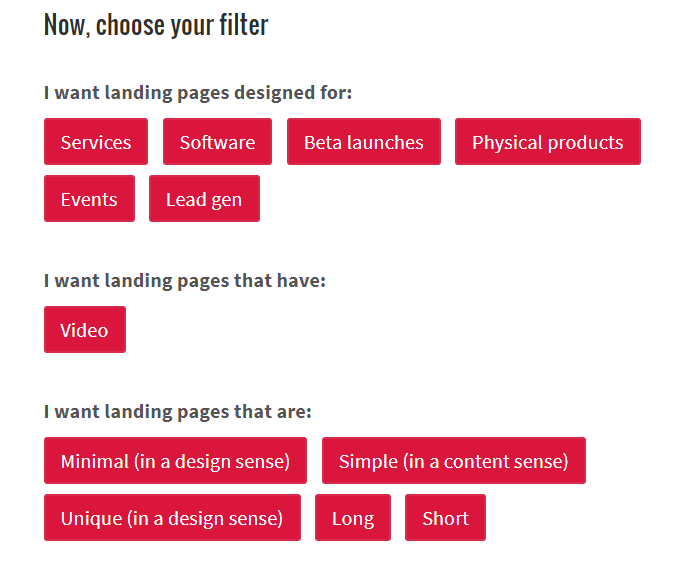 This tool is great for showing you examples of actual, live landing pages that are converting at high rates.
This means it's also great for getting ideas and inspiration.
It will even tell you the good and bad aspects of each landing page you view.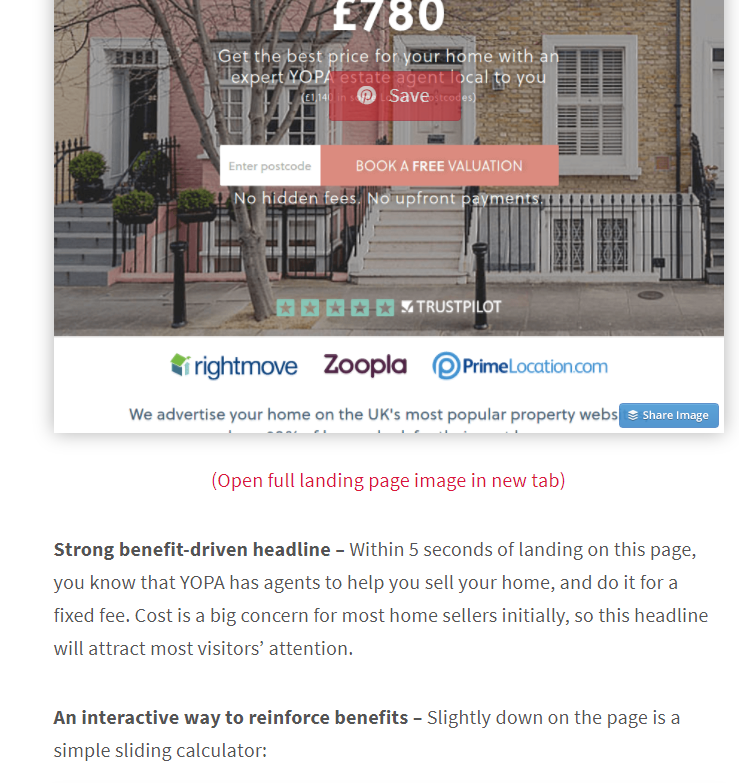 This way you can get a good idea of how to optimize your page in your niche industry.
Once in the Lander tool, you can begin to build your landing page from the template you chose.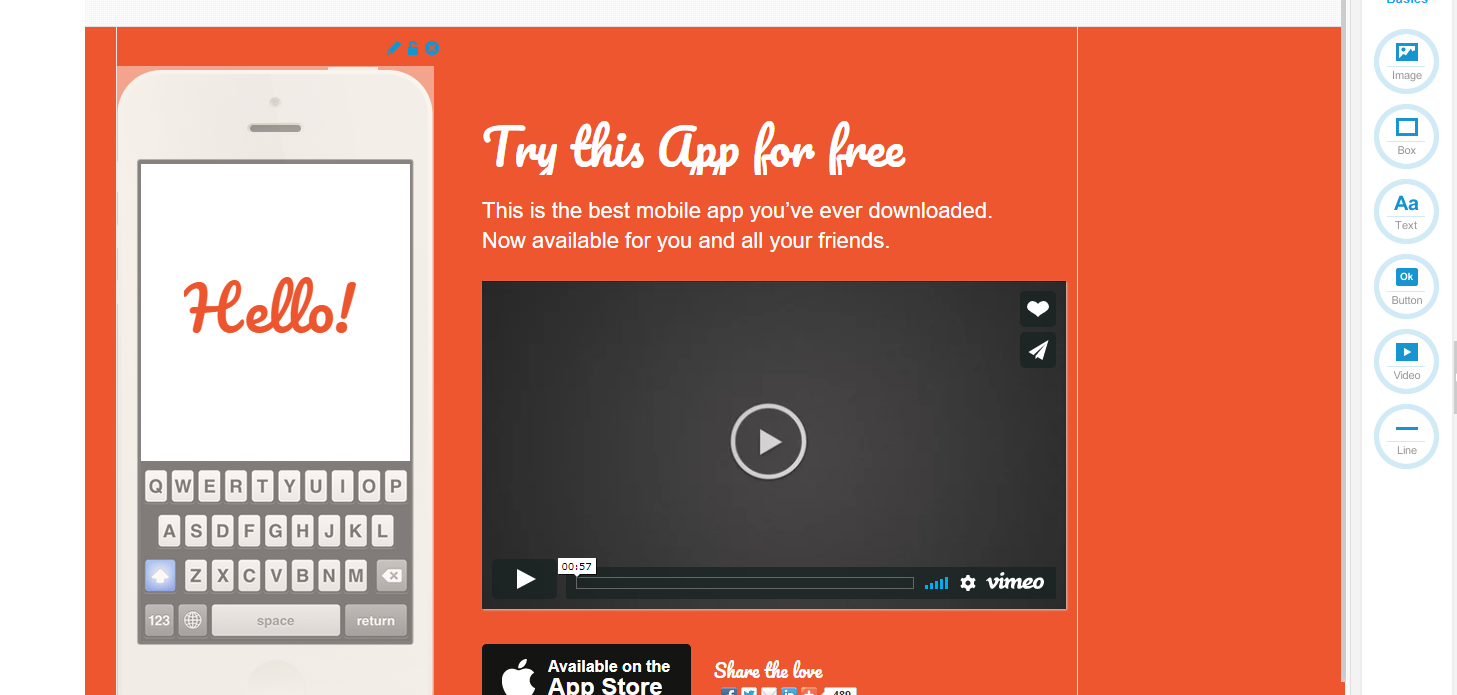 Drag and drop anything from the left-hand sidebar.
You can edit advanced options like timers, countdowns, and direct PayPal integration.
Even with the affordable price tag, Lander is full of features and benefits. In fact, it packs some of the top features the more expensive builders use, too.
You have powerful integrations that can automate nearly anything in the conversion and nurturing process.

On top of that, you have simple A/B testing software that allows you to test multiple landing-page variants for free.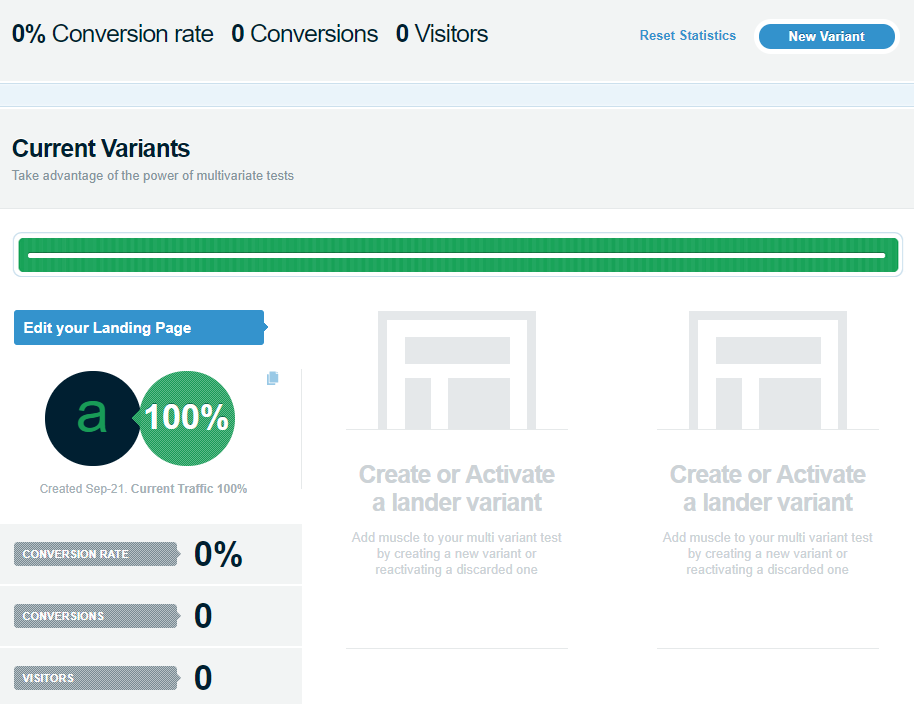 The options are pretty incredible for such a cheap tool.
If you run a small business that only makes a few landing pages every month and you want to go easy on your budget, this is probably going to be the best choice for you.
Conclusion
When it comes to an effective digital marketing campaign, landing pages are not the place to scrimp.
They're the best way to drive tons of targeted, specific conversions.
Without one, your visitors are left to fend for themselves on your site. They've likely clicked on a keyword ad only to be led to a generic homepage.
So you can't just skip them and hope for the best.
I'm sure that thought has crossed your mind. I know how time-consuming landing-page creation is.
And then you have the many different campaigns.
And all the testing that goes along with it.
Finding the time in the day to do all that is almost impossible.
Luckily, these four tools should put you on the right track to speed up the process from start to finish.
Begin by using Unbounce's free trial to get your feet wet.
It's got some of the best features you could ask for in a landing page tool, like DTR and A/B split testing.
Landingi is a very similar builder with tons of integrations that can fit almost any automation task.
Leadpages is one of the most (if not the most) feature-rich tools you can find.
Lander is one of the best tools if you want a low-price point builder to start out with.
Landing-page builders can help you save serious amounts of time and still attract, and convert, the customers you want.
What's your favorite landing-page creation tool?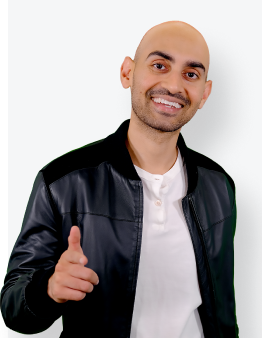 See How My Agency Can Drive Massive Amounts of Traffic to Your Website
SEO - unlock massive amounts of SEO traffic. See real results.
Content Marketing - our team creates epic content that will get shared, get links, and attract traffic.
Paid Media - effective paid strategies with clear ROI.