A lot of people are familiar with and have considered using Facebook and Google ads.
But, not as many have thought about using Twitter Ads.
The fact that Twitter Ads are ignored by many content marketing professionals represents an opportunity for savvy marketers.
In fact, there are only 130,000 Twitter advertisers at the moment – fairly small, when compared to Facebook's 3 million.
In this post, we're going to explore how you can set up some Twitter Ads of your own. We'll go through the process, step by step, leaving no stone unturned.
By the end, you should have the knowledge needed to set up a Twitter Ads campaign that's going to successfully engage a target audience and return some positive results.
Let's begin! 
Decide what you want your campaign to achieve
Marketers can run Twitter Ads in order to achieve a number of objectives.
It is important that before you do anything else, you first decide what it is that you want your social media marketing campaign to achieve.
Below, you'll see the different types of content marketing campaigns that you can run on Twitter.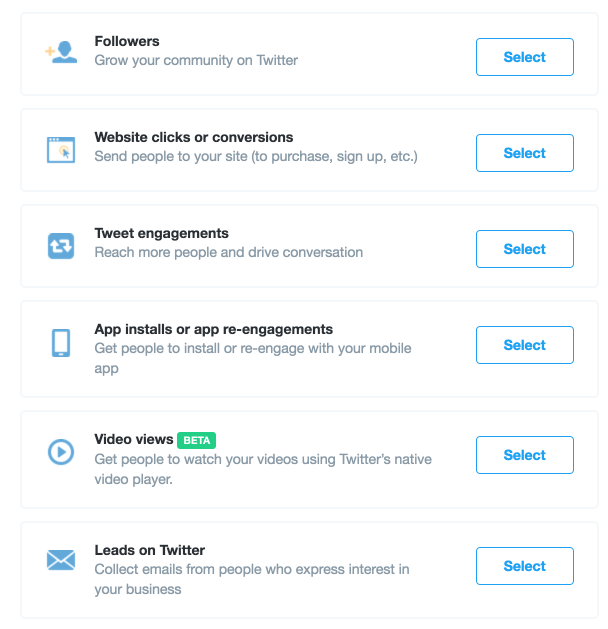 For the sake of this post, we're going to focus on running a 'website clicks or conversions,' social media marketing campaign.
In addition to deciding the type of campaign you want to run, you also need to put some time into deciding who you're going to be targeting.
Knowing this information is vital, if you want to get your ads in front of your ideal customer. Otherwise, you're only thinking about how you'll target people, when first you need to decipher exactly who your target audience is.
Creating a Buyer Persona will help you clarify the details of your ideal potential customer.
A simple Buyer Persona, designed to help you effectively target people through your Twitter Ads, should, at the very least, cover:
Age group and Gender

Location

Who influences them (who do they follow on Twitter)

What interests/hobbies they have
Writing enticing Tweets for your ads
Creating an effective tweet is easier if you have some copywriting skills.
However, if you're just starting out, you might not be a savvy copywriter.
Thankfully, there's a lot of data out there, related to what gets retweeted and listing some of the most tweeted phrases and words.
You can use this information to help guide your copywriting efforts, so you'll create something that is engaging.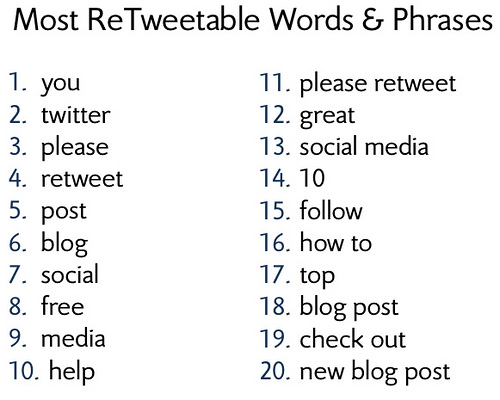 Here is some data, based on 2-word and 3-word phrases that are popular on Twitter.
A great Twitter tip for writing engaging tweets is to combine these words and phrases with existing copywriting formulas.
In doing so, you'll be able to quickly come up with something that is enticing, engaging and possibly worth a 'retweet,' – increasing your ability to reach specific types of Twitter followers within your target audience.
When writing your copy, consider using some urgency. There's Twitter analytics which suggest that tweets that contain urgency also have a 10% lower CPA and a 10% higher CTR.
It's very important that you keep your tweets concise.
Data has shown that tweets of around 40-60 characters generate the lowest average CPA.
Here are some other useful Twitter analytics worth considering, when writing your tweets.
As you can see, sometimes counterintuitive actions can work best – such as avoiding the use of hashtags. A Tweet that uses hashtags tends to generate a 24% higher CPA and a 3% lower CTR.
Writing effective Tweets requires a fair bit of practice. You can't expect to be an awesome copywriter right out of the gate.
You'll first need to put some words out in the 'Twitterverse,' to see what people, or more specifically your target audience, connects with.
You should always follow some accounts that belong to other business Twitter users.
This will let you see what's working for them.
By studying their tweets, you can make more informed decisions when writing your own.
Don't make the mistake of following popular celebrity accounts and using their tweeting tactics, however. It is often the case that celebrity tweets tend to succeed on the social network, in spite of the way they were written.
Creating an Ad Campaign on Twitter
First visit https://ads.twitter.com/login and either sign up or login to your account on Twitter.
When you see the page below, click on 'Create new campaign.'
As we're going to create a 'Website clicks on conversions,' campaign, that is what I've selected below.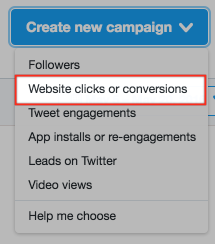 You then need to give your social media marketing campaign a name, decide when you want it to start and enter in a URL.
You also have the option to select something known as the 'Twitter Audience Platform.'
This is where you can promote your ads on platforms other than Twitter. This has the potential to lead to less qualified leads.  So, for now, leave it unchecked.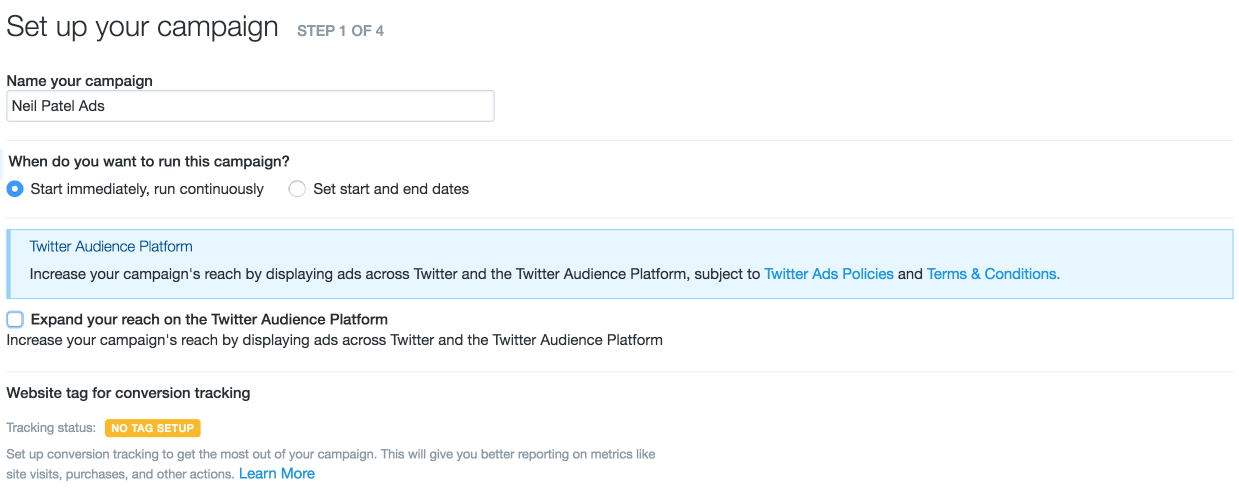 There's also the option of 'Conversion tracking.'
This can be a great way to monitor how well your ads are performing. However, implementing a conversion pixel can be a little bit technical, so we'll ignore it for now.
Next, you need to focus on 'Selecting your audience.'
Enter in the relevant location and gender.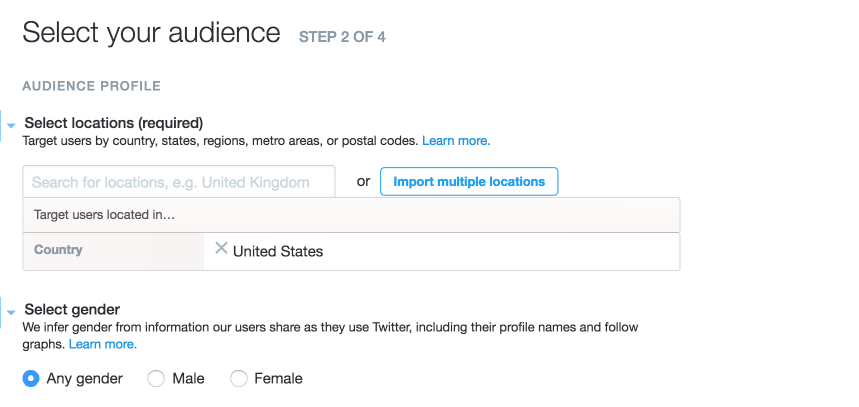 You can then pick from the language and device targeting options.
Twitter Tip: Remember, if you're going to advertise in countries that don't speak English as a first language, make sure that you set the language to English.
Device targeting depends on the social media marketing campaign you're running and what you're looking to achieve.
The cost of running a campaign on mobile will be different than a desktop campaign. Therefore, if you want to lower customer acquisition costs, this is something that you can experiment with later.
You then have the chance to set up some detailed targeting for your campaign.
There's a lot to unpack here. Let's briefly take a look at how each targeting option works and how you can use it.
The first option is to target by keywords.
This is where you can target Twitter users based on what they're searching or 'tweeting,' on the social network.
You can also target by Twitter Accounts, also known as 'Add followers.'
This is where you can target the Twitter followers of a particular account.
This is one of the more targeted forms of advertising on Twitter, as users have opted in to follow these accounts, letting you know that they're definitely interested in the content provided by that account on Twitter.
There's also the option to target by interest.

Twitter provides a lot of interests that you can work with.
However, you'd need to test a campaign, targeting one of these interests, to see how good Twitter's 'Interest data' actually is.
It's could be argued that targeting using the 'Add followers,' method is a better way to identify potential customers with interests that align with your Twitter offer.
You can also promote on Twitter using 'Tailored audiences.'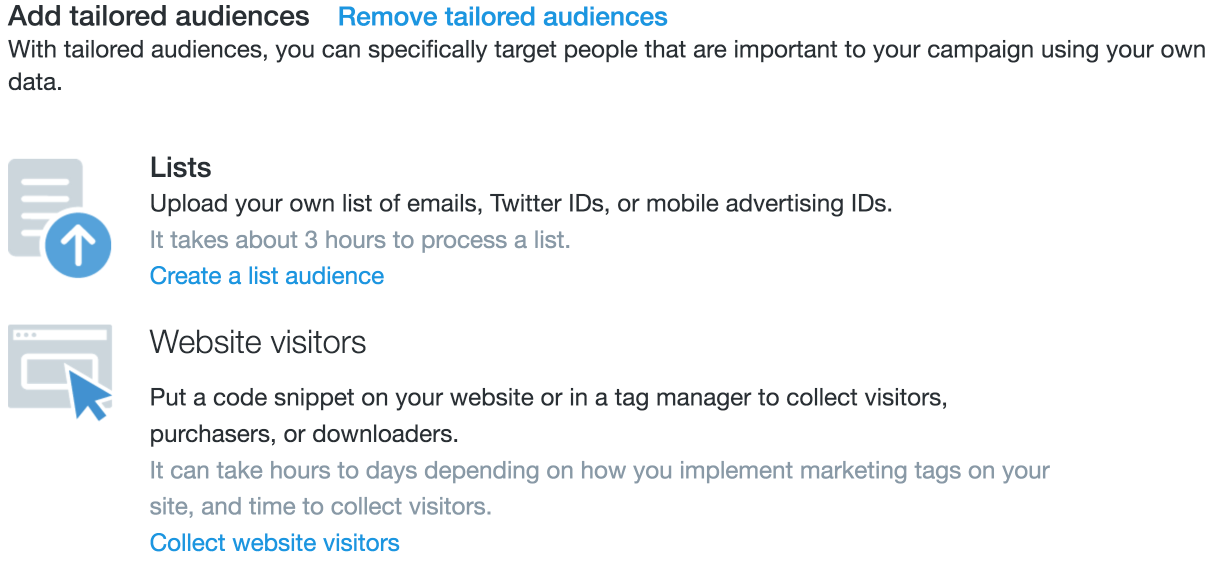 This method can be very powerful, if you have a list of potential customers already and you want to get in front of them without having to bombard their inbox.
You can also target website visitors – but this requires you to first install a pixel and for you to have a significant number of people visiting your website in the first place.
The other targeting option is 'TV targeting.'
This is a particularly interesting way to target your ads in a way that isn't really available on other ad platforms or social networks.
If you want to make the most of this feature, you'll need to have a really detailed Buyer Persona that will include a list of TV shows your target market is interested in.
Moving on, you can also target by 'behaviors.'

Below are some of the behaviors that you can select.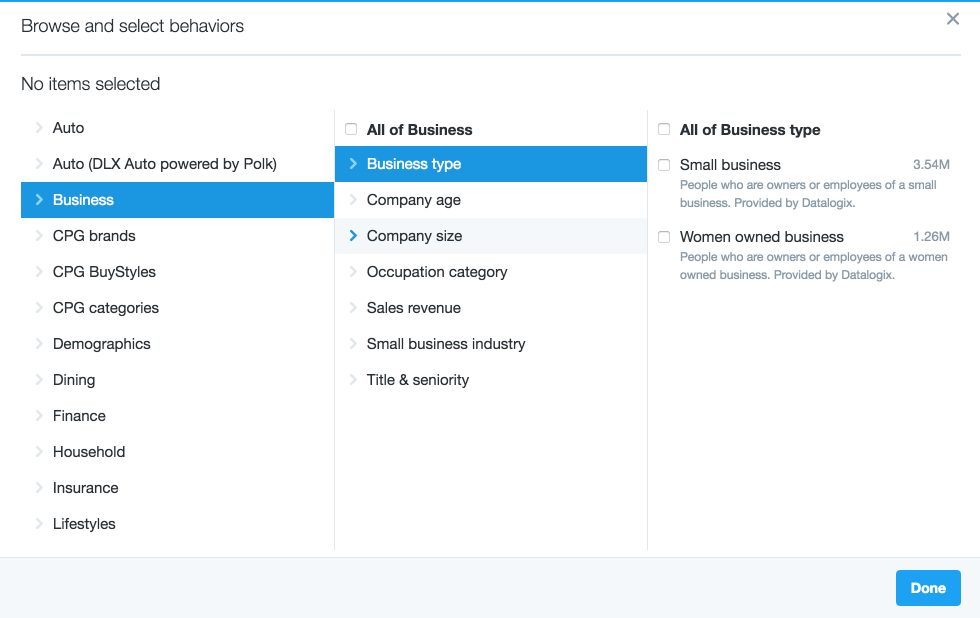 As with the Interests form of targeting, this is something that you'll need to experiment with, as it is up for debate how reliable the behavior data is.
Then, there is 'Event targeting.'
If you click on 'Browse events,' Twitter provides a list of events that you can choose from.
Your ability to target by events will, again, depend on how well you know your custom audience. But, you'll also have to decide if there are any suitable events that you can select from the list.
For example, below are some of the conferences that came up for the United States – as you can see, there isn't much to choose from.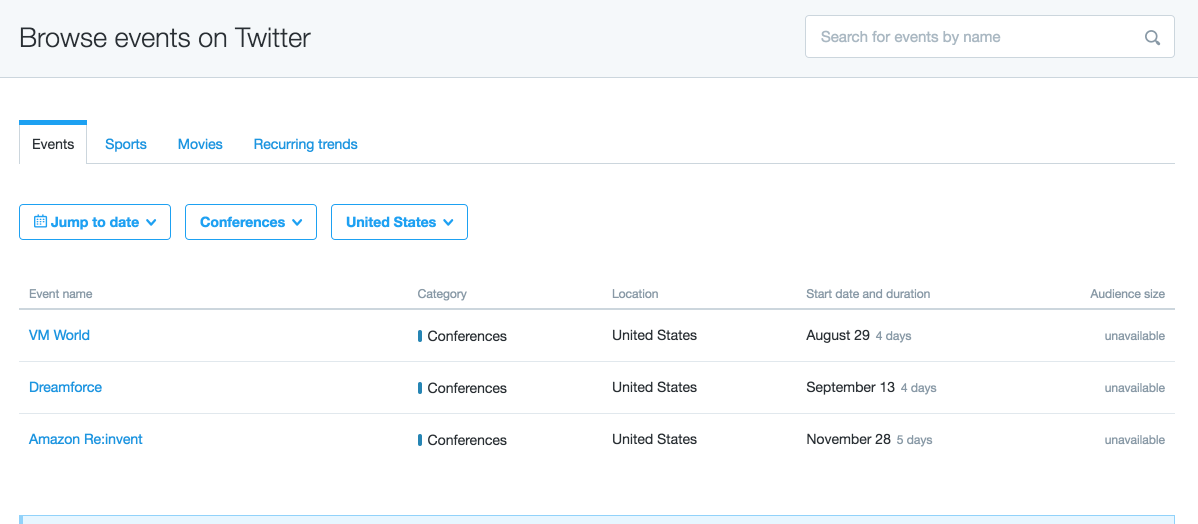 As mentioned, the best form of targeting for people new to Twitter Advertising is the 'Add followers,' method and the 'Keywords method.'
Once you're achieving some results with those methods, consider experimenting with the other options that we have taken a look at.
You can then pick where you want Tweets to appear.

There are two options here and the option that works best for your social media marketing campaign, specifically, will come down to testing.
To begin with, just select the 'Users' timelines option. Test it for one week and record the results you manage to achieve.
Then, on the following week, try using the 'Profiles & Tweet Detail Pages,' method.
You can also choose to exclude certain audiences.
Picking the option to exclude tailored audiences can be a good idea, if you want to ensure that your content marketing efforts are not shown to people who have already bought from you in the past.
With that, you've pretty much taken care of the targeting options for your ad.
You now need to decide on a budget for your campaign.
As you adjust the budget for your campaign, you will be notified of the reach of your social media marketing campaign.

This information will help your forecast the kind of results you will be able to achieve when running a content marketing campaign on Twitter.
You then need to create a Tweet for your campaign.
Keep in mind some of the tips we explored earlier, related to writing engaging tweets.
You'll notice, here, that there's also the option of creating something known as a 'Card.'
In theory, using a website card could potentially boost the success of your Twitter campaign. After all, Twitter Cards contributed to a 16x return on investment for SiriusDecisions.
However, whether or not you'll be able to achieve similar results can only be verified if you test it out for yourself.
Note: You don't necessarily have to come up with a Tweet from scratch. That's because you can take an existing tweet that you have and promote that to your custom audience instead.
This can be a good way to improve the reach of a tweet that did well organically in the past.
Long Term Optimization and Advanced Twitter Targeting Tactics
As you may have noticed, throughout this post, I have heavily pushed the idea that you need to test different aspects of a Twitter campaign if you want to achieve results.
That is because there are so many targeting options available to you via your account on Twitter.  Not experimenting with them could leave a lot of money on the table.
Like all other forms of paid advertising, you can't just set a Twitter Ads campaign and forget about it.
Keep an eye on the Twitter analytics of the content marketing campaign, by visiting the campaigns dashboard.
If you find that your ads are receiving less engagement and that they have a lower CTR, consider testing some new ad variations.
If you want to improve the targeting of your Twitter Ads, you can make use of the 'Audience Insights' tool – which can provide a lot of Twitter analytics related to your custom audience.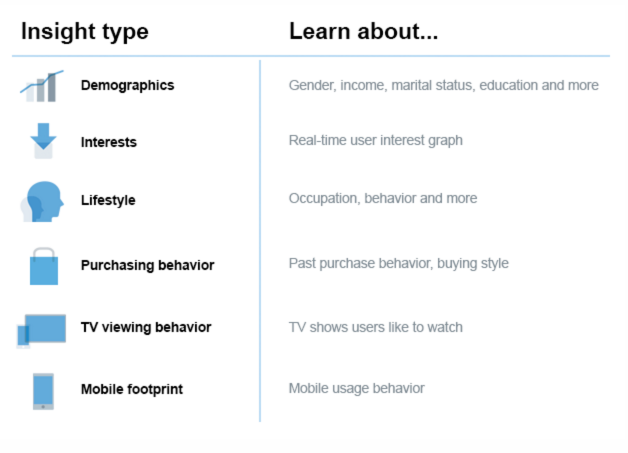 You can find Audience insights in the 'Tools,' dropdown menu.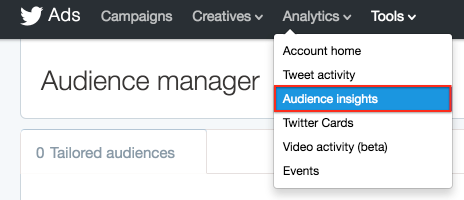 Here, you'll be able to see some data, based on an audience that you come up with.
If you already have a large audience, you can use this tool to analyze your own audience.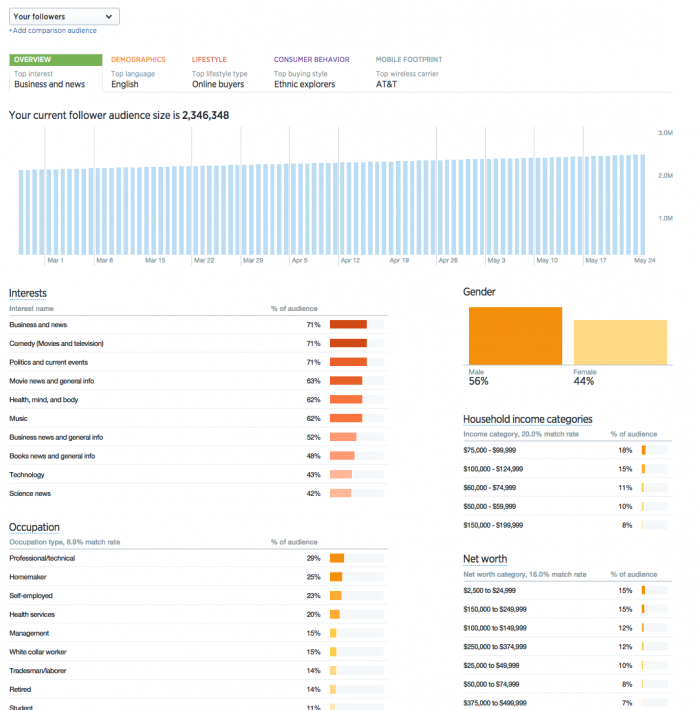 You can extract a lot of informative and actionable 'Interest,' data by using the Audience insights tool.
Say, for example, I am looking to sell some 'Coffee and tea,'
I can select it as an Interest.
Once I do, I'm then presented with some other Interests that Twitter followers with this Interest will also probably take a liking to.
It's worth mentioning that you don't have to rely on the Audience insights tool provided by Twitter.
You can also use the Audience insights tool provided by Facebook.
If you enter a relevant interest there and find that a lot people like a page related to a certain person or business that can be found Facebook, you can then try find that person on Twitter.
If they have a presence on Twitter, then try targeting their followers, using an 'Add followers campaign.'
Conclusion
Twitter Ads presents a new way to reach and understand your customers on social networks.
If you've never marketed yourself on Twitter before, you'll need to learn how the platform works. That includes learning how to write engaging tweets that draw attention.
You'll also need to become accustomed to the different targeting options that are available on the platform, if you want to take full advantage.
In any case, put what you've learned in action and let me know how things work out for you.
Best of luck!
What have you found to work when advertising on Twitter – are there any tips and tactics you can share? Let me know below!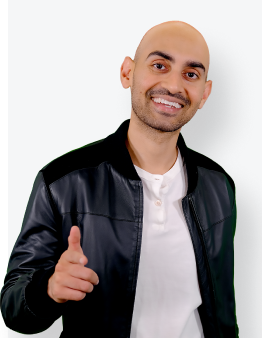 See How My Agency Can Drive More Traffic to Your Website
SEO - unlock more SEO traffic. See real results.
Content Marketing - our team creates epic content that will get shared, get links, and attract traffic.
Paid Media - effective paid strategies with clear ROI.