Customer retention matters.
Research continues to reveal that it's better to retain a customer rather than acquire a new one.
Nonetheless, the 2015 Retention Marketing Survey reported that "60% of retailers report a retention rate of less than 20%." There's an opportunity to improve your retention strategy.
Start by reinventing the customer experience. How can you keep buyers engaged? How can you anticipate their needs?
Focus on offering unmatched value.
"When establishing a link to value is done well, it provides a clear view of what matters to customers, where to focus, and how to keep the customer experience high on the list of strategic priorities," write Joel Maynes and Alex Rawson at McKinsey.
Increase your customer lifetime value (LTV). Develop a worthwhile customer experience.
Prioritizing Customer Lifetime Value
An Econsultancy report uncovered that "64% of companies rate customer experience as the best tactic for improving customer lifetime value." Consumers will stick with your brand when you offer them value.
"LTV is an important metric for brands…It directly measures the value these businesses create or their customers and the value those customers share in return," says Rishi Shah, product manager at Umbel.
And customer lifetime value isn't a static approach. It hinges on multiple variables across every unit of your business—from sales to customer success to marketing.
"[LTV] is actionable—it should guide lead nurturing, right-selling, cross-selling…monitoring of customer behaviors, input to strategic decisions, and adjustments to policies."
As you grow your operations, identify ways to make every customer a profitable customer.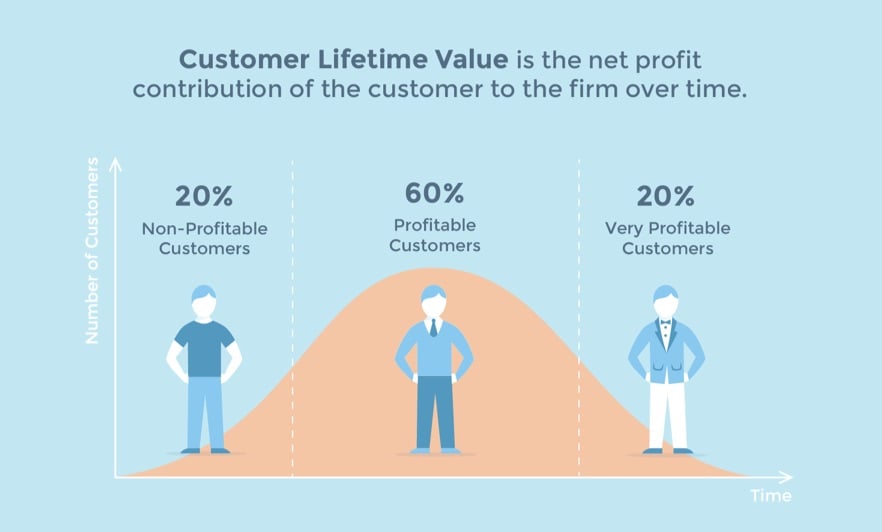 "Use customer service to drive customer experience. Every customer interaction with your company is a chance to add value. Research shows how important customer service is for retaining customers and gaining advocates,"
states Kit Smith
, content writer at Brandwatch.
A high LTV means each customer generates more revenue for your company. Prioritize customer lifetime value to boost your profits.
Improving Customer Service
Enhancing the customer experience involves making sure your customers receive the best possible service. And customer service includes all the interactions before, during, and after the purchase.
It's unacceptable to give poor-quality service to your buyers. That's replying to emails two weeks late or being rude to a customer who has a question.
Buyers don't have tolerance for lackluster service.
Studies discovered that "47% of customers would take their business to a competitor within a day of experiencing poor customer service."
Allocate the necessary resources to offer your customers top-notch service. It's one of the best ways to build relationships with your audience.
Edward Gotham, former head of demand generation at Ometria, says:
"Using [LTV] to identify your most valuable customers will help you decide where to direct your customer service resources. Paying attention to your most valuable (and profitable) customers will help you push up margins, at the same time as fostering strong relationships through better service with your most important segment."
So, get to know your customers. Start sparking conversations that matter to them.
Research confirms that "the phone is still the preferred method of customer service contact."
However, social media also is an effective way to reach your consumers. Customers are already chatting on Twitter, Facebook, and other social networks.
Your team should be available online to respond to complaints and broadcast announcements.
"Forget phone, email and live chat: Facebook, Twitter and other [social] networks are the new front lines for customer service questions,"
states Andrew Caravella
, vice president of marketing at Sprout Social.
Customer service is an integral part of the customer experience. Use it as a tool to move your eCommerce business forward.
Building Relationships With Personalization
Research shows that customized experiences can increase sales up to 20 percent. Personalizing interactions offers an opportunity to build your customer's trust.
Automation is a staple in products and service delivery. However, personalized customer service is a way to differentiate your business from competitors.
Founder of SPLICE Software Tara Kelly, writes, "Relationships – built via good old-fashioned conversations and in-person collaboration – allow customer service and product development professionals to spot new opportunities for innovation and partner with clients and customers to help them become more successful."
Honestly, customers want to feel special. They want to know that your brand cares.
The same generic email won't work. It's all about giving your customers something extra.
Serve visitors with personalized content to encourage them to take action. Whether it's email, social media, or a scroll popup, nudge buyers towards the desired outcome.
Define your target profile using behavioral data, purchase history, and browsing interests to reach the right people at the right time.
"For online retailers…the first month is the most important period of the customer-company relationship,"
says David Williams
, content lead at RJMetrics.
So, don't wait to build relationships with your customers. And strive to customize the bond.
Rewarding Loyalty
To increase LTV, infuse brand loyalty into the customer experience. Loyal customers have a stronger interest in your business. They become advocates of your mission and values.
Reports found that "73% of loyalty programs members are more likely to recommend brands with good loyalty programs." These experiences translate into revenue for your company.
But don't limit your reward programs to just discounts. Give your die-hard customers something of value.
"Offering loyal customers some kind of reward or exclusive content is an extremely powerful way of strengthening brand affinity," says Graham Charlton, former editor-in-chief at Econsultancy.
That may include VIP tickets to an event, cashback on specific purchases, or a free gift basket of their favorite candies. The rewards must be desirable to their needs, not a flimsy promotional item.
"With greater demands for relevance from members, loyalty programs often need a loyalty partner with access to a rewards network that has the scale and depth to satisfy all member requirements," states Dan Martin, commercial product manager at Collinson Latitude.
Sporting goods retailer REI does rewards differently. Its loyalty program actually costs $20 to join. But REI considers its benefits outweigh the admission fee.
For example, members receive discounts, invitations to exclusive activities, and special pricing on classes and trips.
Develop a loyalty program to upgrade the customer experience. You can retain more consumers.
Creating a LTV-Driven Team
Work with your team to create a customer experience strategy. It ensures that everyone understands the company's objectives and their role.
"The best development managers consider ROI and LTV when collaborating and planning product development and software updates," writes Joshua Robitaille, project lead at StygianLabs.
The key is to equip your team members with the skills to make the right decisions. Your staff must be ready to develop new channels, create a dedicated customer experience group, and gain consumer insight.
"Digital customer experiences are an increasingly important part of the marketing playbook, but many marketers lack the tools and know-how to take advantage of the tech that can improve them," writes Maureen Morrison, reporter at Advertising Age.
Sometimes, internal issues will exist when it comes to collaboration. Prepare a plan to encourage open communication amongst teams.
eMarketer reports that "50% or less of respondents in [its] survey said they had workspaces that encouraged collaboration, while only 41% said they had dedicated business, design and development teams permanently 'co-located' near one another to help facilitate information sharing."
If you want your business focused on LTV, support collaborative work environments. And train staff about the customer experience.
Customers for Life
Strengthen your bottom line by retaining more customers. Start by improving the customer experience.
Make LTV a company-wide priority with an all-hands-on-deck mentality. Discover creative ways to enhance customer service. Personalize the experiences whenever possible. And reward your most loyal fans.
Reinvent your business approach. Gain customers for life.
About the Author: Shayla Price lives at the intersection of digital marketing, technology and social responsibility. Connect with her on Twitter @shaylaprice.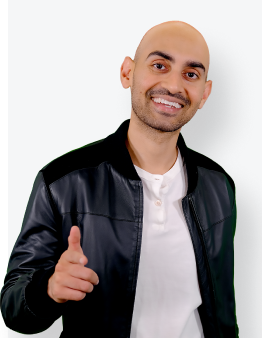 See How My Agency Can Drive Massive Amounts of Traffic to Your Website
SEO - unlock massive amounts of SEO traffic. See real results.
Content Marketing - our team creates epic content that will get shared, get links, and attract traffic.
Paid Media - effective paid strategies with clear ROI.