If you create content, you need a content calendar. I know—not an earth-shattering revelation!
What about a calendar specifically for your paid content?
Should it be part of your regular editorial calendar? A separate calendar? Do you even need a paid content calendar?
The answer to the first two questions is: How you structure your marketing calendar is up to you and your company's needs.
The answer to the third question is: almost definitely.
Read on to learn what a paid content calendar is, why you should consider having one, and which tools we recommend for creating your own.
What Is a Paid Content Calendar?
It may seem self-explanatory: A paid content calendar is a calendar you use to plan for paid content, right?
Well, it's a little more complicated than that because paid content works differently than other types of content.
It's usually more direct and sales-oriented than other kinds, and unlike your other content, which is likely owned (even if it does end up also being earned), it can exist on multiple platforms.
A content calendar for paid ads doesn't strictly plan what you want to post; it plans when and where you want to post it, as well as how much you want to spend doing so.
What's the Difference Between a Blog Content Calendar and an Ad Content Calendar?
A blog content calendar is for owned media, specifically on a blog, while an ad content calendar is for paid content.
Your blog content calendar likely goes through a somewhat lengthy process from start to finish, starting with initial information gathering, going through researchers, writers, and editors, being published, having quality assurance checks, and so on.
A paid content calendar focuses more strictly on the buyer's journey with the goal of making sales. It's the schedule you follow when you plan to get information directly in front of people.
Sometimes these two types are on the same calendar; sometimes, they're separate. It depends on what you want them to do.
5 Reasons to Use a Content Calendar for Paid Ad Campaigns
Using a paid content calendar is a good idea for many companies, whether it's connected to or separate from their regular content calendars. Here are five reasons why.
1. Pre-Plan Your Entire Ad Campaign
You can use a paid content calendar not only to determine dates and times but also to finalize where you'll post your ads and what they'll say.
For instance, Hootsuite does this (with Google Sheets) when planning its social media campaigns and determining what topic, site, copy, and link to use when it's ready for the ads to go live.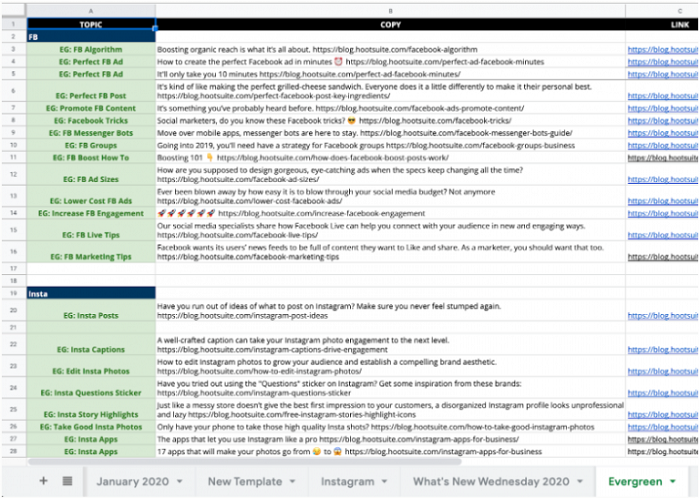 2. Avoid Reinventing the Wheel for Evergreen Campaigns
In the Hootsuite image above, you may have noticed they don't have dates on those specific campaigns—they're held under an "evergreen" tab.
This is when having a separate calendar for your paid ad campaigns may be of real benefit: You have a paid campaign that does well. You don't want to overstay your virtual welcome, but you know it could do well again in the future, with little to no changes to the content.
Why try to dig through old campaigns, whether through your content calendar or your ad history on your chosen site, when you could just organize things in one spreadsheet or another documentation system?
When it's time to pull out one of these evergreen campaigns, you can simply move it to your dated paid content calendar, and, except for actually posting the ad, you're done.
3. Plan for Holidays
In many industries, holidays are big sales times, and, whether or not you're in sales, holidays like to sneak up on you.
Depending on the type of calendar you use, the program may auto-populate holidays into your calendar. You can also download a template that does this for you, like the one HubSpot created:
If your brand wants a campaign for World UFO Day (who knew?), and it usually takes your team two months to go from brainstorming to promotion, count back two months. Then, add an event titled "Brainstorm World UFO Day Ideas."
You could even have a reminder a week before saying, "Remind everyone about World UFO Day brainstorming session."
Depending on the calendar program you use, you could even set it up to repeat your event yearly, so the brainstorming session would already be on your calendar for next year's holiday.
4. Monitor Results and Adjust Plans
Your paid ad content calendar should include the anticipated and actual start and end dates of your campaign, but it could also include a daily or weekly breakdown of the campaign's results.
You're already monitoring how well your campaign is going; putting the information in the calendar lets you see at a glance whether the campaign is working as planned and consider if you should extend the campaign or end it early.
Since this is all in one central calendar, you can look back or look ahead to see if you can replace an ad that isn't doing well with an ad you think will perform better—or if you need to delay the start of a new one because of how successful a current campaign is.
5. Prioritize
Some programs allow you to set priorities for different projects.
For instance, imagine it's late October, and you want your holiday campaign to be ready to roll by mid-November. However, you also have a cool blog you want to write and promote.
They're different enough to promote both simultaneously without any kind of conflict, but one is a higher priority than the other.
If you use a program that allows you to prioritize your paid content (like Asana), you give yourself some wiggle room.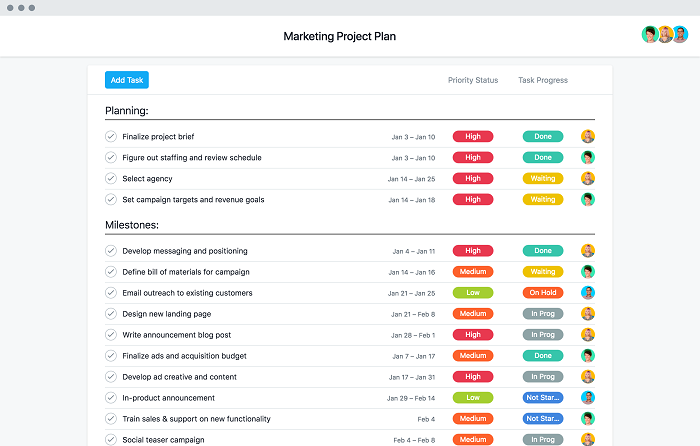 High-priority paid content takes precedence over the others, so you ensure those head down the pipeline on time. Lower priority ones stay in the system, and you can get to them later if you need to.
In addition, most of these programs alert you when a project is "late" so you can adjust your dates and change priority levels as needed.
Content Calendar Tools for Paid Ad Campaigns
There are a ton of content planning tools available out there, and if you already use a calendar program for your content, chances are you can use it for paid ad campaigns as well.
I have 14 favorite tools for organizing content, but let's look at just three of them for our purposes: Google Calendar, Asana, and HubSpot.
Google Calendar for Paid Content Calendars
Who doesn't love products that are both free and effective?
Google Calendar integrates well with other Google products, so if your organization already uses things like Google Docs for content, you don't have to do much to make your different products play nicely together.
Like many paid options, you can color-code your entries, set up start and end dates, invite relevant people to view or modify the calendar, and more. When it comes to scheduling, at least, it's kind of a one-stop-shop.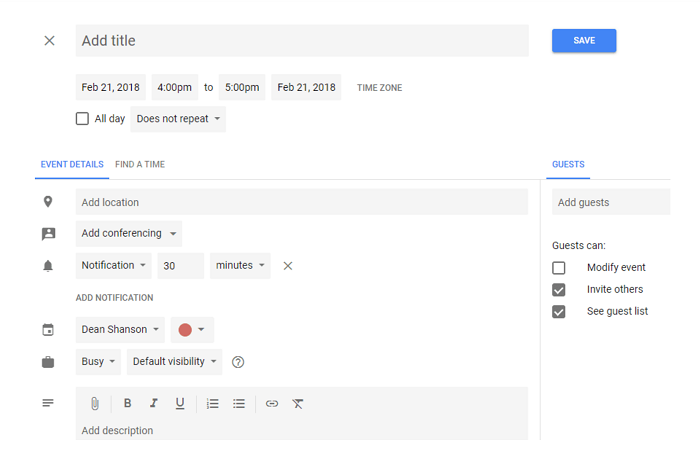 The downside, when compared to paid options, is that you can't collaborate directly on the calendar task. Of course, you can integrate this with other Google products, but the collaboration occurs on the products and not the calendar itself.
Asana for Paid Content Calendars
Asana could be ideal if you like seeing the big picture and the small details with just a click of a button.
You can create a seemingly endless number of projects and subtasks (and subtasks of subtasks), with over 100 integrations available.
One beneficial aspect of Asana is you can look at a graph showing exactly how much each member of your team has on their plate.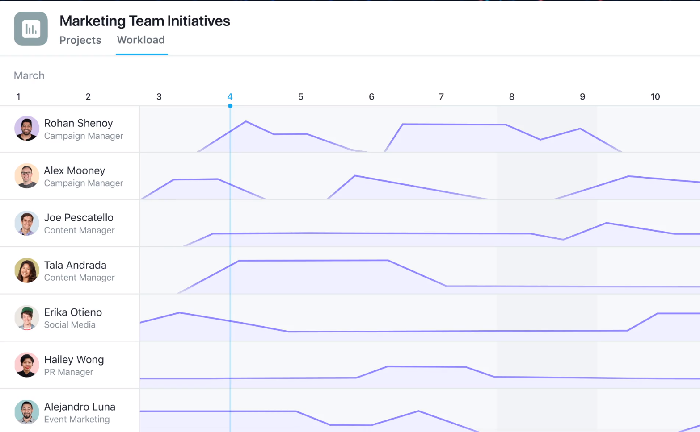 This can help when planning your campaigns because you can see—even months in advance—who has the bandwidth to complete different tasks.
HubSpot for Paid Content Calendars
If you're looking for an option encompassing calendars, automated marketing, customer service functions, and more, Hubspot has you covered. Anything you want to do with your content or paid campaigns can probably be done on the platform.
If you're wavering about whether they're right for you, they offer a Social Media Content Calendar Template you can download for free. However, it doesn't have the bells and whistles the paid membership does.
That membership gives you access to many marketing tools, including a highly flexible and easy-to-read social media marketing calendar.

FAQs About Paid Content Calendars
What is a paid content calendar?
A content calendar that helps you plan when, where, and how you'll promote your content.
How is a paid content calendar different from a blog calendar?
A paid content calendar focuses on the details about your marketing campaign, while a blog calendar focuses on the content you plan to create.
How is a paid content calendar different from a blog calendar?
A paid content calendar focuses on the details about your marketing campaign, while a blog calendar focuses on the content you plan to create.
Do I need a paid content calendar?
Yes, if you run more than one paid campaign a year, you should use a calendar to keep you organized, plan for holidays, and better monitor your results.
How can a paid content calendar help my company?
It can help your company in dozens of ways, including pre-planning entire campaigns, easily accessing evergreen materials, preparing for holidays, monitoring and adjusting work, and helping with prioritization. 
Paid Content Calendars Conclusion
Calendars are essential to running any kind of business, and using calendars to monitor your paid campaigns could be particularly important.
They help you plan when and where you'll post content, monitor the success of your campaigns and adjust accordingly, keep track of dates and evergreen content, and more.
If you have a calendar for your blog content, chances are you can use that same calendar—or at least that same program—to house your paid content calendar. However, if you need a new system, you have a ton of content management systems to choose from.
If you need a little extra help, we're always here to give you a consultation and assist you on your way to marketing success.
How do you use your paid content calendar?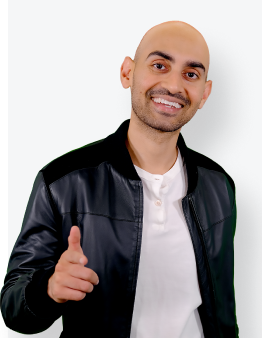 See How My Agency Can Drive More Traffic to Your Website
SEO - unlock more SEO traffic. See real results.
Content Marketing - our team creates epic content that will get shared, get links, and attract traffic.
Paid Media - effective paid strategies with clear ROI.
Are You Using Google Ads? Try Our FREE Ads Grader!
Stop wasting money and unlock the hidden potential of your advertising.
Discover the power of intentional advertising.
Reach your ideal target audience.
Maximize ad spend efficiency.