Think your marketing technology (MarTech) stack is king? Pull yourself out of 2017.
Your customers are dropping out of your funnel. Engagement is down. The CEO is on you to get results… today.
Where can you find more efficient ways to get the job done?
A better MarTech stack.
If you aren't using a diverse set of tools, you're likely falling behind.
Marketing departments around the world are scrambling to find the best ways to identify and engage their customers.
Are you wondering why your team can't find more customers? Or better satisfy your existing profit centers?
It's because your MarTech stack needs a facelift. An upgrade to help you better serve customer needs and enable easy onboarding.
Like a valley girl without botox, a business without a proper stack is showing its true age.
But with over 5,000 MarTech options available, finding the right tools for the job can be daunting.
Luckily, I've got your back.
Get your MarTech stack ready for the future with the hottest apps on the block.
1. Salesforce
Managing customer relations is key to growing your business.
It's 5x less expensive to keep an existing customer than to sell to a new one.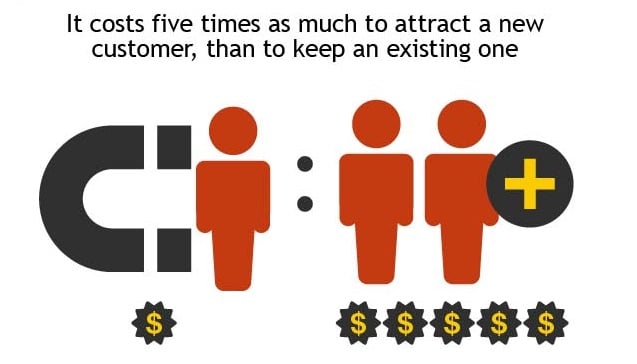 But upselling and reselling to existing customers presents a big challenge.
Just because someone bought from you once doesn't mean they'll do it again or stick around forever.
You need to manage and nurture the customer relationship.
When it comes to that, Salesforce continues to steal the CRM "best in show" — and with good reason.
It recently topped Fortune's list of 100 best companies to work for in 2018 and has been able to retain consistent growth behind its experienced leadership.
What's their secret to being the biggest SaaS shark in the ocean?
It's one of the most customizable CRMs out there and has been battle-tested for nearly two decades.
It has integrations for just about every use case with it's AppExchange being second to none.
With AppExchange, you can find, locate and utilize different applications like you would plugins on WordPress.
Businesses of all sizes use it and love it.
Whether you are a mom-and-pop shop getting started or a large enterprise org, Salesforce has seen your use case before and has a solution.
Dashboards are full of comprehensive data that you can use to build customers from small lifetime values to high lifetime values.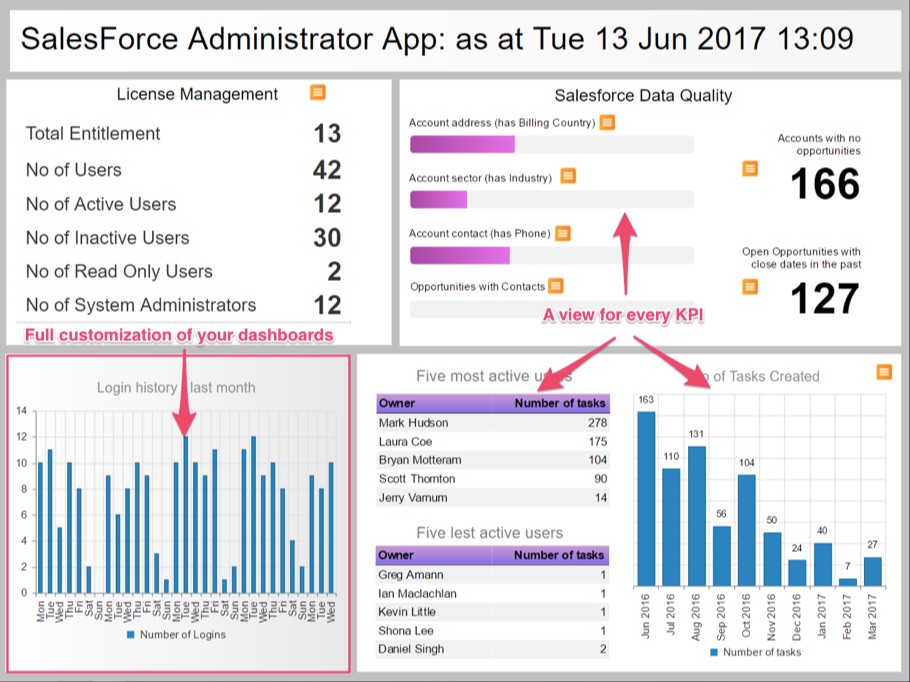 Salesforce is king when it comes to customer relationship management.
2. Hootsuite
When it comes to social media, today's consumer is everywhere.
In fact, the average consumer has seven different social media accounts spread across multiple platforms.
While that presents an opportunity in the form of reaching new customers with multi-channel strategies, it also creates an internal nightmare when it comes to managing it.
Posting, liking, commenting and engaging on seven platforms? That's a full-time job.
But not when you take advantage of platforms like Hootsuite.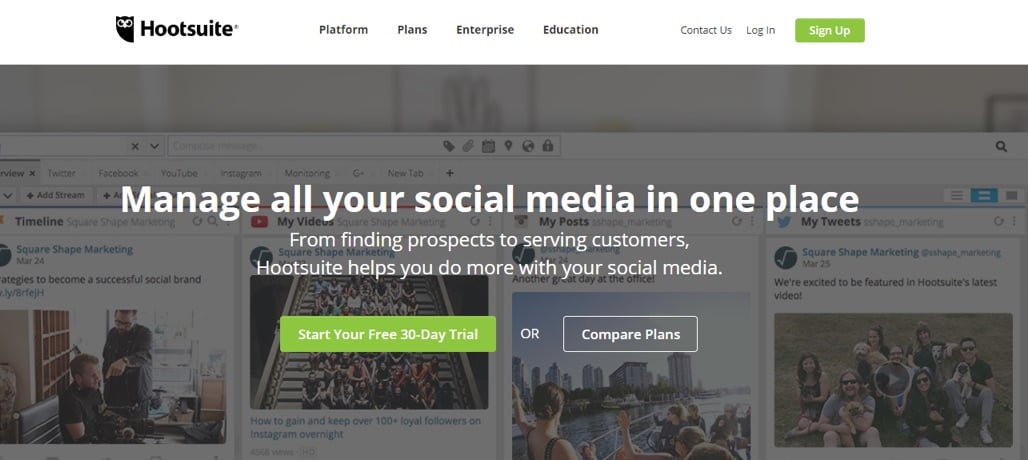 Hootsuite is a necessity for managing your social media presence.
While Facebook Advertising is primarily about "speaking" to your customers, Hootsuite should be used to "listen" and engage.
Of course, finding a way to listen to multiple channels at the same time is difficult. Hootsuite solves the problem by managing all your social channels in one place.
By using a unique dashboard to monitor unlimited streams from all the social media channels your team uses, you can schedule, optimize and interact with consumers in just minutes on any platform.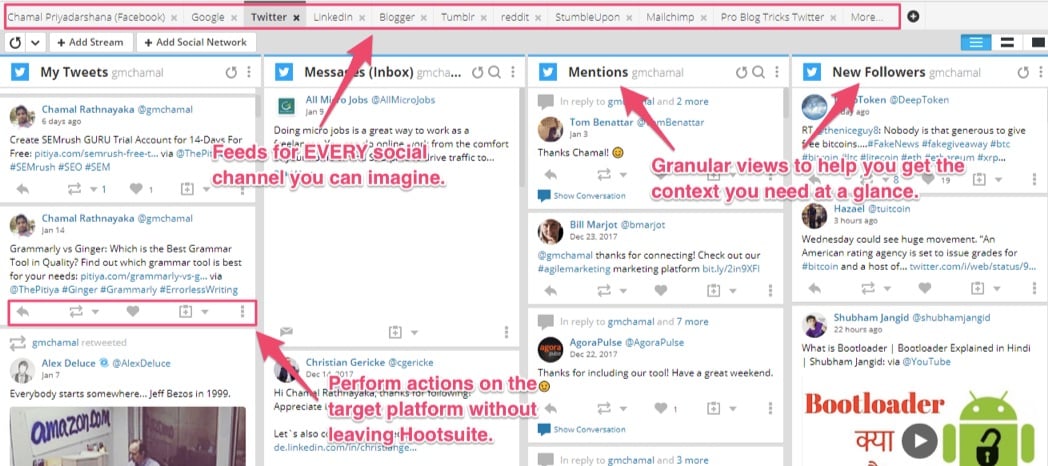 With integrated analytics dashboards, pulling up reports for your marketing and sales teams is easy.
Connecting to diverse content systems beyond social, you can pull up free stock images to aid your social campaigns:
The platform is decked to the fullest, helping you manage social media with one tool in a sector that normally requires multiple.
3. Google AdWords
Reaching new customers is key to scaling your business.
And there's possibly no better place to do that than advertising with AdWords.
Despite Facebook's massive growth, Google AdWords is still the most widely used advertising platform in the world.
In fact, getting certified in AdWords is seen as a necessity for most entry-level digital marketing professionals.
While most people are interested in Facebook, here's why you should keep AdWords in your toolbox:
AdWords packs a punch in the form of intent.
If cleanliness is next to godliness, then intent is next to customer acquisition.
On platforms like Facebook, people aren't there to see ads or find products. They are engaging with friends, family, and funny videos.
But on AdWords, people are actively searching via keywords to find solutions to their problems: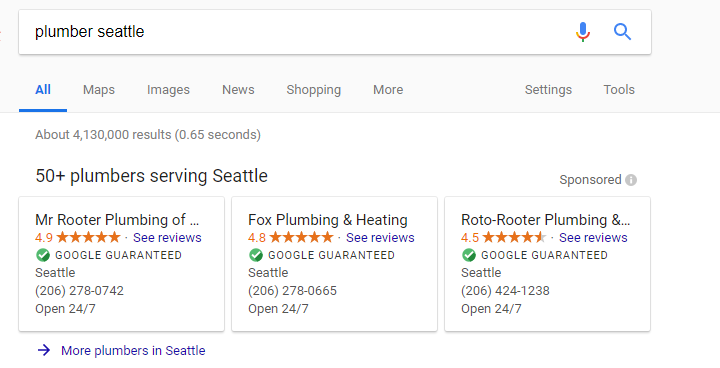 They want help ASAP. So you can virtually skip the typical funnel process and get down to selling.
On top of intent, AdWords packs reach. Google handles over 40,000 searches every second.
Not to mention over 3.5 billion each day and 1.2 trillion each year.
With AdWords, you can also advertise on YouTube, a platform with 1.5 billion monthly active users who watch more than an hour of content daily.
In terms of support, you have access to dedicated account managers that will help run and optimize your campaigns.
The dashboard is extremely easy to use, too.
With diverse demographic targeting and custom audiences, you can reach users with Facebook-like specificity.
AdWords is the bread-and-butter of PPC advertising and will continue to dominate with its massive user base.
Add it to your stack and get your piece of the pie today.
4. Optimizely
Running tests is critical to finding success. Whether in product creation, marketing development or sales.
Test and test again.
But when most A/B tests fail, you often can't rely on your own, basic marketing tests to provide statistically significant data.
Let Optimizely take your experiments by the horns to stay ahead of the competition.
Test against your assumptions to build better campaigns that capture more users and increase retention.
People will think you became a guru overnight.
There are a number of ways you can impress your team with Optimizely.
Use Optimizely X, and you can experiment across "every device, every channel, and every customer touchpoint."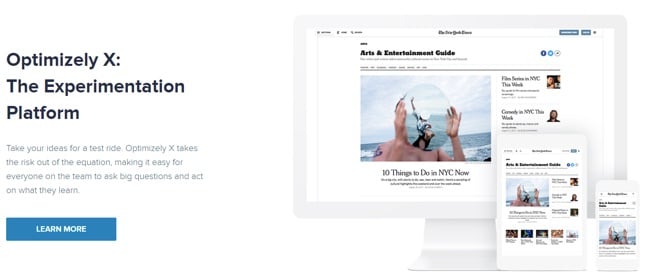 With unlimited users, you can easily collaborate with anyone to build dashboards that will make your executive team happy.
Show the world your technical prowess by empowering developers to support your optimization marketing tech.
Optimizely powers optimization and testing for some of the largest companies on the planet for a reason:
It simplifies testing and provides accurate, effective results.
5. Crazy Egg
Every marketer thinks they understand their customers. Their pain points, wants and needs.
But when it comes to driving sales, do you know how the user experienced your site? What they loved or hated?
Unless you are using a heat mapping tool like Crazy Egg, you likely don't.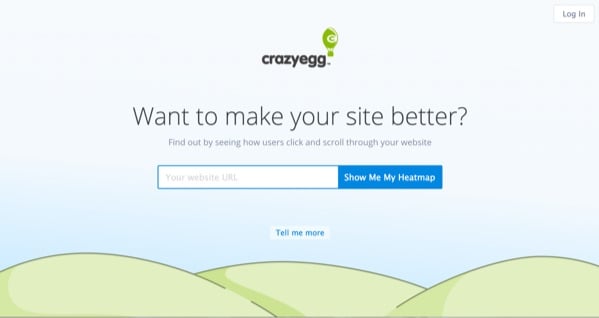 Crazy Egg is known as a heatmapping tool that provides an X-ray of how visitors are interacting with your site.
They were one of the first in the space, and remain the top player for a few main reasons.
With Crazy Egg, you can see which part of your pages users click on the most, where they are spending the most time (on a per-page basis), and what areas are being completely ignored.
They offer four different views, but Heatmap and Scrollmap are where it's at.
Heatmap allows you to see where users are clicking and Scrollmap allows you to see where users are spending the most time (especially helpful for those of you producing long-form content).

Crazy Egg allows you to A/B test different variations of pages so you can continue to make iterations.
Getting insights on how your users interact with you is invaluable for optimization. Quit your slacking and start using heatmaps.
Speaking of slacking…
6. Slack
Collaborating and communicating across teams and departments shouldn't be a boring, tedious or annoying process.
And, it shouldn't be an afterthought, either.
According to HubSpot, the more aligned your sales and marketing team is, the better overall growth you'll achieve.
And that's where Slack comes into play.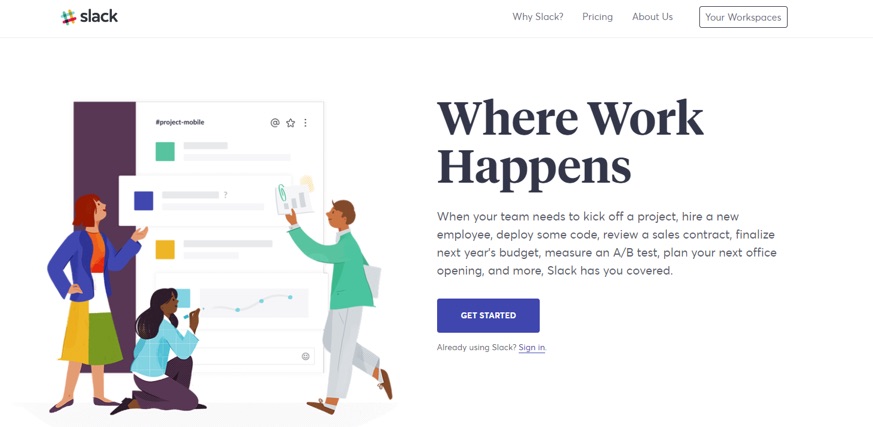 With Slack, all of your team communication exists in one place. You can message individuals directly, create a group, and create Slack channels to keep conversations topical and organized.
Plus, they have integrations with EVERYTHING. GitHub, Trello, Dropbox, Google Drive, Heroku and countless other MarTech tools. The list doesn't end.
Slack is where work gets done, and team communication stays fluid.
7. Marketo
Latest data shows that 91% of companies using marketing automation find it to be an integral piece of their marketing strategy.
The fact of the matter is, with so many channels and platforms available to marketers today, automation is necessary to thrive.
And Marketo is a powerhouse of automation designed for marketers by marketers.
If you're in B2B and want to get an idea of how your prospects are interacting with all your marketing channels, Marketo is the wingman you've always wanted.
Built on the same core platform as Salesforce, Marketo is a necessity for any team running multiple channels for customer acquisition.
With an easy-to-use modular system featuring marketing automation, consumer engagement marketing, real-time personalization, and marketing management, you can customize everything for your specific business needs.
Marketo is designed for scaling businesses.
The platform allows you to clone entire programs such as landing pages and email marketing, so you don't have to create new ones as your grow.
Using advanced reporting to pull detailed customer analytics and then compare across channels, Marketo can integrate with just about any other MarTech tool you use.
Marketo is built for the power-user. For the marketing team that attacks multiple channels and needs heavy equipment to get the job done.
8. AdRoll
AdRoll arrived on the MarTech scene as a retargeting platform but has since transitioned into a full-funnel DSP (demand-side platform).
What does this mean? AdRoll allows you to attract new customers to your site, convert site visitors at scale, and continue to maintain a relationship with your existing customers.
Programmatic marketing has gotten some flack recently, but the numbers don't lie:
There is a reason AdRoll has over 30,000 customers (well, there's at least 30,000 reasons).
And what AdRoll is working on in the future is even more interesting.
AdRoll plans to focus more on incrementality utilizing big data and machine learning to get a complete sense of which ads are actually causing customers to make a purchase.
They are building out an account-based marketing solution and are poised to become a market leader in the space.
Take their access to over 300 ad networks and exchanges, add an advanced bidding tool, and layer in very specific customer data from Bombora.
That's a recipe for potential success and more money in your company war chest.
Their account management is second to none. For mid-market companies, you will not get the same level of customer service from Google or Facebook.
Want a platform to help grow and nurture customers? Look no further.
9. Sprinklr
CXM, or customer experience management, is the audience engagement need for your MarTech stack.
Have you heard the maxim, "People don't care what you know until they know that you care"?
With CXM, that core idea rings true. Engaging with your audience is an absolute must-have for creating a dialogue about your brand.
Sprinklr makes this easier than ever to put into practice.
Their CXM platform gives you complete control over the customer experience.
Pull over 25 social channels into a unified platform. Reach and listen to all your customers in one place.
Add context to data pulled from other platforms, like your Salesforce CRM.
Schedule your campaigns and monitor results with ease.
Leverage Sprinklr's app marketplace to make the most of your CXM data.
With diverse integrations, you'll be able to connect Sprinklr to any other tool in your stack.
10. MailChimp
When it comes to email marketing, there are countless platforms available.
But starting out with your first platform can make or break your success.
Some cost a fortune, and others are meant for top-level companies.
Thankfully, MailChimp exists, allowing any company of any size to start an email marketing campaign in just minutes.
With powerful analytics dashboards, you get clear data on your campaigns without vanity metrics:
Using a drag-and-drop email building system, you can get campaigns established fast with the look and appeal of a high-tech, high-cost platform:
The fact is, email still reigns supreme.
Email is still one of the most influential information sources for B2B audiences.
On the B2C side of things, welcome emails generate 320% more revenue than general promotional messages.
If you aren't capitalizing on the opportunities to maximize revenue from your email marketing… well, then what are you doing?
MailChimp makes it easier than ever to build automated campaigns for drip funnels and promotional marketing, with templates that make the process a breeze for you and your team.
You can quickly split your audiences into lists for optimal campaign performance.
As with most MarTech tools, it integrates with just about every app on the planet.
My personal favorite tactic is using Gleam to build a competition, then leveraging automation in MailChimp to convert those participants into customers.
All that's left to do is sit back and watch yourself win.
11. Wrike
Keeping everyone on the same page is just as vital as getting your MarTech stack working overtime.
Ensuring that every team is interconnected, working together and sharing information isn't easy.
Especially when teams are hard at work.
And that's where Wrike comes into play.
Wrike has an advantage as one of the leading productivity management platforms in the world.
When your MarTech needs to stay on track, count on Wrike to keep all your campaign tasks organized.
Wrike helps you to test workflows before launching them into campaigns and manage communications across members of your team.
In addition to a robust free trial and extensive documentation to get you started, Wrike boasts a library of integrations — including some of the market-leading MarTech tools.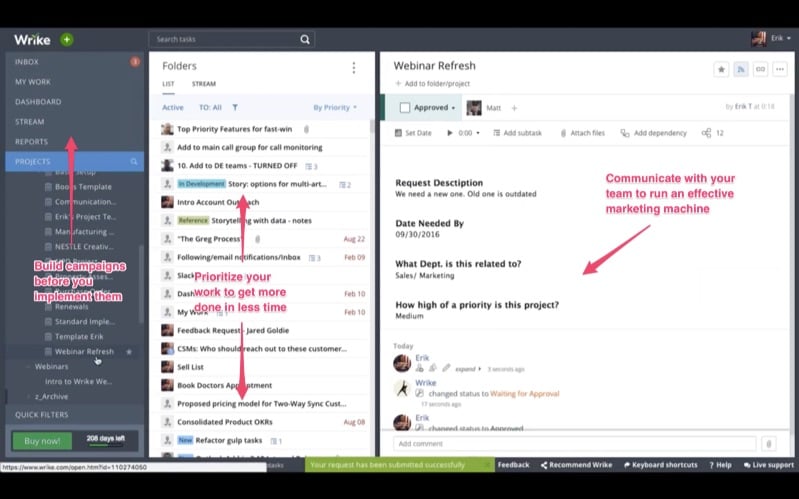 Wrike is perfect for businesses that get work done and need to share that work across various departments and teams.
Integrate it into your marketing stack for streamlined communications and efficiency.
12. Zapier
Say you need to connect your marketing campaigns to reports to Crazy Egg, and then email those reports to your supervisor at 4:00 PM on the dot?
Diverse, detailed and seriously precise marketing automation like that is hard to come by.
And that's why Zapier is dominating the competition.
Connecting anything to well, anything, is as easy as selecting a few dropdowns. Choose the apps you want to connect, create a hook, and voila — instant MarTech magic.
Zapier is the Muhammad Ali of automation. Using easy, customizable triggers and actions, you can connect any app in your stack to run highly specific tasks.
Once you've set it up, you simply let it run in the background, automating most of your daily tasks that kill your time.
13. SERPs
SEO has changed dramatically in the past ten years. In fact, Google makes updates to their algorithm nearly 600 times each year.
That's more than once a day.
Staying up-to-date with SEO is crucial, and there is perhaps no better way to know who is outranking you on specific keywords than SERPs.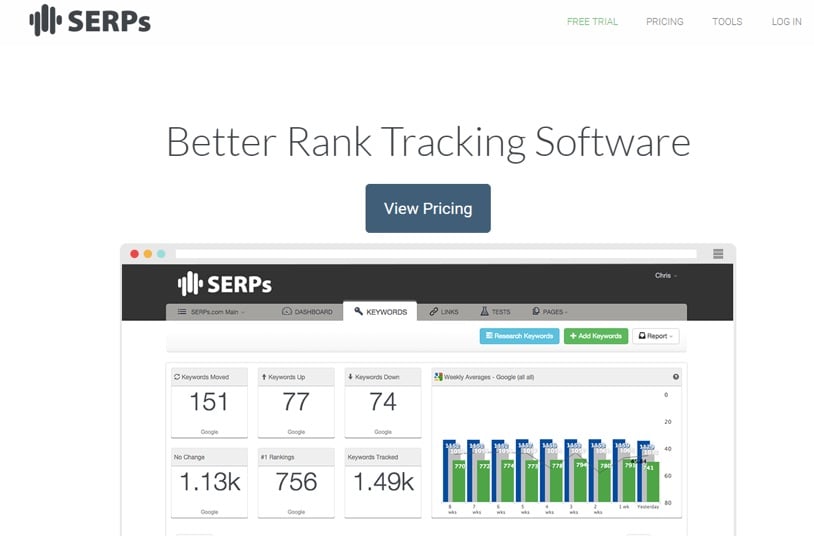 SERPs is the one-stop shop for competitive SEO insights. Your SEO is never good enough in today's algorithm-shifting world.
Until you hit #1 ranking for every targeted keyword, there is always opportunity to improve.
SERPs helps you go above and beyond plain old research to deliver actionable insights about your competition.
When researching their Google ranking index or keyword research database, you can gather insights on which keywords competitors are targeting, campaign costs against those keywords, and SEO rankings for specific landing pages or blog content.
Stop doing keyword research with sub-par platforms or directly on Google.
Integrate SERPs to get the benefit of keyword research and competitor research in one.
Bringing it all together
Building a MarTech stack is a complex problem.
You have over 5,000 options to choose from with a very specific budget and a list of requirements.
Want to hear some good news? You've already done the hard work. Finding the right resources is half the battle.
The other half of the battle is getting your knowledge to align with actions.
You are the glue holding your MarTech stack together. Without your decisions, there is no marketing ROI for you and your team.
You still need to bring everything together to ensure your team can make the most of this powerful MarTech tool stack.
First, ask yourself these two key questions.
What are my immediate goals?
Your initial answers to this question led you here, so it may be time to really look into what you're doing and why you're doing it.
In my first marketing role at a SaaS company, we spent about $10,000 on LinkedIn Ads that only converted 0.1% of users who clicked through.
In some companies, this is a campaign that can put you out on the street.
You know what our team did instead of stressing about the results? We doubled down with a clearer objective.
Our initial goal was too broad. "Convert 1% of user click-throughs" only works if you're offering real value and understand why your content is valuable.
We were trying to sell ourselves without telling a story, and our prospective customers could see right through it. So what did our new goal become?
"Convert 1% of user click-throughs and increase total ad clicks by 5,000." Then we were prioritizing context as well as optimization.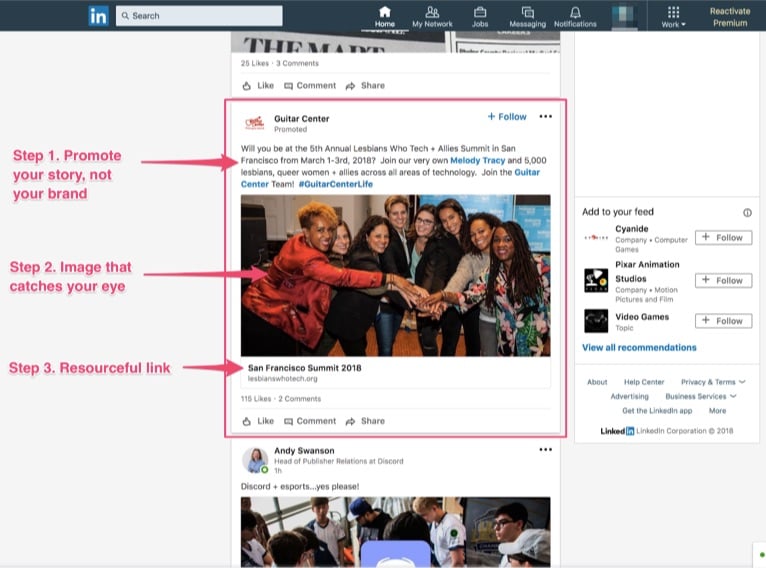 Bringing this back around to the finish line, your goals are the hidden driver for your MarTech stack.
Understand your why and be clear about how each MarTech tool guides you toward success.
Where are you going to achieve a greater ROI?
The trick is actually more simple than it may seem.
You'll generate ROI when you test assumptions and land in the right place at the right time.
With measurable and actionable results, you tell a more informed story about your customers.
A better story leads to better experiments. Before you know it, your marketing machine does all the heavy lifting for you.
For example, your life is easier when you put the majority of the load on your MarTech stack.
Your MarTech tool stack is the key to achieving successful ROI in your marketing efforts. Without it, you're Captain Ahab in the ocean minus a paddle and spear.
Want more? In this video, I share 5 tools I didn't mention in this list:
Conclusion
Marketing stacks are key to streamlining your marketing campaigns in the modern world.
With so many options to choose from, it can often be overwhelming.
For your average mid-market company, a combination of Crazy Egg + HubSpot + Google + Facebook may be all you need.
Even startups can benefit from this stack.
Enterprises can combine these tools and more to achieve even more growth.
With the addition of Sprinklr and other CXM tools, every channel becomes a potential revenue stream.
You've shown an appetite for winning in the marketing game by getting this far.
Go forth, build your MarTech tool stack, and show the world what you can do.
What completes your MarTech tool stack?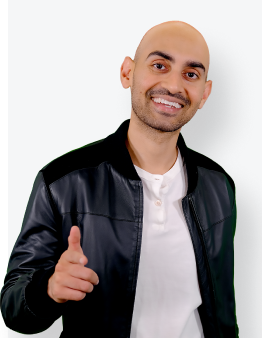 See How My Agency Can Drive More Traffic to Your Website
SEO - unlock more SEO traffic. See real results.
Content Marketing - our team creates epic content that will get shared, get links, and attract traffic.
Paid Media - effective paid strategies with clear ROI.
Are You Using Google Ads? Try Our FREE Ads Grader!
Stop wasting money and unlock the hidden potential of your advertising.
Discover the power of intentional advertising.
Reach your ideal target audience.
Maximize ad spend efficiency.