It's a simple fact.
If you're a business owner, freelancer, or marketing manager, you will eventually fail. A campaign will flop, you'll lose money, or you won't get the traffic you were hoping.
But the failure itself isn't the problem. What matters is how you respond to the failure and what you do after it, and how you get started again with your next project.
The goal of every failure is to learn a lesson, and if you learn a lesson then the mistake is (usually) worth it. But there's another way to avoid failing: learning from the mistakes of others.
In my years of running campaigns, I've learned three measurements that have helped me avoid costly mistakes and create successful campaigns—and also tell me when to kill a marketing campaign.
They are:
Contextual influence of sales

Market share

Focusing on the right channels
By measuring these correctly, you can turn a campaign around or even avoid a campaign before others see the warning signs that it's bound to fail.
There's a lot to learn in marketing, and this article won't cover it all. But these three elements are key to any successful campaign—ignore them at your peril.
Let's explore each.
1. Calculate contextual influence of sales
Okay, you're probably wondering what exactly that even means. But it's actually not that difficult—"contextual influence" just means how one action relates to another.
When we're talking about marketing, that means we need to make sure the changes we make to our strategic plan actually have an effect on sales.
The best way to explain it is with an example.
For my Quick Sprout Pro Traffic System product I decided to create a simple video as a product promotion. The investment on my end was low and it was relatively easy to make.
The best kind of test is when there isn't a large upfront cost, which is why this worked well for me. Otherwise, a test that fails can leave you broke.
With the video, I tested to see how people would respond. So I compared how many people bought the Pro Traffic System with watching the video versus those who hadn't watched the video.
It's possible that other means besides the video drove them to buy the Pro Traffic System. However, if I just looked at the straight sales numbers, I couldn't assume it worked.
I needed a way to isolate the sales based on what people had seen and interacted with the promotion page.
There are lots of tools that can help you do this, including Google Analytics and Crazy Egg (which I used in this test).
Your goal is to isolate sales based on one factor, like my video promotion.
The analysis I did with my own site and web marketing campaign proved that the video was having positive results on the outcome. That is, people were more likely to buy after seeing it.
By comparing the heat map data with sales numbers and the leading referrers I discovered that sales actually fell when I did not use the video.
It's easy to get caught up in the total sales without isolating changes.
Selling twice as much after a new marketing campaign might feel exciting, but if your traffic is ten times as much there's still plenty of room for improvement.
2. Calculate market share
This is one of the more difficult metrics to analyze, but we need to work through it because it's the key to true success in any field.
Market share asks a simple question—of all the competitors in the field, what percentage of users are choosing my product?
But how do you even calculate market share? We can't just ask our competitors for their total user base. So, what can we do?
Simply calculate the number of products or services sold versus the total market size.
But it's not as easy to say that the number of items sold is how many products you moved off the shelf.
You need to ask yourself these questions:
Are you going to calculate in dollars or units sold?

Do you count orders that have to be delivered or appointments booked before actual service or money has exchanged hands?

Do you include sales from affiliates?

Do you include taxes?

Do you include the maintenance cost of your product or service?
I recommend calculating the costs that are included in the product, like taxes and maintenance. The rest are up to you.
Next, you have to figure out market size. That information isn't the easiest to capture, but there are two approaches I like to use.
First, collect annual reports and company information about the total revenue in a particular market. This approach works best when there are few players in the market.
The airplane industry, for example, has relatively few players, so it's not difficult to find the total market share.
You can get geographic and demographic data from companies like Applied Geographic Solutions or Nielsen, and consumer data from resources like NPD Group.
If that's too difficult, you can also look at a similar market. This can be risky, but is better than having no data at all.
To do this, you'll want to find a market that is similar to yours in its behavior or size.
For example, if I couldn't get data on web analytics for my company, I might look at similar industries like the offline analytics industry, which has been around for a while.
With this, you just need to calculate a percentage. For example, you might have 7% of the market. From that, you can set a goal of hitting 10% market share by the end of the year.
That means you'll need to win over 3% of the current market share, and grow your company by 43%.
You can then take that goal and reverse-engineer it to create your plans and strategies for the year based on that benchmark.
3. Focus on the right channels
If you're spending time and money on the wrong channels, you'll never get the results you're looking for.
Instead, take a careful look at where your audience is spending time online and start targeting those areas specifically.
According to data in 2017, businesses can make $2 for every $1 they invest in Google Ads, and the ROI for email marketing campaigns can be as high as $44.25 for every dollar spent.
But despite those great numbers, Google Ads and email might be the wrong area to target for your ideal audience.
That's why you need to understand which channel to focus on. Here's how you can do that.
First, conduct research to learn where your target users and customers are already spending their time. It's a lot easier to go where the fish are than to convince them to come to your area.
Check out blogs, social media groups, and forums to learn where people are spending time. You can also conduct in-person interviews to learn more about where people are browsing.
Get a feel for the biggest communities with the most engaged audiences, because this is where you should focus.
Next, decide how you'll target those areas. This could either be associating yourself with existing influencers, or joining the medium yourself as an influencer.
For example, if you already know your audience loves reading blogs and listening to podcasts, one option is to guest post or appear on podcasts others have already created.
Or, you could create your own blog or podcast. And of course, there's nothing wrong with doing both at the same time—appearing alongside influencers while becoming one yourself.
Finally, keep testing. Learn what strategies work best and which areas are giving your the best return on investment.
Once you know where people are listening and where they aren't, you can make more accurate targets with your time and money to reach your most engaged followers.
Conclusion
Marketing is a lot like a science.
Sure, you can start a campaign easily. You can even create a campaign for $100 or less. But keeping it going is the hard part.
There are so many measurements you can use to track your results and improve your campaigns, data that dictates how your campaigns should improve.
But far too often, smart marketers forget to look at the data and run campaigns that end up as massive failures. Instead, pay attention to the analytics and you'll avoid those mistakes.
First, understand which factors truly lead to more sales. Create simple tests to deeply understand the influence of different strategies on your bottom line.
Next, learn where your brand sits with market share. This is a challenging metric to find, but is worth the extra work to better plan your strategy.
And finally, develop personal brand awareness. Use tools to understand your influence as a personal (not business) brand on social media and through the content you produce.
What measurements do you look at when planning a marketing campaign?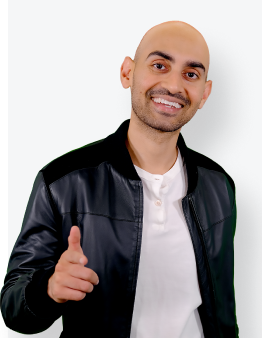 See How My Agency Can Drive More Traffic to Your Website
SEO - unlock more SEO traffic. See real results.
Content Marketing - our team creates epic content that will get shared, get links, and attract traffic.
Paid Media - effective paid strategies with clear ROI.