The Internet looks different on mobile devices.
Each device has a different screen size, has different capabilities, and is used in different ways by different people.
Aside from these differences, we do love accessing the Internet on mobile devices.
According to Hootsuite and We Are Social's Digital in 2017 report, there are 4.917 billion unique mobile users.
The same report shows that mobile phones are increasingly being used to access the Internet.
As smartphones evolved and became more accessible, we started using them more to surf the web.
There's a 30% increase in the time we spend browsing the Internet online every year.
This makes optimizing your mobile website important for increasing your conversions.
But web browsing isn't the only capability of mobile phones.
We use these devices for instant messaging, emails, phone calls, social media, photos, and more.
Here's a breakdown from a recent eMarketer survey.
It doesn't cover the entire gamut.
People use smartphones to listen to music, watch movies, play games, find directions, and more.
You never know where you'll catch someone's eye.
The point I'm making is that conversions on mobile devices are much different than desktop web browsers.
They aren't limited to a website and can go much further into a user's device and daily activities.
What I'm going to teach you today is how to double your mobile conversions using simple and effective techniques.
When used together, these tactics will help you increase subscribers, boost sales, and provide a healthy, sustainable ROI.
Let's get started with the most important step: data gathering.
1. Analyze your Google Analytics
Google Analytics is the first stop you should make before making any changes to your online properties.
It gives you a feel for how you're doing overall. It's where you gather information to make the right decisions.
There are several great reports in Google Analytics to start seeing what's already converting.
First, we'll look at our Acquisition Channels report.
Here, we can see that my traffic comes from four sources. Organic search traffic comes from search engines.
Referral traffic comes from off-site links (either on other sites or through email), and social comes from social media links.
Direct traffic is coming from people who directly type my web address into their search bar instead of using links.
Where this traffic comes from gives me an indication of where in the conversion funnel each visitor is.
You can also see what search queries are leading to your website.
This is done in Search Console – Queries.
This report shows you the popular search queries that are driving traffic to your site.
It helps you understand what it is your visitors are looking for.
Are you providing them with what it is they're truly looking for?
To see which landing pages these queries are hitting, check the Landing Pages report under your Search Console.
Matching these reports gives you a holistic view of how you're gaining visitors.
Turning these visitors into qualified leads is your ultimate goal.
To do that, we'll need a bit more information.
Another great report to mine for data is the Behavior Flow report.
Using this report, we can see where visitors are dropping off in our on-site conversion funnel.
Each interaction has an inherently lower volume because they're interdependent.
These reports are enough to get started thinking about important questions.
Why are visitors coming to your site?
Are you providing them with what they're looking for?
Is that clear from your web copy?
How are you quantifying this?
Typically, these interactions are quantified with a call to action, and that's where we'll focus our efforts next.
2. Improve your CTA
A big mistake first-timers make is using generic CTAs on buttons.
You might understand the importance of anchor links in blogging, SEO, and link-building, but fail to use them on your buttons.
Here's the CTA from my homepage.
Instead of a generic "Click Here" or "Buy Now" like everyone else uses, I describe the use.
It's just a fancier contextual link, but when we call them "buttons," we forget simple things like this.
So instead of "clicking here," you're confirming that you want me to teach you SEO.
I'd probably get more clicks by leading people to blindly click, but my method gets more qualified leads.
I take it a step further with a pop-up if you sit too long on my site.
Now, the countdown timer is more prominent. You're given a few initial steps to register, too.
The CTA button becomes more urgent and passionate.
I even use an exclamation point!
It's exciting!
And instead of an X, you have to click, "No thanks, I don't want free traffic" to close the window.
It's a psychological trick that can easily boost conversions by a significant margin.
Also be sure to include a CTA whenever necessary.
In the case of Crazy Egg, it's at the bottom of the page, after you click "Tell Me More" to see the features.
This is especially necessary on mobile devices, where it's harder to navigate around any given web page.
On-page links can also be used to allow users to jump straight to your CTAs.
I keep mine all over the page.
Most people will want to read through the information, but if your visitor loses their cell signal or has to restart their device, make the path back as easy as possible.
Disconnection issues are more likely on mobile devices as users move between towers and networks.
No matter where on my site you're looking, I try to keep a CTA in front of you.
3. Use social proof
Social proof is a popular way for businesses to show off their credentials to visitors.
You'll see social proof throughout my site.
I show off the companies I've worked for, like Google, eBay, Facebook, and Intuit.
This helps you understand that I'm somebody with whom big names want to work.
If that's not enough, I also include testimonials from some of these big names.
That really drives that point home that not only did they work with me, but they were satisfied with the results.
Of course, it has to be done the right way.
First, you have to harvest those reviews.
There are right and wrong ways to do this. Amazon, for example, recently banned incentivized reviews.
It used to be common to see something like a printer company offering free toner to customers in exchange for Amazon reviews.
This type of remarketing is against Amazon's terms and conditions and may also violate FTC guidelines.
Amazon does a great job of soliciting reviews itself though.
After your package is delivered, you'll have options to leave product feedback and a product review.
The reason Amazon separates these is to ensure that individual sellers on its marketplace aren't penalized for its shipping issues.
Customer testimonials are a big part of Amazon's marketplace and how its customers make purchasing decisions.
Integrating either type of social proof (professional or customer reviews) can easily double your conversion rates.
4. Localize your content
You already know that localizing content is a great small business marketing strategy.
It's also great for doubling conversions, especially on mobile devices.
One of the biggest differences between mobile and desktop devices is we're typically mobile when using them.
That means there's a big opportunity to market to customers based on a user's location.
It's called geotargeting (although geofencing and beacons all serve similar purposes).
Marketing in this way has a ton of benefits.
First, you can save yourself a lot of time in targeting niche audiences.
Let's say that I create and sell airplane- and flight-related artwork.
I could target people on Facebook who are interested in airplanes, travel, flying, and the Air Force.
Or I can go one step further and target everyone at McChord Air Force Base just south of Seattle.
By geotargeting my ads to people who are visiting each of these buildings, I can reach a very targeted audience whom I know is interested in airplanes.
You don't get into the Air Force by not loving planes!
I'm targeting a specific audience that's more likely to become qualified leads this way.
This is just the start of how geotargeting can be used to transform your mobile conversions.
I use another version of geotargeting on my own home page to increase conversions by 20%.
See how it says the name of the city you're in when you arrive?
It's a personalized touch I added using a piece of javascript from Geolify.
This tool can be used for a variety of localization options.
The company has great support, and it's a low-cost way to greatly increase conversion rates.
Redirects, images, and content can be localized.
For the purposes of this tutorial, I'll show you how to recreate the Javascript I used on my site.
I specifically chose a city for mine because I'm targeting U.S.-based businesses.
It would've been just as easy to use states, but I wanted it to feel very close to home.
Even though I'm based in Seattle, I've worked with businesses all over the globe.
We have a virtual-team economy, and I'm just as effective from a computer no matter where I am physically.
But it makes my clients feel better knowing I understand their local nuances.
There are several fields to fill out to let Geolify's servers know what you want, and you'll soon have a customized code that looks just like mine.
Here's a sample of the code. You can change it around to see how to make it work for your needs.
If you're not familiar with HTML or how to customize your website's code, don't hesitate to hire a professional.
Any change to your website, no matter how small, can have devastating results if you're not careful.
And there's one more Google Analytics report to add to our pile of data now that we're on the subject of geotargeting.
Select Audience – Geo – Location to see a map of where your traffic is coming from.
This gives you an idea of which countries, cities, or states you may want to include or block using geotargeting.
There's both a heat map view and a graph view to sort the data by.
It's a useful way to select markets for Google, Facebook, and other off-site paid ads.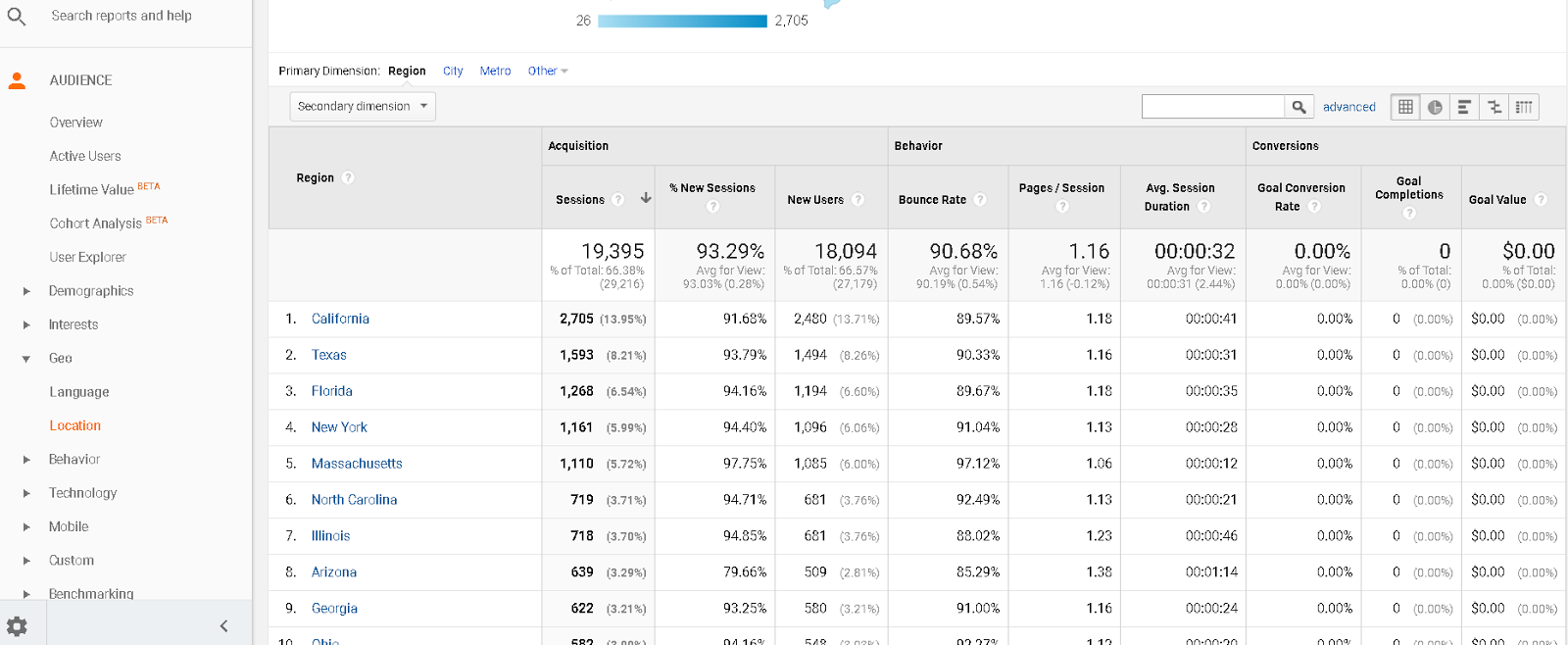 WordPress plugins like AdRotate Banner Manager can make geotargeting ads easier to deploy.
The banner ad changes based on where a visitor is located. It's a great way to provide a return on advertising investment.
Also, don't neglect to utilize local content marketing tactics.
Start a blog and write about local events. The more local keywords you use, the more recognizable you'll be in the local community.
The overall effort of localizing your content will more than double your mobile conversions.
5. Take advantage of phone features
Location isn't the only advantage of mobile devices.
They have a lot of features that can be taken advantage of.
You can send direct notifications to mobile users.
Websites like eBay, Facebook, Pinterest, and Product Hunt use push notifications for instant engagement with customers.
These notifications combined with geotargeting are an amazing combination for doubling mobile conversions.
Whenever I pass by a Bank of America, for example, Android Pay, Samsung Pay, and even the Bank of America app could let me know.
I may not have stopped by the bank or used the app, but this notification prompts me to convert into a user.
We only wished we had that kind of power 20 years ago in marketing.
But that's not where push notifications stop.
Notify customers when a sale is starting or ending, when items in their abandoned shopping cart change price, and more.
And don't discount other phone features like connectivity to wearables.
According to Business Insider forecasts, the wearable market is continuing to grow through 2020.
People are increasingly used to using fitness trackers, smartwatches, AR and VR headsets, and more.
By accepting these technologies and marketing toward them, you open up entirely new channels of communication.
Alibaba, for example, launched a full VR shopping experience in late 2016 called Buy+.
This allows customers to walk through virtual retail stores like Macy's and Best Buy.
These experiences are too processor-intensive for mobile VR devices, so they're available only on Oculus Rift and HTC Vive at the moment.
But it gives you a glimpse into the possibilities of VR.
Right now, it's such a new technology that early-adopting brands are going to find themselves creating huge wins.
Imagine what AR headsets like Google Glass are capable of.
If you can visualize the world in this way, you'll be well on your way to doubling mobile conversions.
This is the path the Internet is moving toward, and you'd be smart to stay ahead of the curve on it.
6. Use sound
Sound is one of only five senses we use. Digital marketers typically focus on visuals.
But sounds have their place too.
How do I know it works?
The first time you visit NeilPatel.com, you'll notice a bell in the bottom right corner.
It rings and even moves until you click it.
This form that pops up when you do is the single highest-converting element on my website.
I used a bell and alert without the sound, but it didn't work as well.
Websites that use sound to lead customers through the conversion funnel see at least double the conversions of those that don't.
Hello Bar is the free tool I used to create this bell.
The Hello Bar notification can be customized to whatever color and options you want.
Mine only displays for first-time visitors.
I don't want to keep dinging return visitors because that would have a negative impact on my conversions
Sound-activated notifications are a great way to get noticed by users and trigger the conversion you're looking for.
There's just one last step that can double your conversions.
7. Send emails
Email is most often read on mobile devices first, according to research from Email Monday.
A full 87% of respondents to a survey said they sometimes or always check emails on their mobile device before looking anywhere else.
And the same study found that responsive emails have higher click rates.
The first link is always the most clicked.
Understanding these fundamentals can help you tweak your email conversion rates, which are already higher than most other digital marketing rates.
The conversion rates for email and paid search outranked social media and display ads.
This means that email is a vital channel to target on mobile platforms.
And as a bonus, many users will already be receiving push notifications on their mobile devices from the email app.
So even if they don't accept your website's notifications, you can still reach them by understanding that email is actually a mobile marketing channel.
It's also a desktop channel, so consider it a form of omnichannel marketing.
Automating emails can be done through several services.
This time, I'll show you Constant Contact.
With Constant Contact, you can set up email templates and customize them to fit your individual needs.
They can then be set up to trigger based on events, such as abandoned shopping carts, bounces, cancellations, and more.
Conversion rate optimization isn't just about how you reach a customer.
It's also about when and where.
Marketing automation through email is a great way to control that experience across all your digital platforms.
Conclusion
Mobile is the new way we're browsing the Internet.
Whether through web browsers, apps, or digital assistants, we're using our mobile devices more and more.
Optimizing your website to cater to this audience is about more than just picking a dynamic web design.
You have to optimize all of your digital marketing channels to account for mobilization.
Your customers are no longer sitting at a desk, staring at a computer screen.
They're out exploring the real world.
What are you doing to reach customers better on mobile devices?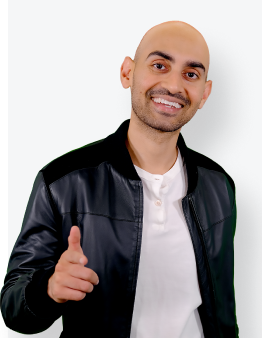 See How My Agency Can Drive More Traffic to Your Website
SEO - unlock more SEO traffic. See real results.
Content Marketing - our team creates epic content that will get shared, get links, and attract traffic.
Paid Media - effective paid strategies with clear ROI.