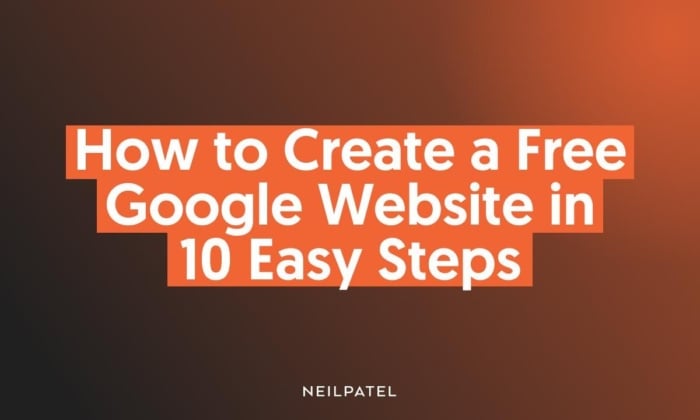 A web presence is essential for getting found online, especially these days. According to Statista.com, nearly a third of consumers in the United States look online for a local business every day. It's simple: websites are essential for attracting new customers.
A website proves invaluable in other ways, too, like showcasing your products and increasing leads. However, your website doesn't need to cost a fortune and include the latest features. If you're a small business that just wants to let customers know who you are and what you do, a free Google website may be just what you're looking for.
What Is Google's Free Tool to Build Websites?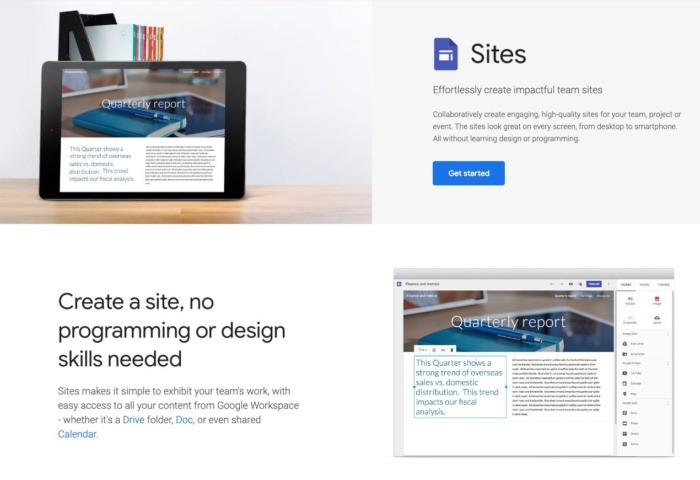 Google's free tool to build websites is called Google Sites. Google Sites allows users to create simple, visually appealing websites with no coding skills required. It offers a user-friendly interface with numerous templates, themes, and options to customize the look and feel of your website.
You can easily integrate other Google services, like Google Drive, Google Maps, and Google Calendar, into your website as well. It's part of the larger Google Workspace platform that helps small businesses streamline their efforts.
Although there's no cost, free Google websites are professional-looking and offer a selection of contemporary themes.
Why Should You Build a Website Using Google's Free Tool?
Google's website builder is suitable for everyone, even for beginners. There's no need for technical expertise with a free Google website and no worries regarding extensive backups.
Additional benefits with a free Google website are:
You don't need to rely on social media: Not every potential customer is on social media, and many may not be on the platforms you like best. Having a website of your own, where people can Google your name or what you sell and find your information without signing in to Facebook or Twitter, can bring in those customers.
Ease of use: One of the main benefits of a free Google website is its simplicity, and it delivers great-looking websites. For instance, even the free version of WordPress can seem overwhelming for the absolute beginner, with menus, pages, sub-menus, etc.
It provides the essentials: If you're not looking for the whole e-commerce experience, then a free Google website is all you need for reaching out to a broader audience.
One in four small businesses don't have websites. Meanwhile, 76 percent of customers look at a company's online presence before buying from them.
Without a website, those businesses are missing those potential buyers.
Websites make businesses seem more legitimate, particularly if the website looks professional. Google websites, which take almost no time to set up and require minimal maintenance, can look like you spent hours of time and thousands of dollars to make it look great.
If Google's free website gets you found, why not take advantage of its ease of setup and free features?
Features of Google's Free Website Tool
The number one thing that sets Google's business websites apart from others is that it automatically makes the site for you. You can alter things as you need, but if you have a Google Business Profile and select the website option, it automatically populates the information on a site for you using a template you choose.
Don't let its simplicity fool you. Your Google Business Profile's free website offers you plenty in the way of features.
For instance, it provides you with built-in optimization so customers can:
contact or message you
place orders
get quotes for services
book your services or arrange deliveries
Additionally, a free Google website allows you to "showcase what makes your business special" via:
Other features worth mentioning are:
integration with Google Maps and Calendar
image carousel and video links
connection with Google Drive
Besides the above, Google gives you automatic updates, advertising, and it's mobile-friendly too.
As you can see, a free Google website offers a lot to the new business owner, but how does it compare with others?
Google's Website Tool Versus WordPress and Other Site Builders
The Google website builder beats many other options in the simplicity stakes.
Additionally, it creates a website with almost no effort on your side, which is where Google's product stands out from similar tools. It also lets you import images with a few clicks, and you can track analytics, so all in all, it offers you the essentials.
The other main advantage over its rivals is you're not starting from scratch, and you aren't making all the decisions yourself.
Although it may seem basic to some, Google gives you a functional, great-looking website, and with some imagination, it delivers impressive results.
For inspiration, look at what Jurvis Technologies did with theirs. This Google business website starts with the basics that give the reader the information they need without overwhelming them with words.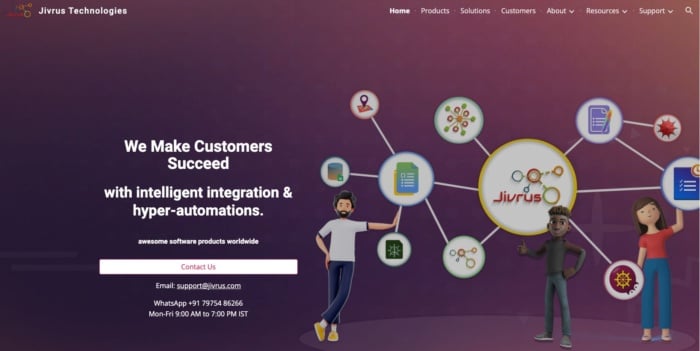 Potential customers can easily navigate through the company's products and offerings to find what they need. At the bottom of each page, there is an easy-to-use navigation bar with links to all products and company information as well as an eye-catching popular products section, making it even easier to buy.
If a customer clicked on one of those blue links, they would be taken directly to the type of product or information they're looking for.
WordPress
While bloggers, Fortune 500 companies, and small businesses use WordPress to build their websites, it's actually a content management system.
You've two options for getting started. WordPress.com gives you the free version, while WordPress.org offers a paid one.
At the free level, the most significant difference between Google and WordPress is that you can create multiple pages within your site, while Google has a one-page format.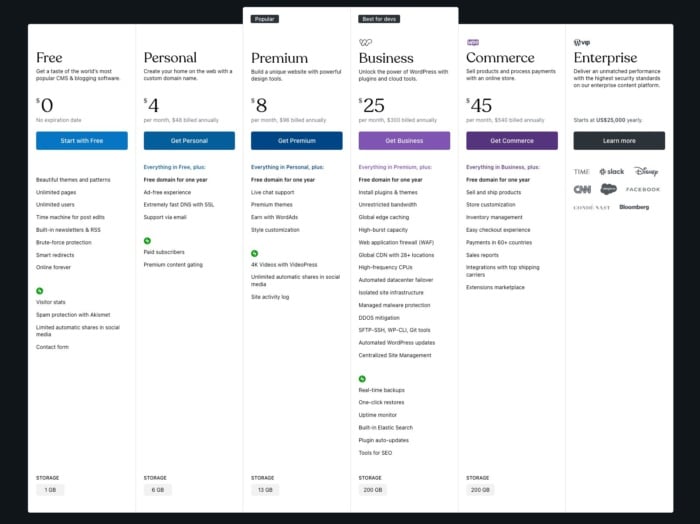 When you get to the paid levels, you can add additional functions.
While WordPress offers many more functions than Google websites, no matter which level you use, you have to start from scratch. Nothing is auto-populated. Nevertheless, there are plenty of tutorials online if you're just learning, and you won't need to do any coding.
Wix
Wix is another free website builder, although it also offers premium and e-commerce plans too. Getting started is simple. Just sign up or log in with Facebook or Google to get started.
Like WordPress, the free level is relatively limited in functionality. If you're willing to pay, though, you can access hundreds of templates, additional types of analytics, and more.
Wix provides 500 different templates, and its drag-and-drop feature means beginners can use it without needing technical expertise.
Other features include:
media galleries
mobile optimization
unlimited fonts
a personalized SEO plan
Wix also provides coding for visitor tracking, while its analytics tool shows your sales, traffic, and visitor behavior.
Squarespace
Squarespace is a popular website tool known for its visually appealing and professional-looking templates. While it doesn't offer a completely free plan, Squarespace does provide a 14-day free trial for users to explore its features before committing to a paid subscription.
Signing up is easy—simply create an account using your email address or log in with your Google or Facebook account.
Squarespace's paid plans unlock a plethora of features, making it an ideal choice for small businesses, bloggers, and creative professionals. The platform is user-friendly, and its intuitive interface allows even beginners to design stunning websites with minimal effort.
Key features of Squarespace include:
wide selection of sleek, responsive templates
drag-and-drop functionality for seamless customization
integrated e-commerce and marketing tools
mobile optimization for a seamless browsing experience on any device
built-in SEO tools to improve your website's search engine ranking
Squarespace also offers robust analytics, enabling users to gain insights into visitor behavior, traffic patterns, and overall website performance. This data can help you make informed decisions to optimize your site and grow your online presence.
Weebly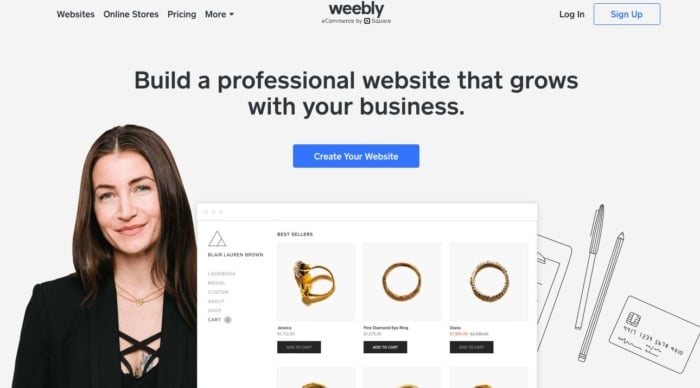 Weebly is another tool to build your website that offers both free and paid plans, catering to individuals, small businesses, and e-commerce ventures.
The free plan provides basic functionality, while upgrading to a paid subscription unlocks additional features, tools, and resources to enhance your website's potential.
Weebly's platform is designed for ease of use, making it an excellent choice for beginners with no prior web design experience. Its drag-and-drop editor allows for effortless customization, giving you control over your site's appearance and layout.
GoDaddy
GoDaddy, primarily known as a domain registrar and hosting provider, also offers a user-friendly website tool. While there isn't a completely free plan, GoDaddy does provide a one-month free trial to explore its features before committing to a paid subscription, you'll just need to create an account.
GoDaddy's builder is designed with simplicity in mind, making it an excellent choice for beginners looking to create a professional website without any technical expertise. The platform features a drag-and-drop editor, allowing users to easily customize their website's appearance and layout.
How to Build and Customize Your Free Google Website
Creating and customizing a website using Google Sites is a straightforward process. These simple steps on how to make a website for free on Google cover everything from design to personalization.
1. Access Google Sites
To start customizing your free Google website, go to sites.google.com and sign in with your Google account. If you don't have a Google account, you can create one for free by following the on-screen instructions.
2. Create a New Site
After signing in, click on the "Create" button to start building your website. You can choose a blank template for maximum customization, or select from the available theme-based templates to get started quickly.
3. Name Your Site
In the top left corner, click "Untitled Site" to give your website a unique name. This name will not only serve as your site's title but will also become a part of your site's URL.
4. Customize Your Header
Click on the header area to personalize it according to your preferences. You can upload a custom image, choose a background color, or set the header type (banner or title only). Additionally, you can add a title and tagline to your header to clearly communicate your website's purpose to visitors.
5. Add Pages and Sections
To add a new page to your website, click on the "Pages" tab on the right-hand side of the screen, and then click the "+" icon. You can create standard pages, announcement pages, or file cabinet pages to suit your needs. For further organization, you can create sections within a page by clicking the "+" button at the bottom right corner and selecting the type of section you'd like to add (text, images, videos, etc.).
6. Edit Page Content
Click on any section you want to edit and use the available tools to add or modify text, images, videos, and other elements. You can also drag and drop sections to rearrange the layout of your page, ensuring the most important information is highlighted and easily accessible to visitors.
7. Customize the Site's Appearance
Personalize your website's look and feel by clicking on the "Themes" tab on the right-hand side of the screen. You can change your site's theme, colors, and fonts to match your brand or personal style. Additionally, you can adjust the site's layout and navigation settings to create a user-friendly browsing experience.
8. Integrate Google Services
Enhance your website's functionality by integrating Google services like Google Drive, Google Maps, or Google Calendar. To add these features, click the "+" button at the bottom right corner and select the desired service from the "Embed" option. Integrating Google services can help streamline your online presence and provide added value to your visitors.
9. Preview Your Site
Before publishing your website, it's essential to preview how it will appear on different devices. Click the "Preview" button (eyeglasses icon) at the top right corner to see how your website will look on desktop, tablet, and mobile devices. This step ensures that your website is visually appealing and functional across various screen sizes.
10. Publish Your Site
Once you're satisfied with your customizations, click the "Publish" button at the top right corner of the screen to make your website live. You can choose a custom domain if you have one or stick with the default sites.google.com URL. Remember to keep your content up-to-date and make any necessary changes to ensure your website remains engaging and relevant to your audience.
How Can I Make My Free Google Website Successful?
Creating a successful website goes beyond just customizing its appearance. There are several key factors to consider when designing and maintaining a website that truly resonates with your target audience. Let's have a chat about some of the essential elements to make your free Google website successful.
Focus on Your Target Audience
Understanding your target audience is crucial to building a website that caters to their needs and interests. Consider who your ideal visitor is and tailor your content, design, and overall user experience to match their preferences. Make sure you're providing valuable information or solutions that address their specific pain points or queries.
Ensure Mobile-Friendliness
Nowadays, a significant portion of web traffic comes from mobile devices, so it's vital that your website looks and performs well on smartphones and tablets. Google Sites templates are already mobile-friendly, but always preview your site on various devices to ensure it remains visually appealing and easy to navigate on smaller screens.
Keep Your Content Fresh and Engaging
Regularly updating your website with fresh, relevant content is key to keeping your audience engaged and encouraging repeat visits. Make sure your content is well-written, informative, and appeals to your target audience. If possible, incorporate multimedia elements like images, videos, and infographics to make your content more visually engaging and easier to consume.
Optimize for SEO
Search engine optimization (SEO) helps improve your website's visibility on search engines like Google. By optimizing your site's content, title tags, meta descriptions, and URLs, you can increase your chances of ranking higher in search results and attracting more organic traffic. Google Sites has built-in SEO tools, but you can also explore additional resources to further enhance your site's search engine performance.
Promote Your Website
Spread the word about your website through various channels, such as social media, email marketing, and online forums. Share your content with friends, family, and relevant online communities to build your audience and establish a strong online presence. Don't forget to engage with your visitors by responding to their comments, feedback, and questions to create a sense of community around your site.
Analyze and Adapt
Monitor your website's performance using analytics tools to gain insights into visitor behavior, traffic sources, and popular content. Use this data to identify areas of improvement and make data-driven decisions to optimize your site's content, design, and user experience. Regularly reviewing your analytics will help you stay agile and adapt to the ever-changing online landscape.
FAQs
What is the Main Benefit of a Free Google Website?
Unlike its rivals, you're not starting from scratch, and you aren't making all the decisions yourself. Although it may seem basic to some, a Google site gives you a functional, great-looking website, and with some imagination, you'll get impressive results.
How Do I Set Up a Google Business Profile Page?
Google provides step-by-step instructions.
Do I Need Technical Expertise to Build a Free Google Website?
No, a free Google website creates a professional-looking website with minimal input from you.
How Does a Free Google Website Compare With Its Rivals?
While other options offer additional features, Google outshines its competitors regarding simplicity and ease of use.
Conclusion
Having an online presence is a necessity these days. If would-be customers can't find your website, you're likely missing out on clients.
However, building a website doesn't mean spending a lot of money or needing technical expertise. Instead, you can begin by starting with a free Google website and set it up in a few easy steps.
Once you're online, you can start benefiting from additional leads, more customers, and increased conversions—all the things you need to increase your business success rate and grow a thriving enterprise.
How has using a free Google Business website affected your business?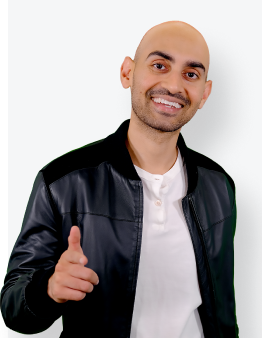 See How My Agency Can Drive More Traffic to Your Website
SEO - unlock more SEO traffic. See real results.
Content Marketing - our team creates epic content that will get shared, get links, and attract traffic.
Paid Media - effective paid strategies with clear ROI.
Are You Using Google Ads? Try Our FREE Ads Grader!
Stop wasting money and unlock the hidden potential of your advertising.
Discover the power of intentional advertising.
Reach your ideal target audience.
Maximize ad spend efficiency.