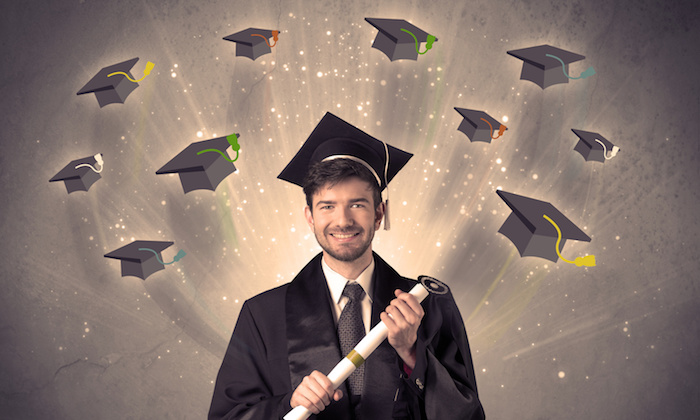 We've talked about all the most important content creation and marketing statistics for growing brand awareness in the recent past.
For example, 60% of content marketers create at least one piece of content each day. Or, how about this one: content marketing campaigns costs 62% less than traditional marketing, yet it generates approximately three times as many leads when it comes to potential customers.
These types of statistics are sure to excite you regarding the power of a good content marketing campaign. What these numbers won't do is help you achieve success with your blog posts and content creation. Only you can implement a plan that generates positive results.
In this post, we're going to review 15 marketing campaign guides that can speed up your success.
We'll look at the finer details of each marketing program and guide, ensuring that you have a clear understanding as to how you can use each one to your advantage when it comes to creating your own blog posts.
By the end of this post, you'll have a better idea of how each guide can push you down the path to reaching all of your content marketing campaign goals.
Let's stop talking and start learning! 
1. The Beginner's Guide to Content Marketing (Moz) – Everybody dreams of becoming a savvy content marketer, generating thousands of leads and growing their target market. But, most people don't put the time into learning the basics even about crafting good blog posts.
With this content marketing program from Moz, you can start at the beginning and slowly work your way towards rockstar status.
There are nine chapters, with each one dedicated to a different area of great content marketing. And, as the title implies, the content is targeted to beginners. Some of my favorite chapters include:
Building a Framework and a Content Team

Content Ideation

Iteration, Maintenance, and Growth
Moz may be one of the top brands in the SEO space and the search engines may love them, but that doesn't mean that they have nothing to teach you in regards to content marketing.
As far as beginner's guides are concerned, this one is hard to beat. It will put you on the right track and make sure you stay there.
2. The Advanced Guide to Content Marketing (Quick Sprout) – This is one of my favorite guides on content marketing and not just because I had a hand in creating it.
Just as the Moz guide I mentioned above is perfect for beginner content marketing strategies, this one is the right choice for those who have moved to the next level with their content creation and blog posts.
There are dozens of resources that make up this guide.
If you aren't familiar with the basics of content marketing, such as starting a blog, creating content, and different types of content you won't benefit much from this guide (at least at the present time). It's for those content marketers that are ready to implement advanced tactics and strategies.
Day after day, I am asked: "how do you come up with such great topic ideas for your blog posts?" This doesn't come easy, but there is a process that you can follow to do the same.
Here is the last thing you will read before you visit chapter one:
"Simply put, use this guide to help you take your content marketing to the next level."
If that's what you want to do, then this is the guide that can take you there.
3. A Practical Guide to Building a Killer Content Strategy (HubSpot) – I truly believe that the hardest part of a marketing campaign, at least for most people, is the act of getting started. They just don't know how to implement a strategy they can trust.
This HubSpot guide aims to solve the problem. It helps you remove the guesswork from your content marketing plan, giving you the confidence necessary to move forward.
The guide breaks down the many steps in building a great content strategy, focusing on details, such as:
How to build an editorial calendar to help with content creation

Identifying and understanding your target market.

How to map content to attract customers and succeed on the search engines and social networks.
HubSpot can help you develop your first content marketing efforts or rework the one that you've been using.
As you can see, those who have implemented the advice in the guide are excited about what the future holds for them.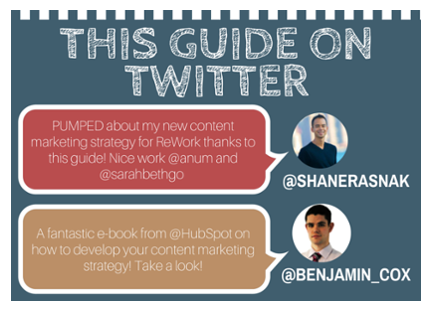 4. The Beginner's Guide To Content Marketing (NeilPatel.com) – Written with the same approach as the Moz guide listed above, this guide I wrote provides a unique take on getting started as a content marketer.
The entire guide is a solid read, as it will help to establish your mindset as a beginner in the world of content marketing. It is broken down into four primary sections:
The fatal flaws of traditional advertising
An in-depth introduction to content marketing
The advantages that content marketing provides over traditional advertising
Tips on the best practices that will make your content marketing more effective
Since this guide is for beginner's, it's only natural for my favorite section to be the introduction to content marketing. It is here that readers will learn the basics of content marketing, including an in-depth look at a few companies that are doing this right and getting search engine success.
For example, it examines how River Pools and Spas has reached the top of its industry, thanks to powerful blog posts.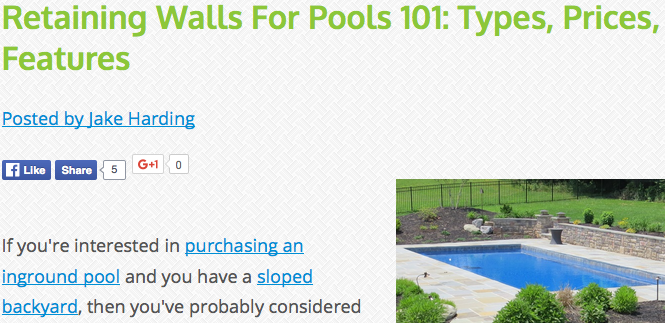 If you require a practical guide on building a content marketing campaign from the ground up, this one from Kissmetrics will not disappoint.
5. The Definitive Guide to Engaging Content Marketing (Marketo) – If you are going to spend time and money on content marketing campaigns, you might as well get the results that you deserve. This guide from Marketo can help you do just that.
The key word in the title of this guide is "engaging." This is what content creation is all about: engagement.
The Marketo guide teaches you how to:
Optimize great content for your audience.

Measure your success.

Use the resources that are available to you to create killer content.

Create an editorial calendar.

Develop a voice and style for your brand.

Identify your target audience.
When it comes to content marketing, there are people who go through the motions and people who do whatever it takes to create engaging content and blog posts. It is the latter group that achieves the most success.
You can use the Marketo guide to create an engaging strategy that yields results.
6. Content Marketing Made Simple: A Step-by-Step Guide (NeilPatel.com) – If you have ever read any of my guides, you know one thing to be true: I try to keep things as simple as possible when it comes to my types of content. Even when a topic is complex, I strive to deliver the content in easy to digest terms.
One of the best examples of this is my step-by-step guide to "content marketing made simple."
So many people tell me that they have never given content marketing a second look because they don't understand the ins and outs. I always tell them the same thing, "there is nothing to be afraid of."
This guide will you help you understand that content marketing truly is simple if you take the right approach.
Every portion of the marketing program is helpful, but the thing I enjoy most is the "3 examples from content marketing history," as well as the comparison to their "modern-day equivalents."
This provides an inside look at how things have changed over the years, and, of course, the ways you can get personally involved.
Don't let your fear of content marketing stop you from getting started. Use this guide to simplify the subject matter.
7. The Ultimate Guide to Content Marketing Strategy in 2019 (SEMrush) – This in-depth and visual guide should be read by all content marketers.
Few places understand marketing better than SEMrush and their advice should be followed. This piece of content is designed to prepare you on how to finish out 2019 and enter 2020 ready for your content marketing strategy. 
Not only is it updated with the most recent resources, but it provides a variety of brilliant insights content marketers should follow in order to create a content strategy that works and stands out from the crowd. 
I enjoyed the section on setting goals the most, as that is an area most content marketers fail to plan for.
This is one of the most well-rounded and well thought out guides on content marketing. It's not just for beginners. It can be used by anybody and everybody who has an interest in content marketing.
8. Content Marketing Strategy Guide (Smart Insights) – You should never use the scattergun approach when it comes to content marketing. A targeted strategy will suit you much better, especially when growing brand awareness.
Smart Insights put together a guide on creating a killer content marketing strategy. With 96 pages and 30,000 words, get ready to dig in for some serious learning.
There are seven chapters in the guide, including:
Content Marketing capability audit and setting goals.

Define target markets and personas.

Create a content marketing plan.

Editorial management.

Create content that is compelling for your content hub.

Content distribution channels.

Evaluate and measure ROI.
All of the content in these chapters comes back to one thing: creating a content marketing strategy that generates results.
You can have some success with an on-and-off, scattergun content marketing approach. But, if you want to win big, it's time to create and carry out a more targeted and defined strategy.
9. SEJ White Paper: What Works in Content Marketing (Search Engine Journal) – There is a lot of information out there on content marketing.
You are seeing that right. There are more than two billion results for this search phrase alone.
With so much information floating around, it's hard to differentiate the good from the bad. While you can rely on the guides in this blog post to point you in the right direction, it's safe to assume that you will search for more advice at some point down the line.
If you want to know what works in content marketing, Search Engine Journal has you covered.
This guide was written with the premise that you only have so much time and money to spend on content marketing, so you might as well make the right decisions. You will learn:
What content marketing is and why it works.

Why your company needs to use content marketing.

How content marketing has evolved over the years.

What type of goals you should set and how to reach them.

Successful content strategies of top brands.

Tools to help you reach your goals
You will not be disappointed with what you learn from this guide. It's a true gem for those who want to know what works and what doesn't. Why guess when you don't have to?
10. An SEO Driven Approach To Content Marketing: The Complete Guide (CoSchedule) – This guide takes a unique approach to content marketing, thanks to its SEO spin.
Search engine optimization and content marketing should go together, like peanut butter and jelly. But, sometimes, marketers don't see the big picture. They see one but they don't see the other.
CoSchedule aims to provide an SEO powered strategy to content marketing, helping you understand how the two work together.
For example, it discusses how to properly optimize headlines. Headlines are important, from both a search engine optimization and content marketing perspective.
The CoSchedule guide shows you that it's possible to kill two birds with one stone. If you are spending resources on content marketing, you might as well focus on SEO at the same time.
11. Content Marketing Guide: How 10 Startups Became Thought Leaders & Generated Massive Revenue Growth (Small Business Ideas Blog) – You only have so much time to read about other companies, as it's important to put most your marketing efforts into growing your own brand.
But, there is a lot to learn from how others have achieved success. Chapter 6 of this guide is all about showing you how other companies have used content marketing to grow their brand.
Buffer is the first company on the list. Its target audience and content strategy is broken down in simple terms.
You can't duplicate everything other companies are doing, but you can definitely take bits and pieces to strengthen your content marketing strategy.
If you need some inspiration or if you need help realizing that content marketing can pay off in the long run, this guide from the Small Business Ideas Blog will provide you with everything that you require.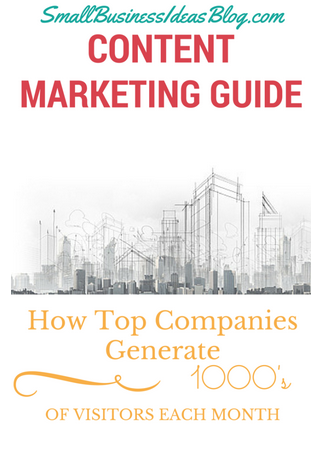 12. The Only Guide to Content Marketing You'll Ever Need (The Content Factory) – The title may be a bit strong, but that's okay. This guide truly is one of the best.
The thing that stands out is the way the guide is laid out in a resource format, as opposed to providing first hand advice.
The first section is entitled "9 Articles to Read Before You Even Get Started." It's here that you will find nine of the best articles on creating a content marketing strategy.
This includes It's Time to Treat Content as Part of the User Experience and How to Create a Successful Blog Strategy: A Step-by-Step Guide.
It will take you some time to read this guide. From there, it will take you hours on end to click on every link and read the information. But, if you do this, your knowledge will skyrocket and you will create incredible blog posts, and get the best from all types of content.
If you are seeking a guide full of resource pages, you can't go wrong with this one by The Content Factory.
13. Visual Content Marketing: A Resource Guide for Marketers (Social Media Examiner) – Not all types of content marketing are the same. This guide shows that visual content marketing is alive and well.
Here is how the guide is explained:
"This article will help you find tools to create the perfect image, to drive traffic and engagement with your images and to use visual content to improve your marketing."
A big part of content marketing is the content itself. But, don't think of this strictly in terms of words as there are all different types of content. Content can also include images.
This guide is broken down into several sections, with each one linking out to more information on the subject:
How to create images.

Top tools for creating and editing images.

How to drive traffic and engagement.

Ways to improve your visual content marketing.

Specialized platform tips.

Curating visual content.
This guide, created by Social Media Examiner, is one of a kind, thanks to its unique approach to visual content marketing.
14. 49 Content Marketing Stats to Guide Your 2019 Strategy (Social Media Today) – Just the same as SEO has changed over the years, so has content marketing.
If you want to make the most of your content marketing strategy, you need to know what is and is not working for others. This infographic/guide from Social Media Today focuses on the trends that are in style today in 2019.
In infographic form, you will learn the following:
Digital marketing trends for 2019.

Main marketing goals for 2019.

How to measure marketing success.

Popular B2C content marketing tactics.

What to focus on in 2019.

What to invest in for 2019.

Content marketing planning techniques.

How to get it all done in 2019.
These statistics give us an idea of what other B2C brands are doing, in regards to content marketing.
Social Media Today hit the ball out of the park with this one.
15. The Content Marketing Strategy Checklist (Velocity Partners) – For many, organization is a big hurdle on the way to content marketing success.
This strategy checklist, from Velocity Partners, helps protect against a lack of organization and structure.
This checklist is designed to help you stay the course, implement your strategy and track your results. But, remember, it's not good enough to just read the checklist. You need to understand what it's saying and then follow along accordingly.
Part one is all about setting goals. There is space to write down your goals, short and long term and to check off the metrics you will track.
As you move through the checklist, each section is simple and to the point. It may be basic in form, but it's more than enough to keep you on the straight and narrow.
Conclusion
If you want to be among the B2B marketers who say they're effective at content marketing, it would be in your best interest to learn as much as possible from each one of these guides.
There is more to content marketing than meets the eye. If you want to generate more traffic, more leads and more revenue, it's not a question of how to do so. Content marketing will put you in a position for success. There are all different types of content out there; from blog posts to social network content and more – the trick is learning how to utilize this.
I encourage you to read every one of these content marketing guides, from start to finish. Furthermore, keep your favorites close by for future use.
Which one of these content marketing guides is your favorite? Would you add any others to the list?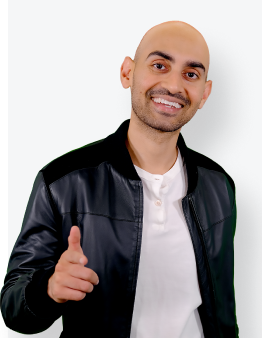 See How My Agency Can Drive More Traffic to Your Website
SEO - unlock more SEO traffic. See real results.
Content Marketing - our team creates epic content that will get shared, get links, and attract traffic.
Paid Media - effective paid strategies with clear ROI.