It takes over four hours to write the average blog post. The last thing you want to do is tack on the hours it can take to brainstorm topics to write about.
But is there a cheap and efficient way to identify the best target keywords and topics to blog about? Luckily, yes.
In this article, I'll cover the best free content generation tools and how to use them (sometimes together!) to help you generate content ideas that increase your website's authority and qualified traffic.
Powerful Tools You Can Use to Generate Content Ideas
Feeling stumped on blog post ideas or don't know where to start looking? Content generation tools like Ubersuggest, AnswerThePublic, Quora, and even Pinterest can help you unearth hundreds of content ideas in minutes.
Some tools, like Ubersuggest, can even be used in multiple ways to find content ideas—and I'll walk you through each of those methods in the sections below.
1. Use Ubersuggest's Free Keyword Ideas Tool
I must admit, I might be biased—Ubersuggest is my own tool. I'm not the tool's only fan though—Ubersuggest is a content marketing and SEO tool now trusted by 500,000 companies and counting.
Ubersuggest's content ideas tool not only gives you keyword ideas but also tells you how hard it is to rank in Google for these keywords.
Search for a keyword like "content marketing strategy" and click on "Keyword Ideas" in the left side menu.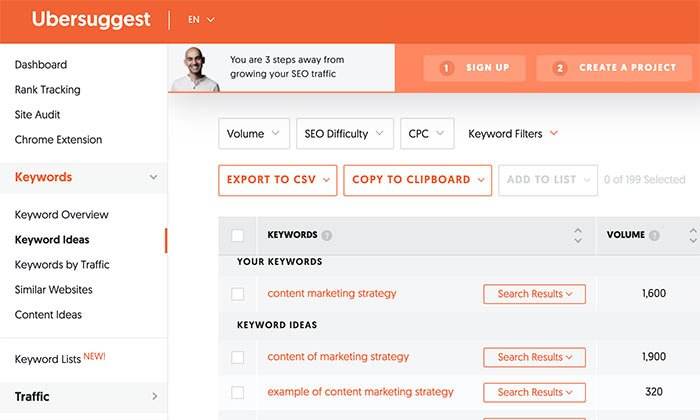 Not only will you get a list of potential keywords related to your search, but it comes with juicy information like:
search volume
cost per click (CPC)
paid difficulty
SEO difficulty
What does this mean for you?
Well, you can quickly see how hard it is to rank for a keyword.
When you're starting out and your domain authority (DA) is lower, you're going to struggle to get onto the front page of Google if you're targeting keywords with a high difficulty rating.
Using Ubersuggest, you can filter out the keywords that are too competitive for you right now and focus on the best content ideas for your website.
Number of potential content ideas: 20 to 35
2. AnswerThePublic
Answering users' search queries is the cornerstone of a solid SEO strategy. You need to create content that targets users' most pressing concerns.
How do you find users' questions and make sure you're creating content around their biggest dilemmas? Head over to AnswerThePublic, which over 20,000 businesses use.
Simply type in a keyword like "content marketing strategy," and you'll get a massive list of questions related to the term.
Switch to the "Data" view, and you'll see hundreds of queries broken up into different categories, such as:
questions
prepositions
comparisons
alphabetical
related
It's hands down one of the easiest and fastest ways to generate content ideas in minutes.
The best part? It's free, and you can export the data into a .CSV file.
Once you have your spreadsheet, hop onto Ubersuggest to filter the phrases you can rank for and start building your content marketing calendar.
Remember, once you have your main keyword, you can still use the other related queries to compile a list of semantic keywords for your blog post.
Number of potential content ideas: 20 to 35
3. Look at Questions on Ubersuggest
According to a recent study, 14.1 percent of Google searches are in the form of a question.
Another way to find and target keywords with questions related to your industry is the "Questions" tab in Ubersuggest. Similar to AnswerThePublic, you'll get questions featuring your main keyword.
Instead of focusing on a highly competitive keyword like "content marketing strategy," you could opt for something easier like "how to use content marketing."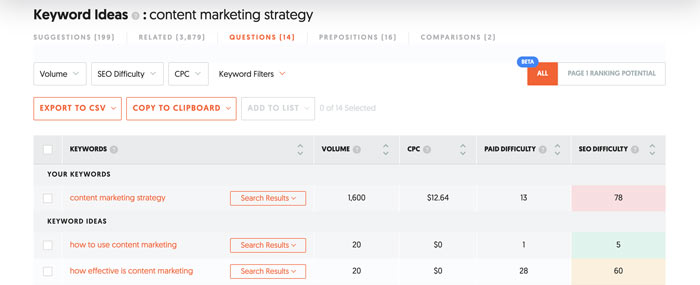 Essentially, both keywords touch on the same thing, but by tweaking your focus to a phrase with less competition, you'll improve your chances of ranking on Google's first page.
With the first organic search result having an average click-through rate (CTR) of 28.5 percent, the second dropping to 15 percent, and the 10th position only getting a 2.5 percent CTR, ranking as high as possible on the first page is crucial for your success.
Another thing to keep in mind when combing through these questions is to note the ones you can use within your blog post. Maybe one will work great as an H2 or H3 header, while another can fit in naturally within your text.
Remember, the more keywords you can naturally fit into your blog posts, the more opportunities you have to rank. Plus, it builds a solid semantic keyword map that Google loves and prefers over keyword stuffing.
Number of potential content ideas: 5 to 10
4. Look at Related Tab on Ubersuggest
We all get stuck in ruts. Sometimes you just run out of ideas.
When this happens, the Related tab on Ubersuggest can help.
Click on it, and you'll instantly get a list of keywords related to the main topic.
For example, I searched "content marketing strategy."
It's a highly competitive keyword phrase, but scrolling down the Related search results led me to "create a content marketing strategy."
It has a low SEO difficulty and a search volume of 90.

If I were building a new blog around content marketing, this would be an excellent content idea to help me gain traction in the search results. I could create a post titled "How to Create a Content Marketing Strategy."
Number of potential content ideas: 20 to 35
5. Head Over to Content Ideas in Ubersuggest
Unsure if a content idea is going to resonate with your audience?
Click on "Content Ideas" in the left side menu of Ubersuggest and take a deep dive into what topics are hot or not.
This feature shows a list of the best performing content for a keyword and breaks it down by estimated site visits, backlinks, and social shares.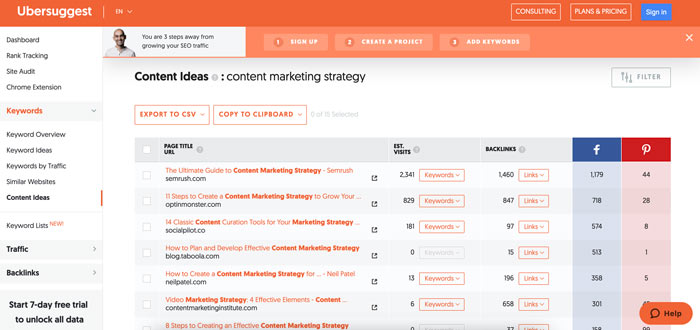 Going back to the "content marketing strategy" example, it's a relevant topic. The phrase is getting hundreds of shares on social media, which means people find it useful and want to share it.
While you're here, note which social media platform brings in the most shares. In this example, you can see Facebook is outperforming Pinterest.
That makes sense—most users go onto the platform for Pinterest categories like home decor ideas, fashion, recipes, or travel content. It's not a go-to resource for topics around digital marketing.
Facebook, on the other hand, is a different story. People share newsworthy, helpful, or inspirational content on the platform.
When planning your content ideas, focus on the platform that will bring in the shares and write for that audience.
Number of potential content ideas: 5 to 10
6. Look at Your Competitors' Backlink Profile
Writing useful content for your audience should only be one part of your content marketing strategy.
The second part should be getting backlinks.
Over 90 percent of pages get no organic traffic from Google, mainly because they don't have any sites linking to their website.
Backlinks are one of Google's most important ranking factors. The best backlinks are from high authority sites linking to your content.
These links tell the algorithm your content is also high-quality and trustworthy.
The more quality backlinks you have, the higher you'll appear in the search results, and the more you'll boost your chances of landing in the coveted top spot.
In Ubersuggest, you can use the backlinks tool to see how many backlinks each page has and which websites are linking to their content.
This information is valuable because it gives you an idea of how many backlinks you'd need to outrank your competitors and their most popular blog posts. Plus, it gives you an indication of which websites you can approach as part of your link-building strategy.
Here's how to use the Ubersuggest backlinks tool:
Click on the Backlinks link from the left side menu.
Enter a URL or domain of a competitor.
Start analyzing the backlinks profile report.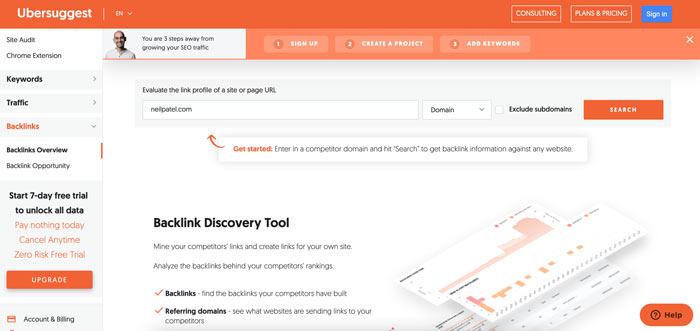 This report will allow you to see which websites are linking to your competitor's top pages, the anchor text, the page and domain authority, as well as when the link was last seen.
How does this help you generate content ideas?
It helps you create a list of keywords you can target. If you think you can write a better piece of content than one that a website is currently linking to, do it.
Once it's live, you can approach those backlink websites with your more comprehensive resource and hopefully sway the site owner to link to you as well or instead.
Number of potential content ideas: 5 to 10
7. Search Your Keywords on Quora
Sometimes it's hard to think of what keywords or questions your audience has about the problem you solve.
That's okay. There's an easy fix to get around your brain fog and discover the questions that keep your audience up at night.
The solution? Quora.
The popular question and answer site is a treasure chest of content ideas. With over 300 million active monthly users and 300,000 topics covered, there's a good chance your audience is on the site asking questions you can solve.
Let's workshop through an example.
Start with a keyword related to your business, industry, or customer's profession. This could be anything like Facebook ads, digital marketing, or business development representatives.
Enter it in the search bar, and when the new page loads, click on "Questions" in the left side menu.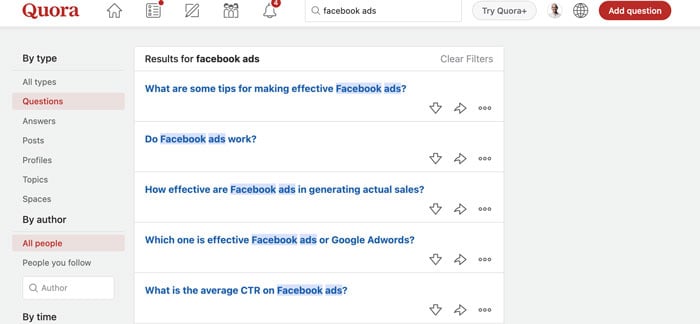 Here you'll find a list of the questions people ask on that topic. You can use a "By Time" filter option if you want to narrow your search to see results from the past hour, day, week, month, or year.

Go through the questions and make a list of the phrases you want to target in your content marketing strategy.
Without even looking at the answers, you can see which challenges and questions come up the most for a specific topic.
When you're done writing your list of ideas, take your topics and vet each one in Ubersuggest to create your final list. To vet the topics, pop them into Ubersuggest and make sure they are getting decent search traffic, aren't too competitive, how to phrase the title and headers in your post, etc.
Number of potential content ideas: 20 to 30
8. Use Pinterest's Search Functionality
Pinterest is a gold mine: It's not only a great place for finding new recipes, but it's a powerful search engine that can help you generate hundreds of content ideas.
Furthermore, shoppers on Pinterest spend two times more per month than people on other platforms. This means Pinterest users are highly motivated, and you can learn a lot from what they're searching.
However, there is a catch. Pinterest only works if your ideal audience is hanging around on the site.
If you're a cyber-security business, you're not going to find people typing in keywords like "what are common cyber security threats." If you have a visual product or service that's popular on Pinterest, however, you'll find more than enough ideas.
For example, let's say your business specializes in home decor.
Type the keyword into the Pinterest search bar, and you'll see two things:
A drop-down menu featuring commonly searched phrases related to your keyword.
A string of keyword bubbles.
Both options can point you in the right direction of what people are searching for and spark ideas for new content.
For example, you could write a blog post on "home decor ideas for the bedroom" or "winter home decor."
The pre-fill menu and keyword bubbles tell you these phrases are commonly searched and are a good indicator your content will do well on the platform.
Number of potential content ideas: 20 to 30
Frequently Asked Questions: How to Generate 100 Content Ideas
What tools can I use to generate 100 content ideas?
You can use these tools to generate 100 content ideas: Ubersuggest, AnswerThePublic, Quora, and Pinterest.
How do I get unique content for my blog?
You can create unique content for your blog by investing time in keyword research and writing it yourself (no plagiarism!) or hiring a content writer.
What makes content successful?
Content is successful when it is valuable to your audience and ranks on the first page of Google, bringing in qualified traffic to your website.
How do I generate content based on keywords?
You can generate content ideas based on keywords via keyword research. Use a tool like Ubersuggest to find low competition and high search volume keywords. Create content around those keywords once you have found your "low-hanging fruit."
Conclusion: How to Generate 100 Content Ideas
Generating content ideas can be challenging. That's why the top bloggers know you need to use tools to keep a steady stream of ideas, and to ensure you're creating content that your audience actually wants.
Of course, coming up with new ideas is only the first step.
Next, you need to create high-quality content your audience wants to read and tie it all together with a solid backlink strategy.
Tools like Ubersuggest, AnswerThePublic, Quora, and Pinterest can help you with all aspects of your content marketing strategy, from generating content ideas to backlink building.
With these methods and tools in place, you can start climbing up the search engine results, boost your brand awareness, and attract quality leads to your business.
How do you generate content ideas for your business?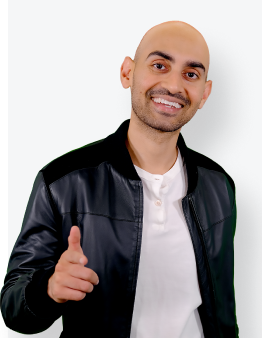 See How My Agency Can Drive More Traffic to Your Website
SEO - unlock more SEO traffic. See real results.
Content Marketing - our team creates epic content that will get shared, get links, and attract traffic.
Paid Media - effective paid strategies with clear ROI.