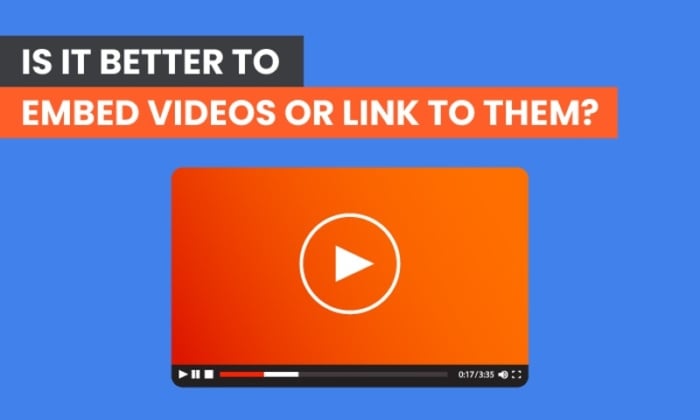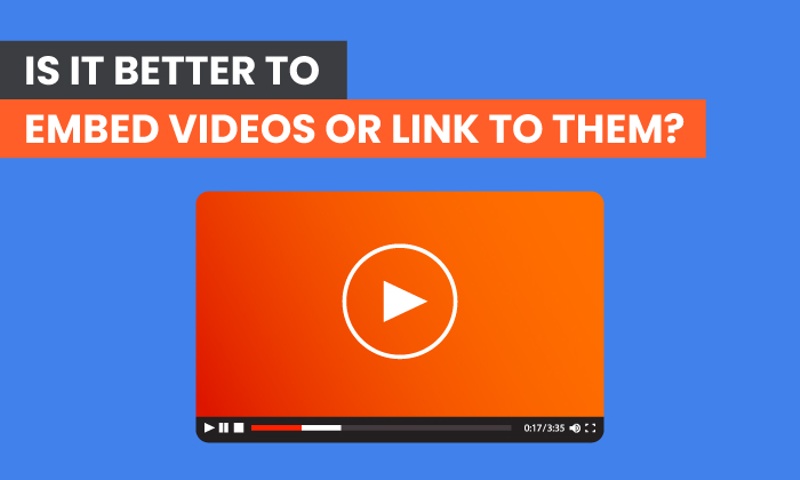 Video is a powerful marketing tool—it can drive traffic, leads, and (most importantly) revenue. In fact, 78% of video marketers say video directly increases sales.
There are currently two ways to place videos on your landing pages or website—link or embed videos. While both help you leverage the power of video marketing, they can have a distinct impact on the searchability of your video content.
Which method should you choose? This article will compare the pros and cons of embedding or linking videos on your website and its SEO benefits.
What's Better: To Embed Videos or Link to Them?
Let's discuss the difference between embedding and linking videos.
An embedded video lets you borrow the video from another platform. Visitors can watch the video on your website without leaving the current page.
In contrast, linking a video shares the URL of the video. When readers click the link, they are redirected to the page where the video is hosted.
Now let's dig into why that is. But first, let's look at what, exactly, it means to embed or link to a video.
What Does It Mean to Embed a Video?
An embedded video pulls or borrows the video content from the original platform.
For instance, your video is hosted on YouTube, but site visitors can watch it on your webpage.
You've probably encountered embedded videos. Consider this embedded video from the beauty blog "Into the Gloss." Visitors can watch the YouTube video within the blog post without leaving the page.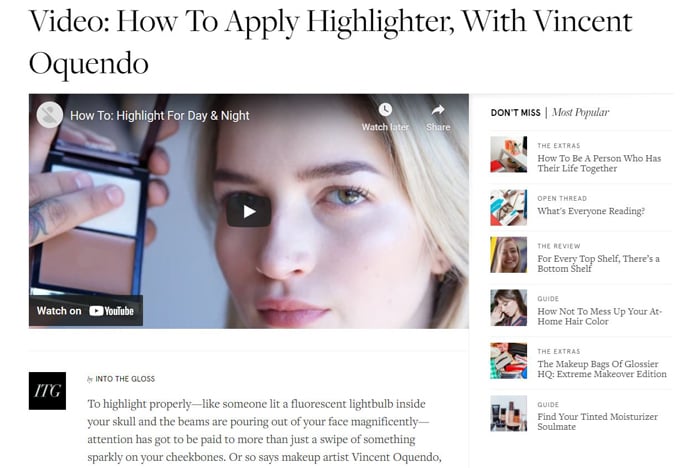 Embedded videos keep users on your page—which is ideal for landing pages or blog posts where you want to share information, but avoid losing the viewer to another page.
What Does It Mean to Link a Video?
A linked video is a short URL you can paste on your landing page, website, or send directly via email or text.
For example, here's the shortened URL for my video titled "How Digital Marketing Will Change in 2021": https://youtu.be/KzRka1lpdb4
Upon clicking the link, you are redirected to the video's landing page on YouTube. Here is the same video, embedded into this blog post:
In short, clicking the URL takes the viewer off your page to the platform where the video is hosted. People can also easily copy and paste URLs to send to a friend or post on social media.
Pros and Cons of Embedding Videos
From a user and SEO perspective, embedding images is ideal. However, it comes with a few pros and cons.
Pro: Optimize for Online Viewing
For those of us coming from a non-technical background, it's easy to downplay the significance of a short embed code. However, an embed code optimizes the video for online viewing on your landing page.
Let's take a look at this embed code for my video: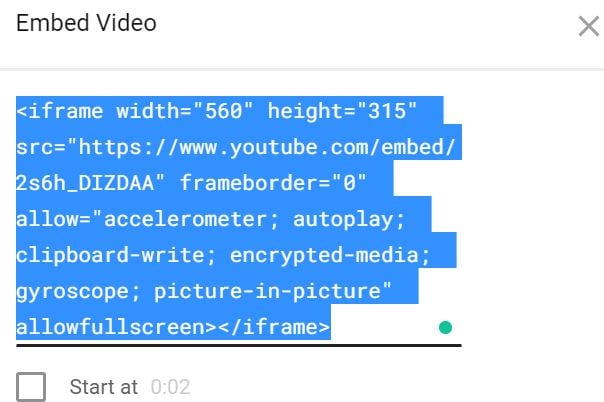 By modifying the embed code, I can alter the video's width, height, frame size, and other elements for optimal viewing on my landing pages.
Sure, learning the ropes could take a bit of light reading for non-coders. But most sites, like YouTube, make it pretty easy to adjust videos.
Pro: Choose Start Time
In this day and age, viewers want information as fast as possible. With embedded videos, you can customize the video's start time and redirect users to the relevant portion of your video content.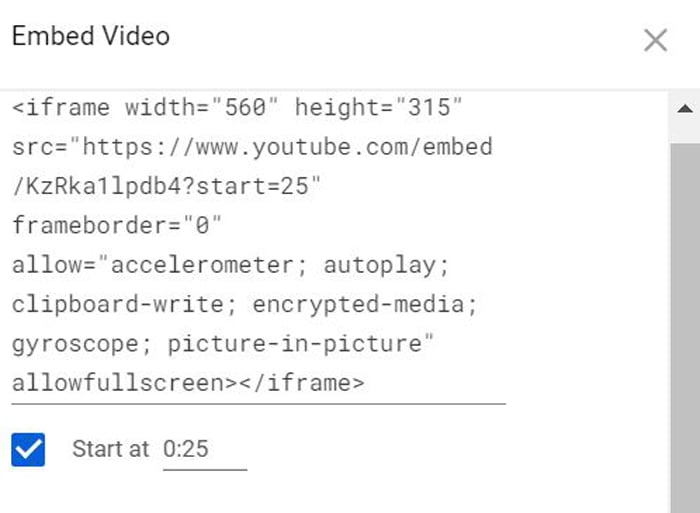 Con: Limited Control
Videos that violate YouTube's terms and conditions could get suspended. The good news is if you're not violating any rules, then you won't have to worry about any consequences.
But, if the video gets removed, your page will still display the broken video embed.
Con: Ads
Businesses that earn revenue through their YouTube AdSense account could find ads in their embedded videos. According to Google, there's no way to turn off ads for embedded videos only. Your only option is to turn off ads altogether.
An alternative option is to host videos in Vimeo for an uninterrupted and ad-free viewing experience.
Con: Limited Customization Options
Like most videos in your chosen platform, you won't be able to change the embedded player or thumbnail design. A workaround is using JavaScript to customize the aesthetic of your video player.
Pros and Cons of Linked Videos
Linking videos is the less desirable option, but it comes with a few advantages and disadvantages that are worth considering.
Pro: Easier to Share
Linking to videos makes it easier for viewers to copy the URL and share it with their network. This is especially true for mobile users sending the URL through chat or email.
Pro: Promote Your Channel
Clicking your video link redirects users to your YouTube channel. While this seems like a hassle, it exposes readers to your other video content. They can also click the subscribe button to get regular updates of your content.
Cons: Less Convenient
Redirecting users to the page of the video hosting platform can take time. Slow loading times could dissuade readers from viewing your content and lead them to leave your website.
Cons: Decreased Searchability
Unlike embedded videos, video links will likely not appear on search results. Hence, visitors who prefer video content may turn to your competitors instead.
Cons: Prospects Leave Your Website
Linking a video sends prospects to your YouTube channel. However, they will also be exposed to distractions in the form of other video recommendations. If they leave the page, they may not return to your website.
Are Embedded or Linked Videos Better for SEO?
Besides the perks mentioned above, embedded videos are also beneficial for SEO. Here are a few reasons why you should embed videos.
1. Better Searchability
Embedded videos improve the searchability of your content on Google. As an example, I'll refer to my guide on YouTube marketing.
Within the article, you'll find my video on "How to Hack YouTube."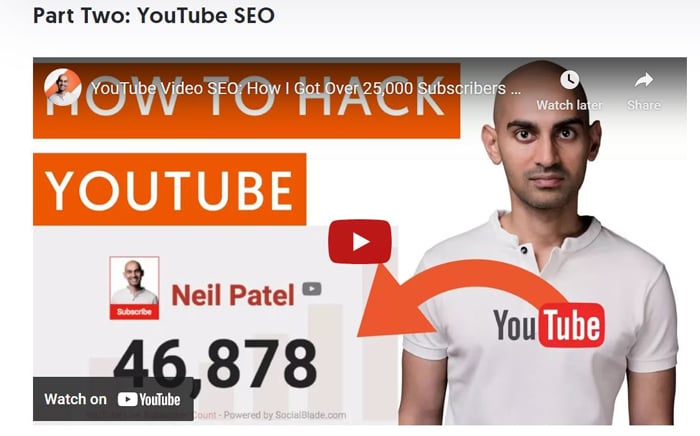 Now, let's do a quick search for my YouTube marketing guide on Google. You'll find it on the first page of the search results. There is also a section dedicated to other video content.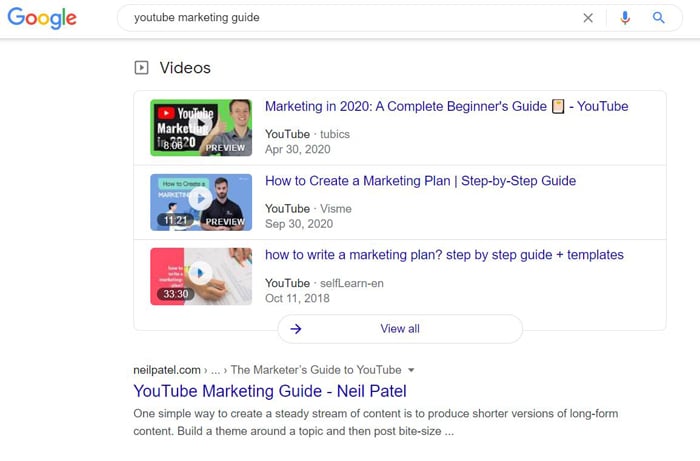 If you click the video section, you'll also find my YouTube marketing guide near the top of the results.

The bottom line is: Embedded videos let you improve your video's searchability on Google.
Many users also use the video results tab to view video content over blog posts. They may prefer videos for how-to content or product assembly instructions rather than blog posts.
As a result, embedded videos help improve traffic and attract more customers.
2. Boost Average Time Spent on Site
An embedded video could encourage visitors to stay on your site longer.
74% of respondents believe videos are more effective than blog posts for lead generation, according to Databox.
Veteran marketers will know that increasing the average time spent on your landing page will indirectly boost SEO.
3. Video Thumbnails Improve Brand Recognition
When you embed a video, readers will also notice your video thumbnails.
This can help improve brand recognition and indirectly promote your channel. Current readers or subscribers may also be encouraged to click links to your videos when they spot it on search results or within the video hosting platform.
For example, most thumbnails for my video content have my name and face. Similar to the Neil Patel website, I use the color orange so marketers can easily spot my content.

How to Embed a Video
At this stage, you are probably ready to embed videos yourself. Here's the step-by-step process for how it's done.
Most video platforms have an embed option. This guide focuses on embedding YouTube videos, since it is one of the most popular video platforms.
First, click the share button.

Next, click embed.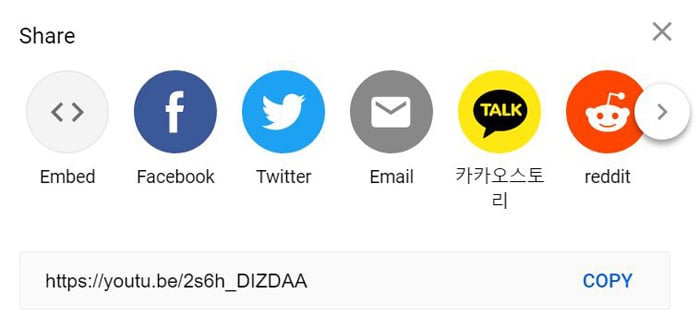 Next, copy the embed code on the right corner.

You also have the option to enable embed options. You can start the video at a specified time, enable show player controls, or enable privacy-enhanced mode.
Head over to your website, and paste the embed code.
In this example, I've pasted the embed code on WordPress, and the platform automatically embedded my video in the dashboard. (If this doesn't happen, click on the "Code editor" option in the right sidebar.)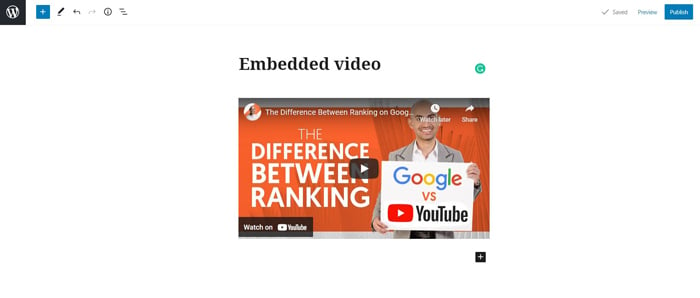 Here's a preview of how it looks on a demo WordPress site.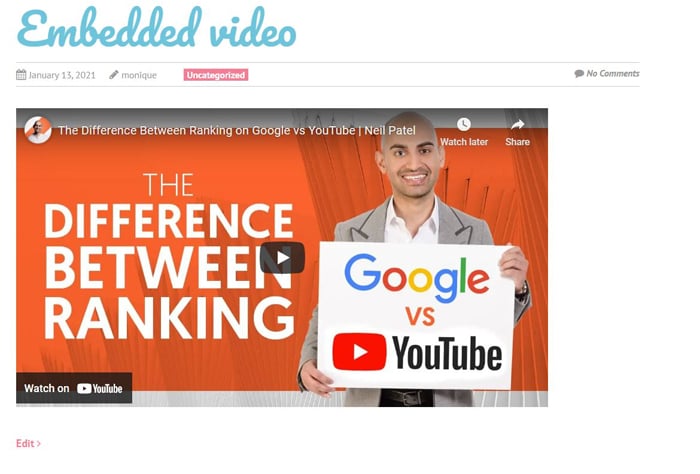 Best Practices for Videos
I've embedded many videos throughout my website, and I can tell you that you'll get better results by following video embed best practices.
Here are best practices for embedding videos:
1. Consider Placement
Think about your video's purpose within the context of your landing page or website.
A video meant to draw readers in could be placed at the top of your landing page. However, a video set within a subsection or blog post can support your message.
For example, my video marketing guide has a section discussing storytelling. I've plugged in my video on storytelling to provide more in-depth information in this section.
An alternative option is to create a hero video instead of the usual image background. Just like YouTube videos, when the cursor hovers over the thumbnail, a portion of the clip could start soundlessly playing. This could encourage people to click your video.
Here's a sample hero video from Volvo, which aims to promote their new trucks.
2. Keep it Short
Two minutes is the ideal video length, according to Wistia. As the video length increases, engagement gradually decreases.
A rule of thumb is to keep your video short and concise. Viewers likely won't have the patience to finish long videos. (Though longer videos can work for detailed walkthroughs, so keep the subject in mind when deciding on length.)
3. Choose an Attention-grabbing Thumbnail
A thumbnail is the first thing viewers will see before watching the video.
Placing branded elements such as a logo, brand colors, or brand name to make it instantly recognizable for viewers. This way, subscribers and customers will be drawn to your videos, whether they see them through the video platform or while searching the web.
My video thumbnails usually include my professional photo and an attention-grabbing title in bold and all caps. I use a similar thumbnail in all of my videos to make my personal brand and videos stand out from the pack.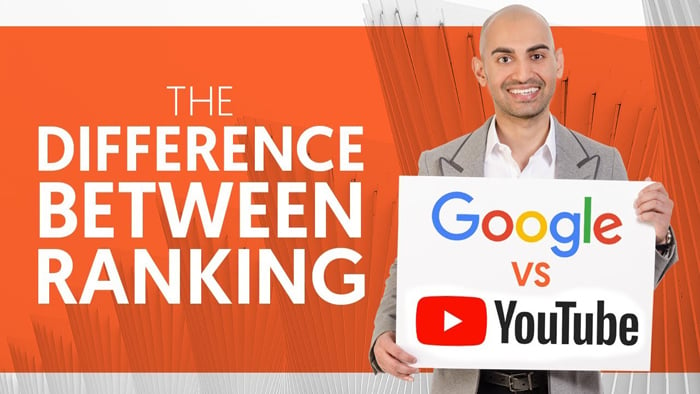 How to Link and Optimize Anchor Text for Linked Videos
Linking a video is easy, and you've probably done it several times.
The process involves creating an anchor text.
For starters, an anchor text is a text with a hyperlink. This usually consists of the target link and the clickable text.
Here's how the code looks:
<a href="neilpatel.com">NeilPatel.com</a>
While you can include linked videos on just about any platform, we'll use WordPress as an example.
First, type the relevant keyword where you will link the video.
Press Ctrl + K (for Windows users) or Command + K (for Mac users) and place the link.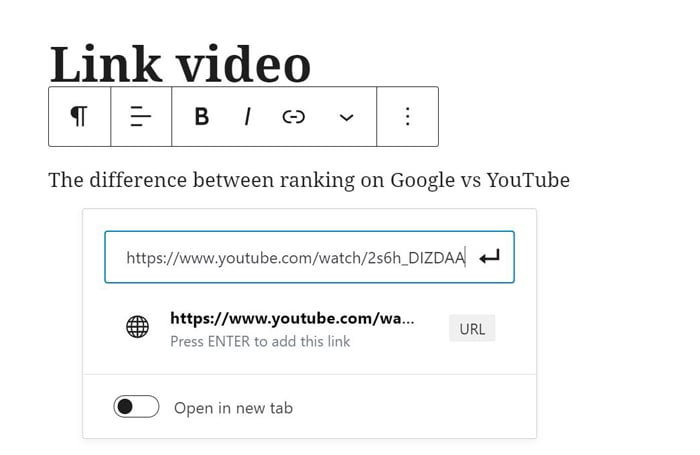 I recommend enabling the "open in new tab" option so that viewers can return to your website by switching tabs.
That's it. You're done!
Here's how it looks:

If you want to view the anchor text, simply select the "edit as HTML option."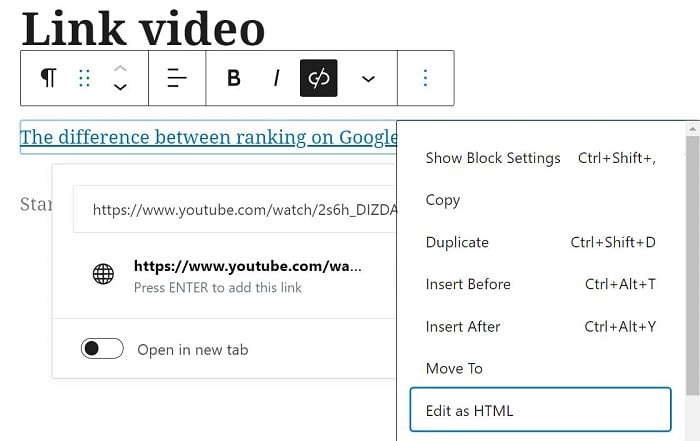 Now, you'll be able to see the anchor text code.

Ensure the anchor text describes the link accurately so users know what they are about to click on.
Conclusion
If you want to embed or link videos, think about the advantages and disadvantages of each method. In most cases, you'll want to embed videos.
Embedding videos help improve video SEO and the searchability of your video content. But there's no harm in occasionally linking videos, especially for external content.
How will you add videos to your landing page or website? Do you think the pros of embedding videos outweigh the cons?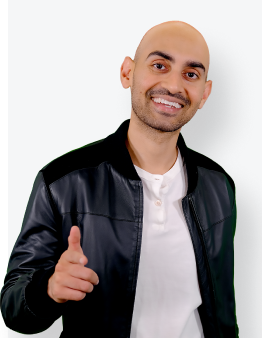 See How My Agency Can Drive More Traffic to Your Website
SEO - unlock more SEO traffic. See real results.
Content Marketing - our team creates epic content that will get shared, get links, and attract traffic.
Paid Media - effective paid strategies with clear ROI.
Are You Using Google Ads? Try Our FREE Ads Grader!
Stop wasting money and unlock the hidden potential of your advertising.
Discover the power of intentional advertising.
Reach your ideal target audience.
Maximize ad spend efficiency.