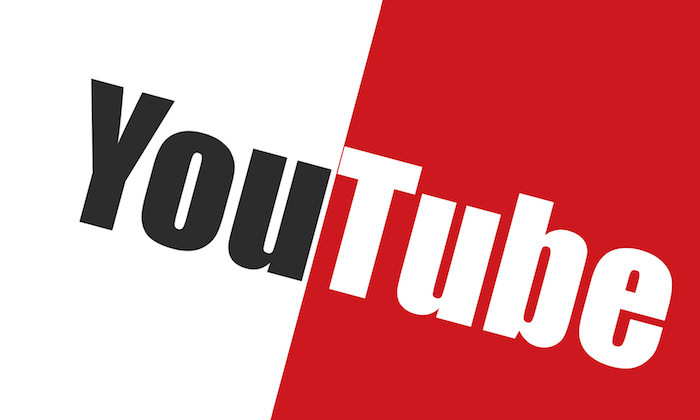 One under-used, yet extremely effective social network platform that I'm sure you've heard about is YouTube. The video marketing platform hosts a tremendous amount of online content on a wide range subjects, making it one of the most popular social media channels of modern day.
And, it reached 4 billion views/day, in 2012 (counting 30 seconds for a view, as compared to Facebook's 3 seconds). Google favors YouTube results for certain types of queries in the SERPs. Did you know that YouTube is the second largest search engine?
The billion-user strong platform can be a source for tremendous business exposure, especially given the higher barrier of entry required for companies to publish great video content. YouTube video clips also have huge influence across the social networks and are great for your overall marketing strategy.
In his research, Mark Fidelman found that YouTube is the most affordable social network platform for conducting influencer marketing campaigns on a regular basis. Some of the influencer campaigns launched by his company, three years ago, continue to pay him today.
If you currently own a YouTube channel, then you might have found that the path to higher engagement with your target audience isn't that linear. Views are pretty much a vanity metric that give immediate gratification.
The YouTube algorithm also doesn't appear to give special preference to online videos with a high number of views which goes against what we know as a common media strategy. Rather, it takes the "session time" of a user into account (not available to the users). So, you need to hook the visitor, get him to spend more time on your online video and to interact with you in the comments.
Sounds like a lot to ask for from your target audience, doesn't it?
In this post, let me help you leverage the media site platform more effectively. This will also help with increasing your YouTube engagement numbers and improve your social media marketing strategy.
Let's begin with strategy number 1. 
1. Simple and beautiful thumbnails can increase your engagement by 154%
BuzzFeed uses enticing headlines to target its audience and get their curiosity-driven click through rates boosted on its articles.
YouTube, though, is a search engine in itself along with having some facets of social networks. And, when a user searches for queries through its search bar:
Visual thumbnails occupy considerable real estate in the web site results.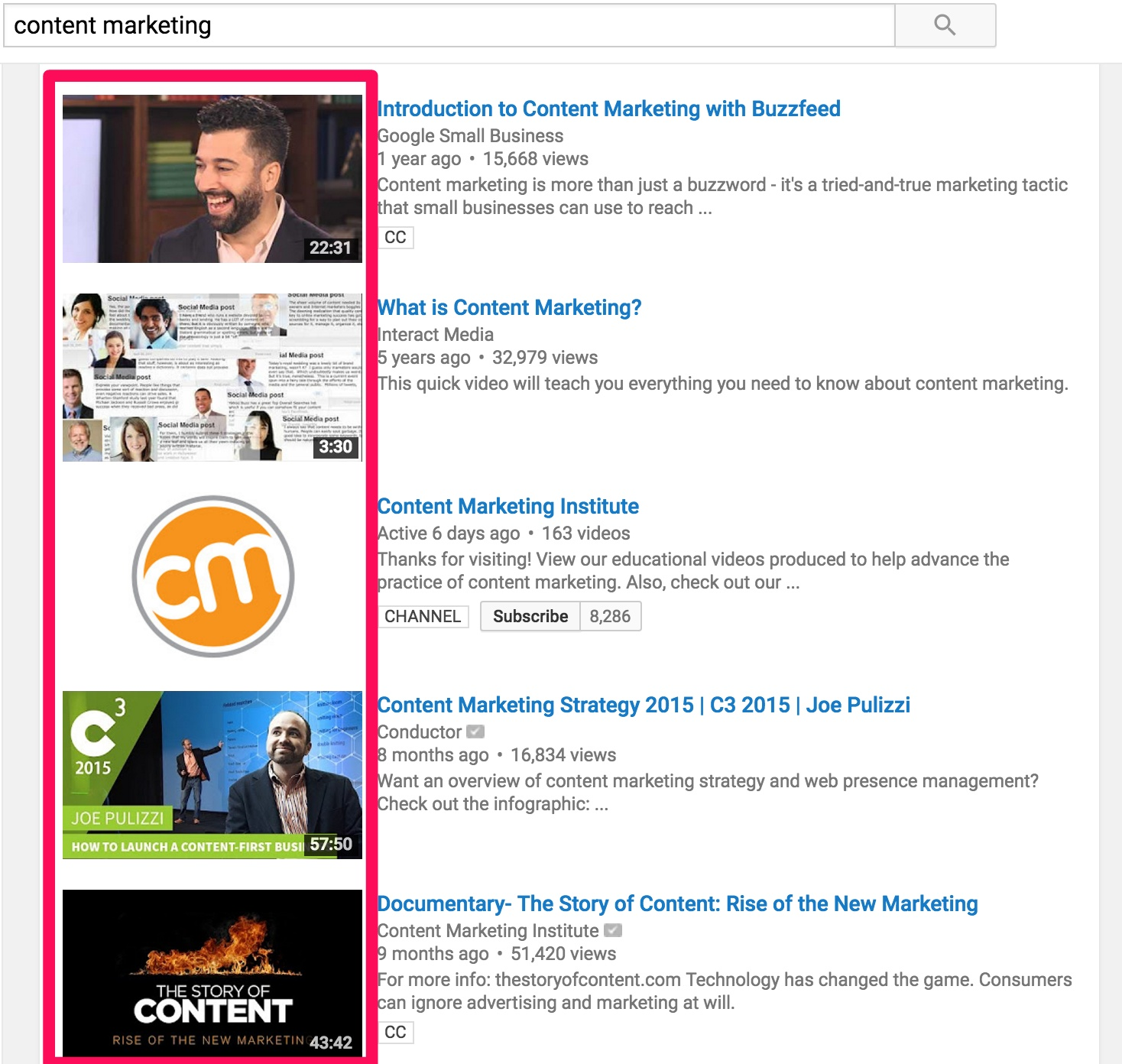 Since our eyes are naturally drawn to pictures, you'll most likely fail to attract more clicks on your great videos with the usual and boring thumbnails.
Here's one interesting fact, from the YouTube Creator Academy:
90% of the best performing video productions on YouTube have a custom thumbnail.
While uploading your video clips, you get the option to choose a custom thumbnail that floats around with your video on YouTube.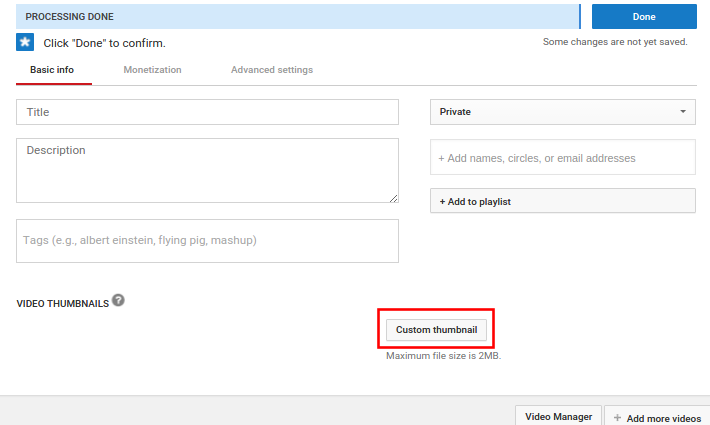 Here are the characteristics of click-compelling thumbnails as part of your video marketing.
1. The thumbnails are distinct for all videos. And, they set user expectations for what they get when they click the video.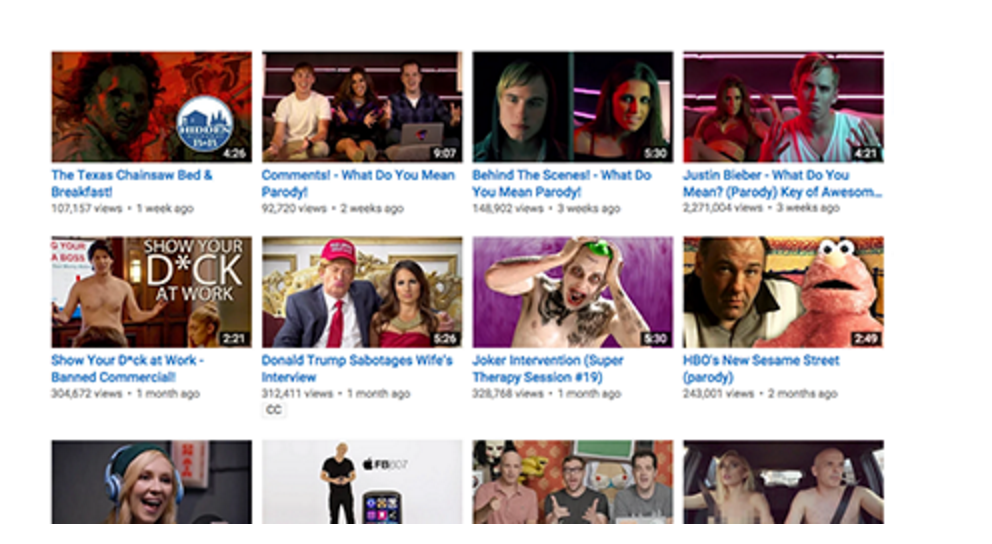 2. Adding your branding or some custom explainer video text to your image can make it stand out from your competitor and compel your target audience to click.
3. The images should be high-resolution (1280 x 720 pixels) and the text should be readable on all screen sizes. You must offer an awesome user experience, regardless of the device on which your users watch the video production.
While editing your image, consider zooming in and out, to take all devices into account. Here's the device report, inside YouTube Analytics, that you can use to find out the strength of your mobile target audience.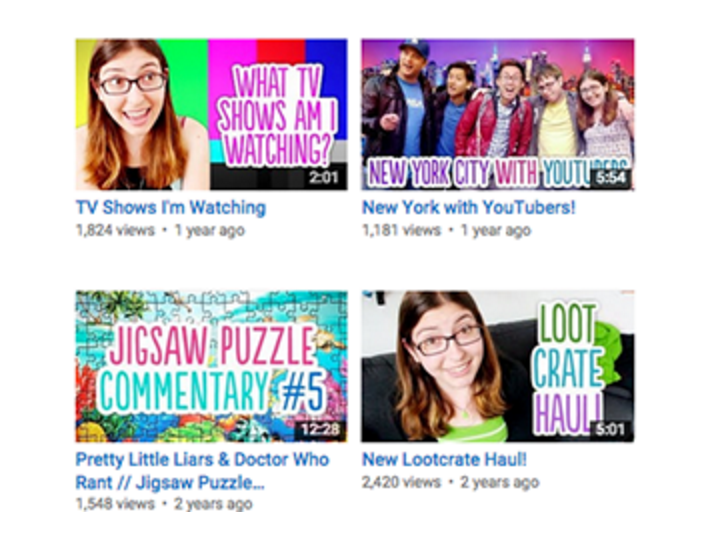 4. Don't forget that you've also got to create a compelling title to gain the attention of your target audience. Experiment with mixing them both, to create a cohesive and compelling story. This will also help gain interest when you share on the social media sites.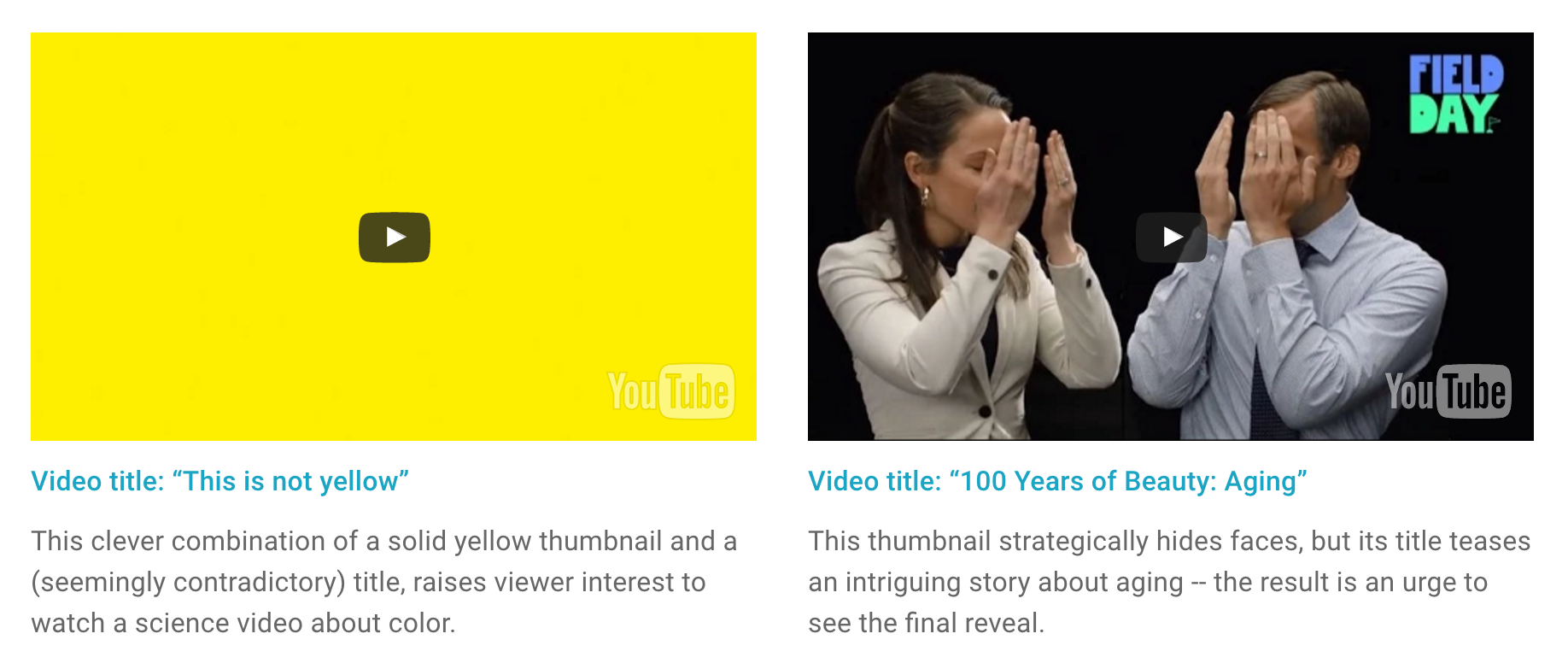 5. Engaging thumbnails don't drop the ball suddenly. Just like clickbait titles annoy the user…
A thumbnail that doesn't meet user expectations will lead to a huge initial audience drop-off. View the first 10-15 seconds of your audience optimization report.

A low retention might indicate that your viewers aren't satisfied and don't consider you to have great video content. Updating the thumbnail/title of the video might set the right expectations.
I would recommend that you go through the 15-minute course, by YouTube Creator Academy, for more information on making great thumbnails.
An attention-grabbing thumbnail will also give you brownie points, when your video appears under "Related Videos." It might also help in retaining users and driving multiple video views in one session especially if shared across the social networks.
Matthew Woodward uses a simple thumbnail template for his YouTube channel to quickly create attention-grabbing thumbnails. He has grabbed a few key gradients that he uses to maintain consistency.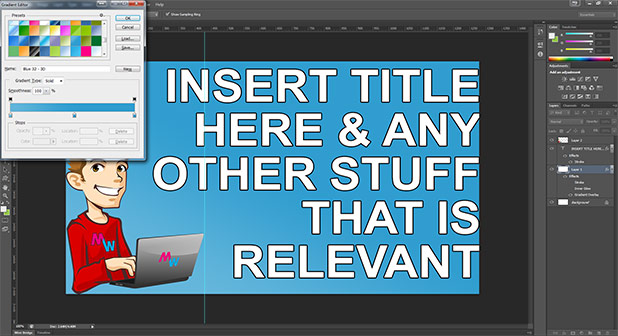 You can create a similar template for yourself. Otherwise, consider purchasing the tubeslicer app.
The last option for designing templates is to use custom dimensions inside Canva,


2. Add annotations to drive desirable actions from the user
If you've been video marketing for a while, then you'll know that all kinds of marketers need to be direct.
Want the user to subscribe to your YouTube channel?
Then, state it explicitly.
Want him to like your video?
Want him to share your video on his social network?
Then, remind him to do so.
Unless you're upfront in your communication, you might end up simply getting more views on your videos without seeing any profitable customer action and increasing your YouTube engagement.
A great way to bolster your subscriptions and increasing YouTube engagement is by using annotations.
They are little boxes that appear during the video and remind the user to take action.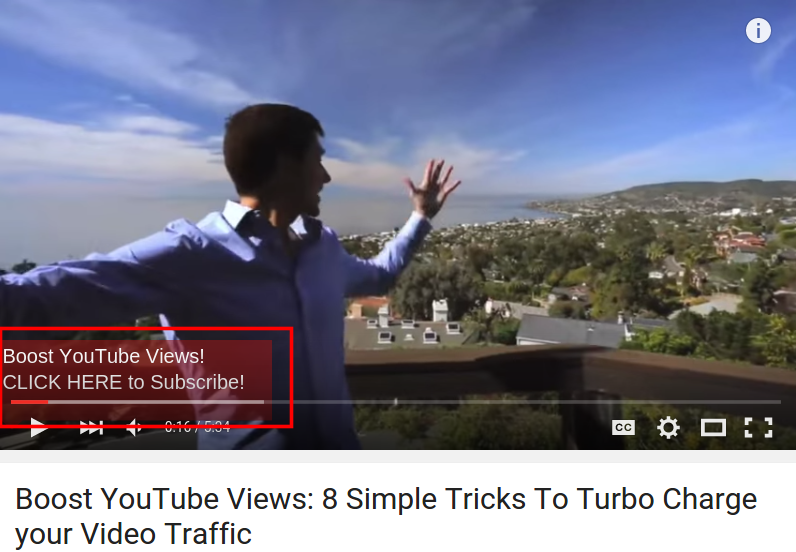 Here are the 4 primary goals for leveraging annotations.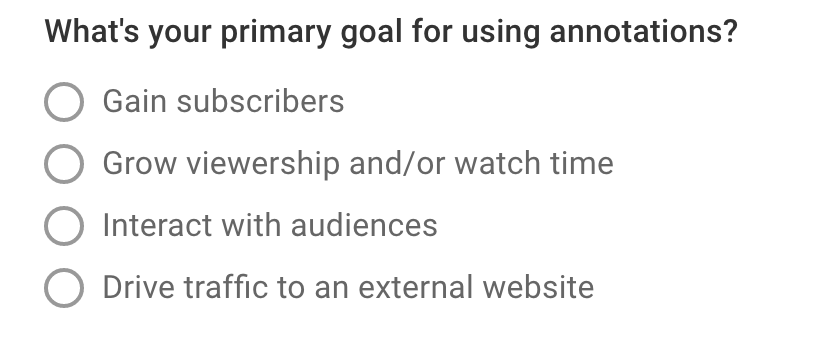 Gab Goldenberg tested calling out to viewers to become subscribers and to watch more videos on the channel BBALLBREAKDOWN, through annotations. And, he found an incredible 3100% increase in his subscriptions.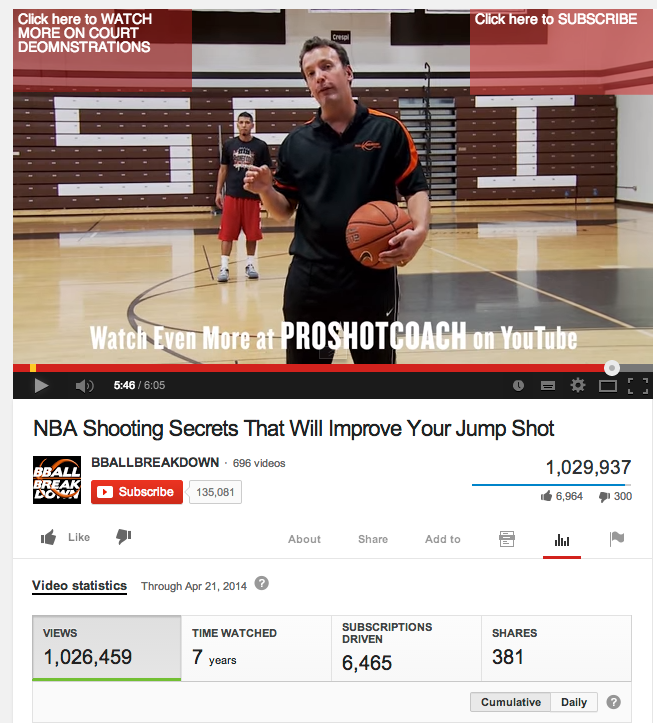 Brian Dean uses annotation links at the end of his YouTube videos to speak directly to his target audience.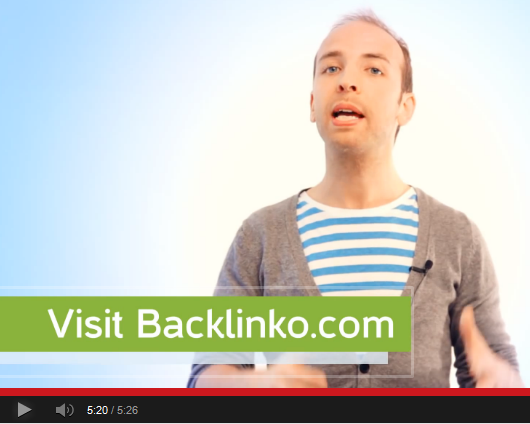 And, drives users to his squeeze page to help with building his email list.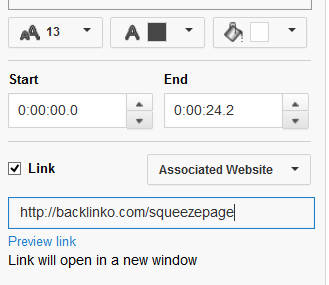 YouTube also likes to see more interaction in the form of likes, comments and higher retention on the video. So, adding a simple annotation to 'like' or encouraging people to share on their social network can be incredibly helpful. Brian tripled the number of likes on his video, in a week, by asking the user to like the video through annotation.

Rosanna Pansino runs a YouTube channel on food. She uploaded more than 100 cake, biscuit and cupcake recipes as part of her special nerdy mummy series. And, she's extracting value from her evergreen content by effective use of annotations.
At the end of every video, she presents end-card annotations, to get more follow-up viewership and increase her subscribers. These annotations typically deliver a 10% CTR. The best ones even reach a 30% CTR.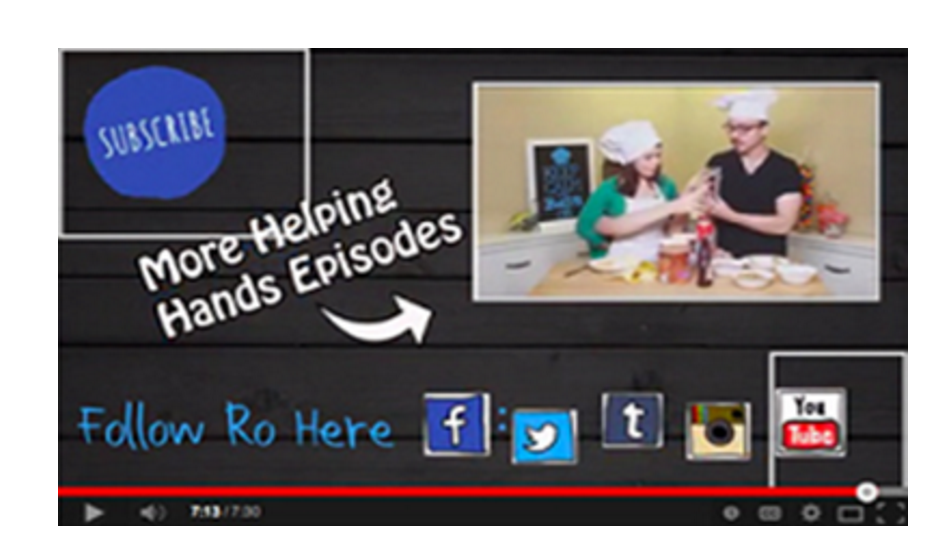 For creating your own annotations, you'll need to navigate to Creators Studio >> Video Manager.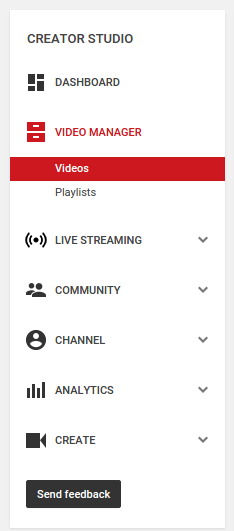 Now 'edit' the video that you want to add annotations to.

Click on the '+ Add annotation' button to get options for adding these little boxes on your video.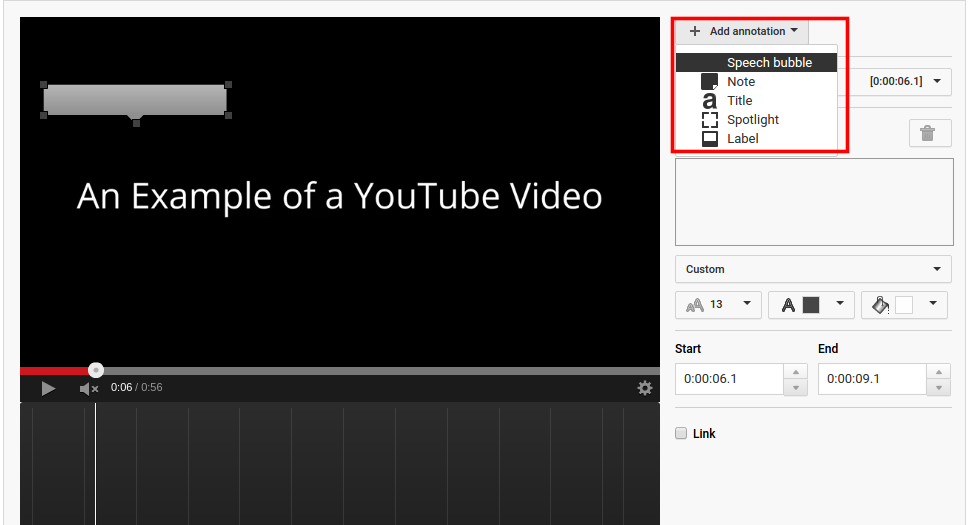 If you want a step-by-step guide on adding annotations, then read this article.
You'll want to experiment with various types of annotations and their timing. Once you get annotation reports, you can see the annotations that are getting clicked/closed and place your annotations at better times for a higher CTR.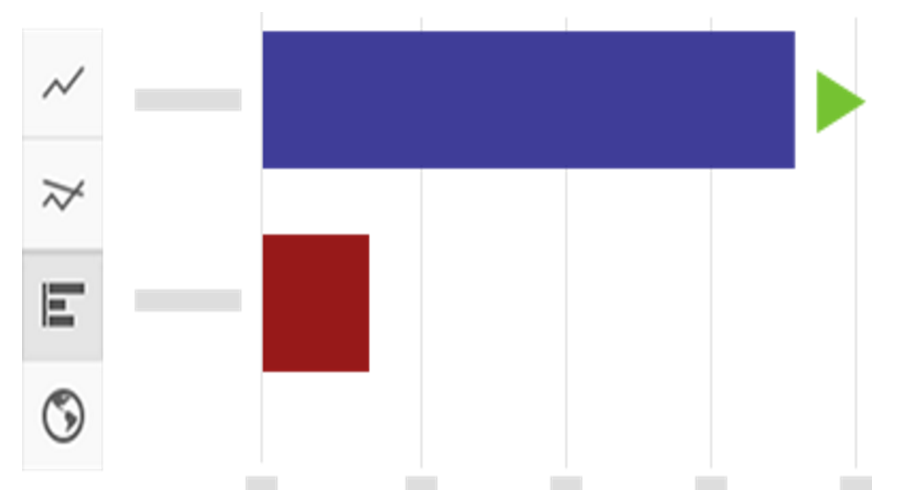 3. Keep your videos short for happier viewers and higher user retention…
Earlier, I mentioned that higher retention of your viewers puts you in the online video platform's good books.
Video watch time is a key ranking factor for videos. The percentage of your video watched is more important than the number of minutes, but, it's obviously great to improve the score of both.
With our decreasing attention spans, getting more people to stick around on your videos is a huge challenge. A user spends an average of 20 seconds on a web site.
Hence, it's important to grab the attention of your viewers within the first 10 seconds, if not 5. Here are three ways to improve your retention:
1. Remove your intro and outro sections. Get to the point and show your personality, to engage your viewers.
2. Weave a good story in your content. I mention some proven storytelling frameworks here. Gary Vaynerchuk shares personal stories to connect with his target audience.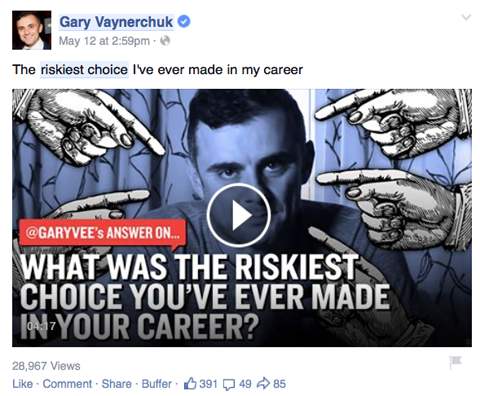 3. The longer your video, the lower its retention. So, don't drag out your videos to longer than 3 minutes.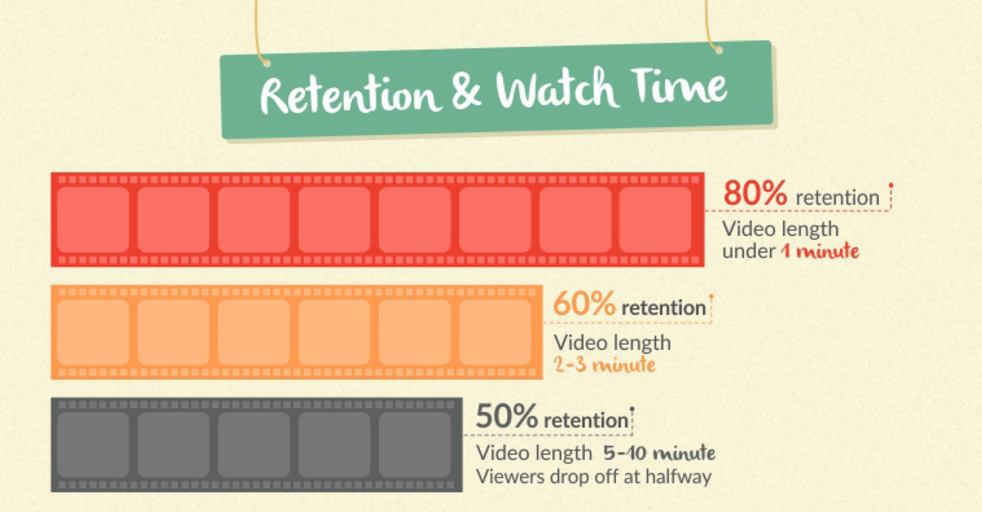 But, if you've something important and valuable to say, then your educational videos can be longer. After a huge initial drop-off, the majority of viewers that remain also stick around till the end.
Brian Dean also found that longer videos rank higher in YouTube (not valid for all kinds of videos though). He recommends a video length of at least 5 minutes.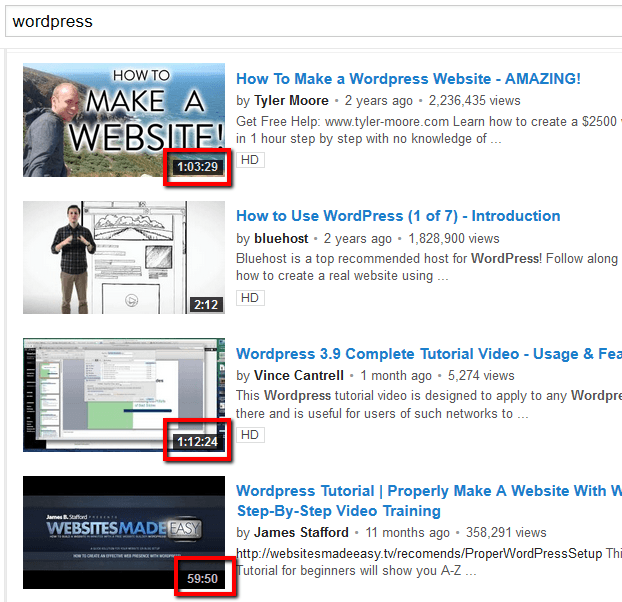 Another important aspect that you must remember, is the prominent use of mobile for watching videos on YouTube. 92% of mobile viewers share videos across social networks and an average mobile session on the smaller screen is a whopping 40 minutes. Optimizing your videos for the smaller screen is essential.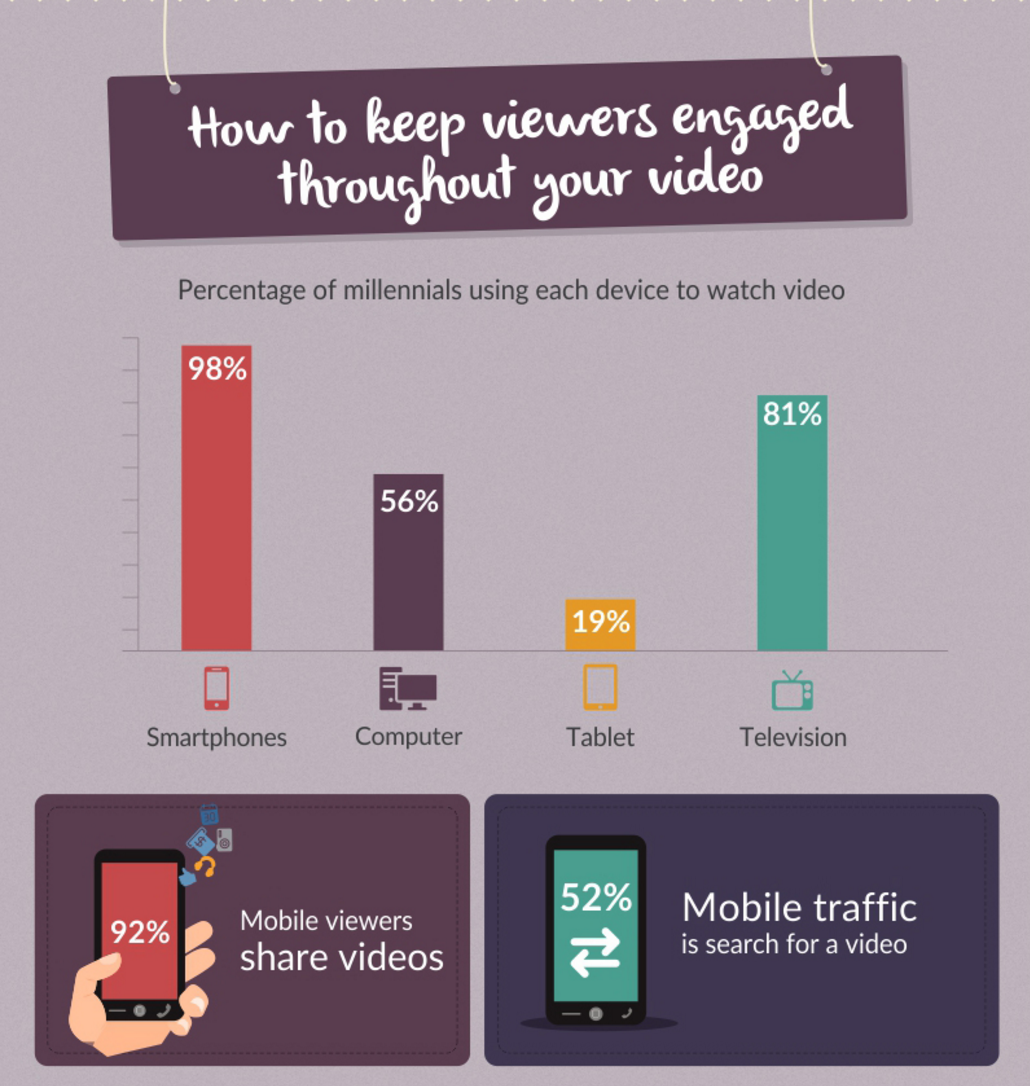 You should find out the percentage of your channel's mobile traffic, by logging into your analytics account.

If you're getting a lot of mobile traffic, then confirm that your thumbnails, banner and content are optimized for the small screen.
If you aren't getting mobile traffic, then check if you're missing out on an audience segment. And, investigate the issues with your channel.
In particular, annotations work in limited situations on mobile. A great substitute for them, on the smaller screen, is Featured Content that directs people to relevant content from your videos.
4. Basic marketing and SEO principles also apply to YouTube
The fundamental marketing principles remain the same on all platforms. Only the tactical ways of implementing them might differ.
Here are 4 strategies that help in getting a top YouTube search results berth with your videos.
1. Actively promote your videos – YouTube has a large audience, but when you're starting out, you won't have many subscribers watching your great videos.
So, you need to get the ball rolling with your email subscribers – they will increase your email marketing engagement metrics as well.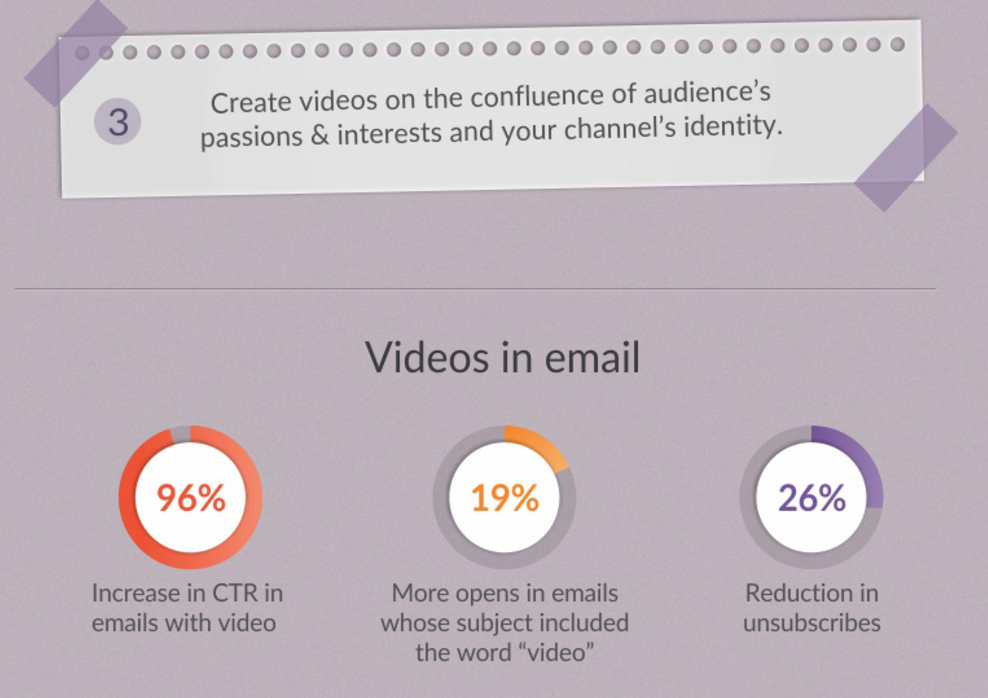 You can also consider writing a blog post and embedding a great video inside. That's what Derek, from Social Triggers, does to engage his email subscribers.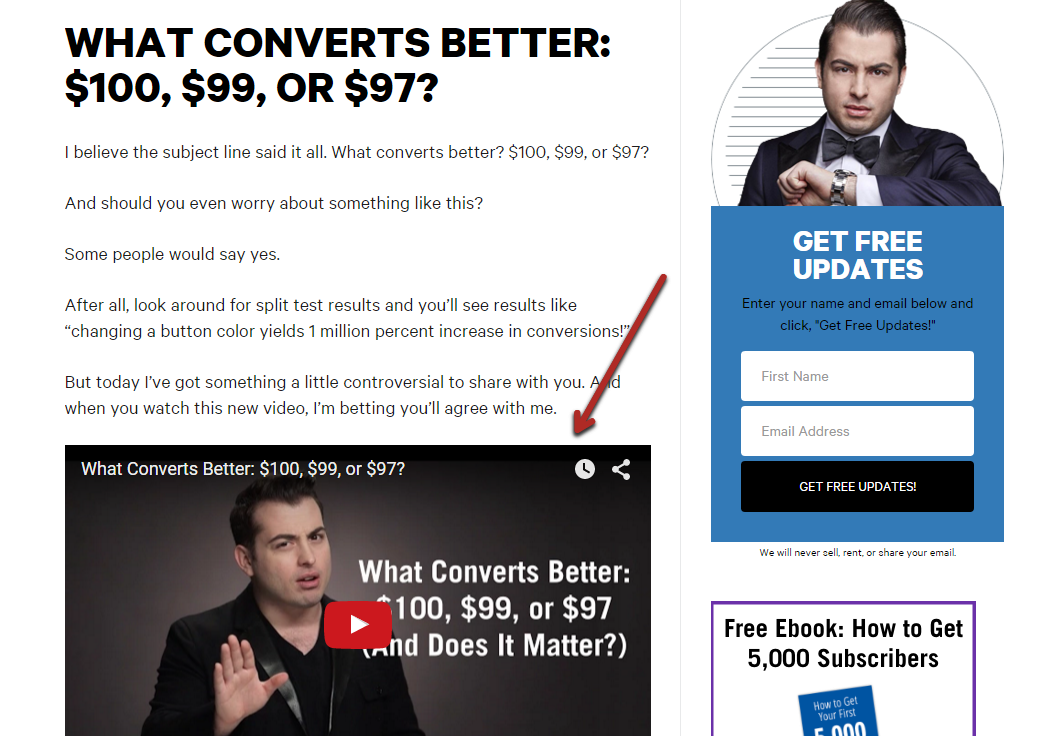 I'd also recommended that you conduct an email outreach and get publications to embed your videos in their relevant posts. It will increase the shelf life of your videos.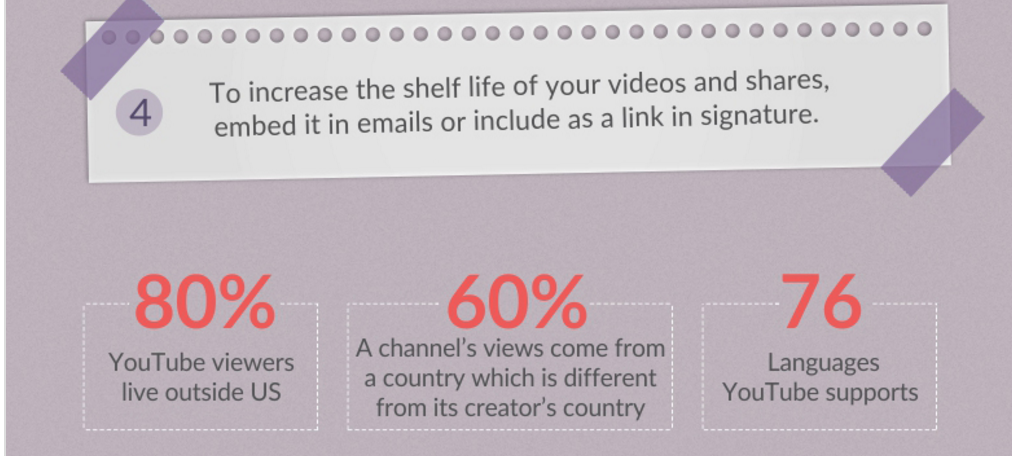 More links from authoritative websites sends good signals to YouTube. For example, the Dollar Shave Club video has received 9.5k backlinks. These citations signal to YouTube that the video is entertaining and they push it up in their results.
2. Keyword Research and Optimization – This can be a starting point of your video marketing and content creation. Plugging keywords inside the keyword planner is helpful, for determining the search volume and competition and will help you reach potential customers.
But, especially, look out for "video keywords," like "how to skateboard."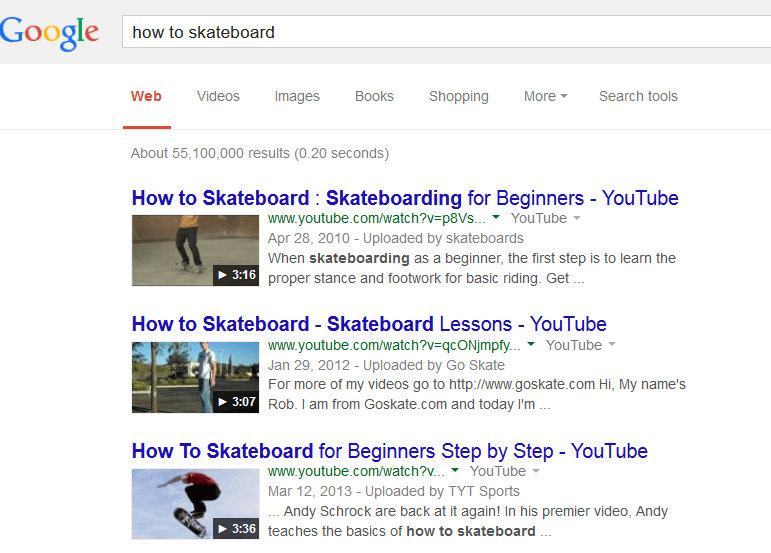 See, Google understands that certain complex subjects require video demonstration especially when dealing with educational videos. They add much more context and value than regular written text. I share 4 such types of videos in this article.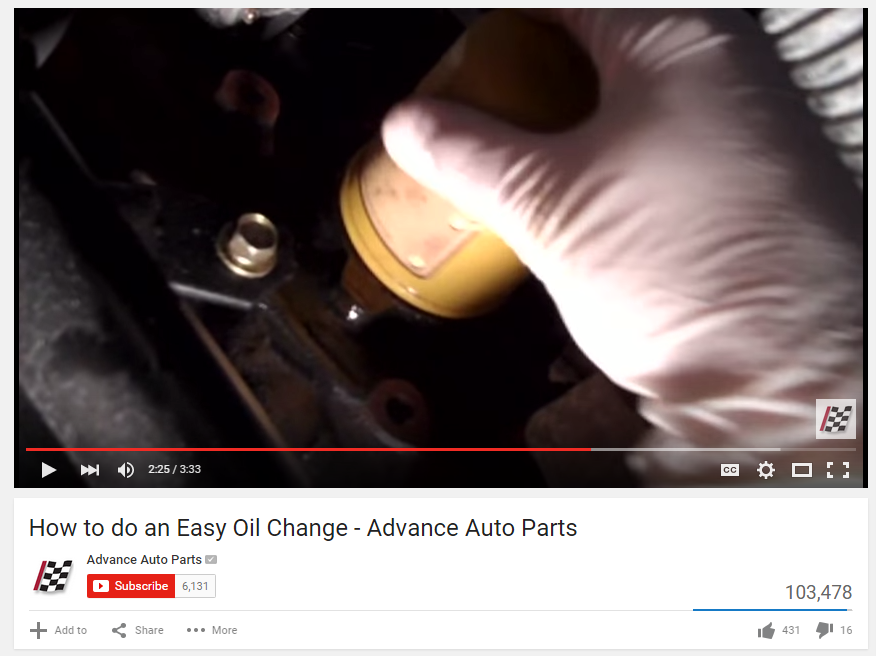 If you target such keywords, then you will get not just YouTube…
but even Google to send traffic to your video from its first page which is an awesome result for your video marketing.
The easiest way to find the "video keywords" that might ensure a spot in Google is by searching for them. For example, the keyword "how to make an omelet," sees video results at the top of Google search results. So, you're likely to rank your video as well, if you target the keyword.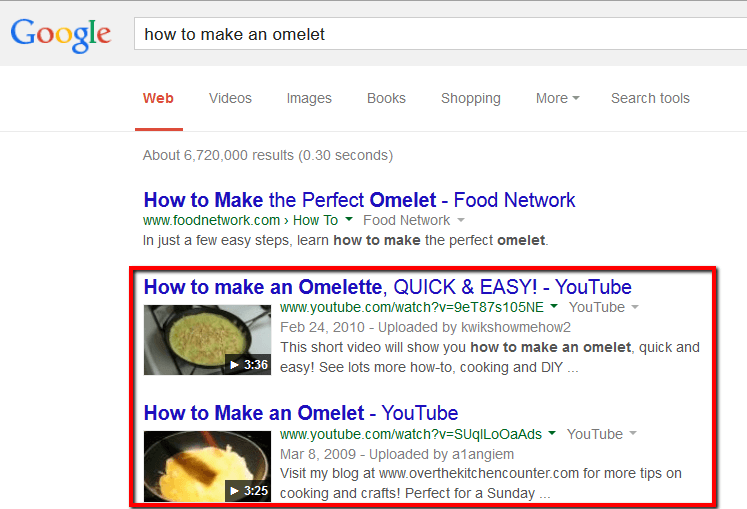 You might also want to cross-check if this keyword gets decent search volume (Brian Dean recommends at least 300 searches/month in Google). This ensures that your video creation efforts bear good fruit when it comes to video marketing tactics.
3. Optimize the video before and after uploading – After conducting keyword research, it's also important to keep SEO in mind while you upload it.
First, the filename of your video must include your target phrase.

You can also add extra details, using features like comments in your operating system.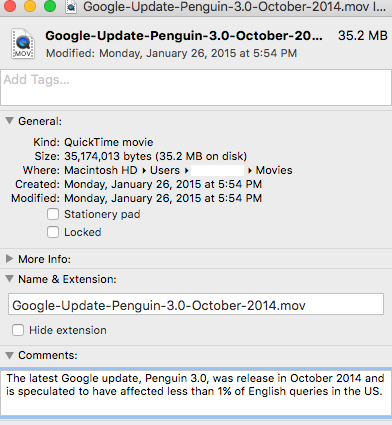 While you upload, ensure that the keyword appears in the title of your video (it's most beneficial to front load it).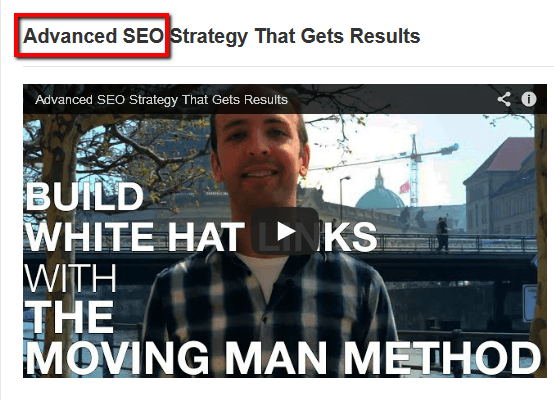 And, ensure that you write a 250-word description, keeping SEO copywriting in mind.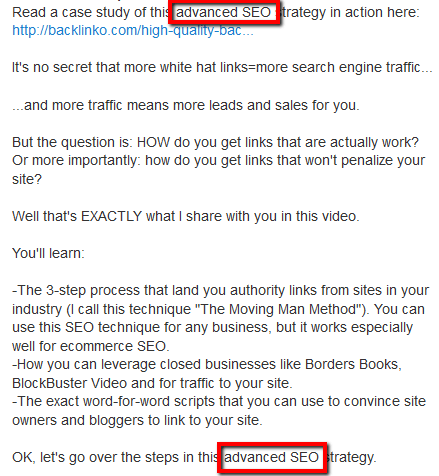 Adding a few tags also helps Google and YouTube identify what your video is about.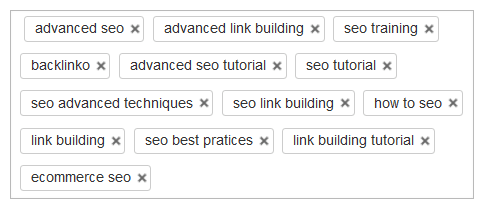 Conclusion
YouTube is a great channel to build an audience for your business. And, the best part is that it still hasn't gotten saturated by marketers (who tend to stick to the more straightforward social networks), due to the high barrier of entry.
If you've got a YouTube channel, then you can leverage the four tactics that I showed you in the article to increase your engagement. If you don't have one, I encourage you to start a YouTube channel and start making great videos.
Are there any other strategies that you use to increase your audience engagement on YouTube and get shared on the social networks? Let me know in the comments below.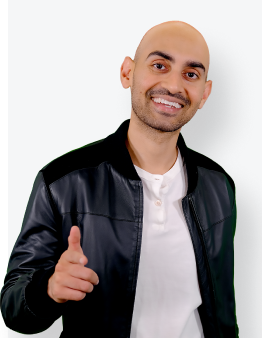 See How My Agency Can Drive More Traffic to Your Website
SEO - unlock more SEO traffic. See real results.
Content Marketing - our team creates epic content that will get shared, get links, and attract traffic.
Paid Media - effective paid strategies with clear ROI.
Are You Using Google Ads? Try Our FREE Ads Grader!
Stop wasting money and unlock the hidden potential of your advertising.
Discover the power of intentional advertising.
Reach your ideal target audience.
Maximize ad spend efficiency.