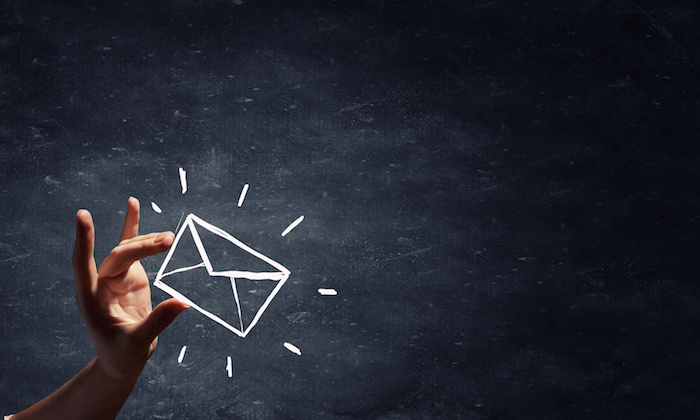 Are you leaving money on the table?
You already know about the power of email marketing.
If you're building an email list, you'll want to maximize the value you get from each subscriber. The problem is, many marketers are ignoring an important component of their email marketing strategy.
I'm talking about confirmation emails.
Most marketers treat confirmation emails like a receipt (which, in a way, it is). Customers may read these email receipts, but more often than not, they're saved for later and filed away.
If your confirmation emails are simply receipts, you could be leaving a lot of money on the table.
Research from Experian shows confirmation emails outperform the vast majority of bulk email. Confirmation emails produce more revenue per email, and have higher click-through, open, and conversion rates.
But they also generate more revenue.
When you upsell and cross-sell your customers you:
Create/generate new leads
Significantly increase your customer LTV (lifetime value)
Increase your average order values (AOVs)
Increase your revenues as a result
Create more profits
So why aren't more marketers using confirmation emails?
Most of the time they don't know how.
The good news is that you can use confirmation emails to generate more revenue using less time, effort, and money.
What type of confirmation emails can you use?
Order confirmation emails. Customers expect order confirmation emails, they read them, then save them for later. Most of the time these emails are missed opportunities.
Shopping cart abandonment messages. Most customers don't complete their orders. Sending a confirmation message can help you to flush out the reason behind customer abandonment.
Welcome messages. Messages welcoming subscribers, members, and clients are confirmation messages in a way. They're confirming a relationship, and they're a great opportunity to give clients a gift.
Receipt confirmation. Have customers received your product or used the items they've requested? Confirming a download, verifying an install, or confirming that registration, coupon or verification codes were received — these all qualify as receipt confirmations.
So what can these confirmation emails be used for?
1. Use confirmation emails to upsell and cross-sell
When's the best time to ask customers for the sale? Right after a conversion.
Customers are far more likely to buy additional products, whether it's an upsell, cross-sell, add-on, or bundle. According to a Forrester research analyst, product recommendations like upsells and cross-sells are directly responsible for 10-to-30 percent of e-commerce revenues.
It's the digital equivalent of asking customers: "Would you like fries with that?"
It's getting your customers to spend more, for the right reasons, than they originally planned. You recommend a helpful product or service to your customers, they reward you with more revenue.
Why do upsells and cross-sells work?
Customers prefer to buy products from brands they're already familiar with. A Nielsen study found that customers actually liked it when sellers offered new product options to them.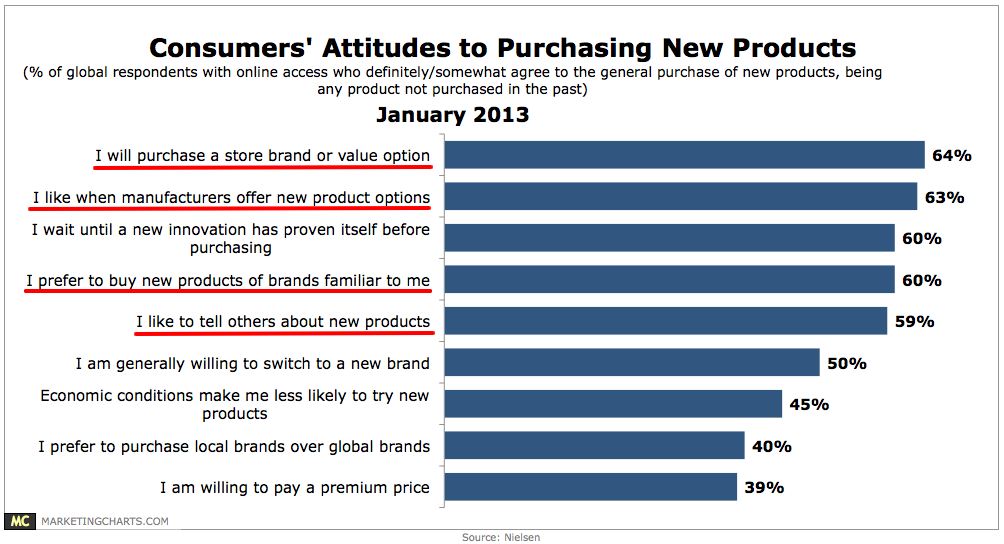 So, how do you use upsells and cross-sells in your confirmation emails?
You offer customers a relevant product or service. Customers are much more open to relevant products and services.  Remember, the response rate for confirmation emails is five to ten times larger than the average bulk email campaign.
Here's how Dollar Shave Club does it.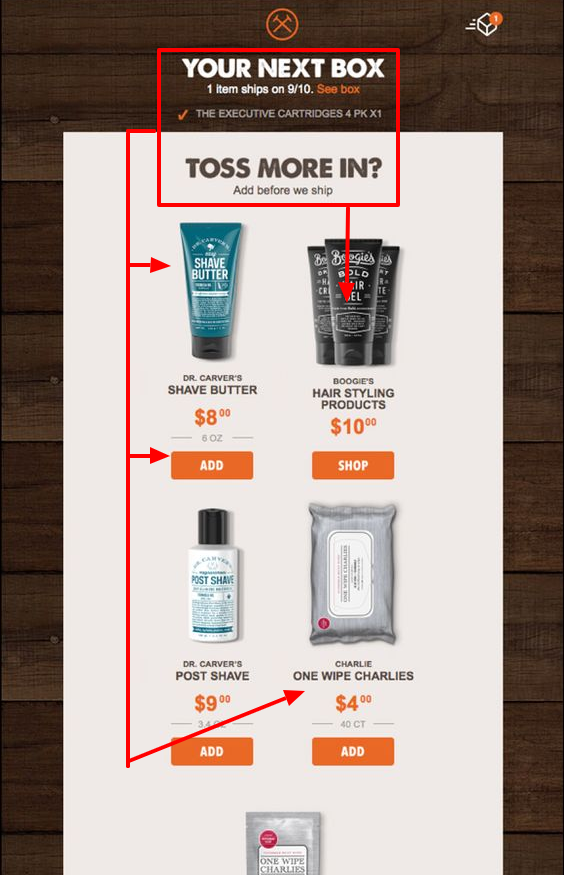 Makes sense, doesn't it?
If I've just purchased a razor from Dollar Shave Club, it's reasonable to assume that I'll also need aftershave, lotions, and hair products. It's also helpful because these products are all relevant.
Here's how Pottery Barn Kids does it.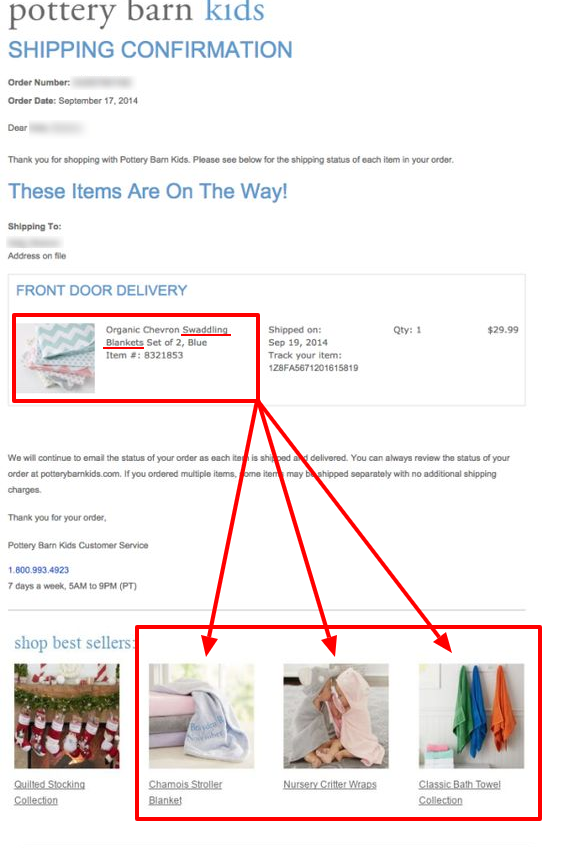 If a new mom needs swaddling blankets for her baby, she'll probably need towels and stroller blankets, too. When upsells are this relevant, it's easy for customers to spend more.
But how do you know which product needs an upsell?
They all do.
Any product you buy fills a need and creates a new one. If you buy a razor, you need shaving cream. If you buy an iPhone, you'll need a new case, a screen protector, and a car charger.
The question isn't whether your products need an upsell or cross-sell. It's all about making the upsell or cross-sell relevant to your customers.
2. Recover abandoned shopping carts
Shopping cart abandonment is a big problem. According to the Baymard Institute, the average online shopping cart abandonment rate is 69.23 percent. Roughly one out of four customers actually finish their purchase.
That's pretty high.
It's also really expensive. A report from Business Insider estimates that merchants are leaving $4.6 trillion dollars on the table. Research from Criteo states mobile is only making the problem worse.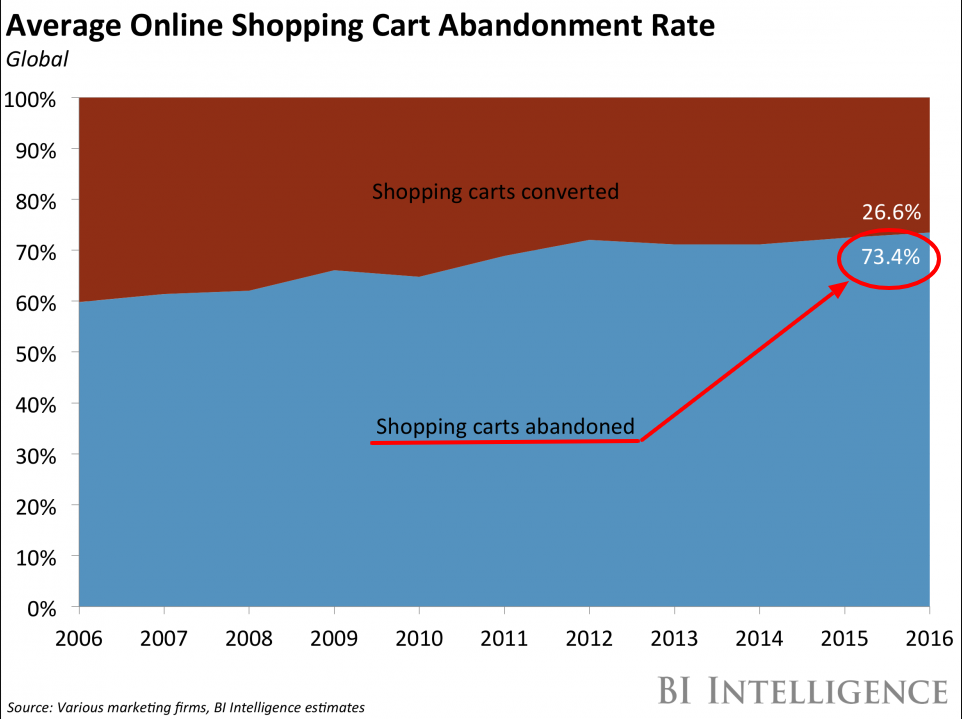 Shopping cart abandonment is on the rise.
Confirmation emails can help with abandoned shopping carts as well. Customers haven't finished their order, so it's not technically an order confirmation email.
However, you can still use a confirmation email to remind customers that you've saved their order for them to finish. It's a way for customers to confirm their interest in the product and either finish their order or ignore your message and receive a survey instead.
It's important to send them the right message.
How do you do that?
You start by understanding why customers abandon their shopping carts.
They saw your promo code field, got distracted searching for a coupon code, and bounced.
You didn't offer free shipping.
There was too much friction in the checkout process.
They ran into a problem and needed help, but couldn't call or chat with you.
They found the same product at a better price somewhere else.
The checkout process is overwhelming or requires too much information.
Customers are required to register or create an account before they can purchase.
The checkout process was difficult or confusing.
The checkout didn't work on their mobile device.
Your site looks untrustworthy.
Customers have last-minute questions and decided to put their order on hold.
To be honest, there are lots of reasons why customers abandon their shopping carts. How are you supposed to figure out where customers are getting stuck in the checkout process?
It's easy. You can use tools like Google analytics or Crazy Egg to watch what customers are doing. If customers aren't responding to an offer, it's easier to figure out why if you can see what they're doing.
Let's say a shopper wants to order a dress, but they're not sure about the size and fit. They need help, but instead of asking for help, they simply abandon their order.
If you're tracking their order, you can send them a message like this: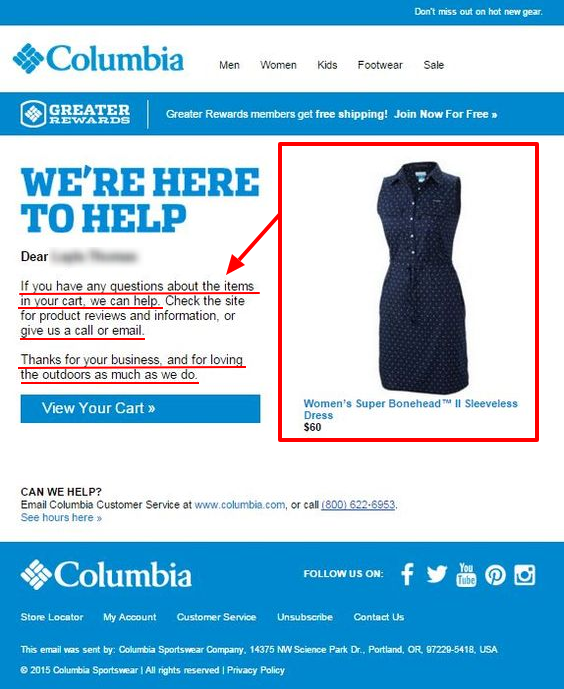 Columbia took the time to reach out their customers, sharing a picture of the products in their cart and offering to help.
What if customers are price shopping?
You tempt them with a 50-percent discount and mention that they can finish their order securely. This strategy even works in some unexpected niches, like original artwork.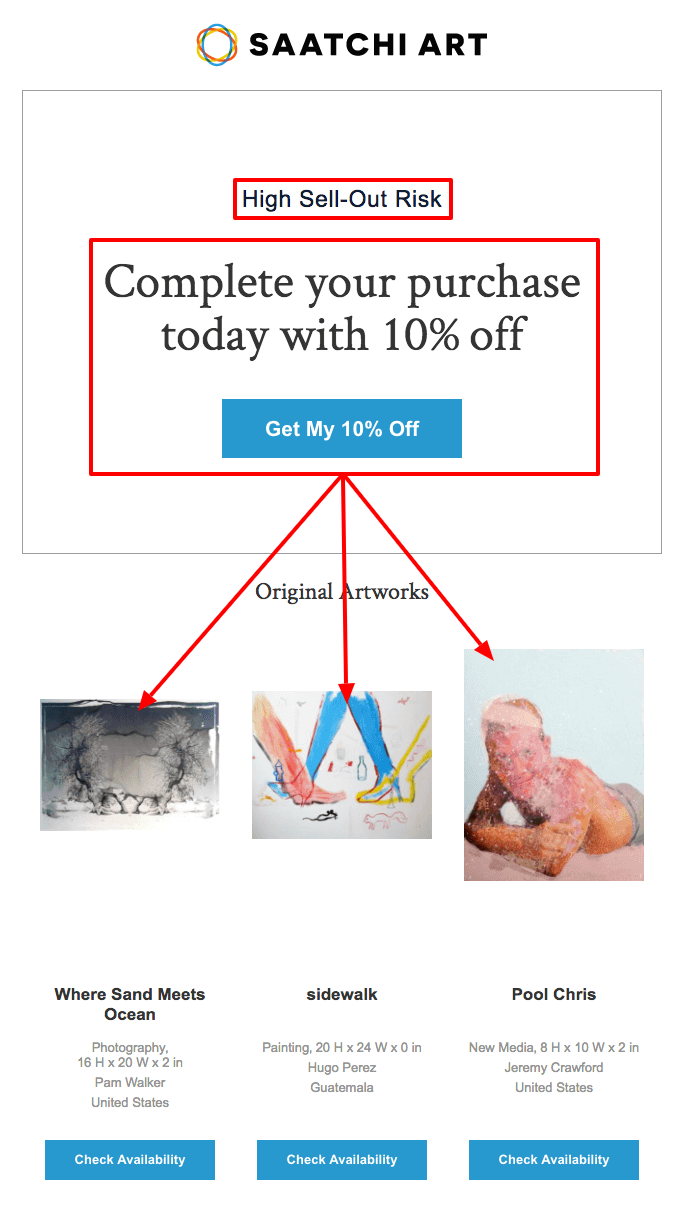 What if customers abandoned their shopping cart because they're just plain confused? You can send them a message and add a bit of humor to the situation.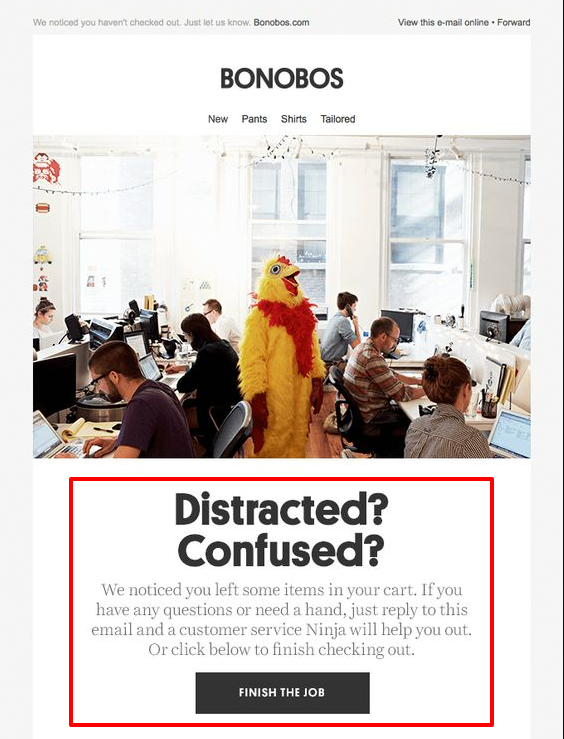 If customers complete their order, you've won the sale. If they ignore your email, you can reach out to them with a survey for more information.
3. Boost social media followers
A lot of people say "social media doesn't generate leads and sales," but it's completely untrue. Not only does social media generate leads and sales, it also gives you something more important.
Access.
Adding social media to your confirmation emails is a great way to boost your follower counts. Boosting follower counts gives you the ability to target a custom audience on Facebook, Twitter, or LinkedIn.
Here's how Indiegogo used their confirmation emails to help customers spread the word about their favorite Indiegogo campaigns.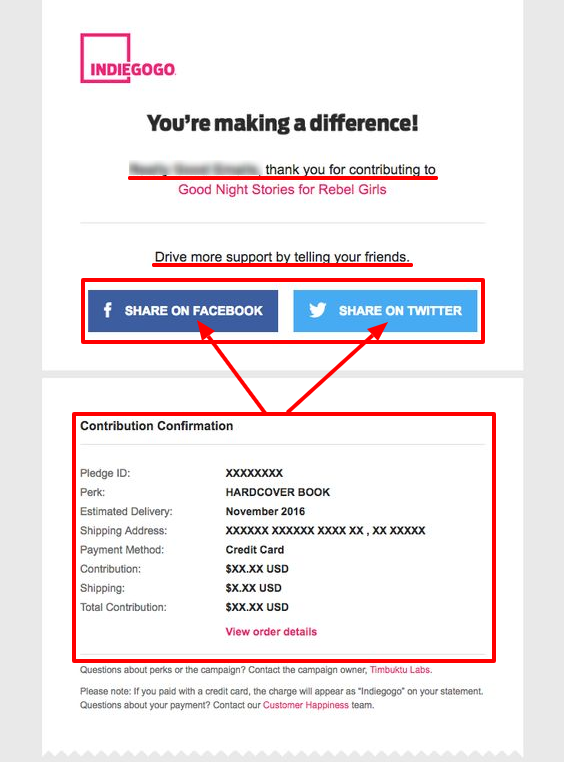 Indiegogo asks supporters to share the campaigns they've just contributed to, increasing awareness, follower counts, traffic, and revenue.
Pretty simple, right?
You ask customers to share their favorite products. When they share it, friends in their network click through to view the products they bought, giving you the chance to add a pixel.
See where am I'm going with this?
Your confirmation emails give you a large audience you can pixel and sell to. They've visited your site, so you have a pretty good idea of the pages they visited and what they may be interested in.
Your confirmations can become one of the sources you use to fill your social media sales funnel. Your sales funnel doesn't automatically lead to more sales. It takes a little bit of work to fill your funnel.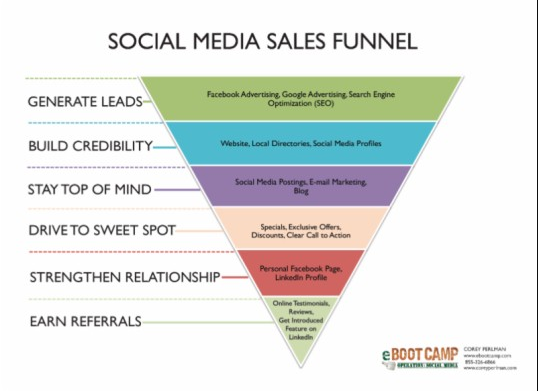 4. Increase revenue with post-order discounts
If shoppers are on the fence or they're feeling undecided, you can coax them off with discounts. Discounts work because price-conscious customers don't want to miss out on a good deal.
You have urgency and a fear of loss.
Akshay Rao and a team of researchers found there are lots of ways to offer discounts. They also found that discounts aren't created equal.
Some discounts work better than others.
For example, customers aren't aware that "50 percent more" of something is the same as a 33-percent price discount. Most customers assume 50 percent more is better when it's not.
Shoppers prefer getting bonuses and extras for free more than getting a cheaper product or service. In an experiment, Rao sold 73-percent more hand lotion when it was part of a bonus pack than when it had an equal discount.
Discounts as a whole are pretty effective.
If you're going to offer discounts, it's a good idea to be clear and upfront about what you're offering.
How do you use your confirmation emails to increase revenue with discounts?
First, offer a discount in your confirmation email, but keep your offer relevant to the purchase, topic, or conversion.
If a customer just purchased dinnerware from your store, recommend similar items in the set. If they've purchased a knife, sell them the sharpener.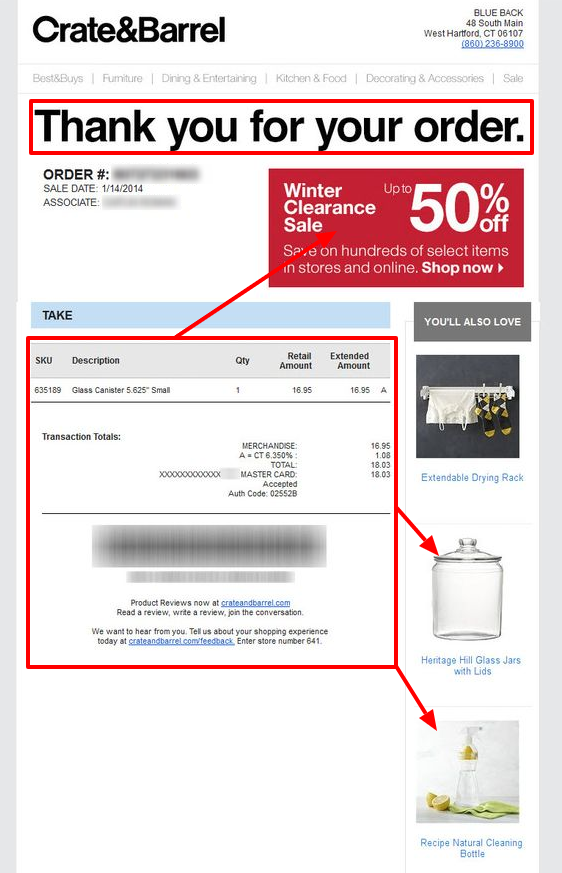 Next, respond to customer behavior. If they make another purchase, continue to upsell and cross-sell, moving them up the purchase funnel.
Finally, if they don't buy, use remarketing to get your post-purchase discounts in front of them.
A/B test your discounts to determine which amount or type is more effective, then rinse and repeat, so to speak.
5. Build a community, then sell to your community
Building an audience, a community of like-minded people, will drive sales and generate revenue. Marketers are shifting towards communities. Customers are seeking out communities.
We're spending time on or in communities.
We spend…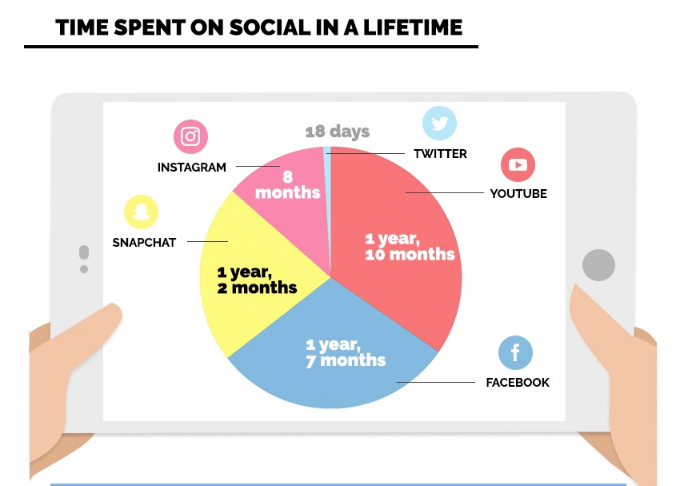 According to a research report by OnBrand, building a community is more valuable than direct sales for over 70 percent of marketers. Communities like Facebook groups, YouTube, Instagram, and Reddit have exploded, and these communities continue to grow.
These communities are being used to:
Sell products
Collect feedback
Promote conversation
Provide customer service
Supplement training courses
Establish expertise
Test ideas
How do confirmation emails fit into this?
With confirmation emails, it's easier to build a community. The best time to ask customers for a favor is right after you've just received one.
There's that saying you've probably heard. If you want to increase sales and revenue, sell to your existing customers first.
What if you can't use confirmation emails to sell your customers more products or if it isn't the right time?
Ask them to join your community instead.
Bringing customers into your community gives you the chance to build a relationship. You're able to share valuable education pieces, stories, and events.
You're able to share your values.
But all of that starts with asking the people who already like you: your subscribers, customers, followers, and fans. These are the people who have bought into your products and services.
Here's what that looks like: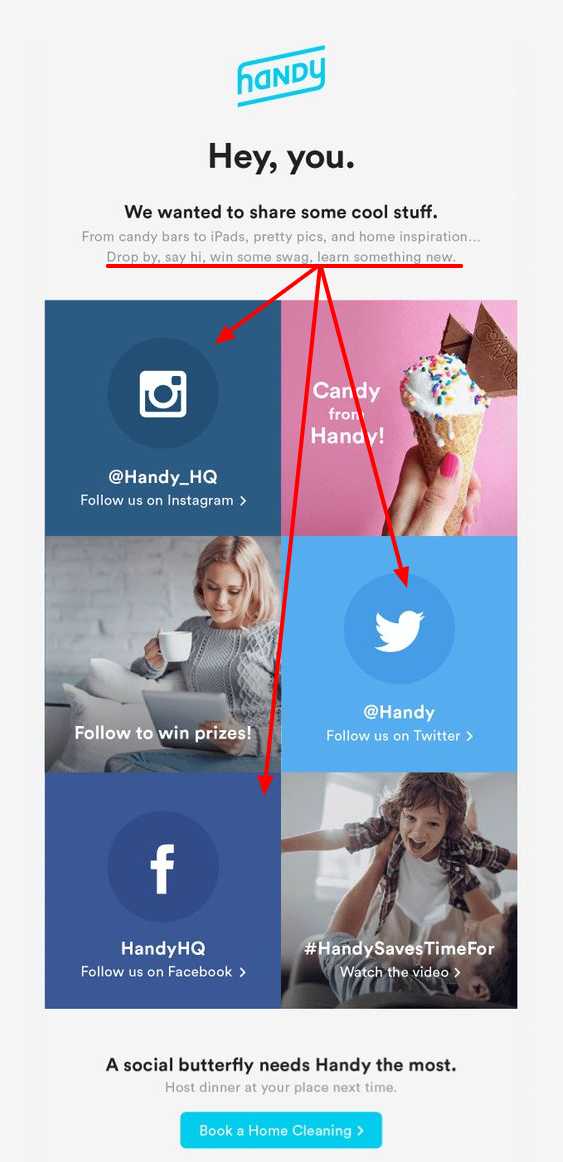 Asking customers to join your community doesn't have to be difficult or complicated. J.Crew welcomes new subscribers and asks them to join their communities.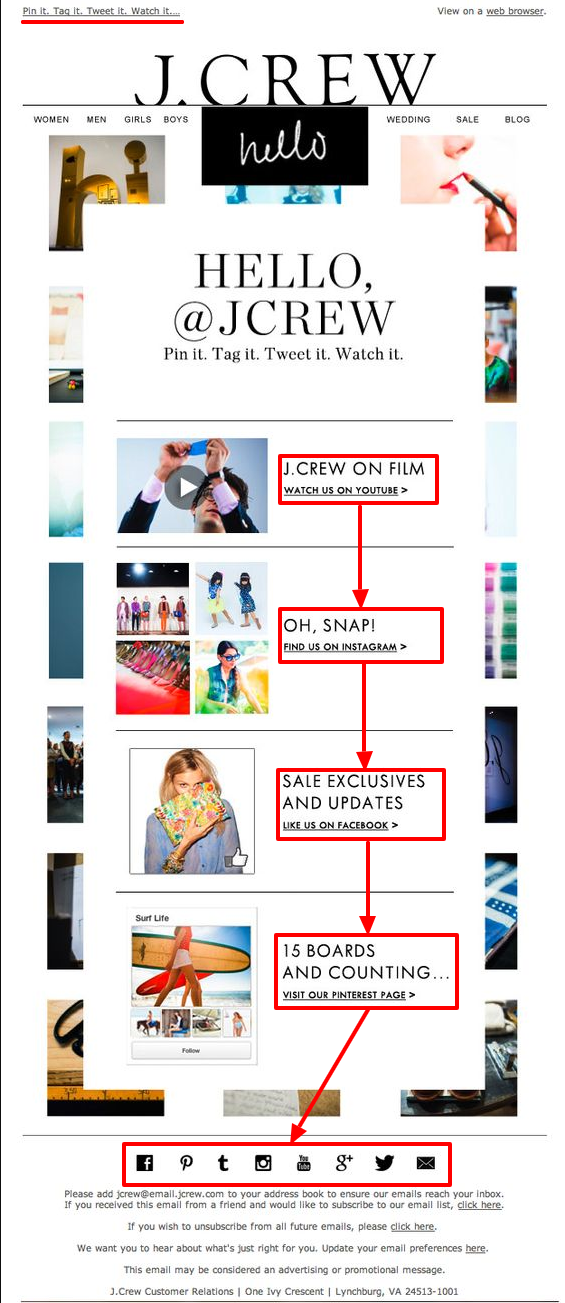 Creating a community gives you access to customers, but it's important to make email, the community you own, a priority.
6. Generate revenue with tripwires
Sending customers the same pitch over and over is a great way to burn out your list. Customers aren't that interested in repeatedly hearing about the same product or offer.
So, you create a tripwire offer.
A tripwire offer works to convert your subscribers into paying customers, even if that results in a loss at first. The offer is typically used as a loss leader to attract as many customers as possible.
Here's how it works.
First, you draw customers in with an enticing offer.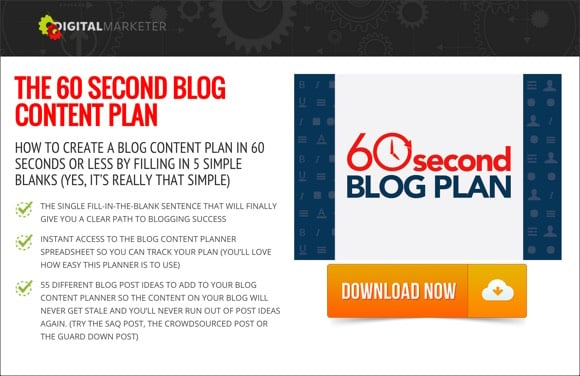 Next, you confirm that they've received your offer, and you introduce them to your tripwire offer, like this:
Which leads them to a sales page where they're able to get an amazing deal.
But why take a loss up front?
Because customers who are willing to pay for a tripwire offer are also likely to be interested in a larger (but still relevant) offer. With the right strategies, you'll be able to get customers to buy into bigger and more profitable products and services.
Won't selling or pitching in confirmation emails turn off customers?
They won't turn off customers if you use them well, just make sure you don't abuse it. Confirmation emails are read far more often than the average email marketing campaigns.
But, here's the bigger question.
What do you do with receipts? Most of the time we save them and move on.
Treating confirmation emails like a simple receipt trains customers to ignore your messages or simply save them for later. Using your emails to generate more revenue means one thing.
You'll have to show customers that you're valuable.
Make a relevant offer, give customers what they want, and they'll buy. Do it well and customers will pay more for less.
What if your customers aren't reading your confirmation emails?
You can use remarketing to retrain their behavior. Use the strategies we've talked about, send them back to their inbox for something they want, and you'll be able to get them reading again.
Conclusion
You can generate more revenue with confirmation emails, but it's all about keeping things relevant for your customers.
Confirmation emails help you to maximize the amount of value you're getting from your list. It's a message your customers are five-to-10 times more likely to read, but It's something that most marketers ignore.
That's a mistake because it's an important part of a well-defined email marketing strategy.
Create a message that's relevant to your customer's behavior, make an offer, and you'll have what you need to generate more revenue with confirmation emails.
What are some ways you can use confirmation emails in your business?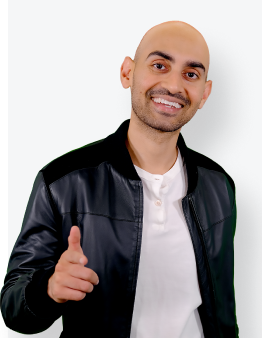 See How My Agency Can Drive More Traffic to Your Website
SEO - unlock more SEO traffic. See real results.
Content Marketing - our team creates epic content that will get shared, get links, and attract traffic.
Paid Media - effective paid strategies with clear ROI.