The Clubhouse app is the newest social media network taking the internet by storm, one exclusive invitation at a time.
Ever since its beta release on iOS and endorsement by some of the world's biggest celebrities, people are scrambling to get into the app.
Even Silicon Valley has jumped in on the hype, valuing the social media app at $100 million and receiving a reported $12 million investment from venture capital firm Andreessen Horowitz.
In this post, I'm breaking down everything you need to know about the platform, including what it is, how to use it for your business, some things to be aware of, and alternative options.
What is the Clubhouse App?
Clubhouse is a social media app—with a twist. Think of it like live-streaming meets podcasting meets Snapchat, with chats disappearing forever as soon as they finish. Users can join or create chat rooms focusing on a wide range of topics, and conversations are audio-only.
Created in May 2020 by Paul Davison and Rohan Seth, the app has caught the attention of venture capital firm Andreessen Horowitz and celebrities. Oprah, Chris Rock, and Ashton Kutcher have been spotted hosting or listening to conversations on the app.
Its glitterati factor and exciting chat room topics have made the Clubhouse app one of the most talked-about emerging social media networks.
However, there's a catch: Clubhouse is not available to everyone. At the moment, it's an invite-only app. That said, you can download it from the Apple store, reserve your username, and join the waiting list.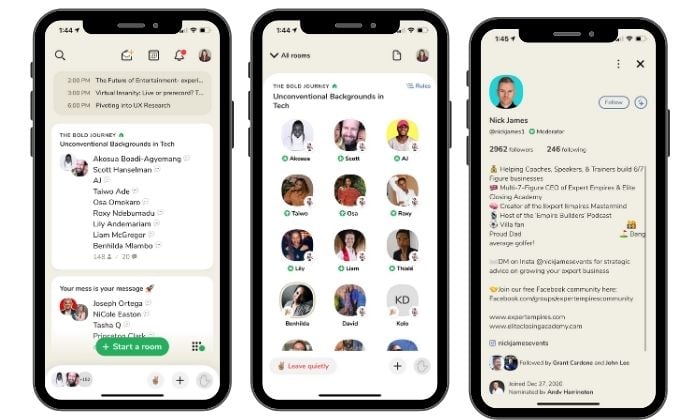 Note: There is an Android app called "Clubhouse," but it's a project management program. That app is also available on Apple. If you're looking for the Clubhouse we're talking about in this piece, make sure Alpha Exploration Co manages it.
How Does the Clubhouse App Work?
Upon receiving your exclusive invite to the Clubhouse app, you'll have instant access to all the ongoing conversations.
When you select a room, you'll start to hear the chat. If you want to jump in, raise your hand for the speaker to invite you up onto the "panel" to join the discussion.
Otherwise, you can hang back and soak in what everyone is saying. And, unlike social media that relies on text or video, you can listen while driving, cleaning, or completing whatever other tasks are on your to-do list.
As you participate in the chat, you might become a moderator, giving you the power to call others onto the stage. If none of the current conversation topics appeal to you, you can start your own room.
The content available to you is dependent on who you follow. For instance, like TikTok's algorithm, you'll likely discover a lot of digital marketing content if you follow me.
If you want to diversify your feed, search for keywords you're interested in and follow people who come up in the results.
Another way to find interesting content is to adjust your settings:
Go to your profile
Tap on "Settings"
Tap on "Interests"
Select the categories you want to see in your timeline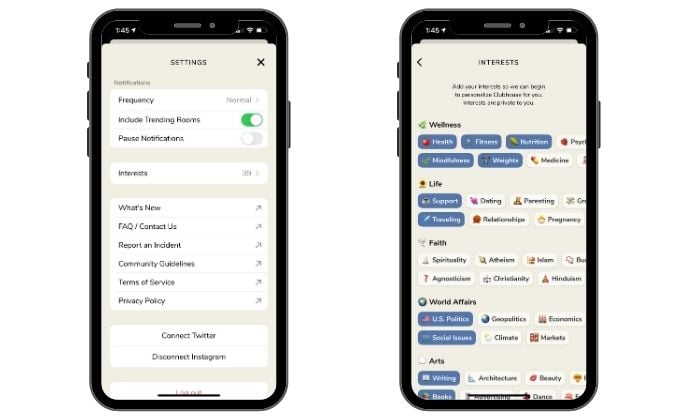 How Do You Get an Invite to Clubhouse?
The easiest way to get an invite is to reach out to your network. Hop onto Facebook, LinkedIn, or Instagram and let people know you want in.
If you're coming up empty-handed, some users are selling their Clubhouse invites. There are even websites dedicated to selling access to the app. But beware of scammers.
The Rise of Audio Social Media Apps
What's the deal with audio social media apps? Why is there a trend moving away from visual platforms?
At first glance, it may seem regressive. After all, we can shoot in 8K video now, and apps like Instagram and TikTok have innumerable monthly users.
Audio social media apps like Clubhouse give users a digital experience where it feels like you're hanging out with friends while stripping away the barriers that come with visual media. It works because:
There's less pressure. No video means you don't need to put on make-up, choose an outfit, or worry about the pimple on your nose. All you need to do is show up.
It's interactive. While podcast popularity has grown by 37.5% in the last three years, they're typically pre-recorded with no opportunities to respond in real-time. Audio social media apps are live and don't require any podcasting software or editing.
Five Ways Brands and Influencers Can Use the Clubhouse App
Here's how you can tap into the app's community and use it to grow your brand and influence.
1. Build an Engaged Clubhouse Community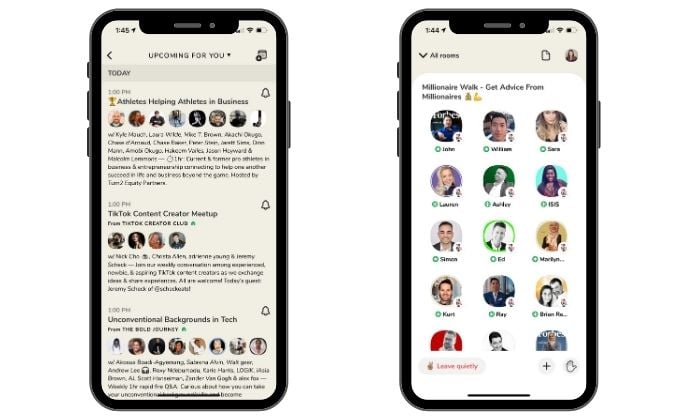 What draws me to the Clubhouse app is the potential to build an engaged community and grow your sphere of influence.
By creating rooms on topics you're passionate about and providing valuable conversations, you can quickly establish yourself as an industry expert.
Users can check out your profile and follow you. Next time you go live, your audience will receive a push notification so they can tune in.
Besides building a community of potential customers, you can also grow your business by networking on the app. Engage with other entrepreneurs and influencers to develop invaluable business relationships in a new format.
2. Get Customer and Business Feedback From Clubhouse Users
If you hang around on Clubhouse long enough, you might see one of the founders pop in to ask for feedback on a new feature.
Take a page out of their playbook and do the same thing with your audience.
Create a room and ask for feedback on your latest business idea. You may instantly have other entrepreneurs weigh in if they think your idea is a miss or the next big thing.
Or, what if you have a business problem you're struggling with? Start a conversation and see what solutions your peers recommend.
3. Keep Up with Current News and Trends in Your Industry
Clubhouse is social listening. You can follow influential people in your industry, keep tabs on your competitors, and stalk the categories related to your niche.
You'll soon have a dedicated timeline giving you information on trends to watch, industry news, and audience sentiment.
All you need to do is join relevant chats and listen to what people say.
4. Issue Announcements Via Clubhouse
Once you start to grow an audience on Clubhouse, you can use the app to announce company news.
Let's say you've decided to switch to more sustainable, eco-friendly suppliers. You can create a chat about your business decision and educate people about why you made it. It gives you a chance to bring your brand values to the forefront and have meaningful discussions with your audience.
Got a launch coming up? Create a room and announce your new product or features. It may prove an excellent way to build anticipation with your community and get instant feedback.
Furthermore, someone might recommend a tweak or a feature they would like to see. You can use Clubhouse's format for crowdsourcing ideas.
5. Connect With Investors on Clubhouse
Venture capitalists (VCs) are a big part of the exclusive crowd mingling on Clubhouse.
This presents an exciting opportunity for startups to get in front of investors and make valuable business connections.
So how can you grab the attention of VCs?
Start a room to talk about your business. You could get immediate feedback from investors and use it to improve your product and pitch.
Add value in other rooms. Talk about what you do, who you help, and the problems you're passionate about solving.
All it takes is the right person to listen at the right time—and that person could be a VC if you play your cards right.
Pros and Cons of the Clubhouse App
As with any social media network, there are some pros and cons you need to be aware of before deciding if the platform is right for you.
Here are some of the pros and cons of Clubhouse:
Pro: Clubhouse Reduces Screen Fatigue
The central feature setting Clubhouse apart from sites like Facebook and Instagram is that you don't need to stare at your screen to participate. We consume audio passively, meaning you can still be fully engaged while driving to work and partake in meaningful discussions.
Pro: Clubhouse Increases Mobility
With more people working from home and using Zoom for meetings, video has us glued to our seats. Audio apps like Clubhouse give you the ability to remove the friction of video, the need to "prep for a Zoom call," and the flexibility to show up at the gym or from your couch.
Plus, no meeting requests are required!
Pro or Con: Conversations Disappear on Clubhouse
As soon as a Clubhouse talk is over, the conversations are gone forever. This could be considered a pro, as it encourages you to spend time on the app to avoid missing out and makes the app feel like a face-to-face conservation.
It may also make it challenging to follow up with others if you don't connect quickly enough or check out resources provided in the chat.
Con: Lack of Moderation
One of the biggest setbacks the app has experienced is harassment. New York Times writer Taylor Lorenz joined a Clubhouse conversation—about herself. She was accused of playing "the woman card" by complaining about the harassment she receives on Twitter.
Lorenz couldn't flag the conversation as the app didn't have a reporting feature. As Clubhouse expands, verbal abuse and harassment towards users and lack of accountability may become a bigger problem.
Con: Lack of Accessibility for Deaf or Hard of Hearing Users
As Clubhouse is an audio app, it naturally excludes the hearing impaired and prevents them from taking part in conversations. Introducing automatic transcriptions could help alleviate this problem and create a more inclusive community, though those types of transcriptions are far from perfect.
Alternatives to the Clubhouse App
Clubhouse isn't the only audio social media app vying for your attention. Here are some up and coming alternatives.
Conclusion
Clubhouse may be a welcome addition to the social media ecosystem with its unique twist on the traditional format: audio-only. Additionally, given its currently exclusive nature, you could find yourself rubbing virtual elbows with not just your target audience but also with celebrities and potential investors.
If you use your time on the platform wisely, engaging in conversations and reaching out to the right people, you may see your brand's community grow and strengthen.
How do you see audio social media apps like Clubhouse changing how we socialize online?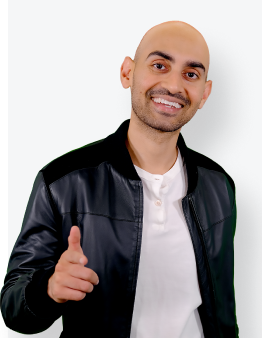 See How My Agency Can Drive More Traffic to Your Website
SEO - unlock more SEO traffic. See real results.
Content Marketing - our team creates epic content that will get shared, get links, and attract traffic.
Paid Media - effective paid strategies with clear ROI.
Are You Using Google Ads? Try Our FREE Ads Grader!
Stop wasting money and unlock the hidden potential of your advertising.
Discover the power of intentional advertising.
Reach your ideal target audience.
Maximize ad spend efficiency.