Disclosure: This content is reader-supported, which means if you click on some of our links that we may earn a commission.
Time clock software eliminates a lot of headaches for both workers and management.
Employees get the freedom to clock in and out from their phone–a huge boon to remote workers and those in the field. Managers get accurate, real-time information instead of waiting for time-cards to trickle in.
The best time clock software also integrates with payroll, accounting, and scheduling tools. Reporting becomes automatic, minimizing the time it takes to get all the information into the system as well as the possibility of error.
When you're ready to implement time clock software for your company, choosing the best one will be easy with my list of the top seven time clock software options.
#1 – Homebase Review – The Best Free Time Clock Software
Homebase is a detailed time clock solution used by over 100,000 businesses across dozens of industries. It's particularly beneficial for businesses with many hourly employees, including health and wellness, beauty and style, food service, retail sales, and more.
You'll be able to keep track of of your labor cost with minimal effort. Homebase collects and reports all the key information. It's going to be easier to schedule because you can actually start to forecast your labor based off past weeks.
Homebase works across computers, point-of-sale (POS) systems, mobile devices, and has integration with popular payroll software. It tracks all employee hours, shifts, breaks, and overtime, flags breaks and clock-outs that get missed, and keeps records of each employee's timesheet.
Homebase also offers several features over and above the time clock itself, including employee scheduling, compliance with industry regulations, job postings, and application management.
And all of this is part of Homebase's free software package. Yes, you read that right: everything listed above is completely free with Homebase.
Homebase offers upgraded paid packages as well, which include higher-level benefits like employee onboarding, remote work management, time-off management, and health screenings. There are three options for these packages: $14/month, $35/month, and $70/month (all per location).
But if a feature-rich free plan is what you're looking for, Homebase's basic package has you covered.
#2 – 7shifts Review – The Best For Food Service Businesses
7shifts is the second time clock software on this list specifically designed for a particular industry: the food service industry.
Over 300,000 restaurants around the world use 7shifts to manage their time clock needs. As shift and schedule management is a major priority in the restaurant field, 7shifts focuses heavily on that capability alongside its time clock features.
7shifts has robust team communication and management tools, including employee scheduling, break and overtime management, workforce announcements, shift-based feedback, KPI tracking, and more.
It also integrates with POS systems as well as payroll software, and monitors trends in employee attendance. Combined with detailed reports and reliable time clock functions, this software positions restaurants for optimized time tracking.
It also has package pricing options that are both functional and a little bit fun:
Comp: free, for 10 employees or less
Appetizer: $17.99 per location per month, for 11-20 employees
Entrée: $39.99 per location per month, unlimited employees
The Works: $69.99 per location per month, unlimited employees
7Shifts also offers a Gourmet option that's fully customizable and requires a quote. Learn more at 7Shifts.
#3 – ClockInEasy Review – The Simplest Solution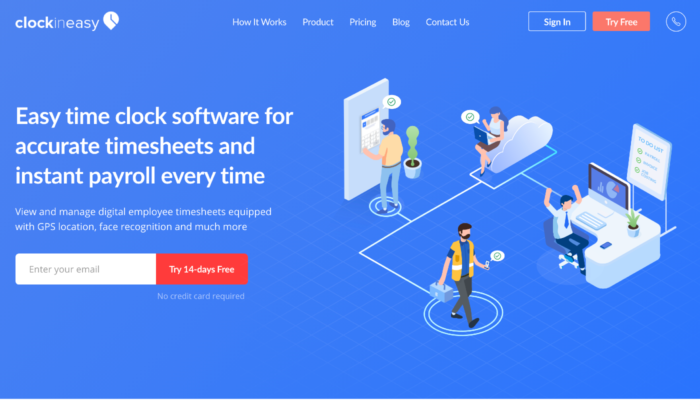 If "keep it simple" is your business mantra, ClockInEasy is the time clock software for you.
It's entirely cloud-based, so no need to worry about any physical locations. And its user interface is super accessible and straightforward whether you're accessing it on your laptop, tablet, or through their mobile app.
ClockInEasy makes it simple to track employee hours, including down-to-the-minute reporting and one-click exports to payroll software.
It also has GPS-based clock-in capability, unique PINs, and biometric recognition for location-specific workers. Plus, it's surprisingly customizable for such a simple system.
Even the pricing is simple. For one employee, it's free—great for solopreneurs who need to track their project time.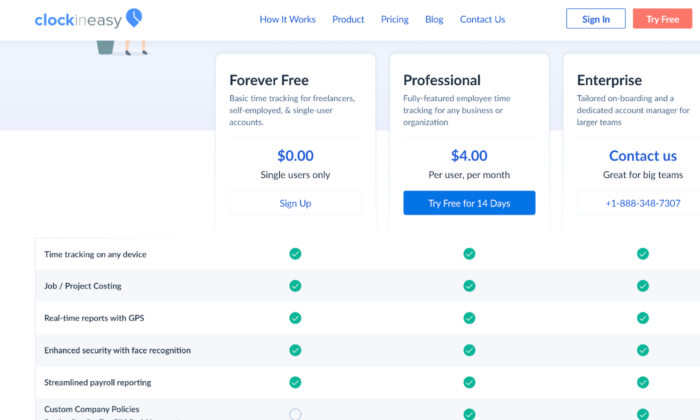 For up to 99 employees, it's $4 per month per employee. For more than 100 users, reach out to ClockInEasy for a quote.
Don't overcomplicate things. Get ClockInEasy today.
#4 – TimeClockPlus Review – The Best For Large Businesses
TimeClockPlus is the larger business's software solution, especially if your company has multiple locations and/or hundreds of employees. It combines both physical time clocks and cloud-based software to ensure each location has all the support it needs.
TimeClockPlus sets you up to optimize your large-scale workforce. It includes in-depth employee scheduling capabilities with time-off requests and overtime management, compliance with FMLA and other labor standards, automated validation and geolocation, and integration with over 300 different payroll tools and systems.
There are three different software packages offered with TimeClockPlus. The basic package, which includes all the essentials for time clock management, starts at $2.50 per month per employee.
The mid-level plan, including all of the employee scheduling, payroll integration, and other advanced features, starts at $5 monthly per employee. The premium plan is fully customized and requires a quote.
TimeClockPlus also offers two months free on their packages if you sign up for annual billing.
#5 – uAttend Review – The Best For Smaller Businesses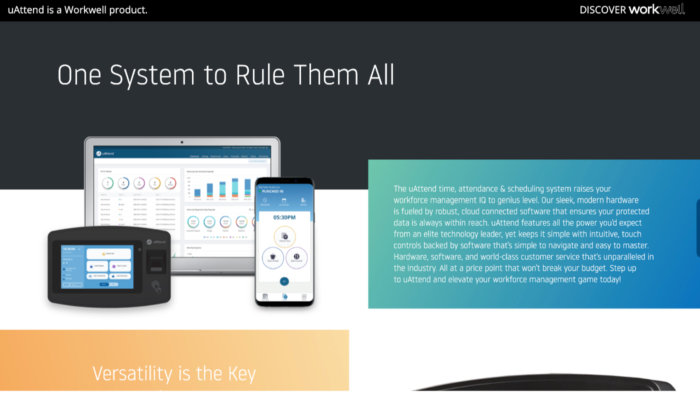 On the other hand, if you have a smaller business or need a software solution that's highly flexible based on the size of your workforce, uAttend is your best bet.
uAttend is an all-in-one cloud-based package for employee scheduling and time tracking, with mobile apps for iOS and Android. It does offer physical time clocks for businesses with in-person needs, and all of its packages are designed to work with their physical clocks.
Some of uAttend's main features include PTO requests and management, overtime management, geofencing and GPS tracking, and payroll exports.
But arguably, the best feature is uAttend's flexible pricing plan, which is based on your number of employees.
Up to 9 employees: $20/month
10-19 employees: $34/month
20-49 employees: $59/month
50-99 employees: $94/month
100+ employees: $119/month
Note that these prices are flat rates, not per employee. This is another thing that makes uAttend a top option for businesses with smaller staffs (or smaller software budgets!).
#6 – QuickBooks Time (formerly TSheets) Review – The Best For Companies With Large Remote Staffs
If 2020 taught us anything (other than to wash our hands more), it's that remote work just might be the next big thing in pretty much every professional industry.
If your business has a large staff of full-time remote workers now (or if it did even before this year), QuickBooks Time will be worth a look for you.
QuickBooks Time is a rebrand of the popular time clock software known as TSheets. For many years TSheets had excellent integration with QuickBooks, and now its part of the suite.
If you were used to TSheets, don't worry, it's even better than it was before.
You still get a time clock system that gives both maximum flexibility for workers and optimal oversight for employers. In the platform, employees can clock in not only from laptops and mobile apps but also via phone call, text message, and even Twitter.
Staff can also track time on specific projects, see which of their colleagues are working, request time off, and view their schedules and timesheets. The QuickBooks Time app also syncs with iOS, Google, and Outlook calendars.
For their part, employers can easily monitor employee locations throughout the workday via geotracking and geofencing. QuickBooks Time tracks employee locations every ten minutes, as well as where they are when they clock in and out. Employers can limit their workers' clock-in ability to a certain area, or set up alerts when employees clock in and out.
QuickBooks Time does have a few limitations that other options on this list don't have. It has limited payroll integration outside of QuickBooks, and it doesn't work with physical time clocks. Fortunately, these will likely be smaller issues for many companies with fully or mostly remote workforces.
It also has more complicated pricing than some other software options on this list.
It offers two packages with pre-set monthly pricing for up to 50 users: one with a base fee of $20 and a user fee of $8 per employee, the other with a base fee of $40 and a user fee of $10 per employee.
For companies with over 50 users, pricing is customized and requires a quote. Get a free demo here.
#7 – ClockShark Review – The Best for Workers in the Field
Remember how industry-specific needs is an essential factor to consider when looking at time clock software? ClockShark is a time clock designed with one industry in mind: field service.
Whether your company is in construction, sales, franchise management, or something else, if you have a workforce that spends all day in the field or on the road, ClockShark was made with you in mind.
For starters, it has customized geofencing and GPS capabilities, so you can easily track your workers' time on job sites.
It also tracks all your workers' locations on an actual map, so you'll know where they are and where they're headed at all times. You can also add prompts for clock-out requests to track breaks, injuries, travel time, and even expense reimbursement.
ClockShark works on desktop and mobile apps, syncs with most payroll and accounting software, and manages employee scheduling and PTO.
It offers three levels of pricing:
Basic: $15/month base fee plus $3 per employee per month
Standard: $25/month base fee plus $6 per employee per month
Pro: $45/month base fee plus $8 per employee per month
Signing up for annual payment gets you two months free.
Try ClockShark today.
What I Looked at to Find the Best Time Clock Software
Finding the best time clock software can be challenging, especially since most options offer similar basic features like clock-ins and clock-outs, administrative controls, time-tracking, and employee scheduling.
To pick the best software options, I looked at several additional factors that make time clock software valuable.
Mobile Access
Having access to your time clock software on any and all devices your employees may have is a huge benefit. Many time clock software options include iOS and Android apps that make clocking in and out smoother and easier—no need to dig out your laptop every time.
But not all software options have these apps, and some only include them in an upgraded plan or for a higher price.
Payroll Integration
Just having the software in the first place will help your payroll process, but the best time clock software packages automatically integrate with your payroll software as well.
This way, the payroll workers don't have to manually enter information to match up the software data with employee hours—a process that takes forever and runs the risk of human error.
To find the best time clock software for you, make sure it integrates with the payroll software and tools you're already using.
Geofencing and GPS Tracking
While some remote work can be done at home, many jobs require employees to perform their work in specific locations. If you manage a largely mobile staff or run a field-service business, it's vital that your employees can't clock in from their couches or on their commute.
Geofencing and GPS tracking solve this problem by letting you assign specific areas your workers must be in before they can clock in. If they're outside this area (the geofence), the clock-in and clock-out features won't function.
Project Management Tools
For many businesses, punching in and out is just the beginning. Optimal time clock software options go above and beyond those basics and include tools to manage the projects those employees are working on once they're on the clock.
These tools can include tracking job progress and resources, assigning tasks, making and managing schedules, approving overtime and time off, providing reports, and more.
Not every software option has all of these project management tools, but the best ones have at least some of them.
Industry-Specific Design
Finally, there are some industries with more specialized personnel and time clock needs. While many time clock software options work well across the board, some are designed with these more specific industries in mind—particularly restaurant/food service industries and construction/field service industries.
If your company is in a field with specialized time clock needs, you'll want to find a software option designed for that field.
Conclusion
So, what's the best time clock software?
Based on the different factors I considered, I recommend Homebase. It offers the most features at the lowest price and appeals most broadly to many different industries.
But clearly, there are lots of good options besides Homebase! If you're a restaurant owner or a construction manager, 7shifts and ClockShark were explicitly designed for you and your business.
Large companies will love TimeClockPlus while smaller ones will appreciate uAttend. And ClockInEasy is my top pick for those who just want something simple and straightforward.
No matter what your needs are, this list will have a great time clock software option for you:
What time clock software do you trust?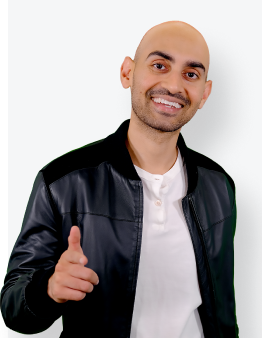 See How My Agency Can Drive More Traffic to Your Website
SEO - unlock more SEO traffic. See real results.
Content Marketing - our team creates epic content that will get shared, get links, and attract traffic.
Paid Media - effective paid strategies with clear ROI.