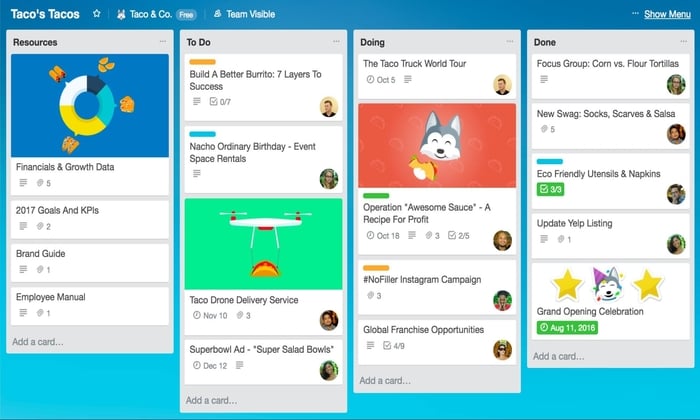 Disclosure: This content is reader-supported, which means if you click on some of our links that we may earn a commission.
What if it was easy to define clear objectives, assign responsibilities, and measure progress for every task?
It can be, provided you are using the best task management software.
Both individuals and teams can benefit from these products. They will help you prioritize your tasks and systematically approach your goals.
Finish on time, on budget, every time.
I've picked out the seven best task management software tools on the market today. All these products are excellent, but you need to find something that fits with your workflow.
Below you'll find in-depth reviews of my top picks, followed by a brief buyer's guide to help you assess your options.
#1 – Monday.com Review – Best for Aligning Strategic Goals with Everyday Tasks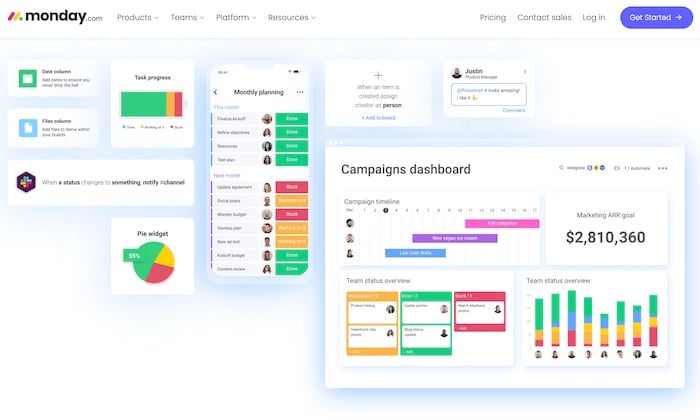 Monday.com is one of the most powerful and versatile task management tools on the market. Trusted by over 180,000 businesses worldwide, it can handle everything from basic task organization to full project portfolio and resource management.
Something I really love about Monday.com is its ability to take complex endeavors and break them down into simple and attainable day-to-day tasks. That lets leaders and managers clearly define organization-wide goals at a higher level before creating the individual tasks that team members will execute.
Let's say your top objectives for Q3 are to scale your company and increase revenue. In Monday.com, it's easy to place both of these objectives into a single table for full visibility while also creating a dedicated, detailed action plan for each one.
Once goals have been defined, you can break them down a step further by outlining the exact process for each goal. From there, leaders and project managers can create and assign tasks that are directly aligned with the high-level objectives.
Plus, you're getting all the essential task and project management tools your team needs to succeed throughout the process:
Over 10 project views
Real-time dashboards with over 30 widgets
Custom workflows with no-code blocks
More than 200 pre-built automations
Whiteboard collaboration
Two-factor authentication
24/7 customer support
In terms of task management, Monday.com is typically used by marketing teams, operations teams, and project portfolio managers. But it's honestly versatile enough to accommodate the needs of any department, including sales, outreach, and HR.
Monday.com has a free forever plan, and three paid tiers:
Basic: Starts at $8 per seat per month
Standard: Starts at $10 per seat per month
Pro: Starts at $16 per seat per month
For larger organizations with complex needs, Monday.com also offers an enterprise-level option that delivers exclusive features at a custom price.
Start your 14-day free trial today.
#2 – Wrike Review – The Best Task Management Software for Reporting
Strictly speaking, Wrike is a project management tool, and you can see this with its robust and powerful features. You can see who is assigned which task, the duration for the task, dependencies, and the task's progress from one simple dashboard.
You can view and manage projects using lists, tables, kanban boards, and Gantt charts. By default, Wrike sorts tasks by status (active or complete), but you can customize the headers for additional workflow categories.
Wrike has direct integrations with tons of popular business apps, so you won't have any trouble pulling information from your CRM, email, or other software. In other words, your reports will be rich because you can integrate data from across your organization.
Despite its numerous features, Wrike is straightforward to use. You can choose from templates for project scheduling, agile teamwork, marketing campaign management, product launch, professional services management, complex project with phases, and much more.
Another handy feature is the document editor. This one allows you to edit documents directly on the cloud without first having to download them. The purpose-built templates also make this software very easy to use.
Additional features include:
Advanced integrations
File sharing
Collaborators
Calendars
Graphical analytics
Time tracking
Salesforce integration
User audit report
Automation engine
The Business plan or higher comes highly recommended for its reporting capabilities. You can share reports in real-time, have access to report templates, and schedule report notifications.
Wrike also has add-on features you can integrate into your account by paying an additional fee. Wrike Analyze, for example, is basically a business intelligence tool.
You don't need to export, run, or manage reports anywhere else except your account. You can create highly customized, highly visual reports. Choose from 15 different visuals, including heatmaps, pie charts, and column charts. You can also create a dashboard just for reporting.
Wrike has a free plan and three paid tiers:
Professional: $9.80 per user per month
Business: $24.80 per user per month
Enterprise: Contact Wrike for pricing
Wrike is straightforward to use for such a feature-rich task management tool. Learn more.
#3 – ClickUp Review – The Best Free Task Management Software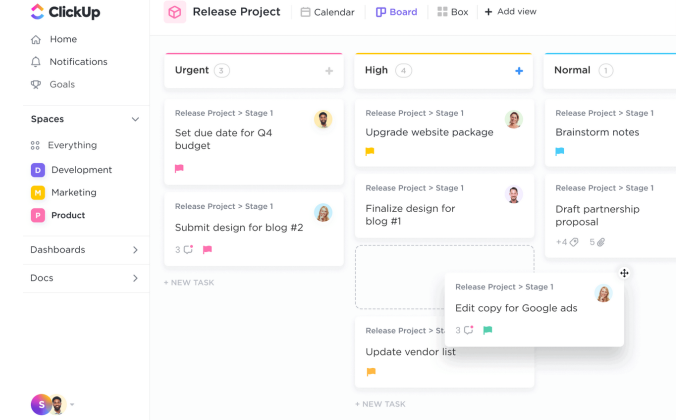 ClickUp is an excellent option if you have a small team and cannot yet justify the cost of task management software. Some companies that use this tool include Uber, Nike, Google, and Airbnb.
ClickUp has a free version with an incredible suite of features and capabilities. The free version also supports unlimited tasks and unlimited members.
You get many advanced features, including automation, mind maps, goals, portfolio, sprints, Gantt charts, real-time collaborations, workload view, and more than 50 native integrations.
The software's layout is user-friendly and allows you to break down tasks into subtasks for easier management. One subtle but handy feature is the assignable comments feature. You can convert comments into independent tasks with the click of a button.
The mentions feature is also quite useful for getting team members' attention.
ClickUp is also highly customizable, and you have free reign to customize status toolbars, tasks, categories, sections, and comments. The features and functionality of the free plan are almost as good as some paid task management software.
ClickUp has a free version as well as three paid plans, including:
Unlimited: $7 per member per month
Business: $12 per member per month
Enterprise: Contact the ClickUp sales team for pricing.
You may need to go for a paid plan if you find that the free version is too restrictive or need more spaces. However, this is highly unlikely for a small team with a relatively simple workflow.
#4 – Trello Review – The Best for Individuals and Simple Workflow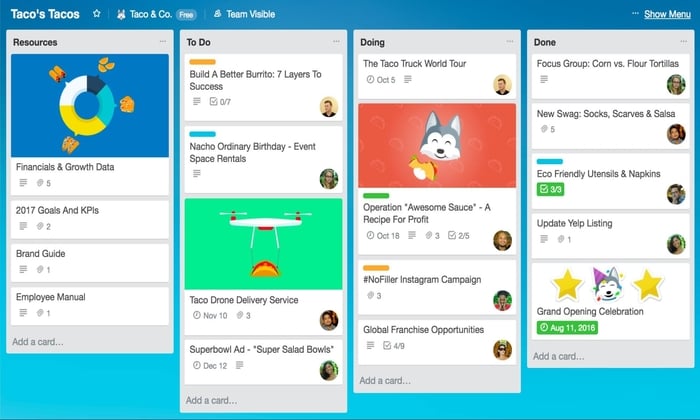 Trello is a task management tool in the best sense. You can equally think of this software as a Kanban board app. The software includes boards, lists, and cards, allowing you to create as many projects and columns as you need to track progress.
You can assign tasks to team members, attach files to each task, create checklists, and add comments, tag members, and link files. Trello is highly customizable, allowing you to annotate cards with labels so you can quickly identify them.
The drag-and-drop feature is very handy. Team members simply slide their cards from one column to the next (e.g., from To Do to In Progress) as they hit the various milestones. The board view keeps everything clearly organized and labeled.
The Power-Up feature is worth noting. You can add integrations and features to your boards, including custom fields, social media, document management, time-tracking, and calendar view. The free version offers only one power-up, but you get more with the paid plans.
Trello offers Business Class plans, which start at $10 per user per month, and Enterprise plans. You'll have to contact Trello to get a custom price for Enterprise.
Trello is a perfect tool for project managers who want a quick and straightforward overview of the workflow. The free version is equally suitable for an individual managing a startup or even a household. The software has over 19 million users worldwide, including Adobe, Fender, Pixer, and Google.
Get a free demo of Trello today.
#5 – WorkFlow Max Review – The Best for Business Management
WorkFlow Max does everything you would need task management software to do and more. You can assign tasks complete with a to-do checklist, estimate task times, and set due dates. You can track the progress of the entire project and individual tasks making up the project.
You can also view jobs based on the assignee, important date, progress, or deadline. You can also view the completed percentage of each task in real-time. There is an automated feature for assigning recurring jobs complete with start and end dates, templates, descriptions, and categories.
The advanced time tracking feature allows you to record time in eight different ways. Additionally, you can include details of how time is spent, which is useful for creating detailed reports. Time tracking with the software also helps you compare the actual time it takes to complete tasks compared to the estimated time.
WorkFlow Max also helps with billing and payments. You can send out invoices, manage un-invoiced jobs, and track job costs. The job costing feature is particularly useful and tracks the estimated cost down to individual tasks. It also tracks quoted costs and the actual costs. WorkFlow Max all but guarantees you will be sending out accurate quotes.
Additional WorkFlow Max features include:
Document management
Lead manager
Client manager
Purchase orders
Custom fields
Xero integration
Reporting
Notifications
WorkFlow Max is owned by Xero and easily integrates with the latter's software and systems, including Xero Accounting Software. This tool also integrates with more than 25 other products, including Dropbox, Box, Adobe Time Tracking, Actual, Google Drive, and Flexitime.
You can get WorkFlowMax starting at $45 per month for three users. There is also a full-feature app available for iOS and Android.
#6 – Jira Software Review – The Best for Large Agile Teams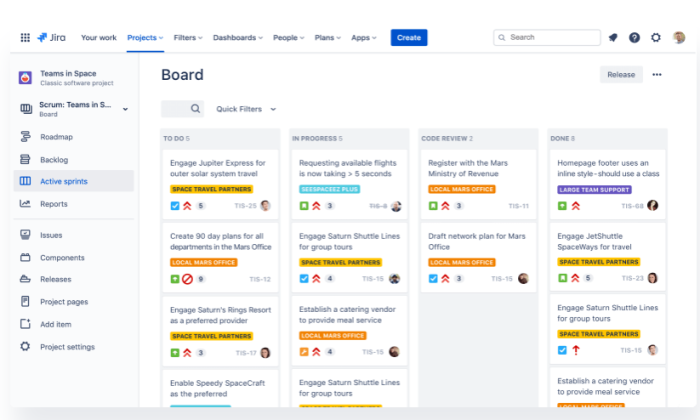 Jira Software is designed explicitly with developers in mind. It's one of a suite of Jira tools from Atlassian designed to help agile teams get things done.
Think of Jira Software as a way to track everything that happens across iterations. You can focus on constant improvement, identify roadblocks as quick as possible, and hit your objectives with as little drama as possible.
You'll get cards pre-configured for Kanban and Scrum and more than a dozen common agile reporting tools. These aren't like knock-your-socks-off beautiful reports, especially with the free version, but they're handy.
Share a burndown chart at sprint planning, look at velocity week to week. It won't take you any extra time.
If you have never worked within an agile framework, the lingo will be a little unfamiliar, but it is not hard to pick up. For those familiar, it should be no surprise you get features like:
Backlogs
Roadmaps
Dependency management
Capacity planning
Automation rules
Integrations with other agile tools
Jira Software is designed to scale. It works with other Jira tools, so you can run many aspects of your business through the single platform. Jira has three plans:
Standard: starting at $7/month per user
Premium: $14/month per user
Enterprise: Contact Jira for pricing
Register to begin using Jira Software for free today.
#7 – Microsoft To-Do Review – The Best for Personal Tasks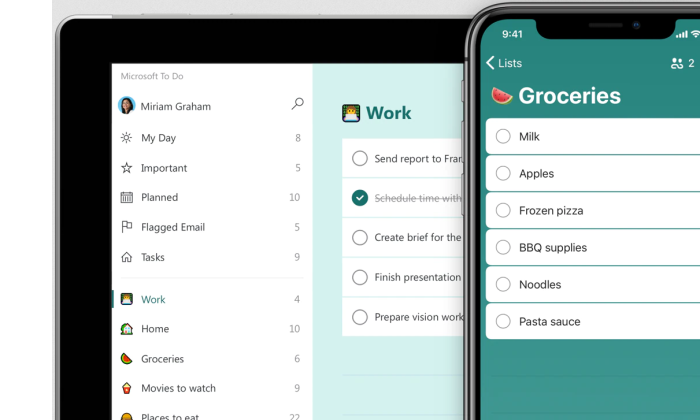 If you wish you had an easier time organizing your personal life, Microsoft To-Do just might be the answer. You can do a lot, including creating tasks, setting reminders, prioritizing tasks, adding due dates, attaching notes or files to tasks, and grouping related tasks together.
This is a mobile and web app, so you can access your planner anywhere and anytime. You can also share your to-do lists with others, including colleagues, family, and friends.
Microsoft To-Do also integrates with Outlook Tasks, so you can also manage your professional tasks along with your day-to-day personal tasks. This app is also very intuitive and suggests personalized tasks that you might want to add to your list.
This is a straightforward yet effective task management app, and it is free! This is more like a daily planner and is an excellent alternative to Trello if you don't need the latter's more complicated features.
#8- Accelo Review – The Best for Automation
If you find that you are spending a lot of time on recurring tasks, you could automate them to make task management smoother.
Accelo does exceedingly well in this regard. The software provides several automated features. You can configure essential milestones and set up the system such that users are prompted to enter information or update fields.
You can also automate client communications. Accelo automatically tracks emails, giving you crucial client information in one place. Other features you can automate include routing emails, billing, and timesheets. You can also automate triggers such as closing a ticket, sending emails, or converting emails to tickets.
Setting up recurring tasks is also very easy with this software. You can configure these tasks on a calendar and have the system automatically assign them to team members on the predetermined date.
Accelo is easy to use for task management. You can reassign and reorder tasks as you go along, then send notifications to team members when you rearrange tasks.
The simple dashboard lets you sort tasks by workload, status, or due date. Additionally, you can highlight tickets that require immediate or special attention, such as overdue or unassigned tickets.
Accelo is highly customizable and serves a range of industries, including digital and creative, business consulting, information technology, engineering, marketing, property and architecture, and more. The industry-specific templates, which you can also personalize, allows Accelo to adjust your task and project management requirements seamlessly.
Additional features include:
Team inbox
Project collaboration
Client database
Client records
Usage tracking
Quotes
Invoicing
Reporting dashboard
Accelo has five different offerings, including Projects, Sales, Retainers, and Service. These cost $39 per month. You can also go for the All-in-One ServOps for $79. This option gives you all the features of the other four options combined.
What I Looked at to Find the Best Task Management Software
It helps if you have a good idea of the features to look for in task management software. What makes good task management software may vary slightly depending on your specific needs and industry.
Once you have an overview of what to look out for, you can then pick out the features that seem to fit your bill and use this as the basis for choosing specific software.
When thinking of purchasing a task management software, don't be afraid to take advantage of multiple free trials to find the one that best suits your needs. And be aware that some software on this list includes free options.
Some of the most crucial features, and the ones I used when compiling this review include:
Task Creation
This is the most basic function of a task management tool. You should be able to create tasks and assign them accordingly. Look for custom fields. This feature helps you to define the task so that the assignee understands it easily.
It also helps if the tool allows you to add links, photos, videos, documents, and comments to tasks. Additionally, you should be able to quickly sort the job by your preferred criteria, such as by task, due date, department, or resource.
Notifications as deadlines draw close is a bonus.
Communication Tools
Communication is indispensable in a team working towards a common goal. Good task management software should have built-in communication tools. This could be a discussion board, instant messaging, or both.
Discussion boards are handy for large teams. Everyone can see what other team members are talking about. Some task management tools will even let you create task cards out of these discussions. This feature can come in handy during a productive brainstorming session.
Visualization
Once the project is underway, it helps if team members can have simple visuals of the process as it unfolds.
Kanban boards do this very well, offering a simple view of individual tasks and their progress. The drag-and-drop feature of kanban boards also makes them easy to work with.
Gnatt charts are also very popular for task management. These charts are familiar and offer plenty of information at a glance, including assignee, start and end dates, dependencies, and completion percentage.
Reporting
Creating reports can be tedious, but it is an essential part of task management. Software with a reporting tool makes the process much more comfortable. You can insert and collect data regarding budget, expenses, performance, resource allocation, and more.
Some software has templates, automated reporting based on pre-defined criteria, and customized reporting. Look for reporting features that will provide you with the highest value information for your needs.
Notifications
You cannot expect team members to be on the dashboard at all times. You will be reassigning tasks, adding comments, or making other changes to jobs. Notifications help keep everyone in the loop in real-time of any changes.
Some task management software will also notify users of upcoming deadlines or other urgent actions that need to be taken.
Summary
It doesn't matter if you prefer proactive methodology like waterfall or reactive methods like Scrum or Agile. A task management tool will help you manage the workflow cycle and increase efficiency and productivity.
You just need to find the right fit for your team. Start with my top recommendations:
It pays if you first take some time to define your task management needs. Follow the links to see which one best suits the day-to-day problems and challenges you face.
Be honest about your requirements and look to the future before making your final decision. Robust (and more expensive) project management software may be more capable of handling complex tasks and is easily scalable than a simple kanban board tool like Trello.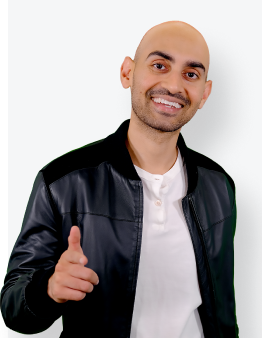 See How My Agency Can Drive More Traffic to Your Website
SEO - unlock more SEO traffic. See real results.
Content Marketing - our team creates epic content that will get shared, get links, and attract traffic.
Paid Media - effective paid strategies with clear ROI.
Are You Using Google Ads? Try Our FREE Ads Grader!
Stop wasting money and unlock the hidden potential of your advertising.
Discover the power of intentional advertising.
Reach your ideal target audience.
Maximize ad spend efficiency.