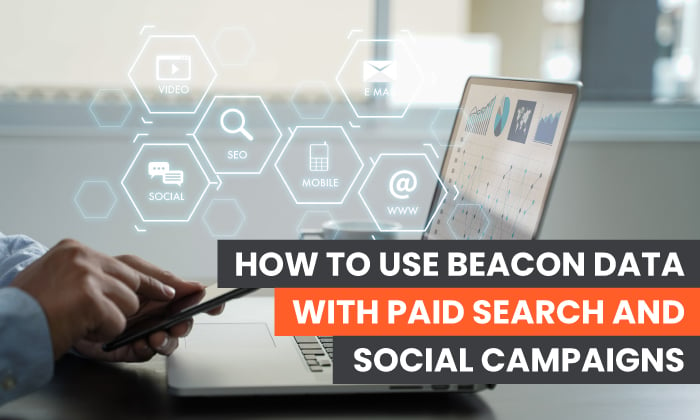 Beacon technology is the next generation of proximity marketing. If you aren't using it, you could be falling behind your competitors.
By leveraging the data collected from beacons, marketers have more opportunities to track paid campaigns, deliver personalized messaging to consumers, and improve local SEO.
What's more, the beacon technology market is exploding, with Statista predicting the market will grow to 56.6 billion U.S. dollars by 2026.
What Is Beacon Technology?
Beacon technologies are small wireless transmitters that send signals to smartphones using Bluetooth technology.
The beacon device contains a CPU, radio, and battery that help it broadcast a constant identifier.
When a nearby mobile device recognizes the identifier, they connect. From there, the beacon carries out whatever action they are programmed to, including sending emails and notifications or ad attribution.
Essentially, beacon technology allows you to communicate with nearby smart devices to improve location-based searching and tracking.
For example, if you have a beacon installed in your store and a customer comes in who clicked one of your Facebook ads, you'll know exactly how they found you.
Beacons can also nurture customers by sending coupons to users who clicked on an ad or visited your store but failed to make a purchase.
A retailer in a busy mall, for example, could install beacons in a store and connect them to the larger mall ecosystem. From there, you could join localized marketing campaigns and direct ads at customers shopping for similar items in your area.
ELLE Magazine leveraged this strategy in American malls and navigated 500,000 shoppers into their stores.
Beacon Technology for Organic vs. Paid Ad Campaigns
Organic marketing is the act of attracting customers to your business naturally over time. Organic marketing tactics can include SEO, content marketing, social media, and website development.
Paid marketing is when you pay to get your message or product in front of an audience. Examples of paid marketing include Google display ads, Facebook ads, and traditional marketing such as television and print ads.
Beacon technology can be leveraged for both paid and organic strategies. It's all about what's best for your business. Let's look at the benefits and drawbacks of using beacon technology for organic versus paid ads.
Pros of Beacon Technology in Organic Marketing
Costs are low: Beacons are usually cheap and require very little maintenance. If you already have a strong content strategy that brings customers into your physical store, you could improve their experience with beacons.
Better customer experiences: The best way to retain customers is to make them feel seen. Beacons help you direct personalized messaging that tap into their individual needs.
Cons of Beacon Technology in Organic Marketing
It takes time: Organic marketing doesn't bring immediate results. It takes time to spread your message across the web, pique interest in consumers, and encourage them to come to your store.
You need expertise: If you want to be successful, you'll need a large ecosystem of content already working for you. If you don't have plenty of content or if it's not working well, you won't attract the customers you're looking for.
Pros of Beacon Technology in Paid Marketing
Fast results: If you pay-to-play, you'll see your results more quickly. For example, sending directed ads to customers in your area gets your product in front of consumers faster.
Insight help: If you have the proper tracking systems in place, you'll be able to understand how or why your customers found your product and then leverage that information to attract new leads. You can also use the data you collect to further tailor your messaging and improve overall reception.
Cons of Beacon Technology in Paid Marketing
Costs are high: Paid advertising costs can be high. You need a budget in place to leverage paid marketing with beacon technology.
Strategy matters: You need skill and expertise to run effective paid campaigns. Although beacon technology can enhance your ability to track leads, it won't help unless you know how to use the data.
How Does Beacon Technology Work in Paid Ad Campaigns?
Beacon technology makes it easier to track paid ad campaigns and understand how they impact foot traffic. Beacons also deliver real-time customer data, which makes it easier to see customer's behaviors and shopping patterns.
Say a customer sees your Google display ad and decides to come into your store to view an item. Your beacon will collect their data from the time they saw your ad until they enter your store.
Likewise, you can use your beacons to gather information to build accurate customer personas and improve your geotargeting.
You can do this by simply walking around your store with your beacon, which will gather consensual user data as you go. Or, install it in your store and gather information on current customers. These personas can help further target paid campaigns and enhance ad spend ROI.
Beacon technology can also improve overall paid metrics. For example, Facebook ads tend to earn a one percent click-through rate. If you're running a beacon campaign simultaneously, you could see closer to a four percent click-through rate.
Plus, proximity marketing is 16x more effective than Google pay-per-click. This is due to the additional personalization options.
Benefits of Using Beacon Technology for PPC and Paid Social Campaigns
Beacon technology can help drive in-store purchases by sending relevant offers and coupons directly to customers. If they are already in your store, they are interested in your product, so your success rate can be much higher.
You can also drive return visits by sending departure notifications. For example, if a customer just purchased a product from you, send them a coupon to encourage them to visit again.
Beacons also make ad attributions easy to track. You can clearly define when, where, and how an ad was delivered to a customer and see if they used the offer during their visit.
Don't believe it? Check out these stats.
When Carrefour installed beacons in 28 of its high-traffic Romanian stores, they saw a 400 percent increase in mobile app engagement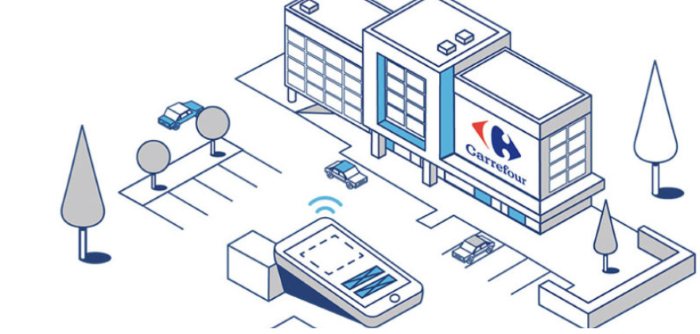 When Allrecipes deployed beacons in their Marc's grocery stores in Ohio, their mobile view went up to 35.9M per month.
Now, it's your turn to create a successful beacon campaign.
How to Set Up Beacon Technology for Paid Ad Campaigns
The interaction between beacons and mobile devices is not automatic. Users must consent to have their data tracked and stores.
What's more, each beacon has a unique identifier, which may contain different types of data—for example, location data, vendor information, store departments, and subregions.
This means setting up your beacons for paid advertising campaigns must be done correctly. Below, we'll walk you through the process to ensure you get the most out of your beacon technology ad campaign.
Choose a Device and Platform
The first step in setting up your beacon-run paid campaign is to choose a beacon manufacturer and platform.
Here are some of the most popular beacon options on the market.
You'll also want to define how many beacons you need. This will depend on the size of your store and any barriers that might block the signal.
Some beacons will show you coverage areas like BlueCats does.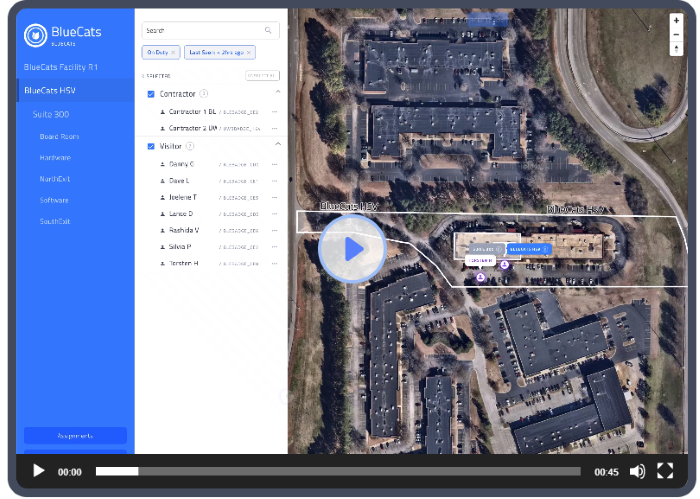 Once you've chosen a beacon, tell your customers to download your accompanying app. This can be done in an email marketing flow that informs customers of potential deals and savings available through your campaign.
Don't have an app? No problem.
You can leverage a third-party app to guide you.
Here are some popular third-party apps:
Define Your Use Beacon Cases
Like any new technology, you don't want to do too much and spread yourself too thin.
Choose two or three clear use cases to focus on, such as offering coupons to users who have engaged with your ads in the past or leading users to specific sale items.
Defining your use cases ensures you can adequately track your campaigns and pinpoint your sales. This will help you strategize stronger campaigns in the future.
Design Your Beacon Actions
Start out with a simple, granular action that will deliver measurable results.
Most beacons operate in three ranges of distance and can be programmed to give different messages depending on the range of the customer.
These ranges are:
Far: This range works for people walking by or outside your store.
Near: This range works when you are in the same room as a beacon.
Immediate: This range works when you are just about touching a beacon.

You can also trigger actions when someone moves closer or further from a beacon. For example, you could send a remarketing ad as someone leaves your store, or you can offer them a discount as they walk in.
Most beacons can now be allocated multiple actions in a single beacon. Think strategically about any actions you implement and remember to track your data across all campaigns.
How to Plot and Install Your Beacons
It's important to strategize where to place your beacons before installing them.
An ideal beacon setup should cover your entire floor plan to ensure all customers are reached. Most beacons have a 10-yard radius and barriers, such as walls or displays, can affect their efficiency.
To avoid this issue, place your beacons higher, so they bypass any barriers.
Keep in mind, most beacons are battery-powered, so you will need to access them after installation.
Once you know where to place your beacons, you can begin installing them.
Installation methods can vary by beacon, so make sure the one you select works with your location.
Test Before You Launch
It's a good idea to test your beacons on friends or family members before you roll your campaign out to the public.
Look for dead zones and run a few ad sets to make sure they work.
Once you roll out your campaign, consider running beacon-exclusive ad campaigns and collect data from conversions.
From there, refine, retest, and re-execute your campaign.
Measure the Success of Your Beacon Technology Paid Ad Campaigns
Because you're running paid campaigns, you need to prioritize your tracking systems to ensure the technology is working for your business.
Here are a few important KPIs to measure when running your beacon technology campaigns:
Impressions: These tell you how many times your ad has been seen by your customers.
Clicks: This tells you how many people have clicked your ad after seeing it.
Click-through-rate (CTR): Your impressions and your click-through rate as a percentage.
Cost-per-click (CPC): This tells you how much you paid for each click.
Quality score: This tells you how relevant your ad content is and how well it's going to perform.
Conversion rate (CVR): This measures how effective your ads are in converting customers.
Beacon campaigns should take all of these KPIs into consideration while running.
Conclusion
If you're ready to take the leap, beacon-driven campaigns can be incredibly lucrative.
Leveraging beacon technology in your paid campaigns will help you better track your ads, decrease your ad spend, and improve engagement rates, all while delivering unique and exciting experiences to your customers.
Do you want help incorporating beacons or other paid ad strategies into your marketing campaigns? Let's talk.
How have you had success with beacon technology campaigns?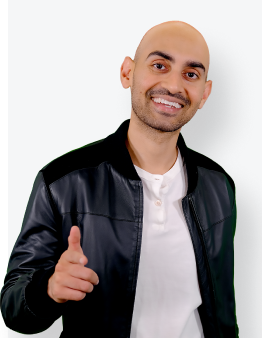 See How My Agency Can Drive More Traffic to Your Website
SEO - unlock more SEO traffic. See real results.
Content Marketing - our team creates epic content that will get shared, get links, and attract traffic.
Paid Media - effective paid strategies with clear ROI.
Are You Using Google Ads? Try Our FREE Ads Grader!
Stop wasting money and unlock the hidden potential of your advertising.
Discover the power of intentional advertising.
Reach your ideal target audience.
Maximize ad spend efficiency.