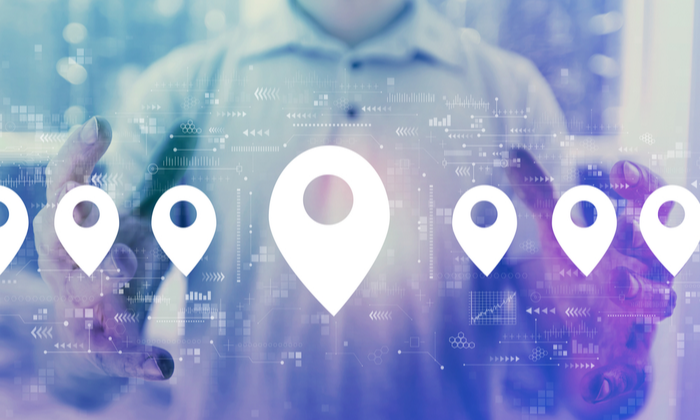 If you're a fast-growing business with a franchise in multiple locations or a virtual business looking to attract customers from different regions, optimizing your advertising campaigns for a variety of locations can help increase your reach.
In this guide, we'll explore why you should set up ads for multiple locations, what the best strategies are to accomplish that, and how to further optimize the process to expand your reach and convert more visitors. Also included is a basic primer on geotargeting and some tips for choosing a suitable region to get the best return on your investment.
Let's get started.
What Does It Mean to Have Ads in Multiple Locations?
In a nutshell, setting up ads for multiple locations means the users are shown a personalized ad based on their current location.
If you are a London-based business, it is more profitable to advertise your products and services to people in London. However, suppose you have a global or virtual business with customers spread across different locations. In that case, you need to optimize your paid search campaigns to reflect the needs of visitors from a variety of locations.
For instance, you could set up a Europe-focused campaign to attract European customers while simultaneously creating a similar but separate campaign for U.S.-based citizens.
Why Should You Run Paid Ads in Multiple Locations?
If you've been setting up all your ad campaigns in a single location, you're probably missing out on customers based outside that region who may be interested in what you have to offer. If you have a virtual business with the capacity to offer your services anywhere, you should be capitalizing on the digital reach offered by geotargeting.
A GE Capital Retail Bank study shows 81 percent of people search online for a product or service before making a decision.
If you optimize your paid social media campaigns to target such users across different locations, you increase your reach and, consequently, your conversion and revenue.
Before we start setting up our ads for multiple locations, it is important to identify which locations to target. The following section offers a simple, logical strategy to find a region most compatible with your business needs.
How to Identify Which Locations to Target
Of course, if your business has a physical location, that's the region you should prioritize while geotargeting. If you are also interested in reaching people living nearby or just outside your city and state, you can simply increase the radius of your targeted ads.
What if you have a virtual business that sells products or services in multiple states and countries? That is where research comes in.
When deciding which location to target, aim for a region where similar businesses are already succeeding.
For example, there is no point in targeting an ad for digital marketing services in a region with poor network connectivity or a significant customer focus on physical stores. Instead, look at cities and suburbs where businesses frequently use services similar to what you are offering.
You can obtain this data by running a quick search for "X near me," where X represents your business. Then, monitor the search traffic, keywords, and market trends for this and other similar phrases. Tools like Google Trends let you do this for free.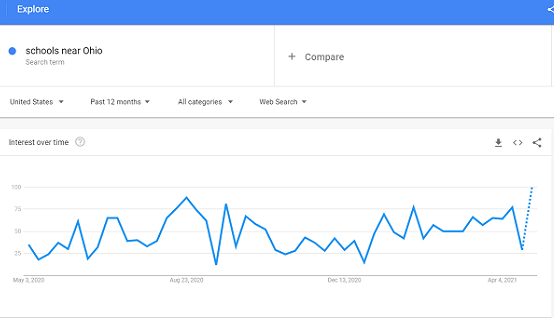 Alternatively, you could try going the other way and targeting your campaigns in a region where the competition is low. However, be careful. This approach is risky as you may not get enough customers to cover the cost of advertising.
If you're on a tight budget, it's probably best to focus on popular locations than trying to make it work with little-known and potentially risky regions.
Steps to Run Ads in Different Locations
Once you're ready with your research and have a few locations in mind, follow these simple steps to set up ads in multiple locations.
These steps will guide you through creating your first paid search campaign and teach you how to monitor the analytics after your marketing campaigns have launched. If you've already done this before, feel free to skip ahead to step 3 for instructions on adding multiple locations in a single paid search campaign.
1. Come Up With Separate Targeting Keywords
When you are looking to target individuals based in different regions, you need separate targeting keywords for each location you're setting up your campaign.
For example, "schools near Paris," "spa in Bali," "coworking space in London," etc. If you're selling the same services everywhere, simply swap the location field to generate new targeted keywords. This can be as simple as [your business] near [your target location].
Check out the sample spreadsheet below. You can pick as many locations as you like and add the name of your business before or after the region for increased optimization.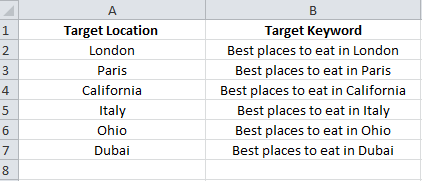 2. Set Up a Single-Location Targeting Campaign
Now that you have your best ad campaign keywords ready, it's time to set up paid search campaigns.
Start by visiting the Campaigns section in the Google Ads menu. If this is your first paid advertising project, select "Create a Search campaign." If you've already set up an ad campaign before and just need to edit the locations, go to Settings and click on Locations. Now you can select a region of your choice to target users living there.
3. Start Adding Various Locations to Your Campaign
Once you've set up a single-location campaign, you can choose to add, remove, or edit any locations. Click on the Edit option next to a campaign, then click on Change Locations to add your preferences.
You will see two options: one for changing the current region and another for adding new locations for the same campaign. Select the latter. Now you can add as many locations as you want.

For instance, if you already have a paid search campaign for "schools in Paris," and you want to expand it to London, Italy, and Switzerland, you can add these locations in the Change Locations option by entering their names or respective zip codes.
4. Add Locations in Bulk
What if you have a large or primarily virtual business and need to add multiple locations quickly?
There is a bulk-add option for you. Created specifically for franchise businesses and virtual service providers with multiple locations, this option can instantly boost your reach with minor regional tweaks. 
Click on the blue icon on your campaigns page and select Add Multiple Locations. Now you can bulk-add up to 1000 places to further amplify your reach and save time in the process.
Use the spreadsheet mentioned in the previous section to create a database of your desired locations and simply copy-paste the data into your paid search campaign settings as described here.
Location Targeted Paid Marketing Campaigns on Facebook
While Google Ads offer excellent search-based reach, Facebook is more suitable for hyper-targeted paid search campaigns. If you are looking to reach a very particular group of people, say, swimmers in Miami, a marketing campaign on Facebook may provide a better return on your investment.
If you choose to advertise your business through Facebook, visit the "Audience" section of your ad campaign menu. From here, select the "Bulk Add" option to choose multiple locations at once. You'll see a drop-down menu to choose the regions best suited for your business.

Most social media platforms offer a similar process to help you reach a wide selection of users based in a variety of locations.
Once you are all set up, it's time to sit back, track the performance, and make any necessary changes to keep all your paid search campaigns profitable.
How to Measure the Success of Your Paid Ads in Multiple Locations
The metrics to compare the success of ad campaigns targeted to different locations don't differ much from one-location campaigns. For instance, you are still looking at the traffic, conversion rate, and a decent return on investment. However, for a deeper analysis, you can add the element of location by tracking which region offers the most returns on investment.
To help you optimize this process, consider several questions each time you do a performance evaluation:
This will give you a fair idea of what is working and what needs improvement. If you notice some regions are doing better than others, you can choose to increase the ad spend for that location while reducing it for the poor-performing areas.
This strategy will help you save money and maximize the returns on your investment.
What to Do If Your Paid Search Campaigns Aren't Working Well in Certain Locations
Sometimes in your analysis, you will notice certain regions perform significantly poorer than others. This is a sign that you need to either make a change and try again or remove them completely.
If you see only a small dip that can be fixed with minor tweaks, try playing around with the radius, editing your ad copy, or picking a nearby region instead. If you notice significant losses month after month, it is much better to remove the location and try setting up a campaign to target users located elsewhere.
This step is particularly helpful for virtual businesses with no brick-and-mortar location as they are not bound to a particular city or state. If you don't have a physical store, you can keep experimenting with new locations until you find what works best for your business.
How to Run Paid Ads in Multiple Locations
In summary, here's how to run a successful ad campaign in multiple locations: 
Come up with separate targeting keywords:

Optimize your campaign with location-specific keywords. For example: [your business] near [your target location].

Set up a single-location targeting campaign

If you don't have any running campaigns, start a new one with a location of your choice. You can add other regions later.

Start adding various locations to your campaign

In the campaign settings, you can easily add any locations of your choice to amplify the current reach of your ad spend.

Add locations in bulk

If you want to save time and target hundreds of locations at once, consider using the bulk-add option to add multiple regions in a single edit. 
Conclusion
This process may seem complicated at first, but it is actually quite easy. If you spend enough time monitoring the trends, studying your analytics, and experimenting with new locations, you can discover what works best and spend more money to amplify it.
However, going through these steps and implementing successful paid marketing campaigns can be challenging, especially if you're a small team or a busy business that doesn't have much time or energy to invest in the complexities of marketing.
Even if that's the case, all is not lost. You can still take advantage of multi-location ads by choosing to have someone else manage your ad campaigns.
What will your next step be? Are you ready to try experimenting with paid search campaigns by creating ads for multiple locations?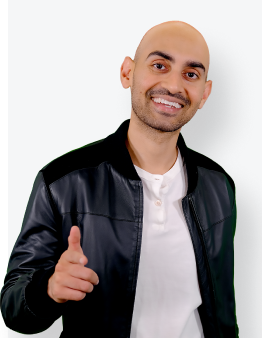 See How My Agency Can Drive More Traffic to Your Website
SEO - unlock more SEO traffic. See real results.
Content Marketing - our team creates epic content that will get shared, get links, and attract traffic.
Paid Media - effective paid strategies with clear ROI.
Are You Using Google Ads? Try Our FREE Ads Grader!
Stop wasting money and unlock the hidden potential of your advertising.
Discover the power of intentional advertising.
Reach your ideal target audience.
Maximize ad spend efficiency.