Like most large industries on the Internet, the e-commerce space has become more competitive as new businesses, platforms, and complimentary services enter the market. While it's true that setting up an online store takes no longer than 5 minutes, turning that store into a successful business which supports you, your family, and the lifestyle you dream of is a race that most don't finish.
Many people abandon their e-commerce adventure because they simply run out of time and are forced to earn a stable income in a 9 to 5 job. The reason they run out of time is because the valuable time they do have is invested in areas which bring little return.
In this post, I list 8 important stats gathered from analyzing the data of over 18,000 small-medium e-commerce sites. These stats help paint a picture of current marketing and consumer behavior trends in the e-commerce space, and they will give store owners a better chance to reach their business goals.
Editor's Note: We haven't looked at the data set mentioned by the guest author, however the conclusions drawn in this post appear to be sound advice. Obviously it's up to you to use this as a guide and measure your own data to see if the takeaways in this post work for you.
1. Search is still relevant and should be a major focus
When I analyzed the traffic sources of the 18,000 plus stores in Yotpo's database, I noticed that 30.5% of all traffic was coming from organic searches on Google, Bing, Yahoo, and other search engines. There is a constant debate going on regarding the relevance of SEO for online businesses, but 30% is significant, so it still needs to be a focus for any small online business owner.
The problem with SEO today is that for many long-tail keywords related to products, the competition is simply too high. New stores stand no chance of ranking among the top 3 spots for these high traffic keywords.
The takeaway: Invest in a long term SEO strategy that will help you rank on Google. This can be extremely tough for certain niches, which may force you to target long-tail keywords related to your niche through smart content marketing.
2. When it comes to social, focus on Facebook, YouTube, and Twitter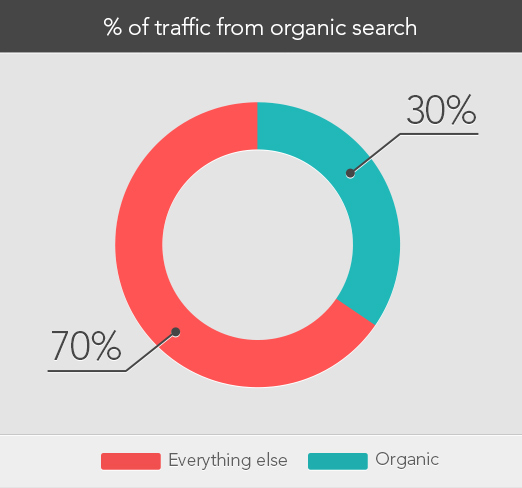 There are numerous reports on the Internet that discuss the effectiveness of social media for e-commerce and other online businesses. When comparing social media networks, we see that there is a significant difference in performance regarding time on site and pages viewed per visit. The graphs below show a few interesting takeaways from this analysis: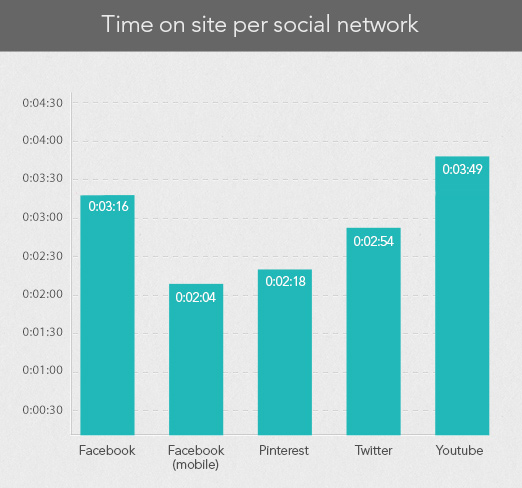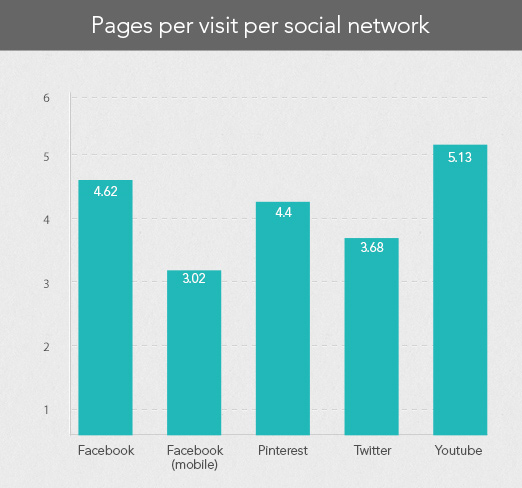 YouTube outperforms all other networks and is the only social network that has both better time on site and more pages viewed per visit than the site average. Therefore, video should be seriously considered as a medium for growing brand awareness and for connecting with potential new customers.
Visits from Facebook (mobile) have low performance, which could indicate that most e-commerce sites have not optimized their sites for mobile.
Visitors from Pinterest like to browse but spend less time on site than those from other social networks, which means that in order to optimize a site for visitors from Pinterest, we need to make sure it is easy to navigate and has a quick checkout process.
The takeaway: Focus initially on building a strong presence on Facebook and Twitter, and when time/resources allow for it, experiment with running campaigns and producing content for YouTube.
3. Mobile, CPC, and YouTube are the fastest growing traffic sources for e-commerce sites
The data on the growing and shrinking traffic sources is very interesting because it not only helps us identify new trends in consumer behavior but also helps us identify where marketing dollars should be spent.
Throughout the sample I analyzed, I saw that more and more stores are turning to CPC and YouTube as new marketing channels. The growth in the number of stores utilizing paid advertising will increase the average cost of common keywords in numerous niches so it is important to not blindly follow this trend but rather run numerous tests or even hire a top SEO firm to run them for you.
The growth in traffic from mobile is an Internet wide trend and its pace is accelerating. An increasing number of purchases are happening on mobile so now is the time to optimize your store for mobile traffic.
The takeaway: If you are using CPC campaigns, then make sure you are tracking them closely because prices will be going up. More sites are using video for marketing, so make sure you are watching your competition closely and consider adopting video before they do.
4. Run your marketing campaigns during the week
One of the most surprising findings was that less traffic arrives at e-commerce sites on the weekend compared with during the week. For me, this was counterintuitive because the average person has so much more time to browse shopping sites over the weekend compared with week days, but the data clearly shows a drop on the weekend.
The graph below shows the distribution of traffic by day of the week.
The takeaway: Run your promotions and marketing campaigns in the middle of the week in order to maximize your reach.
5. Focus on retaining your customers and bringing them back to your site
Visitors who return to e-commerce sites dramatically outperform new visitors. New visitors spend an average of 2 minutes 31 seconds on site compared with 5 minutes 31 seconds for returning visitors. This is a difference of over 100%. When looking at pages viewed per visit, we see that new visitors view an average of 3.88 pages per visit, but return visitors look at 5.55 pages per visit.
Return visitors not only spend more time on your site and view more pages, but they also are more likely to make purchases and become evangelists for your brand.
The takeaway: Put mechanisms and campaigns in place that specifically target past customers in order to increase both engagement and sales.
6. The average e-commerce site has fewer than 500 Facebook fans
Growing a large Facebook community takes a lot of time and effort, and most online businesses fail at building a community of any real significance.
When looking at the number of fans across 4,000 different Facebook pages, we see that the average e-commerce site has between 1 and 500 fans, while only 2 sites in my sample have over a million.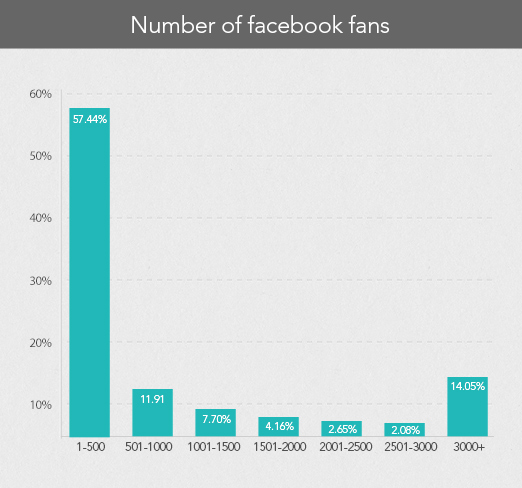 I find the 500 number very interesting because the web is becoming more and more social, yet half of all e-commerce businesses fail to develop a large online following on the largest social network in the world.
The takeaway: The e-commerce benchmark for the size of a Facebook community is smaller than you might think. Try to build a strong community of 1,000 true fans, and you will be outperforming over 60% of e-commerce sites on the Internet.
7. The average value of a visit from Facebook is over 4 times more than a visit from Twitter
When comparing the average value of a visitor from Facebook (22 cents) with the average value of a visitor from Twitter (5 cents), we see that a visitor from Facebook earns the average e-commerce site over 4 times more money than a visitor from Twitter. This difference is huge, and after learning the takeaways from points #2 and #6 in this list, it is clear that Facebook is where small-medium e-commerce sites should focus their attention when it comes to social.
The takeaway: Focusing on bringing traffic to your store from Facebook will bring you higher revenues than traffic from Twitter.
8. 65% of mobile traffic to e-commerce sites comes from the iPhone and iPad
I've already mentioned how mobile traffic is one of the fastest growing traffic sources for e-commerce sites, but when we dive deeper into the actual devices used, we see that Apple devices are bringing the majority of the traffic. The iPad accounts for 30% of total mobile traffic to e-commerce sites and the iPhone accounts for 35%. The rest is spread over the dozens of Android smart phones, other smart phones, and numerous tablets.
The takeaway: When optimizing your site for mobile, focus on optimizing it for Apple devices first, and then later, the rest of the numerous mobile devices and tablets.
Conclusion
Knowledge is power, and when it comes to business, it's those who have the knowledge, determination, and will that usually rise to the top. In this post, I have provided unique insights into a wide range of topics that will be useful to anyone trying to make a buck online. I hope I have painted a bright picture of the current trends in this very dynamic and ever-shifting space and that these stats will serve you well in the near future.
I would love to hear your thoughts on the ideas and recommendations I have raised in this post so feel free to comment below.
About the Author: Justin Butlion is the Content and Social Marketing Manager of Yotpo. Justin loves to blog about e-commerce, online marketing, web development, and entrepreneurship. Check out his latest posts in the Yotpo blog or contact him directly at [email protected].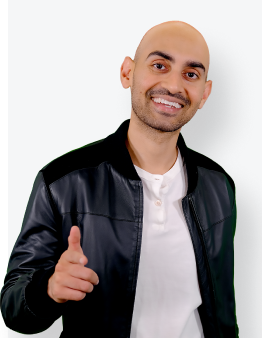 See How My Agency Can Drive More Traffic to Your Website
SEO - unlock more SEO traffic. See real results.
Content Marketing - our team creates epic content that will get shared, get links, and attract traffic.
Paid Media - effective paid strategies with clear ROI.
Are You Using Google Ads? Try Our FREE Ads Grader!
Stop wasting money and unlock the hidden potential of your advertising.
Discover the power of intentional advertising.
Reach your ideal target audience.
Maximize ad spend efficiency.