What is your strategy for uncovering the best keywords for your company's website and boosting search engine traffic?
As a new business owner, you need to address this question sooner rather than later. Focusing on the right keywords will put you on the right path to search optimization success.
Conversely, any error regarding keyword selection can put you behind the eight ball and have you scrambling for a fix in the future.
The power of long-tail search is very real. With the right approach, your website will generate traffic from long-tail keyword searches, bringing you targeted visitors who are interested in what you have to say and sell.
So, this brings us back to one very important question: what are the best ways for new businesses to find and target the best keywords?
Like most, you probably have a general idea of your primary keywords and have used more than one keyword research tool to arrive at this list. For example, if you provide web design services in Denver, obvious keyword phrase choices include: Denver website design, Denver website design companies and the like.
But, you don't want to stop there if you want to boost your keyword search volume. There are two other things that you need to do:
Make a list of long-tail keywords to target, when creating blog posts and other content.
Learn more about your competition, including their target keywords.
Know your target audience well.
With that in mind, let's review seven keyword research tools that you can use to find the best keywords (whether that's a long-tail keyword or short). Have this list on hand will help you boost your rankings with search engines and find the success you deserve.
As you launch your business, you need keyword tools on your side that are easy to use, accurate and full of features. This is exactly what you get with Google's Keyword Planner, an indispensable keyword research tool.
I'll be the first to tell you that there are many keyword research tools out there, all of which you want to learn more about. At the same time, new business owners don't need to become so bogged down with details that they can't take a next step.
Google Keyword Planner helps you to avoid feelings of frustration and uncertainty. Upon signing in, you're presented with three unique options: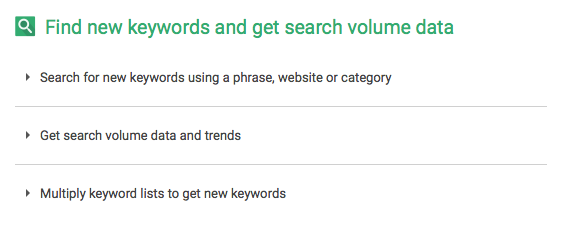 One of the best things that you can do is run a search for new keywords. Type in your primary keyword and see what the tools spits out. Chances are that you'll be provided with hundreds of long tail keywords, many of which may make sense for what you're trying to accomplish.
Depending on your niche, you may also want to run a search for competing URLs. This isn't the best tool for understanding your competition (more on these below), but it's something to check, as you're digging around for keywords.
Google Keyword Planner is free to use, so getting started with this keyword research tool only takes a couple seconds. Once you are presented with keyword data, you'll find yourself in a position to make informed and confident decisions. And, that's just what you need for your new business.
Have you come to the conclusion that you don't want to use Google Keyword Planner?
There's nothing wrong with this decision. Before doing so, though, you'll want to know which other keyword tool can pick up the slack to help raise your search engine rankings. This is where Keyword Tool comes into play.
Calling itself the "#1 Free Alternative to Google Keyword Planner," gives you a pretty clear idea of its position in the market.
In short, Keyword Tool is comparable to Google Keyword Planner. It's free, it's easy to use and its results are top of the line. The primary difference is that you don't have to rely on the search engine giant for results.
The most interesting feature of this tool is the ability to search for keywords from a variety of sources, including the search engine giant (Google) and the following:
Bing
Amazon
YouTube
App Store

This isn't important to every business, but it will definitely work in favor of many. For example, if you're selling a physical product, an Amazon search could unearth important information related to your business and industry and a keyword phrase or two that will engender better search results.
The only true way to determine if Keyword Tool will work for you is to run a few searches. If you like what you see, if you find that it's every bit as powerful as Google Keyword Planner, it may be the tool you rely on in the future.
As a new business owner, you want to search around for the best keyword tools to ultimately broaden your reach to your target audience. This often means experimenting with several to find the one that suits your style. It only takes a few minutes with this tool to realize that it provides many benefits.
Are you searching for keywords to implement into future blog posts? How about those that will help you run a profitable PPC campaign? Knowing which keyword search term (or terms) that will raise your search engine rank will help your overall marketing strategy. 
To help you get there, consider this keyword research tool.
SEMrush has a longstanding reputation for being one of the best keyword tools. Its name recognition and reputation alone should be enough reason for you to give this tool a try. And, once you do, you'll soon realize it has something to offer your business.
Its Keyword Research feature is where you'll spend most of your time, as this will help you find the keywords that best match your company and industry–and how to generate a long-tail keyword list to reach your target audience.
For example, a search for "online marketing" provides the following information:
Organic search
Paid search
CPC distribution
Trend
Along with this information and other details, you'll want to pay attention to the "related keywords" section:
You may go into the process with no idea of which keywords to focus on, but this tool quickly changes that.
The phrase "online marketing," is extremely broad, not to mention ultra-competitive. By reviewing related keywords, you can soon make a list of other keywords to target.
While a focus on your website is most important, don't overlook the way that this tool allows you to learn more about your competition, including the keywords that they are using. This will give you a clear idea of the direction to take to become competitive as quickly as possible.
SEMrush may be third on this list, but it's definitely the top keyword research tool for many entrepreneurs and internet marketing professionals.
As I've said, the importance of integrating long-tail keyword phrases into your content strategy is vital. This keyword research tool will help you use long-tail keyword phrases to boost your appeal with search engines.
Upon visiting the Long Tail Pro homepage, here's one of the first things you see:
"As the #1 Keyword Research and Competitor Analysis Software…"
With a claim like that, it only makes sense that you would want to learn more about how it works, what it can do for your business and how it has helped other marketers and companies excel in their space and raise their search engine rankings.
The only way to truly understand the power of Long Tail Pro is to run a few searches, but there are a few things worth noting:
You have the opportunity to generate up to 800 keywords per seed keyword. So, even if you only know your primary keyword, it won't be long before Long Tail Pro is showing you many others that match your business.
Competitor analysis tools. Do you want to better understand your competition? If so, this tool can instantly analyze the top 10 results for any keyword. This shows you what your top competitors are doing, giving you the direction you require to match their efforts.
Along with these points, there is one other thing I really like about Long Tail Pro. You have the ability to add notes to your keyword searches, which is a great way to record ideas or strategies that you want to implement in the future.
If you want to uncover low competition keywords that will have the biggest impact on your business, Long Tail Pro is one of the best tools for doing so. It's not your only option, but a large user base proves that it is trusted by many in the same position as you.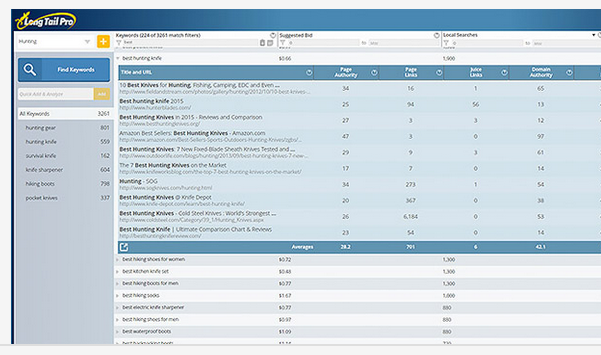 The name of this tool pretty much says it all, but don't take my word for it. If you want to spy on your competition, run a few searches and then let me know what you think.
SpyFu has this to say about its tool:
"Download Your Competitors' Most Profitable Keywords and Ads For Paid and Organic Search."
If you want to see what your competitors are doing, in regards to paid and organic search, you no longer have to guess and hope for accurate results. You can use SpyFu to ensure that you are only dealing with data that is 100% accurate.
Getting started is as simple as entering your competitor's website into the search bar:

From there, you are presented with more data than you ever thought possible. Here is a small example of what you'll see: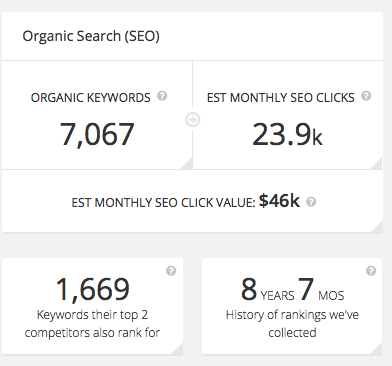 This information may not do much for you, but as you make your way through the report, you'll find a few nuggets that can work in your favor. Results are broken down into the following categories:
Overview
Competition
Shared keywords
Top keywords
AdWords history
Ranking history
Inbound links
You can learn a lot by examining each section. For example, the inbound links section provides an overview of every link to the website. What do you think about reaching out to these websites, in an attempt to secure a link of your own?
You don't want to spend so much time spying on your competition that you overlook what you're doing with your own website. That being said, the data you uncover can be used to your advantage.
Run a few free searches with SpyFu to get a better feel for everything it has to offer. It may not give you everything you need, in regards to keyword data, but it's likely to point you in the right direction.
If you're going to use SpyFu, you should probably take a closer look at KeywordSpy as well. These tools are not identical, but they share many of the same features. By experimenting with both, you'll get a better idea as to which one is right for your business.
In addition to the many keyword research features, you can also use KeywordSpy for real time tracking. This comes in handy, if you want to see how your website is ranking for its target keywords.
The four primary features of KeywordSpy include:
Competitive intelligence. Use this to keep an eye on your competition.
Keyword research. Based on your preferences, as well as your competitors, you can build a profitable list of keywords.
ROI indicator. Why waste money, when you don't have to? ROI should be important to your business and this feature allows you to make the most of each penny that you spend.
Advanced searches. Dig deeper than you ever thought possible, with this feature.
A keyword search for "online marketing," provides the following results:
Keyword statistics
Related keyword overview
Ad overview
Competitors overview
Categories
The related keyword overview is a great place to start, if you don't know which keywords to target. It provides a chart full of data:
In addition to uncovering a variety of keywords related to your primary search, you can also see how many searches it receives each month, as well as the average cost-per-click.
You can learn a lot by spying on your competition. Just the same as SpyFu, KeywordSpy has everything that you need to get started. Don't hesitate to run a free search and review the results. This alone may be enough to give your business the boost that it needs.
Are you a big fan of Google Keyword Planner?
Google may be top dog, when it comes to search engine market share, but Bing continues to apply pressure. This is due, in large part, to the power of Bing Webmaster Tools.
You only have so much time as a new business owner, so it's no surprise that many gravitate towards Google Keyword Planner. After all, it's the biggest name in the space. But, when time allows, I urge you to learn more about Bing Webmaster Tools and, more specifically, their "Keyword Research" tool.
The top benefit of this tool is its straightforward approach. There are no bells and whistles. There is nothing that will get in your way. Instead, it's nothing more than clear and concise data, all the time.
Getting started means adding one or more keywords to the search box:

This results in three things:
A list of related keywords.
The number of times each keyword has appeared in search.
Trends.
All of this data can be used in some way, shape or form. For example, you can use the list of keywords to ensure maximum exposure from future blog posts.
You can also see which keywords are most popular, allowing you to target those that have the greatest chance of pushing large amounts of traffic to your website.
As the most popular search engine, you have the most to gain by reaching the top of the Google search results. Even so, don't sleep on Bing. This search engine continues to pick up momentum, meaning that it can also drive plenty of traffic to your website.
If you have yet to use Bing Webmaster Tools, including the Keyword Research tool, take the time to do so today. All you need is an account. From there, you'll gain access to a variety of data that will change your approach to online marketing.
Conclusion
You understand the importance of creating high quality, long-form content, but that's only half the battle. If you're going to spend time on content creation, you might as well target the right keywords and start integrating long-tail keyword phrases into your content plan. In turn, you'll broaden your reach to your target audience and see your position with search engines raise.
By using these keyword research tools, you'll soon know which keywords give you the best chance of reaching all of your traffic and search engine optimization-related goals.
Would you add any other keyword tools to this list? Do you have any experience with these? Share your thoughts in the comment section below.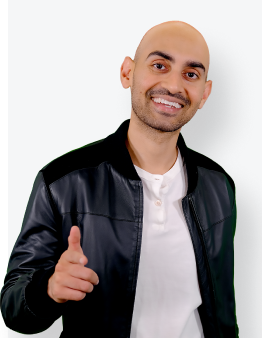 See How My Agency Can Drive More Traffic to Your Website
SEO - unlock more SEO traffic. See real results.
Content Marketing - our team creates epic content that will get shared, get links, and attract traffic.
Paid Media - effective paid strategies with clear ROI.
Are You Using Google Ads? Try Our FREE Ads Grader!
Stop wasting money and unlock the hidden potential of your advertising.
Discover the power of intentional advertising.
Reach your ideal target audience.
Maximize ad spend efficiency.