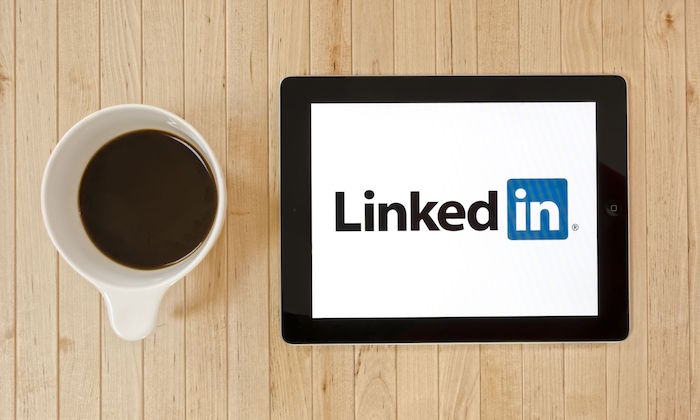 Did you know that LinkedIn has more than 433 million members? How about the fact that these members live and work in more than 200 countries?
As the world's largest professional media marketing network, it's the go-to service for anyone who wants to connect with prospects under a range of job titles from coworkers to clients, among others.
In the past, we've discussed the many ways to use LinkedIn ads to generate sales and social selling. While this is a solid strategy that can generate big time results, there's no reason to stop there.
In this post, we're going to examine 12 of the best LinkedIn tools that can help you become a savvy media marketing expert.
We'll touch on the finer details of each tool, including how and when to use them. Soon enough, you'll find that each one could fit nicely with your current and future media marketing and content marketing strategies.
By the end of this post, it's my hope that you better understand how to use LinkedIn to increase sales and social selling, along with building trust in your marketing team and your marketing plan.
Let's explore the 12 tools to help you nail life as a media marketing pro.
If you have the desire to use LinkedIn to boost sales, the sales navigator tool is a great place to start. Offered by the social media marketing platform itself, its goal is to connect buyers and sellers in a unique way.
There are many features of LinkedIn Sales Navigator, with the most important as follows:
The use of an advanced algorithm to find the prospects best aligned with what you have to offer.
Sales insights from the sales navigator to ensure that you have the best information as a decision maker.
Relationship building tools, allowing you (as a lead builder) to continually move closer to the final goal of making a sale.
As you are provided with lead recommendations, you can use the many tools of Sales Navigator to connect with and sell to each prospect.
There is no guarantee that Sales Navigator will take your sales and revenue to the next level, but it's clearly the best place to start. LinkedIn does a great job of adding new features to the sales navigator on a regular basis, allowing you to be confident in the time you spend with the tool.
Are you interested in adding LinkedIn functionality to your website? This is where LinkedIn Plugins come into play.
Many people don't look at these as a direct way to impact sales and social selling, but they are missing out on a big opportunity. Here is a list of the plugins that you can use:
Share
Follow Company
Company Profile
Member Profile
Alumni Tool
Company Insider
LinkedIn AutoFill
Jobs and Job Titles You Might Be Interested In
For example, you may be interested in sharing a company profile with visitors to your website. This gives them a better idea of what your organization is all about, including the many people associated with it.
An example for NeilPatel.com would look something like this:
LinkedIn Plugins aren't the most active strategy for increasing sales, but these can work behind the scenes to provide your audience with more information and give prospects a reason to contact you.
Here's how LinkedIn describes its approach to small business:
"LinkedIn is much more than a social site. It's a community of professionals – in a business mindset – that's waiting to hear from you."
Through the use of this tool and its three-step approach to social selling and being a great lead builder, your small business will find itself on track to boost sales, build trust, and reach a variety of related goals. The three steps include:
Establish your brand presence
Connect with your target audience
Engage them with content marketing
Step number three is my favorite, because this is where you create and share valuable content marketing skills with your target audience. By doing so, you're in position to not only attract prospects and encourage them to be decision makers, but to "turn followers into brand advocates."
There's a lot to learn upon visiting the LinkedIn Small Business center, so make sure that you take the time to review each and every feature that is available to you. From text ads to sponsored content, there's sure to be a strategy that fits in with your sales goals.
Sometimes a media marketing tool comes around that is different than anything else in its space. This is definitely what you get when you turn to Crystal, known as the "world's largest personality platform."
The company describes its service as follows:
"Crystal gives you instant access to millions of personality profiles and free communication advice for anyone you meet."
So, what does this mean to those who use LinkedIn as a social selling tool? In short, Crystal can review a LinkedIn profile or premium account and provide feedback and insight into a person's personality.
With this information in hand, you'll find it easier to communicate with the person in the appropriate manner rather than just making a cold call. From the words you use to the way you approach the prospect, this tool will give you a high level of guidance.
When you compare two LinkedIn profiles, you may see the exact same thing (for the most part). But, when you use Crystal, you'll soon find that there are many subtleties that can be picked up on and used to your advantage to avoid the dreaded cold call.
If you want to improve your LinkedIn social selling, it's imperative to become a better communicator. With this tool, you don't have to do much, in order to make this very important change and swap out your cold call for stronger lead builder potential.
One of the biggest benefits of LinkedIn is also a primary challenge for many sales professionals. What is it, you ask? It's the more than 430 million members.
Without the help of a prospecting tool, you could soon find yourself drowning in data with no real idea as to which direction to take.
And, this is why LeadFuze is so popular. It allows you to quickly create a list of leads and target accounts through a simple search.
While the lead collection process is a big deal, it doesn't stop there, after you need to actively be a lead builder. Users of this tool also have access to contact information, including email and phone number, making it simple to begin the sales process.
If that's not enough, LeadFuze also helps you automatically send personalized emails and follow-ups.
At this time, you're able to dig up contact information for more than 200 million B2B professionals and premium accounts. And, with customers adding roughly 350,000 prospects each month, it's easy to see that you'll always have an endless supply of leads.
LeadFuze is considered one of the top all-in-one LinkedIn lead generation tools. With the ability to automatically uncover all of the most important information, this one tool can give your media marketing strategy a big boost.
The name of this tool alone should give you an idea of what it has to offer. However, if you truly want to experience its power, you need to give it a try.
For those who use multiple sales tools to reach their goals, SalesLoft shouldn't be overlooked.
The basic idea is that you can integrate all of your most important sales tools, ensuring that they work together in perfect harmony.
On its official website, SalesLoft Prospector discusses integration of the following tools:
DiscoverOrg
Crystal
Owler
InsideView
Datanyze
RingLead
Sigstr
Do you currently use any of these sales tools? If so, you can pull them all together through the use of this platform.
Described as "an open and flexible technology ecosystem including participating workflow and data providers," SalesLoft may not be the right solution for beginners. Conversely, it's the perfect solution for sales professionals and decision makers who know what they want and have tools in place that they are already comfortable with.
7. Outro
Do you ever wonder who the top target accounts are within your network?
Are you curious about ways to uncover qualified leads outside your network?
Outro is a tool that can help you answer both of these questions. This tool instantly uncovers potential clients from two sources:
Your network
The Outro community
As you know, you can spend hours searching LinkedIn looking for those premium accounts, just to realize that you have yet to find any qualified prospects.
Outro protects against wasted time, helping bring efficiency to the search process with its unique "relationship strength algorithm." Once you make a request, the tool does the rest of the work. It instantly finds top matches, based on your criteria, thus leading to connections with qualified prospects.
Additional features include:
Integration with most CRMs.
Ability to export contact data.
Option to create reports.
If you have dreamed of never again searching LinkedIn for qualified leads and premium accounts, it's time to experiment with Outro. Thanks to its unique and powerful search algorithm, you can quickly expand your network and find qualified prospects.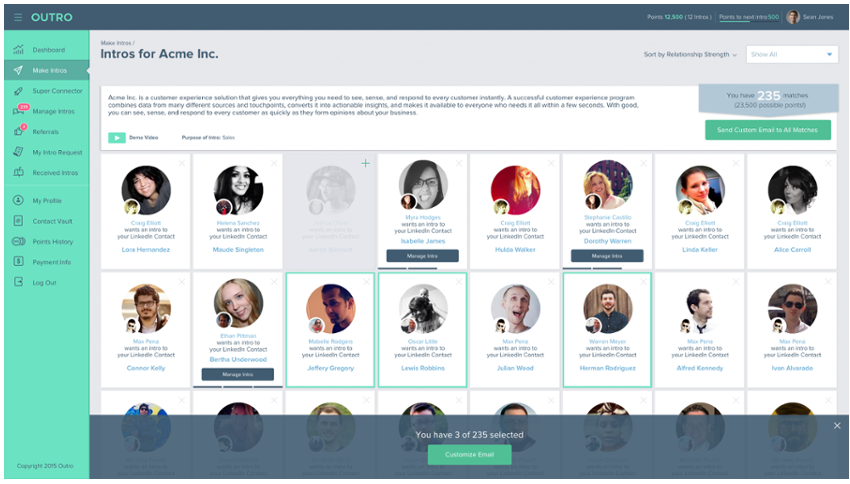 Another piece of lead generation software, Salestools.io takes a unique approach, by allowing you to download lead lists from LinkedIn to Excel. If this is your preferred method of tracking leads, you've probably found the right tool.
The ability to download to Excel is a big deal, but that's not all there is to like about this tool.
Once you have your prospect list in place, you can move forward with emailing each and every one. Salestools.io can help with that as well.
Sequences from Salestools is a feature that helps you efficiently personalize outreach messages as part of your media marketing plan. Even better, you can track your activity as a means of pushing leads through your sales funnel as you see fit.
I wouldn't consider this tool one of the most advanced on the list, but it's definitely a solid choice, if you want to accelerate your LinkedIn sales.
Let me start by saying that this tool isn't a good choice for every sales-minded individual. But, that doesn't mean you shouldn't at least give it a try.
This tool is built on the idea that people will visit your LinkedIn profile if you first visit theirs. The problem with this is simple: it can take a lot of time to visit hundreds of profiles, especially if you are only interested in those that appear to be qualified prospects.
With eLink Pro, this process can be automated. It has the power to automatically visit 800 profiles per day. While there is no guarantee that these people will turn around and visit your profile, there's a good chance that 5 to 10% will do so. Subsequently, 40+ people will check you out every day. Some will become connections and some may even qualify as a lead.
It's a simple concept that works. Your job is to drum up as much interest as possible on LinkedIn and simply visiting a large number of profiles is a step in the right direction.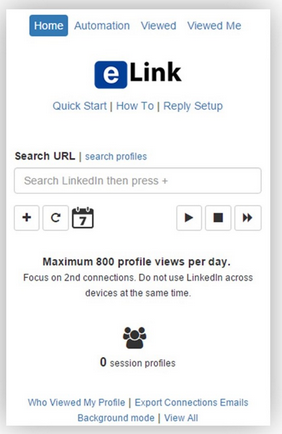 LinkedIn may be the top professional networking service, but that doesn't mean that you shouldn't know what your connections are doing on other social media platforms.
This is where Discoverly can help. When you visit someone's LinkedIn profile, you are only provided with the information from this one site. That is, until you start using this tool.
Discoverly provides you with other information especially when it comes to social media, such as if you share any mutual Facebook friends, to help you make an even deeper connection.
Sales is all about connecting with qualified prospects. If you want to pull together a variety of information in one place, you can do so with Discoverly.
Note: you need Chrome browser in order to use the Discoverly extension.
If you remember nothing else, be sure that the tagline of this tool sticks in your mind:
"See information from social media networks as you browse."
That may be just enough to get you involved in the near future.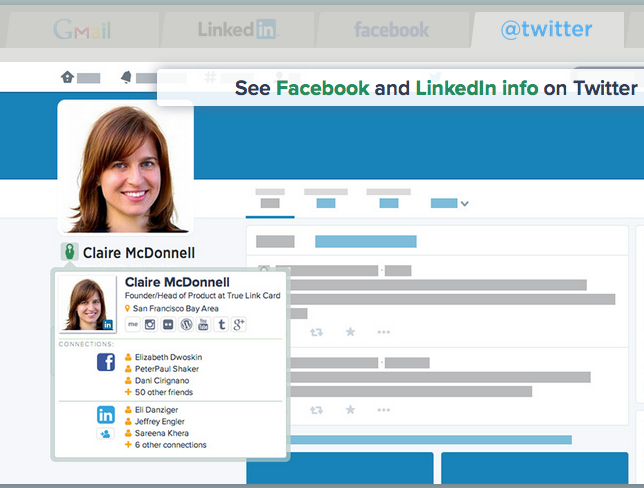 It doesn't matter if you are an individual working alone or you are in charge of or part of a large sales marketing team, nothing changes the fact that you want to work fast and smart. This is what Guru is all about.
Using LinkedIn to boost sales as a decision maker means spending a lot of time viewing company pages and profiles. But, this is just the start. It's what you do with the information that you find that matters most.
Guru takes into account a variety of data from each prospect and then provides you with:
Prospect competitors.
Current customers that work in the same industry.
Sales guidance related to the prospect's industry.
With Guru, you'll be surprised at the number of new prospects you can unearth in a short period of time. It's not uncommon to be focused on a single lead and then to have this tool provide you with several others in the same space.
As a final note, Guru also provides many tools for teams to share information.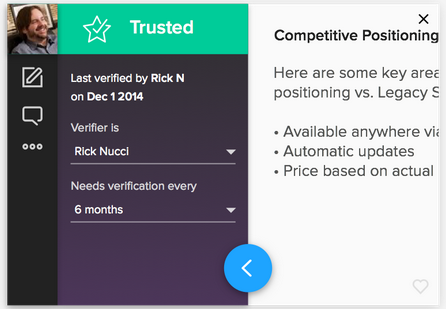 Is Gmail your email provider of choice?
If so, you can turn your inbox into a powerful LinkedIn sales tool. This is all done with the help of Rapportive.
Once you install the free add-on for Chrome or Firefox, the tool brings LinkedIn profile information to Gmail.
So, rather than jumping back and forth from tab to tab, you can view everything about your contacts without leaving your inbox.
Here's an example. You receive an email from somebody, such as a person who wants to do business with you. From there, Rapportive provides you with:
Their LinkedIn profile, including company name and title.
Shared connections.
Location.
If you are looking for a way to bring LinkedIn functionality to your Gmail inbox, you don't have to consider any other tool. Rapportive is the cream of the crop.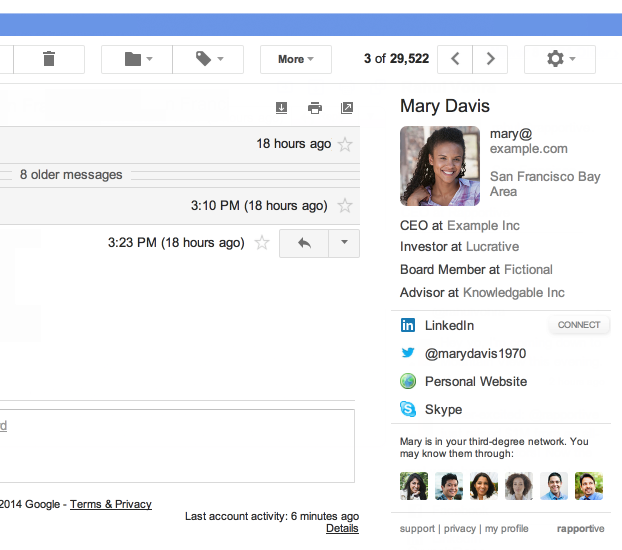 Conclusion
Twitter and Facebook are top notch social media platforms, but they don't offer the same level of B2B networking opportunities that LinkedIn does.
With the help of these tools on top of your social media platforms, you can take advantage of everything LinkedIn has to offer. From better organizing your contacts to managing the sales funnel, there's something out there that'll work for you and help you to become a better decision maker in the world of media marketing.
Do you have any other tools to add to this list? Feel free to share them in the comment section below.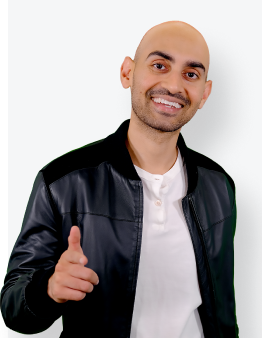 See How My Agency Can Drive More Traffic to Your Website
SEO - unlock more SEO traffic. See real results.
Content Marketing - our team creates epic content that will get shared, get links, and attract traffic.
Paid Media - effective paid strategies with clear ROI.
Are You Using Google Ads? Try Our FREE Ads Grader!
Stop wasting money and unlock the hidden potential of your advertising.
Discover the power of intentional advertising.
Reach your ideal target audience.
Maximize ad spend efficiency.