Feeling uninspired by your social media content lately, both on the paid and organic fronts? It happens more than you'd think.
With the competitive demands for content, it can be challenging to constantly brainstorm fresh, unique ideas. To help break you from your creative slump, we've explored five social media content hacks that will completely reinvigorate your ads, inspire new high-quality posts, and boost native and paid social performance.
Hack #1: Utilize User-Generated Content
User-generated content (UGC) is exactly what it sounds like: content that is created by your brand's users—including image content, reviews or testimonials, and common queries transformed to FAQs.
UGC not only decreases pressure on you to design content ideas day-by-day, but it also serves as a really essential asset for social media growth. Due to the power of word-of-mouth marketing, user-generated content (when used effectively) is 42 percent more likely to earn increased traffic, leads, and sales than posts you come up with yourself.
Incorporating UGC Into Your Content Strategy
Much like any content asset, you need to have a strategic plan in mind to truly harness the power of your user-generated content. Use these tips to help you.
Tip 1: Use Cohley
As a content generating and testing platform, Cohley enables users to plan, source, and disperse user-generated content through an easy-to-use platform.
For example, Cohley enabled Rhone (a Utah based apparel company) to build out their content library and increase the number of ad tests that they were running. As Adam Bridegan, CMO at Rhone, recalled, "We were testing about 10 to 15 things a week, right?" Bridegan said, referring to digital ad tests. "But now we have this extensive library of content, and our team is now testing 50 things a day. So we've just massively scaled up the amount of content we have to work with and, from there, we've allowed the data to drive performance."
Bridegan summed it up this way:
I'm talking about an increase of between 3 and 4X ROAS versus our internal content," he said. "And when you think about 3 to 4X ROAS, and what that allows us to do as a brand — it allows us to now scale on Facebook — whereas everyone else is jumping off and saying, 'Oh, the Facebook costs are rising.
Tip 2: Leverage Reviews
With reviews dictating 93 percent of online purchases, you're going to want to leverage user responses to your products.
Reviews don't only drive sales—they can increase website traffic and consumer trust.
Encourage customers to leave reviews about your brand or products whenever, wherever, including third-party sites like Yelp, Google, TripAdvisor, and more. Both on and off-site reviews are vital to building your credibility and nurturing consumers (plus, they result in great content).
You can also use Cohley, the platform l we previously mentioned, to generate up to 250 free product reviews.
Tip 3: Create a Hashtag Contest
To encourage your consumers to actively share content, consider starting a hashtag contest. Users can share photos or videos aligned with the hashtag. Ideally, this interaction can drive your hashtag to trend, which can help enhance engagement and create brand awareness.
Take a look at this hashtag initiative from the Denver Art Museum:
Museum visitors shared photos on their social channels which the Museum then shared as UGC on their branded channels.
Hack #2: Use Go-Live Features to Showcase Your Brand Behind-the-Scenes
Consumers are watching an average of 92 minutes of digital video a day.
Did that number stop you in your tracks? It should.
How can your brand get in on this massive digital consumption?
By going live.
Zoom, Facebook, Instagram, and TikTok (among other platforms) come equipped with easy live video functionality.
While video content, in general, is an incredible social media content asset, going live allows your followers to interact with you in real-time, a benefit that pre-filmed video does not offer.
Tips for Successful Live Videos
Much like any other marketing campaign, you need to plan your live video strategy thoroughly.
Here are some tips to help you execute your next Go-Live perfectly.
Tip 1: Promote Your Live Stream in Advance
If your audience doesn't know you're going live, how will they know to watch?
Be sure to share the specific details of your live stream well before it kicks off. Include the date and time, platform, and also release other enticing details about the value the go-live will offer to your audience.
You can share this information through a variety of channels, including email and social.
Tip 2: Build a Plan for Engagement
People attend live streams to learn more about a specific topic. They want to interact with your brand and, perhaps, get answers to specific questions.
To ensure this interaction takes place, set aside time for questions and strategically prepare answers for likely ones your audience may ask. You can also foster a sense of community and inclusion by greeting attendees by name as they enter the feed—don't just launch into your presentation and forget about who you are here to serve.
Tip 3: Include a Call to Action
Host your live stream with a specific audience action in mind. Whether this is making a purchase or subscribing to your channel, be sure to mention your intended CTA multiple times throughout your live video.
Tip 4: Pick the Right Platform to Broadcast Your Live Videos
Different audiences prefer different platforms. Before you even think about hitting "go live" on one of your social channels, you need to know where your consumers are.
Platform options to go-live include:
Facebook Live
Instagram Live
Twitch YouTube Live
TikTok Live
Periscope
Tip 5: Pick the Right Tools
We're only as good as our tools. When it comes to going live, there are a number of tools that can help your business achieve its goals.
A few helpful hands include:
vMix: This live video production software allows you to input music, presentations, videos, streams, and more into your go-live. In short, this solution does it all.
Facebook Live Media: This tool enables you to broadcast a conversation, performance, Q&A, or virtual event on Facebook. You can go live on a Page, in a group, or in an official event.
ManyCam: This tool is an application program that enables users to use their webcam with multiple video chat and video streaming applications.
These tools all have different functionality and interfacing capabilities. After you've determined which platform your audience is most active on, you can assess tools that best complement that platform.
Hack #3: Diversify Your Content Assets
While your intended audience may share a need, they're also a collection of unique individuals with unique learning styles.
When you diversify your content assets, you increase the likelihood that your social media content will resonate with more members of your audience.
To this end, you want to create a library of content assets, including infographics, success stories, blogs, whitepapers, videos, and many other forms of consumable social media content.
Tips to Diversify Assets
Creating new content assets, however, is a time-consuming process. From ideation to creation, for organizations with small marketing departments, designing a social media content library may feel daunting.
Tip 1: Use Tools to Help
Here's the good news: You don't need to do all of the heavy lifting yourself. Tools like Cohley can help you get the photos, videos, product reviews, and other visual assets that you need at scale and at a noticeably lower cost than gathering these assets the old fashioned way.
When evaluating which tool(s) to use, you just want to ensure that you're in the drivers seat. Consider options that allow you to set and stick to predefined pay ranges for creators, include as much context in your creative briefs as you need to, etc.
Tip 2: Repurpose, Repurpose, Repurpose
Do you have a bulky downloadable on your website as part of your mailing list sign-up process? Break that thing up into quotes and smaller, more consumable content pieces like a checklist or infographic.
When you repurpose your content, everything old is new again.
Tip 3: Try New Mediums
If you've historically been using the same three content types, consider mixing up your strategy by incorporating new models. Consider polls, infographics, videos, video blogs, and more.
Perhaps your audience has desperately been waiting for unique content from your brand—and there's no time like the present to find out.
Hack #4: Create Cohesive Campaigns Across Social Channels
While it would be wonderful if identical content had identical success across social channels, this is not usually the case. As we previously discussed, different channels have different audiences, not to mention different requirements and expectations.
As you craft your cross-social campaigns, you want to tell a unified story that doesn't bore your reader. Content should be thematically aligned but present very differently on each respective platform.
Tips for Cohesive Cross-Social Campaigns
While telling a cross-platform narrative may seem challenging, here are three tips to help you succeed.
Tip 1: Use Tools to Help
Thankfully, there is a slew of tools to help you craft your cross-social campaigns. Below are just a few of our favorites.
Canva: With Canva, you can build beautiful graphics regardless of your design skill level. With a robust free version available to the masses, you can create images to fit particular platform parameters.
Buffer: One of the most time-consuming aspects of a cross-platform social campaign is posting. Buffer takes the burden off your schedules with its easy-to-use scheduling tool.
Meet Edgar: Perfect for the busy marketer, this RPA platform quite literally does the work for you by creating content possibilities for social media content shares.
Tip 2: Identify the Right Performance Indicators
Every channel has different metrics associated with it. To know if you're achieving your campaign goals, assess the metrics you have attributed to each channel to determine if they're true measures of success.
Tip 3: Testing
Marketers love to test. That's true of social media channels, too. To calculate what resonates best with your audience on specific platforms, conduct A/B testing on social media and then use those results to adjust your approach on each channel.
Hack #5: Lower Internal and External Costs to Produce Assets so You Can Spend More Elsewhere
Tips for Lowering Content Production Costs
We've already discussed the time cost associated with social media content asset creation. Now it's time to talk about the financial cost. Creating new assets can be an extremely budget-taxing process. It doesn't have to be.
Tip 1: Use or Partner With Cohley.com to Produce Assets for You
When you partner with Cohley you don't just get access to their incredible platform, you can also save considerably on content creation. With their testing capabilities, you can determine where to best use your budget, optimizing your available funds, and ultimately increasing your return on investment (ROI).
The financial benefits of using Cohley don't stop there. You can also save big on paid social ads. For example, T3 saved over $450k in content costs after choosing Cohley's UGC platform rather than funding own photoshoots.
Tip 2: View Everyone as a Writer
If your organization doesn't have a dedicated writer and relies on freelancers, there is an opportunity to reduce content creation costs. Talk with your subject matter experts about the biggest issues facing your community and how to solve them. When you turn that conversation into a blog or FAQ, you've created a new content asset that you can pare down to be used as a variety of pieces of social media content without retaining the services of a writer.
Social Media Content Hacks Frequently Asked Questions
What are some social media content ideas?
If you are feeling uninspired by your social media feed lately, don't worry. Great social media content can be repurposed from old marketing materials (such as flyers or downloadable PDFs), inspired by User-Generated Content (like reviews and testimonials), or made-from-scratch through Go-Live video content. Many content creators feel the pressure to make unique content, but sometimes it's okay to get inspiration from the world around you.

How do I create social media content?
Designing social media content is as simple as segmenting your target audience and providing value to them. We recommend using tools like Cohley to design visually appealing graphics with ease.
How do I make unique social media content?
Definitely by incorporating User-Generated Content! This is content that your brand's users have made for you—whether that be leaving a review, or snapping a selfie at your place of business. No other brand will be able to use this content, and it's entirely unique to you (and very easy to make.)
How do I make my social media content faster?
To maximize your efficiency in creating social media content, definitely invest in tools. Canva Pro or Cohley are great additions to any content marketer's assets and will help you speed up the lengthy content creation processes using pre-built templates and expert assistance.
Social Media Hacks to Skyrocket Your Growth Conclusion
Even if you feel completely exhausted by never-ending content needs, by employing these five social media content hacks, you can not only refresh your existing content portfolio, but you can also start to rebuild and rebrand if necessary.
Whether you choose to go live on Instagram with a new arrivals video or partner with Cohley to refresh your UGC, you can revive your content strategy and drive growth.
What's the most effective piece of social media content you've encountered?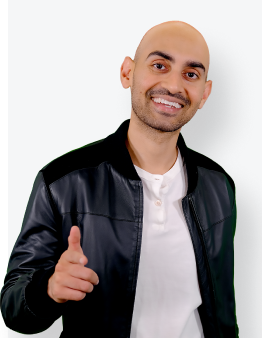 See How My Agency Can Drive Massive Amounts of Traffic to Your Website
SEO - unlock massive amounts of SEO traffic. See real results.
Content Marketing - our team creates epic content that will get shared, get links, and attract traffic.
Paid Media - effective paid strategies with clear ROI.