When it comes to driving traffic to your website, there are a variety of ways to get visitors. The primary two that individuals and businesses almost always have a struggle with investing their time and money into are search and social. Sometimes the issue is convincing people why these are a necessity for a thriving business. Other times, the conflict is whether to invest in one marketing strategy more than the other, or to only pursue one marketing strategy but not the other.
How Search Beats Social
First of all, let's look at the reasons why you might want to choose search engine marketing over social media marketing.
More People Look for Business on Search
Think about your own habits. Whenever you are looking for something, from an air conditioning repair company to a zumba instructor, where do you go first? Most likely, you will go to a search engine – Google, Yahoo, Bing, Ask, AOL, Blekko, or one of the many other options available.
A report by Econsultancy found that 61% of consumers use search engines to help them in product research before making a purchase. This means that if you want to get discovered, you will want to rank well for your target keywords.
Know What People Are Searching For
When it comes to search engines, while the numbers might not be exact, you have a lot of great tools to use in your research of what people are searching for. Google AdWords Keyword Tool is a great start in this process. While "pet supplies" may not actually get an exact one million searches per month, you will know that "pet supplies" is a more popular keyword phrase over "pet supply" that comes in at only 368,000 monthly searches.
Buy Your Way into the Results
If you can't make it to the top of organic search results, you can always buy your way into the sponsored links section of Google using Google AdWords.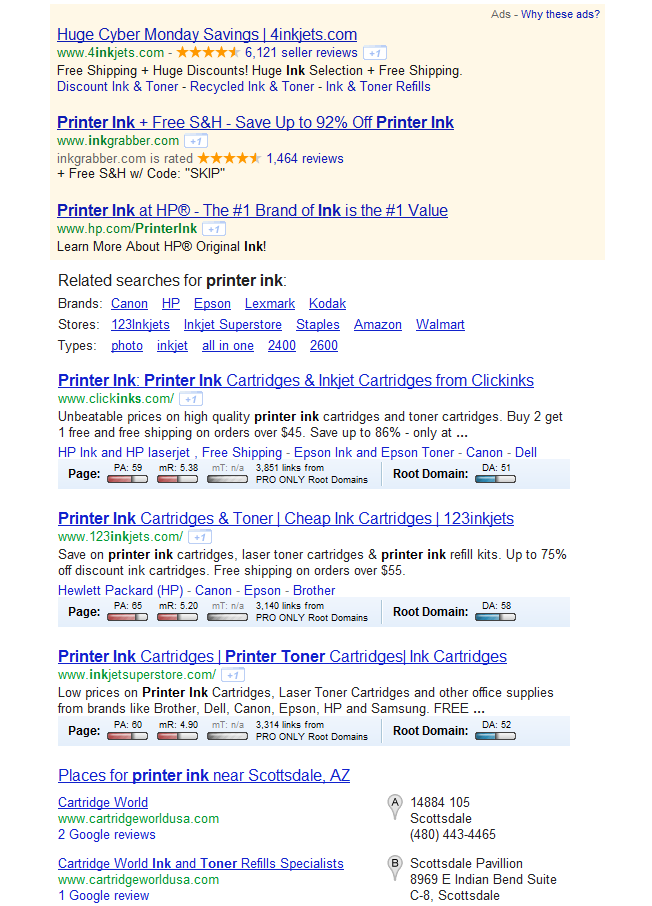 In a search for "printer ink," two domains that are not in organic search results appear in the top two spots. Even though organic search results might get more clicks, having any presence on the first page is still better than having no presence at all.
The bonus of paid search listings is that you can customize your appearance in search results. Instead of your usual website's title and description that is used in organic results, you can use something that calls out to a specific sale in sponsored results. As an example, the company ranking 2nd in organic search also shares its Cyber Monday sale in the sponsored listings to the right.
How Social Beats Search
Now, let's take a look at where social media marketing meets or beats search engine marketing.
Peer Recommendations Happen with the Click of a Like
In the same report by Econsultancy mentioned earlier, they found that 75% of people in the 18 – 26 age group used recommendations on social sites in product research before making a purchase. One of the nice sides to social media is once you have a presence on Facebook, Twitter, or Google+, peer recommendations will happen when someone likes your page, mentions your Twitter handle, or tags your brand name. When someone takes these actions, their connections will see them which may help your business get discovered by others with that perceived seal of approval.
Respond to Criticism in Real Time
One of the worst problems when it comes to search engine results, aside from not coming up in them at all, is having something negative come up. Online reputation management is a thriving service thanks to rip off reports, bad reviews, and other damaging articles about a business. Unfortunately, there is nothing you can do to counter these in search engine results themselves.
Whenever you are presented criticism on social media, however, you will have a chance to turn those complaints into compliments by responding back to them in real time. There is a lot of great information today, including books like The Now Revolution that help businesses learn how to plan for, find, and manage real-time crises in the social media space. Knowing how to do this is essential to showing current and potential customers how much you care about everyone's satisfaction with your business.
Buy Your Way in Front of Your Target Audience
Thanks to Facebook Advertising, StumbleUpon Ads, Promoted Tweets, and other social media advertising, businesses can put their content in front of social media audiences. This is a great way to generate traffic to your website, fans for your Facebook page, and visibility for your messages on social media platforms.
Why You Should Choose to Invest in Both Search and Social
While the above mentioned points may make you believe that one strategy is better than another, there is one good reason you want to invest your time, money, and efforts into both search engine marketing and social media marketing. You simply don't want to put all of your eggs in one basket.
If you have Google Analytics installed on your website, go take a look at it now. Go to your Traffic Sources > Sources > All Traffic. Then look at your top five traffic sources and ask yourself what would you do if you lost one of them.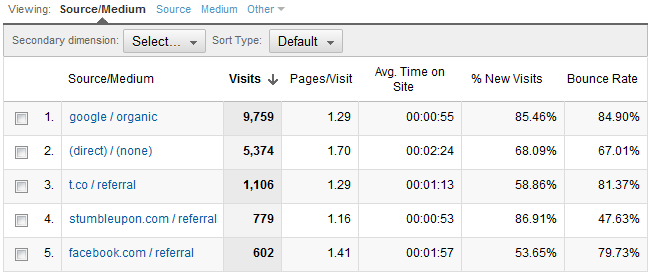 Take a moment to click on each traffic source to see the percentage of visitors that source drives to your website.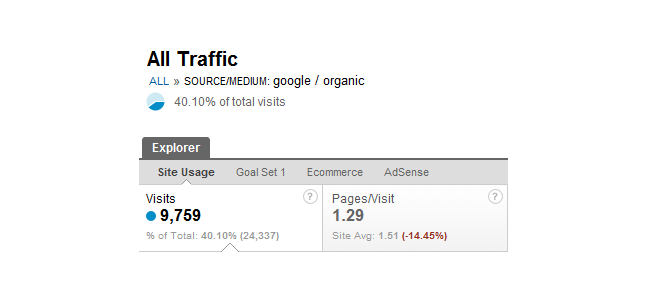 In my case, Google (40.1%), t.co (Twitter – 4.54%), StumbleUpon (3.2%), and Facebook (2.47%) are my top sources for the last 30 days. So I want to ask myself what I would do if I lost my Google traffic? That would be a loss of almost 10,000+ visitors in a month. Or if I lost my Twitter traffic, that would be a loss of 1,000+ visitors.
What you might find more interesting is using the Compare to past option under your date dropdown.

Now you can see, for the last 30 days vs. the 30 days in the previous month how your traffic is changing. In this comparison, I noticed that my search engine traffic dropped.
But my Twitter traffic increased.

While your numbers may vary, the one thing that is safe to say is that if you are investing your time in both search and social is that you'll have a good balance of traffic. This means if one source began to fail, you could always boost your efforts in another area and know that you will not lose all of your visitors entirely.
Is it possible to lose one source of traffic completely? Of course! Imagine if 80% of your traffic was from Google, and your website was hit with the first Panda update that left top domains with a loss of 34% to 86% of their keyword positions in search. Without incoming traffic from other sources, you would be in some serious trouble!
Regardless of whether you fear the loss of your search engine traffic due to a penalty or loss of rankings to a competitor, or the loss of your social media traffic because of a misunderstanding that resulted in the removal of your Facebook page, fear should not be your only motivating factor in diversifying your marketing efforts between search and social. Did you know that search engine marketing can help you with your social media marketing, and vice versa?
How Search Engine Marketing Helps Social
Search engine optimization doesn't just happen on your website. Did you know you can use the same keyword research and on-site optimization strategies that you use for your website's search engine marketing campaign for your social media marketing?
Keyword Research for Social Media
Keyword usage is important in social media. Although you can't find the specifics on how many people search for particular keywords on social media, you can use different tools to get a good idea. For example, if you want to know what to include in your Twitter profile's bio, you can use Wefollow to see what keywords people tag themselves with.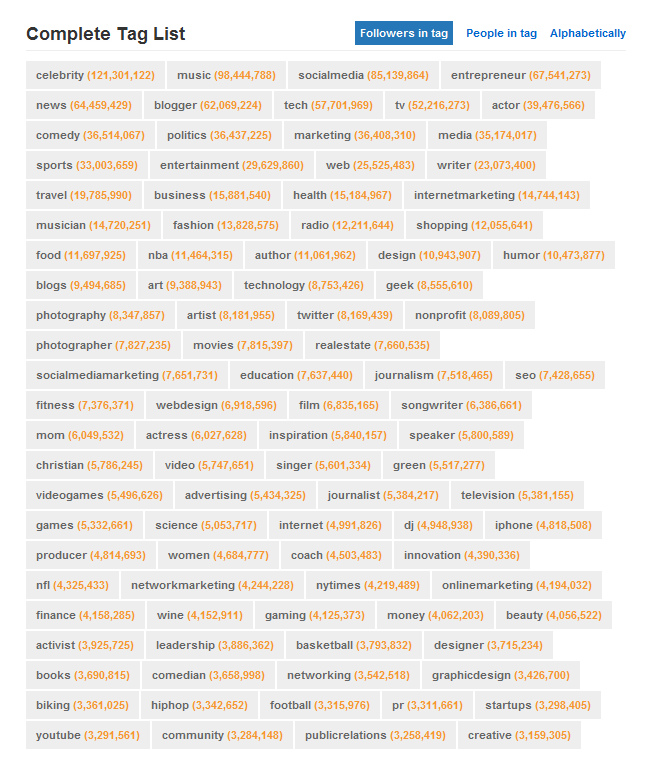 Using various methods like these will help you fine tune your status updates and bio information for search within social networks.
On-Site Optimization for Social Media
While On-Site normally just means on your own website, you can take the same principles for title tags, meta descriptions, image alt tags, and so forth to better optimize your social media profiles for search. For example, you can optimize Google+ for search…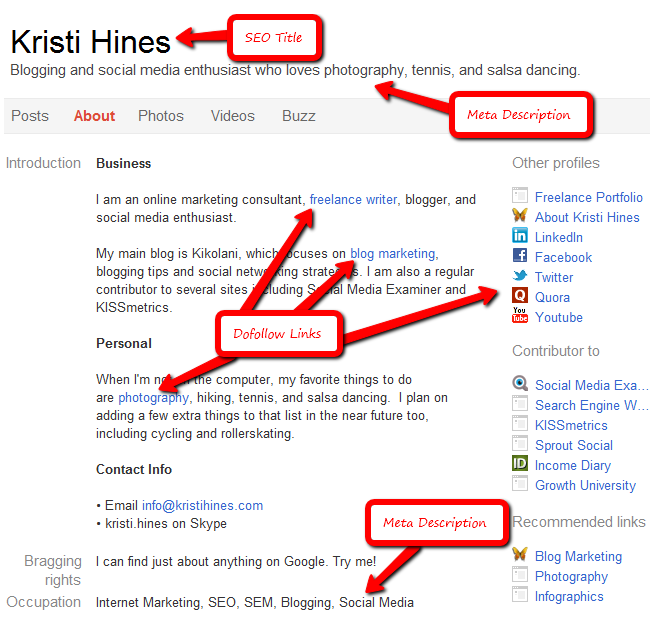 Facebook pages…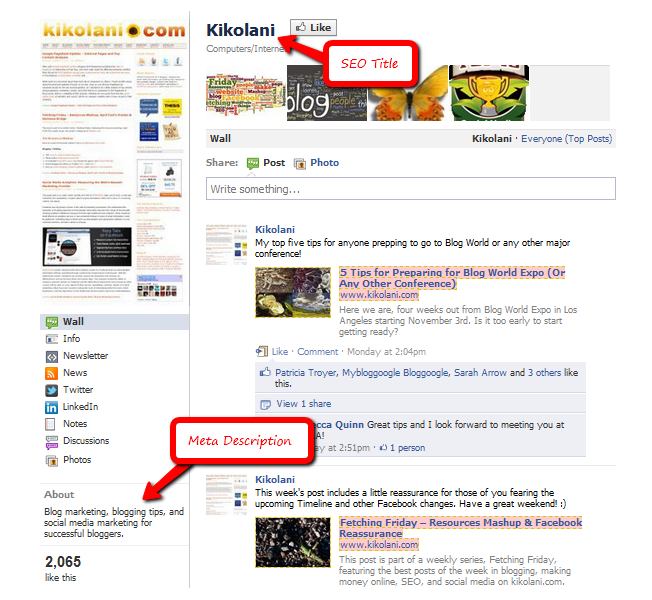 Twitter profiles…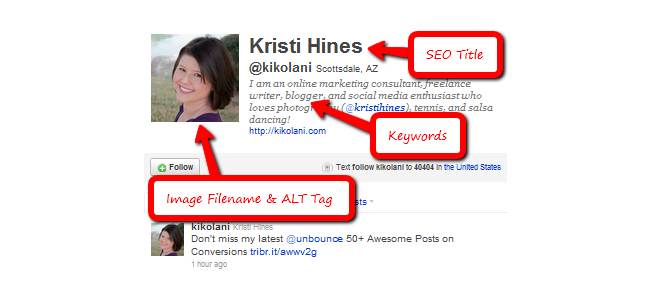 Almost all social media profiles have some customizable elements, whether it is your profile's name, description, or image that can be tweaked for better search optimization. Just use tools like Google Chrome's SEO Site Tools on your own social profiles when logged out of the network so you can see the public display version viewable by search engines.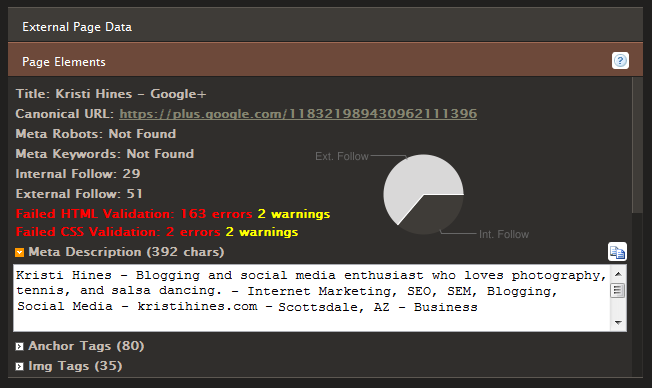 Pay attention to the Title, Meta Description, Meta Keywords, Img Tags, and H1 through H4 Tags to see which ones you can edit for better branding and keyword placement.
How Social Media Marketing Helps Search
So how can social media marketing help with your search engine results?
Better Reputation Management
Want to bump off a bad entry in the first page of search results for your brand, or pre-emptively create a strong brand presence in search so a negative results can't barge its way in? Social media profiles are your answer. Social profiles that generally rank well for businesses include Facebook, Twitter, Google+, YouTube, FourSquare, and LinkedIn. If the only online properties created by you appear on the first page when someone searches for your brand name, then you are well on your way to creating a great first impression.
Confirm a Search Result is Trustworthy
While, as mentioned earlier, almost two thirds of consumers research products before buying them through search engines, I'd bet that the social media savvy ones will check out the top results (aka you and your competitors) on social media. I know that, when I come across a new company that I haven't heard of, I will also go check out their Facebook page and Twitter account to see if they are active in their customer service. This means I want to see some recent status updates and replies to customers asking questions whenever possible.
When it comes to search engine marketing vs. social media marketing, which one do you put the majority of your energy towards? What ways do you think one is better than the other, and what ways do you see one helping the other?
About the Author: Kristi Hines is a freelance writer, blogger, and social media enthusiast. Her blog Kikolani focuses on blog marketing, including social networking strategies and blogging tips.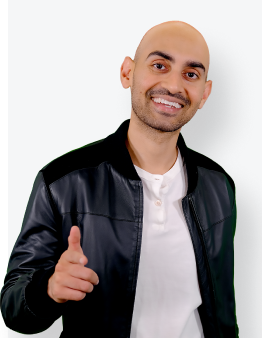 See How My Agency Can Drive More Traffic to Your Website
SEO - unlock more SEO traffic. See real results.
Content Marketing - our team creates epic content that will get shared, get links, and attract traffic.
Paid Media - effective paid strategies with clear ROI.
Are You Using Google Ads? Try Our FREE Ads Grader!
Stop wasting money and unlock the hidden potential of your advertising.
Discover the power of intentional advertising.
Reach your ideal target audience.
Maximize ad spend efficiency.