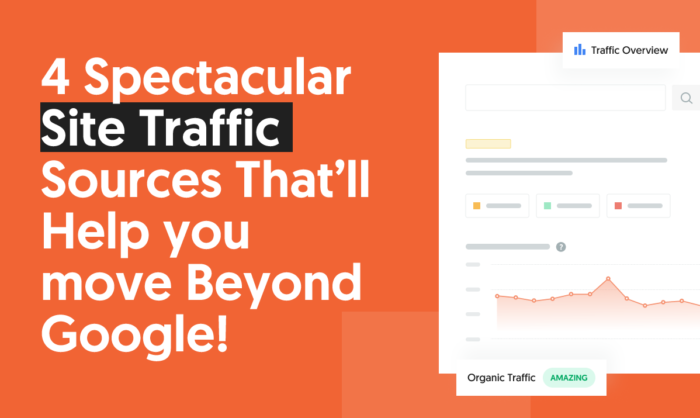 Until a few years ago, every online business owner used to start their media marketing campaign solely by keeping the 'big daddy' in mind.
It was the chief source of exposure – the number one search engine traffic source that helped websites get visitors. It was the most visited website on the internet, dwarfing every other site.
A whole new industry was created to optimize business websites as per this big daddy's requirements.
Until one day when a new media marketing era started that made people socialize online. These new social media platforms also became a breeding ground for publishers to attract eyeballs on their content and to try and attract direct traffic from those sources.
The 'big daddy' is Google. If you've started a website to get online exposure, then you must have read a couple of articles on search engine optimization (SEO).You might have achieved great search engine traffic results from Google.
However, you shouldn't put all your eggs in one basket. Diversifying your website traffic sources will ensure that your business does not tank in the wake of a single Google algorithmic update.
Consider Andrew, who lost 80 percent of his website traffic to Trollingmotors.net with the release of the Penguin update.
It was after this loss of direct traffic he realized the risk of relying solely on Google for customers.

Don't you dread being in a similar situation, losing all your web traffic because Google decides to change the game?
Building traffic from Google requires consistent effort for 3 months or more. You need to target long-tail keywords, build authoritative backlinks and optimize your website pages for Google.
Not to mention the dominance of the click throughs received by top 3 spots in Google.
If you aren't in the top 6, don't expect more than 4 percent of clicks to your website. And if you aren't on the first page, you can almost abandon thinking about organic traffic, direct traffic and any other kind of web traffic from Google.
If you're not on the first two pages, you aren't getting any visibility.
I don't think I need to tell you the difficulty in ranking in the top 3 spots for keywords that have good search volume.
The hard-hitting reality is most businesses fail to rank for their targeted commercial keywords and don't get intended results from SEO.
Are you willing to build a more sustainable and robust source of organic traffic for your website?
Then let's roll with five alternative search engines besides Googles that drive traffic your way.
1. Capture Emails of Those Cold First-time Visitors
Email is the first and probably the best social channel for conversing with your audience. It commands the daily attention of most people, drives engagement and accelerates business results.
Email has a high conversion rate and that outperforms search and social media by far.
But effective email return traffic rise does not happen overnight. It starts from your previous efforts and snowballs.
I've been able to increase my email traffic consistently since I've prepared my blog to capture new leads as part of my marketing campaign.
How to Increase Direct Traffic from Email Campaigns
Would you like to know the 3 basic steps to increase direct traffic from your email campaigns?
Prepare a lead magnet like a free eBook or an email course that interests your visitors.

As an example, I offer free courses to learn SEO, CRO, and more. You can also offer a swipe file like Digital Marketer. It generated 28,507 subscribers in 45 days.

If you want to considerably boost your conversions and reduce your bounce rate, then you'll need to put in extra effort and prepare a content upgrade for at least your most popular posts.

It can lift your conversions by a whopping 785 percent in one day.
So what are content upgrades?

They're generally bonus resources. If you don't have the time to create more content, a simple checklist will do. The idea is to help the visitor take the first step after reading your article.

Setup lead capturing tools on your website

Marketing technology has come a long way. You can do much more than simply adding an opt-in form in the right sidebar of your blog (that typically has less than 1 percent conversion rate).

I would recommend that you experiment with slide-up, left sidebar sign-up forums, hello bars, and other tools. A controversial, but extremely effective tool that deserves special mention is the popup or banner ad. Popups can literally take your sign-ups through the roof.

But, if they're so effective, then what's the roadblock that may prevent you from using them?

They're annoying and equate to a bad user experience which will contribute to a higher bounce rate.

You need to test triggering them at the appropriate time. Your audience might like to spend 30 seconds on your website before they give you their email.

Your visitors should not feel intruded on or tricked into giving their email. Don't show the popups and banner ads repeatedly to a visitor after he has shown disinterest in giving you his email.

I would advise you to use an improved pop-up technology that decreases the pop-up annoyance.

Properly onboard your new subscribers

The welcome email is your first point of contact with the subscriber. Don't waste the opportunity to add value and impress them early in your relationship with them.
So what can you deliver in your first email?

Ask the 'number one' problem that your subscriber is facing. This encourages interaction and lays a strong foundation for your association with them.

(Optional but recommended) – Test your email subject lines

Only after they open your emails will you get the chance to engage with your audience. Churning of readers is fairly common.

MailChimp found that average click-throughs last only 3.5 percent after the 100th email campaign for the users that last (as compared with 5 percent open rate for the first campaign). Tweaking your subject lines can make all the difference for increasing your open rates and getting more engagement.
2. Write High-quality Guest Posts for Authority Blogs
Guest Posting has already been written off by Google. I've seen bloggers derive tremendous referral traffic and build complete businesses from guest posting referral traffic. It's awesome to get organic traffic this way.
It's such great exposure that I've guest posted regularly at likes of Entrepreneur, Search Engine Journal, HubSpot and Forbes.
Here are five tips to get good results and potential direct traffic from guest posting.
1. Understand the publication
Before sending a guest post pitch, get a feel for the type of content published in the publication. Only then will you be able to think of post ideas that add value to their audience. All bloggers are seeking valuable content to be shared on social media and to improve their own search engine traffic – you need to be able to add to this.
A great pitch puts the target blog's audience first and proves why you're the right fit for guest posting on their blog.
Want an example?
Then look at the email by Alex from GrooveHQ below.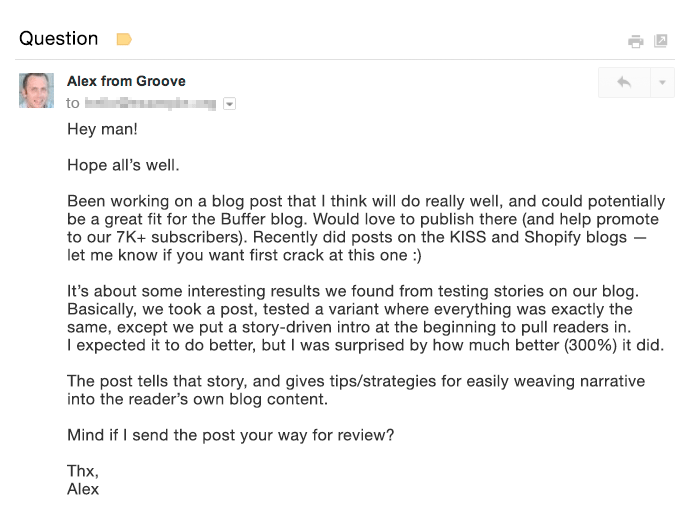 2. Aim to get published on the biggest blogs where your target audience hangs around (not necessarily in your industry).
I received 0 conversions from some industry blogs (although they drive considerable organic traffic).
Yet I received a total of 16 conversions (lower visitor volume but high-converting direct traffic) from Entrepreneur Magazine and Inc.
3. If you're short on time, rely on quality rather than quantity.
By putting in 18 hours to write an awesomely detailed guest post at HuffPo, Ramit Sethi was able to drive 100,000 visitors to his website. This would have had exceptional results not only for his search engine traffic but also for his social media traffic.
Compare that with a quickly written guest post that brought just a few hundred visitors for 1.5 hours of Ramit's time.
4. Try to squeeze as many quality guest posts into your content production time as possible.
I've personally found that organic traffic is spread out from guest posts and adds up only over time.
5. Finally, spend extra time to create a content upgrade for your guest posts.
A content upgrade can have a tremendous impact on the number of emails you'll collect. Giles Thomas earned 408 subscribers from a single guest post by offering an upgrade.
3. Interview an Influencer or Get Interviewed by a High-traffic Website
Have you heard of the Four Hour Work Week author Tim Ferriss?
Right now, a staple content type that he serves his audience is his podcast. He interviews world-class performers who share their wisdom on a plethora of subjects on Tim's show and he is loved across social media.
Do Tim's followers like the show?
Well, the show has surpassed 50,000,000 downloads. And is the #1 business podcast on all of iTunes on most days.
Be it video or audio, interviews are inherently conversational, dynamic, and engaging.
The best part:t's a win-win for both parties. The interviewer gets exposure to the new audience while the interviewee gets to serve new engaging and authoritative content to his website visitors.
If you interview an industry influencer, you can request that they share the interview with their followers on social media. Think of the organic traffic you will drive from hundreds of thousands of their social media followers.
As an example look at the engagement received by a past interview of Derek Sivers on the Tim Ferriss Show. Derek tweeted the show's link to his 283K followers.
It won't hurt that you'll also start a relationship with the influencer through such an interview.
Similarly getting interviewed by a high-authority website can bring you a huge amount of search engine traffic.
Getting interviewed by YourStory brought Harsh Agrawal 35,000+ views on his blog, Shoutmeloud, in a single day. That was his highest search engine traffic source for the blog (having 600,000+ visitors/month).
Since interviews offer consolidated value, they serve as a lead generation source for your brand for a long period.
Just think of the number of bloggers you discovered through their interviews on YouTube and other high authority websites.
If you've got a really interesting story to share, you can also consider doing a Reddit AMA.
Mateen got 2000 page views from doing this AMA on earning $85,000 in profit by selling TeeSpring shirts/hoodies. He also increased his average daily visitors.
You can also answer questions from journalists at HARO by signing up as a source.
Christopher from Snappa saw this query on the future of content marketing from Inc Magazine on HARO.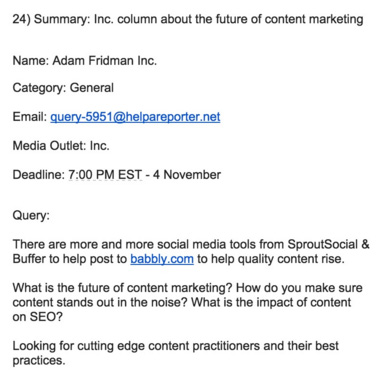 He quickly sent a detailed reply.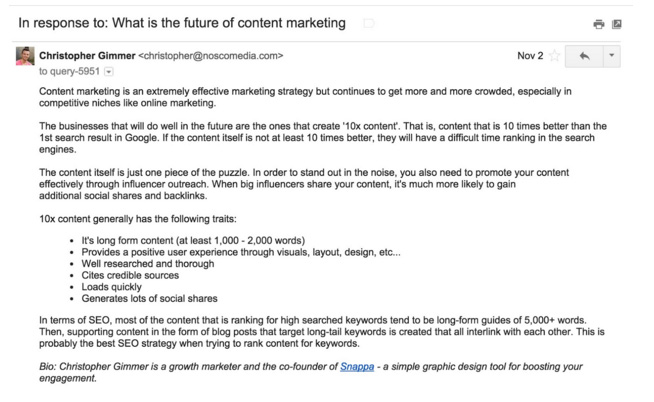 This earned him a mention in Inc a few weeks later.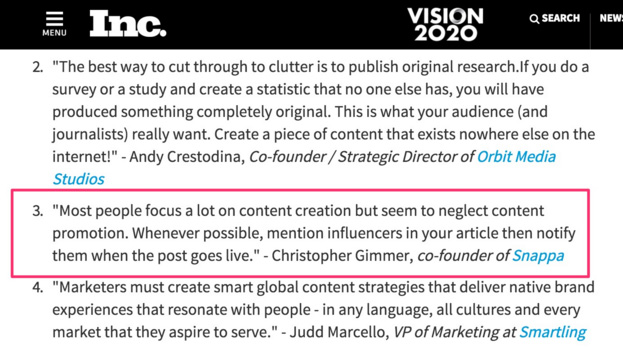 HARO is a great strategy to get a brand mention on authority news websites like Entrepreneur and Inc. Those backlinks will sweetly lift your reputation in the eyes of Google, driving your search engine traffic up, and boosting your marketing campaign.
4. Invest in Facebook Ads
I know a paid strategy might raise a few eyebrows when it comes to the idea of organic traffic.
Inbound marketers generally don't like to pay for play in the form of banner ads or other pricey methods. If you're one of those, you might be frustrated with the declining organic Facebook reach. If you're having only a handful of fans on your Facebook page, then you will not get good results from your organic traffic reach.
So you'll need to invest in Facebook Ads.
A US accounting firm (having 156 likes) didn't get good engagement on their posts. Just a couple of likes.
After spending $20 on Facebook Ads they started getting great interaction. Look at the interaction on the post in two months.

Sparing some cash for running Facebook Ads can tremendously accelerate your email list growth (one of the best repeat traffic sources for your website). Because there are very specific demographic targeting options available. You can also A/B test various images and text in your banner ads.
Let me share another case study to show you the kind of results you can achieve.
Matthew Woodward spent around $600 on Facebook Ads running two campaigns. His cost per lead in running both campaigns was under 80 cents. The ROI from running the campaign was over 2500 percent.
Aren't the results incredible?
If you don't want to splurge and spend $500, then even $5 a day can get you great results.
Mary earned 532 new subscribers in 43 days of running Facebook Ads.
The total amount she paid was just $227.05.
If you want to drive more traffic to your blog, then you can choose your most engaged Facebook posts and boost them to extend your reach.
You can even use Facebook Video Ads and add a CTA to drive traffic back to your website.
For native videos on Facebook, Mike Gingerich found anywhere between a 30 percent to 200 percent increase in engagement and reach compared with other types of posts.
Conclusion
Google's algorithmic updates are unpredictable. Relying solely on SEO to rope in traffic and customers can kill your business.
So experiment with traffic sources other than Google.
If you put in the necessary steps, you can also reap the benefits like others whose case studies I shared with you in this article.
Have you experimented with any of the above traffic sources and achieved good business growth? How did you boost your direct traffic? I would love to hear your insights in the comments.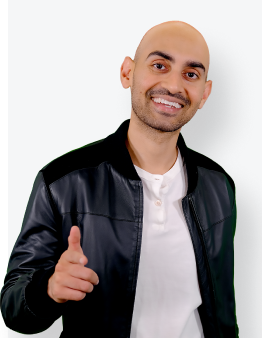 See How My Agency Can Drive More Traffic to Your Website
SEO - unlock more SEO traffic. See real results.
Content Marketing - our team creates epic content that will get shared, get links, and attract traffic.
Paid Media - effective paid strategies with clear ROI.
Are You Using Google Ads? Try Our FREE Ads Grader!
Stop wasting money and unlock the hidden potential of your advertising.
Discover the power of intentional advertising.
Reach your ideal target audience.
Maximize ad spend efficiency.