Getting your products or services in front of the right audience is becoming increasingly more challenging. This is because most businesses are going digital, increasing their reach online, and leveraging paid ads.
To help you stand out from the crowd, you should consider running responsive display ads.
What Are Responsive Display Ads?
Don't let the name confuse you. Google Responsive Display Ads are your typical Google Display Ads with a twist. The twist is they can automatically adjust their size, appearance, and format to fit the available ad space on the Google Display Network (GDN). You can also incorporate visual elements into your display ads.

The best part about responsive display ads is that they can be created automatically (by Google's AI and machine learning engine) using your assets. These are the same assets you can upload to use for both standard and smart display ad campaigns. To get your responsive display ads, all you have to do is upload up to:
15 images
5 headlines
5 descriptions
5 logos
The GDN platform will then combine these assets into varied ad unit combinations for every available size.
Why Should You Use Responsive Display Ads?
You might be wondering: what's the difference? Is it worth the extra asset creation?
Responsive display ads have several advantages compared to standard ads, including:
Being fast and easy to create: One of the biggest advantages of responsive display ads is you can quickly and easily create and launch campaigns with no heavy lifting or design strategy on your part. All you have to do is upload your assets, and Google automatically optimizes your ads for you.
Broad reach: Thanks to the multiple asset types uploaded and the responsive nature of the ads, you can reach a wider audience. One reason for this is your ads can fit on any available ad space and thus have more opportunities to be displayed.
Versatility: With responsive display ads, your ads can take on many shapes and sizes. For example, your ad might show as a banner ad on one site and a dynamic text ad on another.
A high degree of personalization: Personalization is key to better conversion rates. With responsive ads, you can show personalized content to your customers from a feed you control and add it to your campaign. This also makes them compatible with dynamic remarketing.
Affordable: Since you can DIY your campaigns, responsive ads are more affordable, making them an excellent solution for smaller companies. If you're not confident creating your own responsive display ad campaigns, you can always enlist the help of PPC specialists.
Easily deploy video in your ads: Video content has fast become the most preferred content format for users. Deploying videos in your responsive display ads is super easy.
Differentiation: Users revisiting a site may become victims to "banner blindness," automatically skimming over the same-old, same-old ads. If you've got the power to keep your adverts fresh and exciting, why not use it?
Responsive display ads are here to stay. That's why Google has been encouraging businesses to adopt them quickly. It's also why it's essential how-to run responsive display ad campaigns.
Top Tips for Successful Responsive Display Ad Campaigns
Now that you know the versatility of responsive display ads, you're probably rearing to get started. Before you do, here are some top tips for making your ads successful.
1. Choose (and Optimize) Your Images Carefully
Images play a huge role in running successful display ads. This is because they are an excellent way of grabbing attention. Another reason is that they are a great way to convey your message easily.
That's exactly why you must select your images carefully and ensure they're optimized. On the same note, try to upload about 3-5 images per ad campaign.
Image choice: When choosing images to use in your responsive display ads, choose ones that clearly show what you're advertising.
Image optimization: Remember, your ads will scale up or down in size depending on the ad space they're placed. That's why you must optimize your images to show clearly in both large and small spaces.
Pay close attention to your images and test them on different size displays before uploading them for use. Speaking of image size, Google allows advertisers to use two aspect ratios for image assets landscape (1:91:1) and square (1:1). At least one of your images must have an aspect ratio of 1.91:1. For the rest, you can use either of the two.
2. Be Careful With Your Logo
Your logo is your visual identity. You only have a few seconds to grab attention, so your logo must be clearly visible—which can be tricky.
Logo uploads for responsive display ads are the same as image uploads—square and landscape. Since most logos are designed to be either landscape or square, scaling can be a nightmare. To ensure your logo always displays correctly:
Consider adjusting it to fit better in the space.
Cut part of your logo if possible to make it work better (e.g. any background "noise" around your design).
Use the icon portion only.
Get your designer to create a square/landscape version of your logo.
Whatever you do, don't fall for the trap of simply adding white space to change the aspect ratio of your logo. It may fit the image requirements, but when scaled down, it will be difficult to read. There are plenty of logo design tools that will help you play around with your logo until you find options that work.
3. Create Different Variations of Your Responsive Ads Assets
When creating responsive ads, you have greater flexibility for impressing your audience. You can use different variations of copy and images and measure what works best. Your responsive ads manager allows you to change:
short headlines: 25 characters
long headlines: 90 characters
descriptions: 90 characters
business name: 25 characters
visuals like images and video
calls-to-action (CTA)
4. Text Combinations Can Be Quite Tricky—Create Them Wisely
One significant advantage of responsive display ads is that they offer more text fields for you to work with.
While this is great as it gives you more opportunities for creativity and to get your message across, there is a caveat—not all text will be shown together.
To craft effective response display ads, you should know which text combinations are shown together. Here are a few pointers to help you in this regard:
Headlines Are Never Shown Together
Because headlines can never be shown together, this makes it easy for you. You can create different versions without worrying about repeating yourself.
Descriptions Can Be Shown With Both Types of Headlines
Descriptions are to be treated as an extension of your headlines and are never displayed without a headline. This means descriptions can be shown with both short and long headlines. Because of this, make sure to craft your descriptions in a way that they don't repeat the copy.
Headlines Can Sometimes Be Displayed Without Descriptions
Depending on the ad space available, Google Ads can sometimes display headlines without descriptions. This is why you must craft headlines that are compelling enough to elicit a click without the aid of a description to give more context. You should also design your long headlines in such a way that they include a call to action.
Long Headlines and Descriptions Can Get Truncated If They're Too Long
Given that text fields are limited in terms of characters, your message can get truncated if you go beyond the prescribed limit. To ensure you get your message across, you should front-load important information.
Knowing which text field combinations are more likely to appear together makes it easier for you to optimize the text in your responsive display ad campaigns.
5. Your Landing Page Should Always Match Your Ad
For better conversions, ensure that your landing page matches your ad—from copy to CTA, visuals to colors, and also everything in-between.
Remember the responsive display ad example above?
Here's the landing page you're directed to when you click on the ad:
It's so similar to the ad design that you know you're in the right place when you land on it.
Another critical ingredient to ensuring your landing page matches your ad is to use the same keywords in both your ad copy and landing page copy. Doing so will help your customers feel more confident in continuing to make the transaction when compared to finding a landing page that doesn't have the same tone, language, or feel as your original ad.
While Google does an excellent job of optimizing your display ad assets and showing the best versions to individual customers, you too have a hand in the quality of your responsive display ads. Using the tips outlined above will help ensure you run effective display ads, giving you an excellent return on your ad spend (ROAS).
How to Set Up Responsive Display Ads
Now we get to the exciting part—setting up your responsive display ads. Fortunately, it's not as difficult as it sounds.
Here are the 11 simple steps you need to take to get your campaign up and running:
Log in to your Google Ads account.
On the navigation menu, click "All campaigns."
Choose the "Display campaigns" option and select a campaign you want to add responsive display ads.
Click "Ads & extensions," and then click on the "Ads" option.
Click the "plus" (+) button.
Select "Responsive display ad."
Choose the ad group you want to add your responsive display ads to.
Upload and save your visual assets (such as images and video links).
Fill in your ad details (headlines, descriptions, business name, and landing page URLs)
Preview the best formats of your ads.
Save and launch your ad.
Once you've saved and launched your ad, monitor its performance and update your assets regularly. Make sure to keep your top-performing assets and put them in competition with the new versions.
Responsive Display Ads Frequently Asked Questions
Where are responsive display ads shown?
Responsive display ads are shown on the Google Display Network (GDN). GDN is a group of over 2 million websites, videos, and apps where Google Ads can be placed.
Are responsive ads better than text ads?
Responsive display ads are better than text ads as they are bigger, offer more flexibility, and can be scaled up or down to fit available ad space.
How does Google Ads generate responsive ads?
To generate and display responsive ads, Google Ads relies on a powerful AI engine. This system optimizes your ads for you and ensures they are displayed properly on the Google Display Network.
Are responsive search ads worth it?
Responsive ads are definitely worth the resources and effort that goes into creating them, as they have far more advantages than text ads. Examples of such benefits include greater reach, better visual appeal, and more.
Responsive Display Ads Conclusion
As a digital marketer, small business, or even large enterprise, display ads should be integral to your marketing arsenal. That's why you must know how to create and run them well.
While they're generally easy to pull off, they need someone who understands the world of paid advertising to be successful. Of course, if you're not comfortable going the DIY route, you can always enlist the help of a professional to help you create and run yours.
Have you ever run responsive display ads before?
What was your experience like?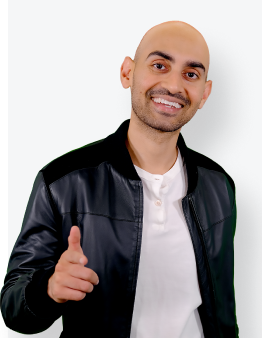 See How My Agency Can Drive More Traffic to Your Website
SEO - unlock more SEO traffic. See real results.
Content Marketing - our team creates epic content that will get shared, get links, and attract traffic.
Paid Media - effective paid strategies with clear ROI.
Are You Using Google Ads? Try Our FREE Ads Grader!
Stop wasting money and unlock the hidden potential of your advertising.
Discover the power of intentional advertising.
Reach your ideal target audience.
Maximize ad spend efficiency.