Last year, mobile internet usage overtook desktop for the first time. If you're not tailoring your marketing strategy specifically for mobile users in 2017, you're losing out.
Mobile internet access has soared in recent years and it's quickly become entrenched in our culture. 50% of smartphone users grab their smartphone as soon as they wake up, and 80% of all internet users own smartphones.
Google is actively trying to make the internet more friendly for mobile users by penalizing sites that aren't optimized for mobile devices.
With this rise in mobile internet users and a continual decline in email open rates, you've simply got to adopt different communication channels to get their messages heard.
Push Notifications for Businesses
Push notifications represent a great way to communicate with your audience. According to a study by Localytics, 52% of smartphone users have push enabled on their devices, and these notifications can be used to benefit businesses in the following ways:
Directing users to your social media channels
Promoting products and services (especially special offers)
Building trust and brand reputation by delivering valuable content
Engaging users who aren't currently on your site
Restoring abandoned carts for ecommerce applications
As legendary entrepreneur Gary Vaynerchuk once proclaimed: "Marketers ruin everything".
I'm guessing it's pretty much inevitable that brands will come to recognize the high engagement rates of push notifications, and then thoroughly overdo the tactic until they annoy their audiences and force them to turn push notifications off.
But until then, keep in mind that someone who's installed your app will already be more receptive to communication from you – as long as you don't abuse this trust.
Instead of being overly aggressive and spammy, focus on delivering value to your audience via push notifications in order to build brand reputation for the long-term.
Personalization
Generic mass marketing techniques are dying out. In this age of information, personalization is the key to victory.
In a 2014 marketing survey, 94% of marketing professionals in multiple industries stated that personalization was "important," "very important," or "extremely important" for meeting their marketing objectives.
The great thing about push notifications is that you can segment the audiences you're targeting in a very personalized way.
For instance, a clothing brand may want to send different messages to users based on the types of items that they've browsed and purchased in the past. Sending different recommendations to men and women is probably a good idea – and the same applies to customers who have browsed products for young children versus those for adults.
This approach is backed up by data. Of people who open a push notification, 54% of users convert from segmented pushs, compared to only 15% who convert from broadcast messages.
Geo-targeting is another great feature you can use.
If you're a retail outlet, for example, you may want to send out reminders for time-based promotions to anyone who's within the immediate area. Bars may want to promote happy hour specials using the same technique.
By including the user's first name and mentioning what area they're currently in, you'll capture their attention far more effectively than a generic message would. Using emoji's has also been found to increase retention.
When you're setting up push notifications, I recommend allowing a variety of notification options for your users. If they have control over when and why they get notified, they'll be more likely to opt-in and stay engaged.
Ultimately, if you can create a high value, personalized experience for your users, they'll be more likely to engage with your push messages – and think highly of your brand – over time.
Pitfalls to Avoid
As I said earlier, sending generic, batch push notifications should be avoided. Similarly, carefully consider your target demographic so that you don't send them inappropriate messages.
A while back, for example, the My Pet app received some negative publicity after a 9-year-old girl received offensive notifications, which her mother equated with cyber-bullying.
While the dark-humored notifications may have been appropriate for an older demographic, messages like "You are horrible! You are the worst owner I've ever had" weren't appropriate for young children.
Ouch.
Timing is also crucial when sending push notifications.
If you send low-value information to your audience in the middle of the night, you'll destroy their trust (and upset them in the process). Research suggests that afternoons on Tuesday, Wednesday, Thursday and Friday are the best times to send push messages.
It's also essential that you sync your push notifications with your other marketing channels. If someone reads your marketing email, only to get a push notification about the same content half an hour later, they're going to get frustrated.
Finally, remember that if someone opts in to receiving push notifications from you, treat this as a privilege. Always make it easy for them to opt out and don't spam their phone continuously every day with trivial messages.
7 Case Studies to Review
If you can avoid the common pitfalls of push notifications and deliver high value, personalized content to your audience, the rewards can be great.
Here are some examples of brands effectively using push notifications to boost engagement to inspire you:
1. JetBlue
Like many airlines, JetBlue has adopted push notifications to remind its customers when to check-in.
When flyers check in, they'll get pleasant reminders exactly 1 day before the flight is scheduled to depart. In-flight status updates in the form of push notifications are also available for customers that select this option.
Key Takeaway: JetBlue offers high value, practical content that helps to improve the flying experience.
This isn't going to result in any immediate sales, but JetBlue's efforts cause flyers to think positively about the brand, making them consider the airline the next time they go to book a flight.
Unsurprisingly, in a study on push notifications, opt-in rates were highest in the travel and transportation niche (78%). People really appreciate being reminded about the key details that will improve their journey when they're traveling.
2. The Bump
Guess what particular topic parents-to-be can't stop obsessing over? Their unborn child, naturally.
The Bump is an app for first-time moms that delivers status updates about the ongoing development and growth of their child.
Those who sign up receive regular push messages about the size of the baby (typically using fruits as a reference point), as well as things to expect in coming weeks.
Key Takeaway: Push notifications work best when you're messaging someone about something they really care about. People are far more likely to want status updates about their unborn child than they are spammy sales messages from a store they vaguely remember.
If you're thinking about using push notifications, first consider what is of most value to your audience. If your planned notifications don't reflect that value, don't bother sending them.
3. La Redoute
La Redoute, which specializes in French-style fashion and offers a huge range of products, boasts a turnover of over $1 billion dollars, making it one of the largest ecommerce apparel retailers in the world.
If you're in the ecommerce space, you know that the problem of abandoned carts (people adding an item to their cart, then leaving the store before finalizing the purchase) is very real.
In order to combat this and retrieve lost customers, La Redoute started a push notification campaign where mobile app users would be contacted if they left the store with an item still in their cart. Each notification is highly personalized and links the user to their cart where they can complete the purchase.
Interestingly, their push notification retargeting clickthrough rate was 2-3 times higher than on classic mobile ads.
Key Takeaway: Push notifications can be an excellent tool for reviving abandoned carts. By personalizing your messages and sending vibrant images of the items that your customers missed out on (for whatever reason), you can dramatically improve your conversion rate.
4. Ticketmaster
In order to deliver relevant offers to its audience, Ticketmaster utilizes geo-targeting and assesses user histories.
By determining what types of events people like attending, Ticketmaster can segment its push notifications and send offers that feel more personalized to its audience – resulting in higher conversion rates.
Key Takeaway:
Segmentation is necessary if you have a large audience and want to maximize the impact of your push messages.
5. eXtra
eXtra is Saudi Arabia's leading consumer electronics retailer and is currently experiencing 100% year-on-year mobile growth, primarily thanks to a push notification campaign that engages its mobile users on a personal basis.
In the past, the company used retargeting emails to re-engage with mobile users, but since switching to push notifications, they experienced a dramatic improvement in sales.
Within six weeks, those who had opted-in to receive push notifications were returning 4X more and often spending twice as much time on the site.
Key Takeaway: When crafted correctly, push messages can be a more intimate form of communication. This re-engages previous customers, builds brand loyalty and improves your long-term profits.
6. Netflix
With a vast sea of user data available to Netflix, the company can craft highly personalized push messages that draw on each customer's viewing history.
As they've found, sending a simple reminder about a series that someone has been watching is an excellent way to improve engagement.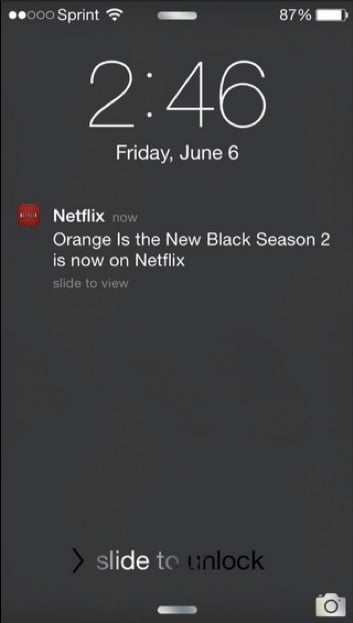 Key Takeaway:
The more data you have on the ways in which people interact with your brand (particularly their purchasing history), the more you can tailor your push messages to resonate with them.
7. PLNDR
PLNDR is an online streetwear retailer that uses customer-focused push notifications to boost engagement. After determining what types of items its users are engaging with, PLNDR sends specific daily deals that are virtually guaranteed to resonate with their customers.
By including multiple layers of personalization and narrowing down on its user's interests, PLNDR's push campaigns have resulted in a 4% purchase rate on mobile (though some of the brand's push messages have experienced more than a 20% engagement rate).
Just like La Redoute, PLNDR also utilizes retargeting notifications to remind users who have abandoned their carts about the items they're missing out on.
Key Takeaway: Use your customer data to determine what types of items your audience likes, then send them special deals based on their interests.
Getting Started with Push Notifications
Push notifications are an excellent tool for delivering value to your customers, improving brand loyalty and driving sales. Personalizing your messages based on user data keeps your content relevant and your customers engaged.
Because push notifications are more intimate than other forms of communication, they're ideal for reopening a channel of communication to previous customers and reminding users when they add an item to their cart but don't complete the purchase.
Check with your e-commerce provider or marketing tool to see what options are available to you to take advantage of push notifications today.
Can you think of any other tips for making the most of push notifications? Please let me know in the comments below.
About the Author: Aaron Agius, CEO of worldwide digital agency Louder Online is, according to Forbes, among the world's leading digital marketers. Working with clients such as Salesforce, Coca-Cola, IBM, Intel, and scores of stellar brands, Aaron is a Growth Marketer – a fusion between search, content, social, and PR. Find him on Twitter, LinkedIn, or on the Louder Online blog.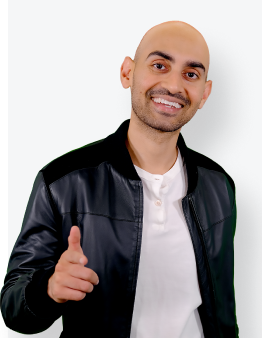 See How My Agency Can Drive More Traffic to Your Website
SEO - unlock more SEO traffic. See real results.
Content Marketing - our team creates epic content that will get shared, get links, and attract traffic.
Paid Media - effective paid strategies with clear ROI.
Are You Using Google Ads? Try Our FREE Ads Grader!
Stop wasting money and unlock the hidden potential of your advertising.
Discover the power of intentional advertising.
Reach your ideal target audience.
Maximize ad spend efficiency.