One successful PPC campaign can lay the foundation for profits for years to come.
But PPC is complicated.
There are countless moving parts that can make or break your campaigns.
Which in turn, can make or break your ROI.
You can't risk jumping into a PPC campaign without doing intensive research.
Luckily, you can always get started with a competitive analysis as the first step.
Why? Because your competitor has already made the mistakes, so you don't have to!
And they've figured out what works, too.
So don't just blindly A/B test for the next six months without knowing if you're going to break even.
Skip to the front of the virtual line and jump straight to the good stuff.
You just have to know where to look and what to look for.
First, I'll explain why you should never start a PPC campaign without spying on your competitors.
Then, I'll show you exactly how to do it.
Why spying on competitors can fail-proof your ads
Let me ask you a simple question.
If you've never played a sport before in your life, would you head over to the local park and jump right into the game?
Or would you first watch a few videos online, maybe read some books, and ask a few friends for help?
I'm betting the latter was your answer, right?
Spying is a more aggressive way to say, "I'm kindly taking a look at the strategy and methods other people have found successful to inform my own decisions."
You wouldn't jump into something new without researching the best strategies.
And the same goes for PPC. Especially because your money is on the line.
Paid search only makes up 10% of traffic. But the trick is that this traffic is primed to convert.
They're looking for ways to solve their problems ASAP.
That means that, if you get things right on the first try, you can start generating customers tomorrow.
You can't afford to let those customers slip through your fingers because of a sub-par offer and horrendous landing page.
You need to be fully prepared.
Competitor research makes that a cinch.
The biggest players in your industry have already hit on a 'formula' to follow.
They've made the mistakes and are only putting good money behind solid campaigns now.
Here's how you can learn from them.
You can find unknown competitors
It's no secret that Google AdWords dominates the PPC world.
Most people who are getting their feet wet in PPC advertising start out on the AdWords search network.
In fact, Google currently earns 78% of the $36.7B U.S. search ad revenues. That number is soon to hit 80% and will continue to rise!
So the best way to go about scouting your competitors and learning who exactly you're competing with is through AdWords itself.
If you do know your competitors, you can still find value in checking AdWords to see what companies are bidding on your top keywords.
I'd be willing to bet you'll find some interesting data.
First, you want to open up your AdWords account and navigate to the "Auction Insights" report from your campaign dashboard.

The Auction Insights report will show you a list of all the current domains that are bidding on the same keywords as the campaign or ad group you select.
Essentially, it's a curated list of your direct or indirect competition.
Most people know who they compete with directly.
However, your customers have hundreds, if not thousands, of alternative solutions.
They might not deliver the same quality of service as you do. But they might be a fraction of the price.
The point is that your 'competition' is probably much bigger than you think.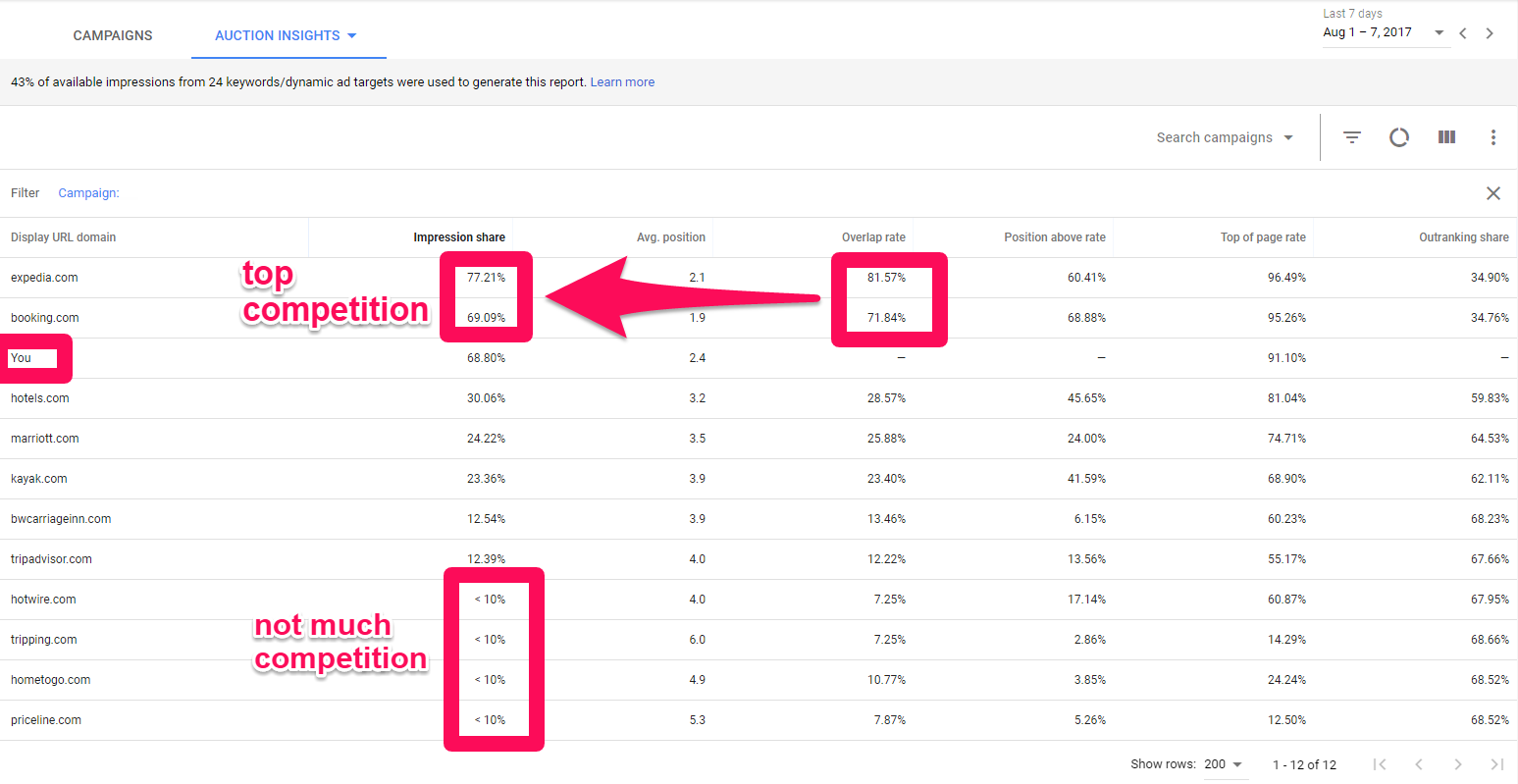 There's a lot going on in this report, so let me break down the best place to start.
Impression share will list your top competition.
It's a metric that tells you how many impressions you share with a given competitor for each campaign or keyword.
You are essentially fighting with those top impression-share sites for views and clicks.
If a site holds fewer than 10% of impression shares, they aren't competing very highly with you. You can feel free to ignore them.
You can also filter this table by device and campaign to see who is your biggest competition on multiple platforms.
Once you've had a chance to play with the data and filter it by your campaigns, simply download a spreadsheet of the data and get ready to use it for the next strategy!
Now let's use those competitors to extract some keywords.
How to find your competition's best keywords
SEMRush and SpyFu are my two favorite tools to help you figure out which keywords your competition is profiting from.
That means that you barely have to do any manual keyword research besides sifting through what they're already using.
For this example, we'll use SpyFu, and I'll show you how to find your competition's most profitable keywords.
First, open up SpyFu and type in your competitor's domain name in the search box:
One of the best features that SpyFu offers is their history feature. For example, it allows you to check out how PPC keywords have shifted over time.
You can see past versions of their ads and how they've performed.
You can also see trending keywords and their current profitability.
And you can see how long someone's been using AdWords.
This allows you to see their PPC mistakes and avoid them entirely in your own campaign!
For example, if you type in Amazon as your competitor, you immediately see their account history.
More importantly, you can find the paid keywords they've targeted over this entire duration.
You might not be willing to match their $10.9 million ad spend every month.
That's OK! Luckily, you don't have to. The goal is to simply see what's working and what's not at this stage.
SpyFu also helps you dig deep into their previous campaigns to see what didn't work.
For example, you can use their historical data to see why a campaign failed or why certain ad copy wasn't working.
Click on the following box to uncover their keywords:
Here, you can see a plethora of data on their keywords.
You'll see Cost-Per-Click averages, their ad positions, and even the number of ads for each keyword.
Take a look over on the far right-hand side to click on a drop-down box that will display historical data on that one keyword.
Looking at an individual keyword in detail will also help you find the best-performing ads from everyone — not just the competitor you were viewing.
Next, comb through each competitor to see who ranks in the first position for each keyword.
Then you can look at the ads that have helped them take over the top spot to reverse-engineer their approach.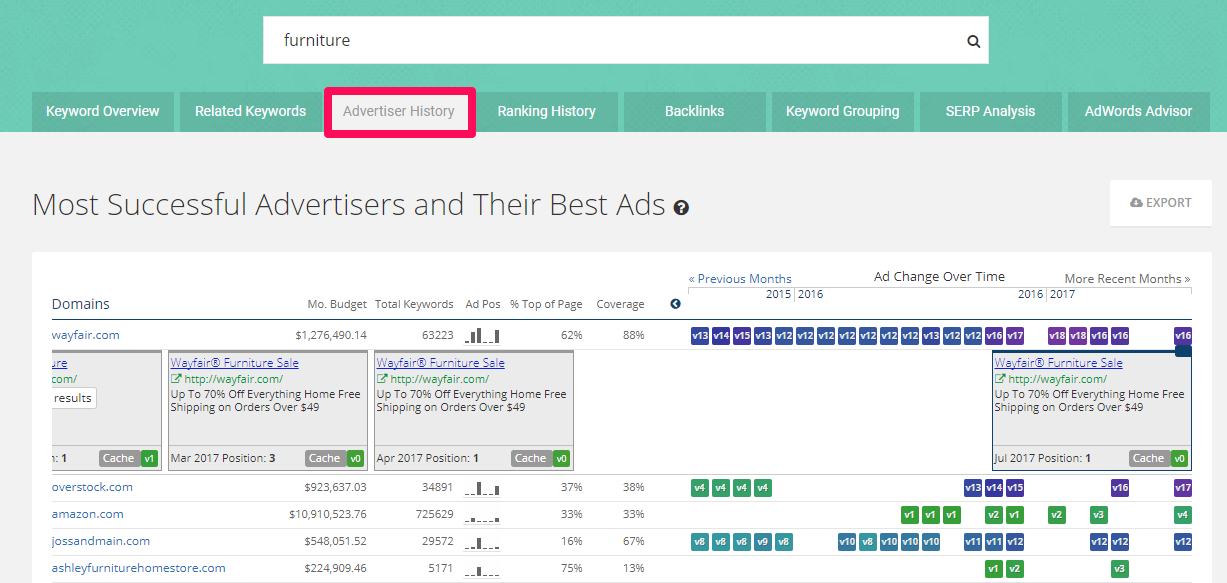 It's that easy!
All you have to do is fire up a quick search on SpyFu to see exactly what's working, what's not working, and the blueprint for you to follow.
You can skip the A/B ad testing
One of my favorite reasons to spy on the competition's campaign before ever starting a new one is to steal their A/B testing results.
SpyFu will show you every single ad they've used and when they changed them.
Pretty awesome, right?
No more wasting time or money on A/B tests that might not work.
Let's dive right into the tool to see how you can skip running your own A/B tests.
Take one of your competitors from that AdWords list that you just generated or from previous research that you've compiled.
Enter their URL into SpyFu and start searching:
To find their previous ad history, navigate to the "AdWords History" tab on the left-hand menu: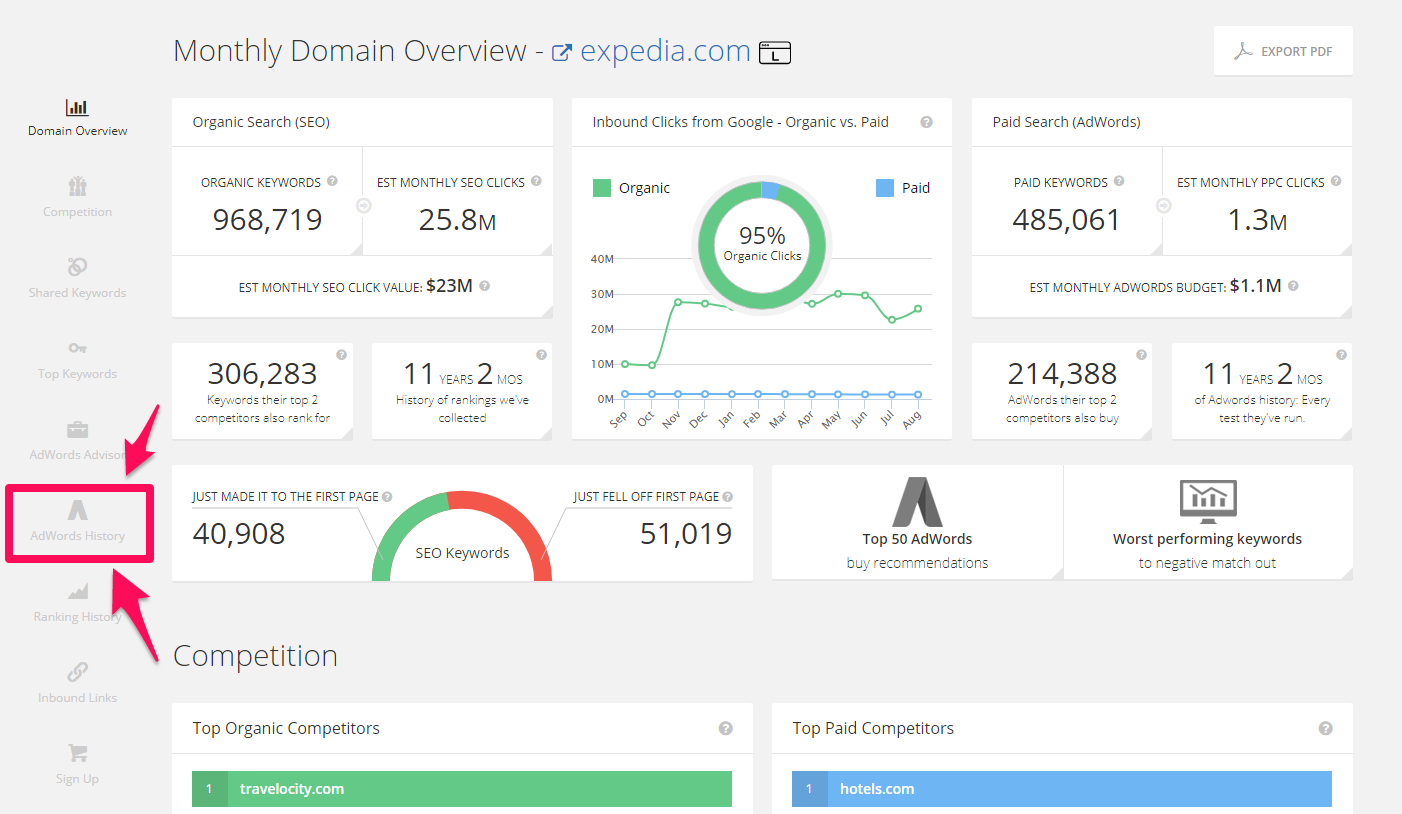 Now you'll get a detailed, complicated report.
Your first look at it can leave you feeling frustrated.
But don't worry. It's not as complex as it looks.
I'm here to help!
Here's what the basic report looks like: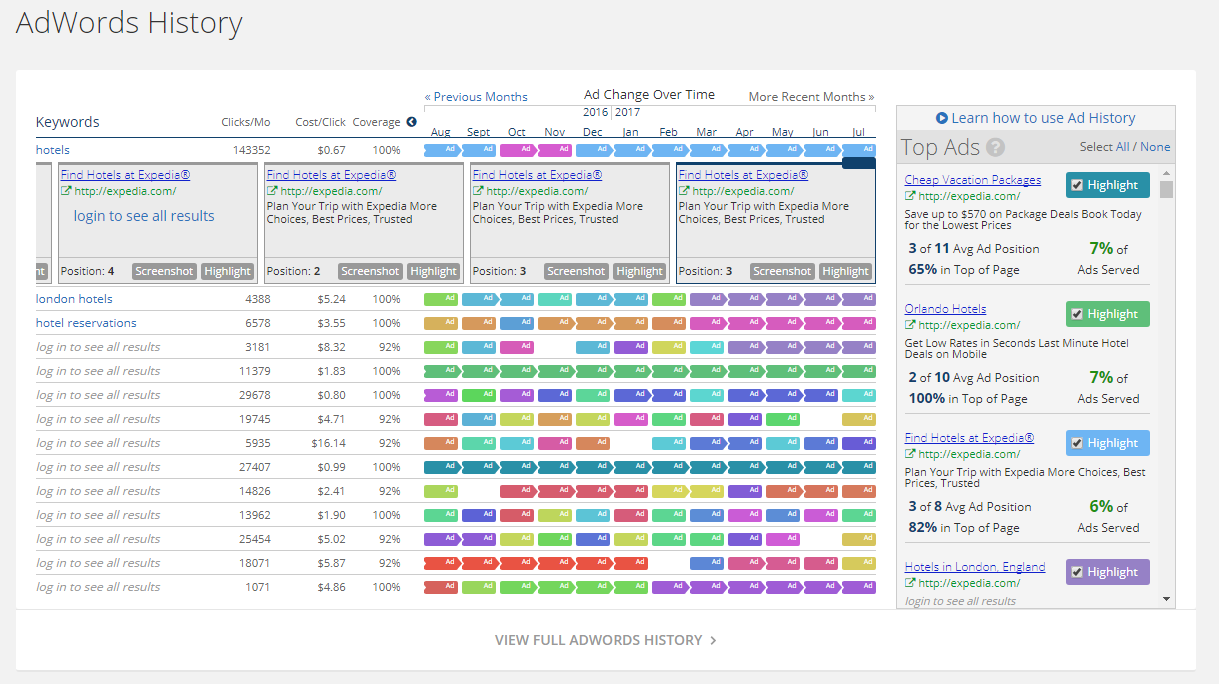 You can also expand this report by clicking the bottom arrow.
Essentially, each color represents different ad changes that your competitor has created.
The key here is to look for trends. You want to spot patterns.
Here's what I noticed at first glance: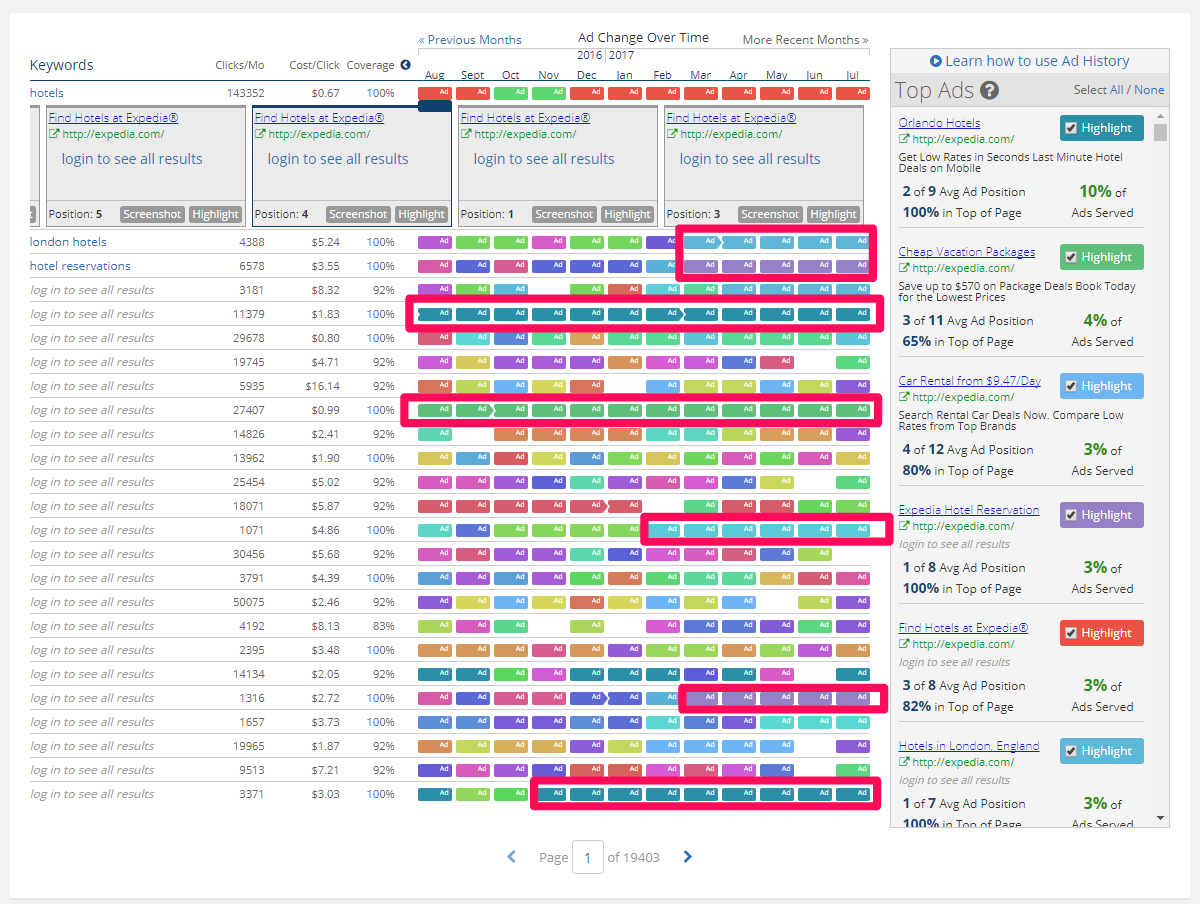 I noticed multiple patterns and a few consistent performers that were clearly working well for them.
Each color represents a new ad.
If you notice super long streaks of the same color, you can tell that this ad is working well for them.
It's proven, and they don't want to change what's already working.
If you find those patterns starting to emerge, like the purple and light-blue colors, you can tell that they're onto something.
Those ads are converting.
And luckily for us, we can steal them from right from under their nose.
Simply click on any of the ads in the box, or look on the right side for a preview of their best-performing ads:
Now you've got a crystal-clear blueprint to follow. You can scroll through these patterns to pick up on what's working.
And more importantly, you know which ad copy didn't perform for them. So you know what to avoid.
Just look back at their ad trends and notice ones that didn't work:
Look for the patterns that don't make sense to get an idea of what didn't work for them.
For example, seeing multiple colors that are constantly interchanging in no particular pattern should be a clue.
It means they were constantly testing ads until they found the right variation for that keyword.
Mimic what works, avoid what doesn't, and start raising your bids to take over the top spots.
You can steal their creative ideas
The Display Network is perfect for companies that want to advertise with creative banners, sidebar-style ads, or even remarketing campaigns.
It's versatile. It allows you to communicate tons of value with simple imagery and little text.
You can also get extremely creative with your various offers and funnel targeting.
But as we all know, coming up with creative ideas for ad designs can be difficult.
It can take forever to run through different ideas and then go back and forth with a designer.
We're trying to run a business. We don't have time to sketch out design ideas that might not even work.
That's why you should spy on the competition before starting a PPC campaign.
People have already done all the work for you.
To get started, go to MOAT and type in your competitor's domain name:
This free tool allows you to gather a simple competitor list.
Then you can view all of your competitor's Display Network ad creative concepts. (Say that five times fast!)
You can now start brainstorming based on the hundreds of Display Network ads that will pop up.
Move your cursor over any of these ads to pull up more information. For example, if you like one specifically, you can see what other size dimensions they used and when each was active.
So you can see if the ad is live right now and which device it's featured on.
Next, you can start to browse some of those competitors that MOAT listed as "Related":
You can click down into detail from each competitor now. For example, click on Trivago, and you'll get detailed insight into all the display-ad creative concepts they've run over the past few months.
The "Related" section can help you find indirect competitors or alternatives.
You can see if they're running special discounts or using different offers that you haven't necessarily considered yet.
And once again, there's no need to run your own A/B tests initially.
You can look at what they're running currently and how long they've been running each to figure out if those ads are working or not.
You can perfect your landing page once and for all
What if I told you that you could spy on your competitor's landing page?
You would be able to see everything from the changes they're making to the updates, and even A/B tests they're conducting.
Well, you're in luck!
You can track everything from your competitor's keywords to their landing-page changes with iSpionage.
My favorite feature is their "instant alerts" that will send you a notification when competitors make any changes.
Now you'll be among the first to know when your competitor is testing new headlines or changing up their opt-in forms.
Maybe they just made a totally new offer and drove tons of conversions on their landing page.
Wouldn't you like to know exactly how they did it? This tool is perfect for uncovering it!
The updates from the tool are extremely detailed, displaying exactly which changes were made: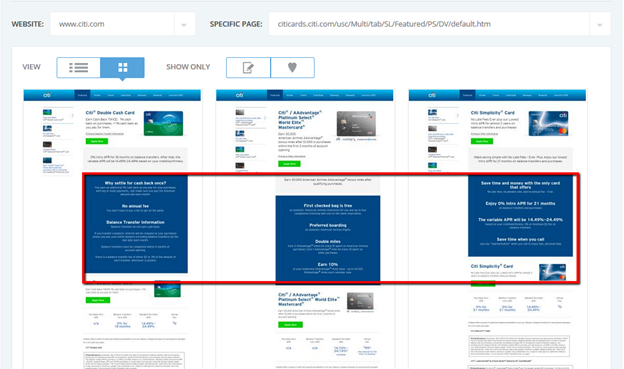 You can even uncover their A/B test results!
Their CRO tool helps you analyze page elements. Then it will correlate those changes with data on their conversions to see what's causing the rise or drop in sales:
Lastly, you can compare multiple competitors at once to see which of your biggest competitors have the best landing page designs.
Instead of constantly testing your design and trying to optimize for conversions, you can compare multiple landing pages and mimic the top performers:
You would never want to copy or rip-off the competition.
And you don't want to blindly follow their strategies.
However, you also don't want to start entirely from scratch.
Spying on your competitors with a few of these simple tools can help you get a jumpstart in the right direction.
It will at least point out the path that others are taking.
So you can spend more time replicating what seems to be working in the beginning.
That's like starting at mile 10 in a marathon.
The race isn't over. There's still a lot of work left to do to finish the job.
But shortcutting the first half can help save you resources that will come in handy toward the finish line.
Conclusion
Starting your first PPC campaign can be nerve-wracking.
You can't afford to throw money down the drain.
You can't afford to spend all day throwing money at Google, crossing your fingers that it will come back someday soon, either.
PPC can also get complicated in a hurry.
There are so many factors and metrics that you need to consider. You need to keep an eye on quality scores, keywords, ads, landing page, and more.
You have to get all of those elements to line up perfectly to start generating a single conversion.
Luckily, there's a way to bypass the difficult first few months of losing money.
You can get a head start on figuring out what works vs. what doesn't.
Instead of wasting time and money to get a feel for PPC, you should start by spying on your competition.
You can research which keywords they're using and making a profit on.
You can also see which ads they're running or what type of creative concept is landing them the #1 spot.
Some of these tools will even show you their landing page tactics so you can mimic their success.
All of these techniques won't do the job for you. There's still some work involved in finding out what works for your specific customers.
But they can save you a ton of time and money in the process of figuring it all out.
What's your favorite PPC-competitor research tip to improve your own campaigns?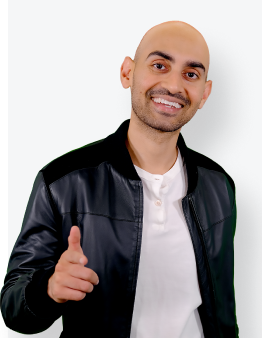 See How My Agency Can Drive More Traffic to Your Website
SEO - unlock more SEO traffic. See real results.
Content Marketing - our team creates epic content that will get shared, get links, and attract traffic.
Paid Media - effective paid strategies with clear ROI.