Let's start with what might sound like an obvious fact: the more engaged your audience, the more likely they are to eventually give you money.
Engagement is, of course, a fluid concept that refers to a host of metrics, including bounce rates, pages per visit, session durations, attention minutes, scroll depth, media clicks, social shares, comments and micro conversions. For content-oriented sites — where "sticky" viewership is what drives sales — optimizing for engagement-oriented metrics is often the best way to maximize revenue.
Why? Because until you have a loyal, engaged audience that's hungry for your content — not to mention, an audience that actually trusts you — you'll never have a chance at monetization.
Unfortunately, the internet is a noisy place. The insane proliferation of all things content – not just blogging but social, mobile, audio, video, and app (thank you Pokémon Go) – have made engagement more difficult than ever. Today, the world's biggest bloggers and content producers are focusing their engagement goals on attention, customizing metrics tools to measure attention, and creating strategies that aim to attract attention.
So, what does it all comes down to?
One word: easy.
Unless your content is easy – easy to (1) scan, (2) interact with, (3) load, (4) share, and even (5) monetize – it doesn't stand a chance.
1. Easy to Scan
Just like the opening line above, this first tip might seem obvious. Sadly many brands still create pages without taking important aspects of their layout into account, such as the font sizes and typefaces of the text, or the use of bullet lists and subheadlines to break up the experience into digestible chunks.
When your visitors open your web pages and see long blog posts with ornate, small text that has no breathing room, this can immediately drive them to leave the site and find something else that's easier to follow.
Eye scan data shows that on the web, people don't exactly read very much. Instead, we "scan" pages, running our eyes from top to bottom along the left side of text blocks, in a pattern that resembles the letter F. When something catches our eye as potentially interesting, we'll read a few words across to the right, but then we move on. The more inviting your design and typography styles are, the more likely people will be to actually read complete sections of your pages.
Tools like FontPair will help you find the perfect Google Font pairings to compliment your site and brand messaging, which can, in turn, help increase your site's visit times and engagement performance. To create your stylesheets with selections based on FontPair's recommended combinations, you can easily identify the fonts most suitable for your brand, download them for free and start publishing pages that are optimized for engagement.
Alongside of a scannable layout and font, do not overlook the crucial role that visuals play in your pages ability to command attention. Content with relevant images gets 94% more views than content without relevant images, and infographics are liked and shared on social media three times more than other any other type of content.
As Neil Patel points out in his Guide to Creating a Killer blog:
Be sure to include as much visual content into your articles as possible.

The brain processes images far faster than text. Creating an attention-grabbing image at the top of your article is simply a great way to engage users and encourage them to read the article.

Adding images throughout the article also helps people keep reading, and encourages sharing.
Generally speaking, the more images, the better. Or at least to a point – you don't want to overwhelm people with visual noise.
2. Easy to Interact With
Engagement, attention, and interaction all go hand in hand.
In fact, interactive content is one of the most exciting solutions for keeping users engaged and interested in your site.
With interactive content, site visitors feel a heightened sense of attachment to your pages, as they've essentially played a role in how your content takes shape. By spending time interacting with your site, they're all the more likely to share their content experiences with their peers.
It's easy to create and embed interactive elements for your pages using tools like Playbuzz. A free platform for editorial use, Playbuzz allows you to create customizable content for your website in the form of quizzes, polls, flip cards and more. This platform is an excellent opportunity to increase attention minutes and social sharing, and it also helps inject a sense of meaningful connection to the user experience.
What's more, interactive content is a powerful monetization strategy. Pura Vida Bracelets, for example, hit the Forbes 30 Under 30 list in large part due to their seven-question quiz:
The quiz has been taken by more than 37,000 site visitors, 18,000 of whom have opted to provide their email addresses, which is a mind blowing conversion rate of 48.6%. Not only does the quiz suggest the perfect bracelet, but also uses the data collected to highlight specific aspects of a visitor's personality. The interactive nature of the quiz can help create strong bonds between the company and customers who ultimately become brand evangelists.
In addition to quizzes, polls, and flip cards, another hallmark of making your content easy to interact with is online chat. Unfortunately, the mistake many companies make on the online-chat front is forcing visitors and customers to come to them through a confusing maze of email strings and on-site logins. Instead, make chat insanely easy by going to your audience through a native tool like Facebook Messenger. Messenger is an easy way to not only provide instant feedback and brand announcements, but to also manage ecommerce engagement.
There are even tools like Bontact that allow marketers to offer multi-platform live chat to site visitors. So a conversation that starts in the widget on your web pages can easily move to Messenger, text, Skype, phone, email, screenshare or any number of other platforms.
In the age of branded experiences spanning multiple devices, platforms, apps and customer journey phases, giving your site visitors the ability to interact with you on the channel of their choice can make a lasting impression.
3. Easy to Load
One of the biggest attention-killers for websites is the amount of time that it takes for the site to load. Over half of all web sessions are on mobile devices, which don't support the same connectivity speeds as computers. What's more, we're spending more and more time with our screens, so that time is becoming increasingly scarce and user patience is dwindling.
Data shows that just one second in load delays can drop conversions by 7%, three seconds of waiting for pages to load decreases satisfaction rates by 16%, and load time lags of four seconds make for 25% higher bounce rates. That's an engagement killer if ever there was one.
There are, however, solutions for improving your site delivery times, such as minimizing image file sizes with a tool like ImageOptim (Mac) or TinyPNG (web app) and using platforms like Google Accelerated Mobile Pages (AMP). Content Marketing Institute's recent "Tips and Tools to Ensure Speed Doesn't Kill Your Site" offers a handful of low-hanging, speed-optimizing fruits designed specifically for content marketers to implement.
For truly rapid page loads, however – especially in the world of ecommerce – you may need to look into non-DIY solutions. CMI's last tip is all about investing in a content delivery network (CDN), which is essentially a network of servers that host your site's media assets in different locations around the world, for faster access.
For best-in-class page load speeds, it's imperative to use intelligent and customizable caching algorithms. On average, websites that use CDNs are much faster and consume significantly less bandwidth than those that don't.
4. Easy to Share
Social sharing is, to a great extent, the highest level of engagement that there is.
When your site visitors share your pages, it means one of two things. Either they've enjoyed the experience so much that they want their like-minded peers to benefit from it as well, or they find your content so valuable that they believe sharing it will make them look good.
One of the best ways to maximize content sharing is to make it easy to do. When all it takes is a click of a button, people will be all the more likely to engage in this manner, putting you in great position to reach new audience members and expand your customer base.
Social Warfare is one of many WordPress plugins that can add attractive share buttons to content pages. This tool is optimized for speed and aesthetics, but it has other features that differentiate it as well. Social Warfare supports thousands of preset design variations, allows site managers to customize default share text, and even appends UTM codes to share URLs for superior attribution in Google Analytics.
5. Easy to Monetize
The content publishing industry today is faced with some serious financial challenges, as it's getting harder and harder to turn a profit. The online advertising ecosystem is in a state of disarray, with a lack of viable solutions for making money from mobile users, trade groups operating with inconsistent viewability standards, and rampant fraudulent billing practices.
What's more, in their efforts to grab people's attention, publishers have been allowing advertisers to book placements in formats that are too interruptive. This is why we're seeing the rise of ad blockers today, and to win our audiences back, publishers need to change the way they operate. There are even ways to drive revenues from content pages without turning your audience off by being too pushy, intrusive or forceful – ways that increase onsite engagement rather than killing it.
An effective way to achieve this is by integrating contextual ads into your content. Imonomy's technology scans your web pages and automatically pairs your site's images with relevant, engaging banner ads.
Because the in-image ads are displayed together with, and selected to match, your site's images, this platform delivers high viewability rates and improved engagement with your site's visitors. This, of course, translates to higher revenues in ways that don't compromise on content engagement.
Engagement Should Be Easy
It's essential to have a dynamic, thorough engagement strategy that maximizes interactions and time on site. In the words of Gary Vaynerchuk, "Attention is the single most important asset."
If your company is unable to grab the attention of its target audience and keep them meaningfully engaged on your website, sustainable revenues will be hard to come by.
And the one word to remember – when it comes to engagement and attention – is easy. This means your content should be easy to …
Scan
Interact With
Load
Share
Monetize
About the Author: Nadav is a veteran online marketer and the Founder & CEO of InboundJunction, an Israel-based content marketing company. Nadav helps well-known brands in boosting their online visibility through PR, SEO and Social Media.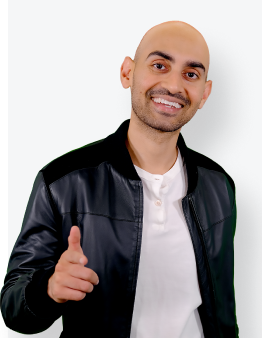 See How My Agency Can Drive More Traffic to Your Website
SEO - unlock more SEO traffic. See real results.
Content Marketing - our team creates epic content that will get shared, get links, and attract traffic.
Paid Media - effective paid strategies with clear ROI.