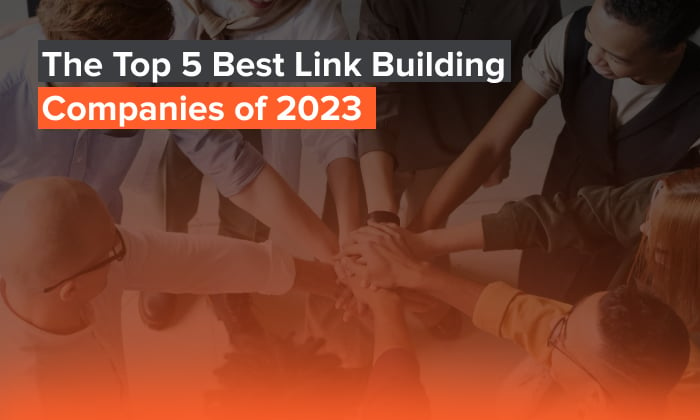 What are backlinks to search engine optimization?
Short version: They're signals Google uses to determine if your website is a reputable resource worthy of citation.
The long and sweet version?
The more quality backlinks pointing to your website, the higher your chances of ranking for profitable keywords and competitive search queries that drive sales.
You'll generate more targeted traffic, leads, and customers with the help of a link building agency.
Even though backlinks have been a well-known ranking factor for years based on Google's algorithms, they remain a critical ranking factor in 2023. In fact, trustworthy backlinks offer the most SEO benefit out of all link types.
Due to how essential links are to rankings and traffic, you'll find a host of companies promising to help you generate backlinks at the click of a button.
If only it were that easy! Acquiring top-quality backlinks isn't a stroll in the park.
Our team at Neil Patel Digital reviewed and listed the top companies for building links.
The 5 Top Link Building Agencies in the World
1. Neil Patel Digital – Best for Linkable Content Marketing
Creating and distributing linkable assets is the most reliable way to get people linking back to your website.

Called editorial links, Google and other search engines prioritize such links.

The reason for this?

They're natural and make it clear that other sites see your website as a reliable, authoritative source.

Another name for this type of link building strategy is linkable content marketing. Neil Patel Digital excels at this.

I've amassed millions of backlinks to this blog: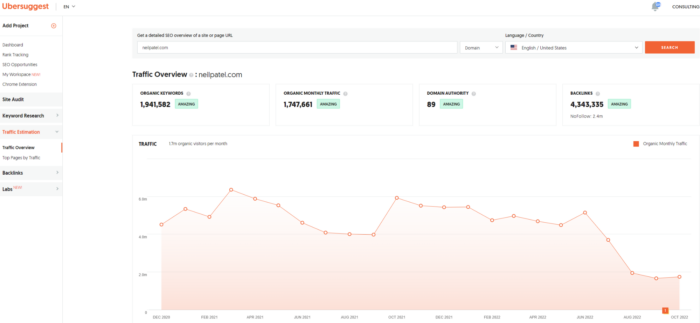 That's over 4 million backlinks! They all came from organic keywords (over 1.9 million), generating more than 1.7 million monthly organic traffic in the process.
Neil Patel Digital's experience spans over five years to help you get similar results. And we leveraged this experience and vast expertise to develop a holistic, battle-tested content marketing program that helps our customers generate high-quality backlinks.
It starts with auditing, optimizing, and creating new, high-quality content people would love to link to.
Then, promotion, so even influencers can find and reference them.
This proven program powers us to create and distribute content marketing assets that get high-quality backlinks, higher rankings, and qualified traffic.
In short, this is why our customers, from startups to grow-stage and enterprise companies, love working with Neil Patel Digital's knowledgeable team.
2. FATJOE – Best for Blogger Outreach
You may have linkable content resources on your site. What if other websites or bloggers don't know those assets exist?
No one would link to them, and that's a problem.
To make people, especially bloggers, aware of your content, you need what SEOs call blogger outreach.
This is precisely what FATJOE excels at doing. They're a reliable blogger outreach service even other agencies rely on for generating backlinks: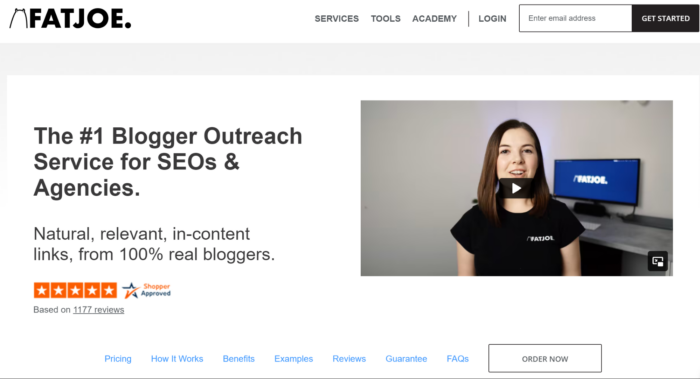 The experienced SEO expert Joe Taylor co-founded FATJOE in 2012. Since then, this company has helped over 5,000 clients worldwide get backlink placements via blogger outreach.
FATJOE has an overall rating of 4.8/5.0 with over 1,000 reviews. 95% of their customers gave them a four or 5-star rating!
It's good to note that FATJOE is best for acquiring links from websites with domain authority between DA10 and DA50. Prices per link placement range from about $73 to $392.
3. Page One Power – Best for Strategic Links
Getting backlinks from higher domain websites (DA60+) requires linkable assets, outreach, and a high-level strategy.
Page One Power, although more expensive and not a productized service like FATJOE, excels at this.
On average, this company is behind the yearly acquisition of more than 15,000 strategic backlinks for its clients from higher-domain websites.
Page One Power achieves this for its customers by leveraging its 12+ years of experience and 1,000+ active partners: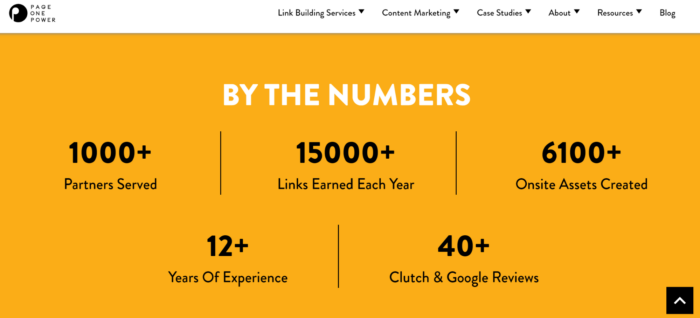 If you have a budget for these services, along with more for a monthly retainer, you should turn to Page One Power for their consistent, strategic link building expertise.
You're in good company if you go this route, since other businesses, such as QuickBooks, Healthline, BOSTITCH, and several others, trust Page One Power's strategic link acquisition services, too.
4. Linkdoctor.io – Best for White Label Links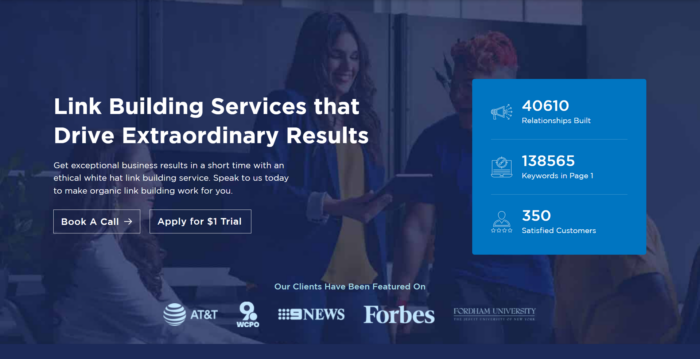 When it comes to agency support for link building purposes, you want a business that you can trust.
Linkdoctor.io specializes in delivering quality links at scale.
By using a combination of industry experience, a deep knowledge of best practices, and following relevant search engine trends, they have a unique service suite to help you get high-quality backlinks for your business.
They also cater their natural link building services to a variety of industries, from e-commerce to healthcare to startups.
5. Rhino Rank – Best for Curated Link Building
Sometimes, other websites already have published content pieces with info relevant to assets on your own site.
In such a case, you can reach out to the webmasters of those sites and ask for a link in a practice called curated link building.
Based on our review, Rhino Rank is the go-to agency for this link acquisition tactic.
They do all the hard labor, reaching out to several webmasters to secure backlinks for their clients in existing content on those webmasters' domains:
Not only will Rhino Rank reach out to webmasters, but they'll take it a step further by ensuring those links are weaved naturally with the right anchor text.
Rhino Rank serves over 500 companies and SEO agencies globally.
The price of each curated link generated for customers by Rhino Rank starts from $40.
5 Characteristics that Make a Great Link Building Agency
For each link building strategy and company recommended above, you'll find hundreds, if not thousands, of others promising the same things.
So, what characteristics make a great link building company if you want to find an ideal company to work with and do your own due diligence?
Let's look at the most significant ones.
1. A Holistic SEO Implementation Process that Includes Link Building
Link building is a crucial part of SEO, but it's not a silver bullet. On its own, it won't drive traffic or help you generate leads.
For instance, you can amass links, but if the search engines don't trust those links or the content being linked to, those efforts amount to nothing. Thus, an essential characteristic of great link building companies is a holistic SEO program with all the bolts and nuts, including things like masterful content creation, promotion, and link building for local SEO.
2. An Impressive Client Portfolio
An excellent way to judge the processes and expertise of a company is via its client portfolio.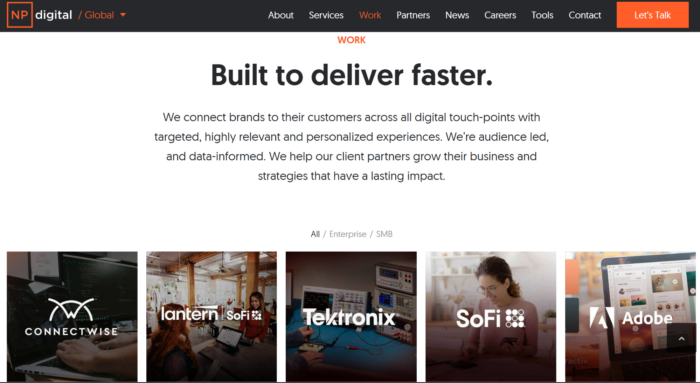 Just as other companies with hands-on experience would, the top link building companies display their ability to generate backlinks by showing off a portfolio of clients they've worked with in the past.
3. Thought Leadership
The best link building companies aren't just great at acquiring backlinks. They also share all their learnings on their way to helping companies generate high-quality backlinks.
Thought leadership is essential to stay one step above the competition, and the top link building companies know this.
You want a team that knows the best strategies and tactics that work right now (not last year). For example, if you Google "link building Neil Patel," you'll find some of my in-depth guides showcasing thought leadership on this topic: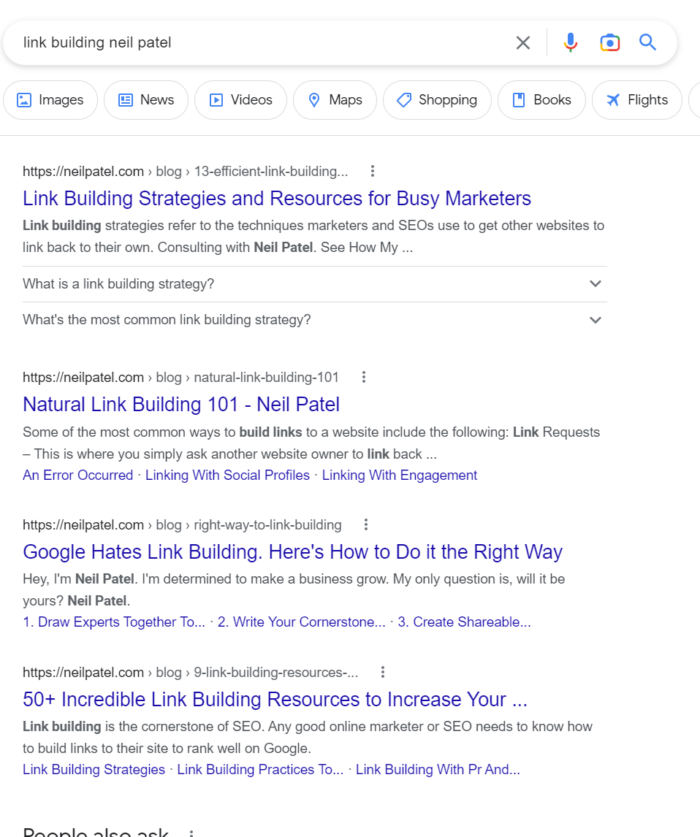 4. Real Life Testimonials
A good criterion for determining if a link building agency is among the very best is to look at their customer testimonials.
Thus, a characteristic you'll find among the top link building companies in the world is real-life testimonials, highlighting what customers say about working with them.
5. A Diversified Team
One person can write a guest post and send you a few links. However, you'll need a diversified team of experts to execute more strategic and extensive link building campaigns.
As we've shown you, the best link building companies excel at planning and executing these bigger, more effective link acquisition strategies.
And to do that, they usually work with a team of diversified experts with varying professional backgrounds and expertise.
What to Expect from a Professional Link Building Company
If you take on the services of a link building company, you judge them by their ability to get you links. It's that simple.
However, there's a wide gap between contacting a company and actually getting those juicy links. A lot must happen before you can start seeing results.
So, what should you expect if you decide to work with any of the link building companies reviewed above?
1. A Discovery Session
Your business needs are distinctive, just like your link building needs, meaning link building agencies must cater to what works for your unique site. The link acquisition strategies that worked for one site won't necessarily work for your site, too.
The best link building companies have experience generating links for different organizations. Thus, they don't jump straight into sending you proposals.
Instead, they start the process of helping to customize a strategy for your business by allowing you to share your exact business needs over a discovery session.
2. Research & Strategic Recommendations
Once you've booked and discussed your business needs with a link building agency, the best ones take what you tell them and leverage their experience to conduct in-depth research.
After this research, you should receive a host of strategic link building recommendations most suited to your business. Most companies would share this with you via email or another discovery call.
3. A Contract with Project Deliverables
At this point, your team and the link building team should be on the same page. Once everyone decides that the project is a good fit, it's time to get a contract in place.
Deliverables, deadlines, resources required, and budget should all clearly be outlined in detail.
4. Client Onboarding
The next thing to expect from a top link building agency is an onboarding process. It sets the stage for working with you to achieve your link acquisition and related business goals.
Depending on your work scope, you'll need to bring on your in-house staff and share your website, blog, analytics, etc., with the company.
This onboarding process also establishes an understanding of how the company would manage your project. Whether you're working with a complete SEO agency or a more general link building consulting firm, agreeing on how business will be done is essential for a good working relationship.
Frequently Asked Questions
Why are these considered the best link building agencies?
Given their expertise in the industry and proven track records, each of the companies listed here has demonstrated incredible familiarity with link building. Trusted experience paired with top-notch skills, thought leadership, and testimonials show these companies really know what they are doing.
What makes a quality link building agency?
Link building agencies that offer quality results will concentrate on improving your website's network from other reputable sites through methods that make the most sense for your business. These agencies should leverage their expertise to do the necessary research leading to powerful, SEO-boosting connections through links.
How should I assess a prospective agency's link building services?
Aside from paying close attention to the above characteristics, consider the methods an agency uses to obtain links. Do these methods follow the rules, or will Google possibly crack down and issue a penalty for unethical practices? Further, look at the value of the sites the agency uses and their content quality to see if their skills are legit.
Link Building Isn't a One-Time Activity
Unfortunately, link building isn't a one-off project. I wish it were.
But links decay, pages decay, and Google's always looking for freshness. You'll need ongoing links to keep your site at the top of the rankings.
This is the main reason why companies try to get help. It's exhausting trying to do it yourself all the time.
No matter how you decide to do it, treat link building as an ongoing, long-term activity that's a core part of your SEO strategy.
Doing this is how you'll get maximum results.
What characteristics do you think are most important in a link building agency? How do you plan to build a solid backlink strategy for your site's SEO results?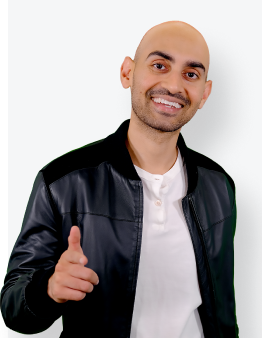 See How My Agency Can Drive More Traffic to Your Website
SEO - unlock more SEO traffic. See real results.
Content Marketing - our team creates epic content that will get shared, get links, and attract traffic.
Paid Media - effective paid strategies with clear ROI.
Are You Using Google Ads? Try Our FREE Ads Grader!
Stop wasting money and unlock the hidden potential of your advertising.
Discover the power of intentional advertising.
Reach your ideal target audience.
Maximize ad spend efficiency.